There's a lot in a name. Vienna based workshop Horizontal Moto named their business after their approach to bike building. "It is all about clean, low and straight motorcycle design," says team member Paul Fuhrmann. This approach is ideal for the cafe racer style and their first project, a Moto Guzzi V50 III, is the proof.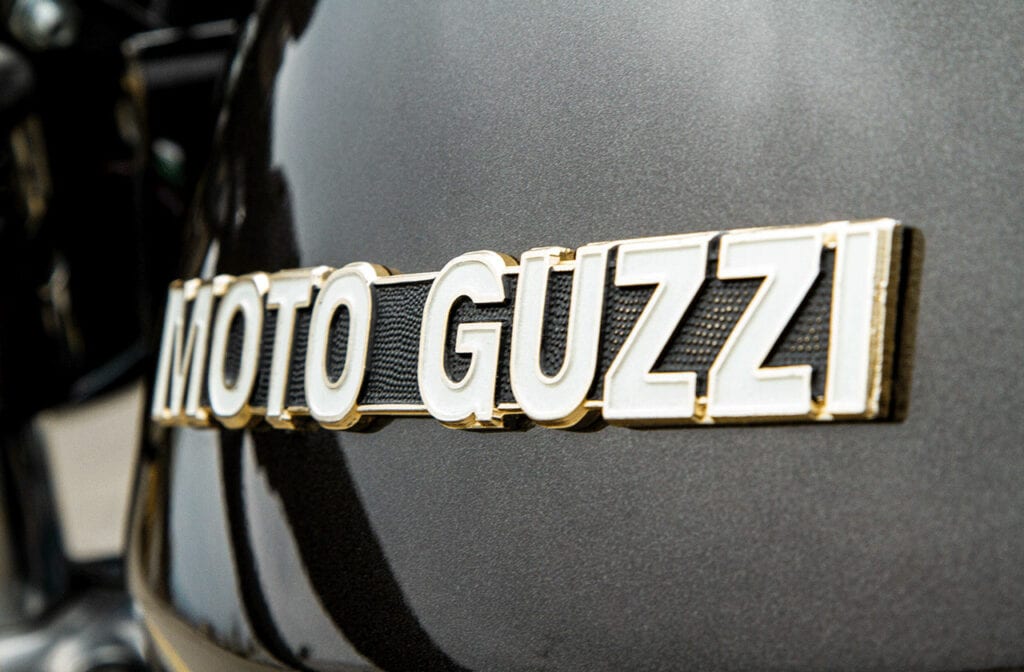 Horizontal Moto is a new, Vienna based workshop that specialises in Moto Guzzi projects. Faced with the daunting task of building a motorcycle that would put them on the map they opted for this rather unexpected donor.
Released in 1981 the Moto Guzzi V50 III was an updated version of the long-running V50. Considered a small capacity motorcycle for its time the V50 was lambasted for being slow when compared to popular sportbikes of the early '80s. But Moto Guzzi wasn't out to speed break any records with the V50. Instead, they wanted to manufacture a motorcycle for the masses. Similar to the approach eastern manufacturers had taken with similar capacity UJMs.
Although it didn't get the response Guzzi would have liked in the United States the V50 III did reasonably well in the EU. It was an improvement in terms of reliability and performance over the previous models – but never was it considered a real performance machine like Modena's mighty V7 Sport. But, as the Horizontal Moto team were well aware, this Italian classic had the potential to impress.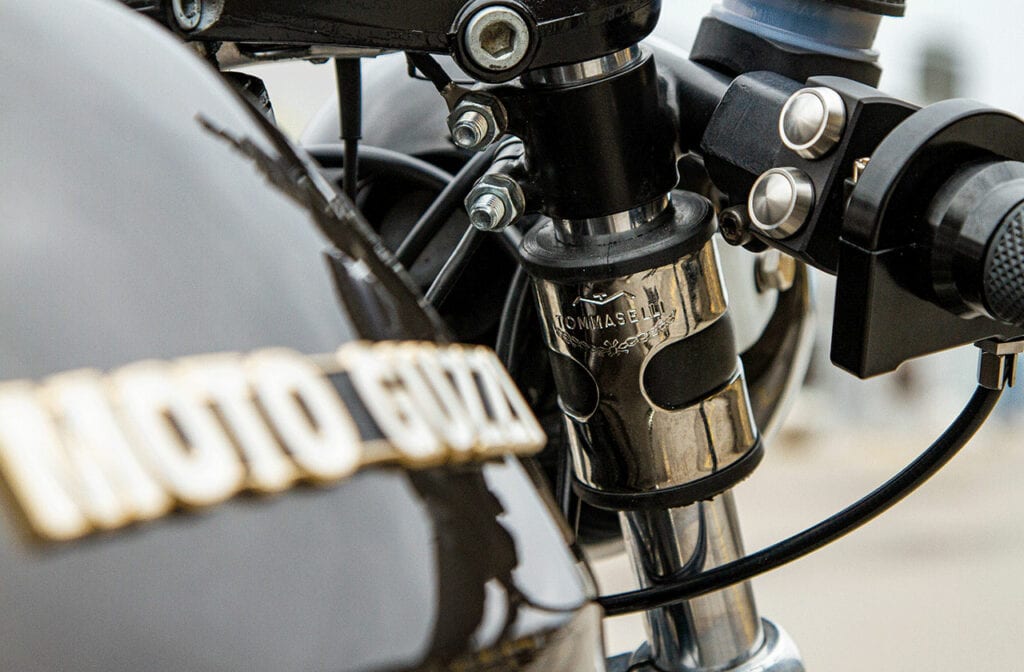 "The intention was to reduce the bike to its absolute minimum while keeping its classic character," says Paul Fuhrmann of the HM team, and minimal it most definitely is.
The rebuild began with a rework of the V50 III chassis. After determining which components would stay and which would be removed they de-tabbed the frame. Attention was then turned to tightening the Guzzi's proportions. Like most eighties bikes, the V50 III tail unit and saddle were monstrous. With those part gone they trimmed the rear of the frame down to make way for a  svelte custom saddle. Once everything had been closed up the whole frame received a fresh coat of black laquer.
"The V50 came to us in good condition overall, nonetheless we mechanically overhauled the engine and gearbox," says Paul.
For the release of the V50 III Moto Guzzi increased the bike's power output to 48bhp. They fit the longitudinal v-twin with larger 28mm Dell'Orto carbs, installed bigger valves and increased both the intake and exhaust outlet sizes. To make the most of these features Horizontal Moto fit their bike with velocity stacks and a set of period-correct, upswept LaFranconi mufflers. Everything was then painstakingly tuned to suit.
This V50 III is now also running a completely custom wiring hardness, reduced to the bare necessities. The lighting is all-new with bar-end turn signals installed for a clean finish. An LED taillight sits on the license plate bracket behind the rear wheel and in keeping with their bare-bones theme, all of the wiring runs out of sight.
After the installation of Fehline clip-on handlebars, Horizontal Moto fitted them with slick aftermarket switches and controls. An aftermarket speedo takes pride of place above the freshly refurbished triple clamps and the headlight is supported by classic Tomaselli brackets.
"This V50 build resulted in a very retro cafe racer appearance," says Paul. "We decided to reuse the original fuel tank while modifying the surrounding parts, which made it possible to gain that authentic and sharp look."
Contributing to the bike's retro appearance are a handful of considered finishing touches. These include the use of rubber fork gaiters, chunky 4.0 classic tread tyres and a timeless clear lens headlight. Horizontal Moto also worked with Vienna based upholsterer Ledernardo to cover their custom saddle in suede black leather. Hidden amongst the retro touches are several bespoke CNC parts that Horizontal Moto developed especially for the V50 III project.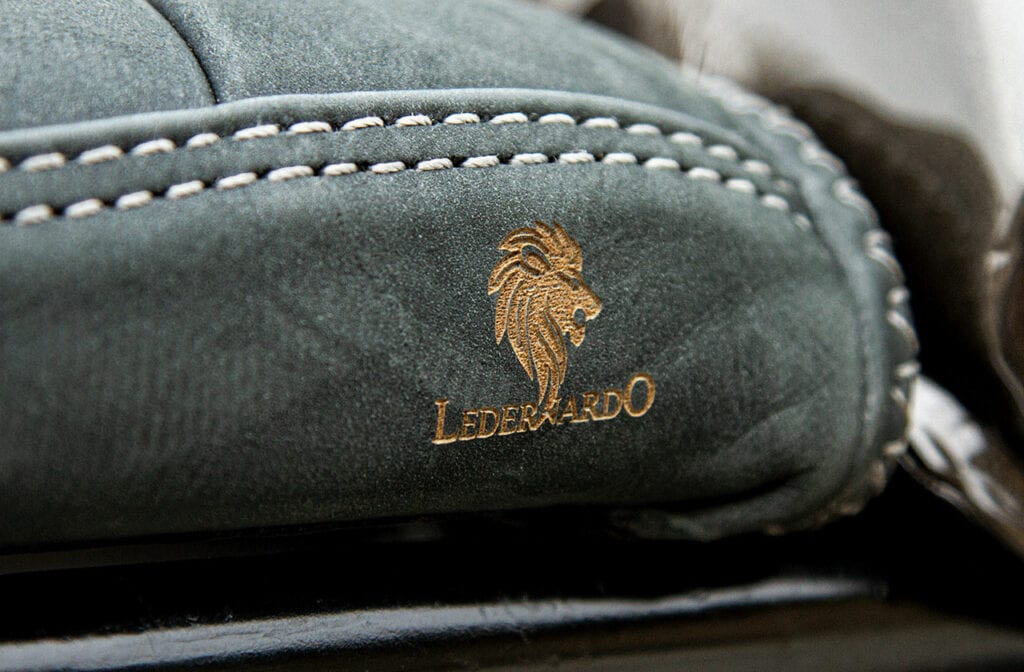 "At Horizontal Moto we care that our bikes are suitable for riding on an everyday basis, so a lot of effort and time is invested during the build process," says Paul. So, to hop up handling on this bike the rear shocks have been replaced by retro-styled modern alternatives. To perfect the bikes stance they then slid the forks slightly higher in the triple clamps.
In its factory configuration, the Moto Guzzi V50 III tipped the scales at 158kg. Now thanks to Horizontal Motos efforts this bike would be lucky to weigh over 120kg. Add to that a sportier riding position, upgraded suspension and let's not forget improved styling and we doubt anyone would consider this little Italian slow.