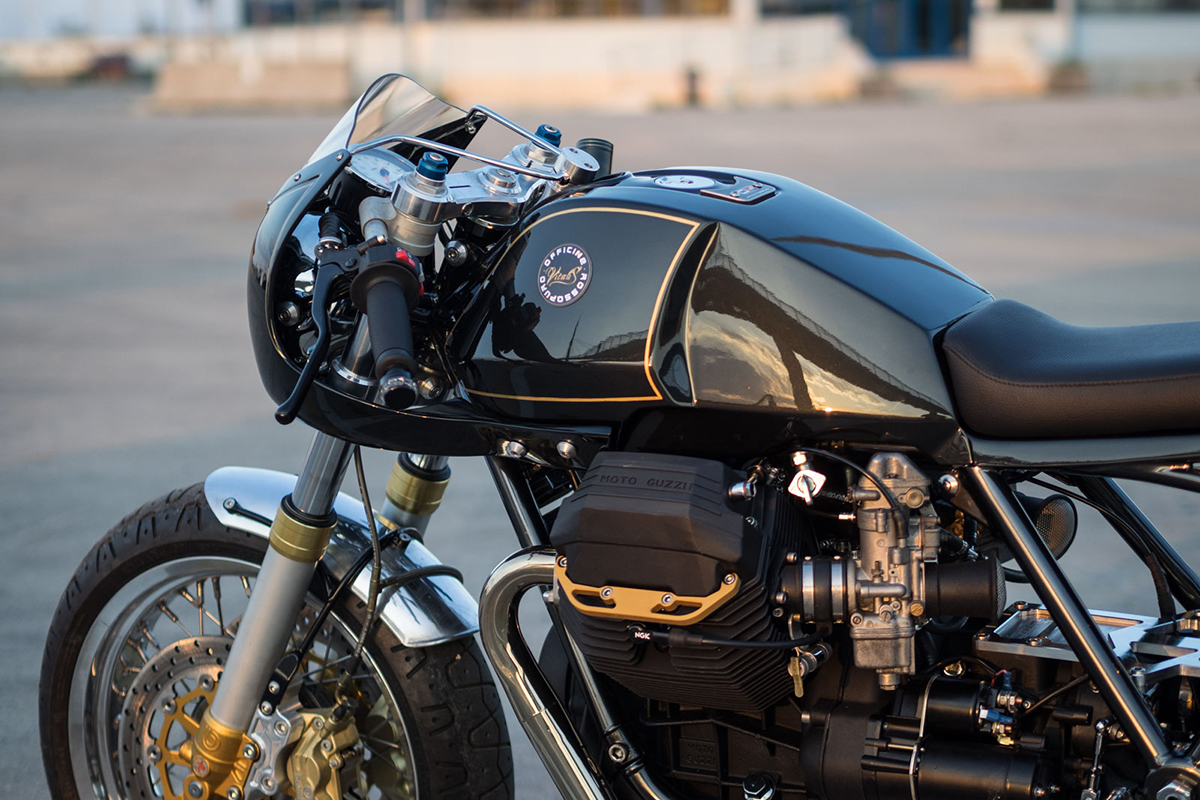 My primary goal with the Moto Guzzi was to save weight and to modify the chassis for improved performance. I cut the frame starting at the rear of the engine which allowed me to redesign the frame using a different shape. The result was higher and narrower frame than that of the original and by using lighter materials I saved a lot of weight. I also changed the rear suspension mounts to fit a pair of adjustable Ohlins gas shocks. I decided to leave the lower part of the frame open to give the impression of lightness.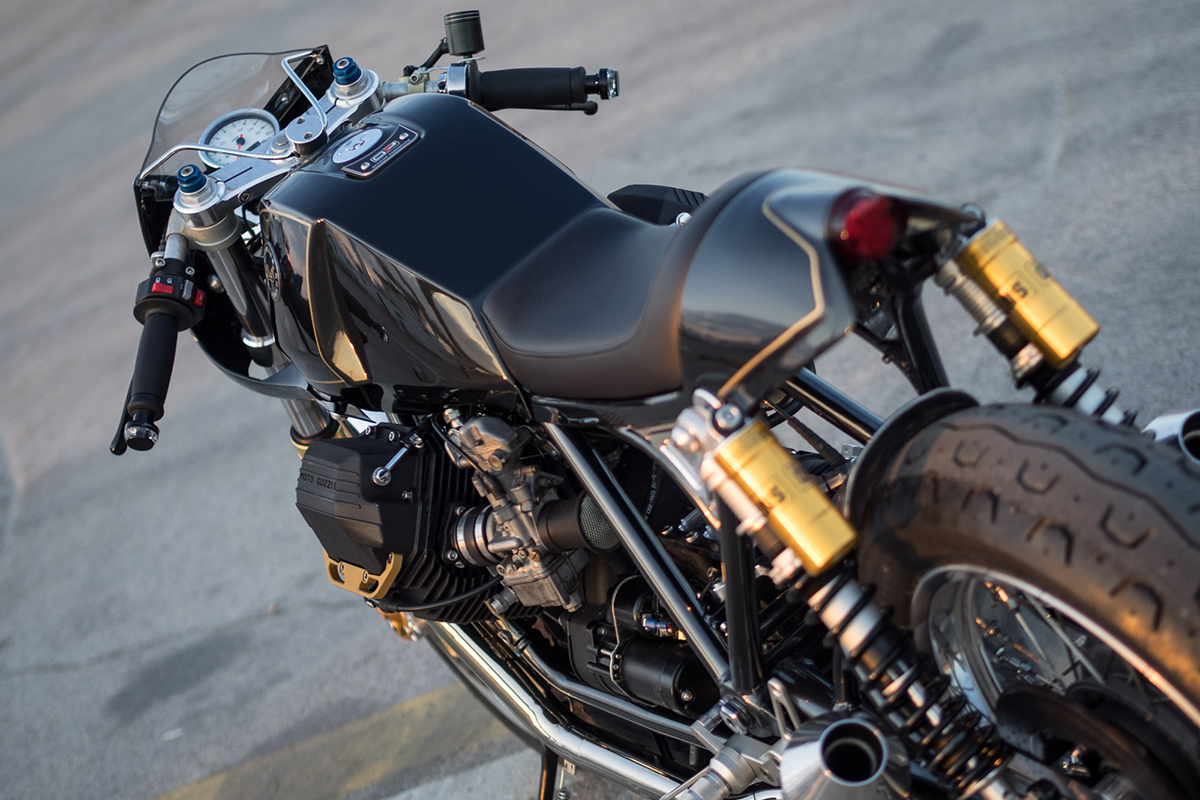 CNC aluminum parts were fabricated to further enhance and strengthen the frame without increasing weight. The gussets, motor mount, etc are all milled from high grade 7075 aluminum. Up front, the 45mm Paioli racing forks form a rock-solid front end and to help stop this beast I mounted a 320 mm Brembo brake system with a dual-piston caliper. To round off the bike's handling upgrades I mounted 17" wheels front and rear. To accommodate a 160 rear tire I constructed a new wider, reinforced swingarm. The wheels use tubeless aluminum rims made exclusively for this bike.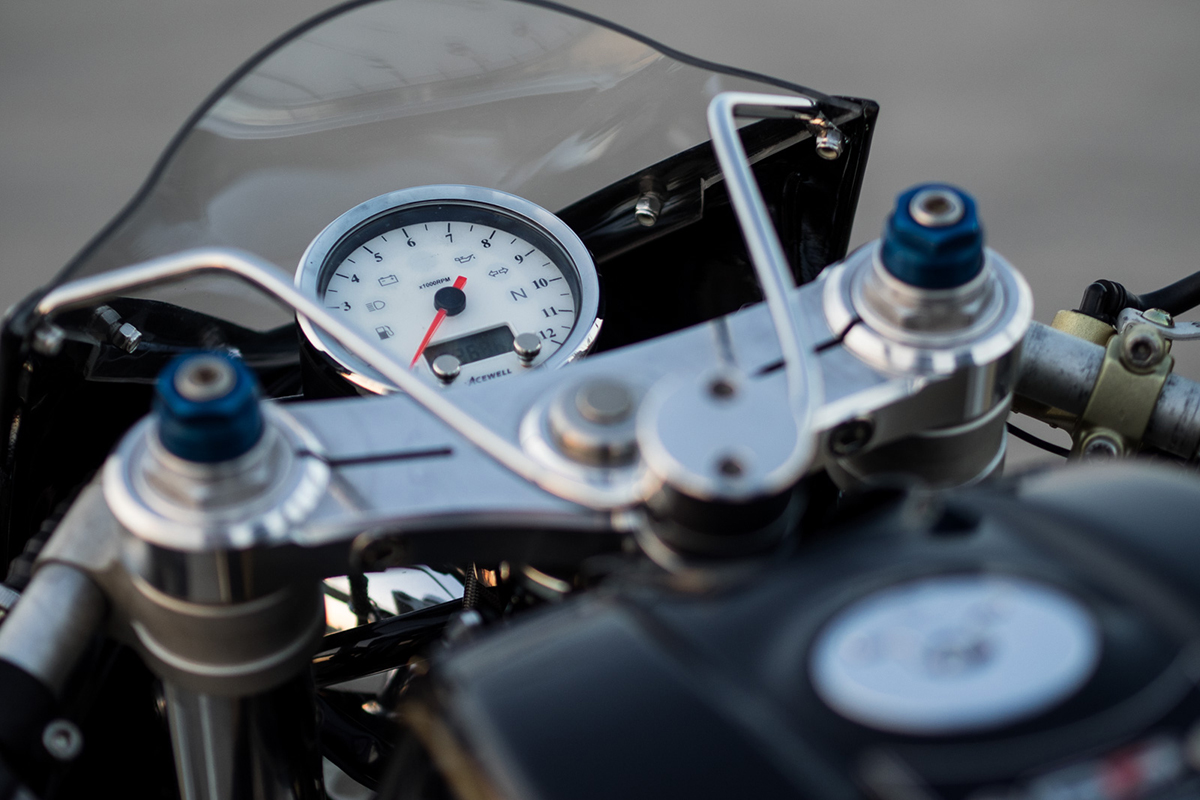 For the bodywork, I was chasing a line that would appear modern and retro at the same time. The basic idea with the front end was to have a fairing that was something different, a middle ground between a full fairing and a windscreen. So I decided to make a very compact unit that would join to the tank to make it stable yet small. The final construction was all hand beaten by me without having a sketch to work from. It allowed me to let my creativity flow and to achieve something truly unique. This is my normal way of working. The tail was constructed the same way and I incorporated an inverted V into its end to expose the rear wheel as much as possible.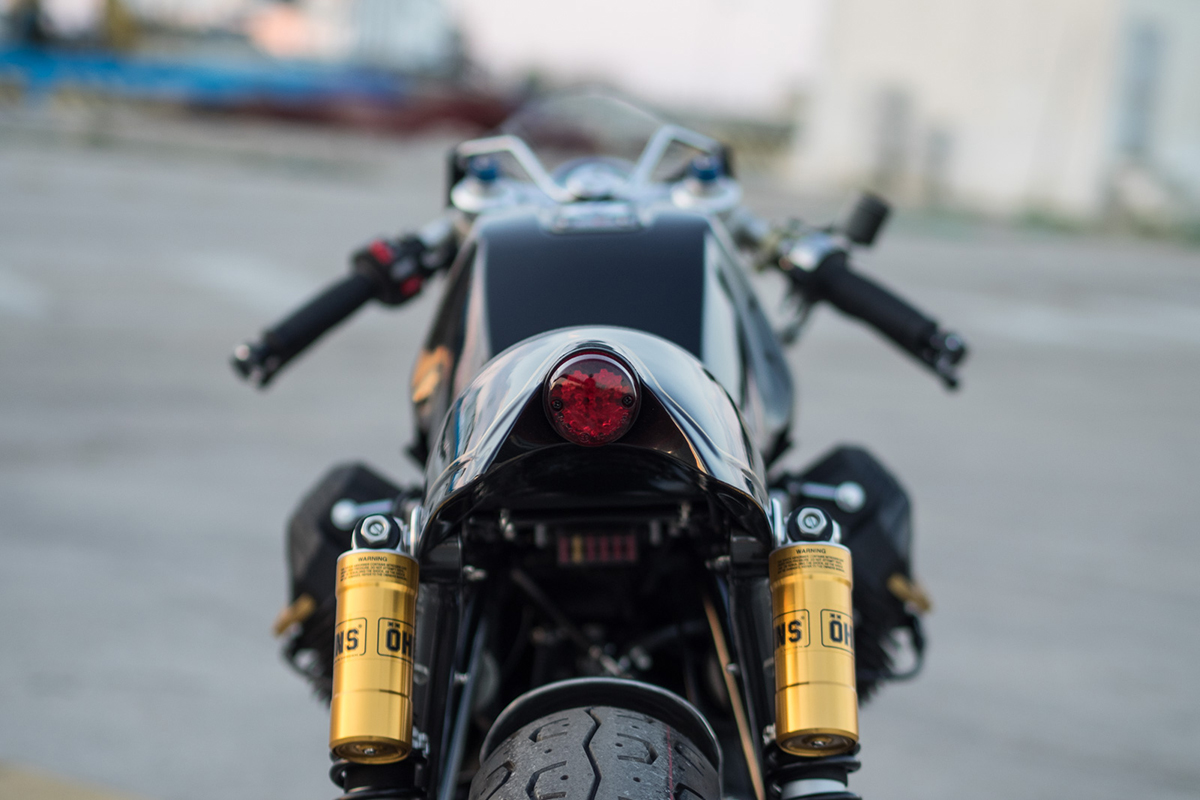 Other aluminum parts I created specifically for this bike include the adjustable rear set foot pegs, the triple tree to hold the new forks, supports for the rear shocks, the front and rear aluminum fenders and the supports for the Brembo brakes. Finishing touches came in the form of an exhaust system based on my own design from Mass Exhaust, digital instrumentation from Acewell and Pirelli Phantom rubber.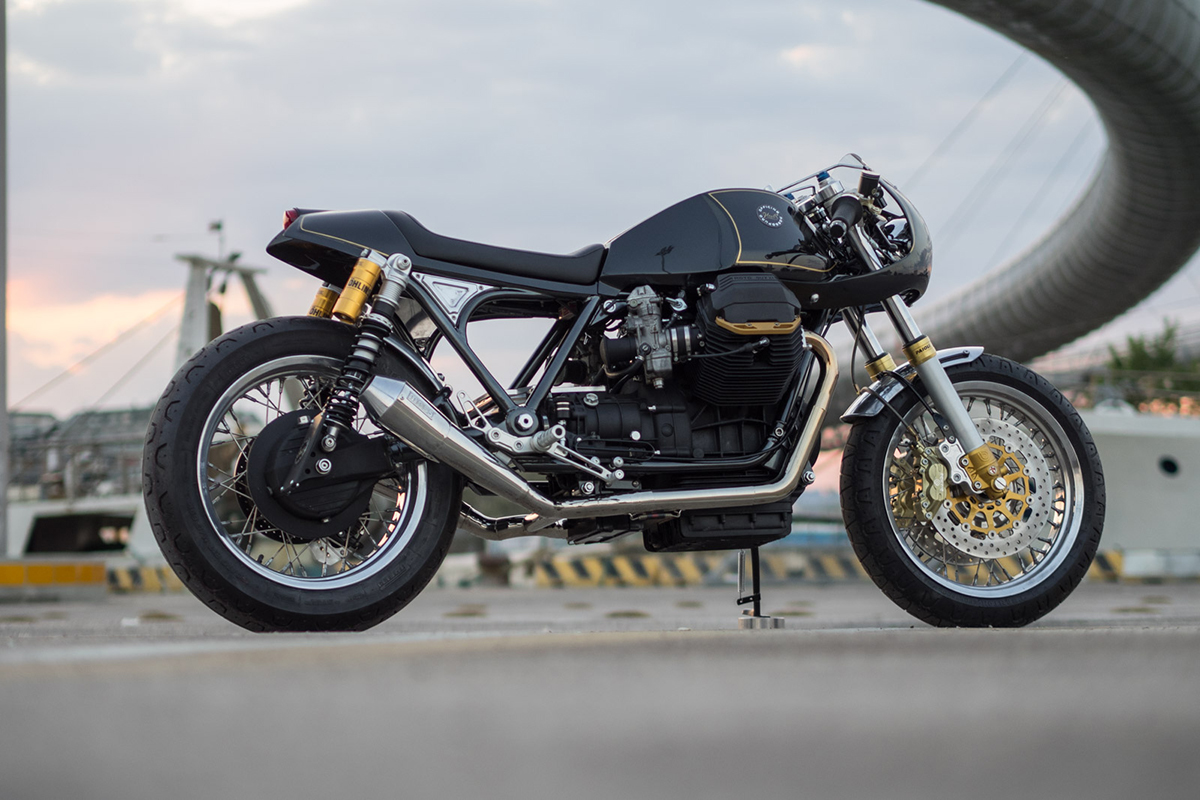 Story by Filippo Barbacane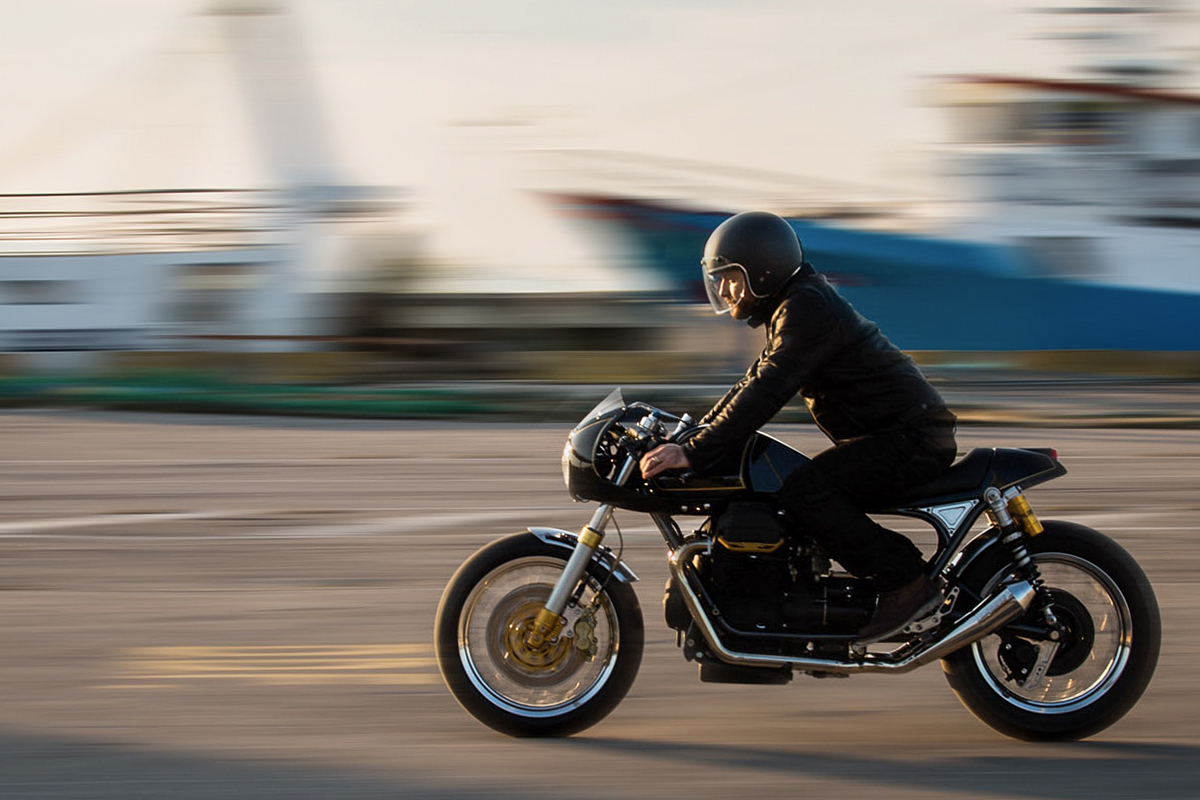 Vitalis is a Latin word meaning "necessary" or "vital", in short. A thing which you can not live without. This is what the motorcycle means to me. To me, a motorcycle is not merely an object. It is able to communicate emotions, to make me feel joy, pain, anxiety and fear.
I live motorcycling this way and I wanted to pour this passion into a special bike. It was built for a customer who offered me carte blanche with the build. So I selected a <a href="https://www.returnofthecaferacers.com/category/moto-guzzi-cafe-racer">Moto Guzzi</a> Le Mans III as the base, a motorcycle with a powerful engine, a great chassis and famous for its efficiency.