When it comes to the Moto Guzzi brand there are a handful of custom builders we'd consider experts on the subject. Amongst them is Filippo Barbacane, the man behind Officine Rossopuro. Filippo has 25 years of Moto Guzzi experience under his belt. So it's fair to say there aren't many who know their way around an Italian longitudinal V-twin quite like him. As a result, Filippo's become the go-to guy for many a Moto Guzzi enthusiast on the European continent. Not every bike Filippo creates is built to be a showstopper and equally so not every customer wants a show bike. As was the case with his latest project, a classically styled 1979 Moto Guzzi T3 850 cafe racer that is equal parts practical and cool.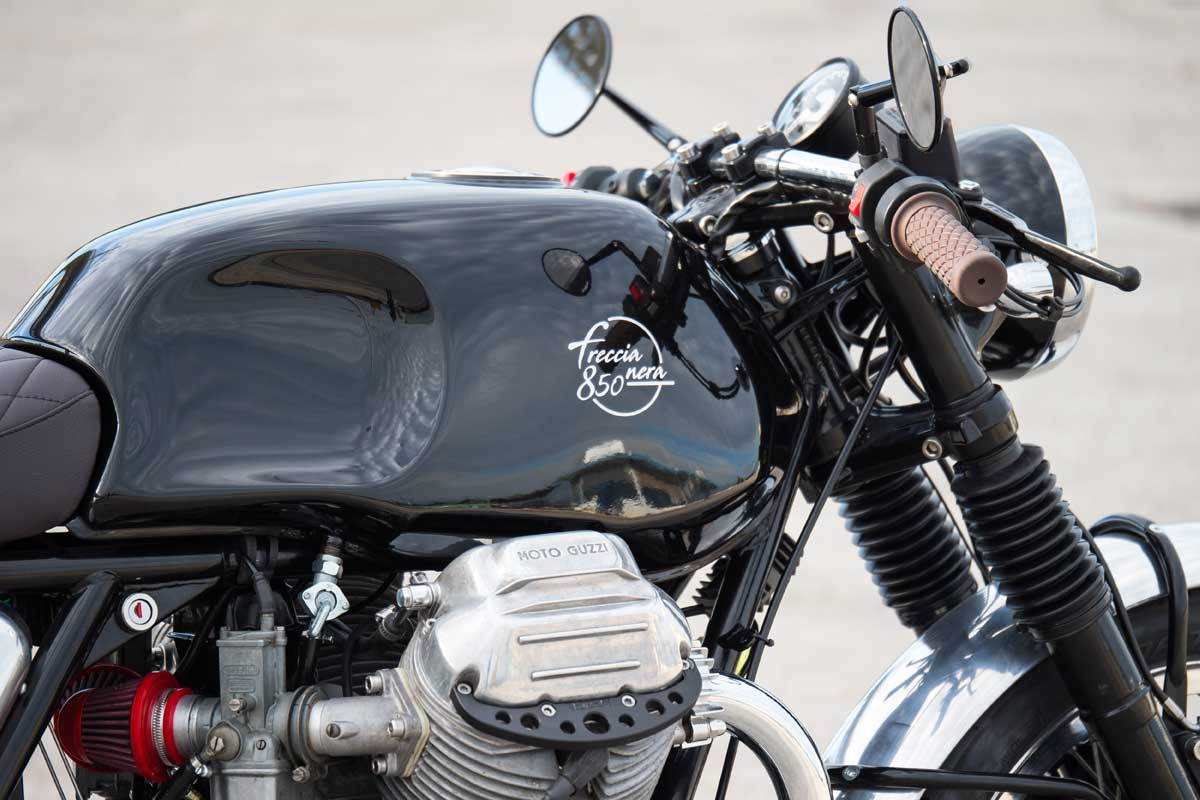 "This motorcycle was built for a Moto Guzzi enthusiast. He wanted a classic bike but at the same time it had to be easy to use," says Filippo. "So I thought of building a motorcycle based on a T3 850 that wasn't overdone. I wanted it to respect Moto Guzzi's history and tradition." To achieve this goal Filippo put together a plan that involved creating a custom bike that paid homage to the T3's lineage.
Being as knowledgable and respected as Filippo has its benefits. In particular, its the trust his customers put in him. With this T3 850 things were no different. Filippo was given "carte blanche and absolute freedom" to do as he wished with the bike, letting him create exactly what he wanted without being limited by specific requests or design references. Despite the donor running strong Filippo insists all his builds are given a mechanical overhaul so this is how this T3 project began. The engine and gearbox were thoroughly gone through and the frame was cleaned and repaired where necessary. The bikes original bodywork wasn't so lucky. It was rough from years of use and didn't suit the direction in which Filippo wanted to take the build so it was retired to the scrapheap.
Creating the new bodywork involved shaping a custom fuel tank from sheet metal. Filippo's design focused on classic lines and practicality. This means that the final product holds enough juice for longer hauls. The tank then dictated how the rest of the bodywork came together. Filippo rolled both front and rear fenders from aluminium. He shaped side panels that recessed into the triangle of the frame and fabricated all the supports to mount things how he liked. Part of Filippo's journey working with Moto Guzzis has lead to him producing many of his own parts, so he tapped into his own catalogue during the T3 850 build. These include parts like the bikes adjustable rear-set footpegs, engine guard plates and brake mounts which are all CNC machined alloy.
"The chassis of the old Guzzi, the Tonti, has exceptional handling qualities. Therefore these bikes are still extremely drivable despite their age," says Filippo. So with builds such as this, his approach involves updating the electrical and ignition systems, the brakes and above all else the suspension. Most importantly he aims to reduce weight because in his own words, "this definitely makes them much more fun to ride!"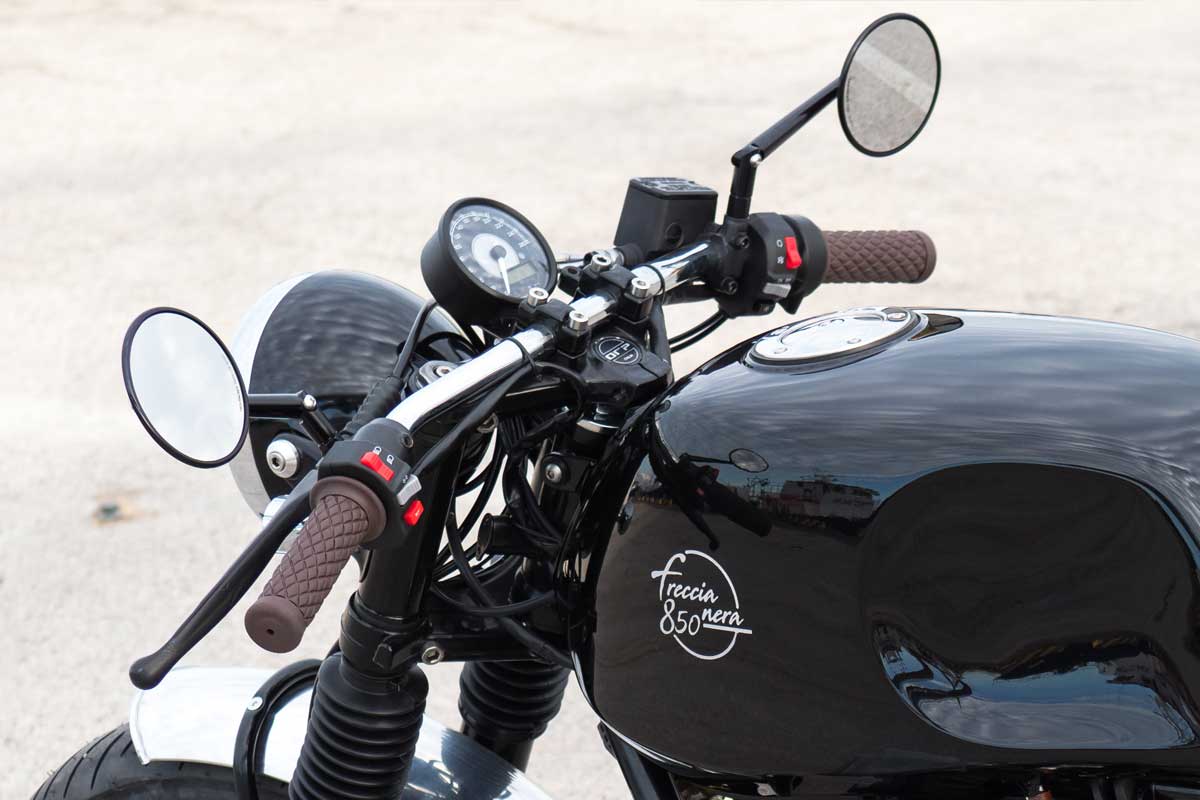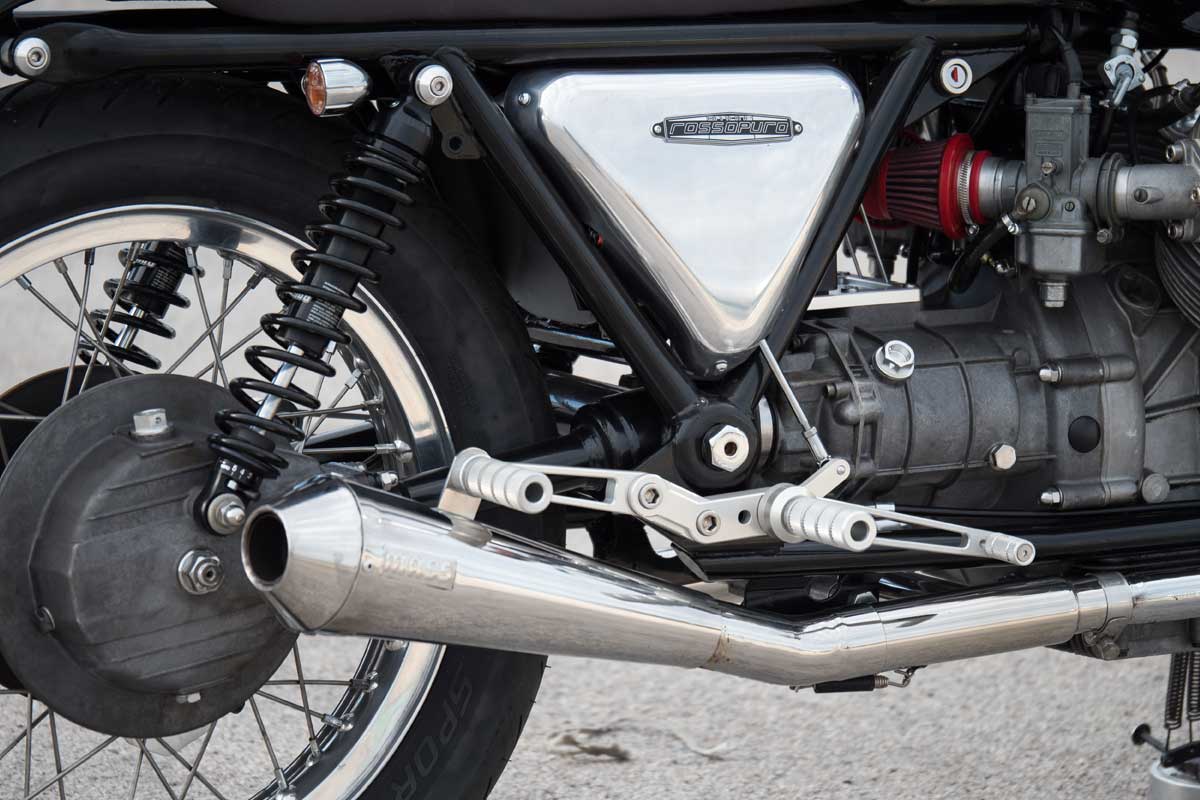 To finish things off Filippo fit the bike with a diamond stitched saddle that blends seamlessly with his bodywork. Shouldered Borrani rims add a touch of classic racer and the new rear shocks are adjustable items from Bitubo. The only aftermarket items ordered in for this build are the lights and mirrors and a Velona Daytona dash. As for those sexy reverse megaphone mufflers, they were custom made to Filippo's specification by Mass Moto in Sicily.
"The thing I care about most is that my bikes are usable," says Filippo. "Therefore making old bikes as reliable as new ones, looking for a correct driving position, etc. is always my biggest challenge." All up his custom T3 850 transformation took 4 months to complete. It's a striking machine that could easily be mistaken for a well-kept classic, which in my opinion makes it a very well made custom.