Moto Guzzi is the oldest European manufacturer in continuous motorcycle production. In 2021 the Italian manufacturer celebrated its 100th birthday and it isn't showing any signs of slowing down. Loved the world over by their loyal Guzzista, the marque has produced many iconic models throughout its colorful history. So when it comes to choosing a suitable Guzzi for a cafe racer project you're somewhat spoilt for options.
Thanks to their classic styling and unsophisticated design many Moto Guzzi are well suited to the cafe racer style. The Moto Guzzi horizontally opposed v-twin gives them a unique appearance and with their shaft drive setup they require relatively low maintenance. Over the years, we've featured countless Moto Guzzi custom builds on these pages. The following is our pick of the top 10 Moto Guzzi cafe racers of all time.

Revival Cycles T3 cafe racer
When you host one of the world's best custom motorcycle events it goes without saying you should be able to build a decent bike yourself. Luckily Austin's Revival Cycles, founders of the venerable Handbuilt Show, are a dab hand at it. And if you need proof, just check out this Moto Guzzi T3 Cafe Racer they revealed at the 2022 Handbuilt show.
According to Revival frontman Alan Stulburg, what started out as a basic custom tank build "blew out in a big way". When the dust had finally settled the T3 was sporting entirely hand-formed aluminum bodywork with a half fairing out front, a wasps tail cafe racer rear end, and a unique belly pan that incorporates the bike's exhaust system into its design.

In order to fit the new bodywork Revival made extensive changes to the Guzzi chassis. These included the lowering of the frame rail, additional bracing, a custom transmission mount, and the removal of the rear frame tube. The subframe also went under the knife so it could accept a Lemans 1000 swingarm and a modern mono-shock suspension setup. The front-end suspension is new too with a set of 70s Cerrianni-styled CRS forks sitting in a CNC machined set of clamps. And a big brake upgrade rounds out the handling upgrades.
As you'd expect this Guzzi's engine has been suitably upgraded too. Now sporting an 88mm big bore kit its capacity has risen to 950cc. Racing pistons, forged rods, performance valves, and Dellorto PHF 40 mm carbs boost both power and reliability and the whole package is topped off by a custom 2-into-1 Titanium exhaust system. On top of it all this T3 is sporting a long list of other custom tweaks and aftermarket additions that make it a worthy member of our lauded Moto Guzzi list.

Kaffeemaschine Le Mans 3 cafe racer
When it comes to customising a Moto Guzzi few know their way around the marque like Kaffeemaschine's Axel Budde. Based in Germany, Axle has been building custom Guzzis for well over a decade. With a keen eye for detail and a style that is instantly recognizable, his work is highly sought after by dedicated Guzzista who can afford the premium price tag.
This bike, which was based on a 1983 Moto Guzzi Le Mans 3, was one of Axle's personal projects. He builds bikes this way to further develop his approach and fine-tune parts for his online store. Coined KM33 the Guzzi is sporting a meticulously refined frame and carefully upgraded engine to ensure performance excellence. The engine capacity now stands at 1000cc and it's producing a modest 85hp. Although that may not sound like much, but thanks to all the changes on this bike the engine now only has 183kg to haul. Now add to the mix upgraded suspension, lightweight wheels, bigger brakes, and a lower center of gravity and you've got yourself something pretty special.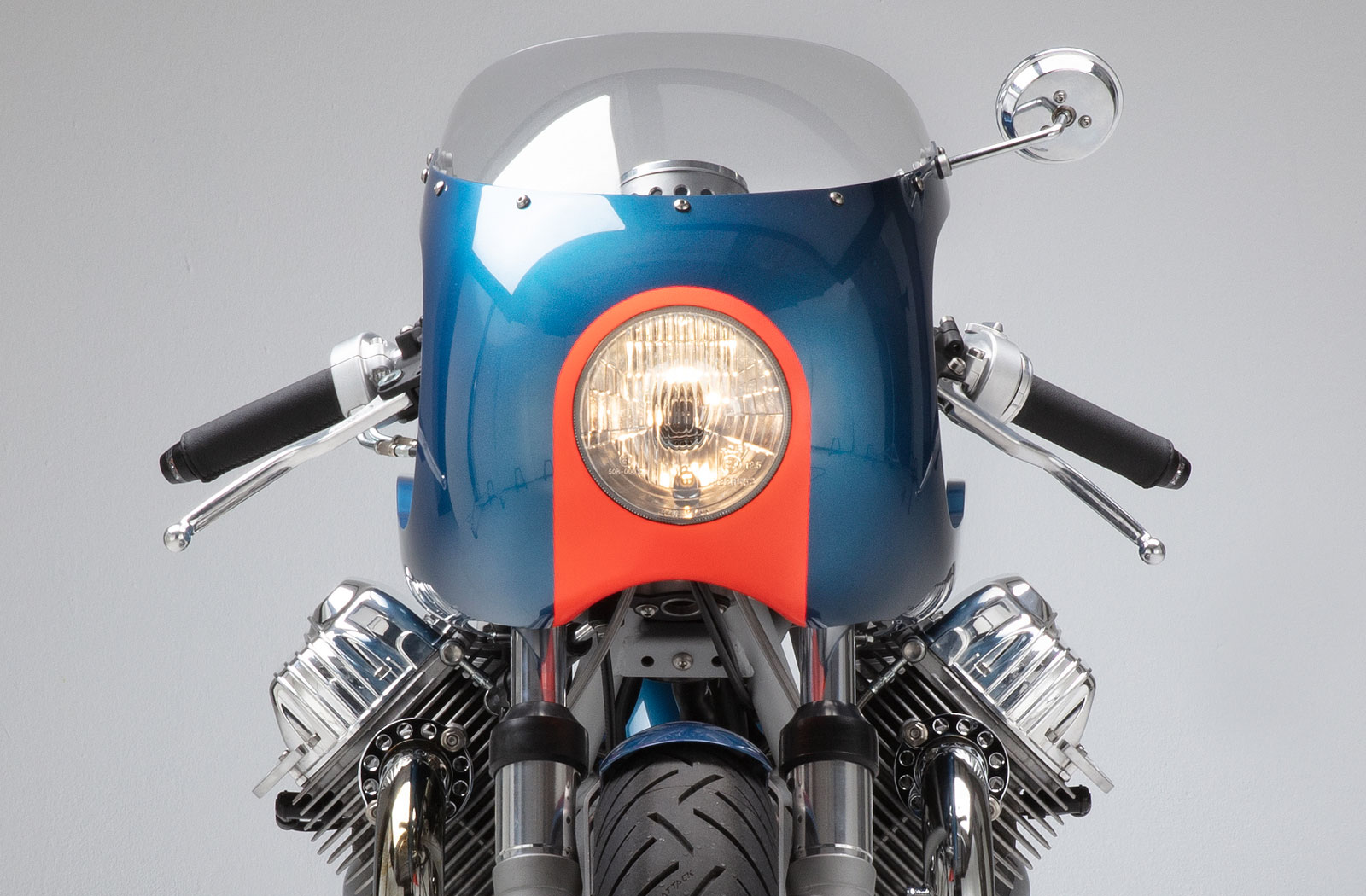 As for its appearance, KM33 is a stunning example of Axel's half-faired design approach. With its perfectly level bone line, clip-on handlebars, and rear set footpegs it's the epitome of cafe racer style. The bodywork is formed using a mix of carbon fiber and kevlar making it lightweight and strong and it sits in place using hardware Axel has also developed himself.
KM33 also features a long list of specialty parts from the Kaffemaschine catalog to step things up even further. These include a new speedometer in a custom-made housing. Clip-on handlebars wearing custom controls and bar end turn signals. Discrete engine crash guards, exhaust clamps and Kaffemaschine tank emblems. To complete the transformation Axel has cleaned, polished, and repainted the engine, frame, and bodywork which has left this 40-year-old motorcycle looking like a brand new bike.

Rua Machines Moto Guzzi Nevada cafe racer
Of all the Moto Guzzi models to choose from the Nevada isn't one that jumps to mind. It was Guzzi's highway cruiser of the early nineties; a laid-back, slouch-framed, sporster-esque motorcycle that had zero in common with the cafe racer ethos. Despite all that Portuguese workshop Rua Machines gave it a go, and the result was surprisingly good. So good infact that it made its way onto this list.
Not only is it impressive that Rua Machines managed to convert a Moto Guzzi Nevada into a convincing cafe racer, but they also built a stunning example of the style. An integral stage of the transformation was the revision of the bike's suspension. In the rear, they fit the Nevada with taller Bitubo shocks to level things out and pull the front wheel in for sharper steering.  Higher-performance internals were then added to the forks to manage the shift in weight distribution.

After a few basic chassis modifications, primarily to the subframe, the Nevada received a whole new look. The front fairing is an Avon FRP replica and the tightly proportioned rear end is a Rua Machines original. As for the tank it hails from fellow Italian manufacturer Ducati and was originally mounted to a 350 GT. Clip-on handlebars and rear-set footpegs were par for the course and the lighting is all new with bullet-style turn signals and an integrated brake light in the tail.
A standout for us amidst all of the striking details of this Guzzi cafe racer is the bike's custom exhaust.  Tucked in neatly below the swingarm the muffler design is a stroke of genius. Along with helping to boost the 750cc v-twins performance, it visually pulls the bike lower and squares off the engine which has worked wonders for the final result.

Shiny Hammer 1000SP Spada cafe racer
Just like the name says, this Moto Guzzi 1000SP Spada cafe racer by Shiny Hammer is a glimmering work of hand-beaten art.
Shiny Hammer is the pseudonym of Samuel Aguiar a furniture designer with a soft spot for motorcycles. Built as a personal project using a 'weird cafe racer' design brief the project started after he acquired a heavily damaged Spada. After fitting a new front end to replace the damaged one, Samuel rebuilt the forks and dropped the nose lower to the ground. A pair of adjustable, air-filled Fournales shocks were then inflated to just the right height to level out the Spada's bone line.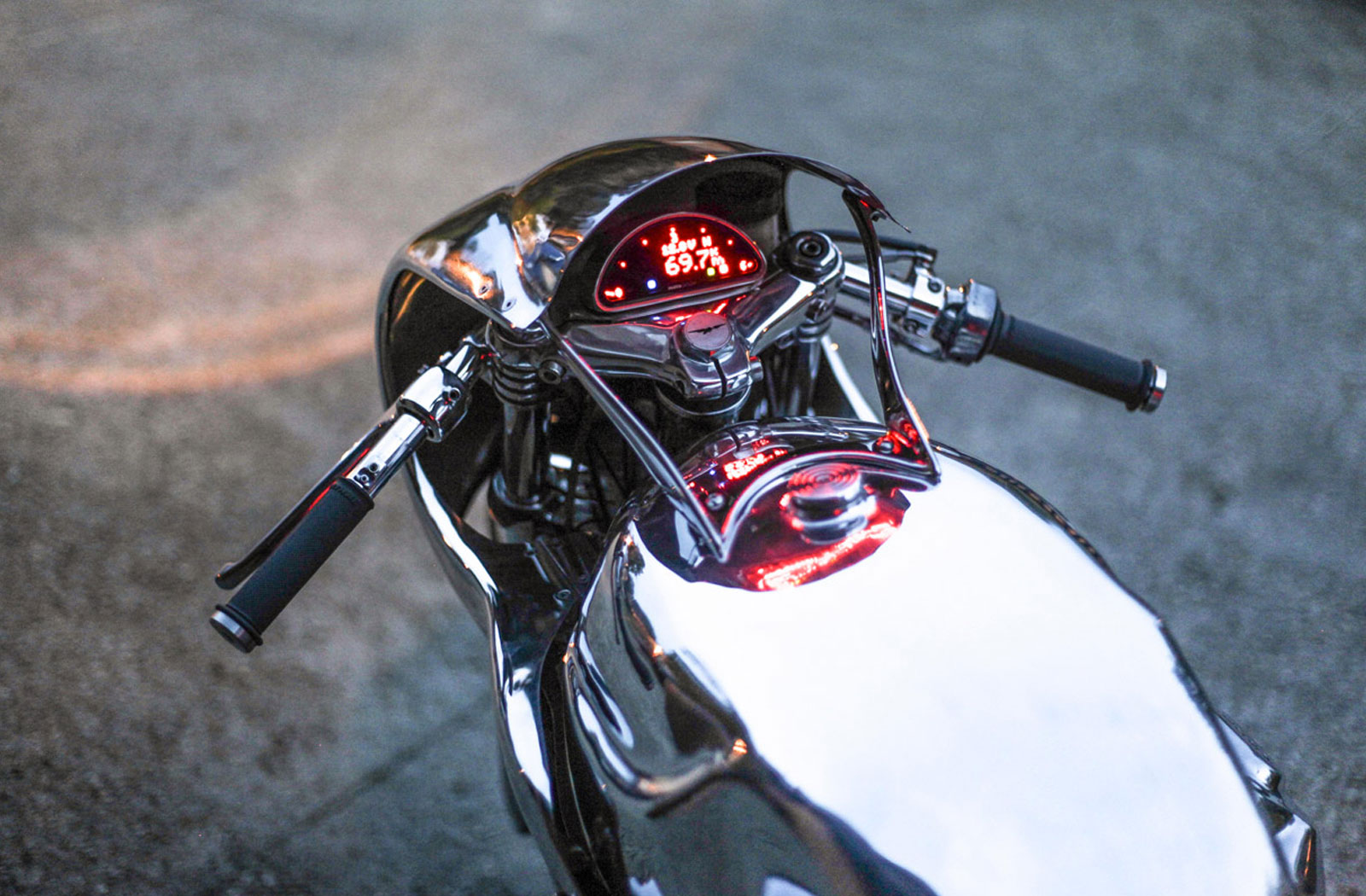 Once he was happy everything was sitting right, Samuel got to work beating aluminum sheets to form the bodywork. Starting with the fuel tank he opted for a classic shape, but from there, things went a little awry. The bulbous half fairing is entirely alloy and the bracket holding it in place is welded onto the tank. For the front fender, he took the opposite approach to most, making it significantly bigger. It now slumps over the sides of the tire, all the way down to the brake caliper. As for the tail, it's a tad more traditional but no less impressive since it fits perfectly onto the frame rails. To finish it all off he polished every inch of his alloy creation to a mirror shine.
Aside from the bodywork, there's no shortage of sweet details on this Spada cafe conversion. Tucked away beneath the front fairing is a Motogadget Motoscope Pro digital dash that casts striking red reflections across the polished tank. The clip-on bars are devoid of any clutter and the rear set foot pegs are turned from lightweight alloy and knurled for grip. The cylinder heads, fork legs, and shaft drive have been polished to match the rest of the bike, and although simple in its design, the exhaust perfectly complements the rest of the build. Sure you'd get tennis elbow trying to keep this Spada shining so bright, but it'd be worth it!
South Garage Moto Guzzi Bellagio cafe racer
From a performance perspective, the Moto Guzzi Bellagio was a solid offering, and by all accounts, it delivered a very satisfying ride. But its gargantuan fuel tank and behemoth seat left it looking like a wallowing beast. So when the Italian workshop South Garage had the opportunity to customize a Bellagio they made short work of its aesthetic inadequacies by dispensing with all of its stock bodywork.
Nicknamed the Fenice (Phoenix) this Moto Guzzi cafe racer has a whole new look thanks to a redesigned subframe and bespoke bodywork. Taking inspiration from classic Moto Guzzi designs South Garage formed a new fuel tank from aluminium. It wears a sleek black, gold, and silver paint scheme with ghosted Fenice lettering and cast alloy South Garage badges. To keep weight to a bare minimum the tail unit and side covers are carbon fiber with rear-end lighting integrated into the design.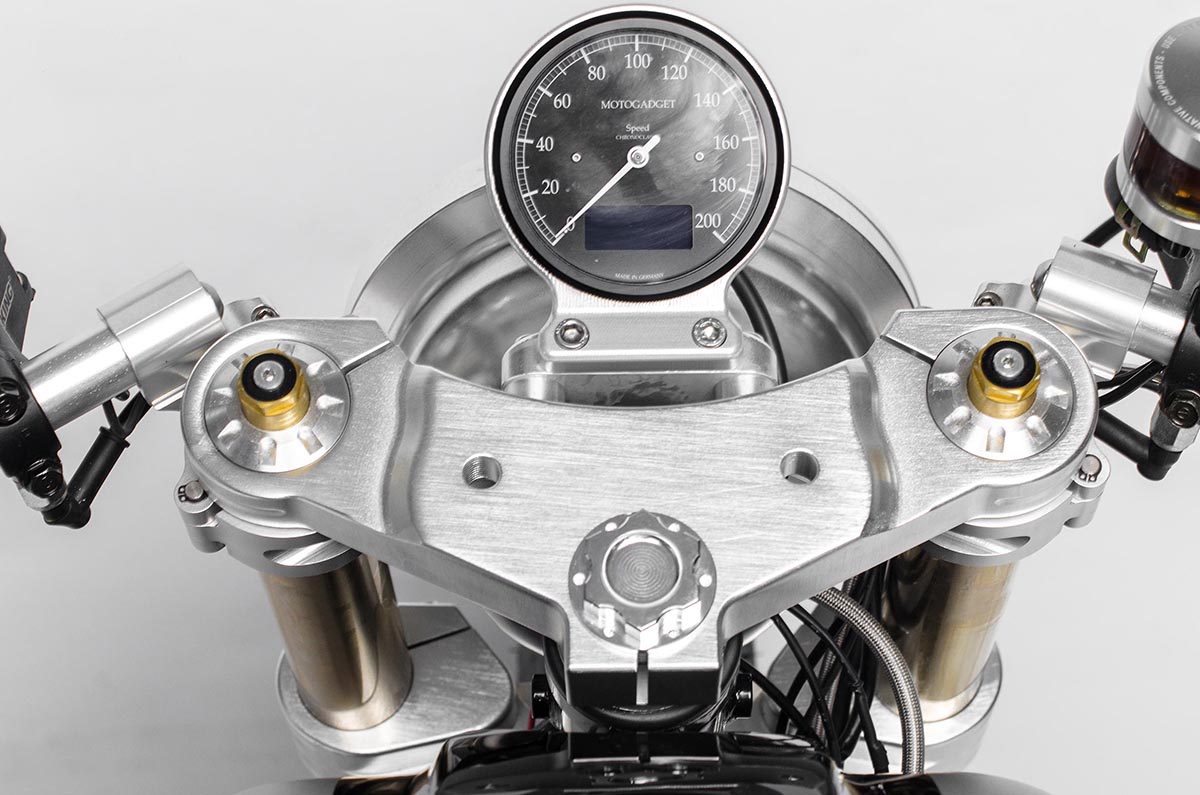 For improvements in handling the Bellagio is now running a complete Ohlins suspension upgrade. The gold forks sit in a custom triple clamp and the rear mono shock's remote reservoir is held by a CNC machined support. Further handling improvements can be attributed to a huge reduction in unsprung weight thanks to the addition of Kineo 17-inch carbon fiber rims at both ends of the bike. Completing the handling upgrades are Brembo brake calipers, floating discs, and fluid reservoirs.
South Garage also paid special attention to the 935cc v-twin to ensure this Bellagio was a cut above the rest. On the outside, they've fitted it with a full Spark exhaust system, high-flow air filters, Dynatech coils, and a Rapidbike engine management system. On the inside, you'll find lightened camshafts, a mono-disc clutch upgrade, high-comp pistons, and lightly worked heads. The result is a 27% increase in power as well as a big boost in torque.
Finishing off the transformation is a whole range of CNC-machined aluminum components from Rizoma and FG Racing. The headlight is a custom creation using CNC-milled components and a xenon bulb and South Garage has paired it with a Motogadget Chrono-Classic dial that sits in a similarly styled custom housing.

Stile Italiano Moto Guzzi 950
Italian workshop Stile Italiano has made regular appearances in our Top 10 lists. They made the cut in our Top 10 Harley Davidson cafe racers list and the Top 10 Triumph cafe racers list, and here they are again with another very worthy inclusion. Instantly recognizable thanks to their striking gold, silver, and black livery and the smooth flowing lines, Stile Italiano's custom motorcycles are the cream of the crop, and this heavily modified 850cc Moto Guzzi T3 is no exception.
Coined the Stile Italiano Moto Guzzi CR950 the T3's new look is the work of Stile Italiano's lead designer Gianluca. With this design, he took inspiration from both the legendary Honda CR750 and 1970s road racers. Built using a restored 1970s racing fairing the front cowl has been trimmed to allow the V-twin heads to protrude. Surrounding the entire front end the shapely fairing beefs the bike up to give it a bullish stance. Behind the fairing is hand-shaped aluminum excellence in the form of a custom-made fuel tank and tail unit.
Opting for classic performance parts over modern alternatives, Stile Italiano has kitted this T3  out with a selection of rare, race-bred components. These include a set of 1980's anti-dive forks, an original V7 speedo, rare Fox Racing air-filled shocks, and a 300mm Fontana front drum brake which was commonly used on Works Trident racers of the 1960s. Clip-on handlebars and rear set peg complete the race-inspired conversion.
The T3's engine has also been heavily modified. The Guzzi's heads feature a twin spark setup, the ignition system is by Dyna, and fuel is delivered via 40mm Dellorto carbs. Stile Italiano also commissioned the production of a one-off exhaust for this bike from Virex. The 2 custom headers converge at a bread-box style muffler that sits under the engine and swingarm for an integrated appearance.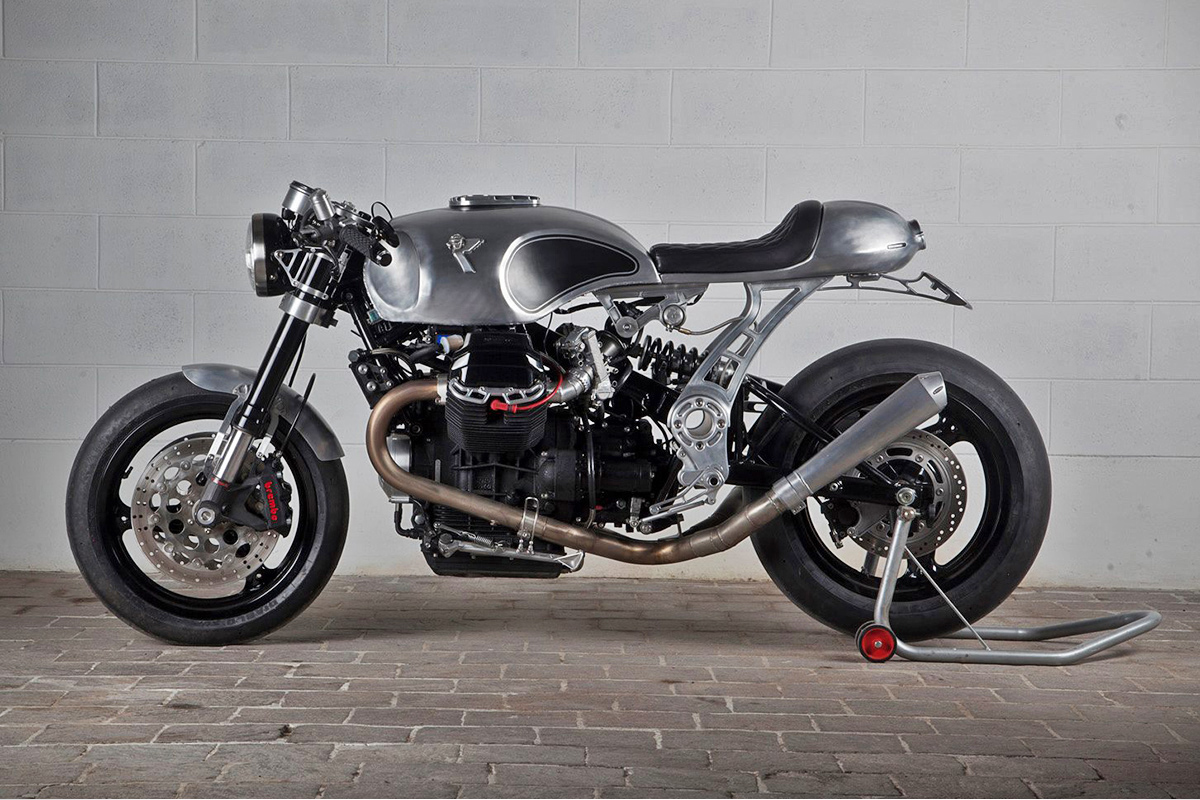 Seven Motors Moto Guzzi V11 Cafe Racer
Nothing quite beats the look of raw, hand-shaped aluminum. Built by the Verona-based Seven Motors, this V11 cafe racer showcases the workshop's metalwork skills. Using both hand-shaped and CNC machined components they've turned the portly V11 into a lithe cafe racer.
The Moto Guzzi V11 was known for being a heavy bike so to remedy this Seven Motors rebuilt the motorcycle using ample amounts of lightweight aluminium. The long list of alloy additions includes the classically styled bodywork which consists of a Norton-inspired fuel tank with deep knee dents and clearance channels for the clip-on bars, plus a tidy tail that only leaves room enough for one. Built into the tank is a machined quick filler cap and Motogadget keyless M-lock ignition with a trick LED surround. In the back, the tail features integrated LED brake and turn signal lighting.
Holding the new bodywork in place is an entirely custom subframe which was again machined from aluminium. The radical design incorporates the swingarm pivot and the mount for the monoshock rear suspension. The front end is the standard V11 setup but it's being held in place by a light-weight CNC machined triple clamp with a tiny Motogadget digital gauge recessed into it.
For a cohesive look, most of the other accessories on this V11 are raw aluminum too.  The front fender, fluid reservoirs, headlight clamps, engine guards, and mufflers make up part of the list, but the closer you look, the more you'll find. To finish things off Seven Motors added some speed stripes to the bodywork but only enough to add a bit of style because covering up all that hard work would be a real shame.

Blacktrack Motors Moto Guzzi Griso BT-05 Cento
Led by multidisciplinary designer Sacha Lakic Luxembourg's Blacktrack Motors approaches their projects a little differently to most custom workshops. Similar to manufacturers each project goes through a heavy design and engineering phase to achieve the best final result. To create each Blacktrack project they utilize modern prototyping techniques and fabrication machinery resulting in factory levels of fit and finish.
BT-05 Cento was Blacktrack's first series production motorcycle. Built around a Moto Guzzi Griso platform they released a very limited 10 motorcycle run. To make each BT-05 unique Blacktrack finished each one with an individual paint scheme inspired by famous race tracks from around the world. The styling of BT-05 can best be described as neo-retro due to the mix of modern components and styling inspired by classic motorcycles.
BT-05 wears bespoke bodywork formed from carbon fiber. Minimalistic and angular it emphasises the bike's aggressive look and directs attention towards the bike's huge V-twin motor. The tank is actually a cover that conceals a 12-litre fuel cell and the tail unit forms part of the rear of the tank cover. Up front, there's also a small aerodynamic cowl surrounding an LED headlight. Complementing the new bodywork is an extensive list of premium aftermarket parts from the likes of Motogadget and plenty of custom-made CNC components that further add to BT-05's premium feel.
Don't confuse this bike as purely a styling exercise. From the outset, Sacha wanted to create a track-oriented motorcycle and that's exactly what he's done. A stock Griso runs an 1151cc v-twin that produces a decent 110hp. BT-05 however puts out 136hp thanks to a capacity increase to 1382cc and a long list of performance upgrades. The frame is a completely custom design created by Moto Guzzi race expert Guareschi Moto, the suspension is by Ohlins, and braking duties are covered by premium Brembo equipment. As you'd expect from a track-oriented design weight-saving was key and Sacha succeded on that front too with the BT-05 weighing an impressive 50kg less than Moto Guzzi's original design.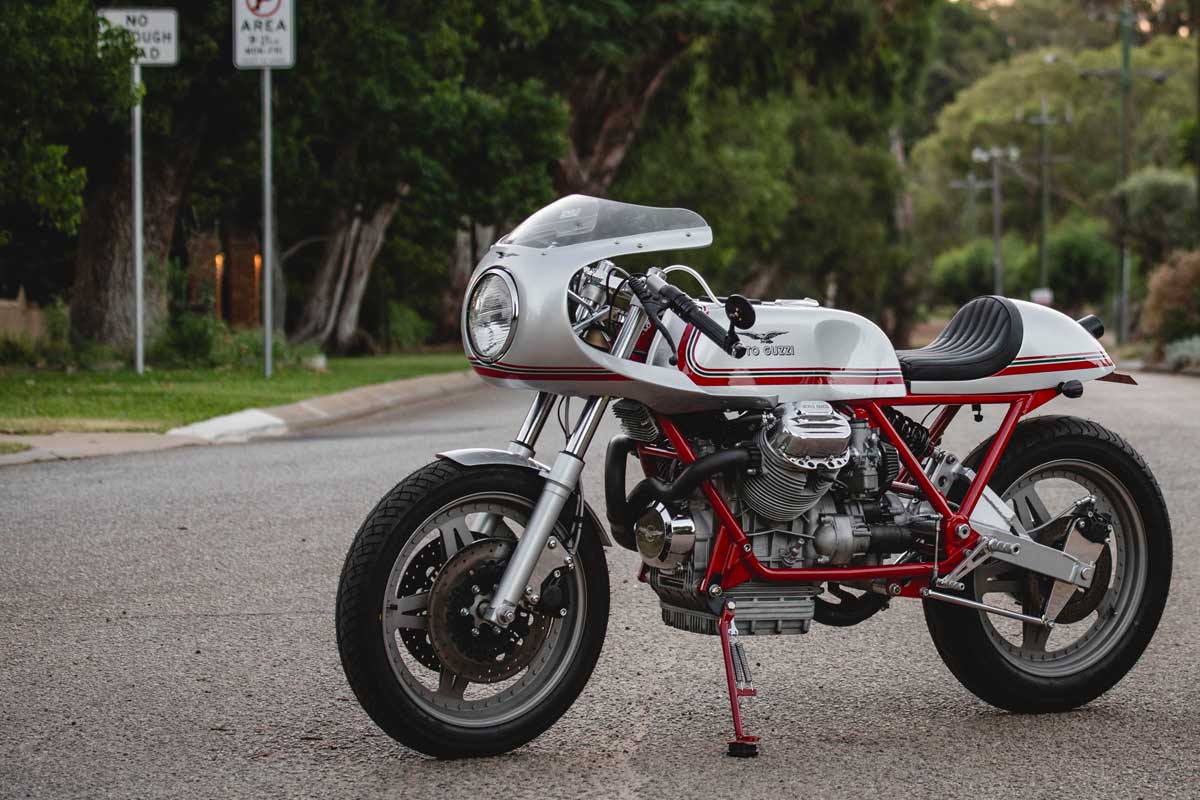 Joel's Moto Guzzi V7 Sport cafe racer
This Moto Guzzi V7 Sport was built by Joel at Custom Motorcycle Electrics in Western Australia. He completed the build over the course of a few years after a friend and customer delivered it to his shop. With a long colorful racing history that spanned several continents this Moto Guzzi V7 Sport already had plenty of desirable components onboard, but with the goal of riding it on the road it needed to be brought back to a street-going trim. Not one to cut corners Joel convinced the bike's owner to go a step further and with that, a ground-up rebuild of the V7 was underway.
During this extensive project, Joel says no bolt went untouched which is clearly evident. When the bike was imported to Australia from California it was sporting a race-spec fibreglass fuel tank. After refurbishing the tank Joel wrapped the front in a Stucchi Luigi fairing and fit a Ricambi Weiss tail unit and saddle. A custom electrics box was also fabricated to house everything out of the elements.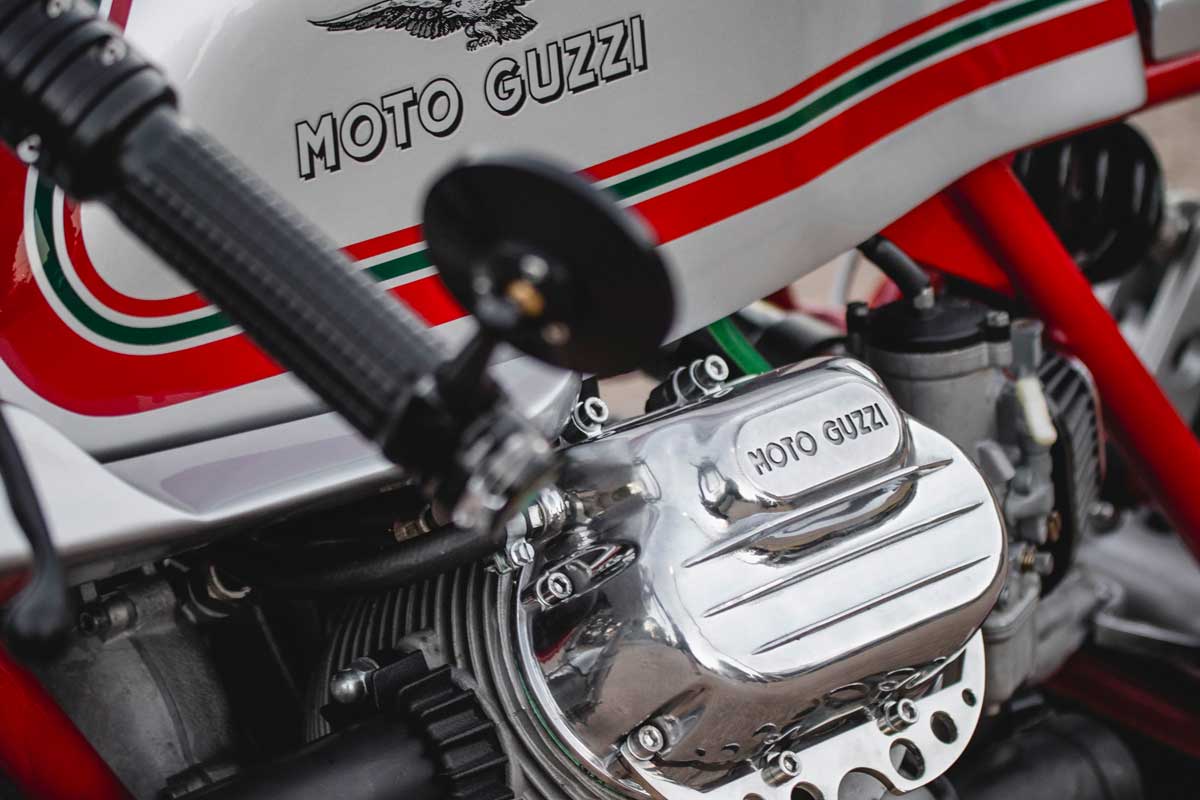 After a full rebuild, the forks were mated back to the V7 frame using CNC-machined triple clamps. The Astralite wheels that came with the bike were trued and refurbished and the brakes were rebuilt and upgraded with new calipers and braided lines. One of the more unusual features of this V7 is the swingarm. The boxed aluminum mono-shock design came with the bike and was likely a custom on-off from the Guzzi's racing years. Joel gave it a clean-up, fit new bearings, and mated it to the frame using a modern YSS mono shock. Upon opening the engine they discovered that the V-twin was sporting its fair share of performance upgrades. Rather than removing anything previously done, he simply overhauled the engine to keep it running smoothly for years to come.
Finally, to get the bike ready for the street it was fit with all-new lighting, mirrors, a Motogadget speedometer, and a ceramic-coated exhaust system with an MCS reverse cone muffler. After a thorough shake down Joel took the V7 to his local licensing office where, unsurprisingly, it passed with flying colours.

Classic Co. Moto Guzzi LeMans MkII
Since we're on the subject of race bikes we'll round out this Top 10 Moto Guzzi list with this stunning LeMans MkII by Classic Co. Garage in Spain. Workshop frontman Mauro Abbadini has been building and racing Guzzi's since 1994. To date, he's put together around 200 of them. So it's safe to say he's somewhat of an expert on the subject.
This project started out as a 1981 Le Mans MkII. Destined to take part in classic racing events Classic Co. set about pushing the bike's stock power figure of 71hp up into triple digits.  They achieved their goal by first increasing the engine capacity from 750cc to 1069cm using round-bodied cylinders. They then added an SS high-performance camshaft, hi-comp Asso pistons, and performed one of their shop's tried and tested race bike mods, the fitment of Porsche valve springs. Fueling has been suitably hopped up courtesy of 44mm Lectron carbs which inhale through open velocity stacks. Completing the setup is a LaFranconi Competizione racing exhaust system which when combined with everything else has resulted in a rear wheel power figure of 106hp.

The race-spec mods continued with the creation of an all-new CroMoly stressed member frame. The swingarm is ChroMoly too and it extends the footprint of the bike by 20mm and allows the fitment of a wide 160 rear wheel. The wheels themselves are lightweight 18-inch magnesium items by EPM and they've been wrapped in modern sport compound rubber. As you'd expect the suspension has been stepped up too using parts from Marzocchi.
Completing this impressive transformation is custom bodywork designed and built by the Classic Co team. With all of the weight-saving modifications and the lightweight bodywork, this Le Mans MkII weighs an impressive 30kg less than the original. A lick of Moto Guzzi metallic green is the finishing touch on what is easily one of our favorite Moto Guzzi builds of all time.