Launched in 1999 Italian workshop 'Stile Italiano' specialise in the sale of high-end classic, collectable and exotic motorcycles, but behind the doors of their exclusive workshop, they have another agenda, building jaw-dropping cafe racers. Stile Italiano founder Gianluca Tiepolo and his small team of skilled builders aren't a custom workshop for hire though. Together they build cafe racers for themselves. Motorcycles built without restrictions or compromises. Cafe racers that meet their strict performance standards and finished to a concourse level of detail.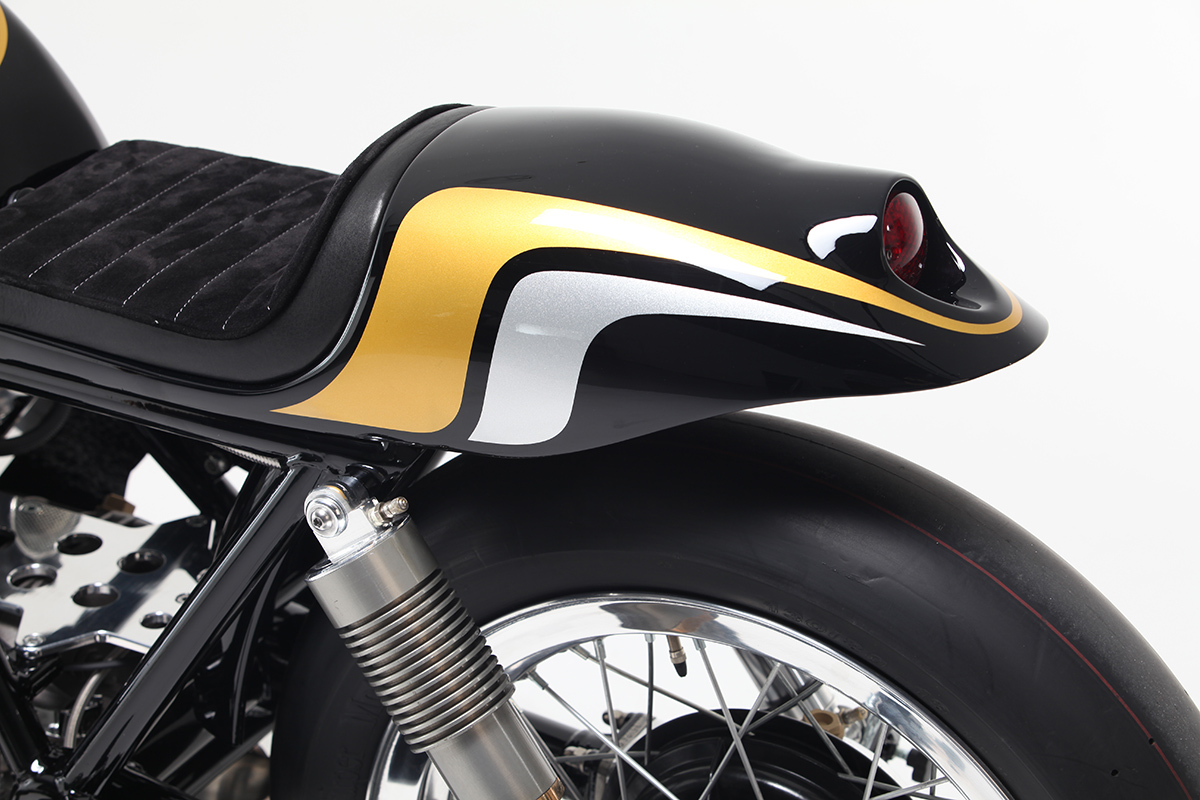 Along with lead designer Gianluca the Stile Italiano team consists of his business partner Cristian Diana and skilled mechanic of 25 years, Loris Lessio. Moto Guzzi's are a common platform for Stile Italiano's cafe racer conversions and this bike was once an 850cc Moto Guzzi T3. Named the Moto Guzzi CR950 very little remains of the original bike. During a build which Gianluca describes as "the most elegant one possible" their donor was transformed into a 70's style road racer with design cues taken from Honda's legendary CR750.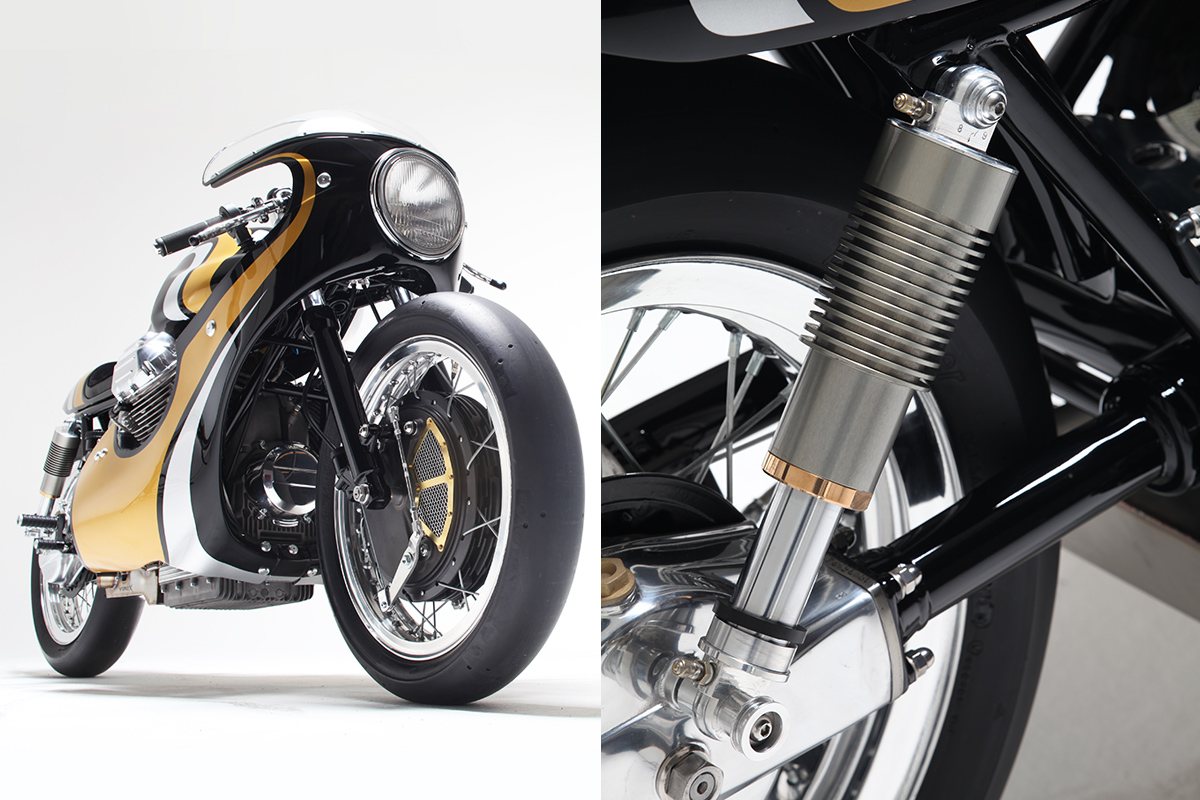 Work began with a series of modifications to the Guzzi frame to fit the revised bodywork. The bikes front end was then replaced with a set of 80s anti-dive forks for improved handling and a pair of super rare FOX air shocks were installed on the rear. On the front wheel, you'll find another rare and costly item, a 300mm Fontana drum brake. Renowned for being "the ultimate European drum brake" these magnesium drums/hubs were commonly found on Works Trident racers in the 1960's.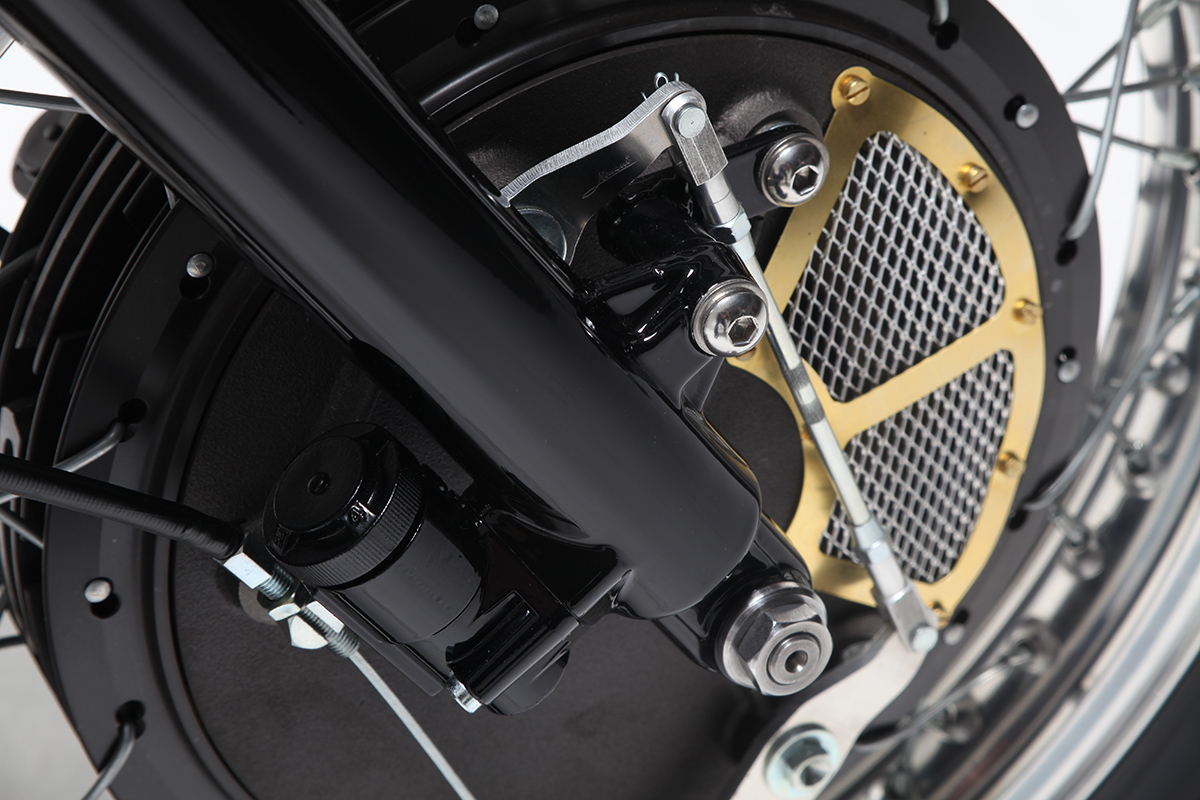 Opting for original over reproduction, the CR950's full fairing is a restored 1970's race unit that's been modified to allow the v-twin's transverse heads to protrude through it. Clip on handlebars have been adapted to the forks to clear the fairing and an original V7 Sport speedometer sits above the top yoke. The bikes handmade alloy fuel tank oozes classic cafe racer styling and has had its underside modified to house the battery out of sight.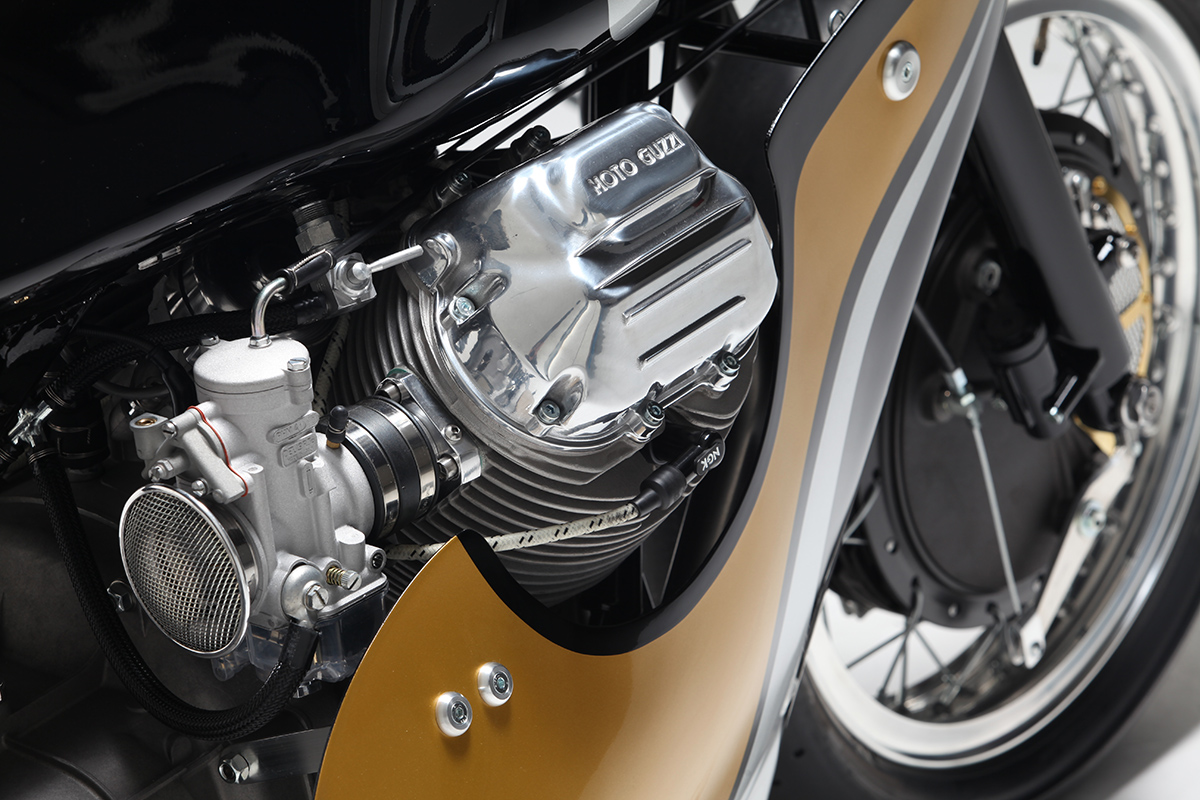 At the heart of the bike sits a the heavily modified T3 engine. Ported and increased to a capacity of 950cc. Each head has twin spark plugs that are powered by a Dyna ignition system. Fuel is delivered via a pair of Dellorto 40mm carburettors and the exhaust is a one-off Virex system. Along with optimising performance, the exhaust system was designed to keep the Guzzi's proportions tighter. This was achieved by constructing a box style muffler that sits almost out of sight, under the bike's belly.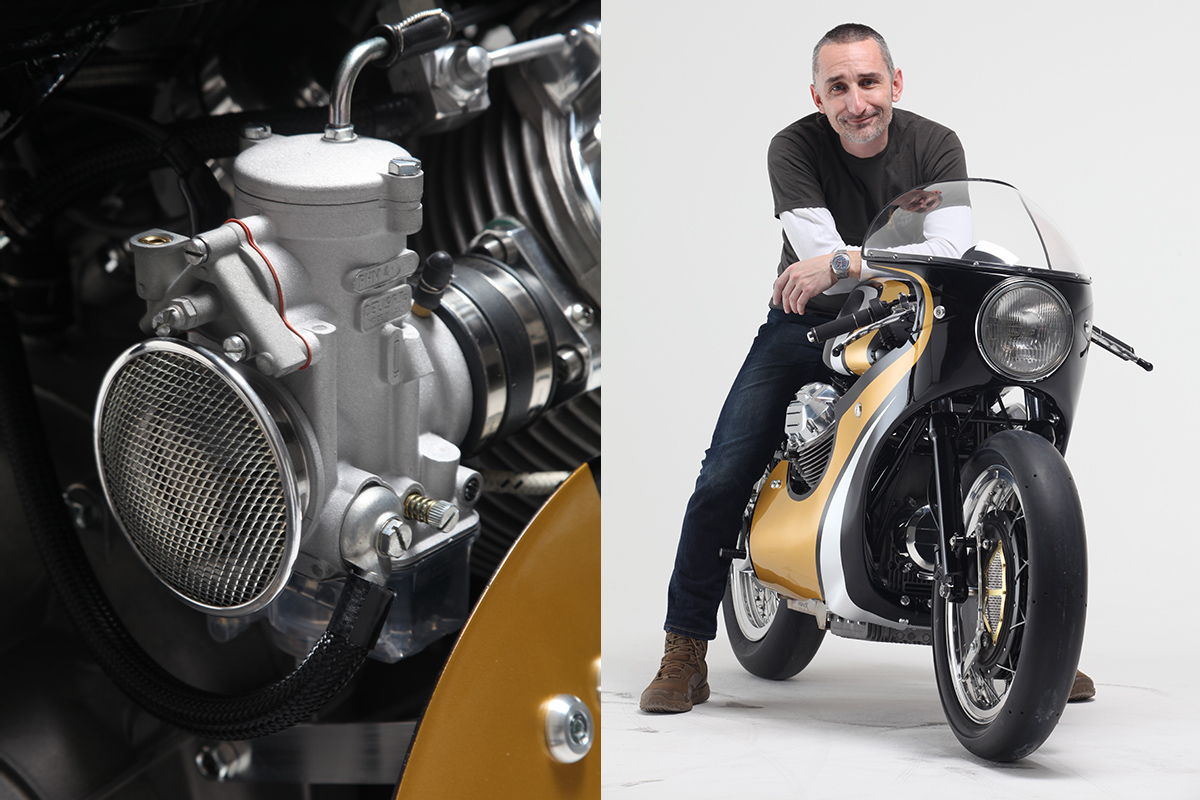 As you would expect from a workshop that specialises in highly collectable machines, the level of fit and finish on their Motor Guzzi CR950 is astonishing. Gianluca selected a special 'mirror effect' paint resulting in a deep rich finish similar to that you'd see on a grand piano. Touches of brass complement the gold of the paint scheme and anything that was once old looks like new again thanks to countless hours of skilled restoration. Gianluca and his team spent 4 months piecing the bike together which has now been sold on to fund their next project. If the CR950 is anything to go by you can count on their next build as being nothing short of breathtaking.