We rank Stile Italiano as one of our favourite custom builders in the world. Everything they do pulls at our heartstrings from their signature black/gold/silver colour schemes to the incredible alloy bodywork they painstakingly shape by hand. But most of all it's their propensity to build cafe racer styled rides and the donors they choose to base them on. What better way to sum all that up than with this mouth-watering Stile Italiano Laverda 750SF cafe racer.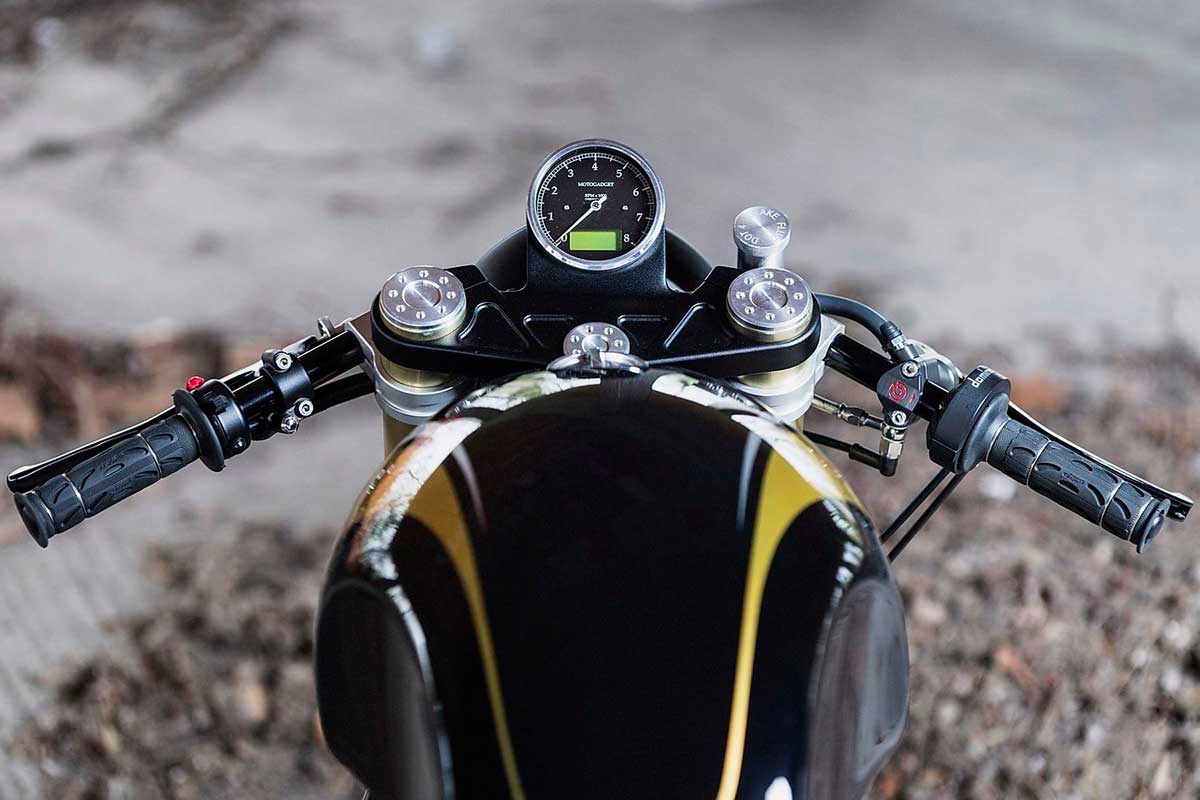 Laverda isn't a marque you'll see mentioned in custom motorcycle press all that often. Since the Laverda family shut the doors to their Breganze factory in 1985 their bikes have been steadily increasing in value and are destined to become collector's items. As such tearing into a complete Laverda isn't something many builders would take lightly – Stile Italiano included. So when the chance to purchase a complete 1972 Laverda 750SF engine and an original Fritz W. Egli frame presented itself, they knew it was an opportunity not to be missed.
The Lavera 750SF was a personal project of Stile Italiano team members Gianluca Tiepolo, Cristian Diana and mechanic Loris Lessio. Taking this approach means the end result is tailored to their own taste and standards, which is clearly a good thing. "The main concept was to follow the style of the Egli Vincent Banana Tank, but recreate it as a monocoque construction," says Cristian. All of the bodywork fabrication work was, of course, handled inhouse. Following Egli Vincent's lead, they've created a bespoke banana tank that covers the wide backbone of the Egli chassis and frames the perfectly 750SF engine. The Monocoque body then continues backwards and levels out to form the bikes seat pan and tail unit.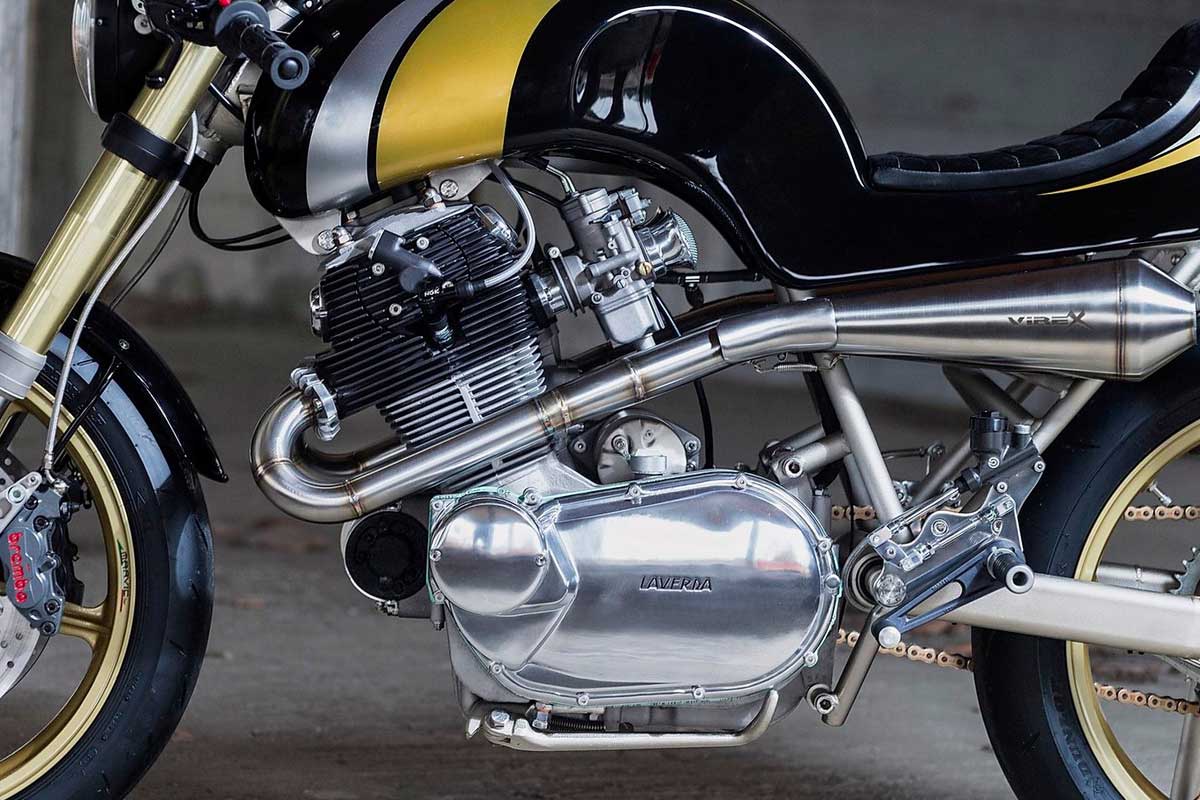 To add a modern edge to their classically styled bodywork, Stile Italiano has fitted it a milled alloy filler. A series of similarly styled caps sit on top of the fork legs, top clamp and fluid reservoir for an impressively cohesive cockpit. As for the forks, they're from Italian suspension experts Paioli who have been in the suspension game for over a century. Mounting them to the Egli frame meant machining a custom top yoke from scratch. While they were at it they incorporated a bracket into the design to accommodate the Motogadget Chronoclassic gauge. The clip-on handlebars are 2 piece LSL items wearing nothing but the bare essentials. On the right, you'll find a Domino throttle assembly, Brembo master cylinder and custom made alloy fluid reservoir. On the left a single switch block and basic clutch assembly.
The bike's lighting has also been reduced to the bare minimum with only a classic headlight up front and a retro look LED brake light recessed into the rear cowl. In these images, the Laverda 750SF is wearing a set of rare FOX air shocks, but the bike is now running modern Bitubo items for improved performance. Other handling upgrades can be found in the form of a complete set of Brembo racing monoblock brakes which have been paired with Brembo Oro floating discs. Unsprung weight has been kept to a minimum with the fitment of Marvik magnesium rims that are wearing track-ready Dunlop Sportmax rubber.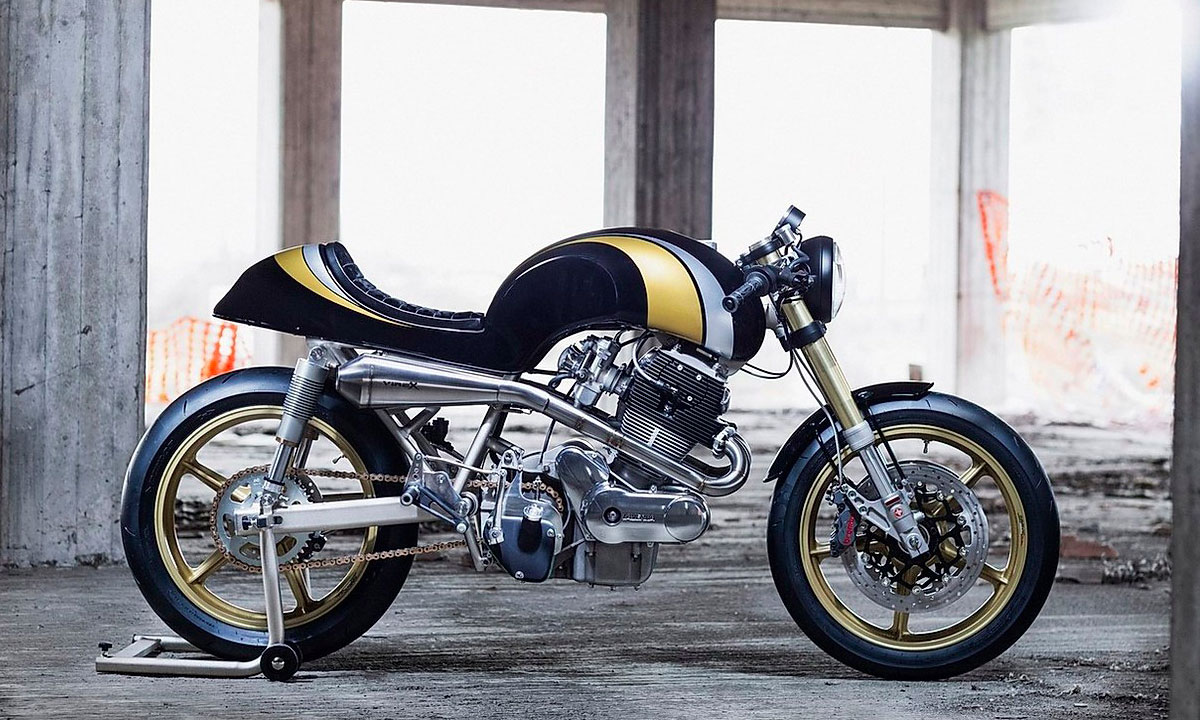 Surprisingly the '72 Laverda 750SF engine sits right at home within the Egli frame. Stile Italiano carefully modified the stressed member frame to allow the parallel-twin to be bolted straight in. It now hangs beautifully framed beneath the banana tank.
Torn down, thoroughly cleaned and rebuilt the Lavera engine looks like new and benefits from the addition of Dell'orto 36 Carburettors and a custom Virex exhaust. Demonstrating once again what makes their work so impressive, the custom made stainless headers align the mufflers perfectly parallel to the bottom edge of the bodywork. Tarozzi footpegs complete the cafe racer riding position and are connected via a series of custom made brackets and linkages.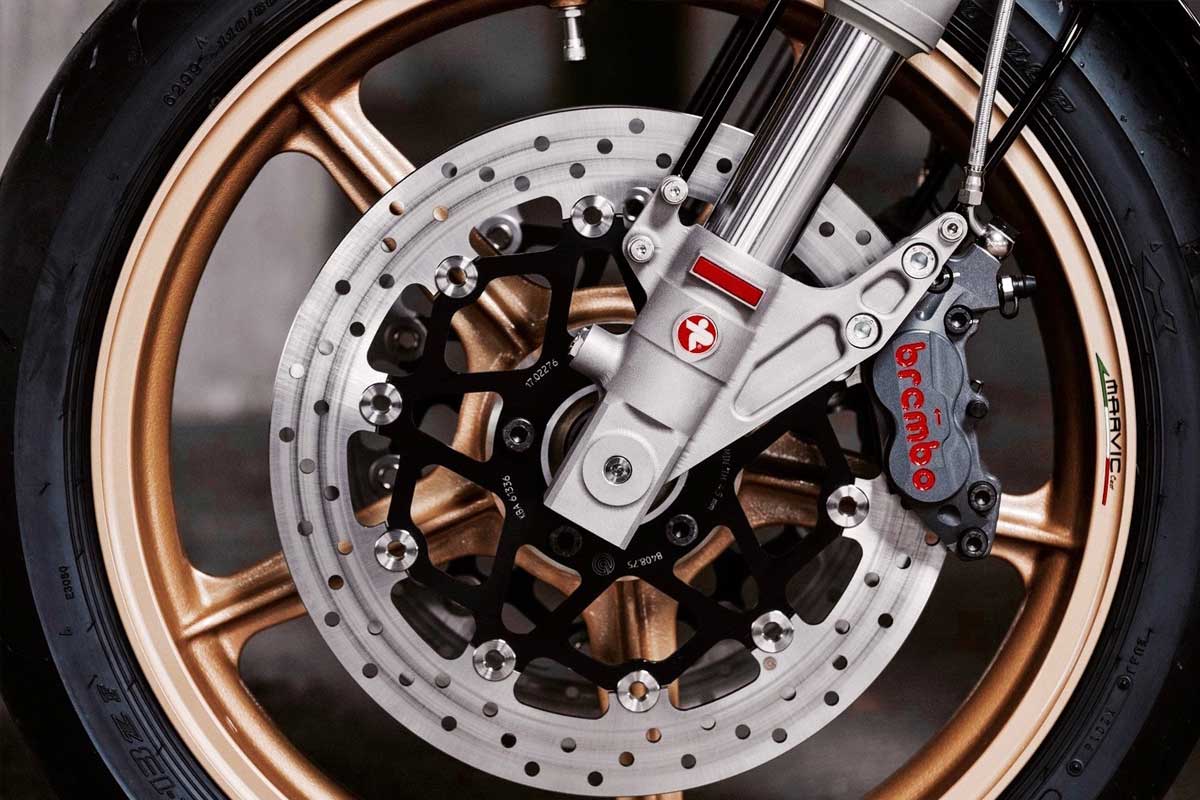 In typical Stile Italiano…style, their Laverda 750SF has been finished using a "glass effect" black paint with swooping gold and silver racing stripes. Every exposed alloy part has been polished to a mirror finish and there are gold details and additional milled alloy fasteners throughout to tie everything together.
Stile Italiano, complimenti per il lavoro svolto. You have once again demonstrated why we appreciate your work so much.