There are plenty of custom motorcycles born of mixed parentage. Some should never have been conceived and yet others like the Triton cafe racer were a match made in two-wheeled heaven. Take one of the best frames of the 1960s, a Norton Featherbed, and marry it to one of the fastest engines of the day, a Triumph T120 parallel twin and together they made beautiful music.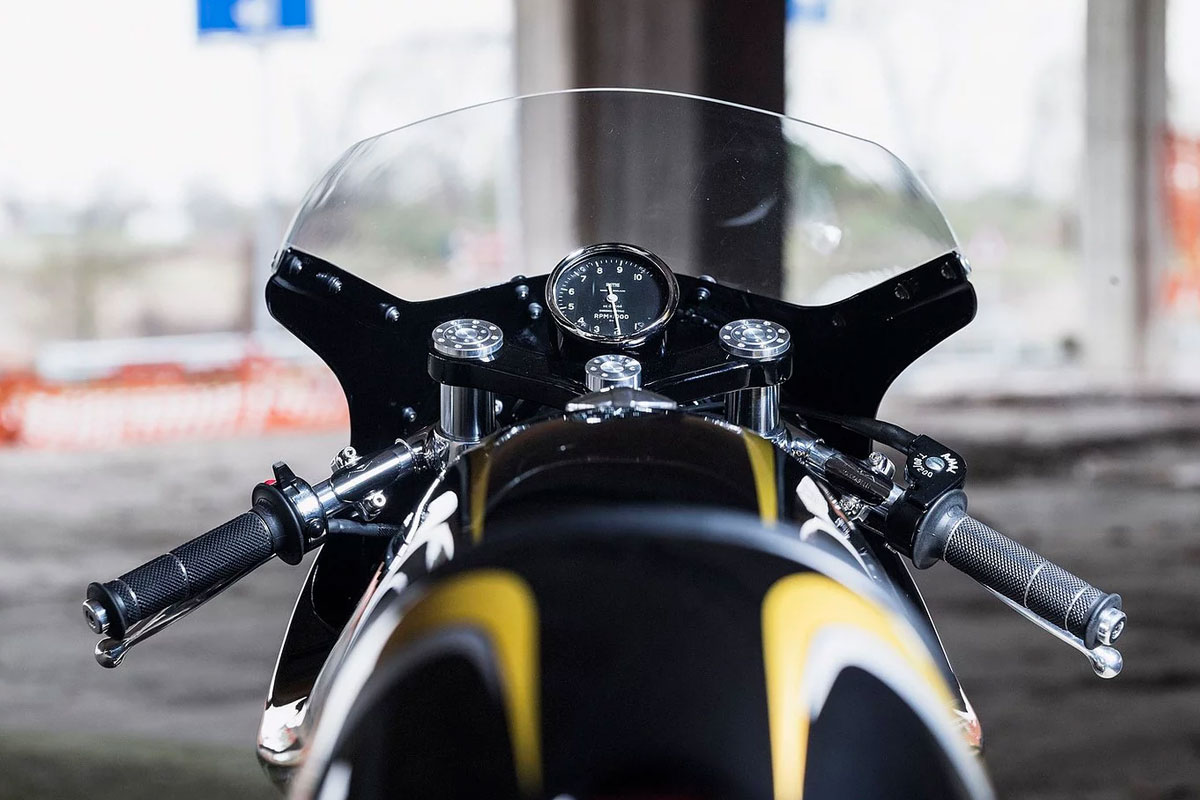 These days securing both a featherbed frame and Bonneville T120 engine for a Triton cafe racer build is a difficult (and costly) undertaking. Sadly this means I don't get to feature them all that often. So, as you can imagine, I was pretty excited to discover this beauty.
You may recognise the origin of this Triton by its telltale black, gold and silver paint scheme. It is, of course, the work of Stile Italiano whose projects never fail to impress. For this project, Gianluca, Loris and Cristian pulled out all the stops to produce what is now my favourite Stile Italiano build to date.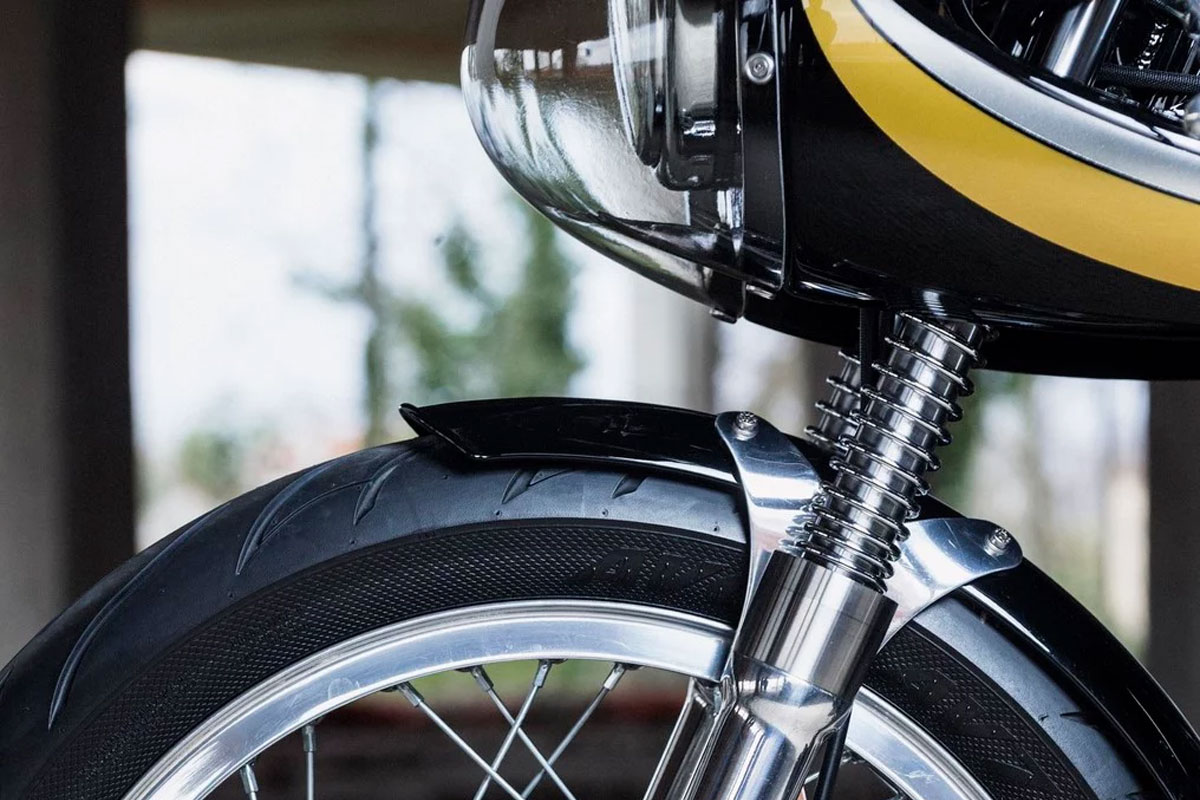 At the core of this Triton cafe racer, aptly named CR650, is a 1960s Triumph T120 pre-unit engine. Prior to installing it into the frame, Stile Italiano meticulously rebuilt the parallel twin adding a few modern touches to improve performance. Fueling is now managed by a single Mikuni TM Flat Slide Carb that's mounted on a custom 2-into-1 inlet. Behind the carb sits a handmade oil can that's accessed via a Monza cap recessed into the Tritons saddle. Oil makes it's way back and forth from the engine via a mix of carefully bent hard copper lines and rubber hoses. At the other end of the combustion cycle sits a pair of one of a kind, high-mount headers and mufflers. They were specially made for the Triton by Italian exhaust experts, Virex. To get the 650 twin looking like new again, the cases have been shot in high-gloss piano black and all the fasteners and plugs replaced with stainless or milled alloy hardware.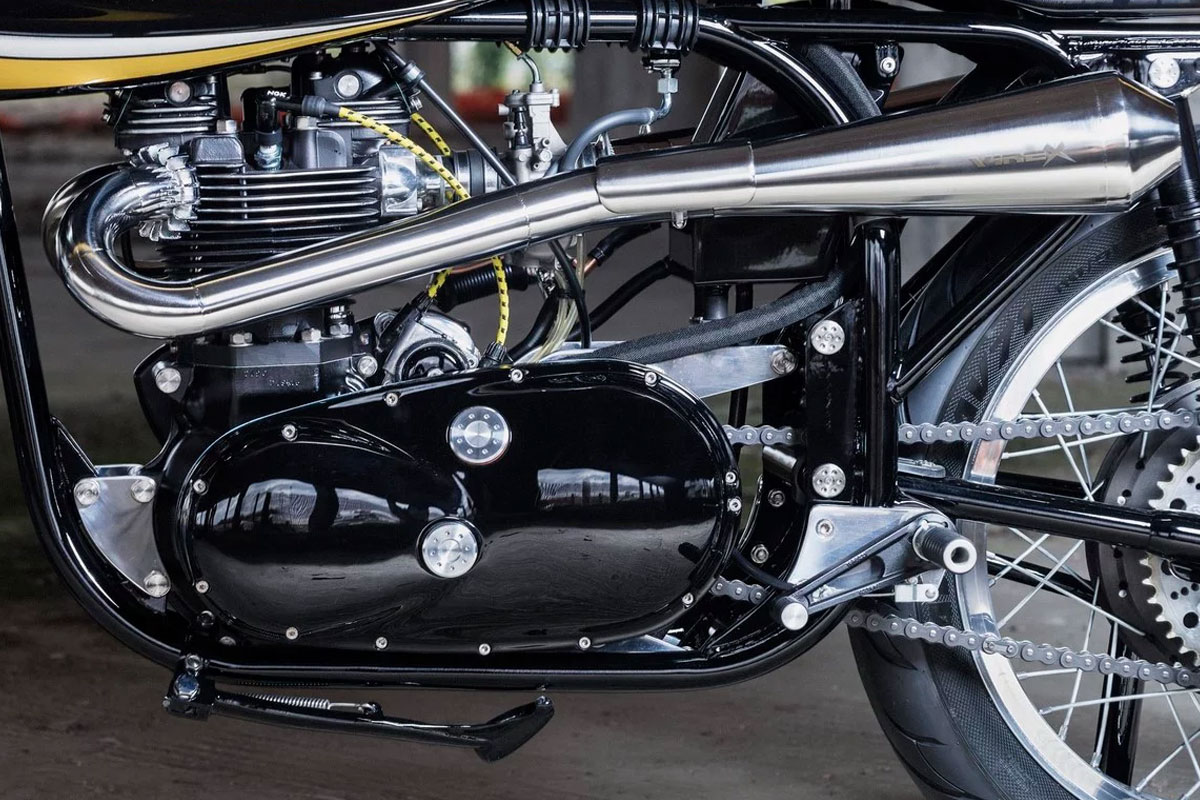 As for the frame, it's another original item from 1964. The slimline Norton featherbed is a legend in motorcycle history. Norton developed the frame to improve the handling of their racing bikes. The design was revolutionary and was coined "featherbed" thanks to its lightweight handling characteristics. Street racers were soon pairing featherbeds with the fastest engines of the era, like Triumph's 100mph plus Bonneville T120, and so the Triton was born. After a freshen up the frame took delivery of the engine. It's held in place using a series of custom alloy brackets that secure to original mounting points. Rubber sleeves sit on the upper frame rails to support the bodywork and any openings were plugged with machined alloy caps. Gear changes and rear braking are managed by Tarozzi rear sets which were also mounted using custom alloy hardware.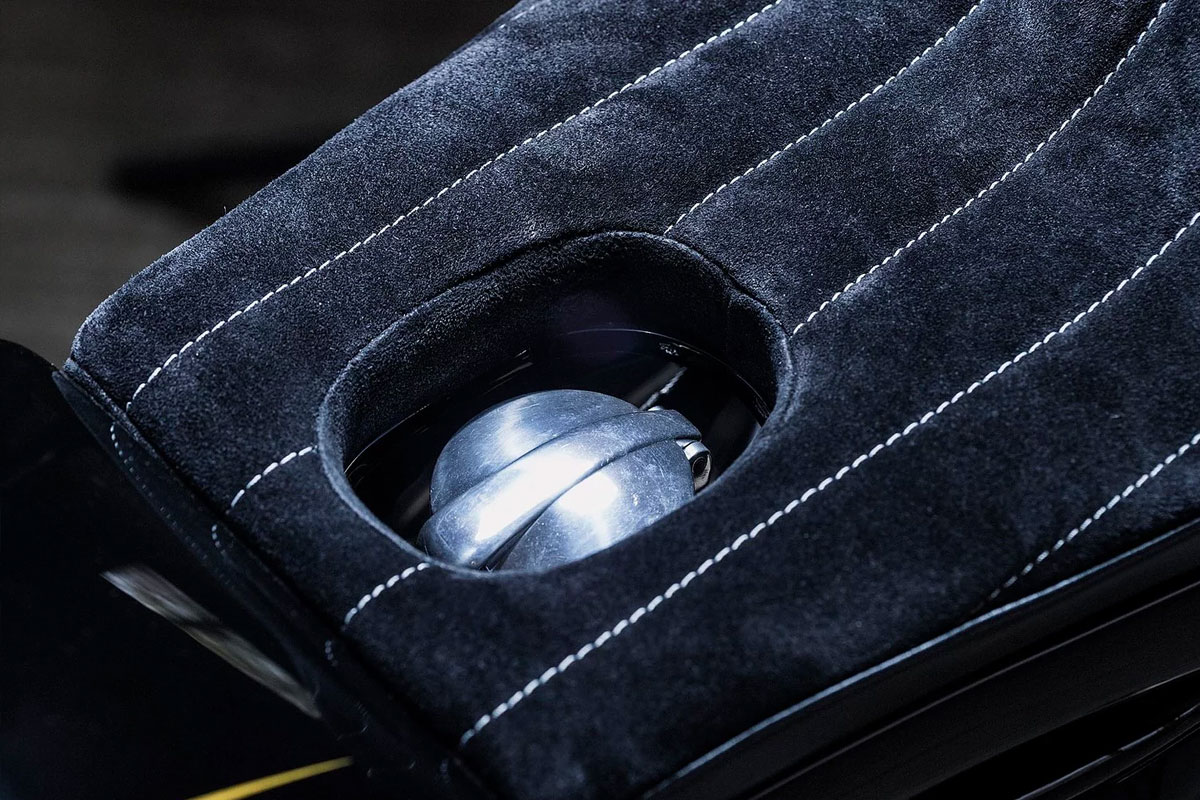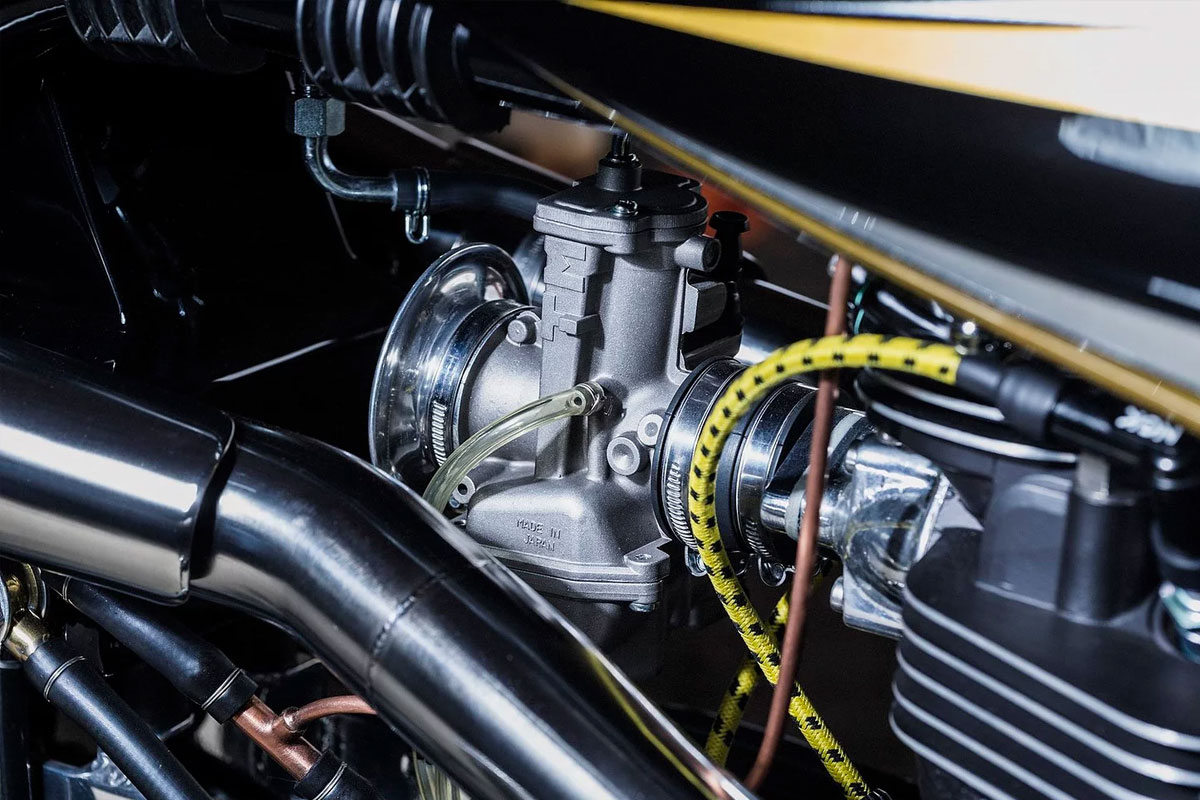 At first glance, I assumed this bike was running the same replica Avon style cowl we fit on our Mongrel Bonneville T120 cafe racer, but boy was I wrong. In typical Stile Italiano fashion, the bodywork you see here has all been painstakingly shaped from sheets of aluminium. The entire body from front fairing to rear cowl has been welded together to form a monocoque unit with all the welds painstakingly smoothed for a seamless finish. After shooting the whole unit in "glass effect" paint a 7-inch headlight, perspex nose cone and windscreen, frenched brake light and suede saddle were all installed.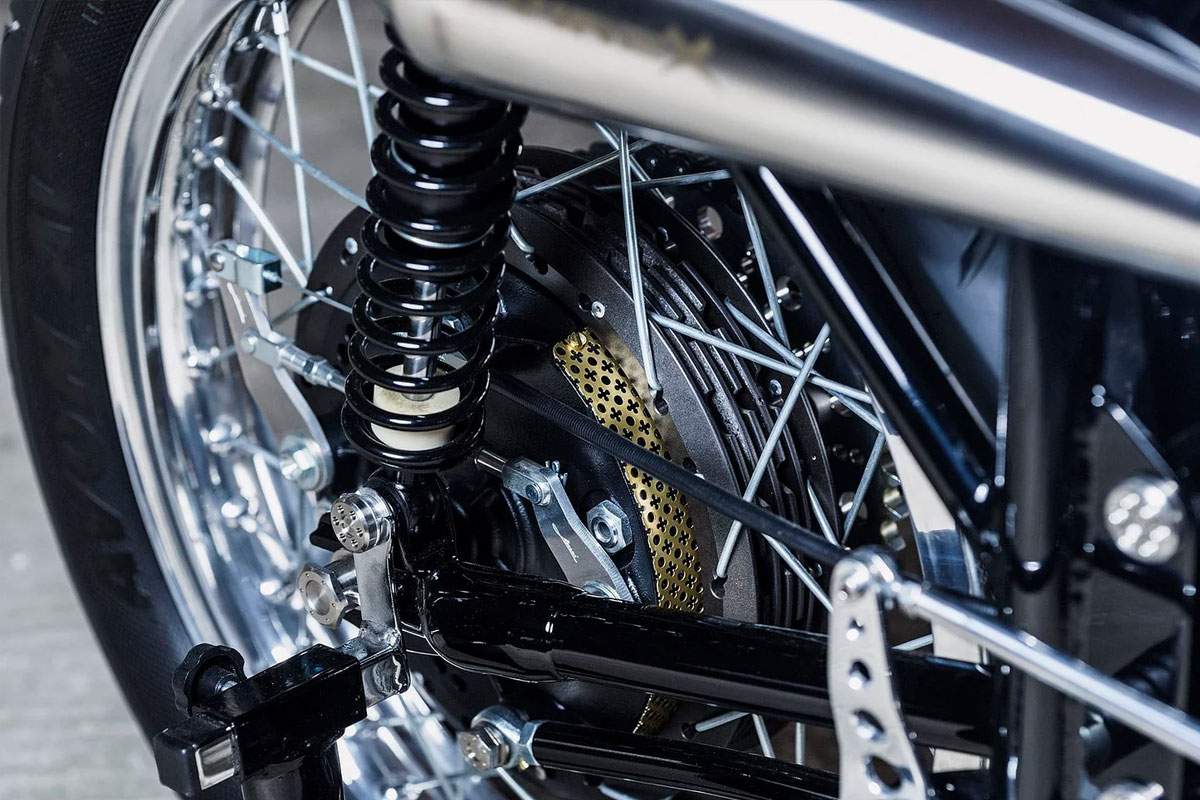 The list of custom parts on Stile Italiano's Triton cafe racer is just as long as the period correct ones. Taking pride of place in the cockpit is a classic Smiths analogue tachometer. On the clip on bars, you'll find a mix of Tomaselli, Domino and Amal components. The Triton rolls on Akront styled shouldered Morad rims which are wrapped in Avon Cobra rubber. Upfront braking is provided by a replica Ceriani magnesium drum and the Falcon rear shocks look right at home on this near perfect Triton tribute. Would I like to take it for a ride? Gee let me think…