At 54 years young Swedish born Norwegian Tomas Wrede has an enviable list of bike builds under his belt. He confesses he's "always been interested in taking care of bikes that others have given up on" and his passion isn't limited by marque or model. The impressive list of machines he's resurrected includes the likes of 100cc mopeds, a Yamaha RD350, a Suzuki GT550, BSA A10 and a Kawasaki GPZ1000RX – to name just a few.
Thanks to an OCD level of attention to detail and an earnest commitment to improving performance, Tomas' work has also earned him some time in the spotlight. A Suzuki RGV250 Dantin rebuild won him a people's choice award and a feature in the venerable Performance Bikes magazine. Tomas' latest work is no less impressive and has once again grabbed the attention of a custom motorcycle publication… namely this one.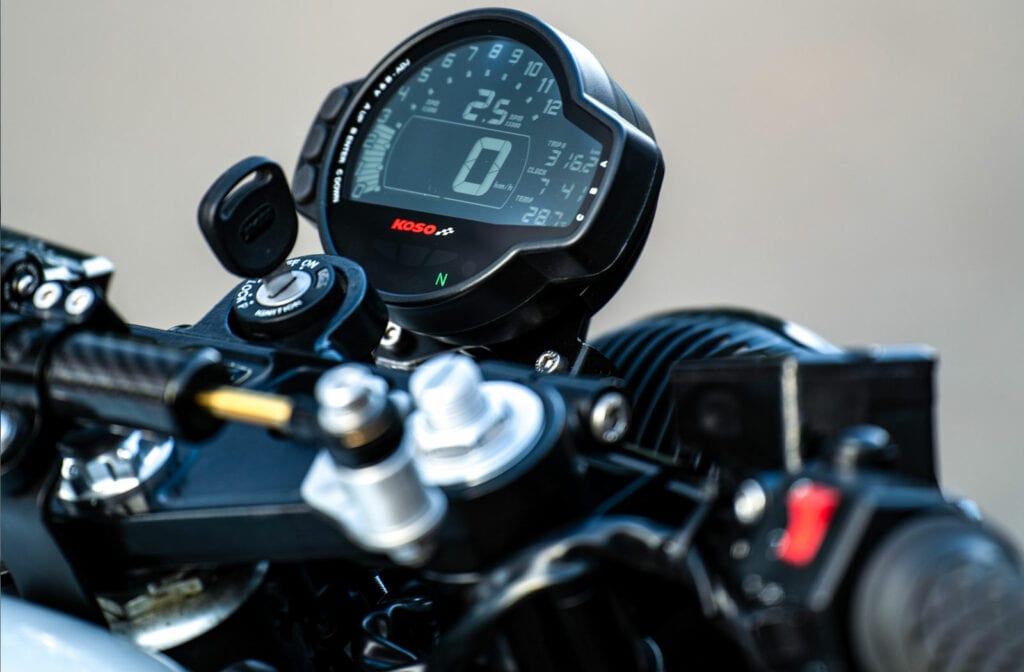 During the build of this 1997 Triumph Sprint 900 cafe racer, Tomas pulled out all the stops. With each carefully considered modification, he strived to improve upon Triumph's design and it's plain to see his hard work has paid off.
"My biggest challenge with this Triumph was the long wheelbase," says Tomas. "It's a sport touring bike with a big gap between the front wheel and the engine. Which makes it a bit of a chopper look alike." As anyone visiting this site will know, stretched out proportions does not maketh a cafe racer. So before he could address anything else, Tomas had to tighten things up.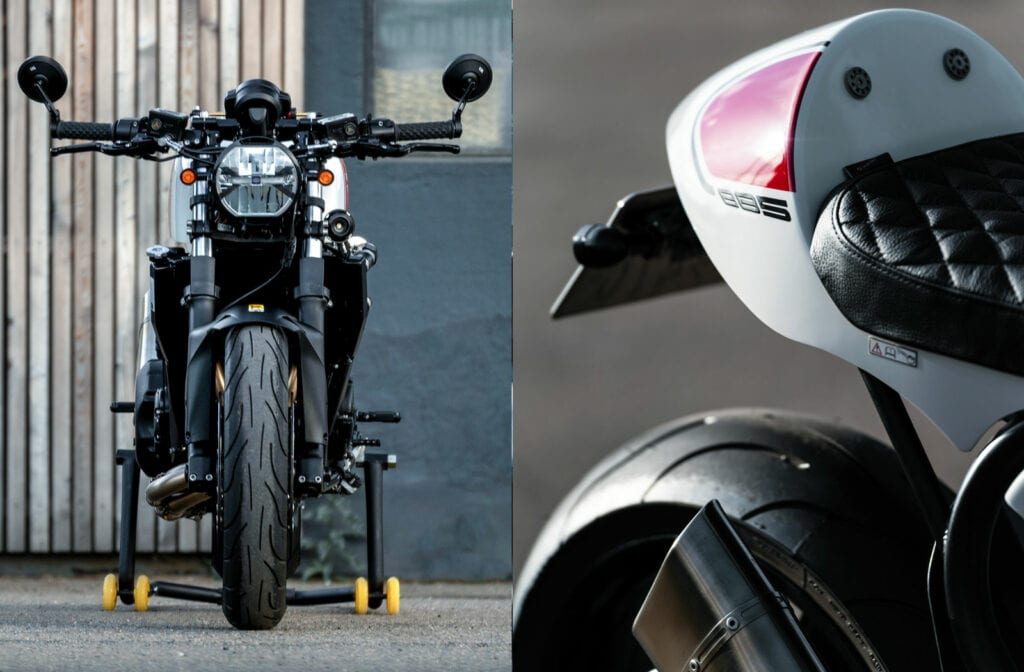 His solution was a rather clever one. Instead of resorting to serious front end geometry adjustment and risking associated handling issues, Tomas opted for a series of minor suspension tweaks and part swaps to improve things.
The work began with the suspension adjustments. By installing Triumph Sprint ST stanchions and Ohlins linear springs into the OEM forks he lowered the front end and gained preload adjustment. A Trident 900 top yoke was added for a cleaner finish and a custom mounted carbon steering damper halts any unwanted wobbles. To keep things nice and level Tomas has installed a pair of fully adjustable YSS shocks in the rear. Wrapping up the new arrangement is a Thunderbird 900 swingarm and linkages which prevented any issues with chain offsets.
Next he swapped the stock exhaust for a custom system featuring larger downpipes. These are joined by a curved Ducati 848 radiator and a set of frame shrouds fabricated from aluminium. These all aid in closing the front end gap and achieving tighter visual proportions.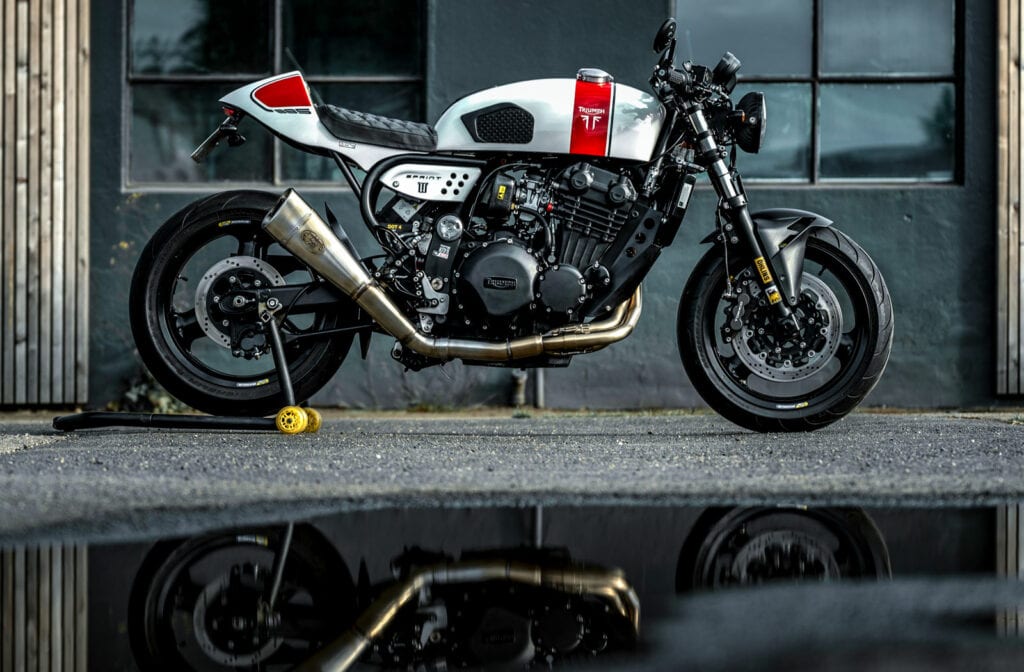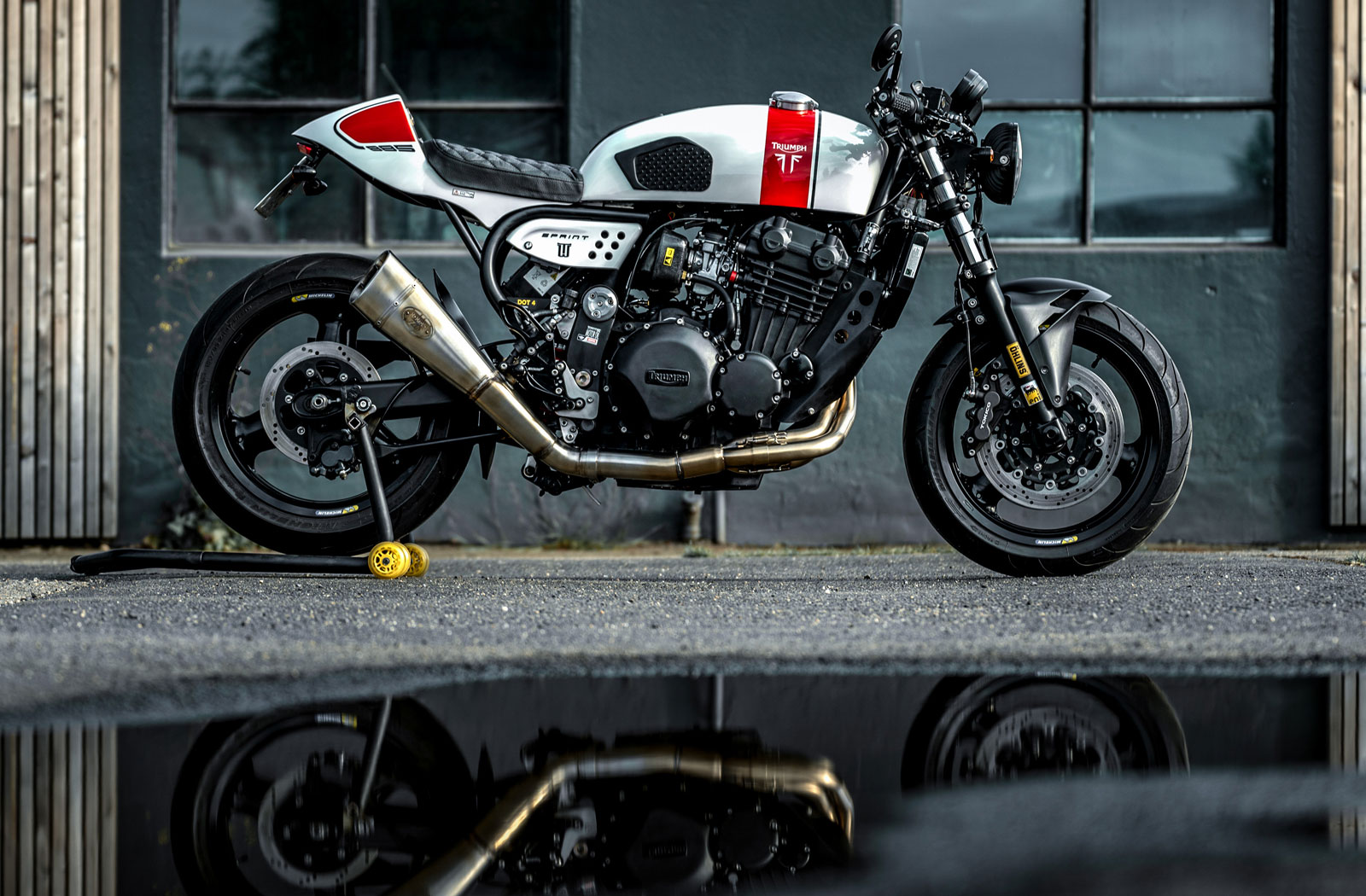 With the Triumph Sprint 900 engine, Tomas wasn't going to settle for stock. So internally the 885cc triple has undergone some light porting to free things up. Dynojet components manage the fuel-air ratios and the engine inhales via a custom made carbon fibre airbox and Pipercross performance filter. The new exhaust system is custom too and comes courtesy of Italian workshop Mr Martini. Knowing of his extensive experience with Triumph triples, Tomas contacted Nicola Martini who put together a full stainless system using ZARD exhaust components. All new seals, a timing chain, valve adjustments and a lick of fresh black paint were also added to get the triple looking and performing better than ever before.
Rounding out the performance improvements is a custom brake setup. Tomas has fitted the OEM front wheel with twin floating discs and Tokico 6 pot callipers from a Kawasaki ZX9R for ample stopping power.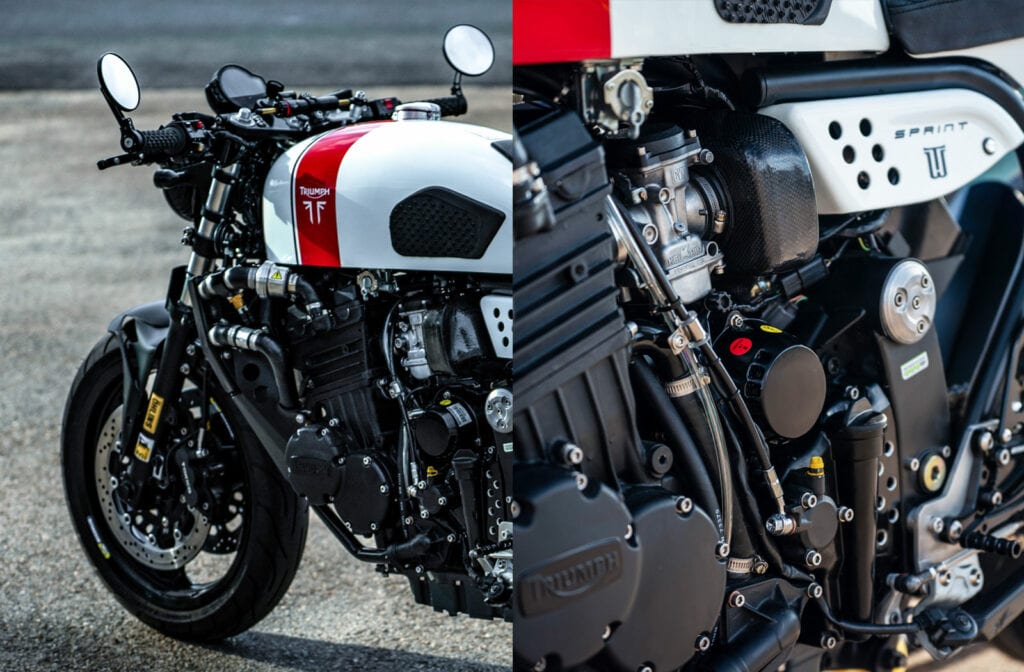 Transforming Hinckley's sport tourer into a cafe racer was another challenging task Tomas took in his stride. This time he looked to the United Kingdom for a solution. Ian and Tracey Saxcoburg at CRK (Cafe Racer Kits) hooked him up with a T300 subframe kit, a modified version (smoothed bottom edge) of their T300 14.5 L fuel tank, a pair of Roadster side panels and an aluminium CRK rear mudguard.
Once the new subframe was welded in place he rerouted the electrics to house everything except the battery under the seat. Once again, with performance at the front of his mind, Tomas mounted the battery in a custom made box behind the rear shock where it aids in lowering his Sprint's centre of gravity. He then covered the subframe with a modified Norton Dominator tail unit and added a 52mm gauge to the tank that displays the engine operating temp and voltage. Sitting over the front wheel is an MV Agusta F3 fender held in place by custom brackets.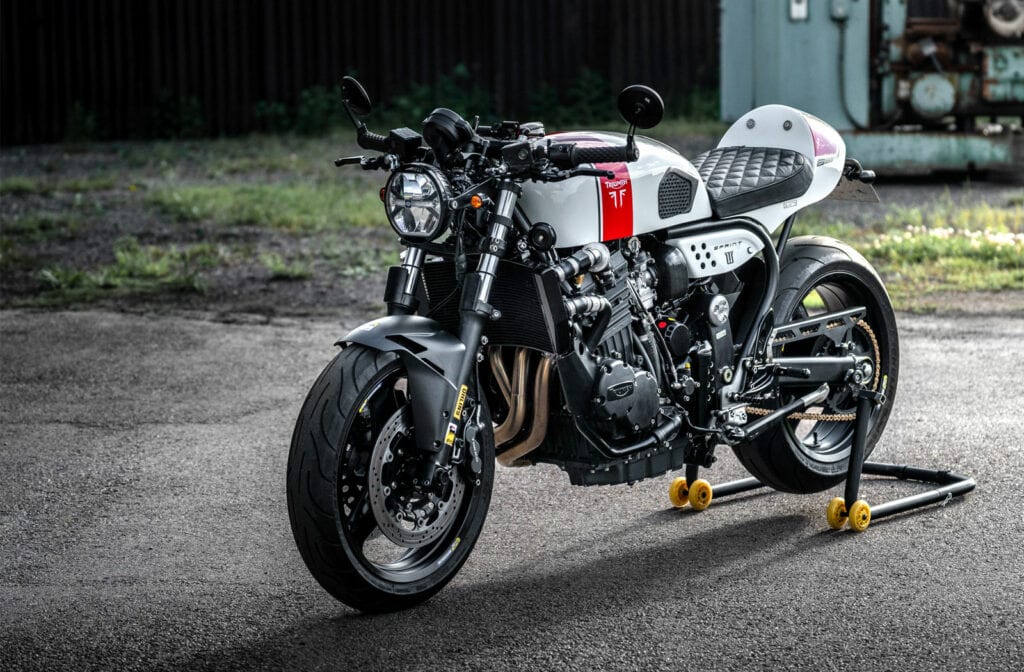 A spattering of aftermarket components complete Tomas' Triumph Sprint 900 cafe conversion. Up front you'll find a homologated LED 7″ headlight. The turn signals are all LED too, as is the tiny brake light tucked into the tail. Kawasaki ZX6R rear sets and Vortex clip-on bars complete the revised riding position. There's a single Koso gauge poised over the headlamp and bar-end mirrors for a touch of classic cafe style. As for the tidy license plate mount, it's a custom design too, made from 6mm stainless.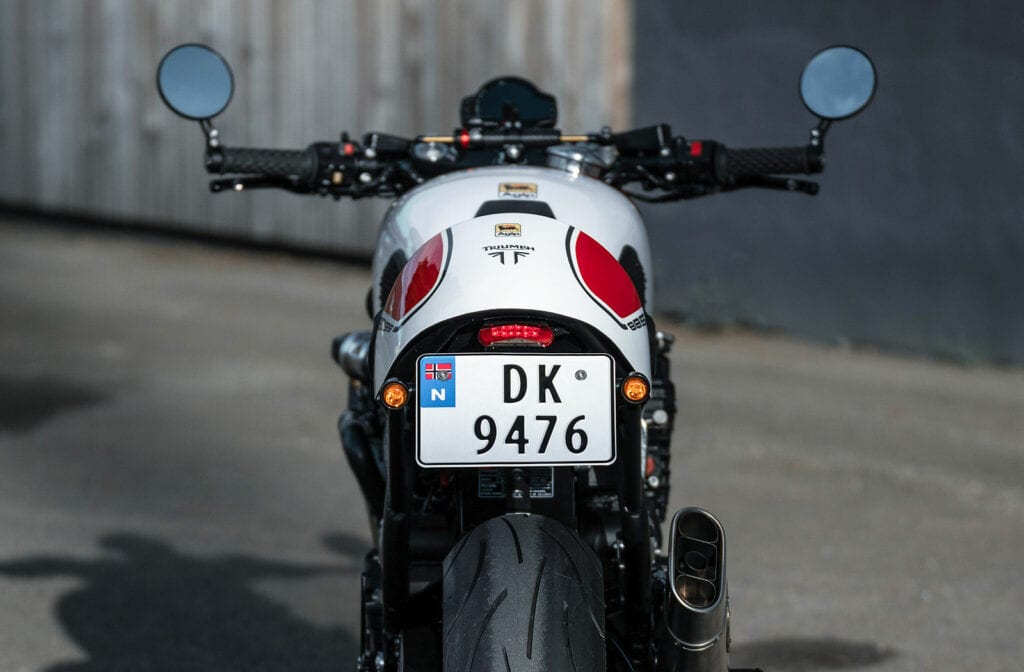 One downside of being as meticulous as Tomas is that some decisions can take quite some time to settle. "I had planned to paint a black base colour with some stripes," he recalls. "But, after 20 different designs on my computer, I chose white with Ducati red and dark grey lines and logos." This decision led to the bodywork being the focal point of the build which is certainly not a bad thing.
As for the bike's performance, Tomas tells us this Triumph Sprint is lighter handling and cooler sounding than the stock bike. We'd also like to bet it's a hell of a lot more fun to ride too!