Nicola Martini, aka Mr Martini, aka the Mad Hatter, is an Italian custom bike builder, restauranteur and retailer. The self-proclaimed dreamer embraces individuality and has earnt himself a reputation for building motorcycles that push boundaries and raise eyebrows. This Triumph Legend TT project gave Martini the chance to try something a little different. Rather the street going machines he builds for customers the TT was a personal project with one clear goal in mind. Going stupidly fast!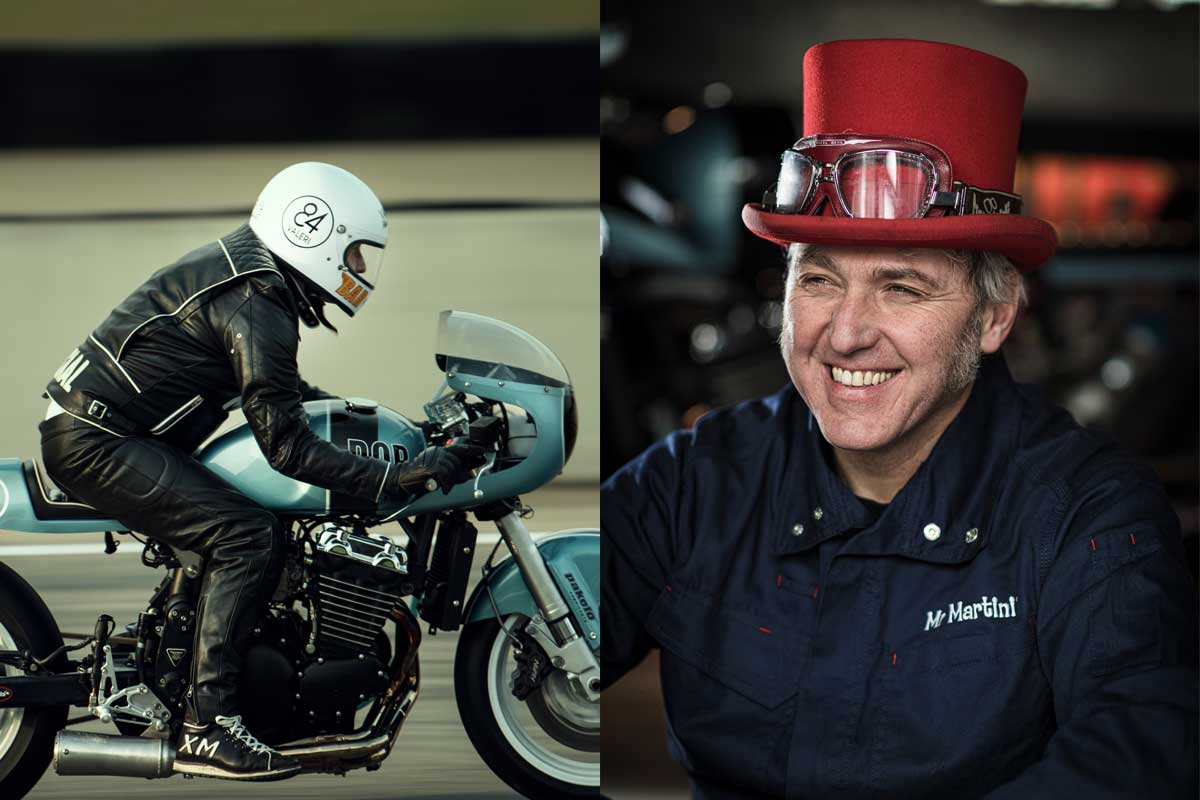 The heavily customised Triumph Legend TT was built for the express purpose of drag racing. With events like Wild Days and the Sultan's of Sprint attracting Europe's top builders and huge crowds, Martini set out to build a bike that could hold its own in the 1/8th mile sprints. "I wanted to create a special motorcycle that embodied the light-heartedness and lightness of a child playing with his balloon. Thus was born BOB." says Martini.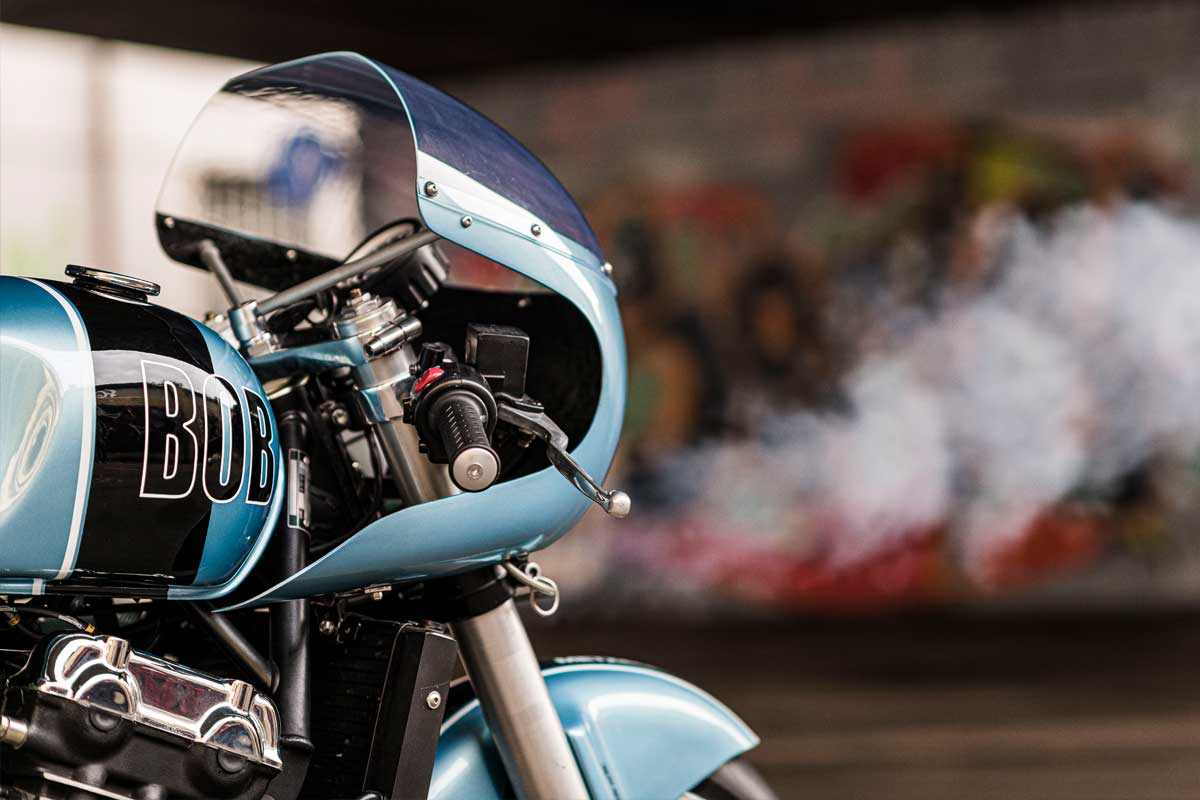 The Triumph Legend TT is a curious choice for such a project. Manufactured for only 3 short years the Hinkley triple was the Brits affordable version of the Thunderbird 900. Producing only 70bhp and weighing some 215kg the standard cruiser wouldn't be our first choice for such a project, but that's just the kind of unexpected frivolity Mr Martini prides himself on. So with his work cut out for him, Martini stripped the Legend TT down in preparation for its drag destined reincarnation.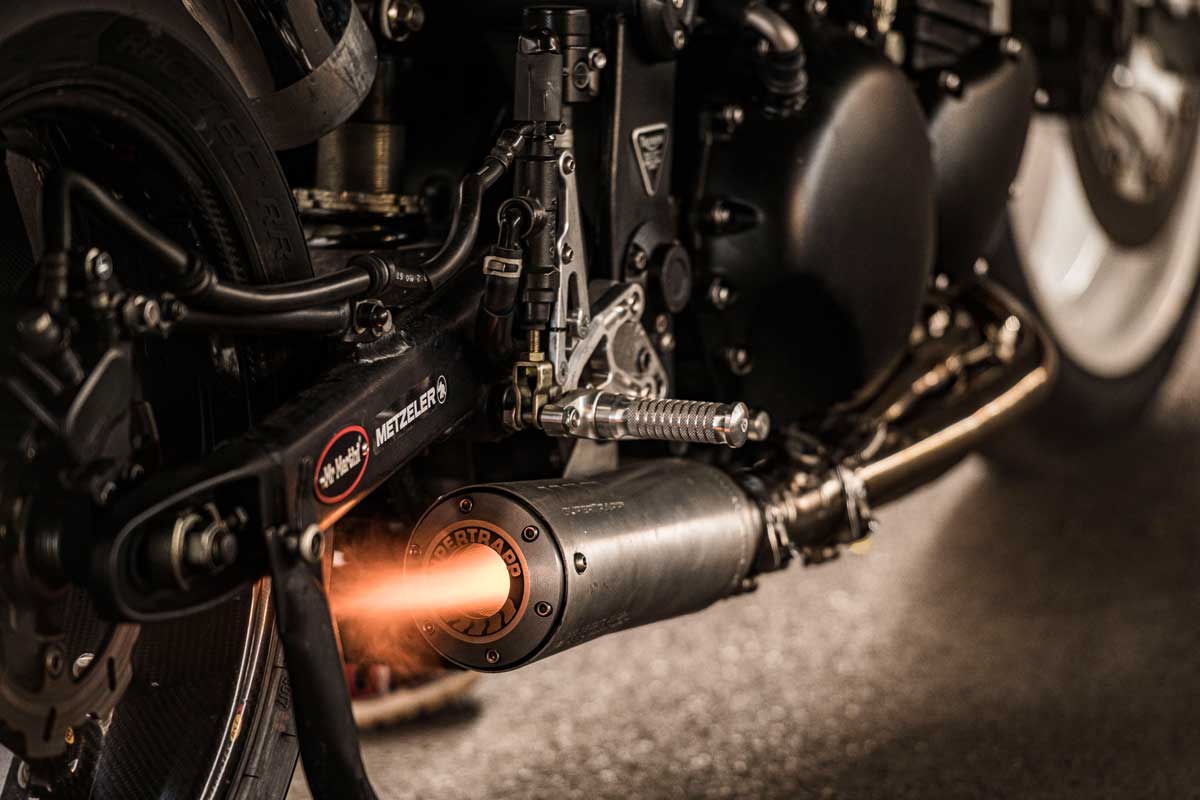 When it comes to engine work Martini's experience was limited to the usual exhaust, filter and carb affair. Recognising that it would take more than a few air/fuel upgrades to give his Triumph the edge, he teamed up with engine expert Fabio Marchiotto of Hard Drag Garage. Fabio went to town on the British 3 banger installing a long list of lightened and forged internals. The bikes alternator was dispensed with and a race-tuned ECU installed. There's an electronic gearbox providing superfast shifts and a Street Triple radiator for improved cooling. All that combined with a custom-made exhaust and Supertrapp muffler increased the power figure by about 20 horses, but Martini wanted more. So to ensure his dragstrip aspirations wouldn't be left in the dust, Fabio fitted a nitrous oxide system.
"The adjustable control unit determines the quantity and delivery time of the nitrous oxide," Martini explains. "Two electronic valves distribute the gas to the nozzles located upstream of the Keihin CV 36mm carburettors."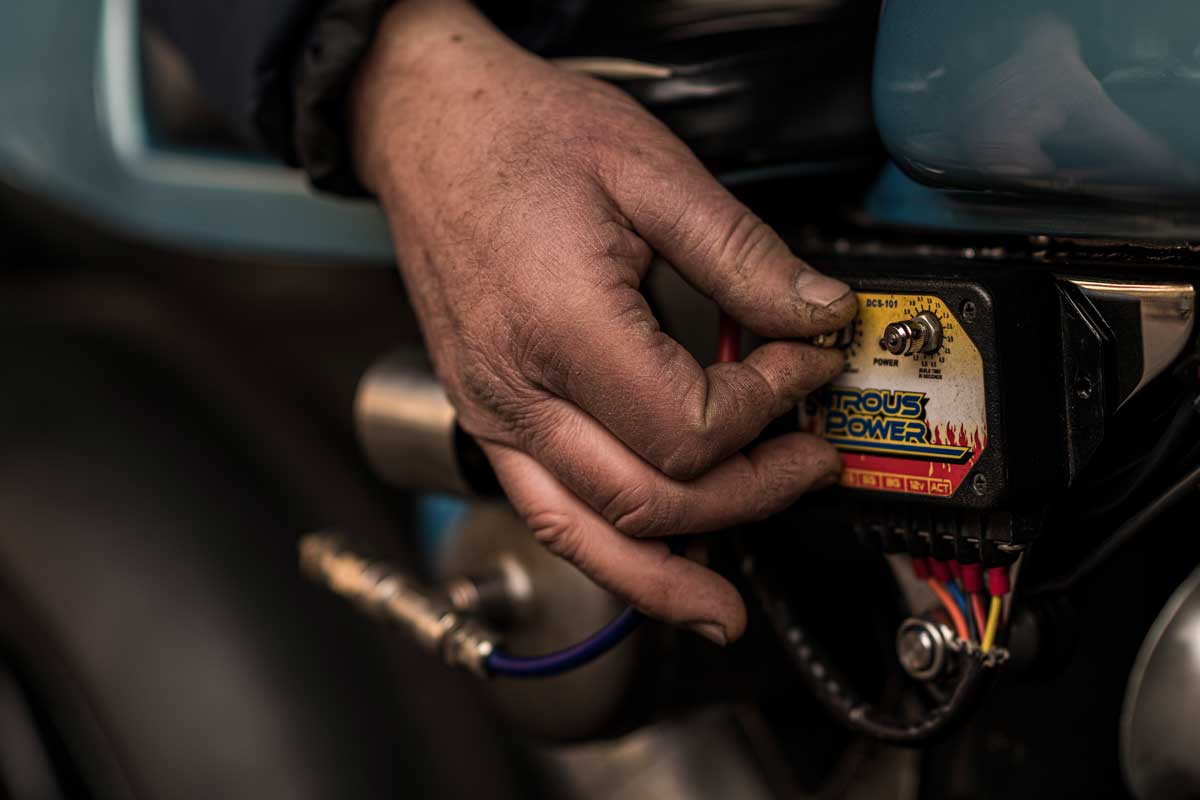 With more power on tap and higher expectations from the chassis, Mr Martini pulled together a suitable handling package. The standard forks have been replaced by a Suzuki GSX-R 1000 unit. The front end came complete with a twin-disc Nissin brake setup and clip-on handlebars. As for the wheels, the front wears the GSXR's 17-inch cast rim; to reduce unsprung weight and improve the rear wheels moment of inertia (i.e. get the power down faster) he added a top-of-the-range carbon rim. Finally, a set of drag strip slicks wrap up the handling and performance aspects of this build.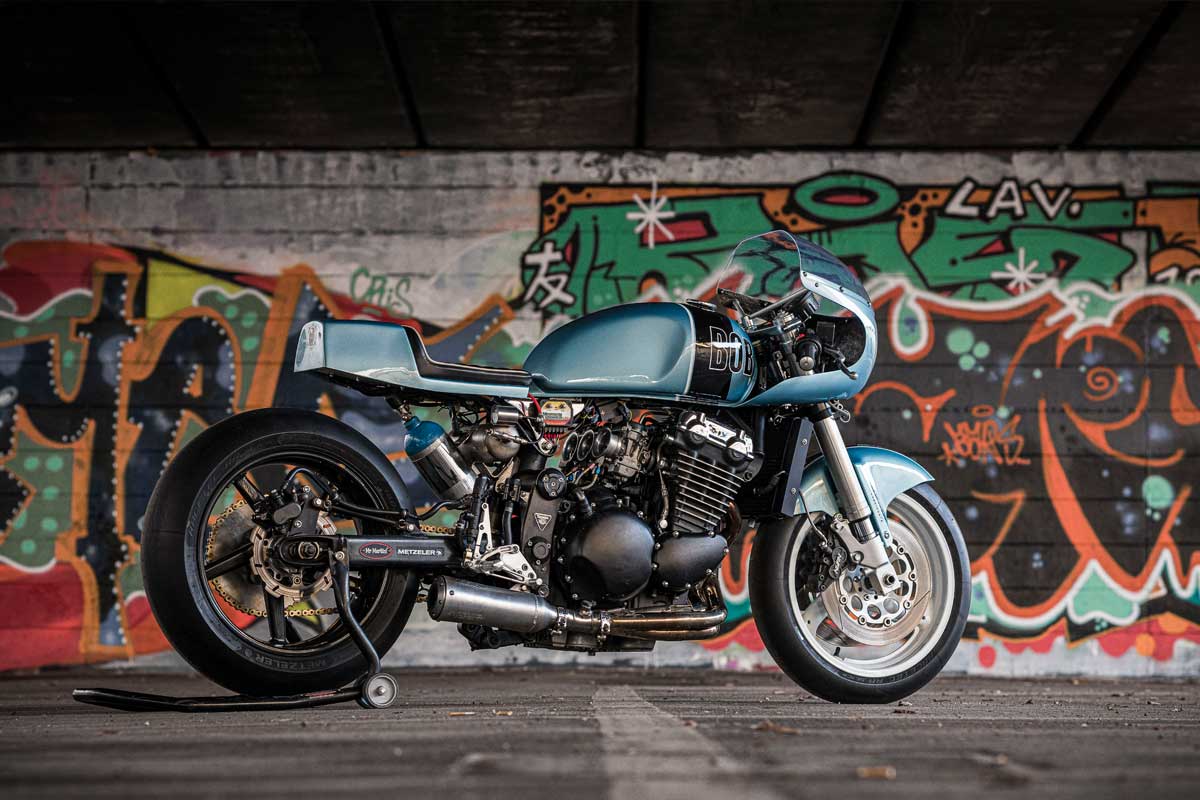 In the Sultans of Sprint race circuit, aesthetics are just as important as power. To ensure his Triumph Legend TT would turn plenty of heads Martini went all out. A retro fiberglass fairing takes the place of the bike's headlight; mounted using bespoke bracketry. The custom fiberglass tail is reminiscent of '80s GP bikes. Sitting high on a modified subframe it establishes Bob's suitably sporty stance. White piping on the black leather seat ties in with the pinstriped, pearlescent blue and black paint scheme. Rear-set footpegs and low-mounted clip-on bars set the rider up for chin-on-the-tank sprints. A single aftermarket tacho alerts Martini of the optimum time to shift through each gear.
With a plethora of pipework tangled around Bob's engine and a big fat bottle of nitrous beneath his butt, its clear Mr Martini means business. We hope his hard work pays off.
Photography by De Ranieri Simone & BePPe