Cosmetic Specification:
Handmade 'Slippery Sam' polished aluminium fuel tank. (Supplied by T A Baker Tanks, Wales.)
Alloy Monza fuel cap.
CNC billet alloy 'race' footpegs. (Supplied by Oberon Performance)
Handmade aluminium number plates. (Supplied by CW Classic)
Homemade hand-cut 'race' numbers.
Homemade aluminium fly screen.
Rear mudguard shortened,reshaped and resprayed.
Homemade aluminium rear light and number plate mounting.
Rizoma billet alloy front brake master cylinder.
Bonneville T100 black & grey speedometer and tachometer.
Drilled and polished gear lever and rear brake lever.
Homemade aluminium chain guard at front sprocket.
Stock seat unit modified to fit with the fuel tank.
Polished alloy seat cowl. (Supplied by The Tank Shop, Scotland.)
Polished alloy front mudguard. (Supplied by The Tank Shop, Scotland.)
Billet aluminium indicator lights. (Supplied by Motrax)
Billet aluminium LED rear light. (Supplied by Motrax)
Billet aluminium bar end mirror. (Supplied by Oberon Performance)
Stainless steel headlamp guard.
Circa 1959 cherished number plate.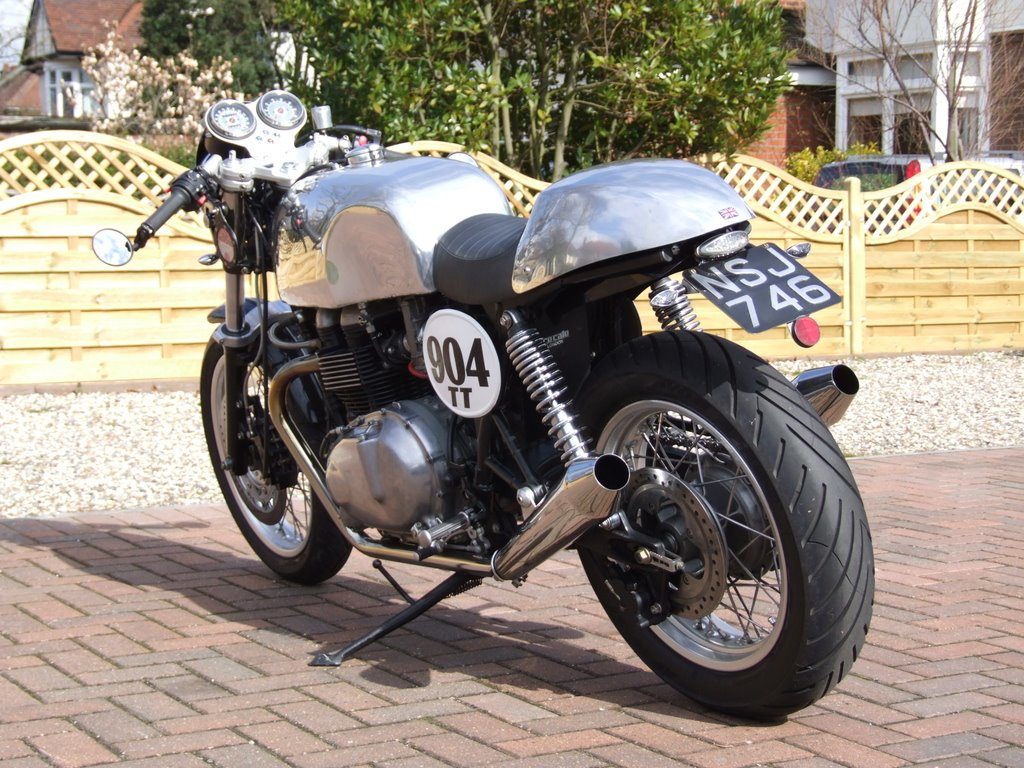 Mechanical Specification:
Wiseco forged aluminium high compression pistons and cast iron liners. Bore 92mm +6mm oversize, Stroke 68mm. Displacement: 904cc
Oversize inlet valves (+2mm) and exhaust valves (plus 1.5mm).
Camshafts re-profiled for higher lift and longer duration.
Crankcase breather size increased from 6mm to 13mm diameter.
Keihin FCR 39mm flat-slide race carburettors with open velocity stacks, controlled by ¼ turn quick action throttle. (Carburettors supplied by BR Special Tuning, Wales)
Billet alloy intake manifolds (supplied by British Customs, USA)
Cylinder head gas flowed, ported and skimmed (10.8 to 1)
Fly wheel balanced and lightened 440g.
Procom CDI (Increases rev limit and advances ignition timing).
Heavy duty (+10%) clutch springs.
Predator stainless steel race exhausts. (supplied by British Customs, USA.)
Pretech 6-pot billet alloy race spec caliper (supplied by Pretech Precision Engineering, Reading.)
Brembo radial master cylinder.
EBC Prolite fully floating front disc (Road Spec).
EBC HH Sintered Pads (Road Spec).
Norman Hyde fork brace.
Norman Hyde steering damper.
Ikon adjustable rear suspension.
Drive sprockets changed from 18/43 to 19/41.
Titanium nuts and bolts for engine casings, discs, sprocket, caliper's etc. (Supplied by Pro Bolt)
Avon Azaro tyres (Road): 110x80x18 front, 140x80x17.
Second set of Thruxton rims fitted with Avon 110x80x18 AM22 &140x80x17 AM 23 race tyres for track day use.
EBC Prolite fully floating race spec front disc for track day use.
Bendix MRR race pads for track day use.
Scottoiler automatic chain lubrication.
Performance Data (rolling road tested @ rear wheel):
Stock motor: 52.0bhp, 41 ft/lbs torque.
Tuned motor: 88.4bhp, 65.5 ft/lbs (open velocity stacks and 150 main jets)
Kerb Weight: 211 kg wet (with 4 gallons of fuel & 4 litre oil). Dry weight approximately 193kg. Triumph claim 205kg dry with stock Thruxton.
Standing Quarter Mile (At North Weald RWYB 10 May 2009) 12.69 seconds: 111mph.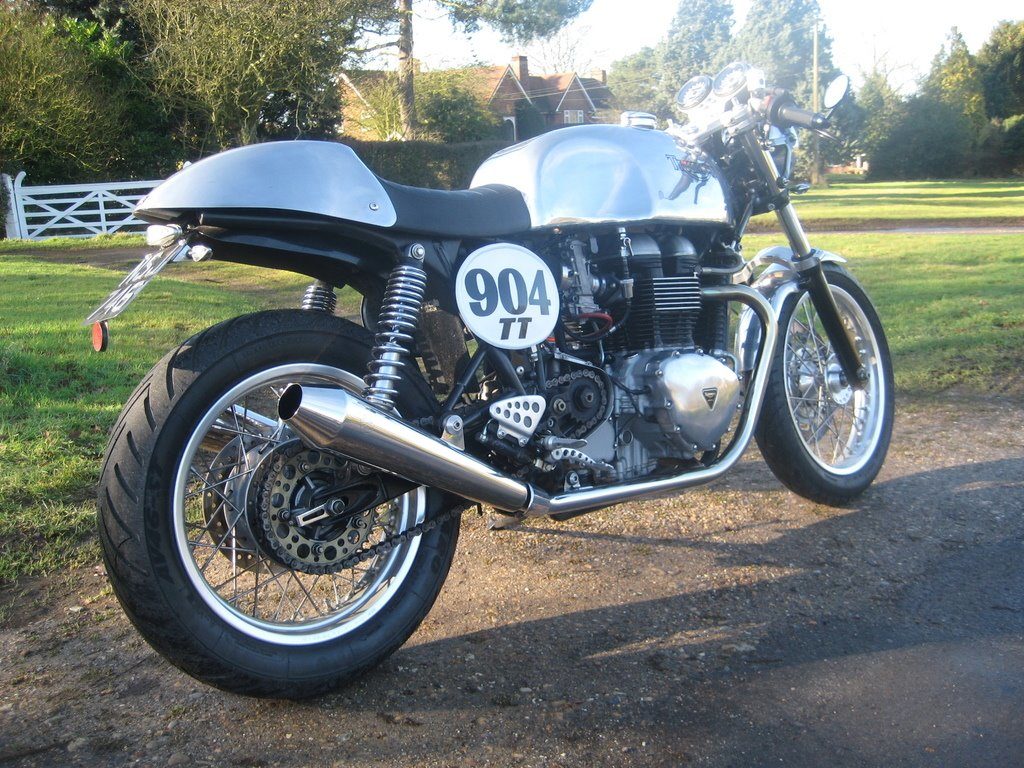 This
Triumph
Thruxton cafe racer recently popped up on a forum I frequent. I have to say it's an awesome looking bike to begin with and they've only made it look better with the mods. Like any true modern day Cafe Racer, this Thruxton has undergone some serious work inside and out.