Revisiting an old piece of work can be a cathartic experience. Identifying past mistakes, comparing your old skills to your current ones or simply rekindling a connection with one of your past achievements is both humbling and rewarding.
Nine years ago Maurizio Carraro set out to establish himself as a custom motorcycle builder by opening of his Imbarcardero 14 Venice workshop. To help promote his brand he built several custom motorcycles for his close friends; these included an aggressive Triumph TT Legend coined 'Crack 14' for his mate Marco. Born out of the desire to revisit one of his past projects, Marco returned the bike to his IMB14 HQ to undergo a literal sea change.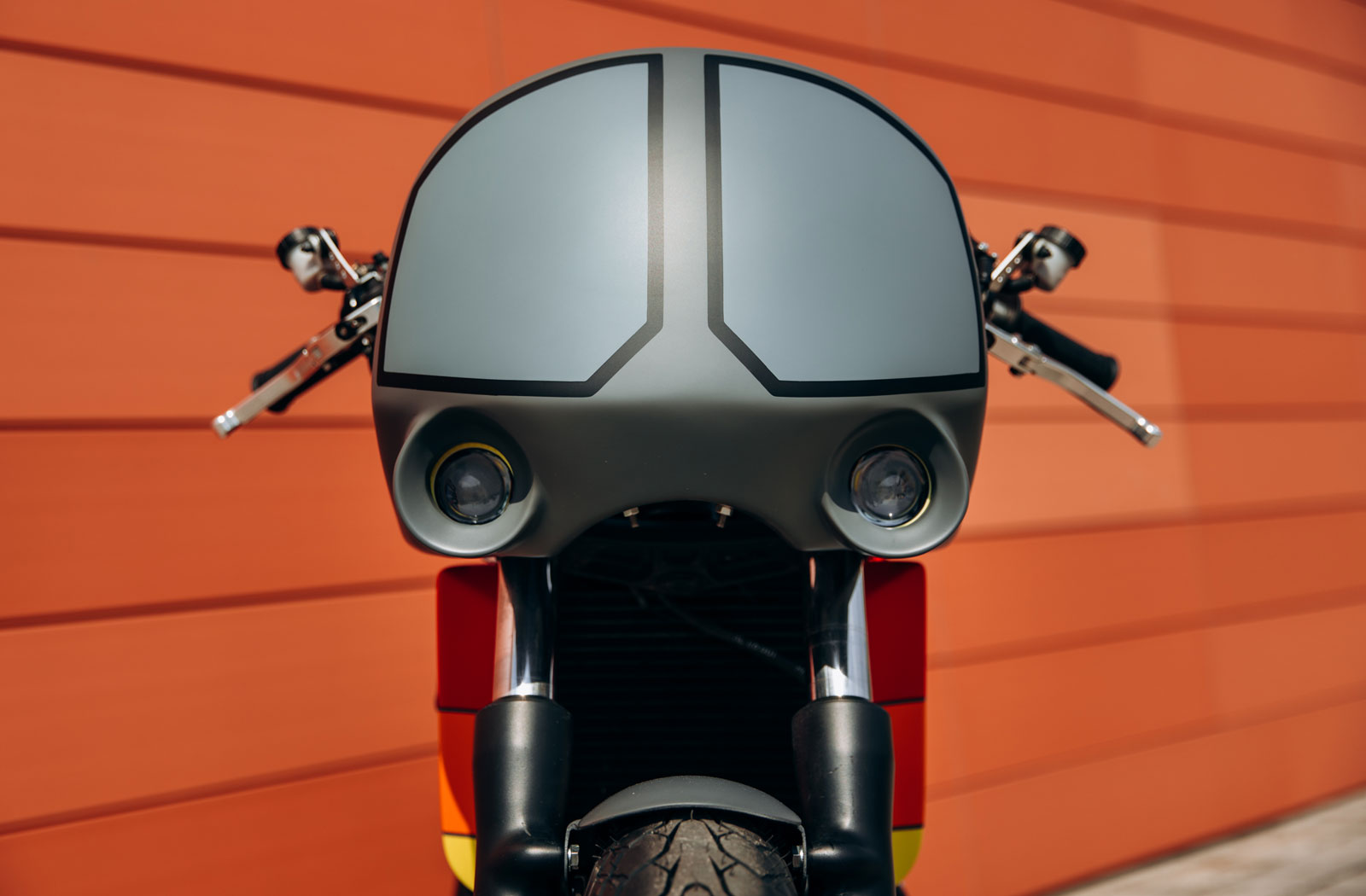 "My inspiration came from watching a documentary on hammerhead sharks. It got me thinking about their power and agility," says Maurizio. "To translate my idea into a render I worked with my young nephew, Riccardo Santiglia, who in the last few years has really helped me with developing new designs and graphics for my motorcycles."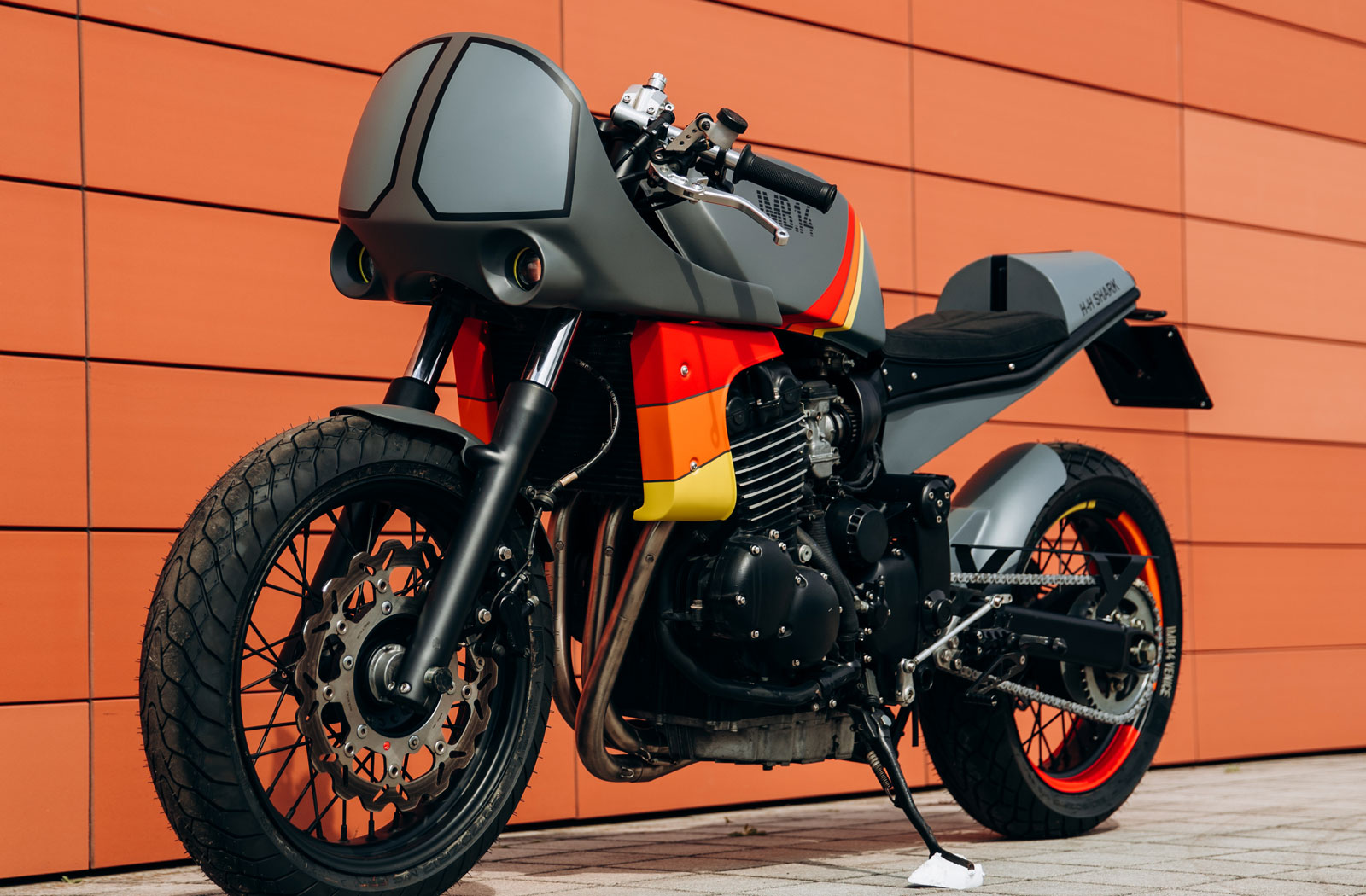 The concept of biomimicry is nothing new in the world of automotive design. Many famous car designers have used animals as inspiration for their work and marine life is a common theme. The bizarre-looking hammerhead shark would be one of the last places we'd expect to see such inspiration coming from, but as we've learned in the past, Maurizio prides himself in pushing the envelope.
The 9 species of Hammerhead are some of the most peculiar sharks on the planet. Their most recognised characteristic is the position of their eyes which sit wide apart on outward extensions from their head named cephalofoil. It was that unique aesthetic feature that Maurizio and Riccardo reflected in their design.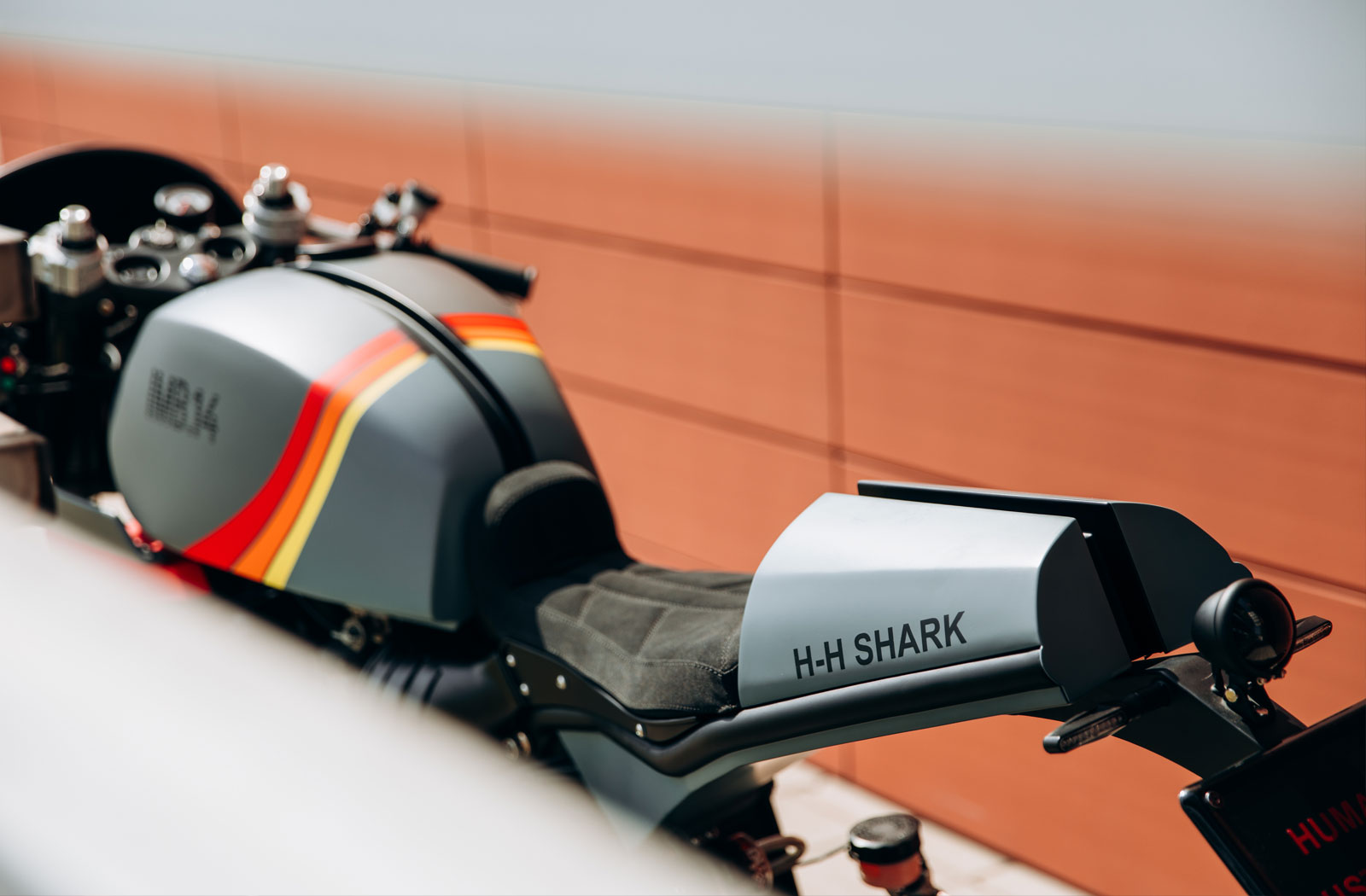 Hand-shaped from sheets of aluminium, the Triumph's front fairing is a hat tip to the Hammerhead. The most striking feature of the design is the twin headlamps which are positioned low and wide apart similar to the shark's eyes. For a streamlined appearance, the fairing sits on the same line as the base of the fuel tank and to form an aggressive silhouette it stands no taller than the top yoke. To form the beast's wide gaping mouth,  he then shrouded the radiator in a pair of alloy covers.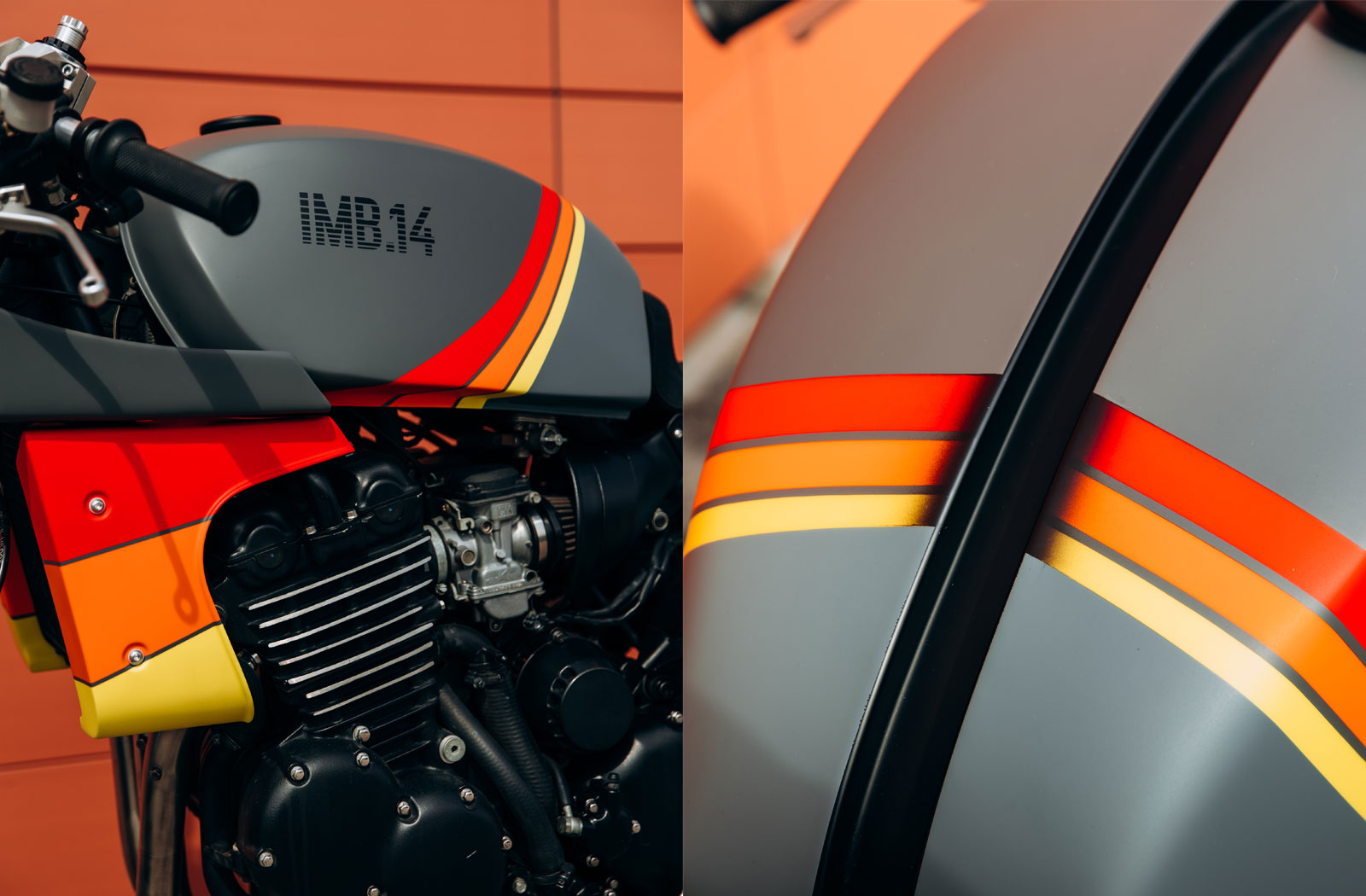 Maurizio built both the rear cowl and fuel tank of this bike 9 years ago during the first round of customisation. Both units remain structurally untouched aside from the addition of a ridge along the spine of the tank and a new, low-profile filler cap. A custom front fender and hugger style rear fender have been added to make this Legend TT more practical for year-round riding.
To complete the bike's new look all of the bodywork has been finished in a matte, hammerhead shark grey with handpainted, retro pinstriping designed by Riccardo.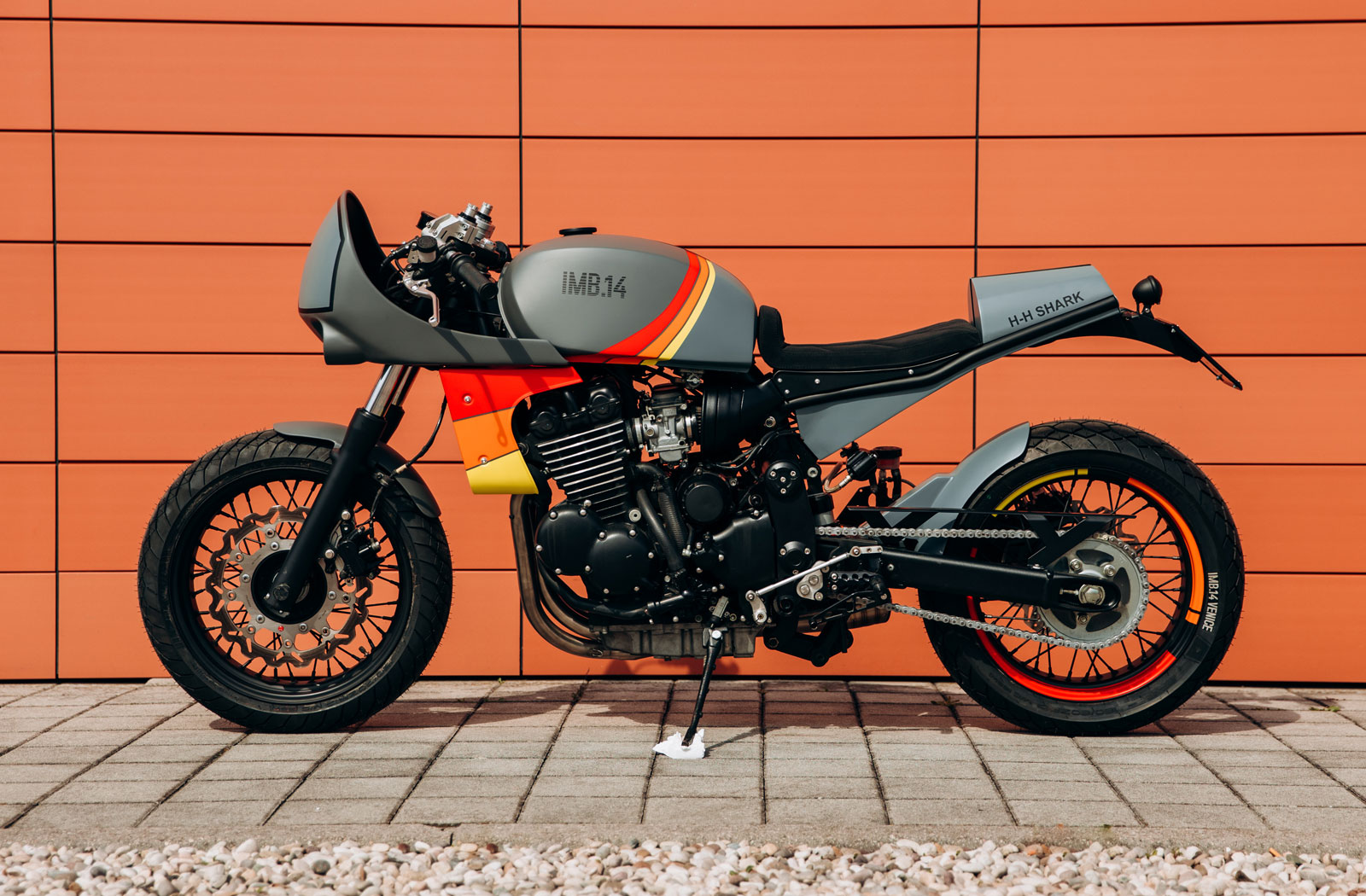 In keeping with the aggressive theme, this Legend TT has also undergone a few performance upgrades. To sharpen the handling the suspension all hails from MATRIS with adjustable internals in the front and a fully adjustable, piggyback shock at the rear. The front and rear brakes have received performance rotors and radial pumps and the callipers are relocated to reduce vibration under braking. Completing the handling upgrades is a rather fittingly named set of Dunlop's Mutant tyres.
As for the engine it inhales through K&N filters which sit behind gill-like covers. The carbs benefit from a Dynojet stage 1 upgrade and there is a full custom exhaust system by Italian specialists, Virex. As for the result of all this work, Maurizio tells us, "The motorcycle is now well balanced, and precise, and you can use more traction power because of the new suspension."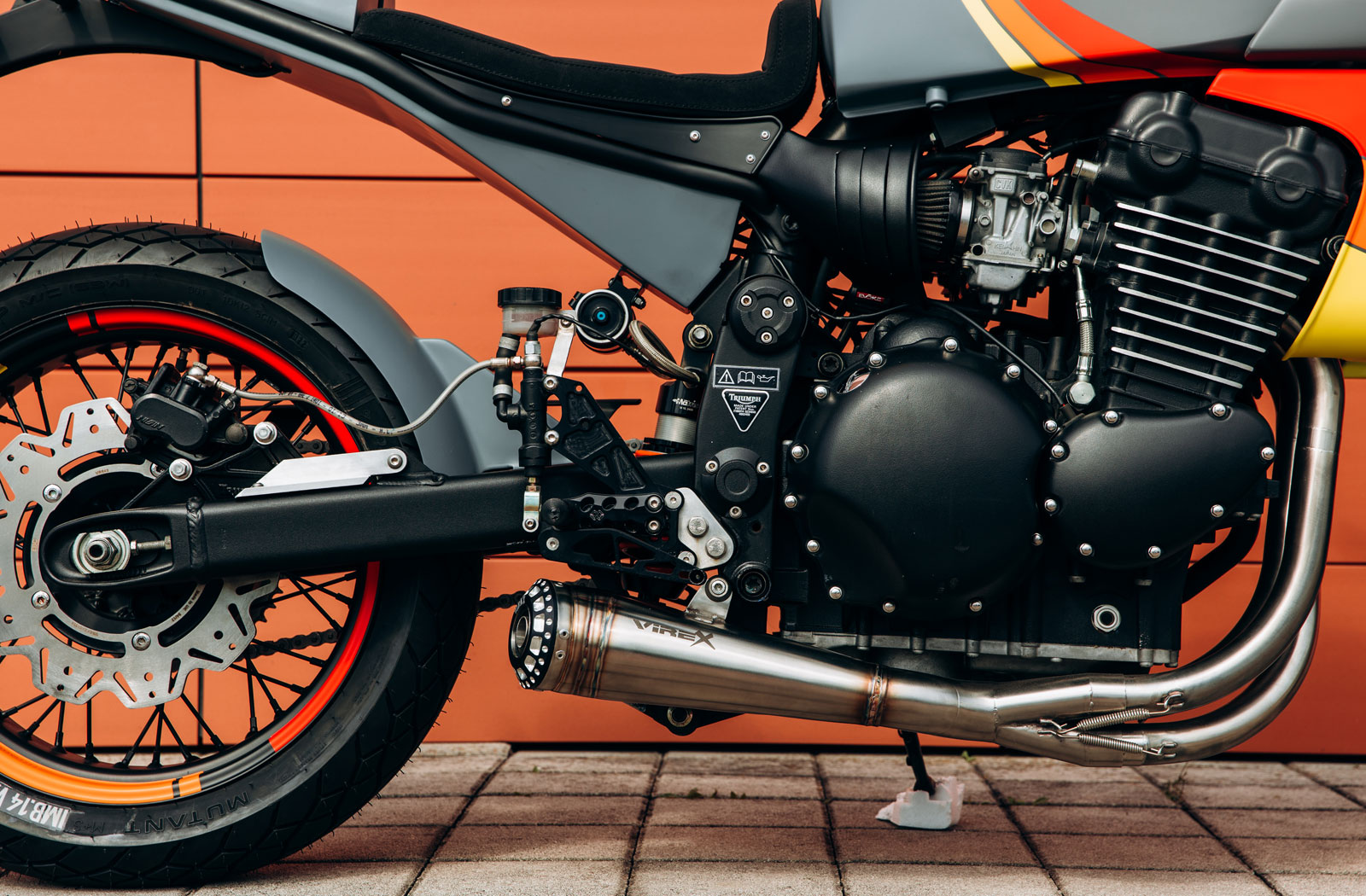 During the rebuild, this unorthodox Triumph cafe racer also received a few accessory upgrades. These came in the form of machined alloy clip-on handlebars, aluminium footrests, LED lighting and a Motogadget speedometer.
"In this project, I've decided to act not only in the aesthetics but also technically," says Maurizio and while the performance improvements are admirable, it's the unashamed styling approach, which we've become accustomed to from IMB14 Venice, that steals the show.
Photography by Giovanni Federici