Such is the iconic status of the 1970s Kawasaki Z900 that these days they are more commonly restored than customised. If you live in Italy and want a nut and bolt Z restoration the place not to go is to Mr Martini's workshop in Verona. If however, you aren't afraid to mess with a classic in order to make it truly your own, Nicola Martini is your man.
This 1975 Kawasaki Z900 is owned by one such intrepid motorcyclist who entrusted Nicola with his precious Kwaka. Whether you consider such an undertaking sacrilege or a cause for celebration there's no denying the result of this project is nothing short of spectacular.
Unlike the custom Z900s we've seen in the past, Mr Martini took a different approach with this project. Rather than using late-model suspension, brakes and engine components to transform the Kawasaki into a modern-classic hybrid, he's created a period-correct custom. To do this he imagined what modifications an Italian rider may have made to a Z900 back in the seventies.  We then fit the bike out with purely Italian-made upgrades from some of the country's oldest and most respected aftermarket brands.
"The bike was battered, and the goal was not to lose the charisma of the original Z900," says Nicola. "We wanted to create a custom without distorting the bike's iconic elements while adding a dash of Italian-ness."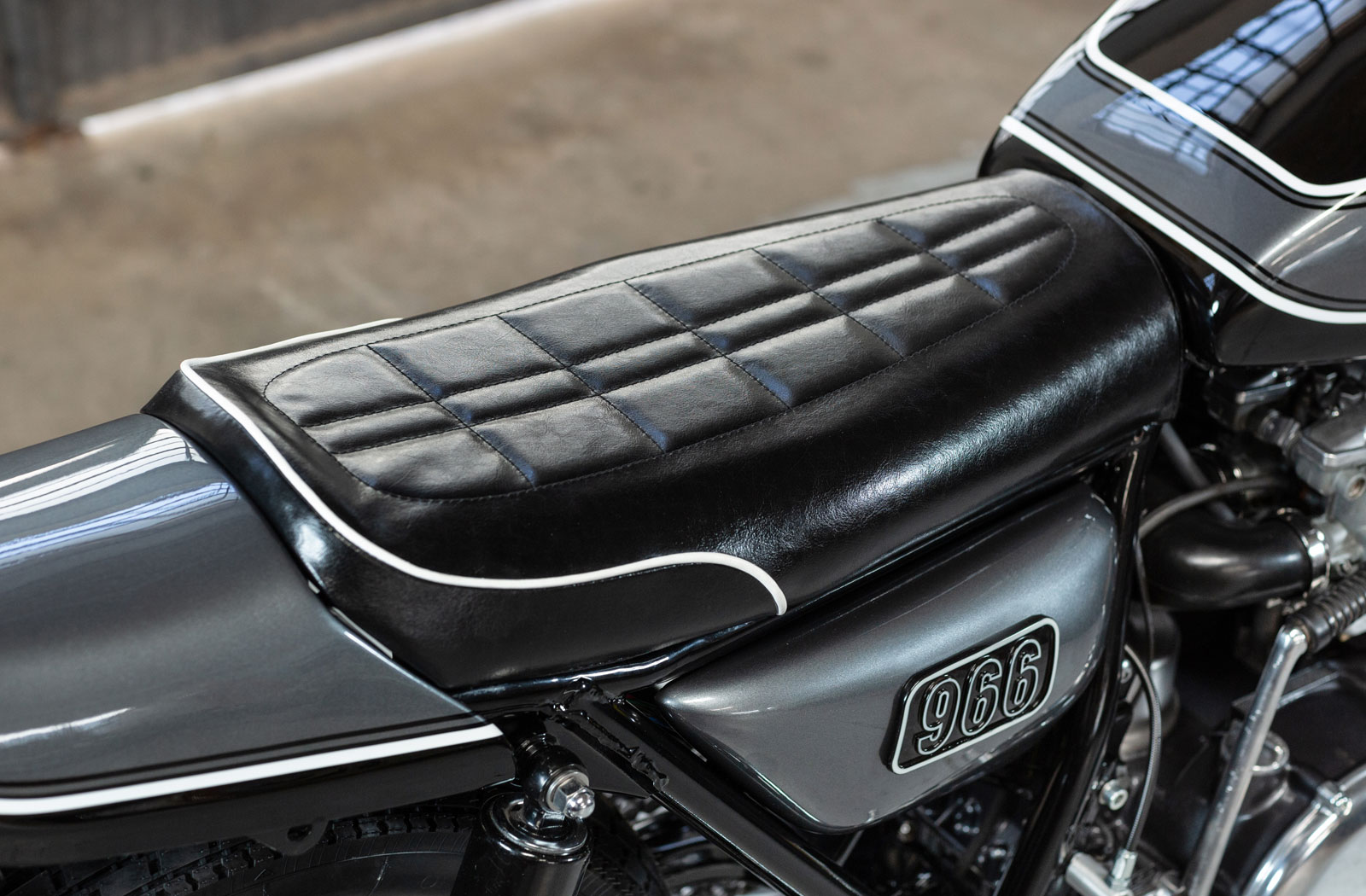 In Italy during the 1970s one of the country's top aftermarket suspension manufacturers was Ceriani. Led by company founder Arturo Ceriani the brand was known for the quality of its products and the development of new, superior suspension systems. Ceriani parts were widely used in both racing and street applications and their hydraulic fork design was considered revolutionary. This of course made a set of Ceriani forks an obvious choice for Martini's Z900 project.
These particular forks are exact replicas of the famous Ceriani Type GP35 racing forks. They feature 6061 alloy lowers and chrome moly stanchions which are held in place by matching aluminium triple clamps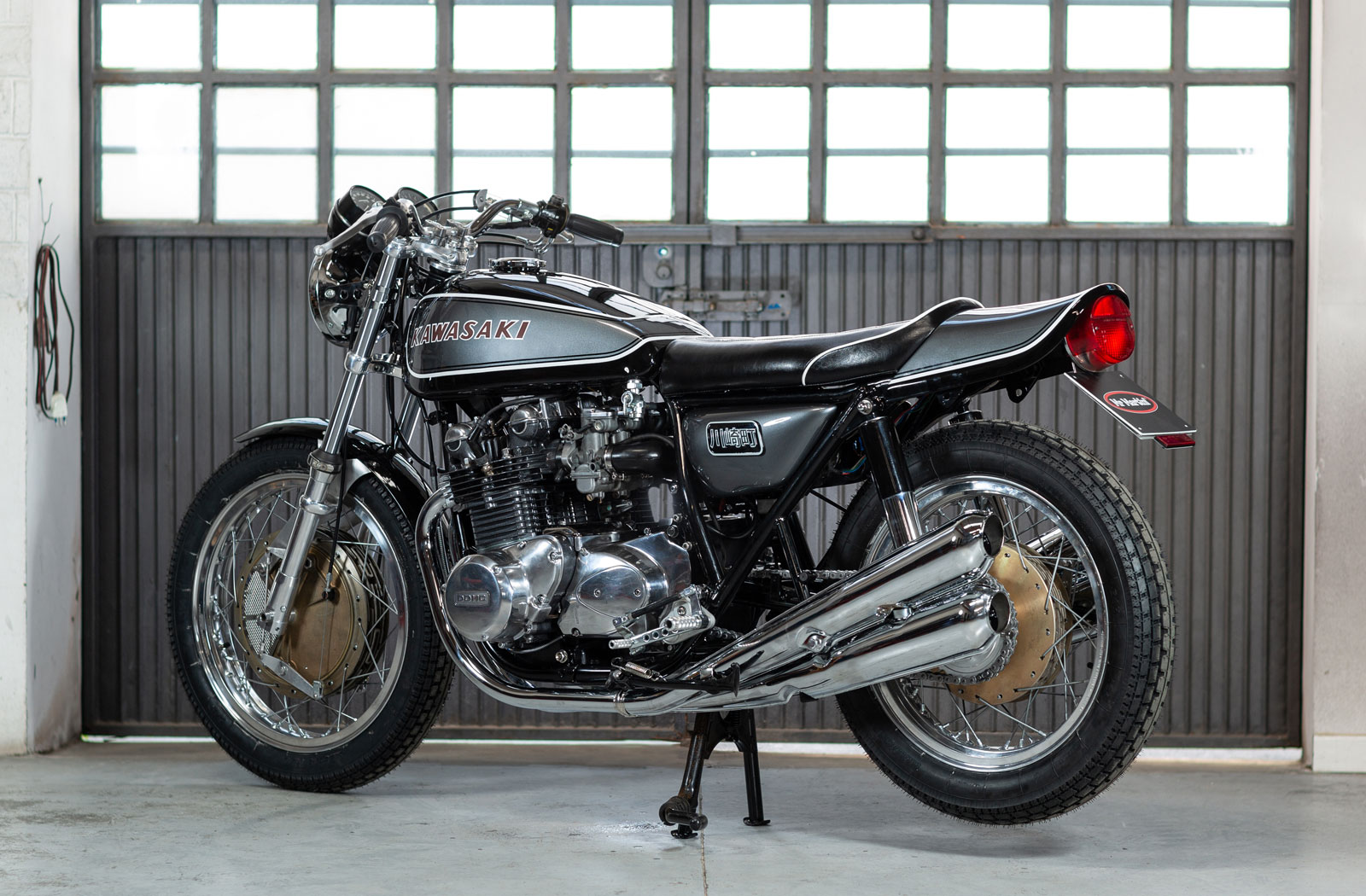 At the rear end of the Zed, you'll find an equally iconic Italian suspension brand in the form of a pair of Marzocchi shock absorbers. Marzocchi was founded at a similar time to Ceriani and was also highly regarded for its product development. So revered was the Marzocchi brand that local manufacturers Ducati and Moto Morini used their suspension on their production motorcycles. The brand's notoriety even reached the UK where Triumph utilised their suspension components at their Meriden factory.
In keeping with this Zed's period-correct, Italian design approach, Martini opted for a pair of classically styled Marzocchi shocks.
Stopping power was next. The obvious brand choice here for many would have been Brembo. Instead, Martini went with a rather unexpected drum brake setup.
The drum brakes on this Z900 were produced by Fontana, another Italian manufacturer who emerged in the mid-sixties. Specialising exclusively in brakes Fontana's drum brakes were used on Triumph and BSA triples. Known for their superior stopping power they were reputed as being more capable than some disc setups. Fontana drums were constructed from lightweight magnesium with a cast iron braking strip ring inside along with 4 brake shoes. Martini fit this Z900 with replica Fontana large front and rear drums with custom mounting brackets and cable lines.
To help reduce unsprung weight Nicola laced the Fontana drums to aluminium rims by Italian wheel experts Borrani. Similar to the other brands enlisted for this build, Borrani wheels were often found on manufacturer vehicles, most notably the sports cars built by Ferrari who released models that rolled on Borrani wheels for more than 2 decades. The 40-spoke rims Martini picked out for the Z900 add a striking visual touch along with handling improvements courtesy of their light weight.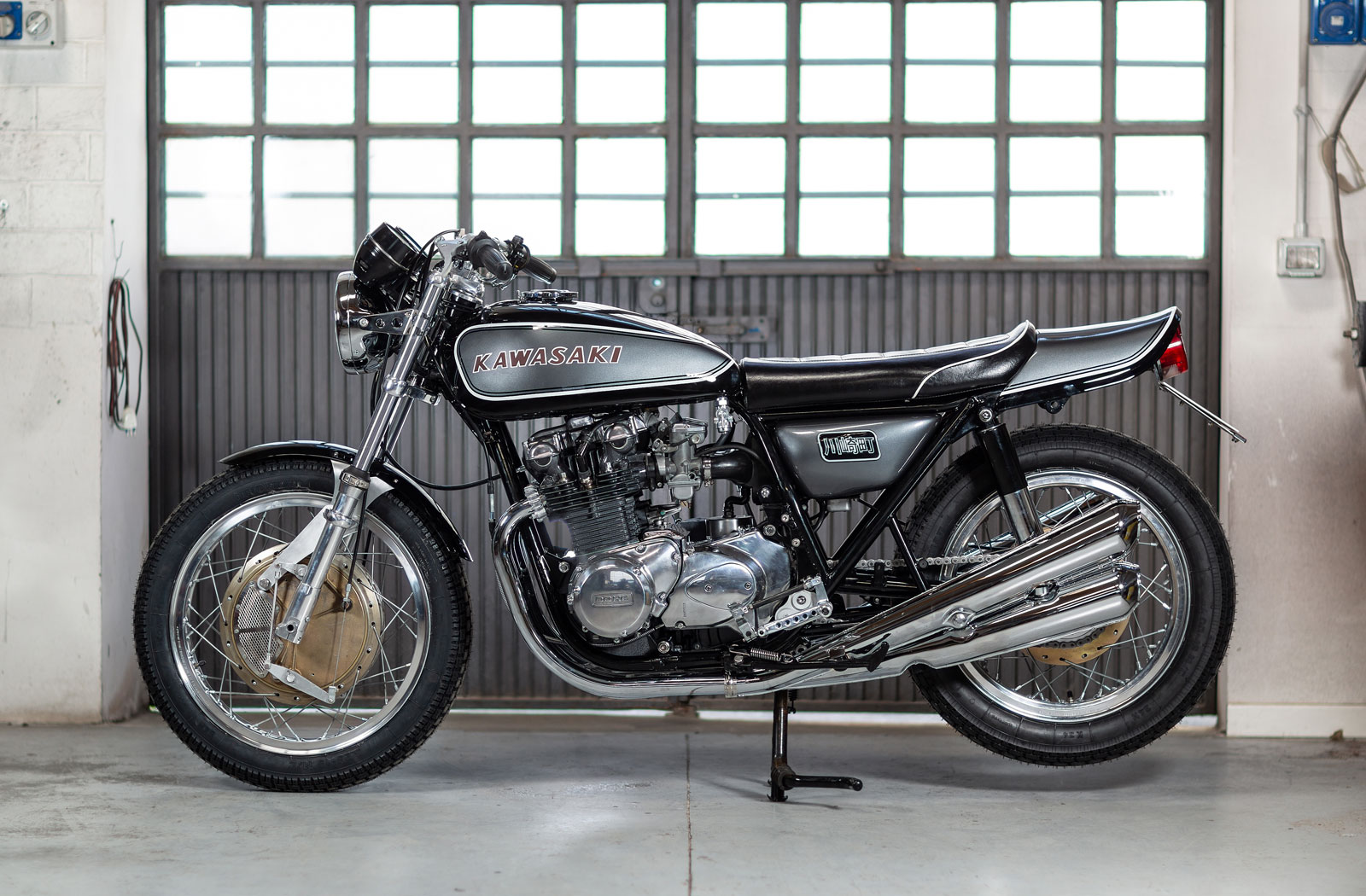 For the rest of the bike, Martini treated the Z900 to a complete overhaul. The bike's engine is now spotless and it's been fitted with an iconic 4-into-4 Kawasaki Z1 exhaust. To tighten things up Martini has shortened the tail slightly and added a custom leather seat upholstered by Tommi Casaro. A revised, slightly more aggressive riding position has been made possible using Italian-made Tomaselli handlebars and aluminium rear set foot controls. Amongst all of the classic components on Z900, there is one very modern addition. The bike's new side covers with their 966 and Kanji Kawasaki badges were computer designed and then 3D printed.
To complete the transformation of this bike it was resprayed in London gray and Birmingham black with classic white pinstriping. For those who may be wondering the 966 reference is the name Nicola gave the Zed. It's a mashup of the Kawasaki's engine capacity and the year of the owner's birth.
As for as customising classics goes this beautifully executed resto-mod gets our wholehearted approval.