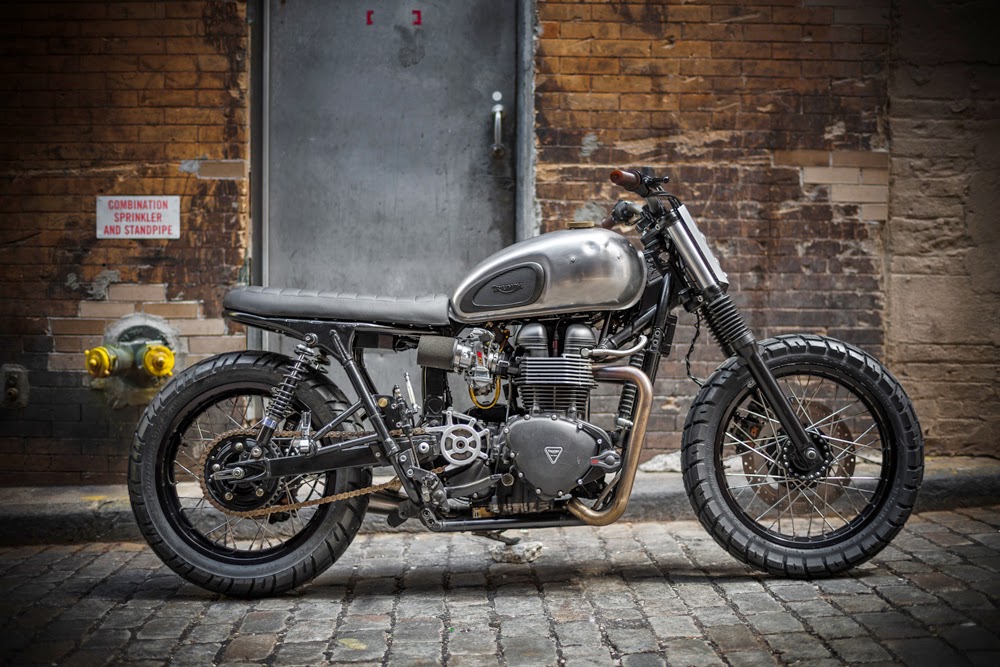 Living in a big city can make it difficult for anyone wanting to customise their own bike. It was one of the main reasons we set up the Kustom Kommune communal motorcycle workshop in Melbourne. Without garage space you're limited to dragging your bike indoors or working on the side of the street, which as anyone that's experienced it would know, is about as much fun as receiving a swift kick to the groin. This was the unpleasant reality that New Yorker Francis Choung was faced with, but accepting one's situation and simply dealing with it is sometimes the best option and Francis has done it with style.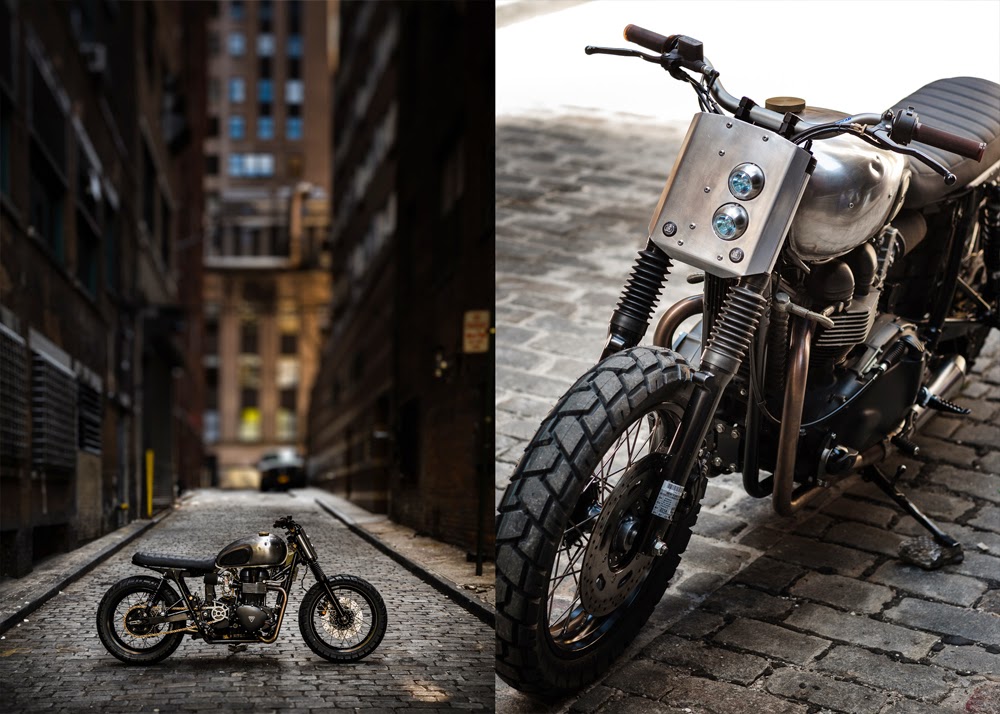 "I'm a video producer/editor living and working in Manhattan. My work keeps me behind a computer all day, which can be maddening in such a dense and cramped city. Buying a stock Bonneville 3 years ago and being able to work with my hands on something tangible and escape the city whenever I want has been much-needed therapy."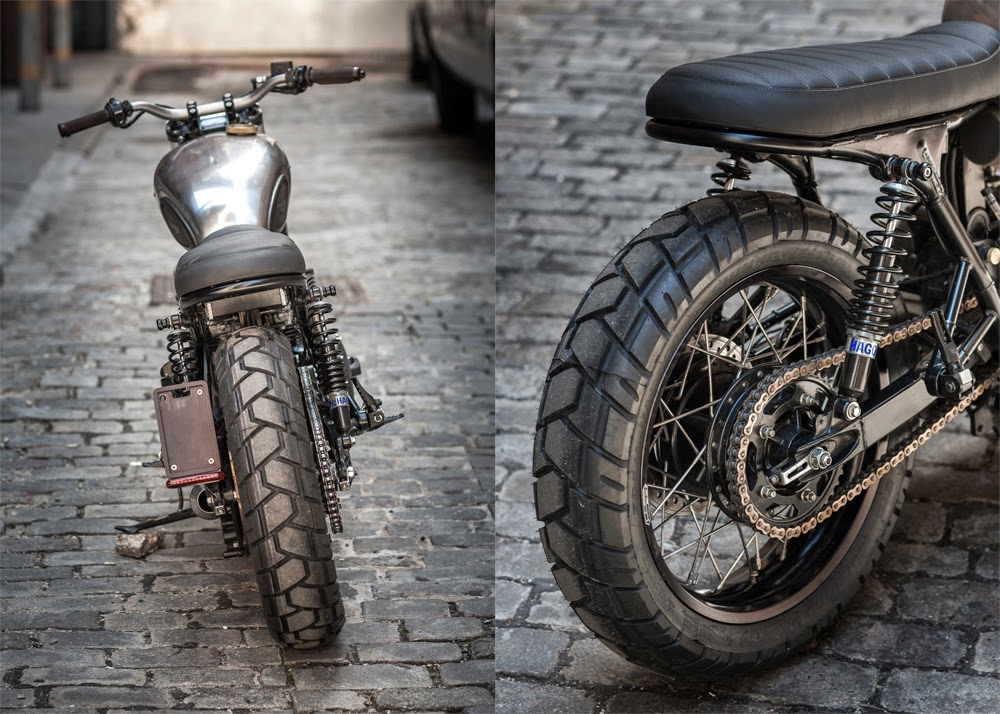 "This is my first and only bike. For anyone familiar with New York City, space isn't cheap, and the gridlock makes it very motorcycle-unfriendly. It's extremely difficult to own and maintain a bike here, much less multiple bikes. Parking on the street will eventually lead to tickets, impoundment, being knocked over by cars, vandalism, and/or theft. Luckily, there are a few motorcycle-only garages in Manhattan that provide sanctuary, with secure parking and a safe work area. I've been able to do 95% of the work on my bike thanks to one of these garages. Being my only bike, it has taken on the full brunt of my wrenching and fabrication needs, while also needing to be my daily rider."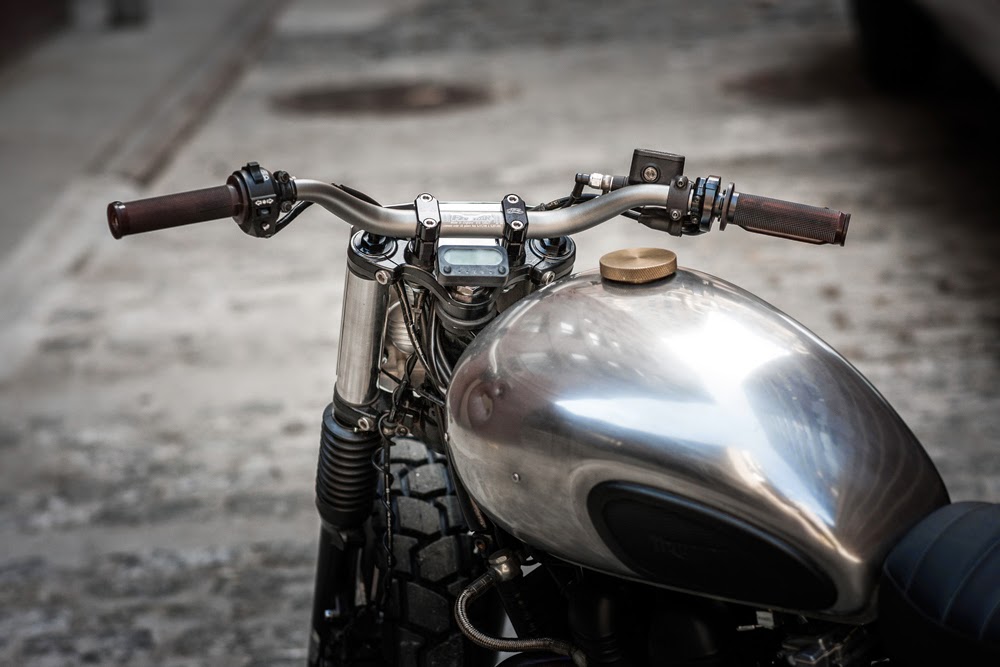 "Since Triumph Modern Twins are ubiquitous these days (You can't walk a block around here without seeing one and they make up a large majority of the modern bikes that show up to local motorcycle shows), I've attempted to stray as far from the classic stock form as possible. I've always been a big admirer of Richard Pollock and his Mule motorcycles and Japanese bobbers, and gravitated towards the street tracker aesthetic. And I love bare metals and patina, so it has taken on a somewhat post-apocalyptic look."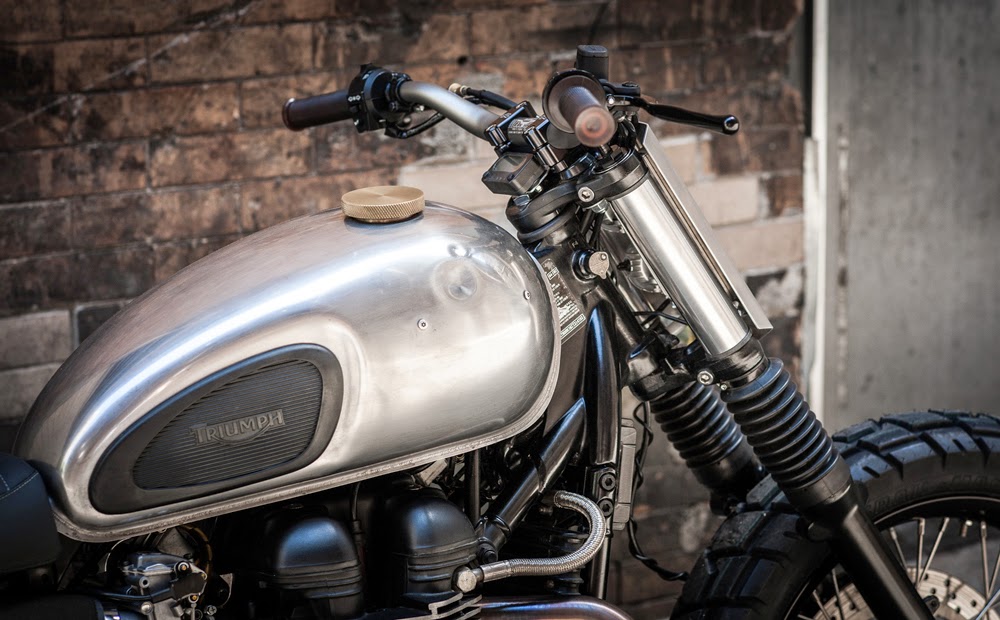 "The tank has been stripped, and old dents left alone. I made an aluminium face plate with vertical PIAA lights, and built up dual 18" wheels, powder coating the stock hubs and lacing them to Sun rims with Shinko 705 tires. Going 18″ on both rear and front allowed me to fill out the rear wheel well space a bit and add a beefier tire to the front. The subframe was looped with a slight upsweep, and a custom fiberglass seat pan made with new foam and upholstery. The pipes are a modified British Customs 2 into 1, which were shortened and mounted to a new bracket welded onto the frame. Side panels and tabs were deleted, a new battery tray built, and I mounted a car style ignition which starts the bike with the turn of the key. The key has a knurled brass topper that matches the gas cap. A cheap, digital Danmoto gauge was wired in. I also ditched the bulky 1" bars and controls, and converted everything to 7/8", utilizing a much lower profile Grimeca MC. Performance-wise, I added a set of FCR 39 carbs to give it a bit more kick in the higher RPMs."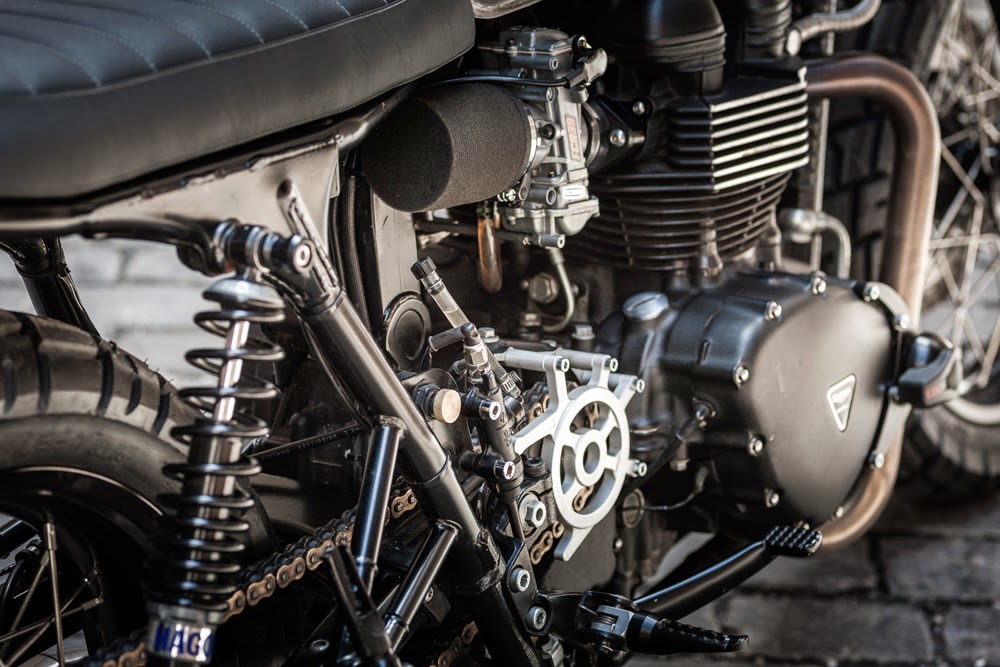 "Because this is my only bike, these mods were usually done on the quick and dirty, including rattle canning the frame and parts on the open, grimy streets. It has also been a constantly evolving beast, since there's not much to do during the brutal winters here but wrench indoors. It isn't the most refined bike, but that's how I like it."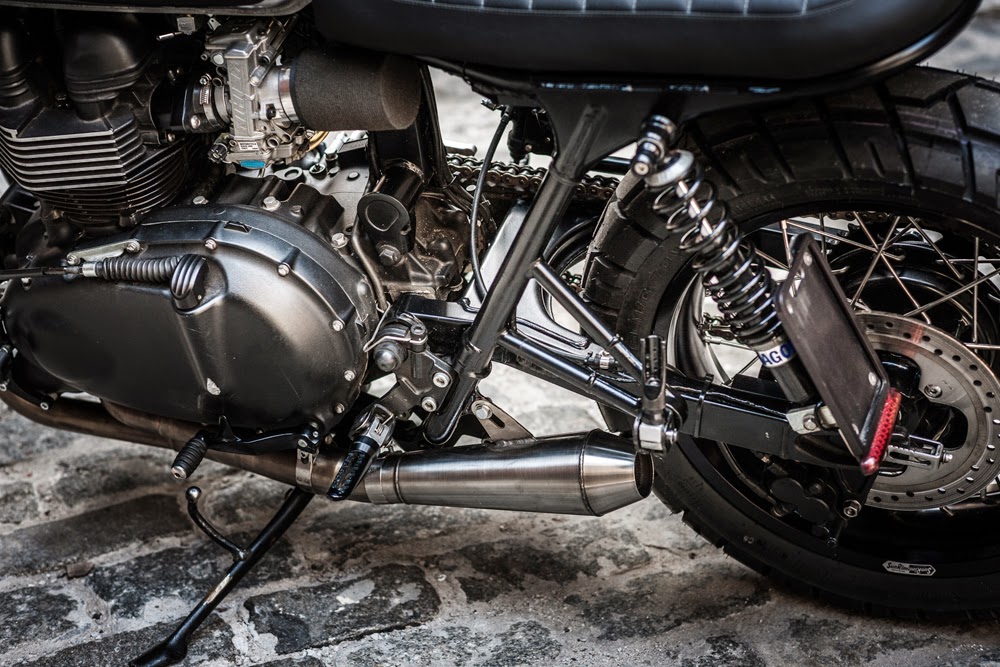 Have you built a cool custom?