If you ride a Ducati and don't get tingles when you see the letters NCR it's time for a history lesson. NCR is an acronym of its founder's names, Rino Caracchi, Giorgio Nepoti and Rizzi. Together the trio (and later just Rino and Giorgio) laid the groundwork for Ducati's racing success. During the 1970s Ducati didn't have a racing program of their own so they entrusted nearby performance specialists NCR with tacking their marque to the racetrack. It was there that the NCR name became legendary. From the 60s through to the 90s NCR worked with the best Italian engineers and technicians to develop bikes that left a lasting impression out on the track. Perhaps the most iconic of all was the Ducati 900 NCR ridden to victory by Mike Hailwood during the 1978 World Championship at the Isle of Man..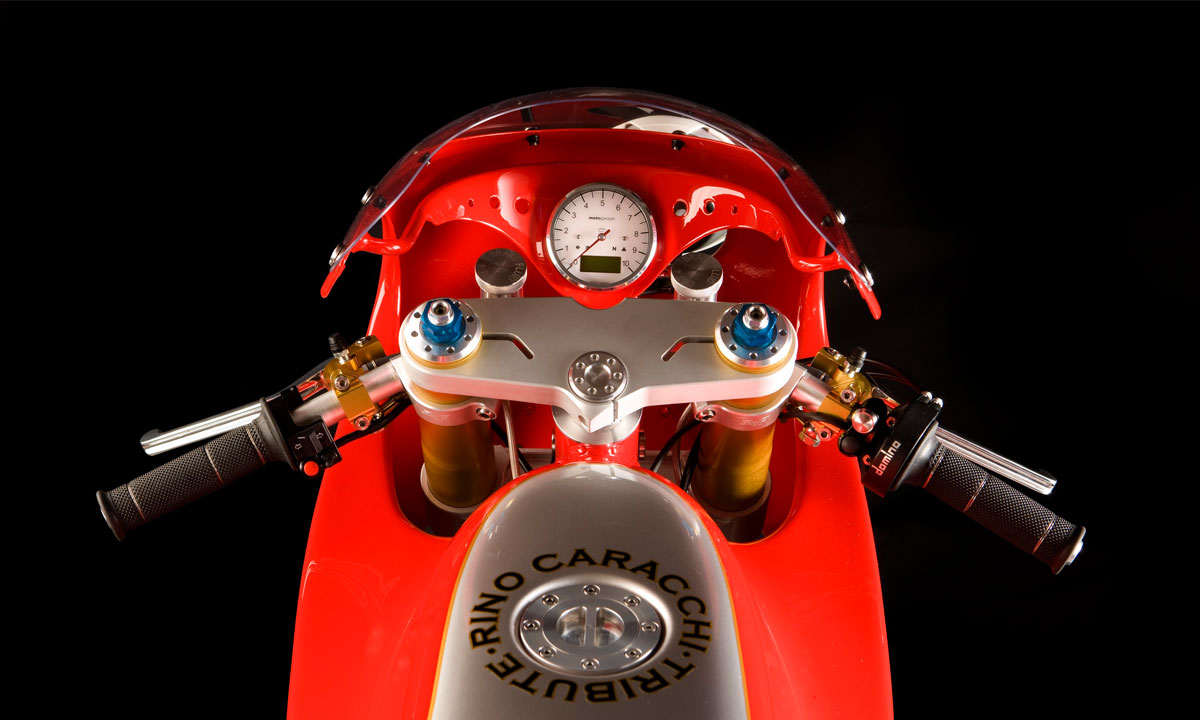 Last year the remaining member of the original NCR trio, Rino Caracchi passed away. In honour of his incredible achievements and to pay homage to the NCR name Italian workshop Stile Italiano created this very special tribute bike.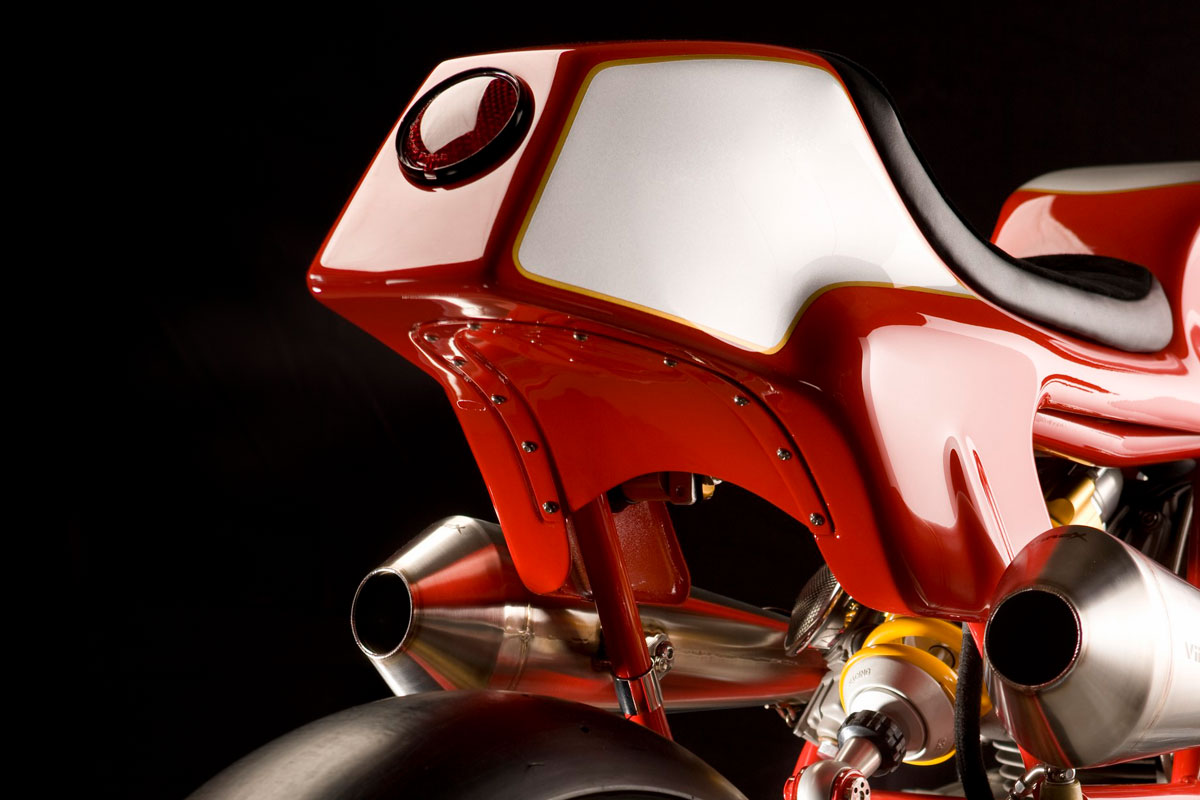 "What better way to build a tribute to Caracchi than using a Ducati MHR 1000 platform, a bike built in recognition of Hailwood's NCR victory," says Cristian of Stile Italiano. And what a starting point it was. Their 1984 MHR 1000 donor was in itself a rather special machine. The MHR 1000 was the last model Ducati produced using their final bevel drive design and the first to make use of an electric starter. The Ducati MHR 1000 engine was a visual treat too with clear sight windows atop each bevel drive and it was hung in a specially made double cradle DASPA frame.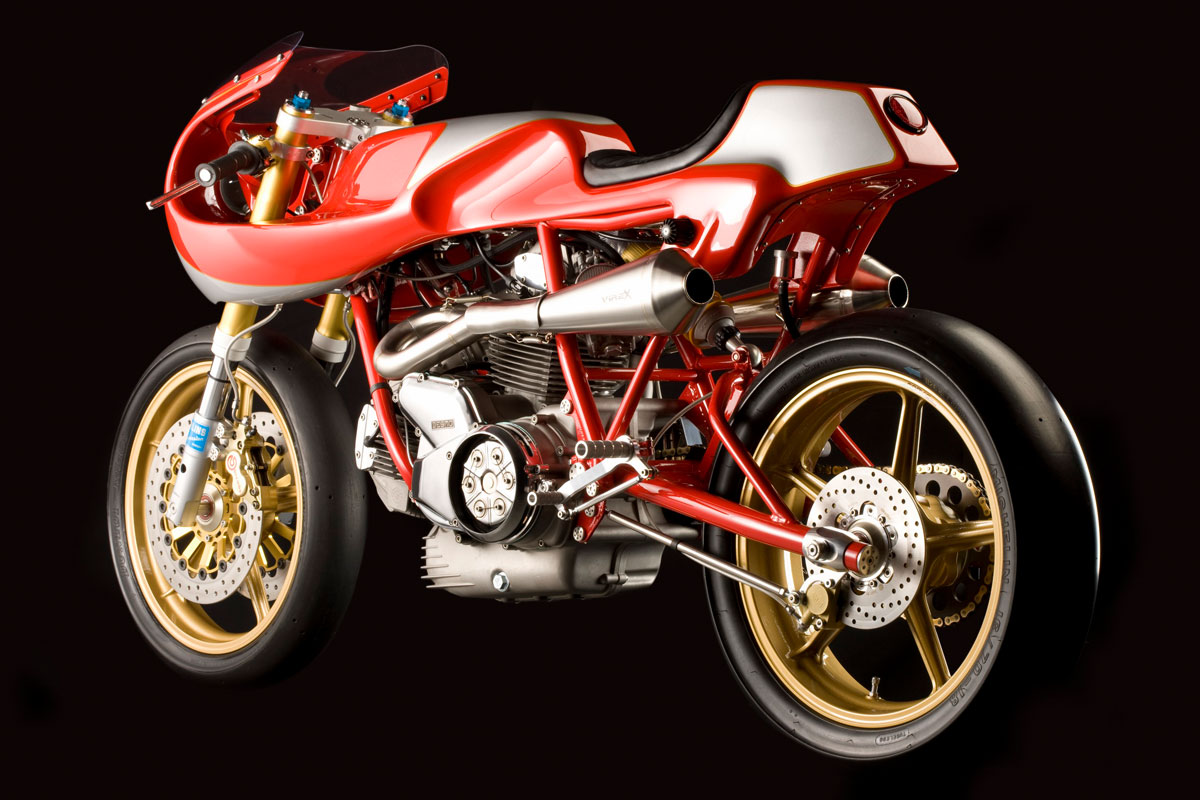 Stile Italiano's Caracchi Tribute build began with carefully considered performance upgrades. To begin with, the 1000cc L-twin is now fed by PHM 40 Dell'orto carburettors wearing racing style velocity stacks. At the opposite end of the combustion cycle sits a custom exhaust system designed by Stile Italiano and created by Virex. The suspension has also been improved with the installation of a complete Ohlins FG950 front end using Ducati 888 alloy triple trees. Then at the rear, the factory cantilever swingarm is managed by an Ohlins mono-shock.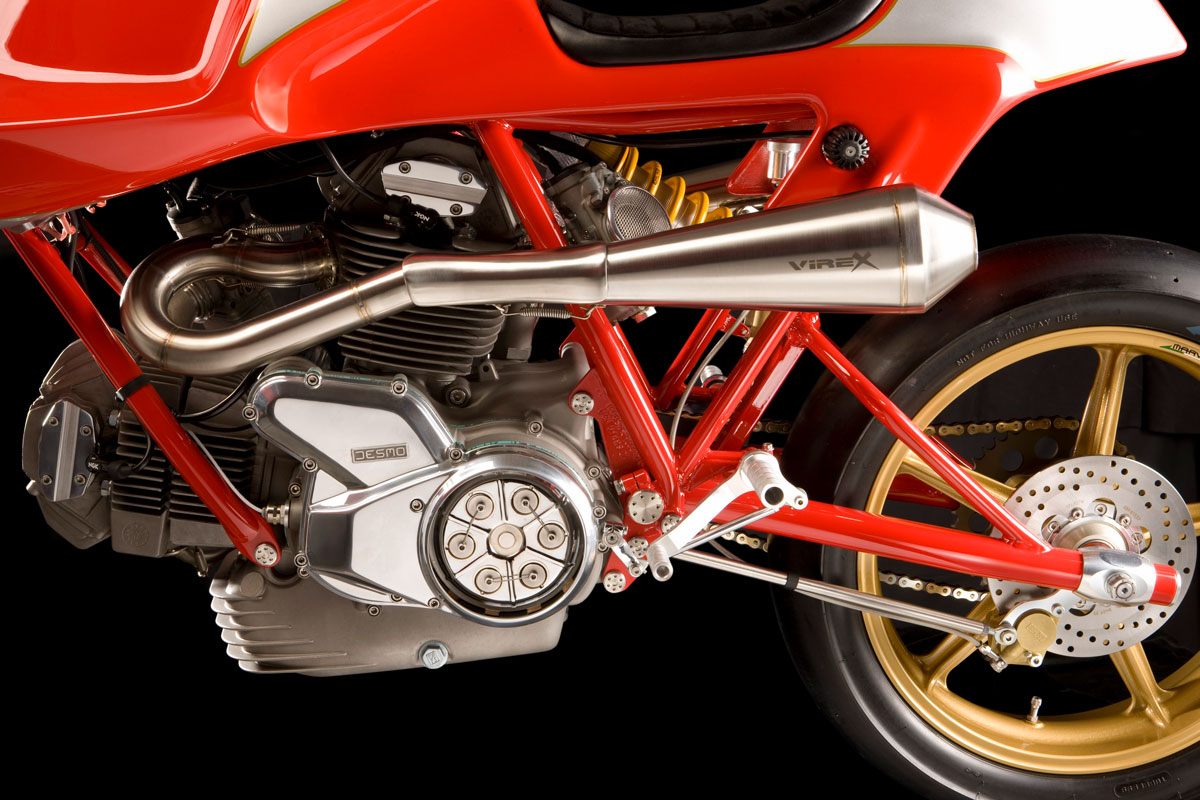 For the wheels, Stile Italiano went with TT2 5 spoke replica rims from Marvic which they wrapped in track-ready Michelin slicks. Stopping power is provided by a complete Brembo system with ORO discs, billet callipers and ORO master cylinders. Stile has then exorcised Ducati electric demons using Motogadget components and instruments. To perfect the bikes racing ergonomics aftermarket clip-on bars and CNC rear set footpegs have been custom mounted too.
As Stile Italiano themselves say "the most beautiful part of the Ducati MHR 1000 Caracchi tribute is the bodywork" and I couldn't agree more. In classic Stile style, the one-off body utilises a monocoque, single piece design. The entire construction was hand-formed from aluminium sheet and meticulously welded together and sanded smooth for a seamless finish. Perhaps the most unusual thing about this Stile Italiano build though is the colour scheme. For this unique project, Christian, Loris and Gianluca departed from their traditional black silver and gold livery. In its place is a much more appropriate red, silver and gold Ducati scheme that Caracchi himself would be envious of.