Let's not beat around the bush. The motorcycles built by Harley Davidson have never been hot favourites in the cafe racer scene. During my 14 years of featuring cafe racer builds on these pages, the most hotly debated and often hated bikes have been built on Harley platforms. 
Not one to be put off by other people's opinions, I've persisted with featuring Harley Davidson cafe racers. And now, to prove a hog can make a decent cafe racer, here's our very own selection of the Top 10 Harley Davidson cafe racers.
H-D Haters Be Hating…
All the negative feedback I've seen about Harley Davidson cafe racers boils down to 2 somewhat ignorant opinions.
The first is that some so-called cafe racer aficionados seem to have an aversion to the bar and shield. Perhaps that's because of Harley's ties to the chopper scene? After all that style of bike is very far removed from the cafe racer ethos. Or maybe it's more basic than that and simply comes down to a difference in opinions or tastes.
The other point often made is that Harley's are slow, heavy machines. This supposedly makes them unsuitable for the cafe treatment. It is indeed true that Harleys tend to be heavy. They are after all built for cruising as opposed to canyon carving or track days. But there are many ways to shave weight from any bike and Harley's are no different.
As for slow. That's an opinion I can only put down to a lack of knowledge. Sure a stock Sportster 1200 isn't going to give the latest 1200cc Thruxton RS a run for its money down the ¼ mile – but with a bit of work that v-twin can really sing. It isn't uncommon to see a 60 hp Sportsters affordably hopped up to over 100 hp. With that much power on tap the Thruxton RS would definitely be feeling nervous.
Regardless of which side of the Harley Davidson fence you sit on. We're sure you'll agree these 10 Harley Davidson cafe racers lay those opinions to rest.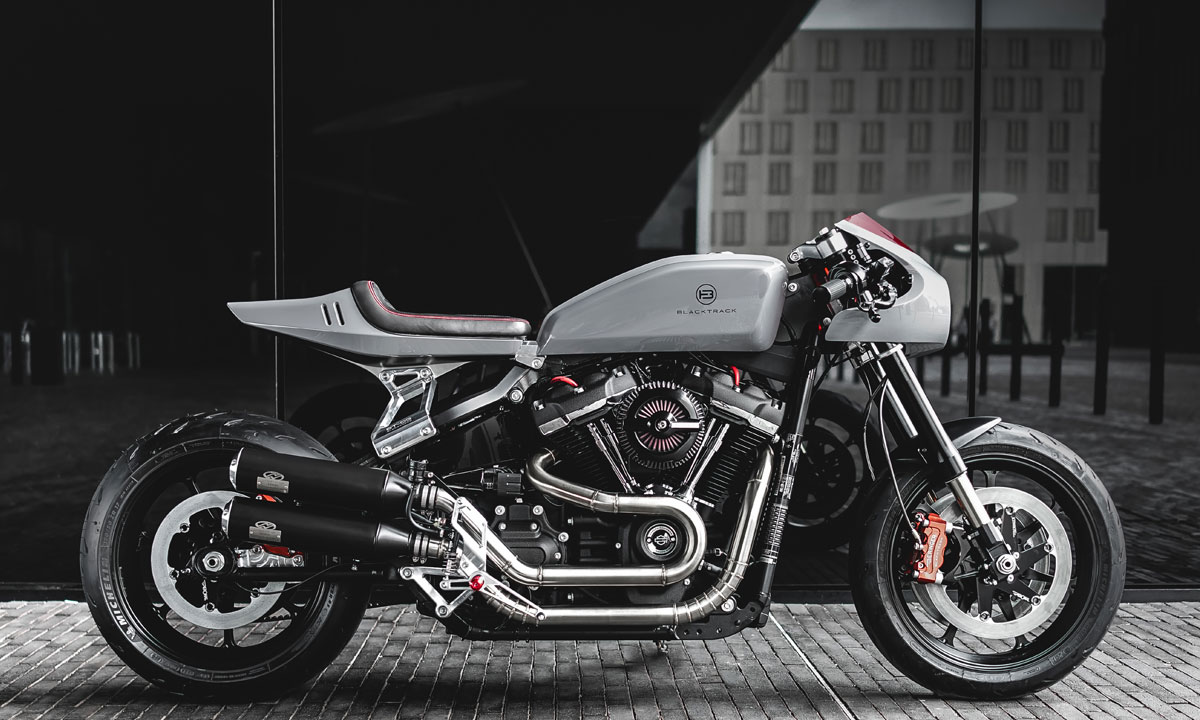 Blacktrack Motors Fat Bob
Luxembourg luxury custom automotive builder Blacktrack Motors knows a thing or two about building cafe racers. Blacktrack frontman Sascha Lakic wowed the cafe scene with his incredible Honda CX500 GTS and Triumph Thruxton. So to follow up those impressive machines he released this unexpected beast of a bike.
The BT-03 is a heavily customised Harley Davidson Fat Bob. True to its name, the Fat Bob is no featherweight, yet Sascha and his team did the seemingly impossible. They transformed the behemoth hog into a svelte, streamlined cafe racer. Getting it there was no easy task though. Inspired by Harley's own 1977 XLCR Sascha redesigned the bikes chassis, bodywork and geometry. He used 3D modelling and rapid prototyping to create bespoke components and fit it with top of the range performance equipment.
The bikes 115 Nm, 94 hp v-twin also underwent a slew of power upgrades, but it's the weight savings that have made the biggest difference. The Blacktrack Motors BT03 weighs a whopping 38 kg less than a stock Fat Bob. Making things even more impressive is that 13 kg of that figure was unsprung weight.
DanMoto 2006 Sportster 1200
Every self respecting aftermarket parts producer should at some point build their own bike. When the time came for Wei Liya of Dan Moto to do just that, he opted to build a Harley Davidson cafe racer.
Taking 4 months to complete the Dan Moto Sportster cafe racer is a rolling showcase of the company's abilities. Along with designing and fabricating the entire bike in house the 2006 Sportster wears a plethora of parts from the Dan Moto catalogue. This isn't just an exercise in spruiking ones wares though. Wei wanted to create a capable machine that he could enjoy when it wasn't parked in their showroom or on display at events.
The most notable change here is to the bike's chassis. The new frame is a completely custom design and was styled after those built by famed frame builder Fritz Egli. It's also made from aluminium making it extremely lightweight and uses a mix of tubular and solid machined sections for strength. Wei also used an oil-in-frame design to remove the need for a bulky oil tank and converted the rear end to a mono-shock setup.
Fully loaded, the Dan Moto Sportster cafe racer weighs a mere 200kg and also benefits from a performance suspension, wheel and brake package. There are of course many, many other modifications to name here and you can read about them all in the full article.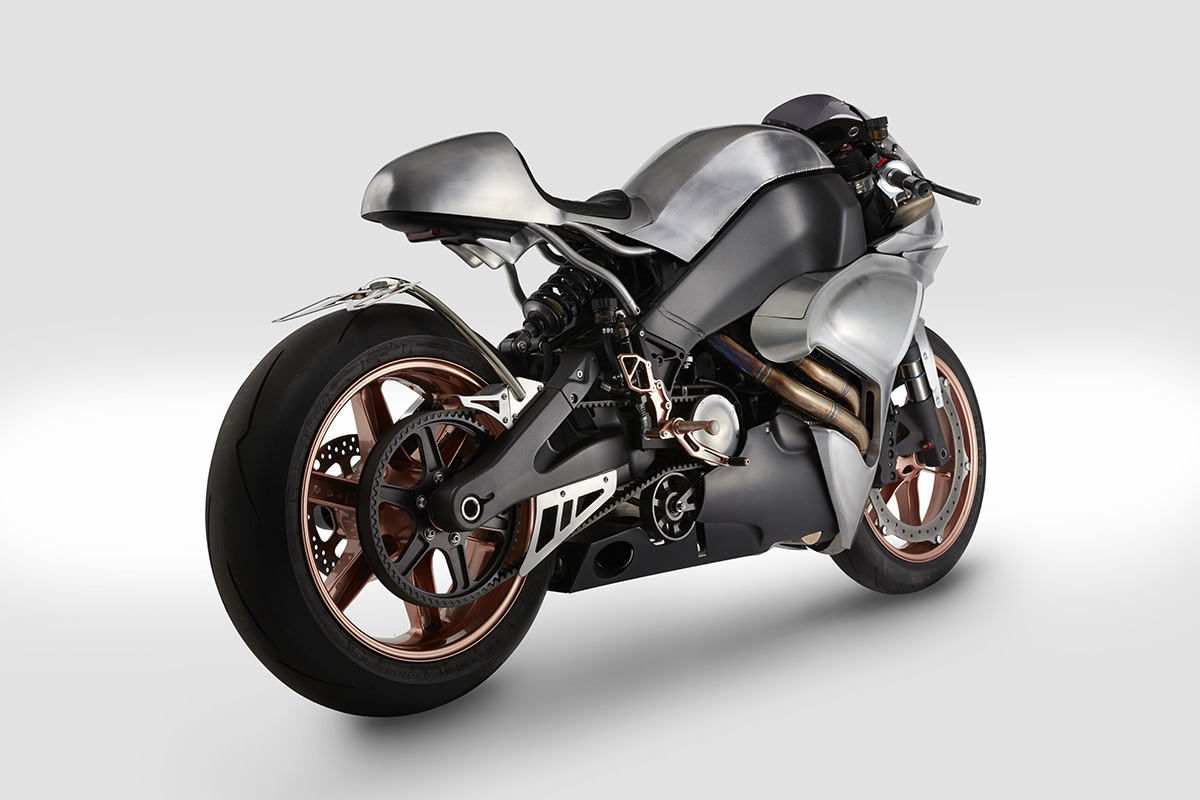 Ask Motorcycles Buell Lightning XB
One of my favourite Japanese builders often flies under the radar. But when Rad Yamamoto of Ask Motorcycles built this incredible Harley powered Buell XB everyone sat up and took notice.
Every motorcycle lover knows the tragic story of Buell and Harley Davidson. Despite the company's unfavourable ending, during their time together they created some truly awesome machines. The Buell Lightning XB was no exception.
Taking advantage of Eric Buell's impressive engineering, Rad's goal here was to give the bike an entirely new look. To do this he painstakingly shaped the one off aluminium bodywork by hand. With the goal of creating an organic form Rad merged smooth curves with gill-like vents and fins. He built a subframe and fender support from hand-bent stainless tube and mounted everything tightly to the Buell chassis for a factory-like fit and finish.
To showcase his hard work Rad left all of the aluminium bare. He then added touches of anodised copper to complete this Buell's truly unique appearance. His hard work paid off too. Rad entered the bike into the revered Mooneyes Hot Rod and Custom show in Yokohama. When the judging took place Mooneyes CEO Shige Suganuma was so impressed he created a special cafe racer category just so he could hand Rad a trophy for his efforts. I'd say that's a job well done.
Hesketh S&S Sonnet
If you're looking to get more thrills out of a Harley – the go to experts on the topic are S&S cycles. When Hesketh Motorcycles owner Paul Sleeman set out to add a cafe racer to their range, his first port of call was the S&S catalogue. There he found a 2,100cc, 3 cam, 2 valve per cylinder, 145 bhp v-twin that became the starting point for the motorcycle he named 'Sonnet'.
Similar to the other models in their range the Hesketh Sonnet was a limited edition item. Only 100 units were available to the public at $32,000 USD a piece. Along with the massive S&S power plant, the Sonnet featured glorious handmade bodywork that was polished to a mirror finish. The frame is a unique chrome-moly design and the oil is stored in one half of the fuel tank.
The Sonnet also came with plenty of performance focused components. The nitrogen filled suspension hails from British experts KTR, the brakes are by Brembo and Avon contributed the rubber. Rizoma, Domino and Kosso were also called in to supply the bikes high end accessories.
It's been a few years since the Hesketh Sonnet's release so the chances of buying or even seeing one now are pretty slim. Instead you'll just have to enjoy the photos of this enviable v-twin cafe racer.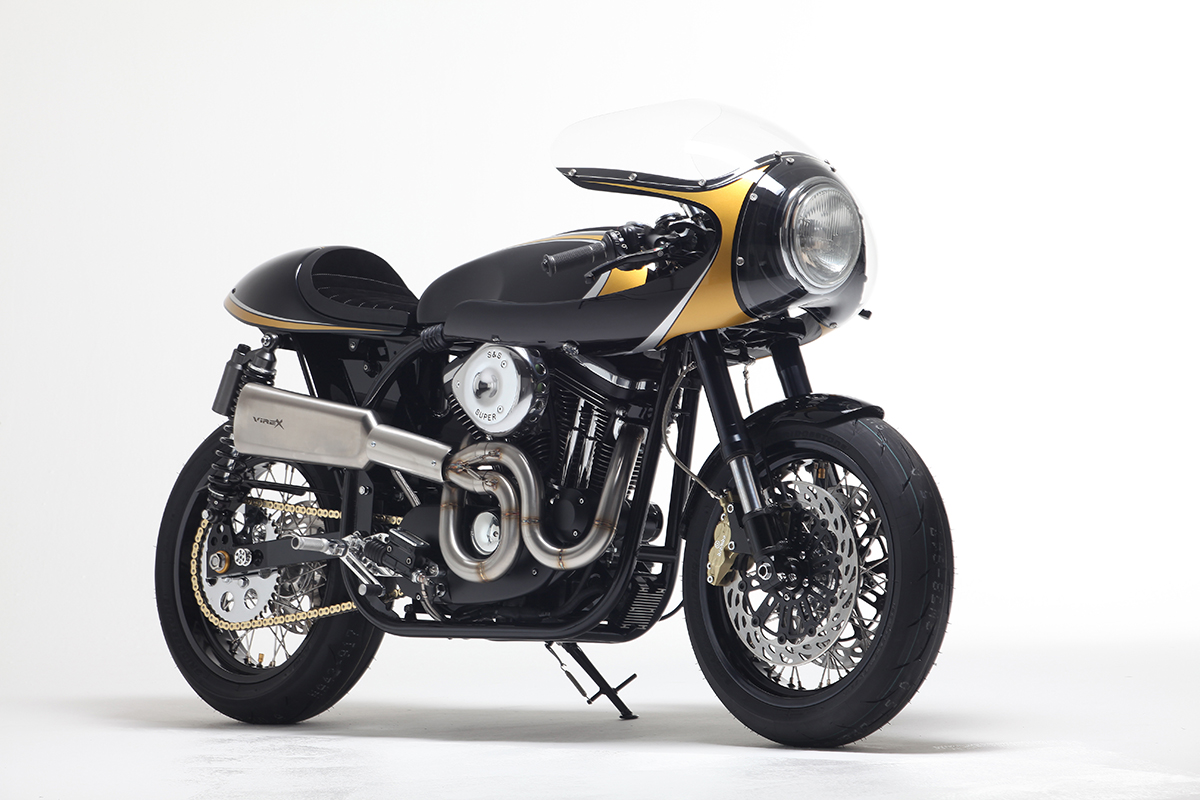 Stile Italiano Harton CR1200
I guess it's time to admit I'm obsessed with the work of Stile Italiano. Yet another of their builds has made it on to one of our Top 10 lists. As with their other cafe racer projects, this bike wears Stile Italiano's trademark black, gold and silver livery and is every bit as appealing as the others.
The 'Black Knight' Harton CR1200 was created using the same approach as the Ton Up Boys of the 1950s. At the heart of the build is a 1200cc Harley Davidson v-twin that's been tuned for improved performance. The v-twin has then been positioned into the creme de la creme of cafe racer frames, a Norton wide-line featherbed. It's a match made in heaven.
To ensure the bike's handling was up to scratch, Stile repurposed Ducati Sport Classic forks  and added the latest Bitubo shocks. The 17 wheels are custom built and they wear modern rubber and Brembo brakes. As for the bodywork, it's custom made in house. The tank is hand beaten aluminium while the tail unit, fairing and fender are all ultra light carbon fibre.
When it comes to Harley Davidson cafe racers, they don't get much better than this!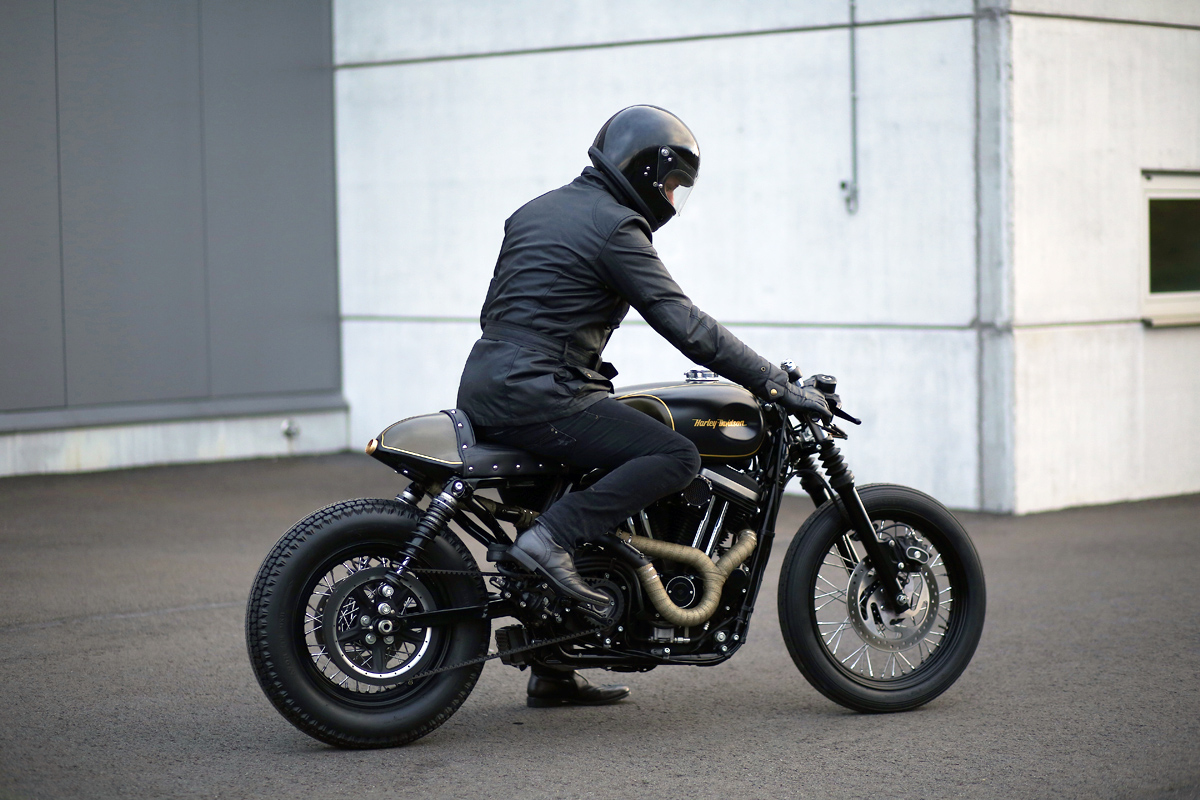 Zadig Motorworks Sportster 883
For a few years now Harley Davidson Europe has been running the Battle of the Kings build off series. The competition is an internal affair that invites Harley dealerships to build their own custom bike using whatever model the brand wants to promote at the time. In 2016 it was the Iron 883 Sportster.
This entry was built by Harley-Davidson Namur in Belgium and it certainly struck a chord with me. The reason this Harley cafe racer stood out above the rest, and why it made this list, came down to a few essential modifications.
Firstly, the bike was inspired by Tony Montana from Scarface. As someone who has quoted that film for a large portion of his life, how could I pass it up? Second they put in the hard yards getting the bike to sit right. A key component of a cafe racer is a balanced boneline. We've seen many failed attempts at smoothing out the Sportsters hunched frame, but these guys nailed it.
The icing on this cake though would have to be the addition of a handmade tank and cafe style tail unit. Best of all the tank has been designed to hug with the heads of the 883 engine. This leaves tolerances tight and works wonders for the final fit and finish.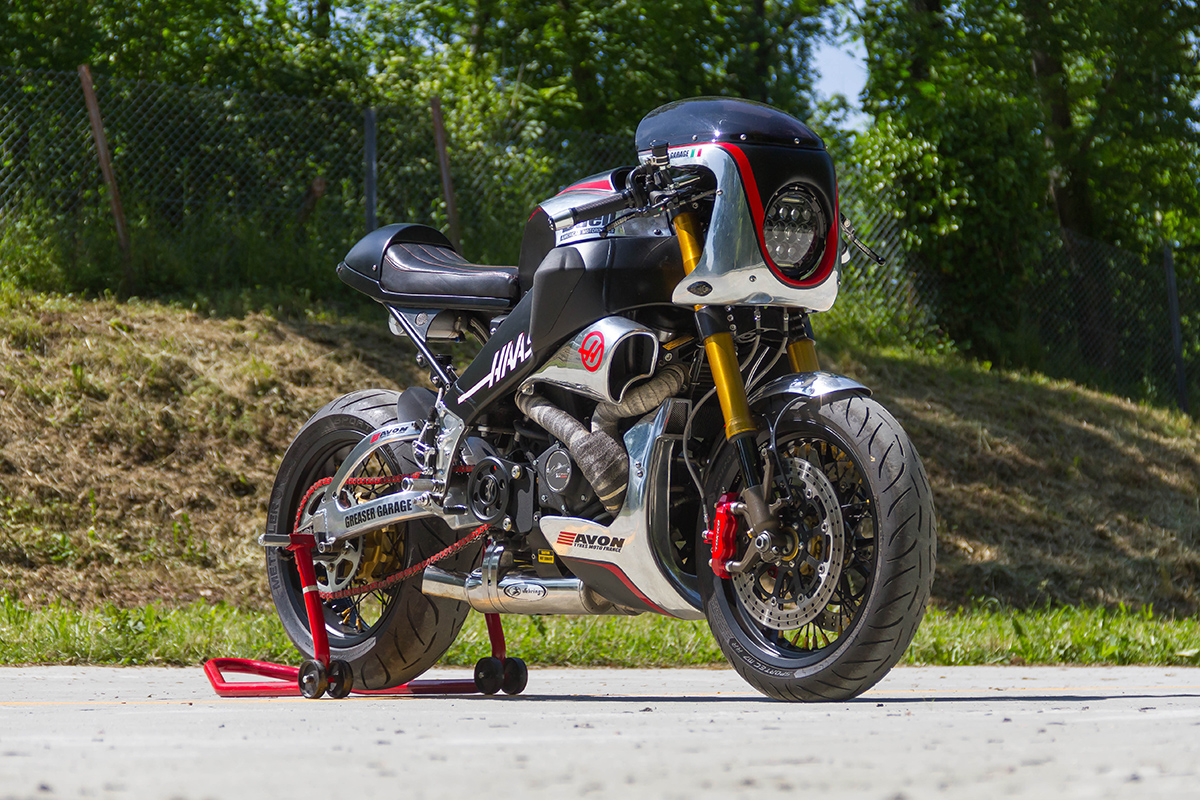 Greaser Garage Buell XB12SS
A space framed sports bike seems an unlikely candidate for a cafe racer build. Despite this Greaser Garage built this Harley Davidson powered cafe racer using a Buell XB12SS platform.
There's no hiding the frame on this bike, and to be honest, why would you? Eric Buell's design was genius. He saved weight by using aluminium, and space by storing both the fuel and oil within it. And let's face it, when it comes to space frames, the XB unit is actually quite good looking. So the trick here was to build a cafe racer that blended modern and classic styling in a congruous way.
The customer's request was to give his Buell the look of a classic British race bike without adversely affecting its rideability. To create the bikes new look Greaser Garage teamed up with Metal Bike to construct the all new bodywork from aluminium, including the wide mouthed air scoops that flank the front end. The new tail unit sits atop a leveled out subframe and the swingarm has been polished to tie everything together.
Greaser Garage then went to town on the performance upgrades. The 1203cc Harley v-twin was completely rebuilt and they added Kawasaki ZX10R suspension to hop up its handling. To finish things off the bike wears custom paintwork and racing style sponsor decals to let everyone know this beast means business.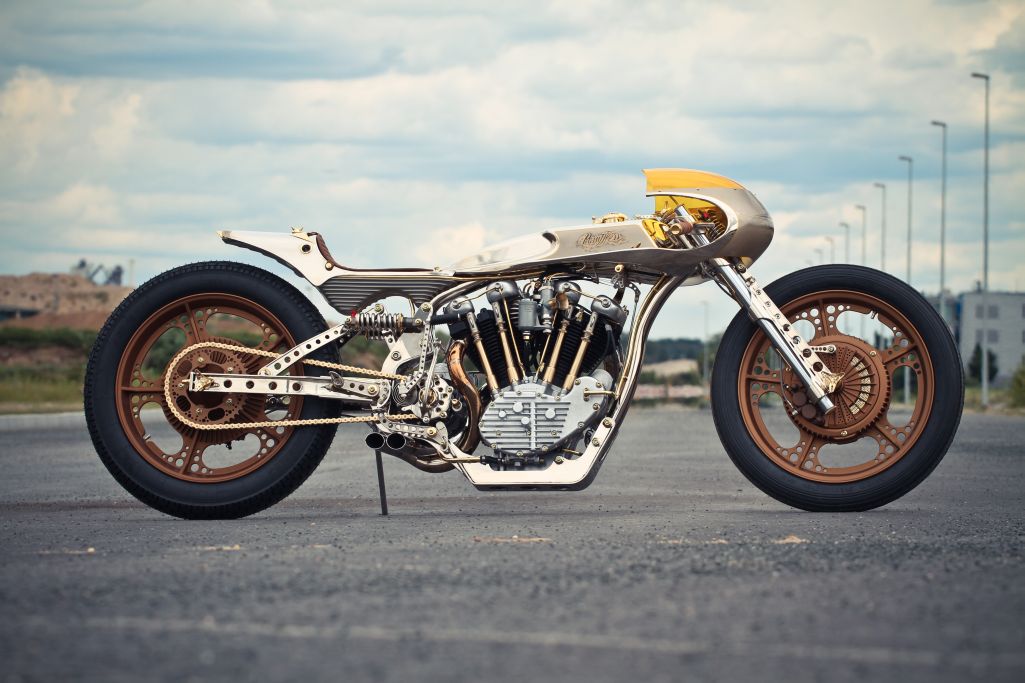 Thunderbike PainTTless Sportster
One place where you're guaranteed to see 1 or 2 Harley Davidson cafe racers under one roof is at the annual AMD World Championship of Bike Building. Back in 2021 the stand out entry and outright winner of the show was the Thunderbike Harley Sportster based PainTTless. Although this bike is by no means a traditional cafe racer it appealed to me on so many levels.
When we talk about a custom build nothing compares to the level of work that went into this bike. There's not a single 'bolt on' item in sight. Everything from the levers to the speedometer and wheels was either built from scratch or heavily modified. And to demonstrate just how well everything has been made the bike isn't painted. Instead Thunderbike nickel plated the lot.
Sitting amongst all that custom work is an early model 1000cc Harley Davidson Sportster v-twin. It too has been modified and diligently rebuilt to match the level of detail found across the rest of the bike. Sure this one isn't going to appeal to everyone, and it's probably horrible to ride, but I doubt anyone could resist a closer look at this rolling work of art.
Motofree Garage Buell M2
Completing the trifecta of Buell appearances in our Top 10 Harley Davidson cafe racer list is this v-twin powered brute. It was built by dentist/custom motorcycle builder Vincent Allard. This is Vincent's fourth custom Buell and he appropriately named it 'IncrediBuell'.
IncrediBuell started out as an Buell M2 Cyclone – Vincent's go to donor for his custom projects. The M2 sports a classically styled tubular frame which he prefers over the later model perimeter design. Here he has exposed the unorthodox bends in the frame by dispensing with the original M2 plastic bodywork. The new bodywork is constructed entirely from carbon fibre which he built from scratch. One of the key elements of the design is that the front fairing can be easily removed to convert the bike into a naked; a feature which gets top marks from us.
The rest of the modifications are mild in comparison to the bodywork. There's a Yamaha R1 brake package in the front, a ram air filter and a belt to chain conversion to name a few. This bike may be the least modified of this bunch, but that doesn't make it any less impressive.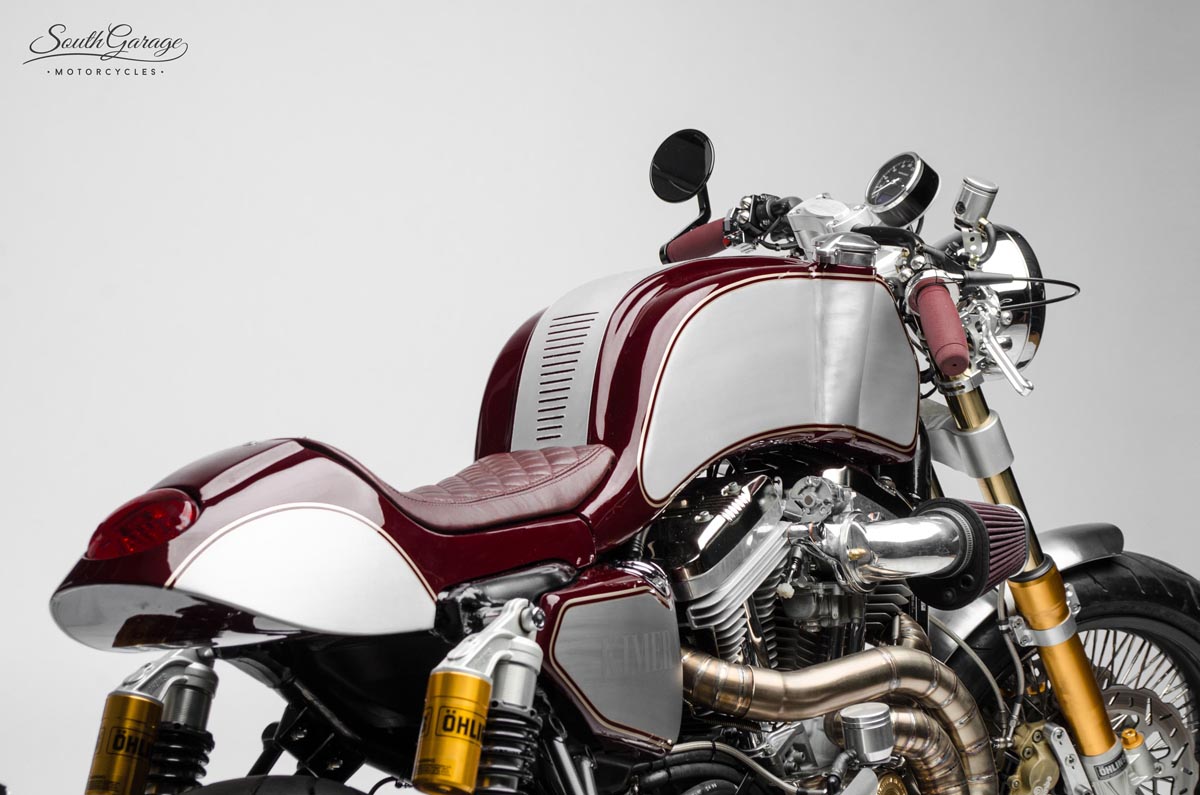 South Garage Kimera Sportster 1200
The last entry on our Top 10 Harley Davidson Cafe Racers list is this beauty from Italy's South Garage. Nicknamed Kimera, this 2006 Sportster 1200 cafe racer led the South Garage team into unfamiliar waters. In the past their projects involved European or British made donors so to see an American made v-twin roll out of their shop was rather unexpected. Regardless of that, South Garage created a Harley cafe racer that is both timeless and ultra modern.
Unlike some of the other Harley Davidson cafe racers on this list, South Garage have embraced the Harley's hunched frame. They still made changes to the suspension and wheel diameters to level things out. But the bike's custom alloy tank curves with the frame to leave the cylinder heads in full view. It's a unique look that will get mixed opinions, and that's partly why we love it.
From above things look very different. The fuel tanks sides are flat, the handlebars are narrow and the seat and tail are slender. From this angle the bike means business. Especially with that ram air filter and pie cut exhaust protruding from the engine.
As for the rest of the build the entire package is finished to the premium level we've come to expect from the South Garage crew.