The story of Buell Motorcycles doesn't have a happy ending. When Eric Buell started the company his vision for creating racing and sports bike pedigree, v-twin powered motorcycles was a revelation and it wasn't long before Harley Davidson sat up and took notice, purchasing a controlling share of the company in 2003. Unfortunately, despite sales in excess of 135,000 units, Harley Davidson executives made the decision to cease production of Buell motorcycles in 2009.
Seven years on the Buell motorcycles that remain are beginning to show their age, both in styling and performance,  thankfully though there are Buell owners out there who have taken to revitalising the bikes through customisation. Buell enthusiast, custom builder and dentist (yes you read that right) Vincent Allard has done exactly that. He's got 4 custom Buells builds under his belt and this, the M2 Cyclone based "IncrediBuell" is his latest work.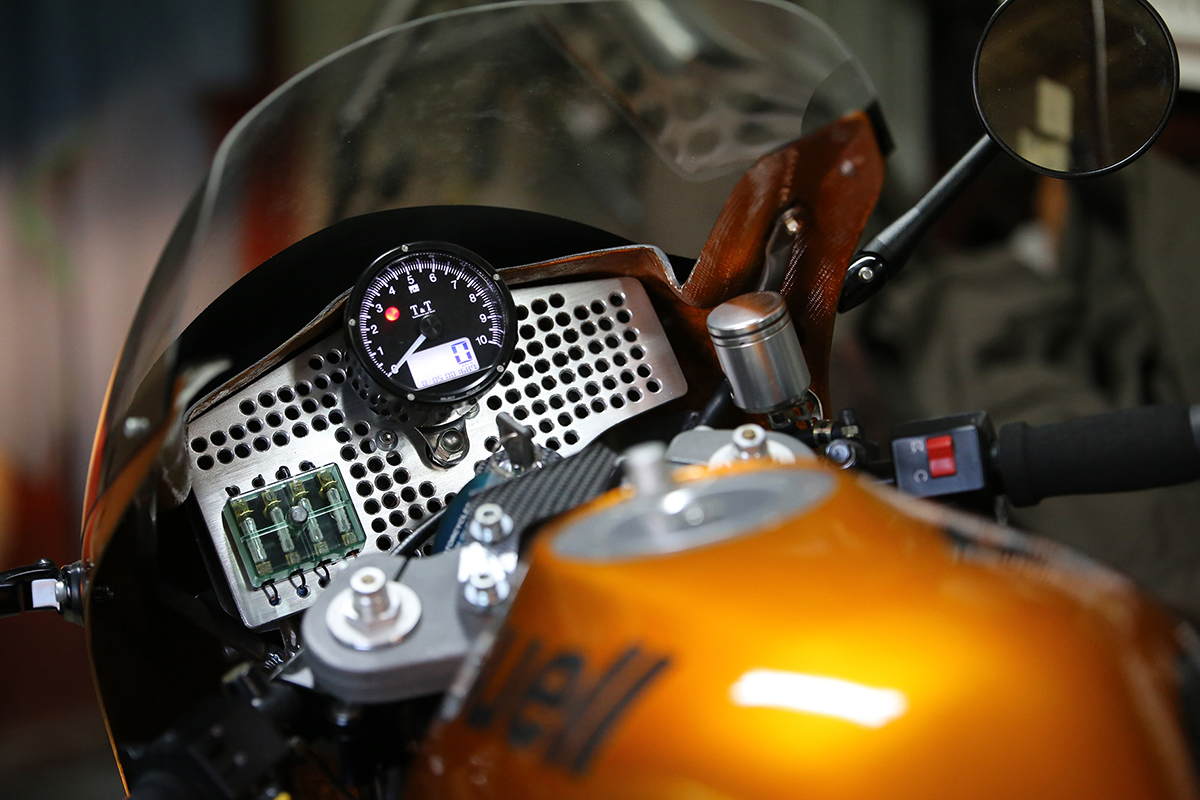 Vincent, who still works full-time as a dentist, entered into the world of customising motorcycles 10 years ago when a fellow medical practitioner introduced him to motorcycle mechanics. Together the two formed an "amateur workshop" named MotoFree Garage as a space in which they could hone their skills in motorcycle customisation. Driven by his interest in composite materials Vincent also studied 3D modelling techniques which have enabled him to introduce custom made carbon fibre components to his builds.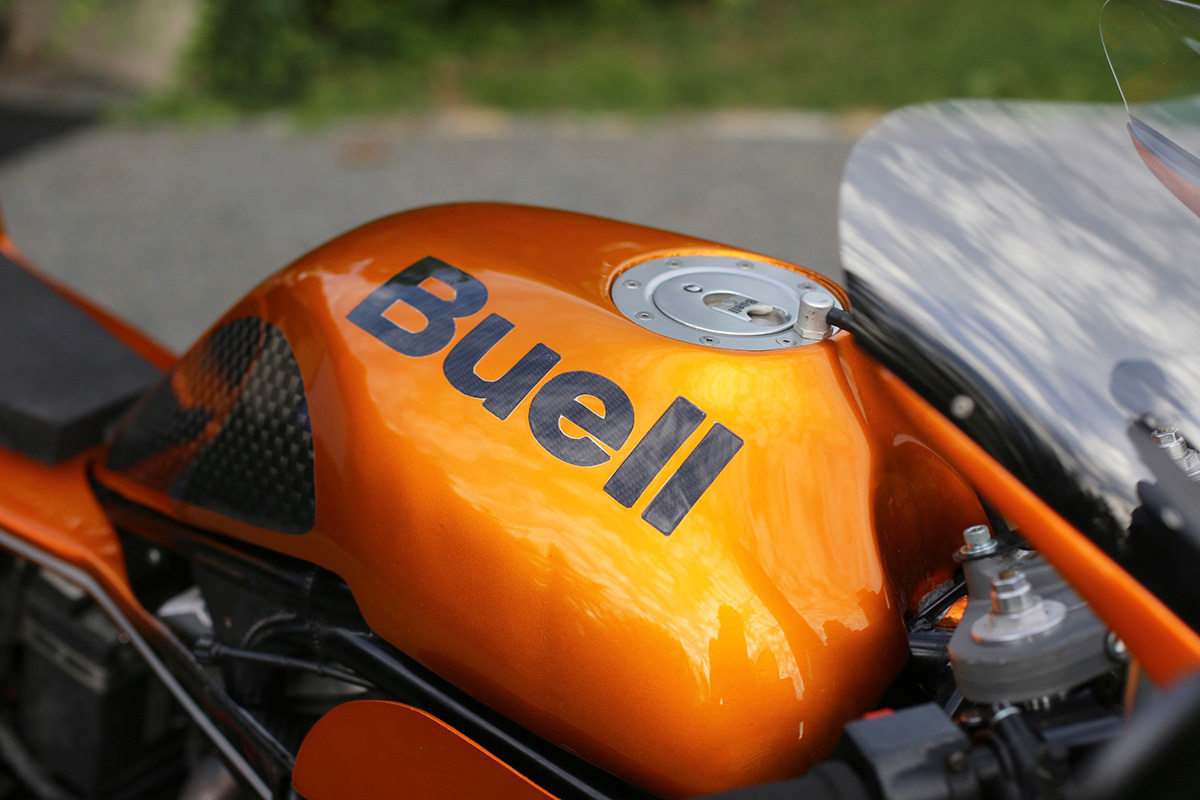 The Buell M2 Cyclone has become the preferred donor for Vincent's projects. Produced between 1997 and 2002, the M2 features a more classically styled tubular frame (as opposed to the cast aluminium, fuel in frame designs introduced by Buell a few years later) and a powerful 1203cc, 5 speed, v-twin engine. Built to help a friend promote his painting business the IncrediBuell features bodywork designed and built by Vincent, styled to "modernize" the bike's appearance and finished in a stunning tangerine candy paint with clear panelling to expose its carbon shell.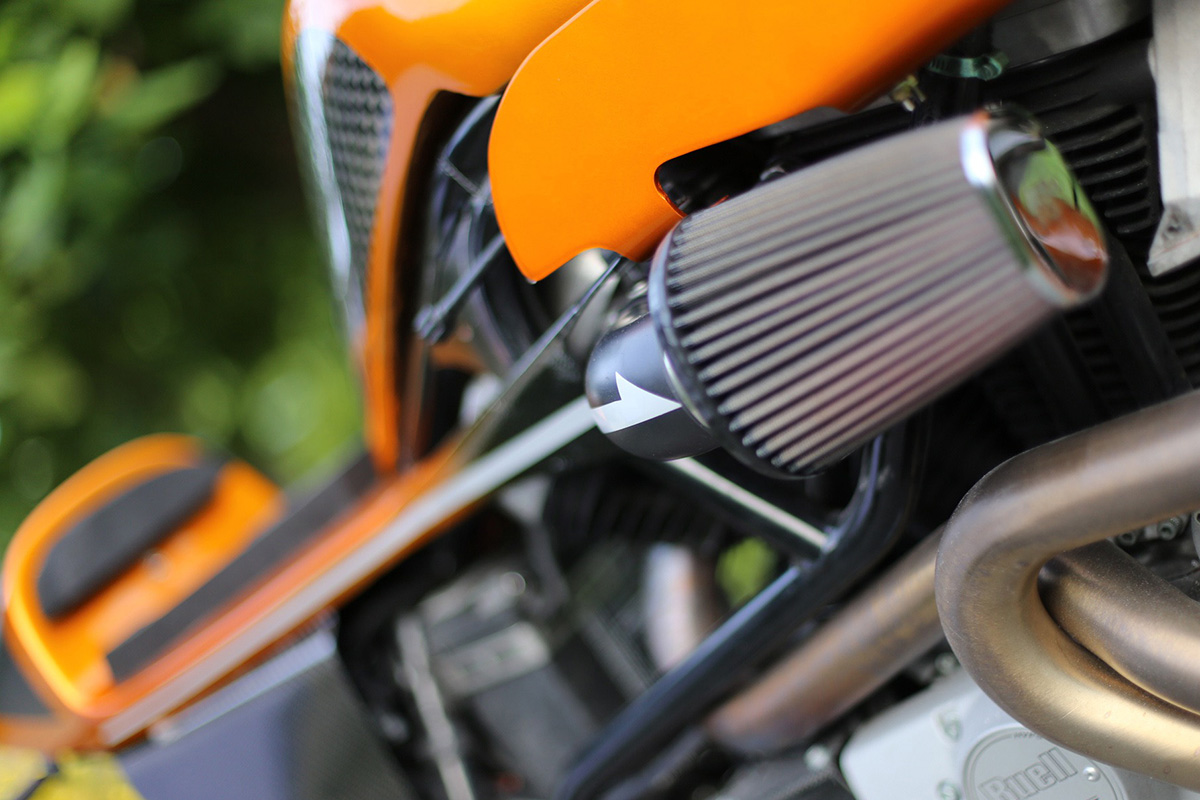 Before the redesign of the bike could begin Vincent modified its subframe to accept a shorter, single passenger tail unit. With the help of a local coachbuilder, he then designed and built aluminium moulds to aid in the construction of the carbon fibre bodywork. The revised tank design hugs the frame and exposes the engine's heads for improved cooling while the front cowl takes styling cues from retro race bikes. The angular tail section accentuates the more aggressive line of the frame to give the bike a sportier stance and additional carbon fibre covers and brackets conceal less attractive components like the oil filter and electrics. Then inside the front cowl, Vincent created a custom cockpit by fitting a cross-drilled alloy plate to which he mounted the bikes fuse box, ignition, and single instrument cluster.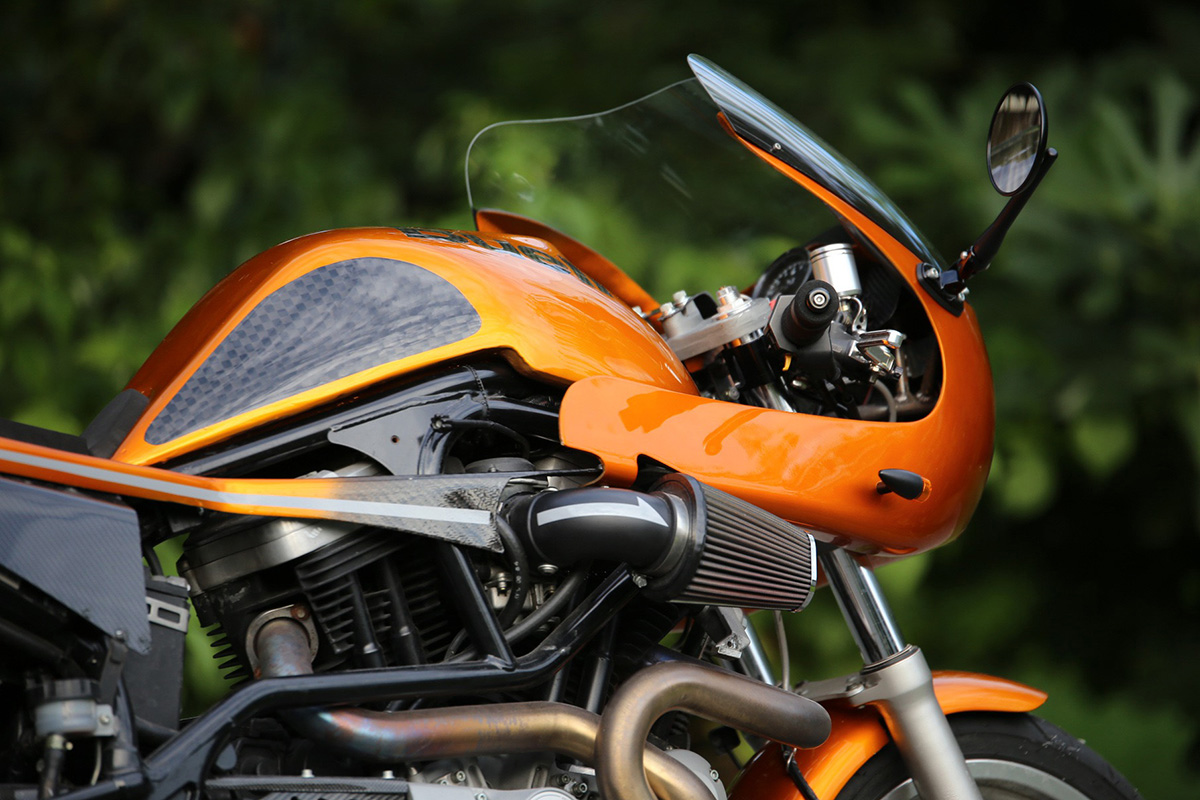 To complement the improvements in styling the bike also wears a small selection of updated performance parts. For optimum stopping power, the Buell's original brakes have been replaced by a twin front disc Yamaha R1 set up. To boost engine performance a hi-flow air filter and exhaust system have been mounted and the bikes carburettor tuned to suit. Vincent also opted to replace the Harley belt drive with a chain to suit his personal preference.
Along with his faired M2 IncrediBuell, Vincent has also created a naked version of the bike (pictured above) using more carbon fibre bodywork which he plans to make available through the MotoFree Garage website. If Harley introduced a Sportster into their fleet that looked as good as this would it tempt you into the world of v-twins?