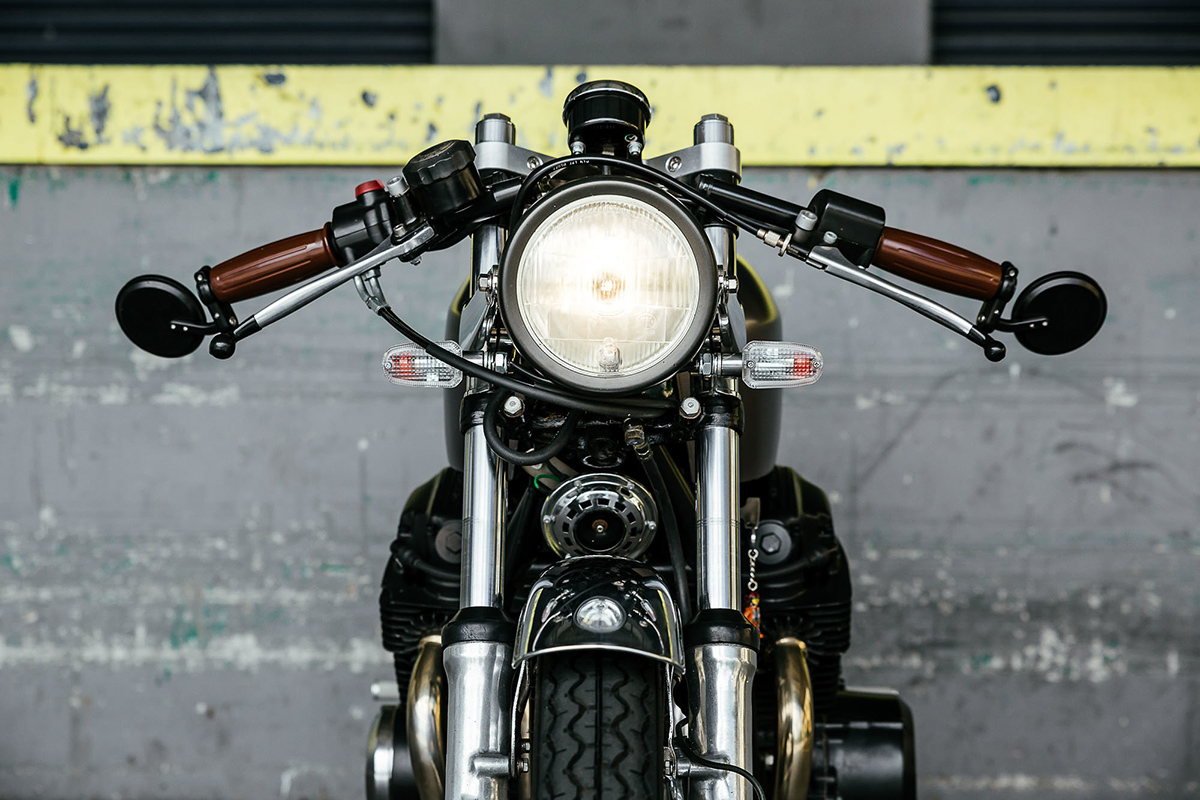 "I'm a carpenter by trade and have always worked with my hands. I started riding a motorbike in March 2014 and instantly started thinking about a café racer project," says Bruce. He began by researching bikes that were suitable donors and it was the Honda Fours that he kept coming back to. Standing at 6 foot 2 Bruce needed a larger bike so a 750 was the obvious choice. After sourcing a '76 Honda CB750 with a '72 motor he kicked off the project by reaching out to an experienced builder for some advice.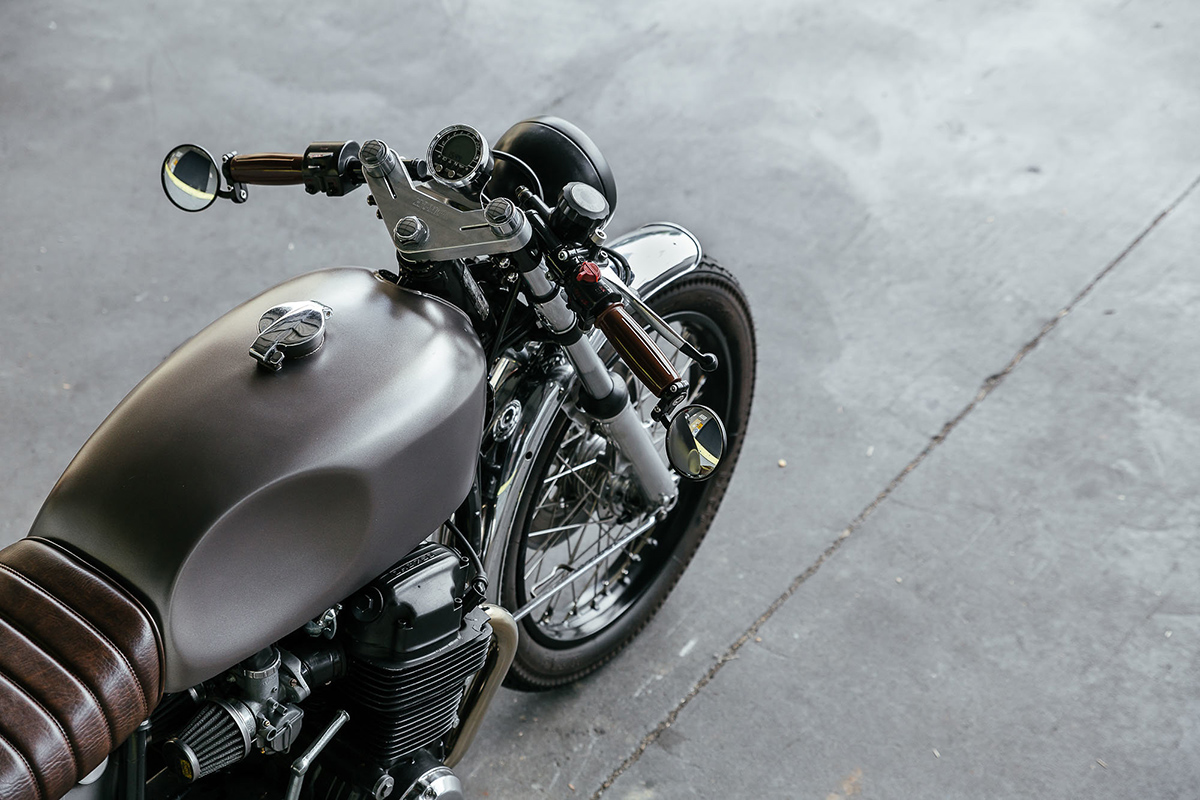 Bruce's research into custom CBs led him to the work of another backyard builder Danny Escobar in the United States. Danny's bike had a similar look to Bruce's end goal so he made contact over Instagram. 24 hours later Bruce had a reply that included a parts list and some valuable tips to get him started. "I am kind of known for taking big risks with most things in life and this build was no exception. I had no experience building anything mechanical and no clue what it would take to complete it" Bruce admits, but after such a positive start he jumped head first into the build.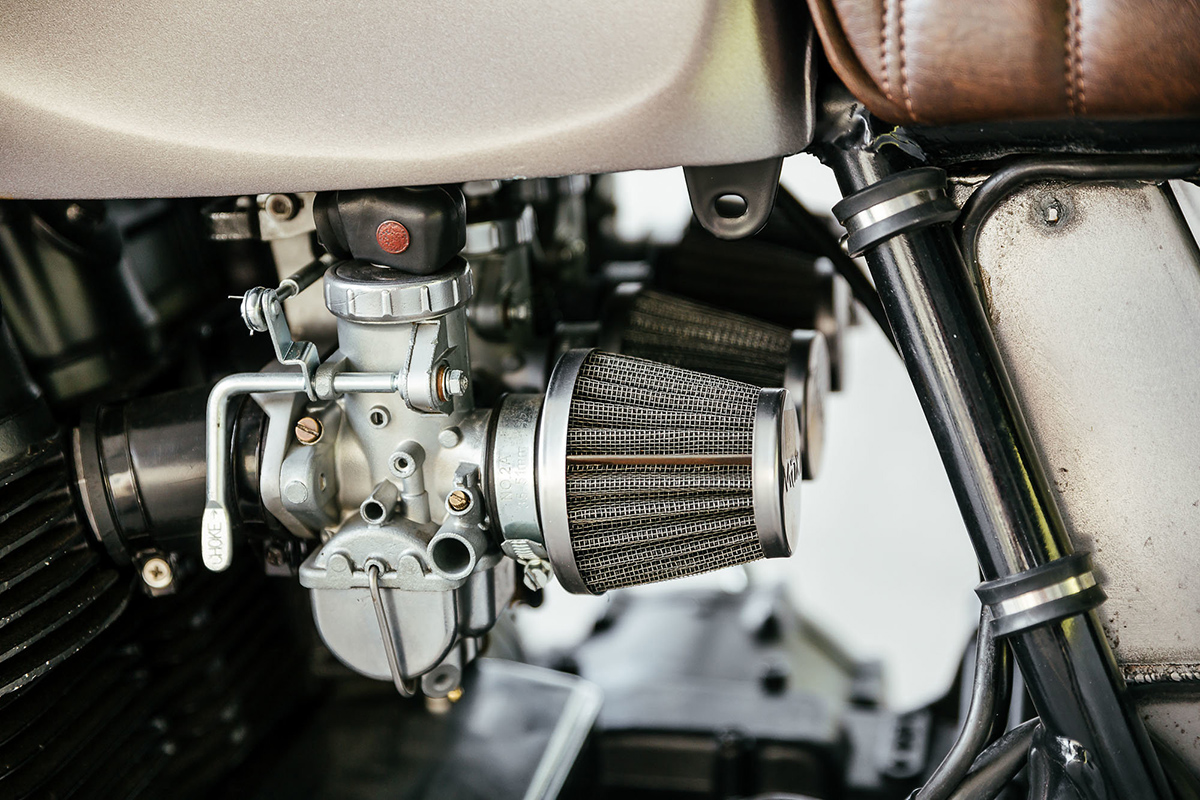 Working in the evenings after his kids went to bed, Bruce stripped the bike down. His 1972 engine had already undergone a top end rebuild so he focused on refurbishing any external parts that were showing their age. The Honda's frame and rims were also given a clean up before receiving a coat of fresh black paint. The rims were then laced to the hydro blasted hubs using stainless spokes before being wrapped in fresh rubber. "I like clean straight lines and I love the open frame and pod filters look," confesses Bruce, so he added a custom tray under the seat to house the electrics.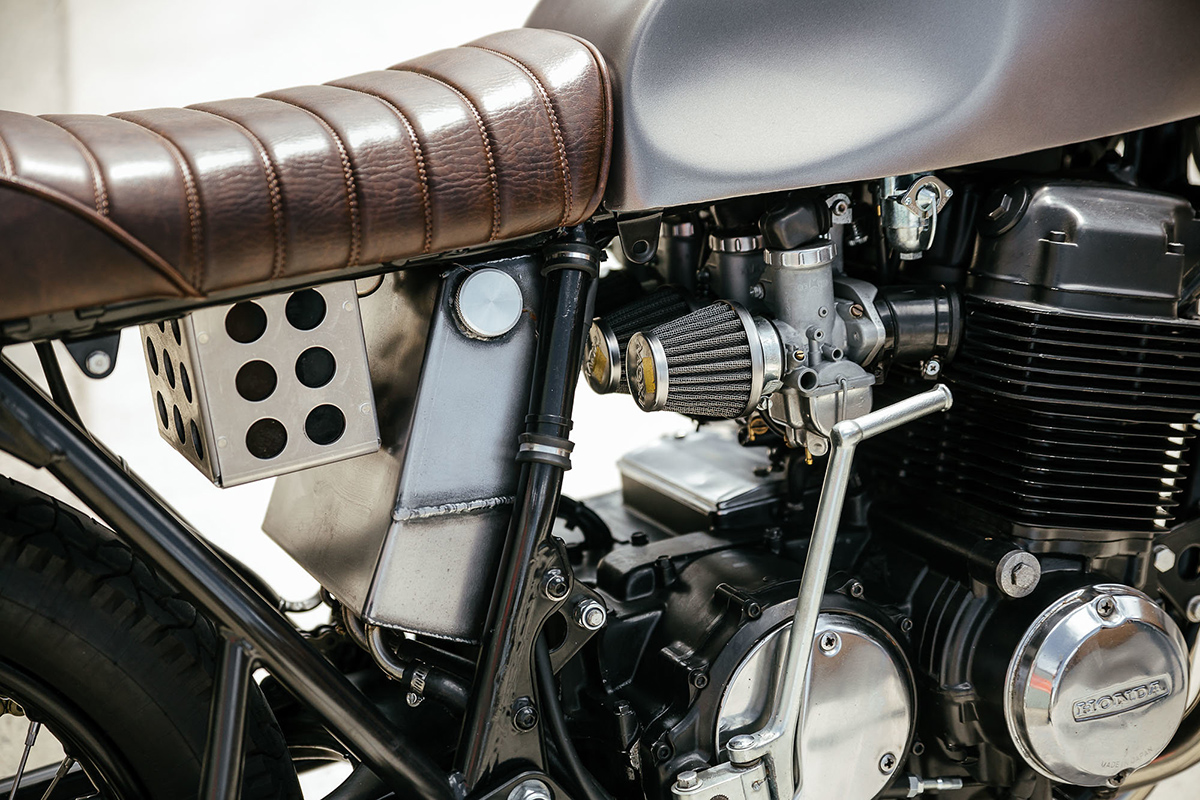 Without the tools to fabricate his own, Bruce grabbed a few parts from aftermarket specialists to keep his build progressing. CognitoMoto provided the bikes trick oil tank while Carpy's Cafe Racers supplied the battery box. The bike's saddle was purchased from Cafe Racer seat specialists Texavina and some rear set footpegs were sourced at Fast from the Past. Honda four experts Dime City Cycles were responsible for the clean triple clamp and Acewell manufactured the bikes new speedometer. Bruce and his mates then fit each of the parts to the bike as it went back together in a process he compares to building a huge Meccano set.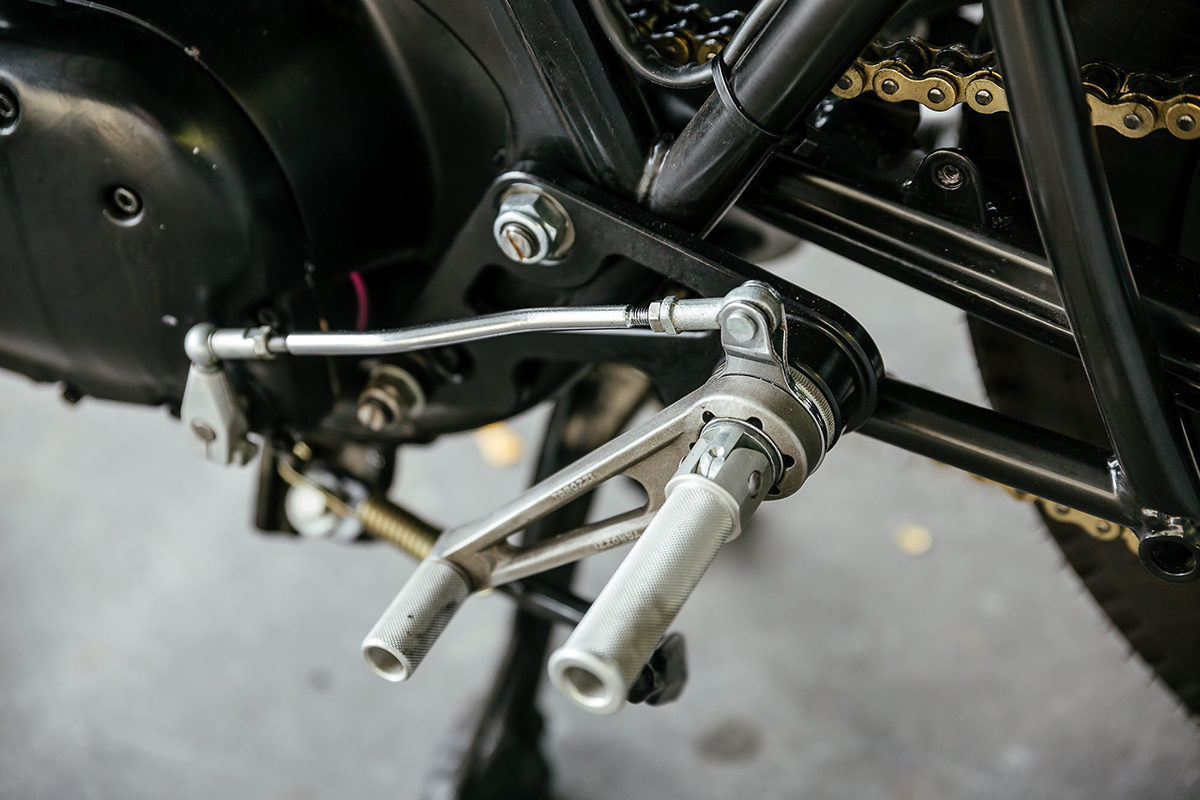 To make his Honda a reliable ride Bruce also installed a Motogadget M-Unit to manage the electrics and a Pamco Ignition system to keep it firing strong. For a bit of extra grunt, a set of 4-into-1 Delkevic headers went on to the engine and are finished off with a custom muffler from the DCC crew.
Not wanting to be responsible for simply rebuilding a CB750 Bruce then decided to have a go at metal forming. Using the stock tank as a starting point he beat the knee dents by hand, spending "countless hours" getting them just right and it's certainly paid off.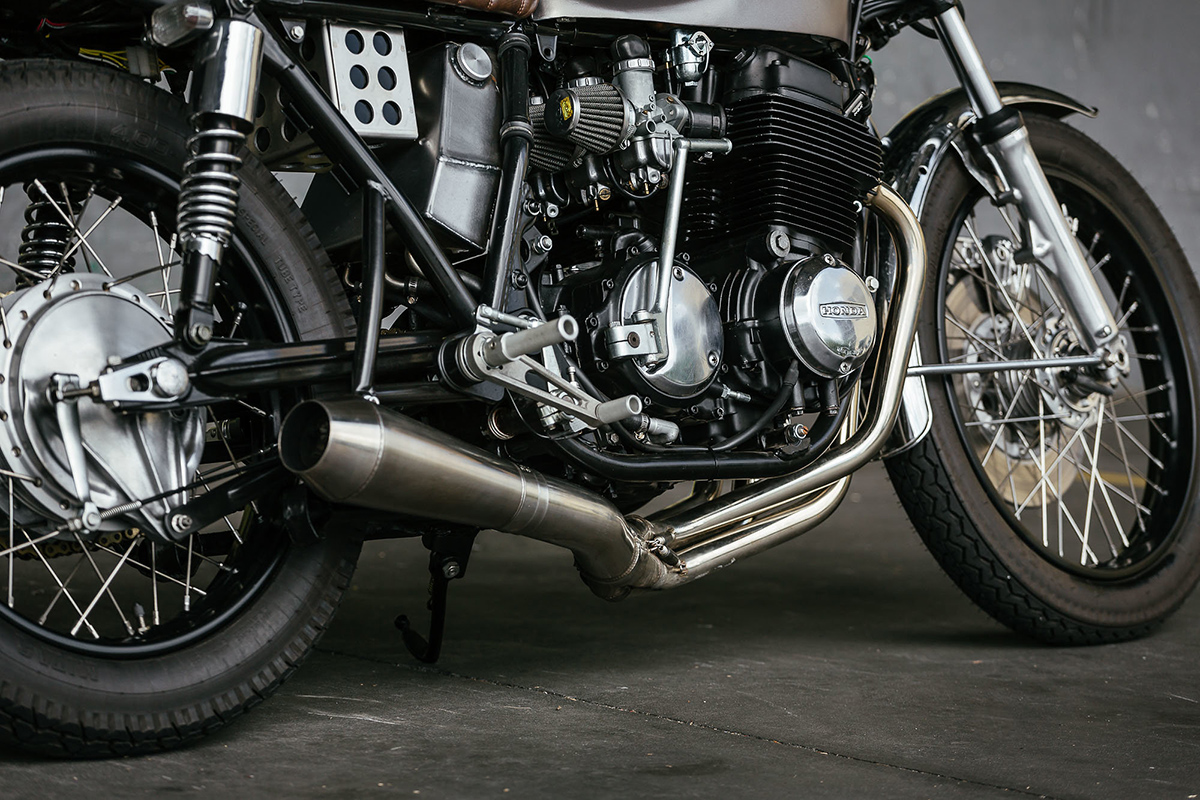 During the build, Bruce was also lucky enough to connect with a local CB750 guru who helped him overcome any hurdles. Fred imparted his knowledge of classic Honda fours to Bruce helping him with everything from fitting the upgraded electrics to putting the whole thing back together again. It's stories like this, of total strangers helping one another all for the love of motorcycles, that reminds me why I love the custom scene so much.
Photography by Jason Lau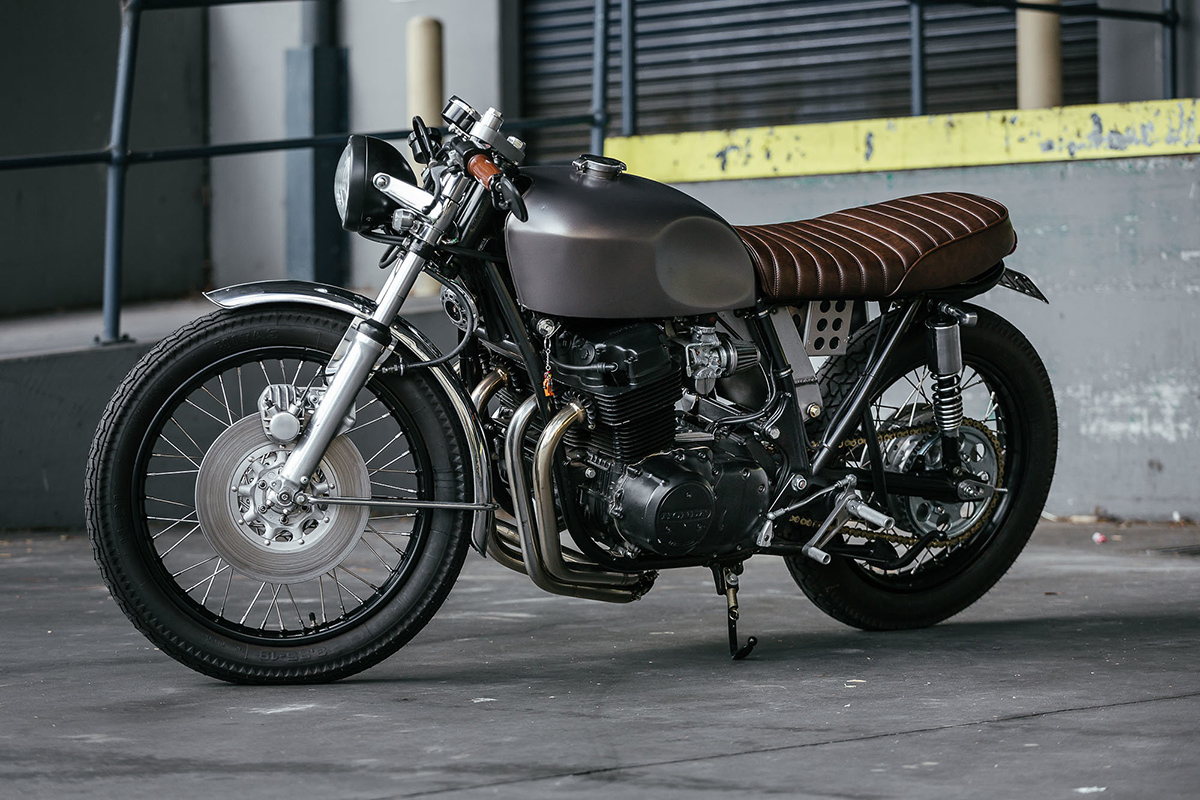 No matter how many custom Honda CBs we see when they're done right they never fail to impress. Today's Honda CB750 cafe racer was built by Bruce Farell, a fellow citizen of our hometown of Melbourne. What's particularly cool about Bruce's build isn't just the fact that it looks great, it's that this is his first custom motorcycle build.