After designing and manufacturing his own performance parts for years Danmoto owner Wei Liya decided it was time to build a bike of their own. Naturally, the plan was to build a showcase of the products his company produces, but more importantly, to show their design and fabrication abilities. The result is a completely custom, cafe racer styled motorcycle, built around a Harley-Davidson v-twin.
"We can do much more than just building exhausts!" says Wei who spent 4 months working with his staff to build the bike. The bike features a long list of Danmoto bolt-on parts and an even longer list of custom ones. What is most impressive though is that everything was designed and built entirely in-house using the skills and tools available at Danmoto HQ.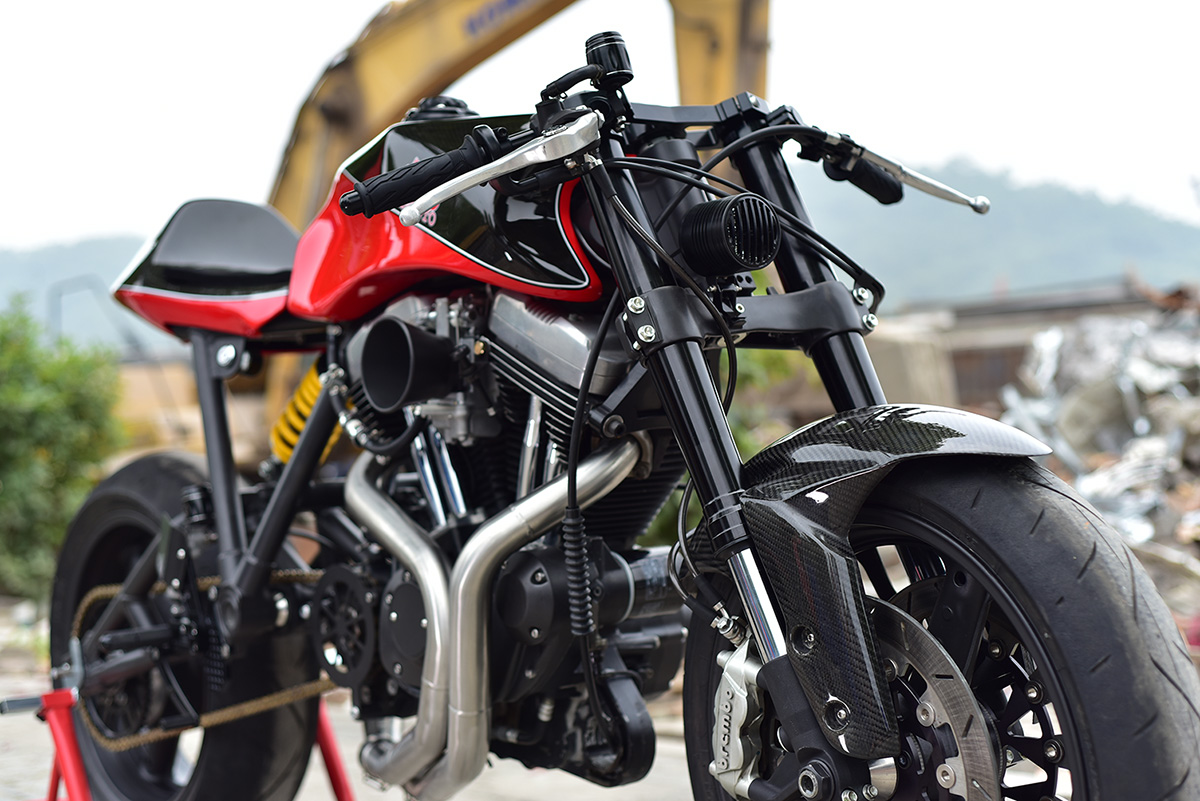 The 2006 Sportster v-twin is perhaps the least customised element of the bike and was chosen because of its popularity with his customers. Knowing their design would weigh considerably less than the stock Harley, Wei limited engine mods to the fitment of a Mikuni HSR 42 carb wearing a CNC milled velocity stack and a custom exhaust. Since exhaust systems are a Danmoto speciality they installed a one off set of 2-into-1 headers and one of their own Highwayman slip-on mufflers. Finally for flexibility of tuning they installed a Thunder Heart ignition system.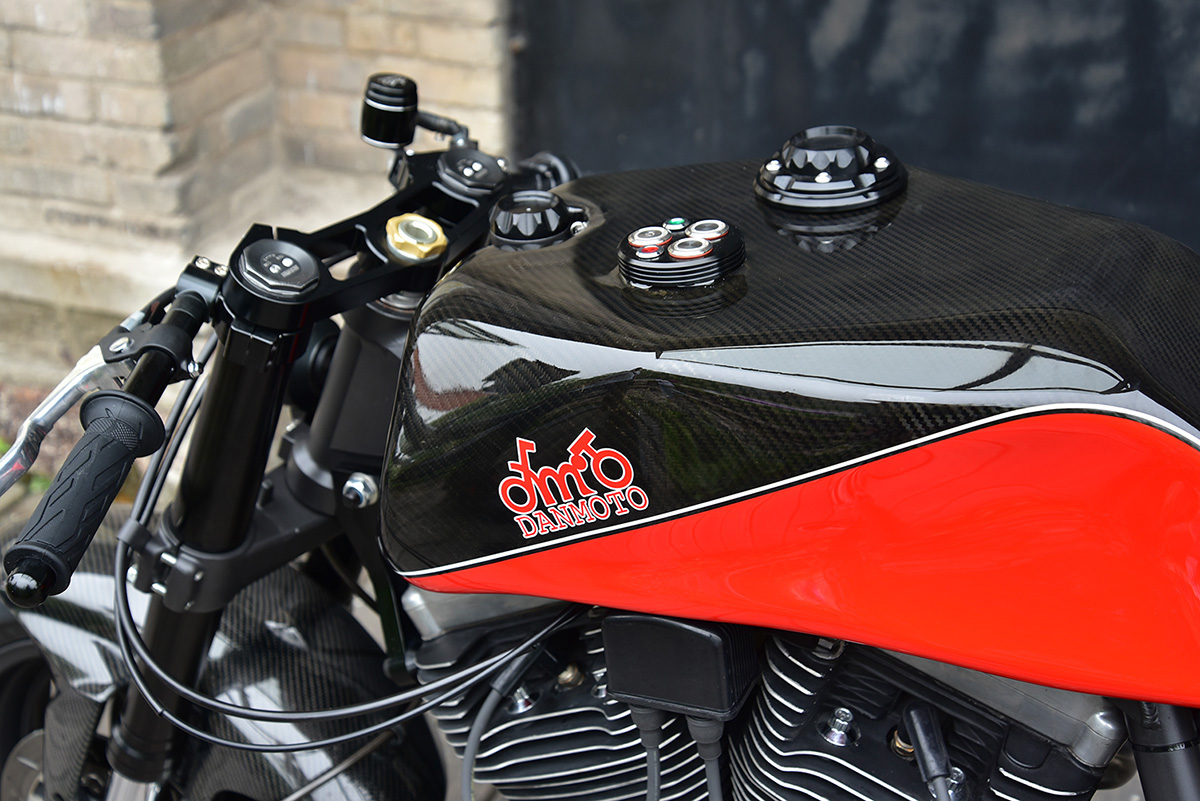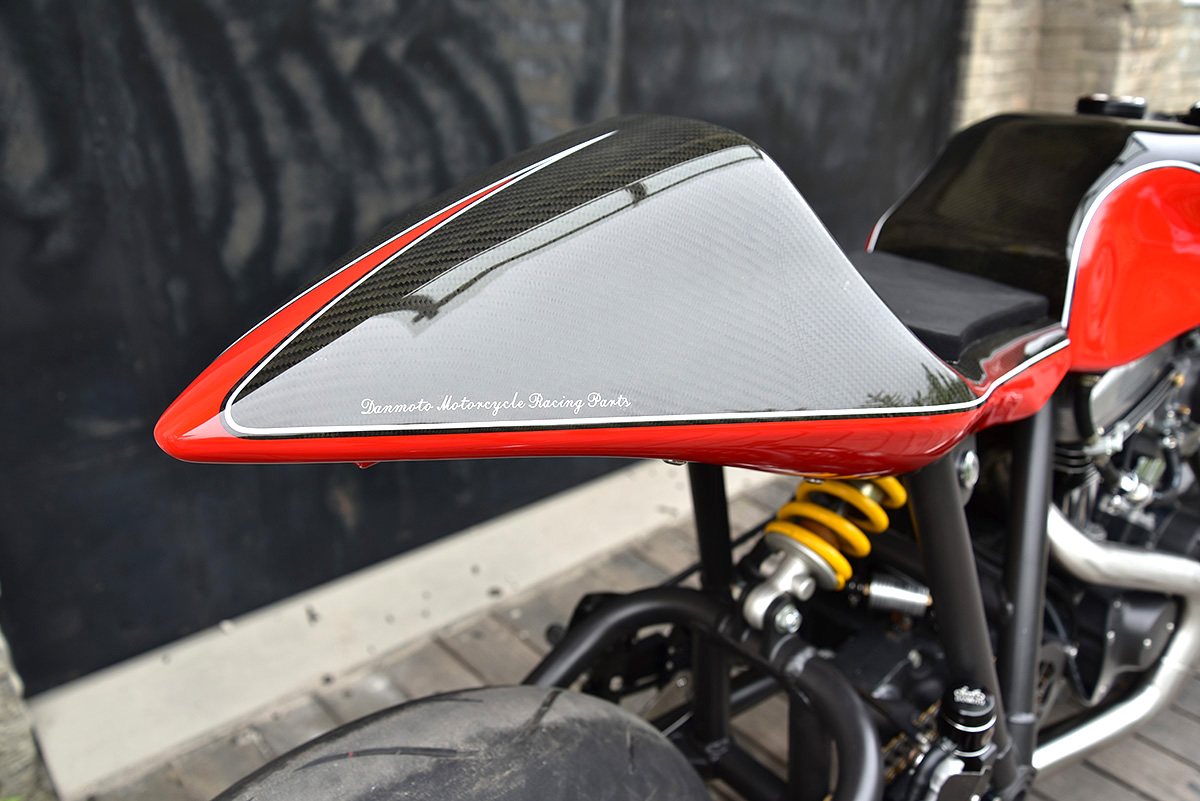 For the bike's frame, Wei and his team developed a concept that was vastly different to what the v-twin was accustomed to. "We brain-stormed to see what frame design we could build in-house and what would perform well." says Wei. " The result was an EGLI styled frame."
Conceived by Swiss motorcycle racer Fritz W. Egli the "EGLI" frame design first appeared in the mid-'60s for race applications. The frame used a stressed member engine design with a large diameter backbone that housed the oil required for the dry sump engines, like that of the Vincent Black Shadow it was originally designed for.
Constructed entirely from aluminium the new frame is a mix of tube sections and CNC machined components for additional strength. The headstock, engine mounts, swingarm mounts, shock mounts, and chain adjuster were all milled from solid alloy on their workshop CNC. At the rear, they designed a basic subframe with mounting points for rear sets and the mono-shock built in. Then, just like Egli's design, they developed a wide diameter, tubular backbone to house the engine's oil. Oil is pumped directly from the engine up into the backbone before travelling down through one of the vertical sections of the frame that functions as the feed line. This design allowed them to minimise the number of visible hoses and keep the engine relatively clutter free.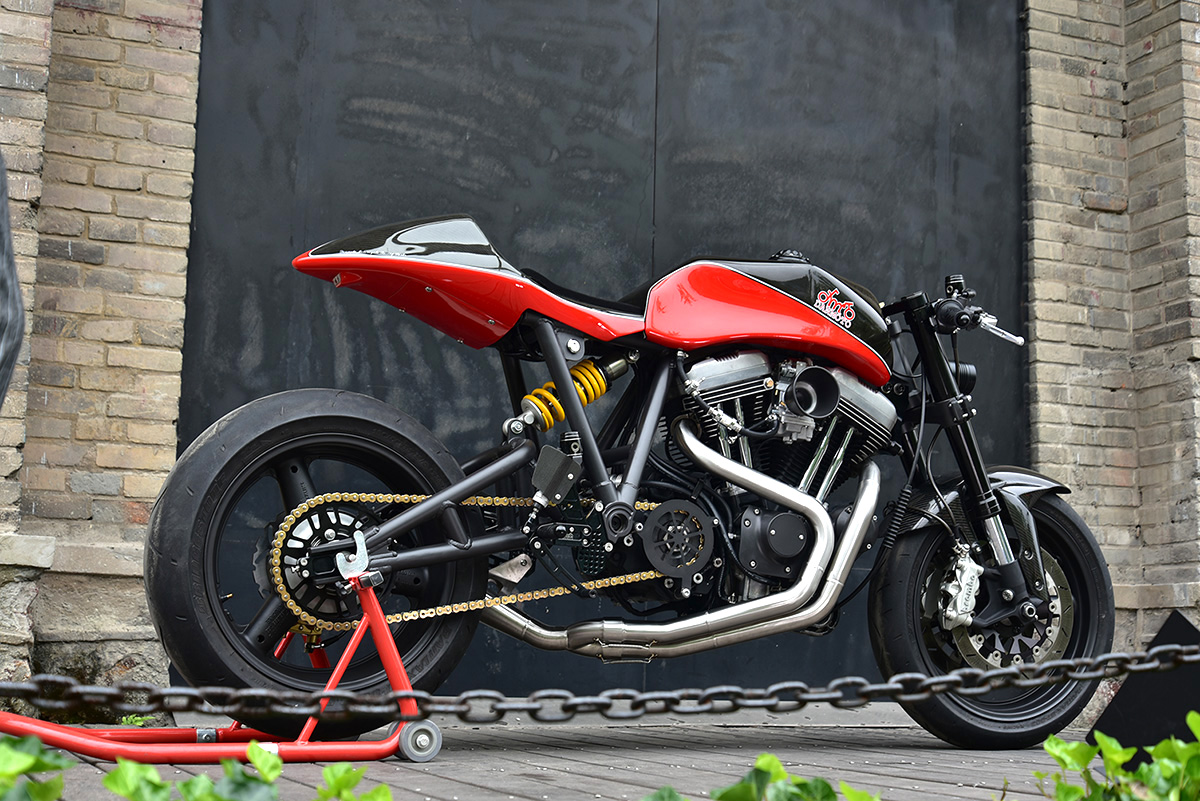 The bike's suspension uses a unique recipe of custom and high-performance components. For the swingarm, they developed another one-off design constructed once again from aluminium. The wide swingarm design permitted for the fitment Suzuki GS1200SS rear wheel and is supported by the mono-shock from a Ducati Monster. At the pointy end are Suzuki GSX-R forks mounted using a CNC milled top clamp and modified lower clamp. Brakes are a mix of Brembo and GSX-R components with Danmoto alloy fluid reservoirs to round things off.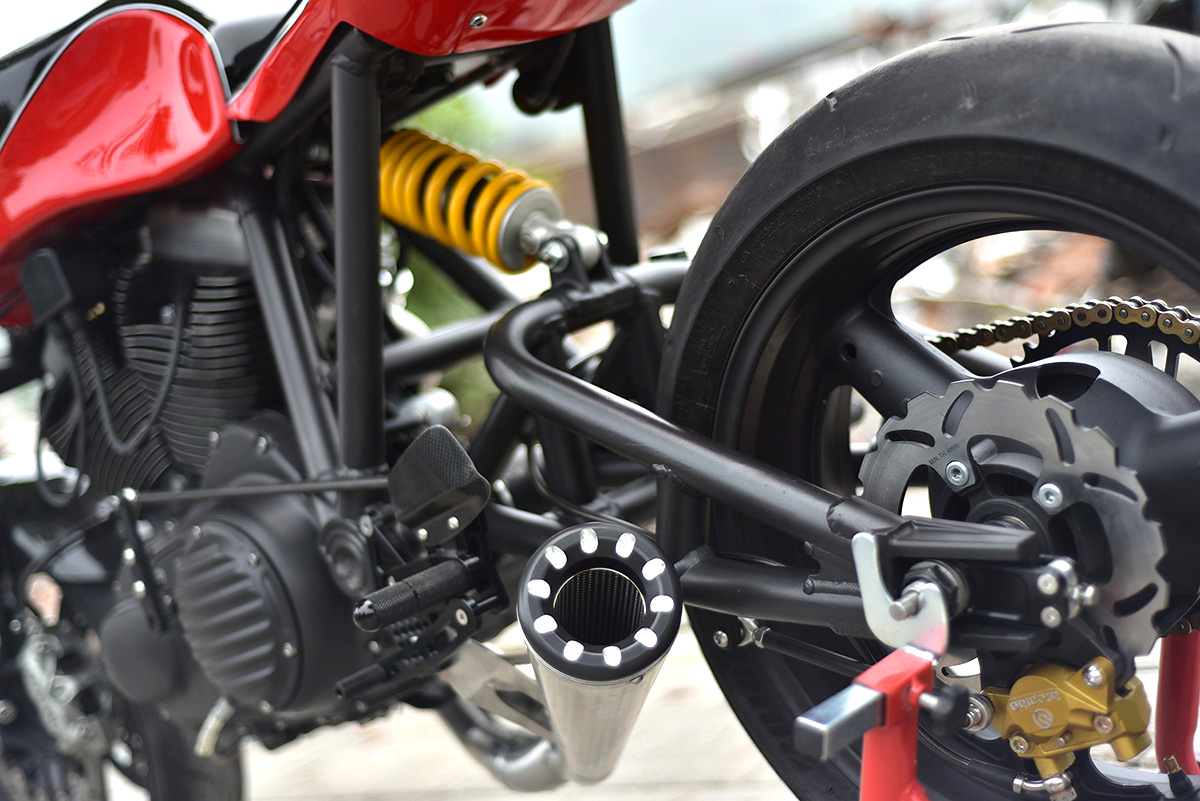 "The bodywork! It was an absolute P.I.T.A and we had to do it twice." Wei replied when I asked him which part of the build was most challenging. "The first run was fibreglass that we made using a lost foam technique. The result was not satisfactory so we filled and ground the fibreglass parts until the shape was nice. Then we used those as plugs to build moulds and used those moulds to make the Carbon Fiber parts." Despite the unexpected time and effort, the results speak for themselves. Wei was so happy with the finished bodywork he even chose to only paint part of it so the carbon fibre could be properly appreciated.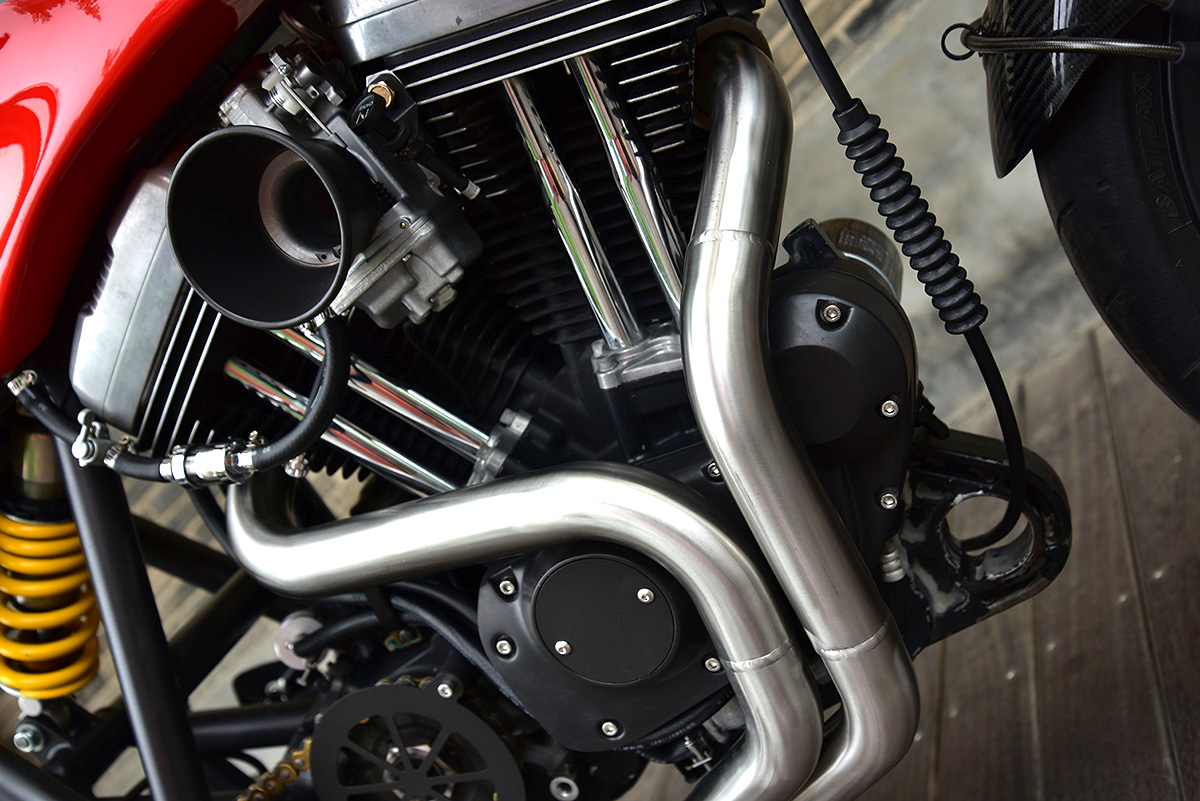 At under 200kg wet, the Danmoto v-twin weighs around 60kg less than the Sportster its engine came from. As for how the bike rides, Wei had this to say about it. "It has the overall geometry of a GSX-R 1000 and handles like one. It just lacks the power of a GSX-R, but still, it's a hoot to drive on country-side roads."