If you're looking to modify a Harley Davidson Sportster there's no shortage of aftermarket parts suppliers. You can purchase bolt-on replacements for just about every single component that Harley fixes to the Sporster in their factory and there's a seemingly endless list of add-ons too. However, despite the plethora of options, you may still not find something that quite suits your style.
After working for other companies producing OEM parts, Taiwan based designer Jimmy Chou was ready to do something different. He'd been rubbing shoulders with some of the country's best custom builders like Winston Yeh of Rough Crafts, and he felt he had something special to offer. With innovation his major influence and the desire to create Harley Davidson parts unlike any other he launched his own aftermarket parts brand, Fangster.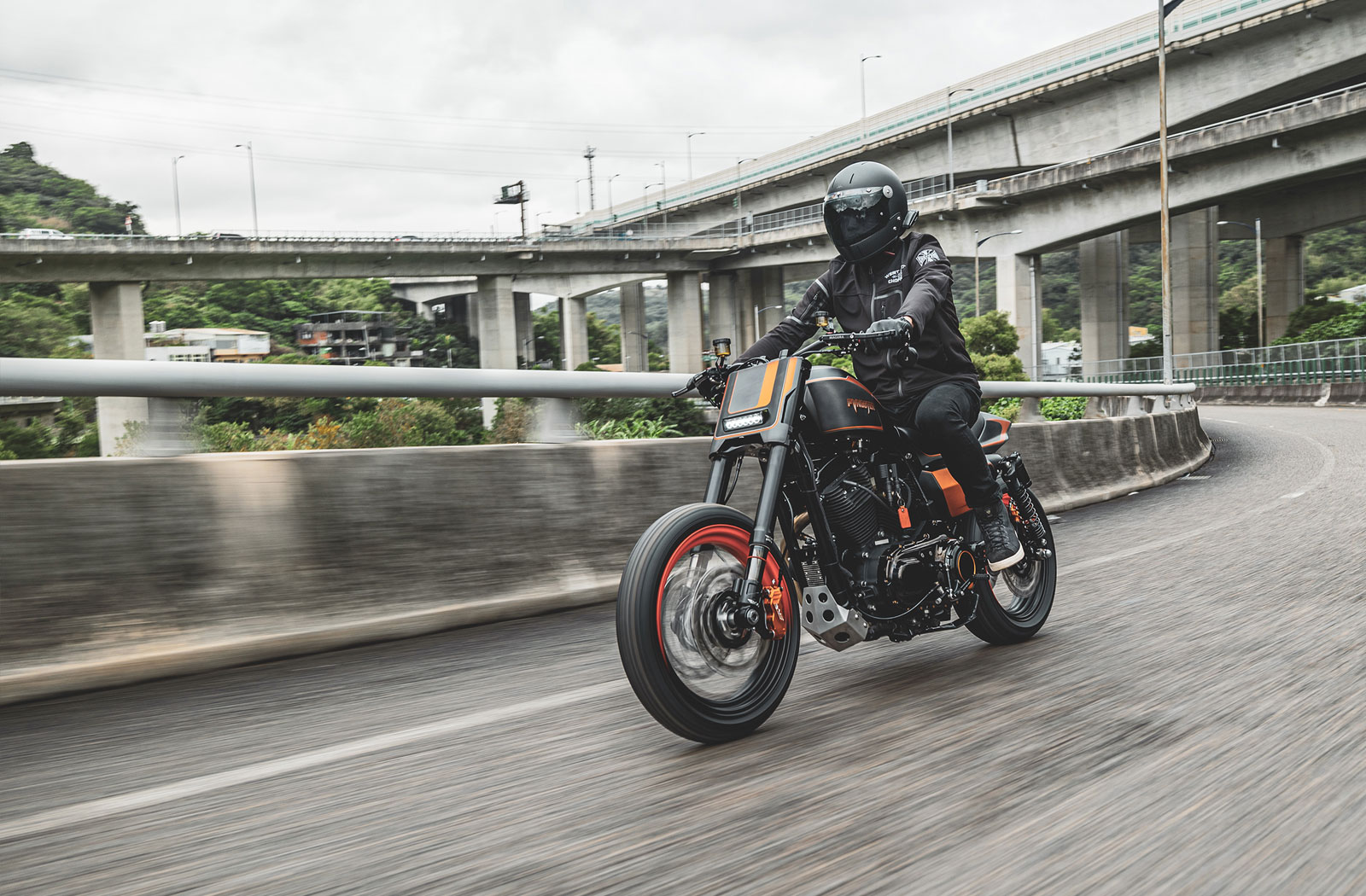 "Fangster was established about 2-3 years ago and just like riding a bike, it's been a tough, rough but exhilarating journey," says Jimmy. "The goal is to provide a unique style, attitude and a sense of feeling that your bike represents who you are without compromising quality, value and aesthetics."
After spending the past few years designing and developing parts Jimmy decided it was time to showcase his range. To do that he decided to build a bike he'd been dreaming about since prior to launching his brand, a Sportster based street tracker.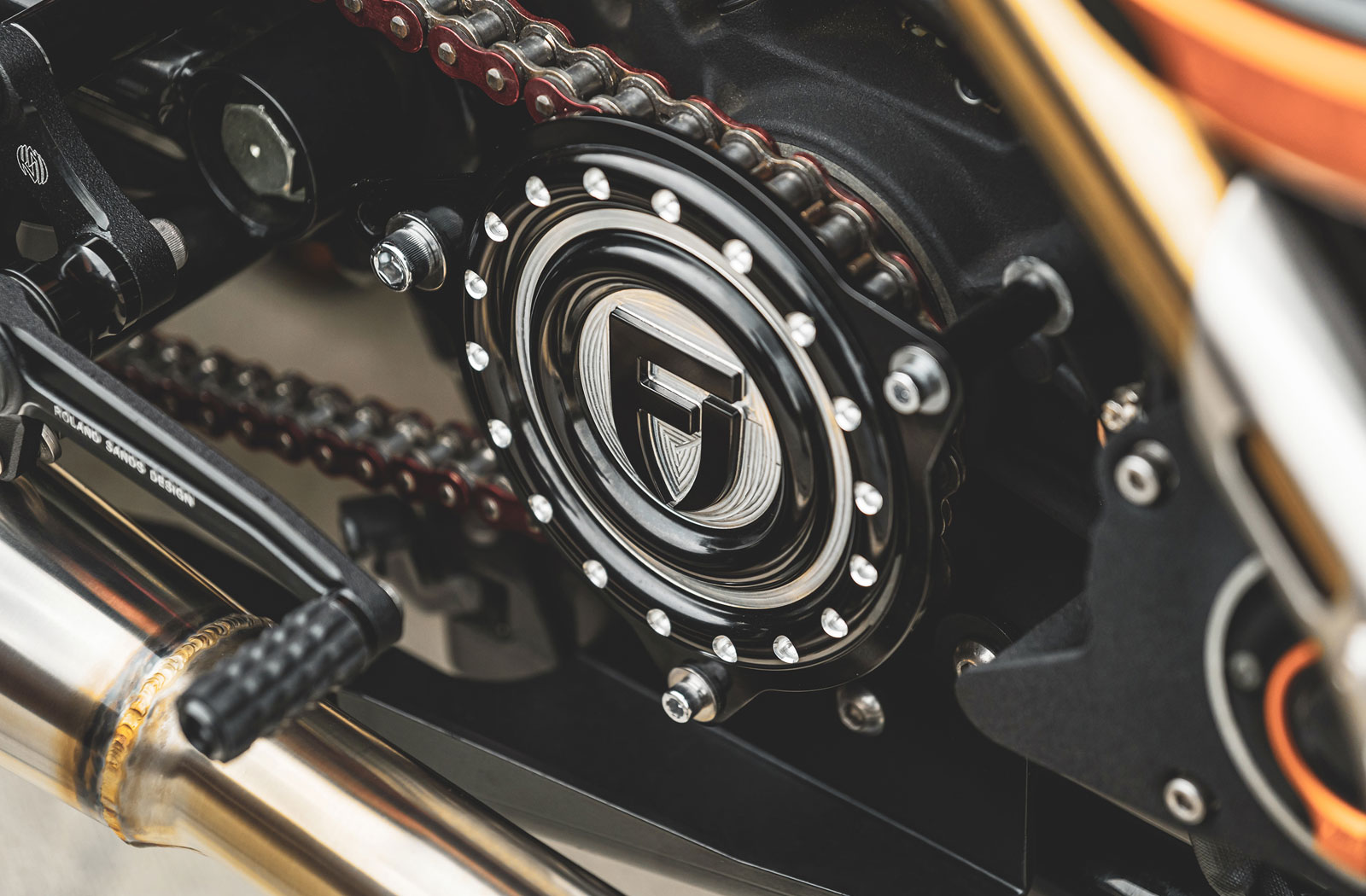 Harley Trackers aren't anything new. The legendary 1970 H-D XR-750 dominated the AMA championships after its release. In fact, it still holds the title for the most wins in the history of AMA racing.
Ever since that bike was released Harley riders have been building their own street-going Trackers. The lighter weight, slimmed down Sportster models have always been the most obvious candidate for the task and Jimmy's H-D Street Tracker build was no different.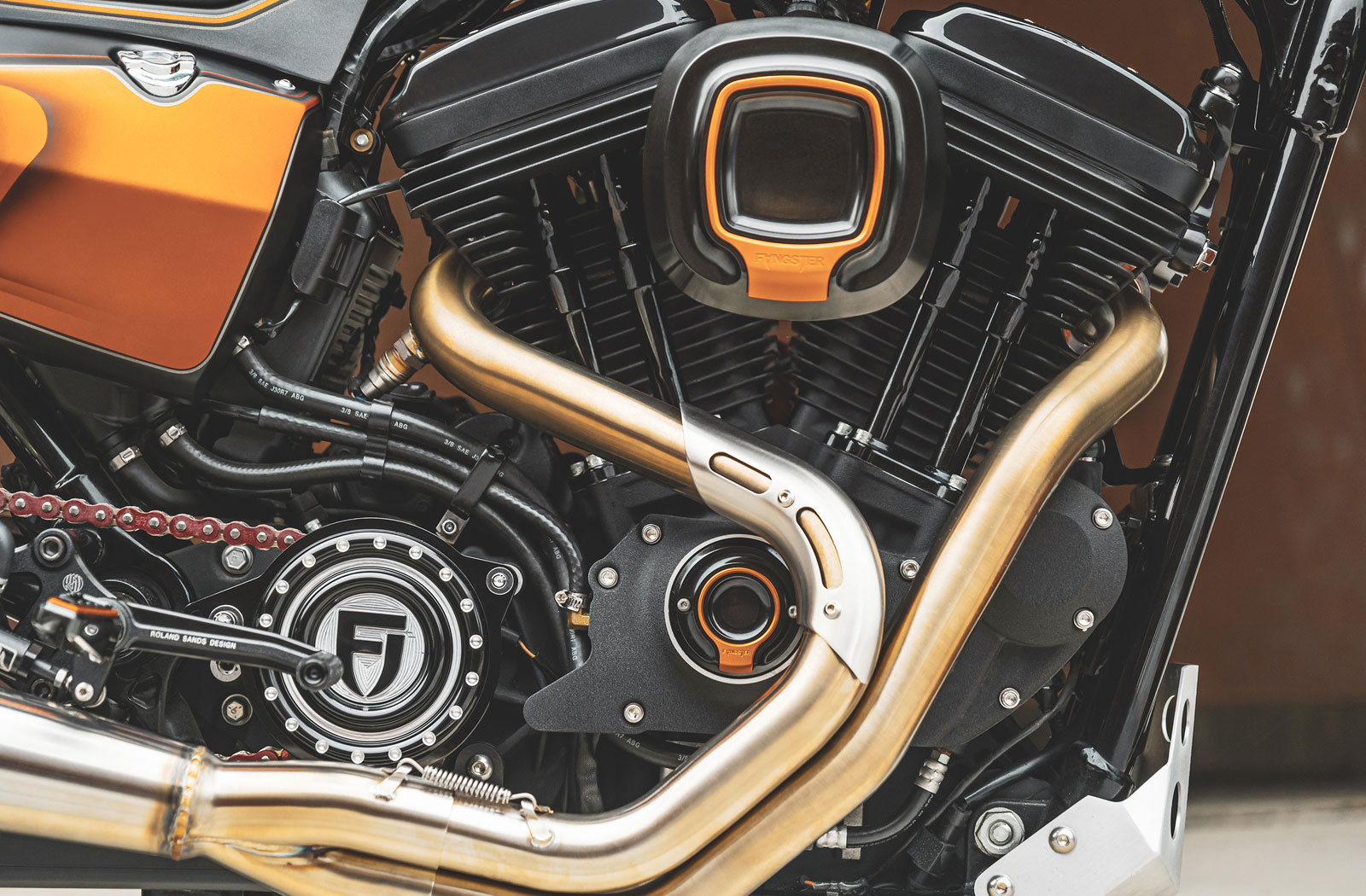 The aptly named Fangster Tracker was built on a 2009 Harley Davidson Nightster 1200N platform. As you'd expect the Nightster is dripping in additions from the Fangster parts catalogue.
The extensive list of Fangster parts fitted to the Sporster include a full set of engine dress-up components. The list is compromised of a Fangster sprocket cover, cut-off cam cover, OE Primary cover, billet tappet cover, OE Rocker box cover, and pushrod cover. Jimmy has also built his own bracket to relocate the coil and hung the engine in the frame using a Fangster front mount bracket and XL stabilised frame bracket.
No custom build would be complete without at least a few one-off parts. So Jimmy and his crew have added several bespoke touches which were designed a manufactured at Fangster HQ. In keeping with the bike's striking jet black and metallic tangerine paint scheme, the custom additions feature orange anodised finshes. These include the derby cover, point cover and the entire air cleaner assembly.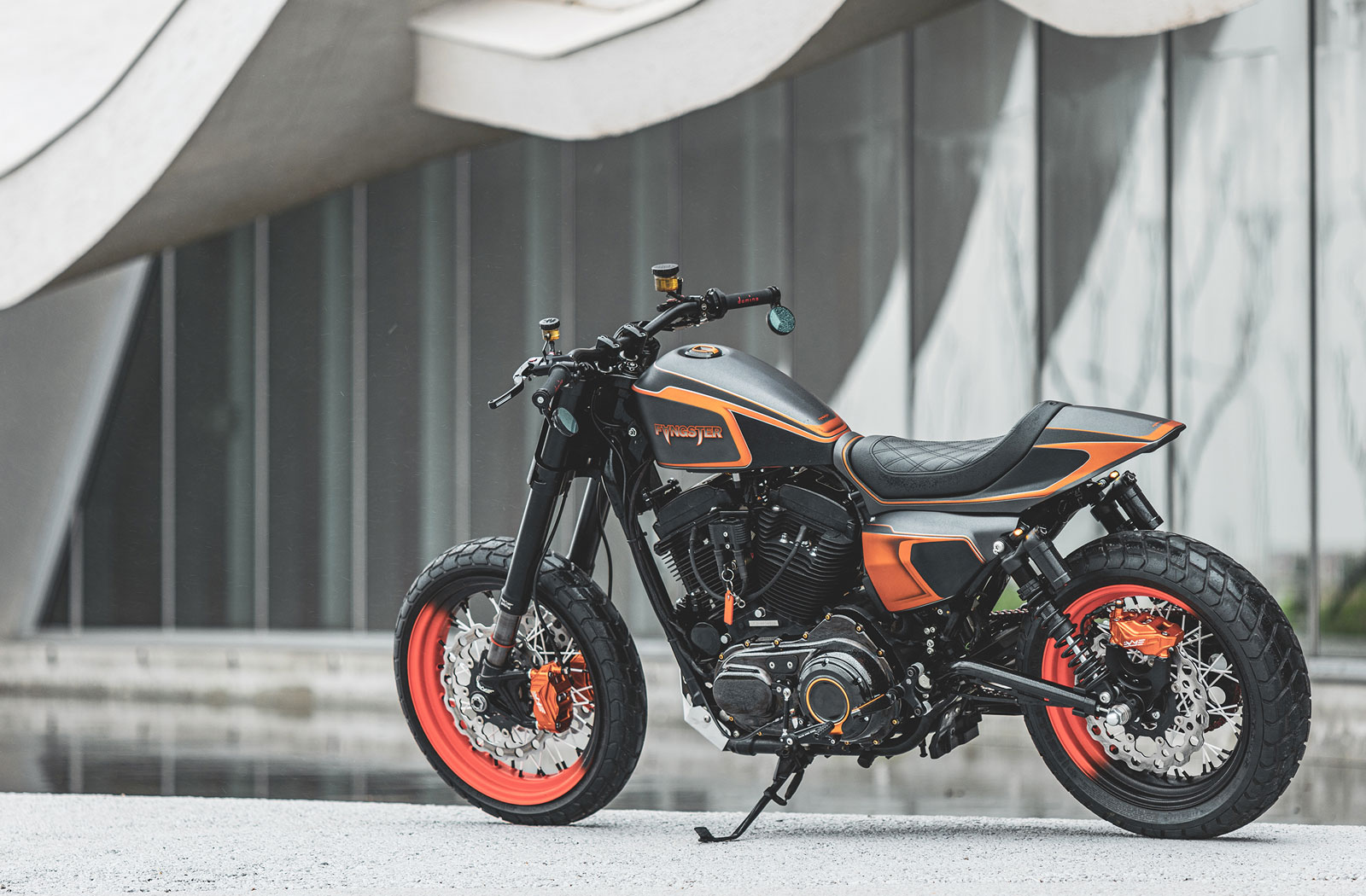 Beyond the engine, Jimmy has used a mix of his own Fangster parts and components from other aftermarket manufacturers to complete his Nighster Tracker transformation.
Starting with the controls he swapped out the stock bars with a set of Thrashin 1.1 inch low bend handlebars. To give them a race-oriented appearance he's kept them clean using a single Fangster bar-end mirror, Domino quick throttle, discrete Moto 3 black billet switch blocks and Magura HC3 levers. To position the bars appropriately they're mounted using Fangster 1 inch short risers. For the foot controls, he went with a set of Roland Sands Design SMB Sportster Rearsets from their Black Ops range, but he's added his own anodised orange inserts to make them unique.
The biggest styling revision on this Nightster came with the changes Jimmy made to its bodywork. The new setup uses a Tracker conversion kit from seat and bodywork experts Saddlemen. Sitting on the unmodified frame is a Saddlemen LS Tracker tail unit and diamond-stitched seat. Angular Saddlemen side covers have been installed too which complement the lines of the tail unit. The new fuel tank comes courtesy of Saddlemen too, but rather than a complete replacement it's a composite cover that slips directly over the stock unit. A one-off Fangster filler cap completes the new look.
To further hone the bike's racer aesthetic Jimmy has dispensed with both the front and rear fenders. The front end features a racing plate style headlight plate with an integrated LED light and there's a Speed Merchant skid plate to keep debris off the bottom end of the engine. To retain roadworthiness discrete Fangster LED turn signals have been installed on the handlebars and at the top of each rear shock.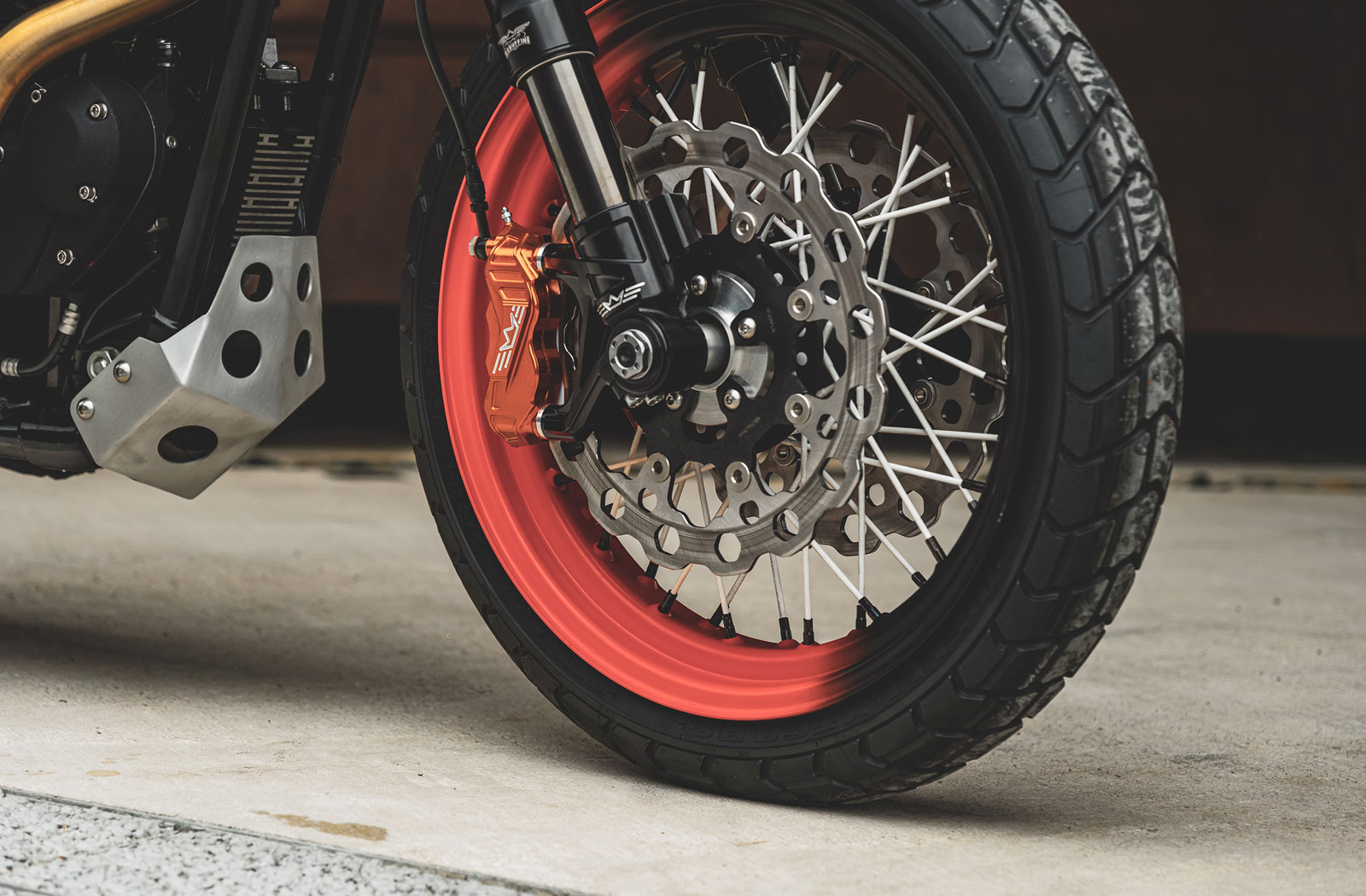 Having a motorcycle that looked like a Tracker but handled like a Sportster was the last thing Jimmy wanted so he's done his utmost to avoid that scenario.
At the rear of the bike, you'll find a pair of gloss black Progressive 970 Series Piggyback Shocks that measure 14 inches. They're bolted to a Fred Kodlin Racing swingarm that can accommodate a 200 rear tire. As for the front end, it's undergone a complete fork conversion using Rebuffini Nexo 5.0 Inverted forks. The wheels are a custom-built combo made by Fangster in an 18/17 inch spoked combination. They've then been wrapped in Pirelli's dual-purpose MT60 RS rubber which offer equal measures of form and function. Stopping power has also been upgraded thanks to the addition of a Rebuffini RR108 Radial Brake Caliper and Galfer Cubiq rotors.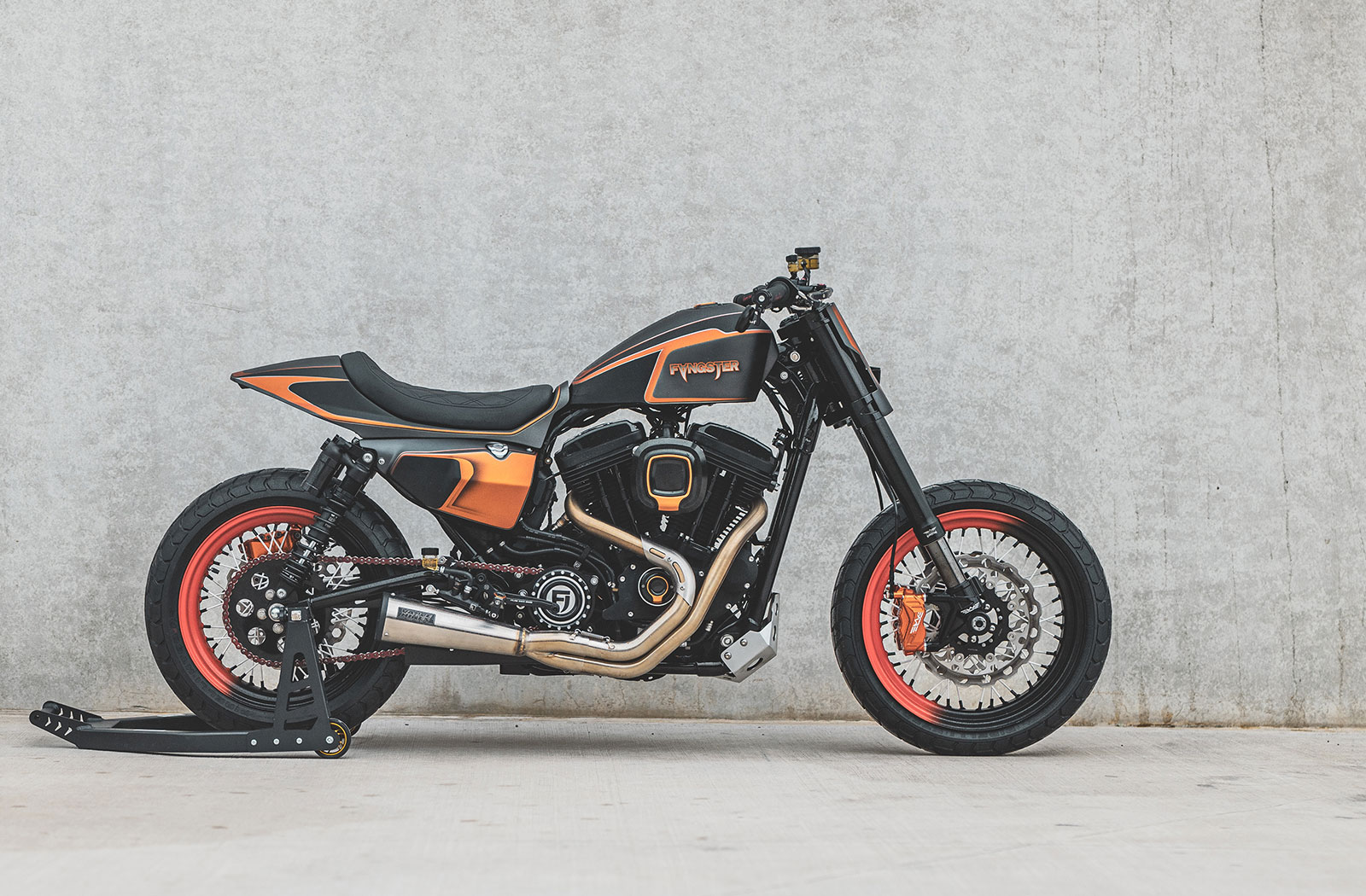 A significant engine power increase was never a goal with this project. Instead, Jimmy stuck to mods that would make the bike more lively off the line. Using a Fangster made sprocket conversion kit the Nighster has been regeared and power is delivered to the rear end via an EK 530 chain. A Vance Hines 2 into 1 stainless exhaust tightens things up visually along with giving the bike a suitably aggressive sound.
As a marketing tool, there's no denying this custom build is going to work wonders for the Fangster brand. But Jimmy also says that it now rides vastly better which to us is what counts the most. "It has quick throttle response and an excellent riding position. There's sharp and predictable braking performance and launching it feels great as you throw your body weight around in the corners."