Generally speaking, first-time bike builds are a practice run for future projects. So in most cases, they're a little rough around the edges. Every so often though a first time build lands in our inbox that is so polished it deserves a round of applause. When it comes to this bike, however, we think a standing ovation would be more appropriate.
Scott McKee's first custom motorcycle project saw him building his dream cafe racer. Aside from the fact it turned out amazing, what's really impressive is what he achieved with his chosen donor. Harley Davidsons, like Scott's Sportster, are notoriously difficult to cafe. This is mainly due to their hunched frame and rearward sloping cruiser stance. But thanks to Scott's keen eye and some judicious parts selection, he's massaged out this Harley's kinks.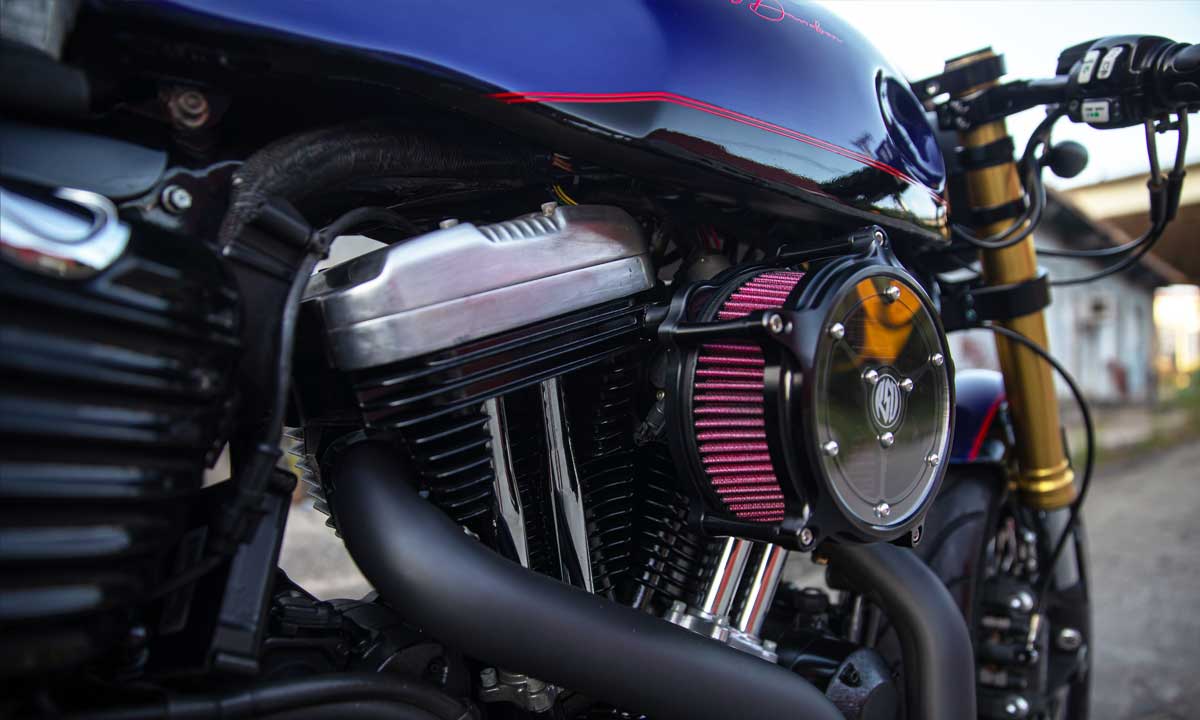 Scott's project began when his world (and everyone else's!) went into lockdown thanks to the Covid pandemic. Sitting in his garage alone, staring at his '79 Suzuki GS750 cafe racer and Harley Davidson Sporster he pondered the notion of building something special. Having a soft spot for clean, aggressive cafe racer styling and being smitten by the rumble of that American v-twin, it seemed the perfect time to get a new project underway.
First things first he'd need a donor. Wanting to still have the option of riding a cruiser styled Harley he opted to not modify the one he already had. Instead, he decided to purchase another since, as we all know, there's always room for another motorcycle in the garage. His search lead to the purchase of an '07 Sporster in full Bobber trim.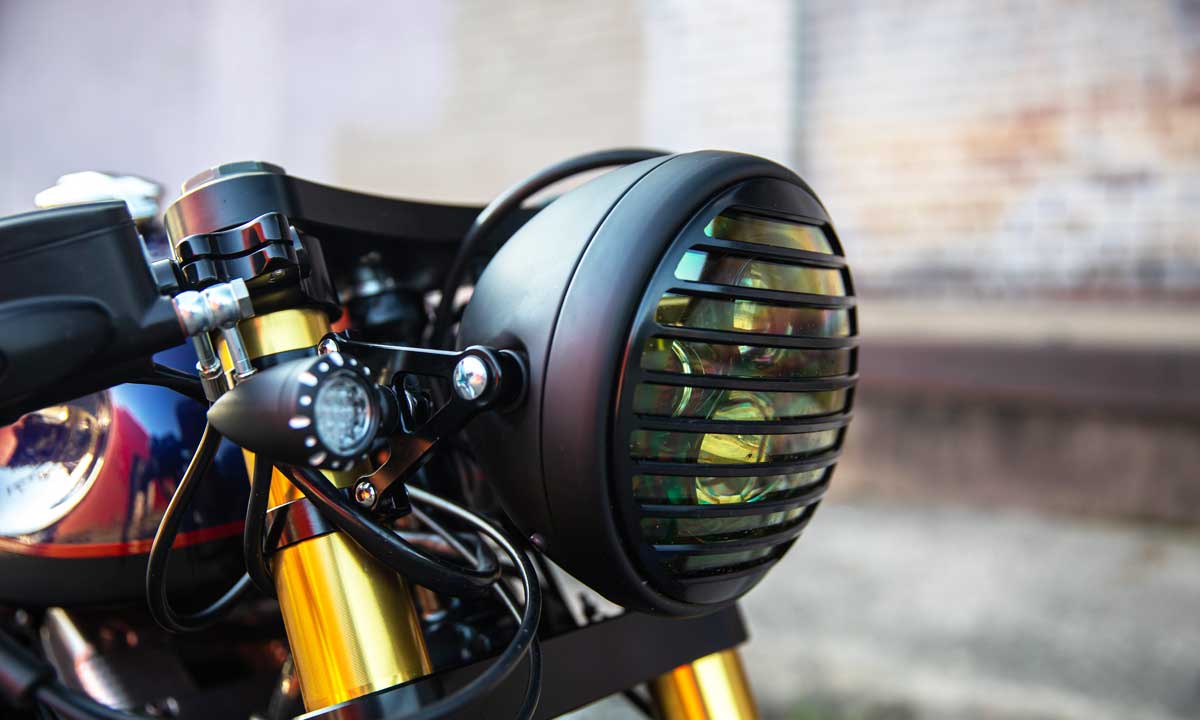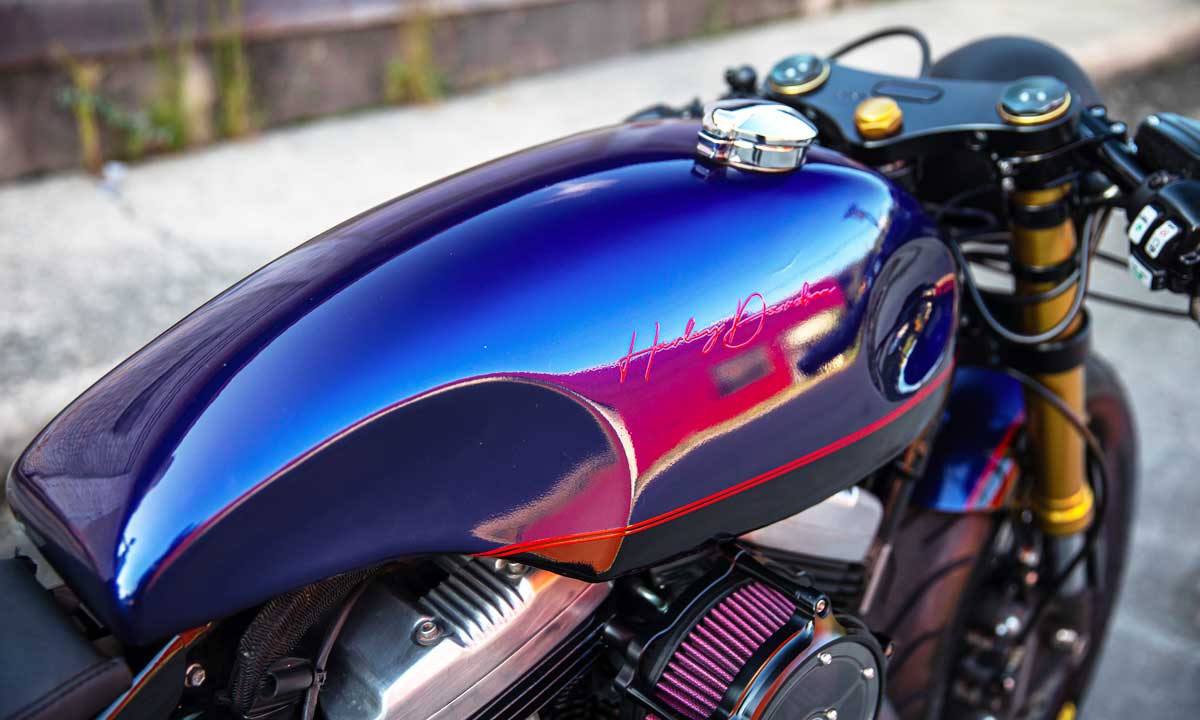 "In my day job I'm a telecommunications district manager, so this was a spare-time project,' says Scott. "I just spent a few hours a night, tinkering in the garage from May until October, building exactly what I wanted with no corner cut." Although this was his first custom motorcycle build, Scott wasn't completely green behind the ears. His father, Ron McKee has run a paint and body shop for over 40 years which has exposed him to "a lot of cool stuff" throughout his life. With his father, he also Co-owns McKee Motorsports. "In the last few years, my dad and I started a Modified Stockcar racing team, McKee Motorsports. We build, operate and maintain open-wheel race cars powered by Chevrolet 350 engines. Building those really gave me the confidence to take on a bike."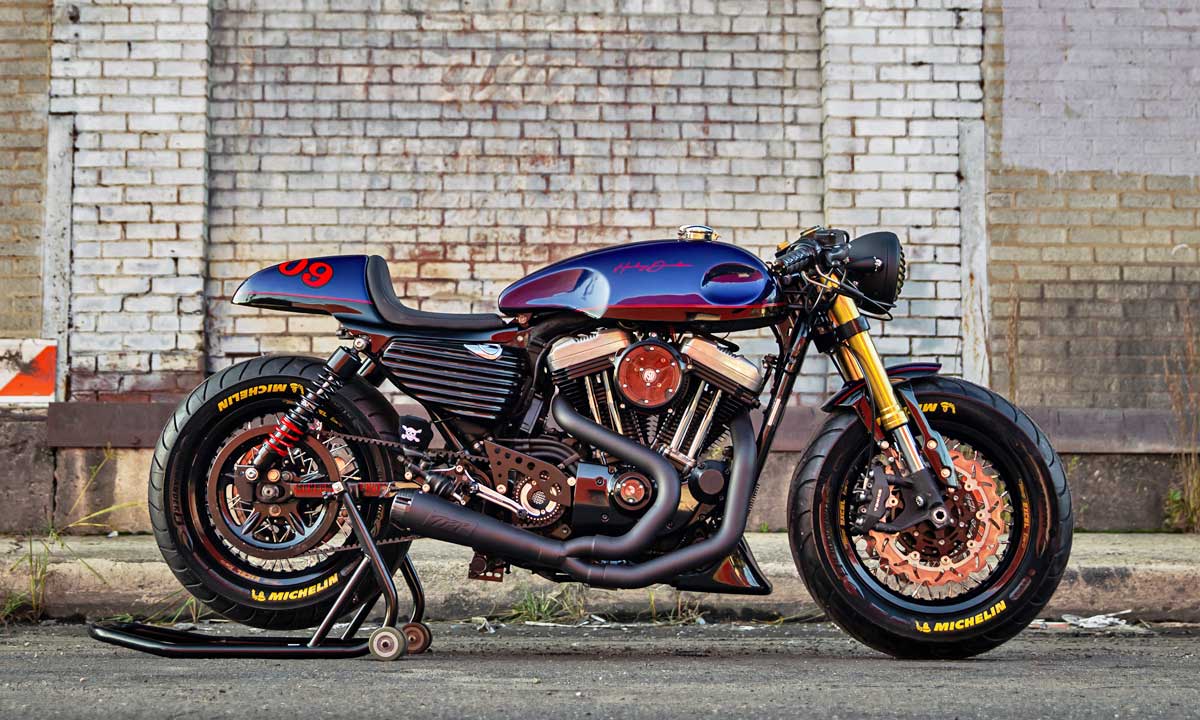 Inspired by similar builds he'd seen on custom bike blogs, Scott pieced together a concept that merged elements from different bikes that appealed to his aesthetic. First, he set out to upgrade the Sportster's handling and address its stance. This was achieved using a Cognito Moto fork conversion parts to fit a Suzuki GSXR front end. Harley suspension experts Burly Brand were then utilised for the rear end conversion in the form of 15″ Stiletto shocks. To complete the setup and achieve a suitably retro appearance, Scott then used more Cognito Moto components to get the bike rolling on 16-inch spoked rims.
Bodywork plays a very important role in getting the right look with a Harley based cafe racer. No matter how hard many have tried, an H-D peanut tank will never cut the mustard. Being fully aware of this Scott searched for a suitable substitute and found the solution in Thailand. After contacting Markus and the crew at Omega Racer he ordered one of their handmade alloy Mugello fuel tanks complete with a period looking Monza filler cap. Unlike a traditional Harley tank, the Omega Racer Mugello sits lower on the backbone of the frame and hugs the heads of the v-twin. The tank also lowers the bikes overall height resulting in a much sportier-looking Sportster. To accompany the tank Scott acquired a Roland Sands Design tail section. With almost identical lines to the tank, the RSD tail is the perfect pairing for the Omega Racer tank. Despite sitting lower on the frame it's clearly a match made in heaven.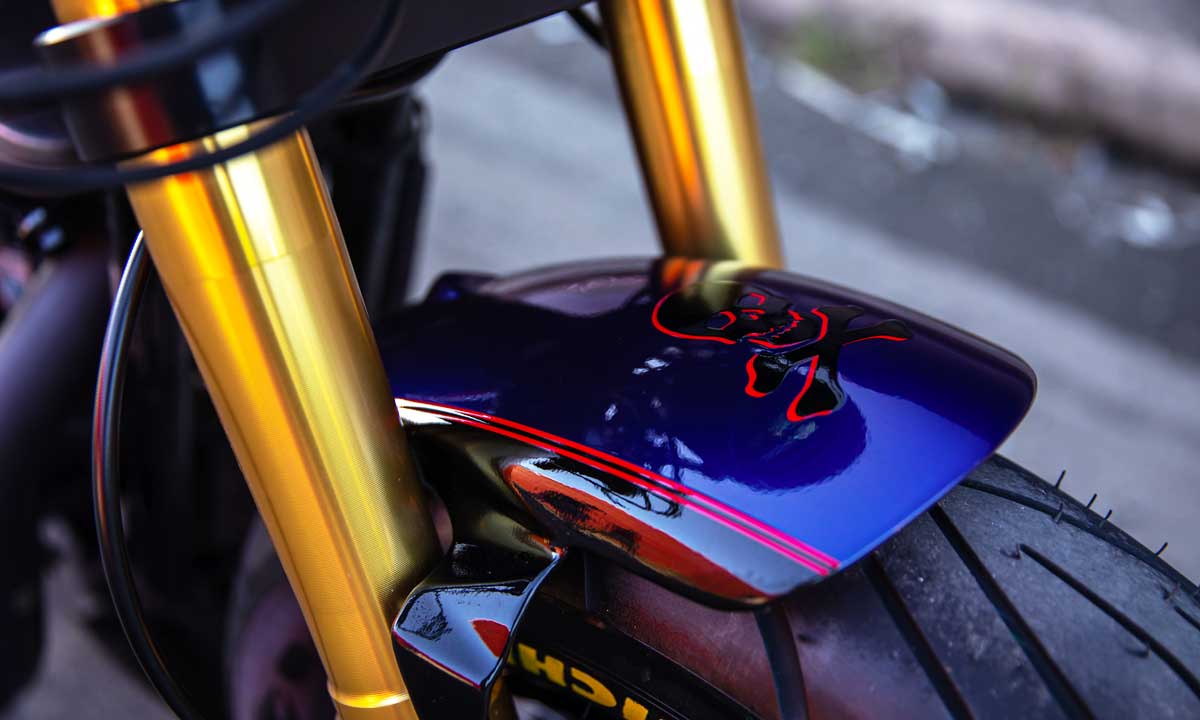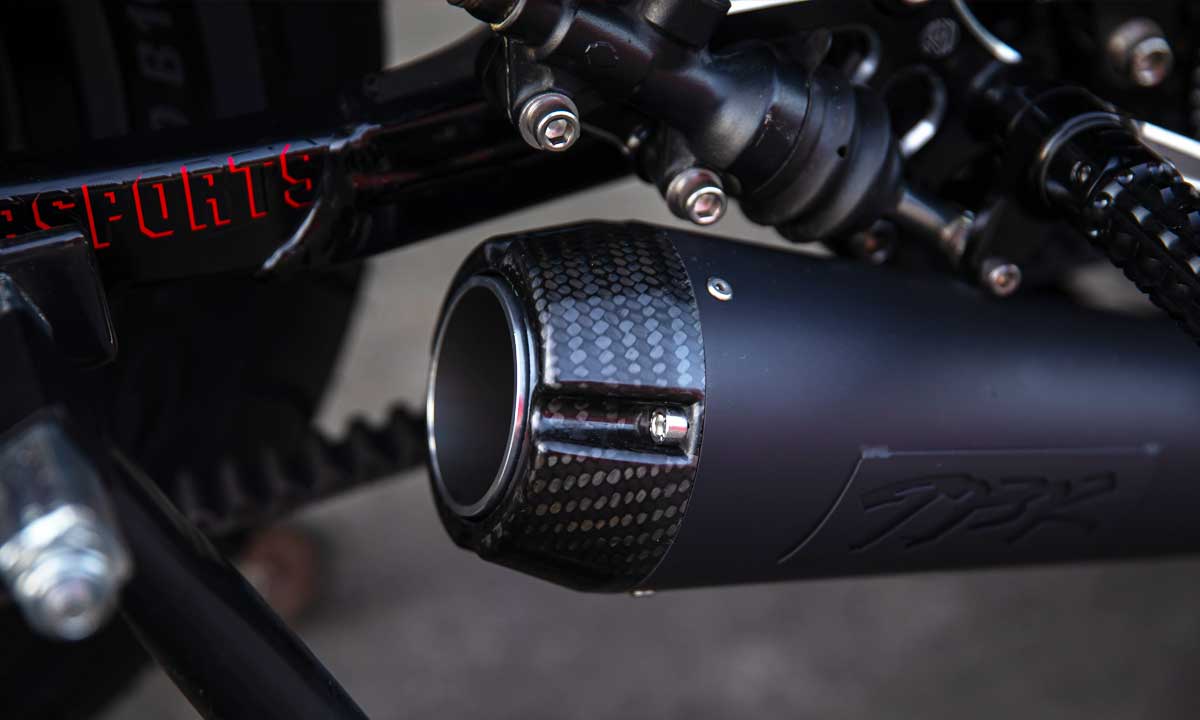 With the bike's bone line suitably balanced, Scott turned his attention to its accessories. RSD was called on once again for a carefully curated selection of parts. These include the rear-set footpegs, air cleaner and a spattering of dress-up items. Clip-on styled bars clamped to the GSXR forks complete the cafe racer riding position while a Motogadget speedo recessed into the top clamp keeps the cockpit clean. During the extensive overhaul, all of the lighting was also upgraded using LED alternatives from Harley experts, Drag Specialties.
Along with possessing a quintessential cafe racer look, Scott's Sportster has the performance to back it up. To make the most of the Two Brothers Racing Comp II exhaust and free-flowing air filter,  the ECU is controlled by a Power-Point Dynojet Power commander.
For the bike's finishing touch, Scott handed his project over to his father. Ron and the team at Custom Automotive paired a Porsche 911 Gentian metallic blue with touches of black and red to match the rear shocks. Yellow highlights were added to the wheels and headlight lens to tie in with the GSXR forks, but the pies de resistance is Scott's 09 stockcar race number on the Sportster's tail.
"I love the raw sound of the v-twin and the customization that comes with a Harley!" says Scott. With a beauty like this parked in his garage, it's easy to understand why.
Photography by Mike Kuhn Racing