The Buell XB platform is an unlikely hero for the cafe set – A torquey, Harley-powered, space-framed sports bike from the now twice defunct Buell nameplate. But the XB has provided the basis for some of the most distinctive customs we've seen in recent times. From the sharp futuristic lines of the Magpul Ronin to a smooth take on the Norton Manx, the XB lends itself to wild transformations. Today we take a look at a build by Greaser Garage from Genoa, Italy. Applying his own twist to this oddball 2006 Buell XB12SS, Matteo Scarsi, product and graphic designer for Greaser Garage, explains how this beast of a Buell came to be…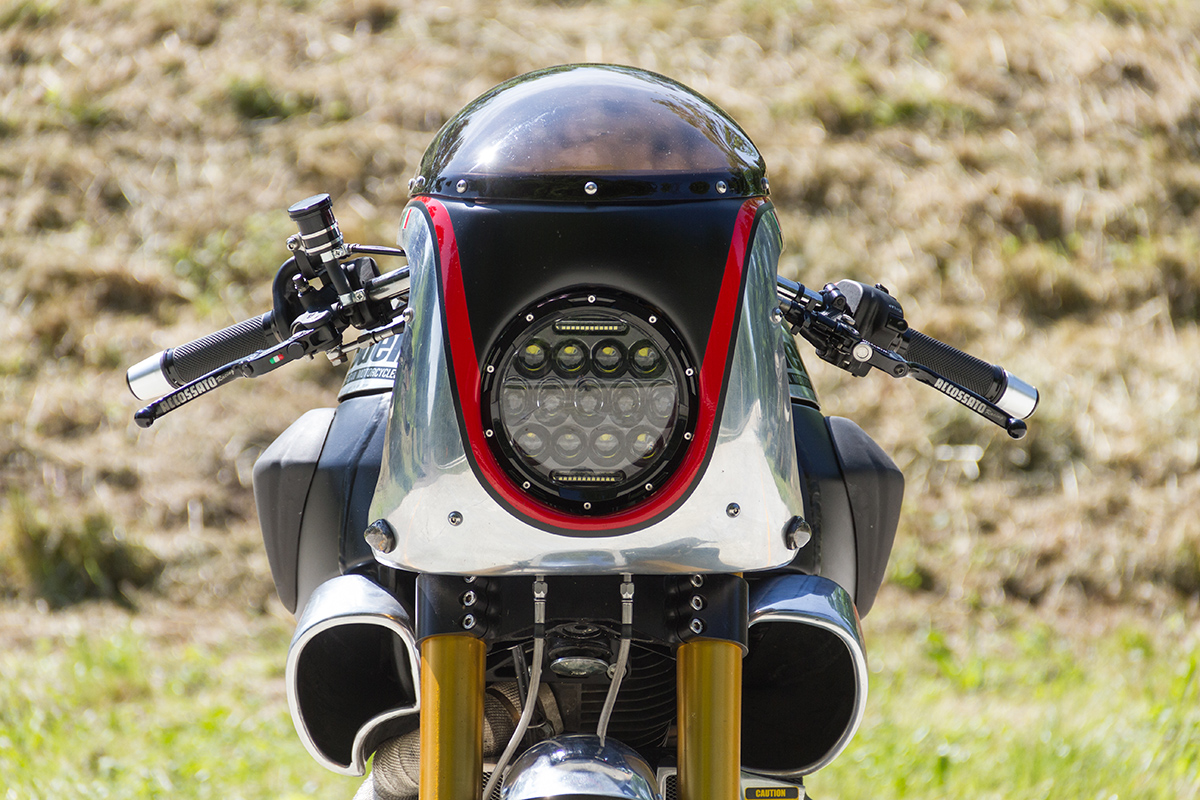 "Greaser Garage is the brainchild of Giorgio Pellegrino. He has been involved in customising motorcycles for a long time with a strong reputation in the HD scene before branching out 2 years ago with old friend and trimmer Cristian Rancati: all the saddles, bags and details you see on our bikes are handmade by Cristian. I joined the team a little over a year ago, and my role is to translate our client's desires onto the page and then help bring the ideas together along with my colleagues." says Matteo.
"The bike you see here took over a year to complete from start to finish. For this project, the owner – a longtime friend of Giorgio's and a Buell aficionado – commissioned something unique inspired by the old British racers. It had to have no-nonsense metal bodywork, quality components and a mountain of power that could still be ridden for hundreds of miles without breaking your back."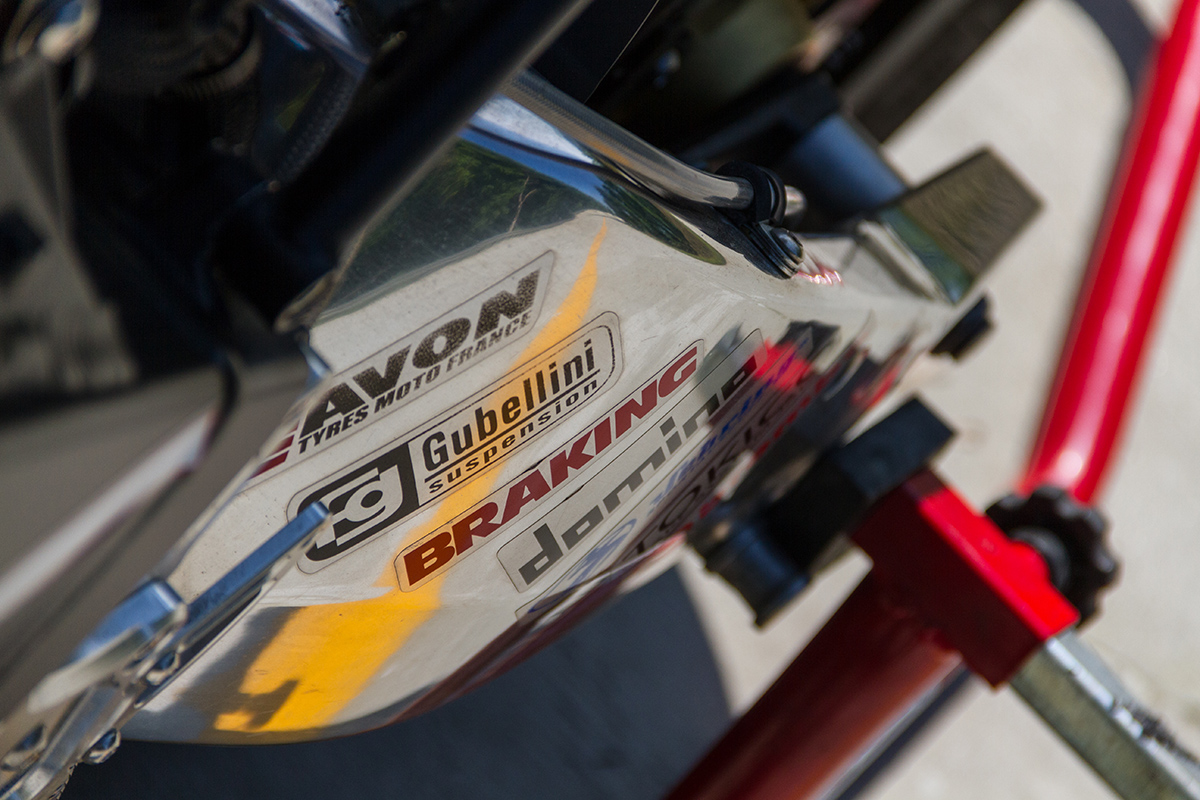 "We immediately began thinking of exposed engines and minimal bodywork for the Buell along with a host of trick parts. A chain conversion, spoked wheels, and a new rear subframe were the beginning of what would become a very comprehensive list of modifications.
The engine was completely rebuilt by Pierluigi Alghisi (one of Italy's finest Buell experts) in Brescia before being reinstalled. Suspension at the rear is courtesy of a one-off handmade Gubellini racing monoshock, while the front is from a Kawasaki ZX10R. The swingarm was modified to accept spoked Alpina wheels designed for the Ducati Monster and wrapped in sticky Avon rubber."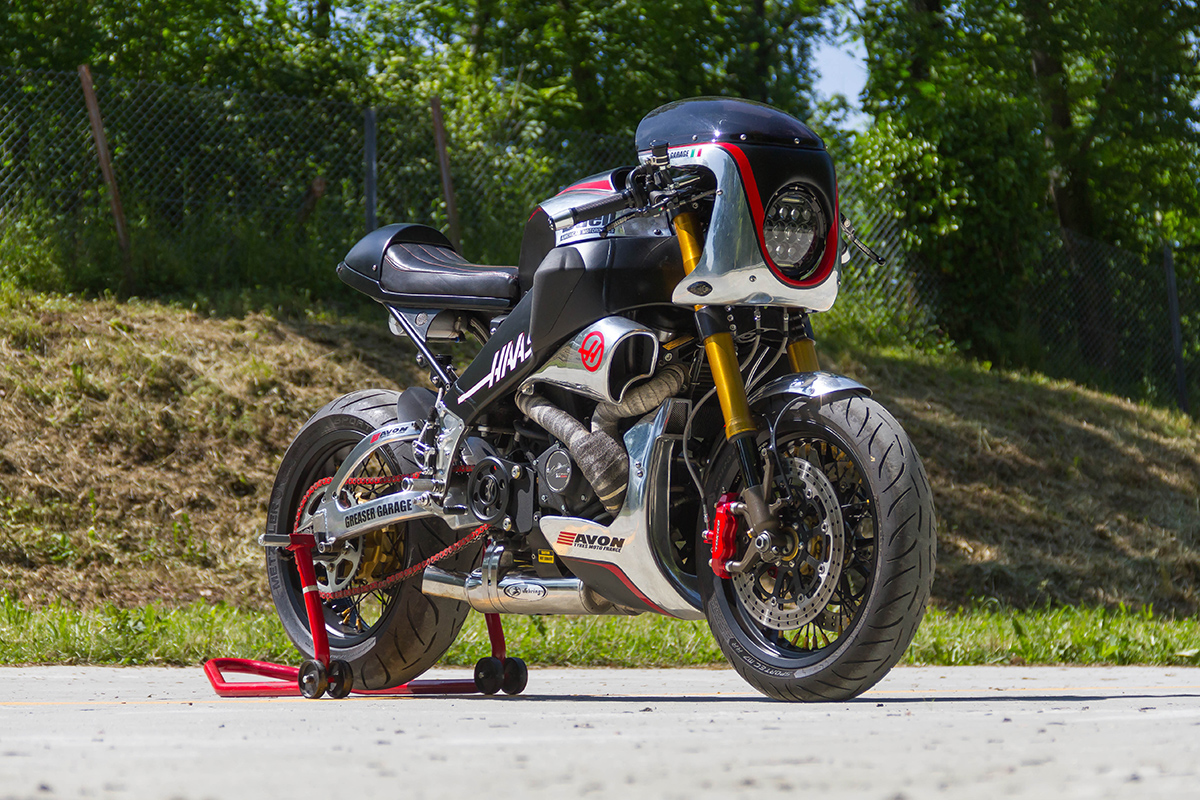 "Our friends at 'Metal Bike' in Turin turned my sketches into fully realised aluminium bodywork including the rear tail section, belly pans, front fairing, and the 'fake' fuel tank'. The air intake on the Buell sits where the fuel tank would usually reside, so custom alloy ducts were made to feed fresh air directly to the filter.
We were so happy with the craftsmanship on the bodywork that it seemed wrong to hide it with too much paint! Instead, we came up with the idea of an homage to the F1 world championship Team 'Haas' to reflect our passion for motorsports of all types. The bike has received lots of attention since winning a special mention at the Sanremo motorcycle show –  where it was photographed alongside GP idol Loris Capirossi! It's also since been put through a gruelling 1400km shakedown ride and been shown at the Café Racer Reunion in Monza."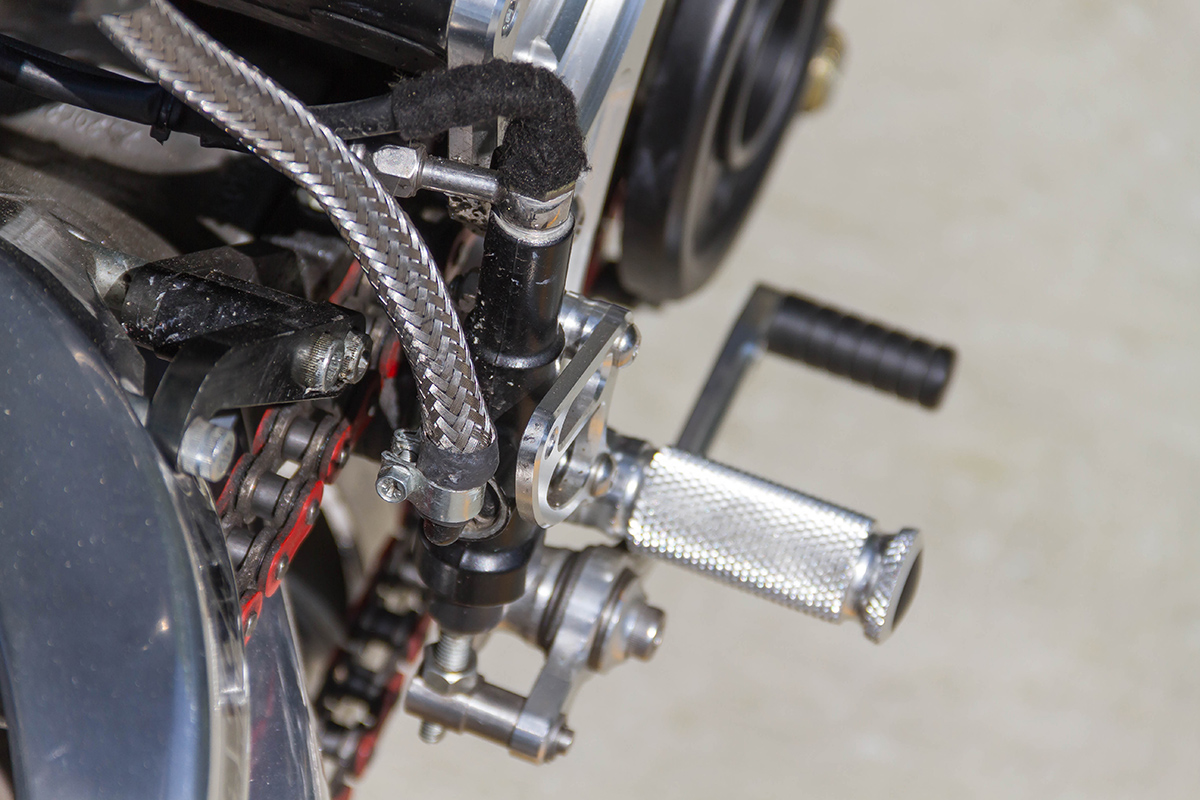 BUILD SHEET:
New chain transmission (instead of the stock belt drive)
Modified swing arm from an XB12S with a chain tensioner
Sebring steel muffler
Full Kawasaki zx10r front end
Alpine STS tubeless spoke wheels for Ducati Monster
Tokico brake callipers and 320mm brake discs
Custom leather saddle by OV Leather (Cristian Rancati)
Custom rear steel tube frame
Gubellini racing one-off rear shock absorber
Brembo rear brakes
Skyrich Lithium ION battery
New oil recovery system with custom aluminium oil tank
Custom aluminium footrests
Tommaselli handlebar
Domino commands
Accossato brake levers
bodywork (fairings, intake cover, side intakes and lower cover) handmade by Metal Bike
Story by Mik.