When it comes to building a cafe racer, no other marque is better suited than Triumph Motorcycles. This is of course because of the brand's close ties to cafe racer history. In fact, some of the most iconic cafe racers ever conceived were built using Triumph components. Hybrid creations such as the Triton were worshipped for their outright power and ability to reach the revered 100mph. Although a lot has changed in the world of motorcycling since then, riding a Triumph cafe racer today still carries significant kudos.
The Triumph badge represents much more than just historical significance though. They are both powerful and reliable motorcycles built to the most exacting standards. And their range of modern classics is some of the best looking and performing off-the-shelf retro-style motorcycles money can buy.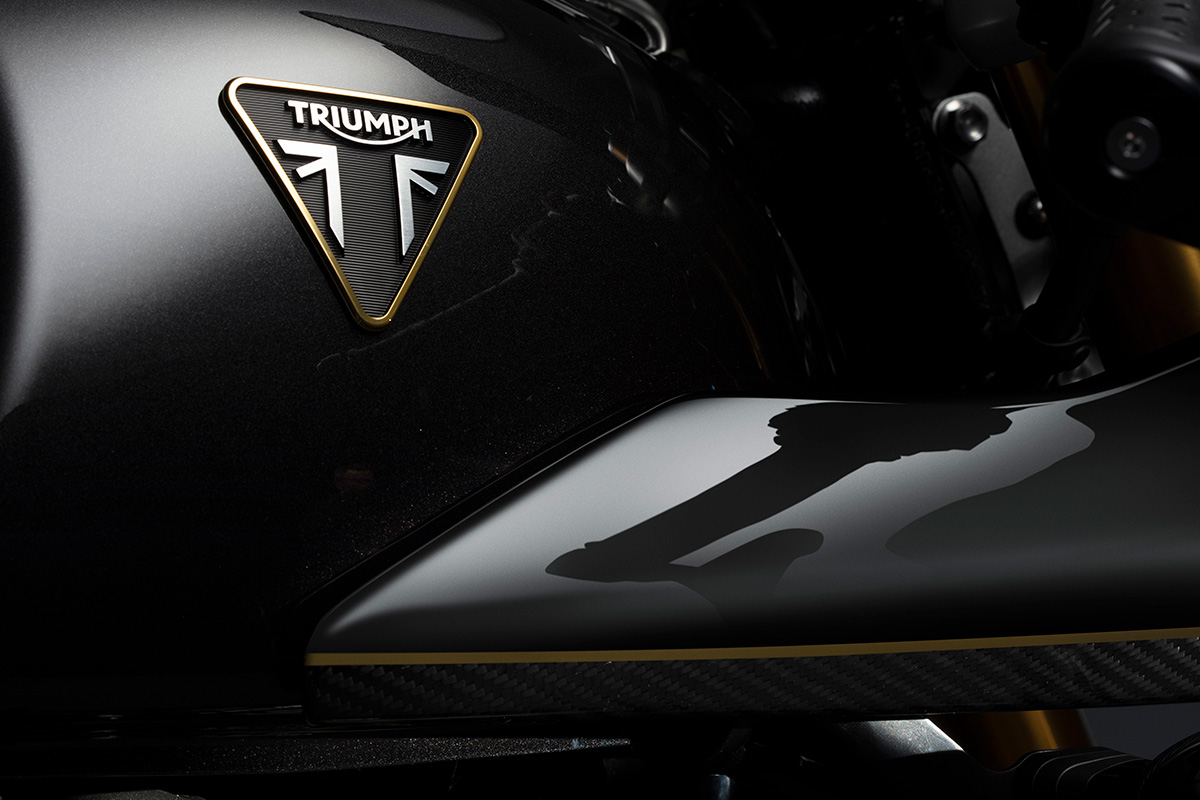 Over the years we've featured countless Triumph cafe racers. From projects based on 50-year-old classics to modified versions of Hinckley's latest and greatest. Today we're taking a look back at some of our favourites to bring to you this 'Top 10 Triumph Cafe Racer' list.
In no particular order, here's our pick of the bunch.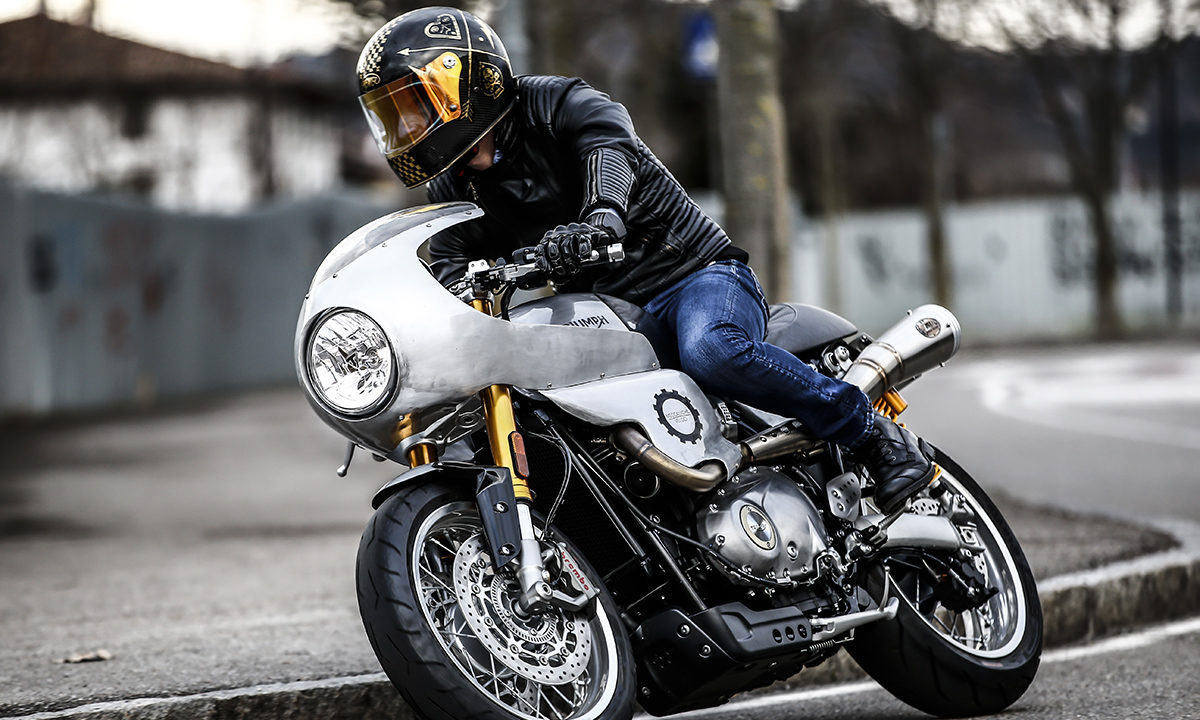 Alo's Cafe/Meccaniche Veloci Bullet Thruxton R
Built for Swiss watch manufacturer Meccaniche Veloci, this alloy-bodied Thruxton R is the work of Italian Triumph retailer and custom workshop Alo's Cafe. The goal of this project was to create a motorcycle that reflected the watch brands own premium style and ethos. For this Alo's chose the pinnacle of Triumph's modern classic range, the Thruxton R.
Alo's broke the build into 3 main ingredients consisting of power, sound and metal. Ticking the power and sound boxes was achieved through the development of a custom exhaust system. It was created in collaboration with Italian experts Zard exhausts. The new setup replaces the Thruxton's restrictive Euro-compliant system with a free-flowing 2-into-2 design. Mounted high along the bone line of the frame it works wonders for the Truxton's looks and gives its rear end an even sportier demeanor. Then, to tie it back to Meccaniche Veloci's watches, they installed custom, 4 port muffler caps styled after the brand's watch faces.
As for metal, there is no guessing where that ingredient was applied.
During the build, Alo's Cafe substituted all of the Thruxton R's plastics with hand-made aluminium components. Taking around 100 hours to complete, it represents the workshop's first stab at metal shaping and the result was definitely worth the effort.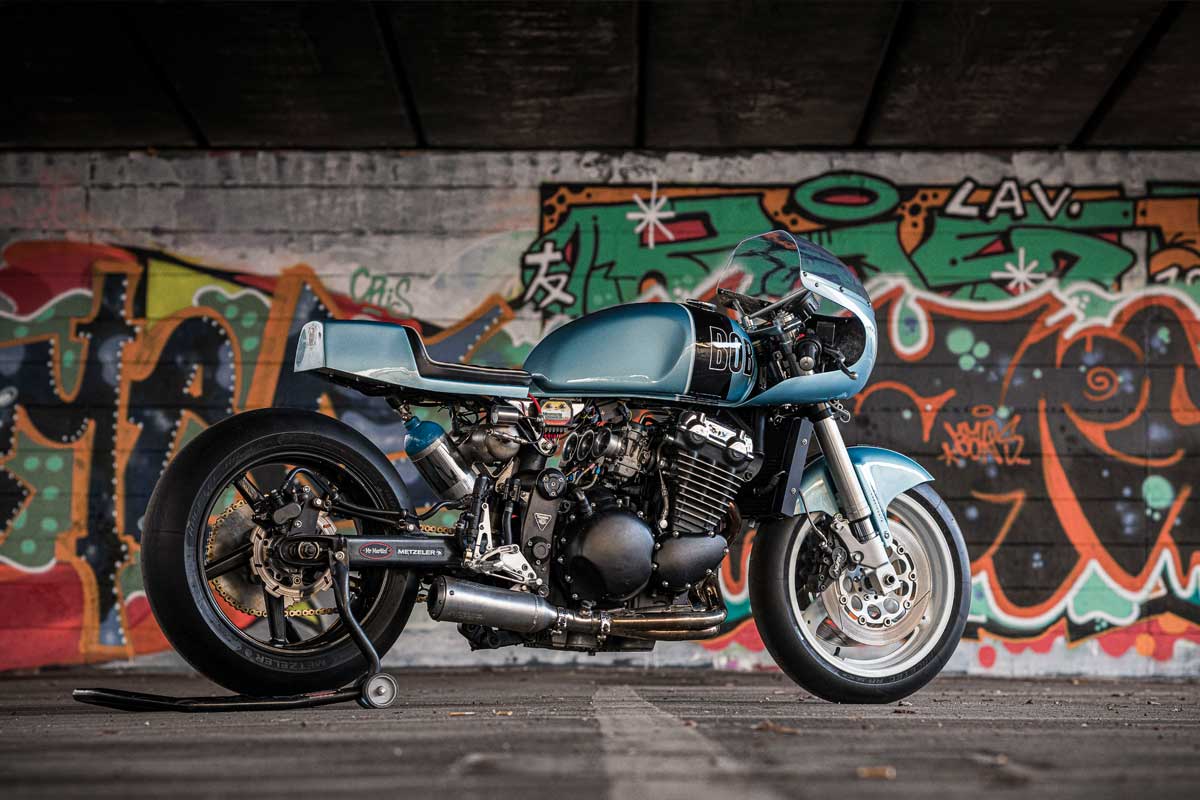 Mr Martini Triumph Legend TT
The Triumph Legend TT was only in production for 3 short years. It was developed as an affordable, stripped-down alternative to the Thunderbird 900 roadster. Despite its short-lived production run, the Legend TT had a lot going for it. Powered by the manufacturers proven 885cc inline triple and benefitting from Hinkley's impeccable build quality it was excellent value for money.
When choosing his steed for the Sultans of Speed sprint race series Nicola Martini, aka Mr Martini, wasn't interested in affordability. His goal was to see how much power the bulletproof Triumph triple could produce.
Nicknamed BOB the heavily modified Legend TT features a whole new look to complement its increase in performance. Martini has completely redesigned the roadster into a cafe racer inspired racer. Getting it there necessitated significant chassis customisation and a spattering of custom bodywork components. Seeing as this build was much more than an aesthetic overhaul, BOB also features a completely custom suspension and brake setup too.
As for the engine, Martini enlisted the help of Fabio Marchiotto of Hard Drag Garage to really make it sing. After installing a long list of race-spec internals power was up from 70hp to 90, but there was still room for more. So, to ensure the bike could stand up to its competition, they rounded things out with a tyre shredding nitrous oxide system.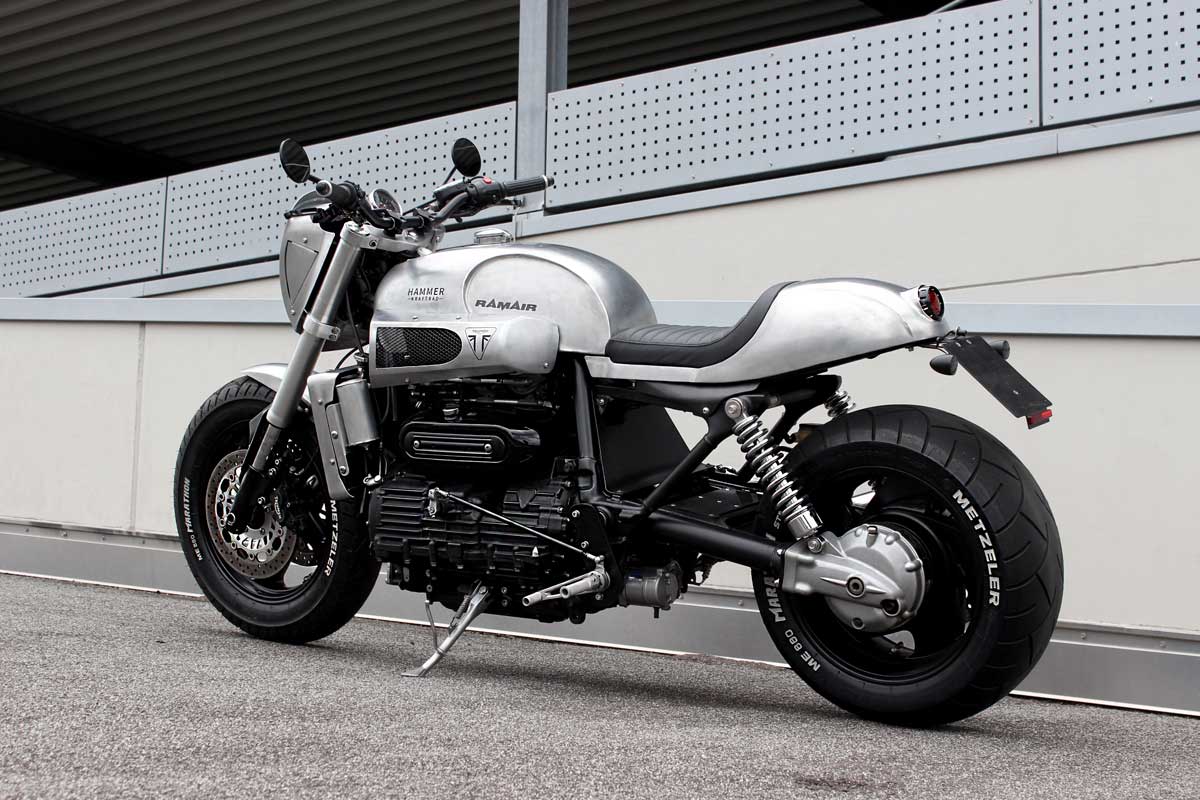 Hammer Kraftrad Triumph Rocket 3
Of all the models in the Triumph range, the Rocket 3 seems least compatible with cafe racer methodology. It's a monstrous machine featuring a 3 cylinder 2500cc motor that earns it the title of the "world's largest production motorcycle engine capacity". At 334kg it is most definitely no featherweight and its styling is a far cry from the sleek lines of a cafe racer. But mere things such as these weren't about to stop Michael Hammer or Hammer Kraftrad from giving it a go.
With this custom Triumph Rocket 3 project Michael had experience on his side. He had already built a Roadster style Rocket 3 and applied his learnings there to create this behemoth of a cafe racer.
Stage 1 of the build involved exposing the mechanical beauty hiding beneath the Rocket 3's bodywork. Next, the frame was trimmed and suspension modified to level things out. Last, but certainly not least, Michael handmade a new set of lightweight tins from aluminium. There was of course a lot more work that went on in between, which you can read about here, but what has impressed us the most is the result. Our hats are off.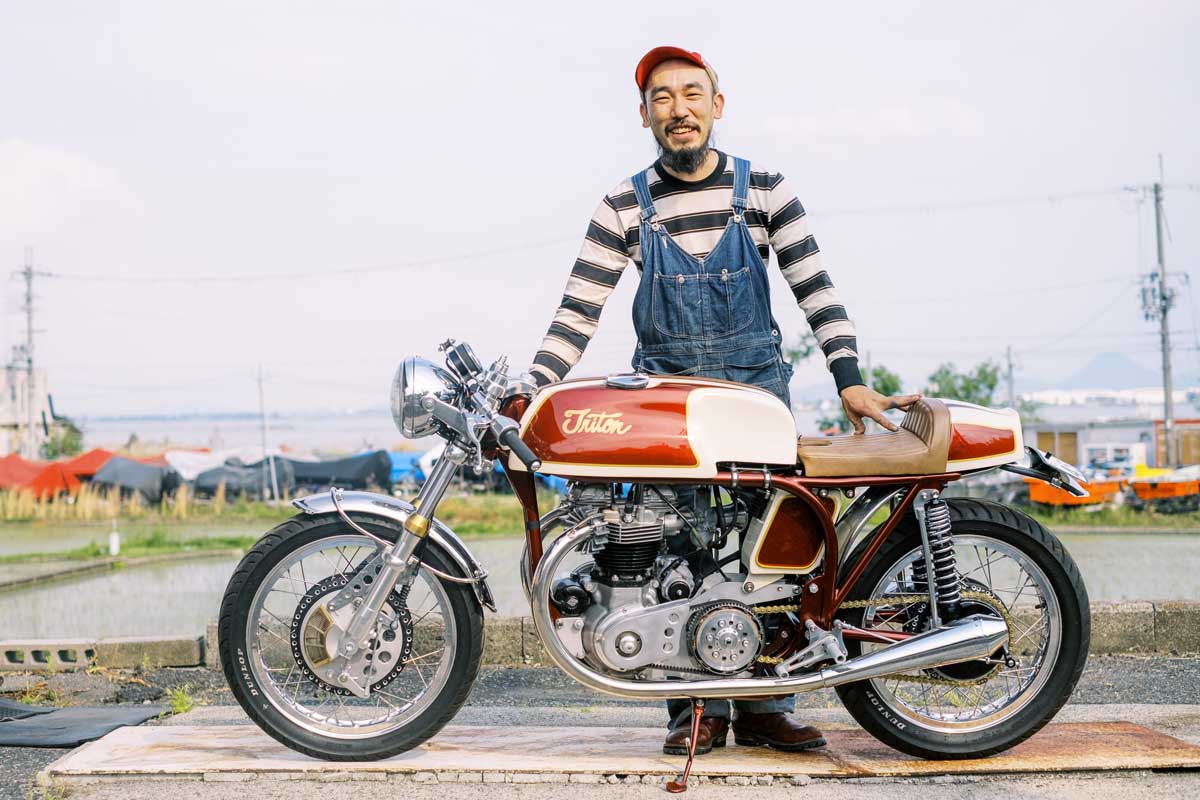 Berry Bads Triton Cafe Racer
Here at Return of the Cafe Racers, it's the classics that really get our hearts racing. Take for instance this stunning Triton cafe racer by Japanese builder Berry Bads MC. Workshop owner Kyohey Sugimoto took the Triton project on as an incomplete project for a customer – and we have no doubt it's a move his customer is glad he made.
During the 6 month build, Sugimoto-san merged classic British cafe racer design with Italian racer styling of the same era. The Triton is dripping in hard-to-get, period-correct parts as well as a long list of handmade components that have them all working in harmony. Hidden amongst them are also a few modern components that help with the bike's roadworthiness and reliability.
We've seen plenty of cafe racers built where form precedes function. Despite this Triton's eye-watering good looks, it was built with one purpose in mind – being ridden.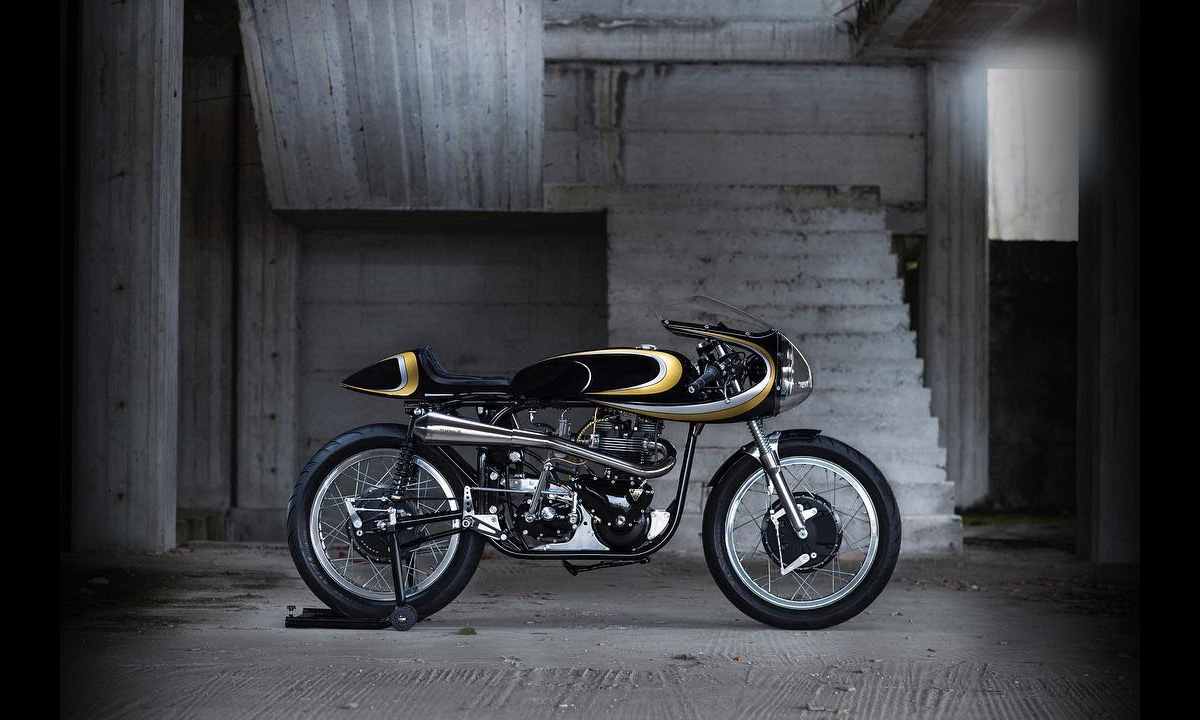 Style Italiano Triton Cafe Racer
Another Triton that raises the hairs on our neck every time we cast eyes on it is this incredible bike by none other than Stile Italiano.
Stile Italiano has been a hot favourite builder of ours for some time now. Several of their bikes have made our top 10 of the year lists and there's no guessing as to why that is.
In typical Stile Italiano fashion, the Triton CR650 features a single-piece aluminium monocoque body. The slender bodywork sits perched on a 1964 Norton featherbed frame, arguably one of the most famous frame designs ever made. Then, nestled within it is a '60s pre-unit Triumph T120 parallel twin that's been meticulously rebuilt to better than original condition.
To finish things off, the Triton bears Stile Italiano's signature black, gold and silvery livery which never ceases to please.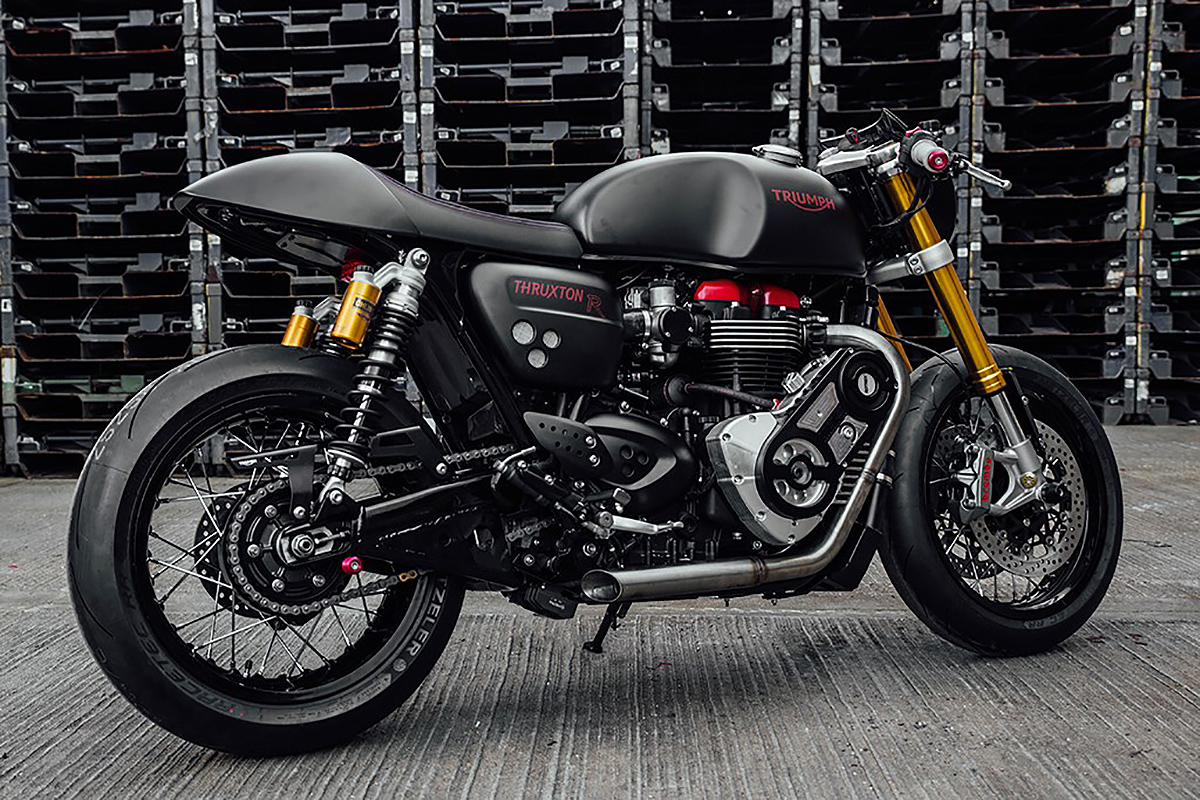 Triumph Germany Supercharged Thruxton R
There's no denying the Thruxton R is a good looking motorcycle. So when Germany's primary Triumph dealership decided to modify one for entry into the Glemseck 101 sprint races, they focused their efforts on performance improvements. That's not to say that this Thruxton R is without its aesthetic tweaks. A big part of the sprint races is about looking good and although the changes are subtle they've definitely satisfied the brief.
The aptly named Bulldog Thruxton R has a distinctly sinister air about it thanks to its heavily blacked-out appearance. Touches of blood red detailing add an aggressive edge and the classic headlight have been replaced by a hard edged Speed Triple R unit. They've also dipped into the Triumph aftermarket catalogue, adding a set of black rims and seat to complete the look.
What this build is really all about though is what sits within the bike's retro facade.
To give the Thruxton R an edge at the dragstrip, Triumph Germany bolted a whopping great big Supercharger to the 1200cc twin. This resulted in a huge 60% increase in power and a knuckle-whitening 157 Nm torque figure. To help avoid any nasty surprises a large intercooler sits below the bike's radiator and the rear swingarm is a braced MotoGP style unit. To top it all off this aggressive looking build has a bark well suited to its bite thanks to a pair of slash-cut stainless exhausts.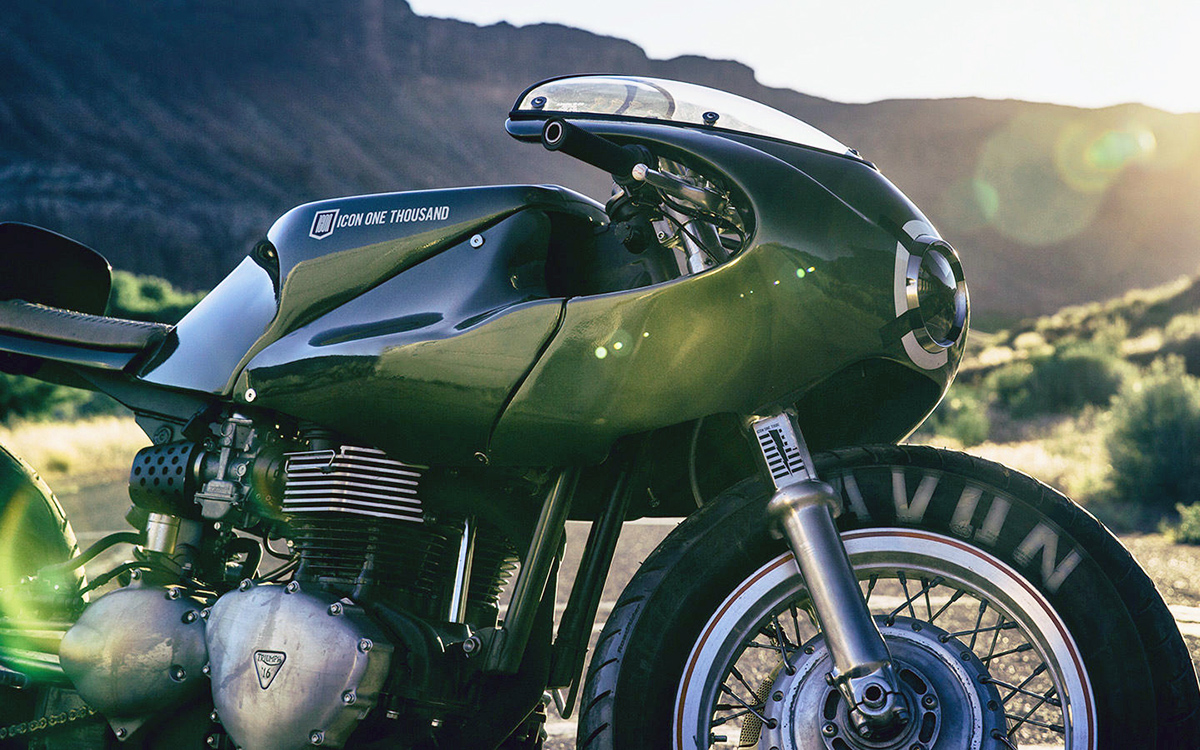 Icon 1000 Three Martini Lunch Thruxton
Portland-based riding gear manufacturer Icon makes some of the best looking motorcycle attire on the planet. It just so happens that the company founders can also build a killer custom bike. Over the years, as part of the company's Icon 1000 sub-brand, they've built an impressive collection of custom motorcycles. Usually, they fall into a post-apocalyptic style category, but their Three Martini Lunch Thruxton is a cafe racer through and through.
Unlike the other Thruxton's on this list, this cafe racer is based on an earlier model, air-cooled Hinckley Thruxton 865cc. Compared to the latest incarnation of the Thruxton, the 865 lacked the performance oomph the name deserved. To remedy this Icon kicked off their project with a few performance-focused improvements.
To hop up handling, the 2014 Thruxton now runs a selection of EBC brake upgrades. The suspension utilises parts from a Harley Davidson upfront and a single-sided swingarm in the rear affixed to a Nitron mono-shock. As for power, the big changes come from a free-flowing intake and custom exhaust system that's tucked up into the bike's tail.
What impressed us the most here though were the changes in styling. Inspired by the lines and colours of General Motors '68 Pontiac Firebird, Icon gave the bike an all-new look. The front fairing is a modified Ducati MH900E unit and the tail hails from a Yamaha FZ600. Adding to the bike's unique look is a set of 16-inch Kawasaki KZ1000 rims wrapped in bulbous Avon rubber. To top it all off Three Martini Lunch wears a bold olive green paint scheme which attributed to its cocktail inspired name.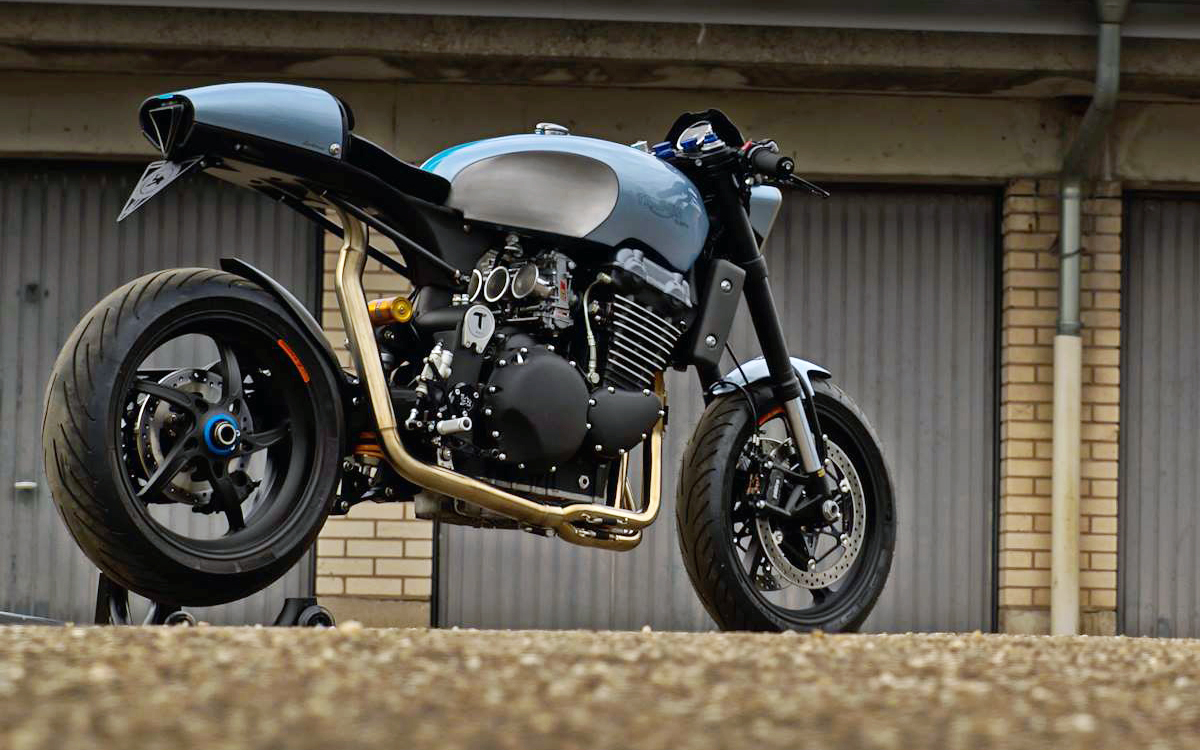 Palatina T15 Triumph Cafe Racer
Yes, despite the relative rarity of the Triumph Legend TT, we've got 2 of them on our Top 10 Triumph Cafe Racers list!
This beauty is the work of Palantina Dreambikes in Germany and was built especially for the biggest Triumph event in the world, Tridays. Similar to Mr Martini's creation, Palantina has transformed the Legend TT from cruiser to cafe racer.
Coined the T15, Palantina's Legend TT is sleek and sporty. Its styling bridges the gap between the roadster and modern classic Triumph range and would look right at home amongst their current offering.
Palantina's goal here was to create a modern cafe racer that weighed in under the 200kg mark. But getting there was no walk in the park.
T15 features a heavily modified frame, all-new suspension and wheels and completely custom bodywork. When choosing parts for the project everything went on the scales before it made the cut. Parts that made the list include a modern USD front end, lightweight OZ racing rims and a single-sided Ducati swingarm to name just a few. Even the dual gauge cluster was swapped out for a single dial to keep the weight down.
It is the use of aluminium and carbon fibre however that made the biggest difference. All of the TT's bodywork is now carbon fibre and it sits snugly over the engine and frame. The bolt-on monocoque subframe and rear cowl are carbon too as are both fenders. Best of all, while creating the new parts they introduced a Triumph emblem inspired triangular theme that sets this bike apart from anything we've seen before.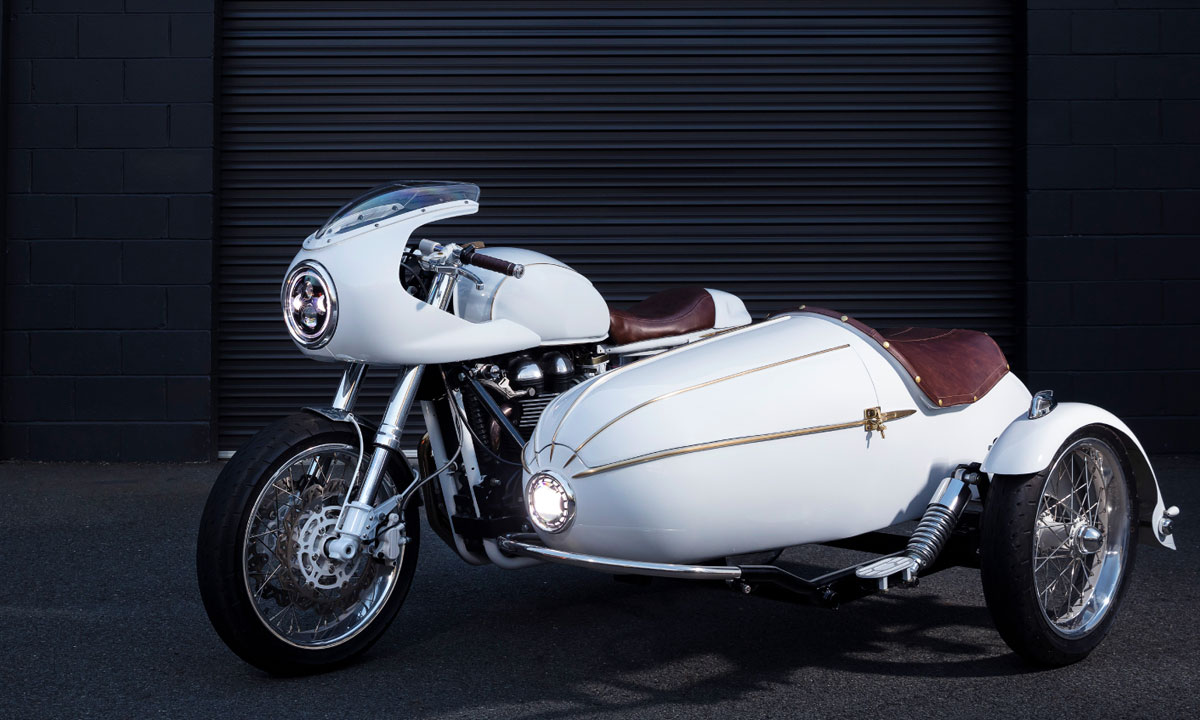 Purpose-Built Triumph Scrambler Sidecar
Before anyone starts screaming bloody murder, yes, we realise a cafe racer with a sidecar doesn't make a lot of sense. But honestly, who cares. One look at this awesome build by Tom Gilroy of Australia's Purpose Built Moto and you're sure to fall in love with it.
Built on a Triumph 865 Scrambler platform this sidecar cafe racer is a work of art. Tom built the bike for Vittoria Coffee and the Sandbar cafe in Surfers Paradise to use as a mobile promotions vehicle. The reason it wears a sidecar is for the purpose of carrying cold brew coffee products to special events.
The bike itself started out as a 2009 Scrambler which has been heavily modified. It features bespoke suspension, a new subframe, 17-inch wheels wearing the widest rubber they could squeeze into the frame and all new electrics. Tom also installed the fairing from a 2016 Thruxton, added clip-on bars and rear sets and built his own exhaust system.
As for the sidecar, it's almost entirely custom made. Shaped like a bullet, featuring an inbuilt drink cooler and its own headlight it's certainly a one of a kind. What makes it really special though is that it can be installed or removed relatively easily so getting a knee down on this Triumph cafe racer is still an option.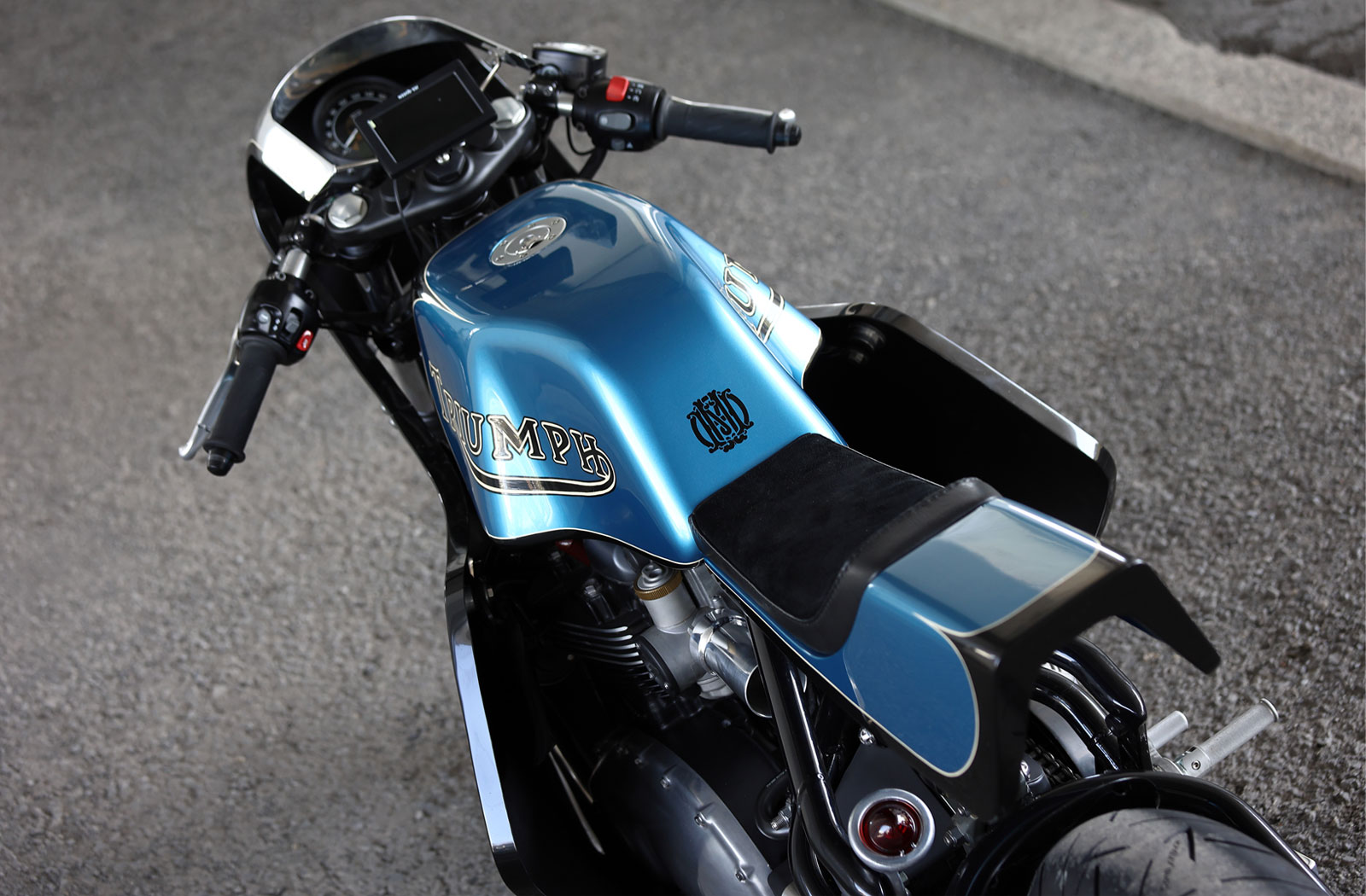 Hidemo Triumph Bobber Cafe Racer
The most recent Triumph Cafe Racer to grace the pages of this site and appear on this list is the work of Hideya Togashi of Hide Motorcycle. This cafe racer is also based on one of the newest models to be added to the Triumph Modern Classics range, a T120 Bobber.
Aside from looking amazing, Hideya-san's cafe racer impressed us due to his unusual choice of donor. The Triumph Modern Classic range features no shortage of bikes that can easily be massaged into cafe racers. But, as we've come to know over the years, Japanese builders welcome challenges, and that's exactly what Hideya-san created for himself here.
It's clear that Hideya-san is a very capable custom builder. There are very few visual cues left that link this bike back to its T120 Bobber roots. This is largely due to the addition of a sporty rear cowl and the large fairing that engulfs the front half of the Bobber. Hideya-san spent 4 months creating his Bobber cafe racer and admits it was his most challenging project to date. Never one to do things by halves, the bulk of the time went into perfecting the finish on the large front fairing and his efforts clearly paid off.
Want to see more Triumph Cafe Racers? Click here