Icon 1000 has just unveiled their newest range of riding gear and with it comes a new website and more importantly a new custom build! The latest motorcycle to join the Icon 1000 ranks has been baptized the "Three Martini Lunch". Less post-apocalyptic in its design than the previous Icon 1000 bikes, I'm happy to say that the 3ML leans more towards the cafe racer aesthetic we love so much; and what better base could they select for such a build than a British born and bred Triumph Thruxton.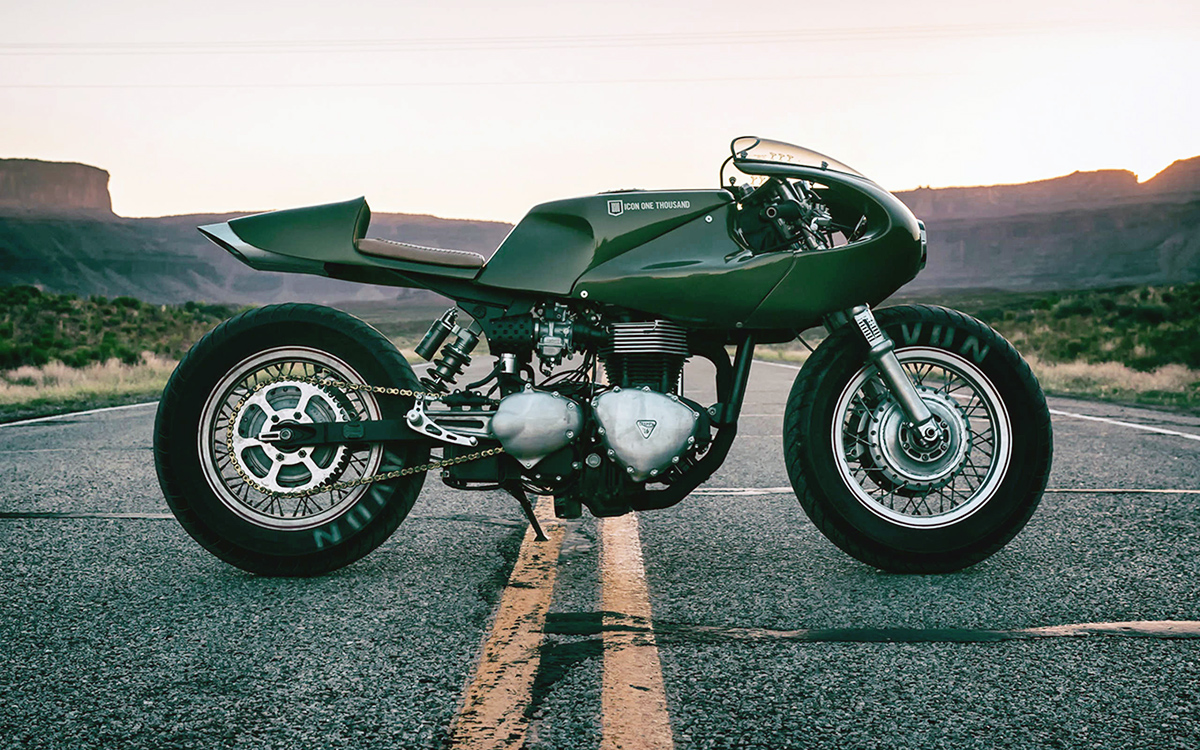 There's no hiding the fact that I've been a big fan of the Icon 1000 bikes since they first started appearing a few years back. While their styling may not be everyone else's cup of tea, for me they are a breath of fresh air. Taking a side step away from normality, each of their bikes appears somewhat rough and ready, but there's nothing slapdash about them. Make no mistake these are bikes designed to be ridden, and ridden hard (If you've seen any of the videos you'll know exactly what I'm talking about) and the 3ML is no exception.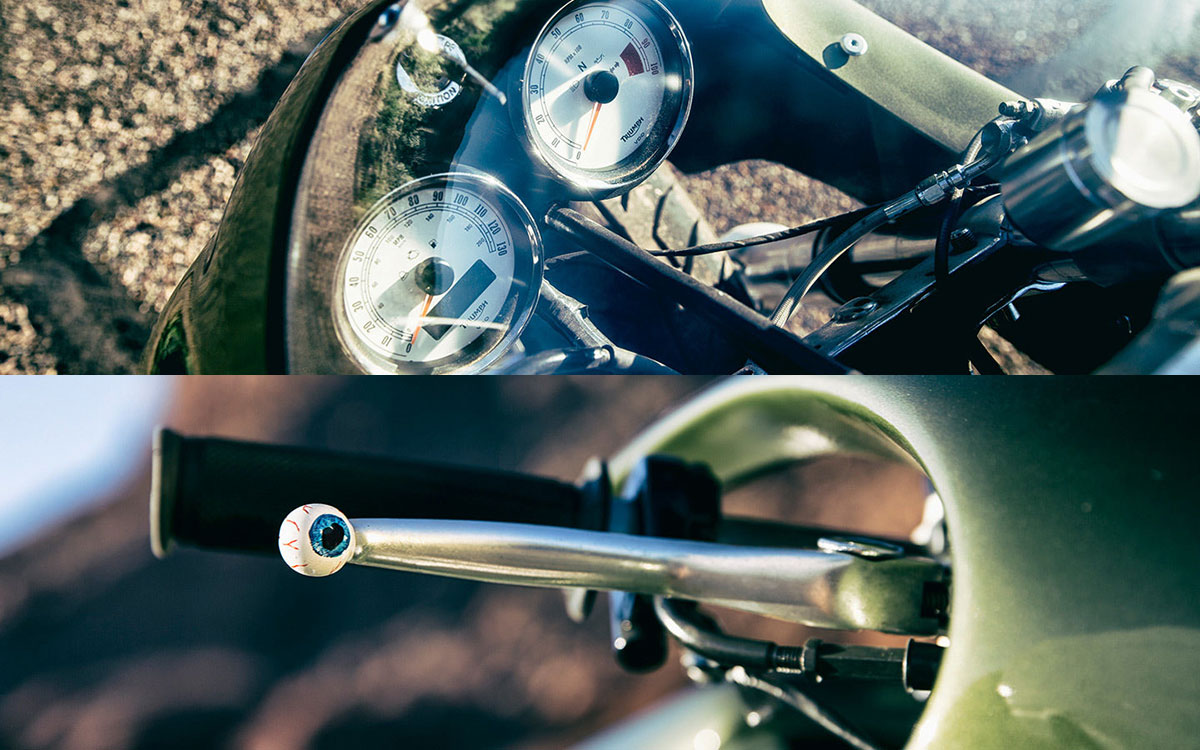 Straight away some things become pretty clear as you paw over the photos of the 3ML Thruxton. For starters that bodywork is by no means of Triumph breeding. Up front is a half fairing that bears a striking resemblance to that of Ducati's iconic MH900e. Mounted low on the frame the fairing blends back into the tank for an ergonomic and streamlined finish. The tank itself is also a non-genuine part that appears more retro sports bike than modern classic. Then all the way at the back end you'll find a completely custom rear cowl into which the bikes twin mufflers are mounted.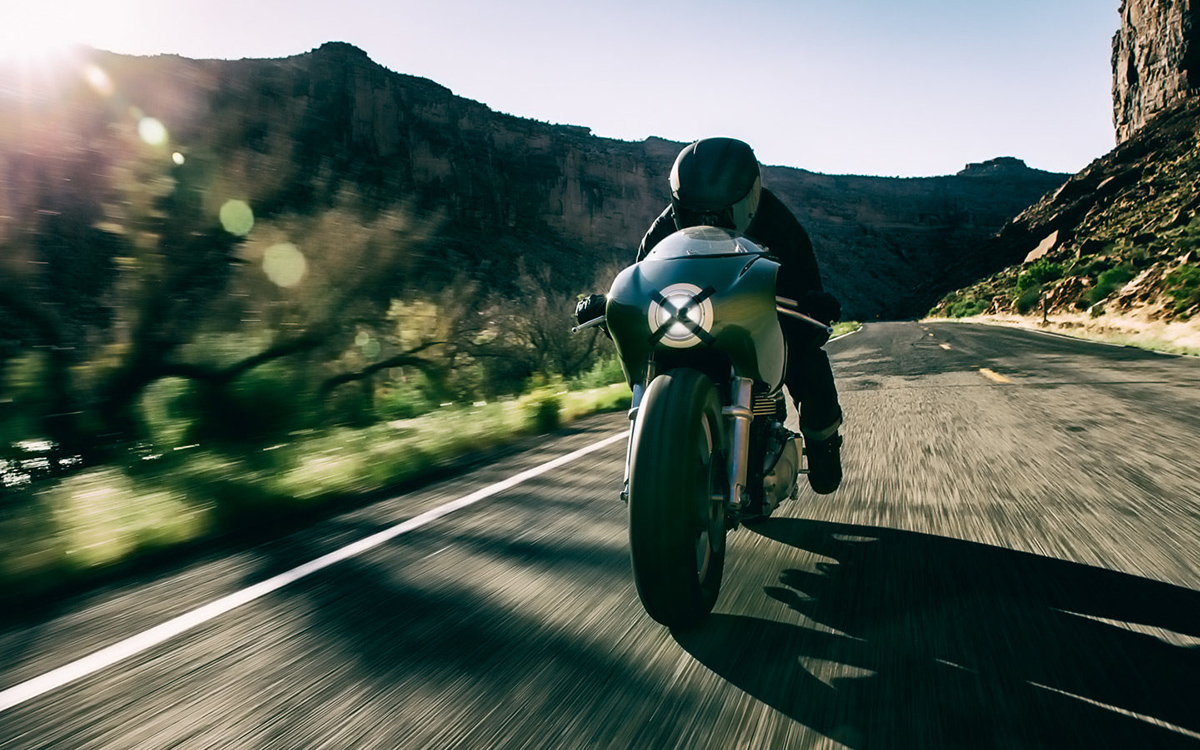 Glancing down from the tail you'll also note some significant changes to the bike's frame. A completely revised rear subframe hovers the tail end above the rear wheel, which is now held in place by a retrofit monoshock swingarm. For suspension Icon looked to their friends at Nitron for a suitable shock while upfront they chose to replace the Triumph forks with a beefier set of Harley items. The fork and swingarm swap allowed from the fitment of matching diameter KZ1000 wheels which wear extra tall and swollen Avon rubber.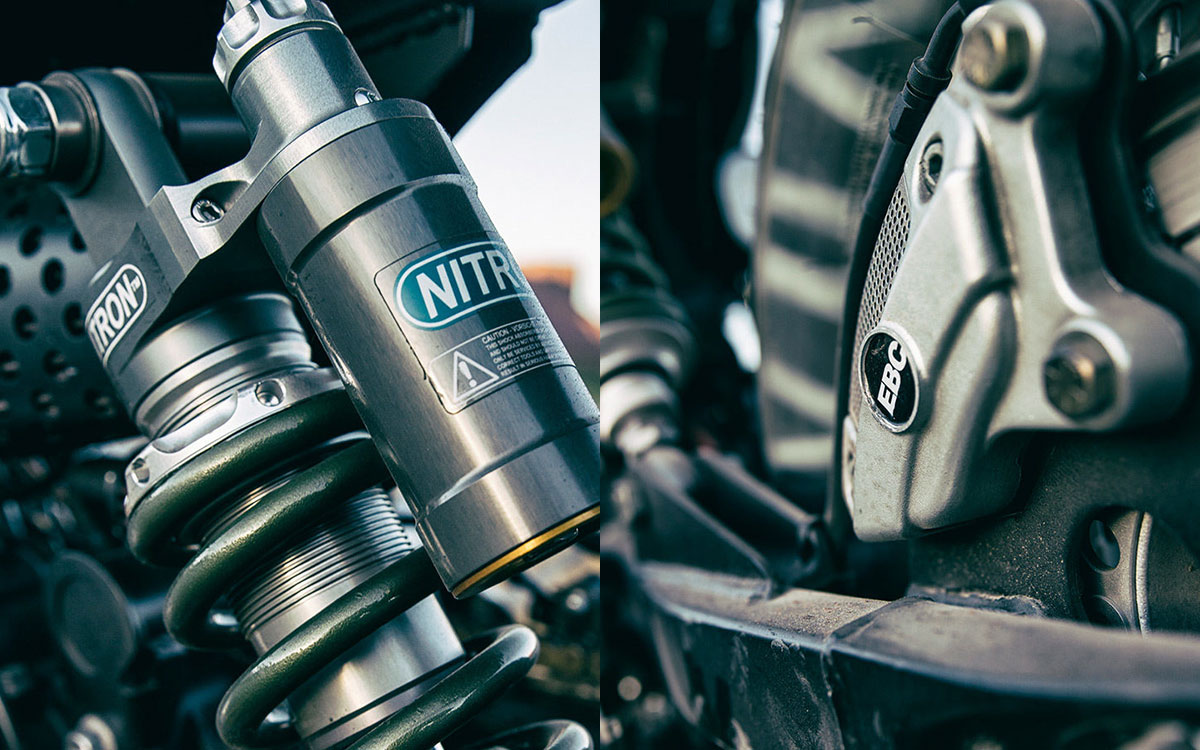 With the changes to the rear of the frame, the Thruxton's airbox is no more, replaced by pod filters that live beneath cross-drilled covers. The complete removal of the lower cradle of the frame makes the engine perform as a stressed member. To take advantage of the open space this set-up has created the Icon team created a 2-into-1-into-2 exhaust system that runs beneath the engines bottom end before making its way up into the tail. You only have to watch twelve seconds of the video below to know that they've done a great job getting their Thruxton to sound right.
"We were on a high-speed burn out of the wretched SoCal gridlock, headed east in a heap of trouble. An olive-coloured missile pitted against the red-tinged rock of southwest Utah. We had come looking for nothing. About 3 days in, we found it."
Beneath the plexiglass screen of the fairing, you'll find the original, white-faced Triumph gauges, that do a solid job of looking great without any modification. Aftermarket clip-on bars offer the rider direct control of the HD front end while custom mounted footpegs position their feet far out of reach of the road's surface. The 3ML riding position is designed for the express purpose of riding fast, which is exactly what the Icon team will be using it for.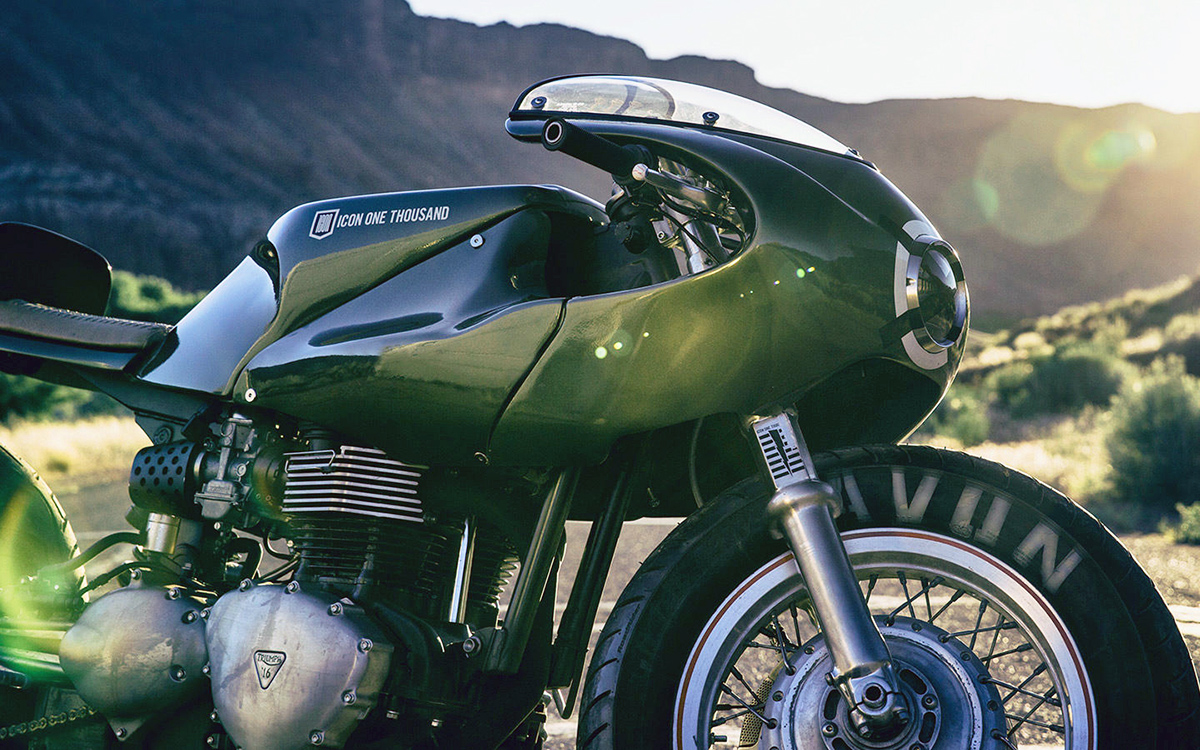 When it came to choosing a colour for the 'Three Martini Lunch' you might think that Icon simply went with a classic British racing green, but this is in fact Pontiac GTO Verdoro green, a personal favourite of the builders. As with every Icon 1000 steed the bike features its fair share of Icon livery and tongue in cheek graphics.
If the Three Martini Lunch represents a new direction in style for these Icon 1000 builds you can bet you'll be seeing more of them appearing on these pages.