The Japanese custom automotive scene is bursting with unbound creativity and world-class craftsmanship. So for a photographer whose passion lies in custom automotive its a bucket list destination. This feature comes to us directly from Japan thanks to two such photographers. Christine Gabler and Marc Holstein travelled to the land of the rising sun to immerse themselves in the local motorcycle scene. They plan to release the images they captured in a photo book later this year. To whet our appetite for the upcoming release Marc has shared one of his experiences from the trip, a visit to Berry Bads Motorcycles where he discovered this stunning Triton cafe racer.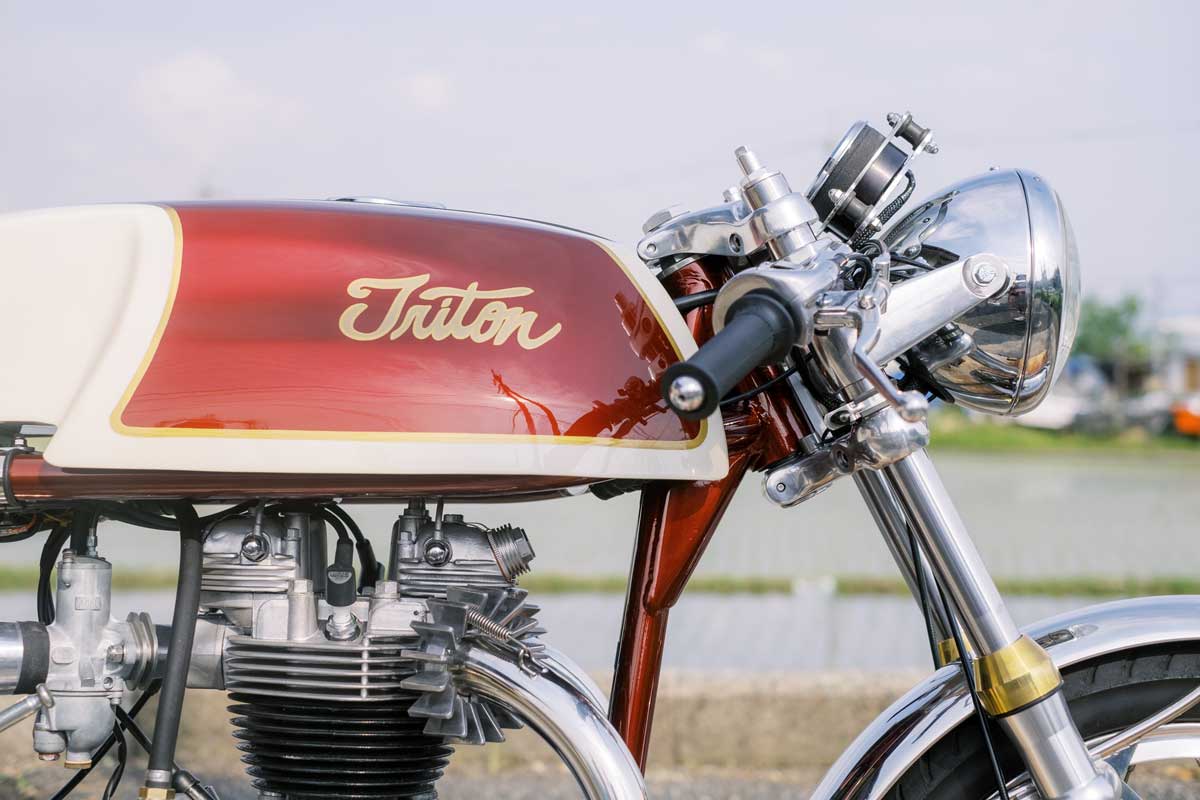 "I travelled to Japan together with my partner Christine Gabler to re-experience the country that we fell in love with. The plan was to do a photo book about Japanese Custom culture. We visited several workshops in Tokyo, Shiga (Kyoto) and Amakusa. The workshops we visited included Animal Boat, Cherry's Company, Bratstyle, Cheetah 4d studio and, of course, Berry Bad Motorcycles." – Marc Holstein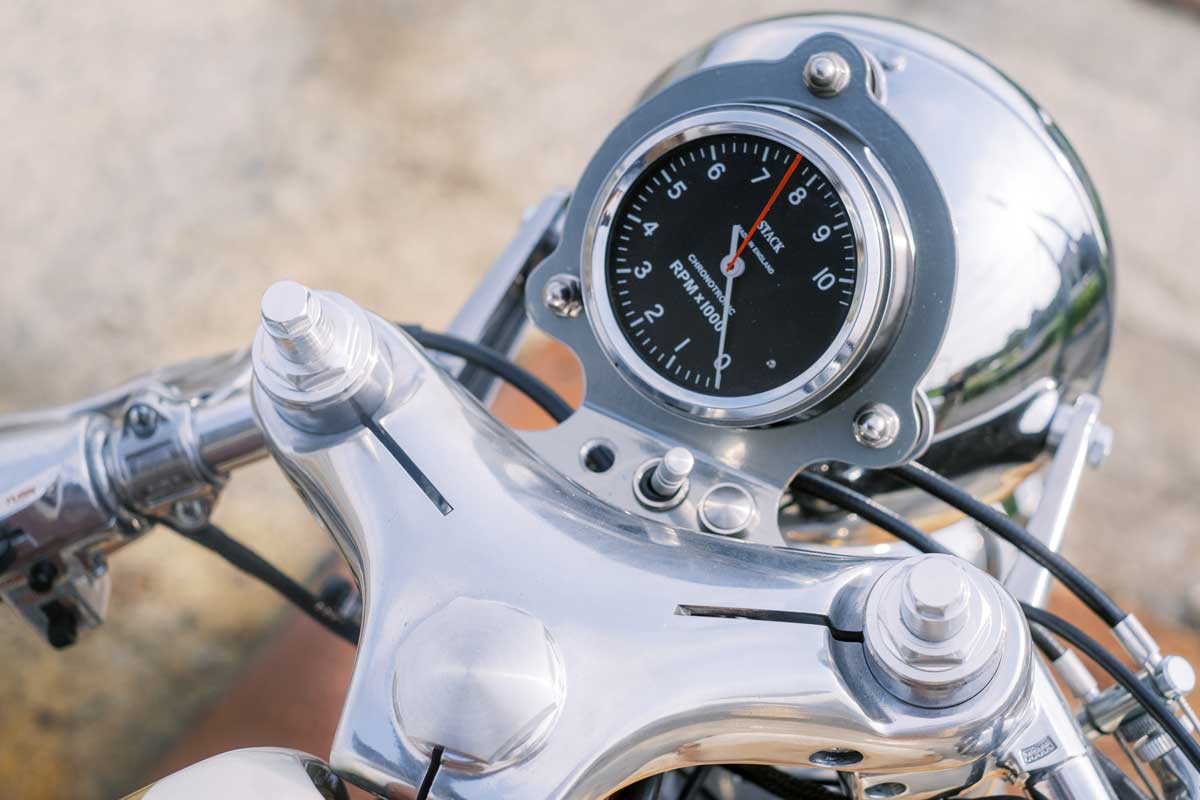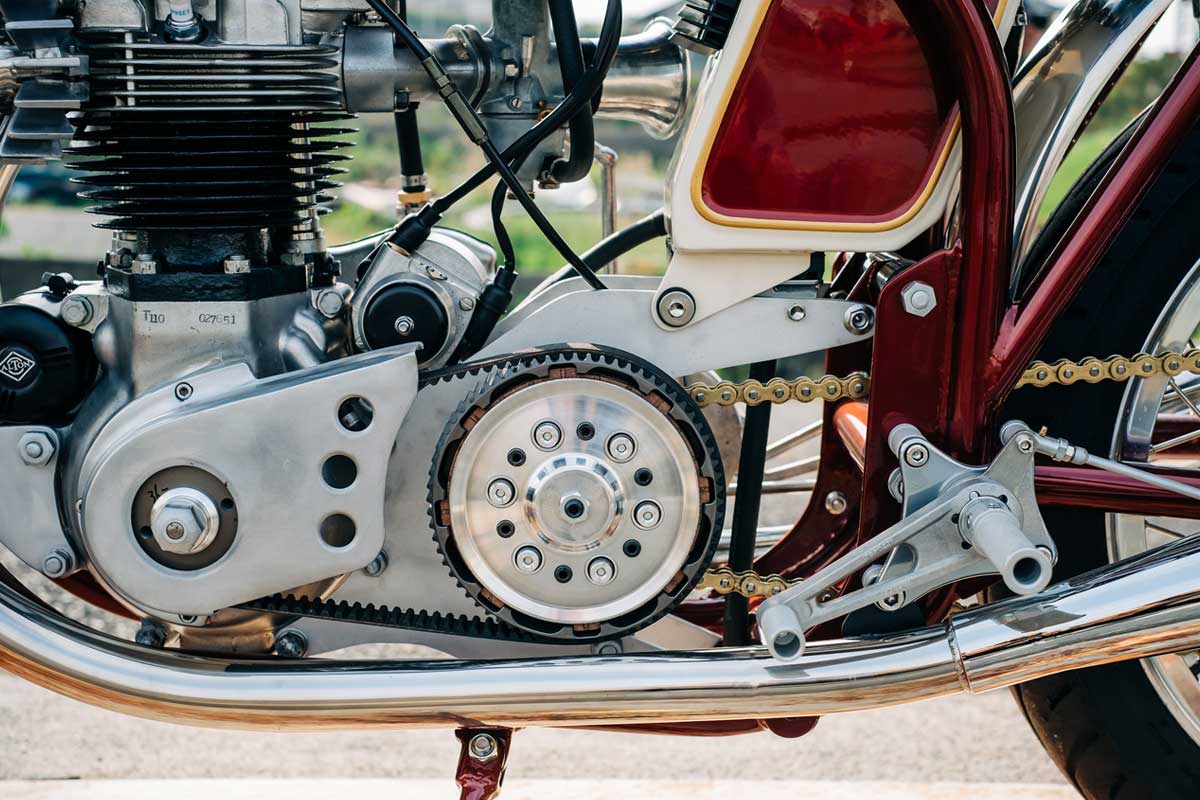 The man behind this custom build is Kyohey Sugimoto, owner of Berry Bads Motorcycles. The story of how he started his workshop is a modest one of a man who couldn't afford to have his motorcycle serviced. To keep his bike on the road Sugimoto-san performed repairs himself which ultimately lead to the formation of his Berry Bads motorcycle workshop. Looking at his latest project, this stunning Triton cafe racer, it's clear that this self-taught builder has worked hard to perfect his skills.
The Triton is an icon of the 1950s cafe racer scene. Like many cafe racers of its time, it was a hybrid created by merging Triumph and Norton components together to form a new, better-performing motorcycle. This Triton build came to Sugimoto-san as an incomplete customer project. The donor featured a Triumph T110 engine mounted into a slimline Norton featherbed frame and took around 6 months to complete.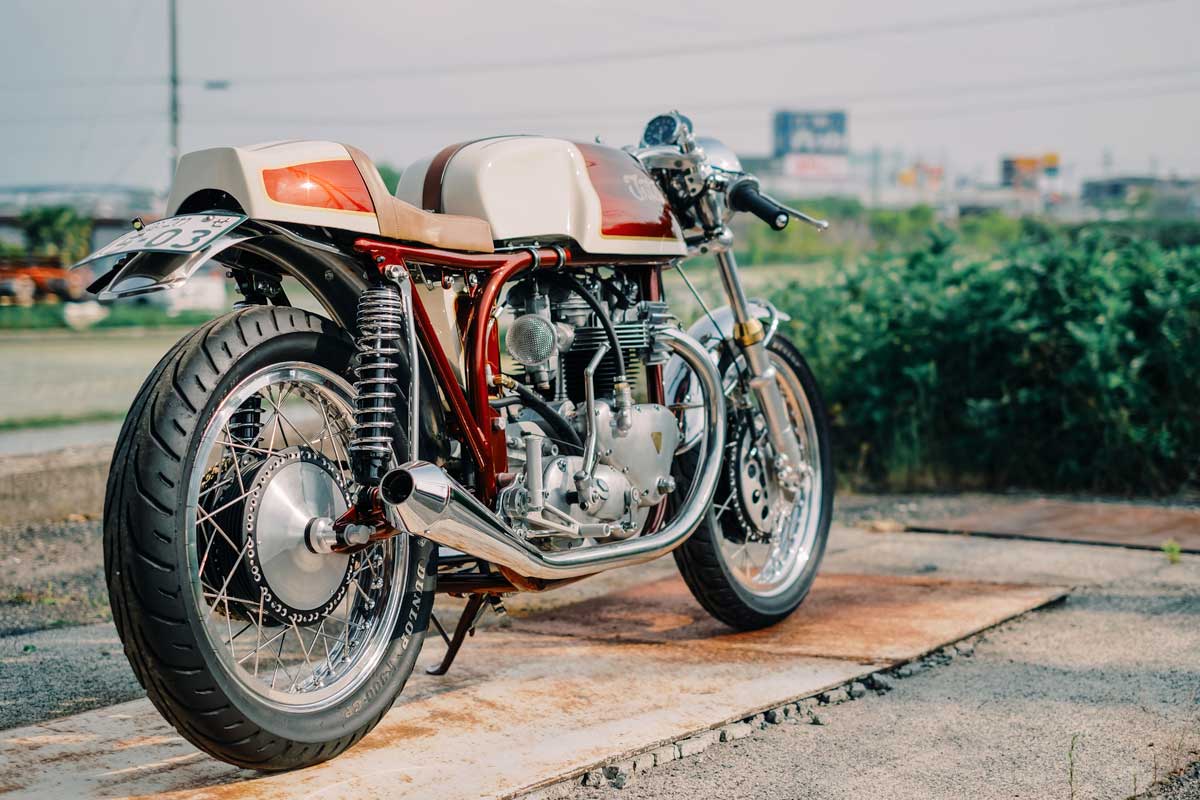 The concept was to create a Triton that was influenced by Italian motorcycles of the same era. A simple, clean machine with a timeless style and plenty of appeal. During the build, Sugimoto-san mated predominantly refurbished or reproduction vintage parts to the Triton for a period correct approach. The list includes a set of reproduction Ceriani GP type forks that make up the bike's front end. The wheels are a combination of shouldered Borrani rims, Dunlop GP rubber and reproduction Robinson drum brake hubs. The Tritons' clip-on handlebars wear Tomaselli grips and the rear sets are by Tarozzi.
As for lighting, this is where you'll find the bikes least period correct parts. The headlight fits the bill being a reproduction Lucas item, but the indicators are tiny Kuryakyn Kellerman Atto LED units. The ones used in the rear are dual function so there was no need for a traditional brake light assembly. This kept his Triton looking like a classic racer while ensuring it's properly equipped for road riding.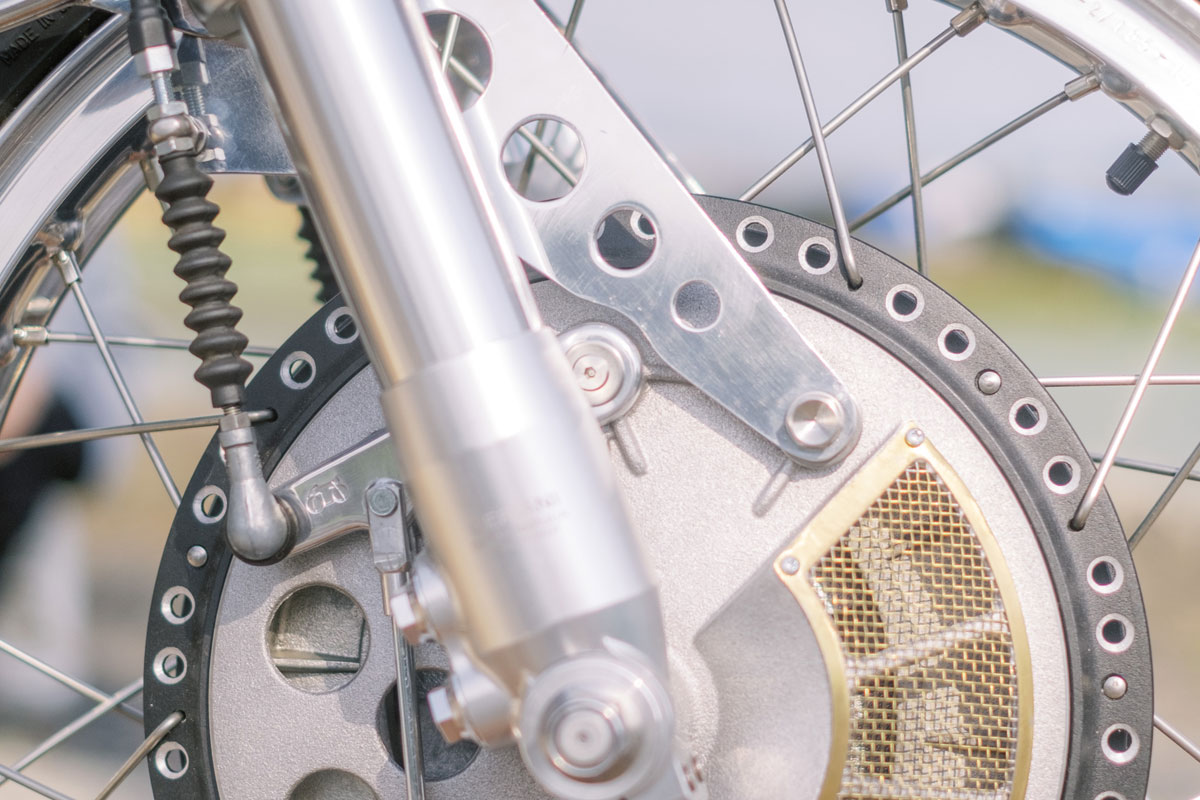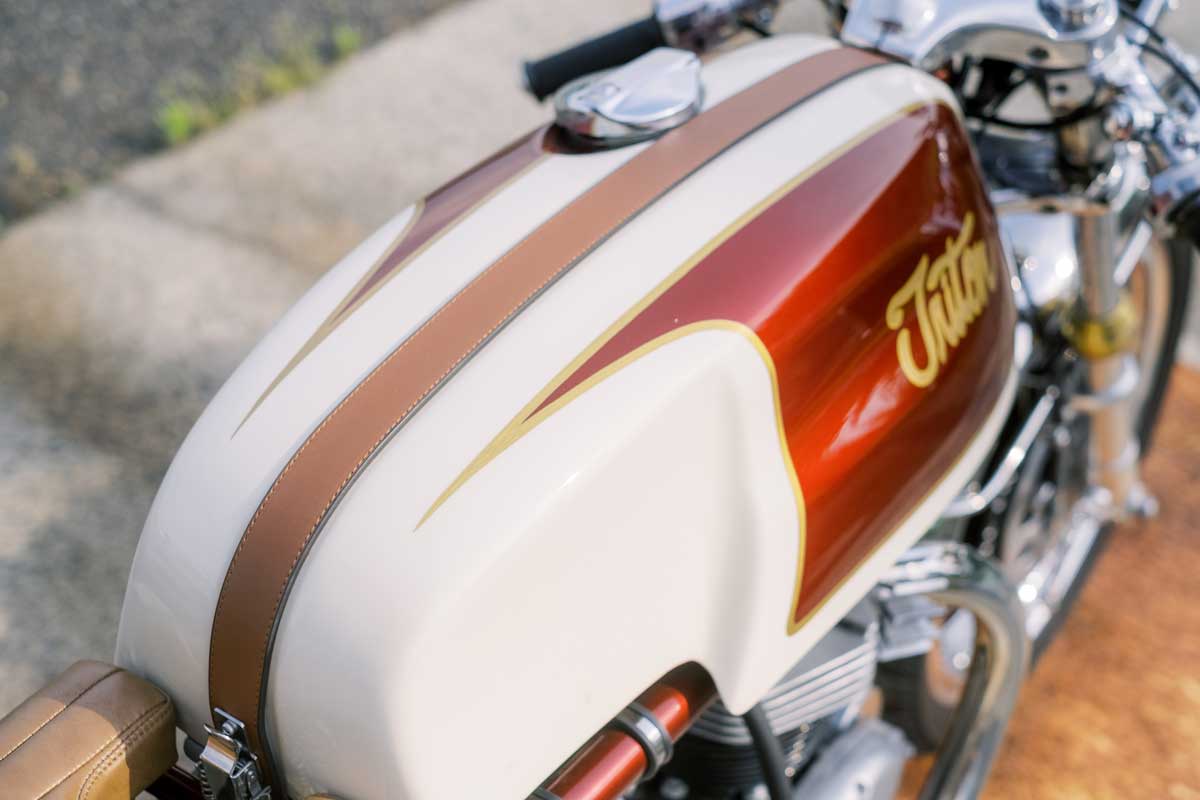 With any build of this kind, there's a long list of handmade parts that couldn't be bought off the shelf. Sugimoto-san has fabricated his own oil tank, exhaust system and the open primary cover as well as a long list of mounting brackets and adapters. As for engine work the T110 received more than a few tweaks during its extensive rebuild. The parallel-twin now wears a Bob Newby Racing belt drive conversion, improved oil feed system, Alton generator and a BTH Components Lucas replica Magneto. Rather than outright performance, these mods will ensure that this Triton runs reliably and hassle-free for years to come.
As for the most difficult part of the build, Sugimoto-san reveals it was dealing with one of his customer's requests. "He wanted to use a Hermes orange colour, but Berry Bad refused it! Triton and Hermes make a bad couple!" and we couldn't agree with him more. Finished in a candy red, gold and cream scheme it's clear that this Triton was built by someone whose opinion it pays to trust.
Photography by Christine Gabler and Marc Holstein