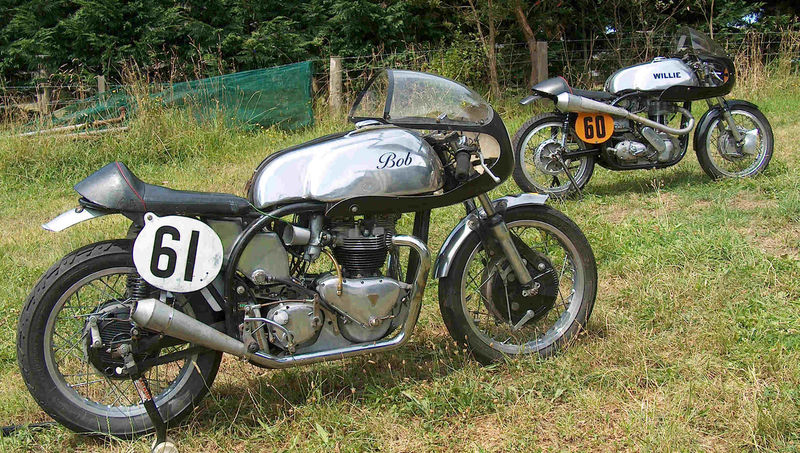 Got a spare $45,000 (or more) and the desire to own two race bred Tritons? I just stumbled across this awesome auction on eBay to bid on Willie and Bob, a 500cc Norton ES2 and a Triton 808cc each built around a genuine 1962 Norton Manx featherbed frame. The owner is based in Red Hill, Victoria, Australia and had this to say about the bikes…
For Sale 2 Historic Racing Motorcycles..Invest in Part of Australian Motorcycling History..! (Way more fun than money in the bank..!)  if you are already  involved in Historic Racing, or would like to go Historic Racing, and start at the pointy end here's your chance ..!!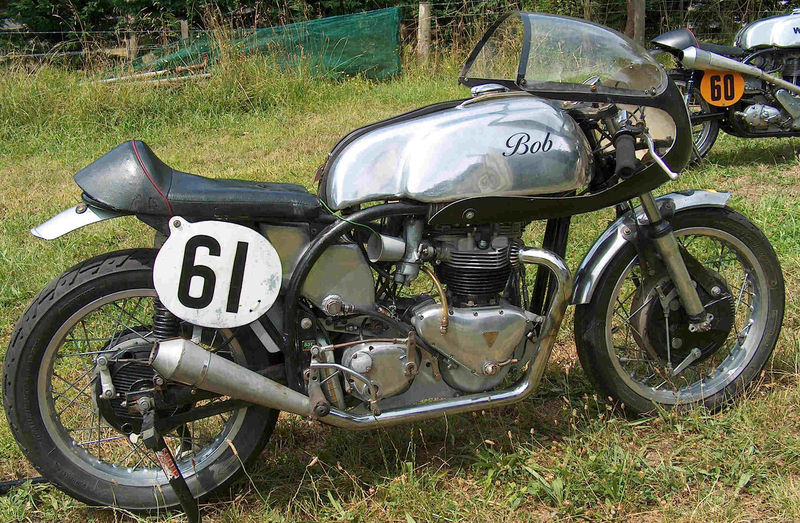 Triton 808cc ..Period 3. unlimited race bike. Genuine 1962 Manx frame & swing arm, Road Holder forks, Koni Shocks, Grimeca Wheels front has a 9″ 4 leading shoe front brake, Rear brake  7″ single leading shoe both  wheels are18″ with wm3 Alloy Rims, 5 Gallon Alloy Fuel tank, Large Capacity Alloy oil tank.Reinforced Crank Cases, Norton 89mm Stroke Crank, Steel Flywheel, Special Conrods, Routt 76mm Bore Barrells, MAP Forged Pistons, Ported 9 stud Bonneville Head.. Large Diameter Valves, Special  grind Cams, BTH Magneto, 34mm MK1 Amals (on Methonol ) Norton Manx 4 speed Gearbox and clutch, M.A Certified Log Book .. All Ready to go Fast…!!!
Norton ES2.. Period 3. 500cc Race Bike.. Genuine 1962 Manx Norton Frame and swing arm, Road Holder Forks, Koni Shocks, Norton Wheels front 8″ 2 leading shoe. Rear 7″ single leading shoe 18″ WM3 Alloy Rims 5 Gallon Fuel Tank Large Capacity  Alloy oil tank,  early crankcases.(stronger) Farrell flywheels, Carillo Conrod, Jawa Crankpin, Venolia High Comp piston, Special Cams, Re Angled inlet port, 7mm stem Large Valves, 36 mm MK11 Amal (on Methanol) SR1 Magneto, Triumph 5 speed Gearbox,with Triumph Clutch, comes with  M.A. Certified Log Book..All Ready to Go Fast..!!
A base model Manx starts at $35.000 this beats em no problems..!!
These Are Part of Australian Classic Racing History..!! with many years of, development, tuning,etc built with  some of the rarest and best parts, by Classic Thunder Motors. for Bob Mc Donough