As the world struggles to regain some form of normality after the pandemic – we're beginning to see the return of the custom motorcycle show. Unfortunately, due to legal restrictions and the associated risks of large gatherings, hosting a public event involves a bit of lateral thinking. Over in Hiroshima, Japan, Kengo Kimura of Heiwa MC found the solution at a local shopping mall.
By limiting the number of bikes in his 'Custom World Japan' show to a mere 12 and hosting it in an open, public space, he managed to satisfy the authorities requirements. His approach wasn't just about adhering to the rules though. By hosting the event in the Pacela Shopping Mall for over a month, it gained exposure to a broader audience that regular bike events wouldn't attract.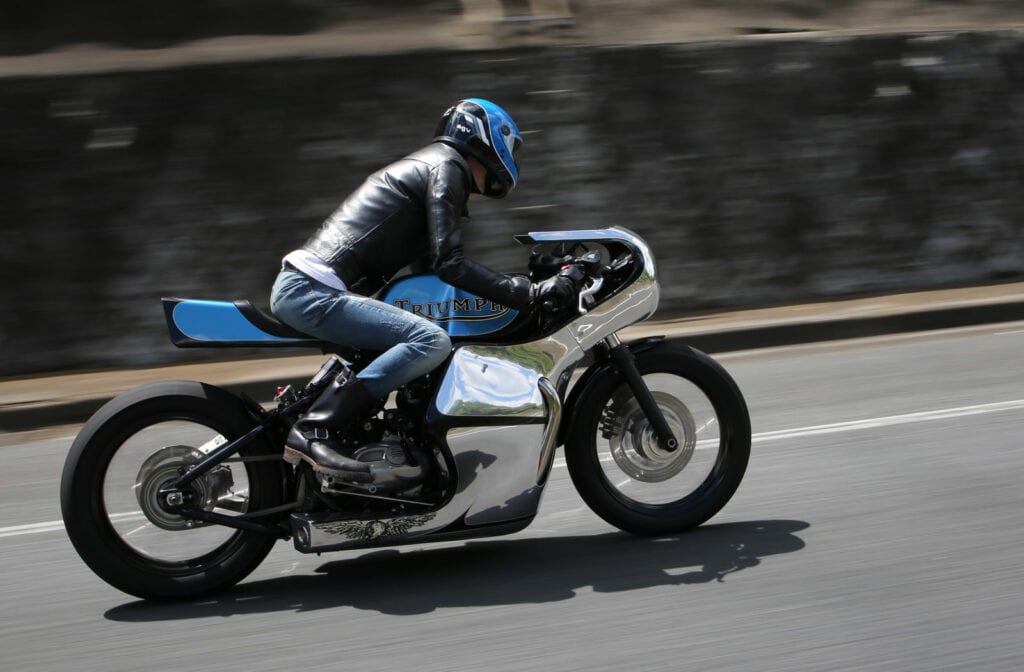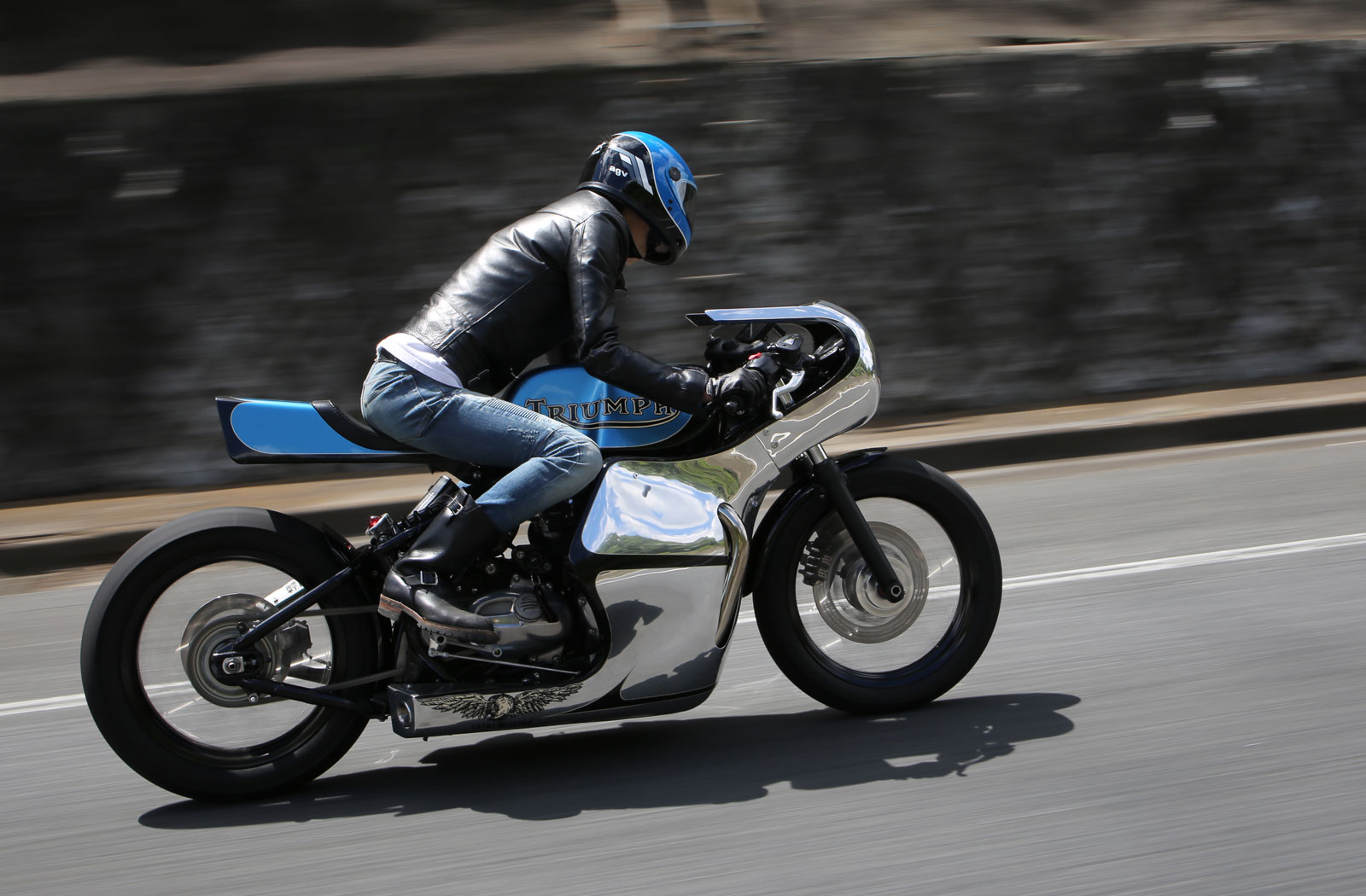 To ensure his event would leave a lasting impression on passersby Kengo-san invited the best of the best Japanese builders to display their work. Amongst them was Hideya 'Hide' Togashi, the man behind Hide Motorcycles (aka Hidemo) which is located in Kawasaki, Tokyo.
Hideya-san's entry into the event was a strikingly good looking Triumph cafe racer named 'Lake Placid Blue'. Although a Triumph cafe racer may not sound like an innovative approach, it was his choice of donor that really has us impressed.
Hideya-san opened his Hidemo workshop in 2001 and quickly earned a reputation for building custom Harley Davidsons. Since then his creations have earned him numerous accolades including a long list of Yokohama Hot Rod Custom Show awards and a top 10 placement in the European AMD World Championships of bike building. These days though he's open to working on pretty much any platform he's presented with.
"Going beyond the boundaries of Harley customization, we do not hesitate to incorporate designs from other genres to create products that are not bound by the traditional Harley image," he says -which rings true with his Lake Placid Blue cafe racer. And that's because hidden beneath its retro-styled bodywork is a 2017 Triumph Bonneville Bobber.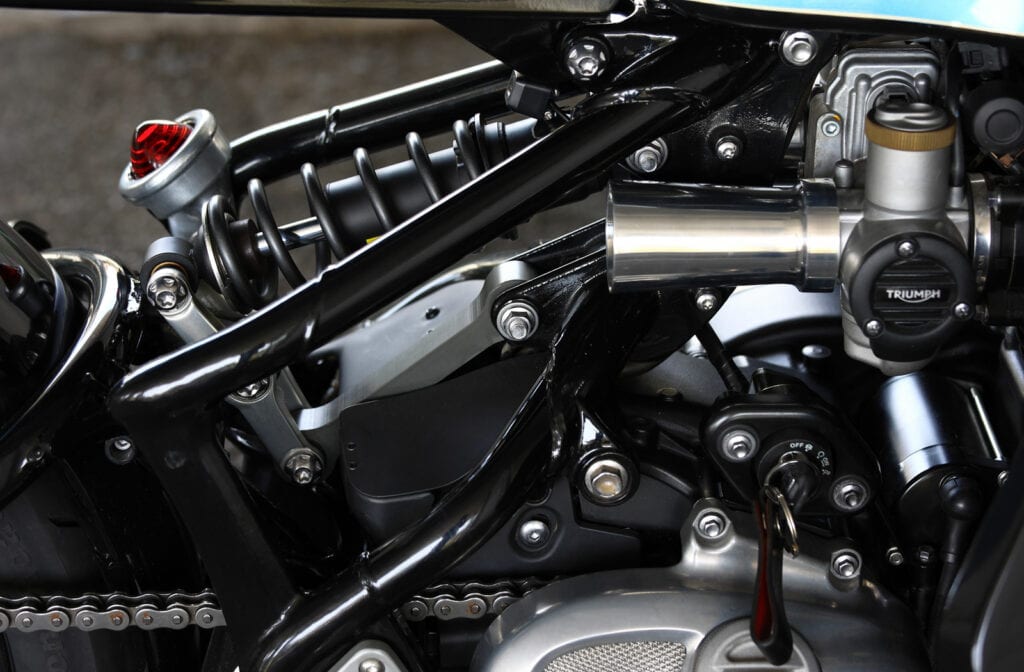 "The owner requested an 'aluminium full cowl cafe style'," says Hideya-san. "The rest of the design was left to us, so we were free to create it as we pleased. I took on the challenge of creating a classic cafe style based on a current rigid frame model with a mono suspension."
Amongst other things, Hideya-san's skill set includes hand shaping metal and his ability to do so is epitomised here. Taking around 4 months to complete this Triumph Bobber cafe racer has been one of his most challenging builds to date.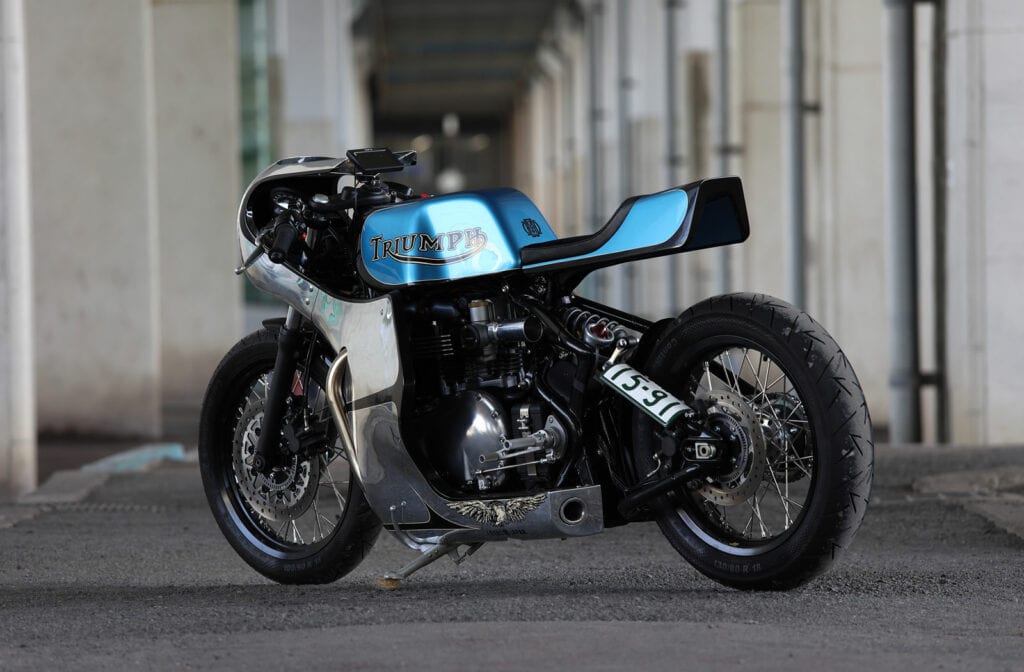 "Due to the large size of the aluminium full cowl, it was really difficult to eliminate the dents and distortions," he recalls. "I made small adjustments every day with no major visible changes. As a result, I spent almost half of the customization period on it."
The Bobbers new bodywork is an entirely hand-formed work of art. Perched parallel to the pavement is a Dunstall inspired tank and tail combo that's perfectly suited to the bikes cafe racer theme. A custom subframe supports the weight of the tail and due to the Bobbers mono-shock set up, it hovers over the rear wheel similar to a modern sports bike.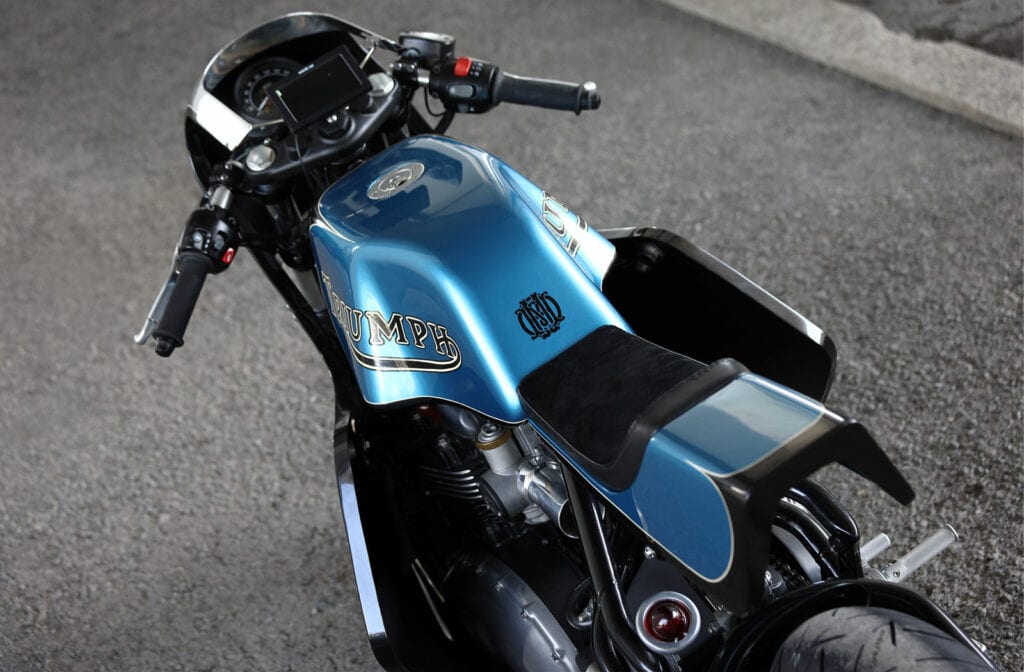 Encompassing the entire front end is a bare alloy fairing. The 3 piece design stretches rearward, flaring out like the neck of a cobra to surround the bikes 1200cc parallel twin. Openings in the side allow the exhaust headers to protrude to assist with cooling and an opening in the front feeds the radiator air. The cowl then drops down beneath the Triumph Bobbers belly where it forms a set of unique custom mufflers.
Such a radical change in geometry necessitated a complete overhaul of the bikes riding position. The new seat, upholstered by Atelier Cherry, only has space for one and a set of Tarozzi controls have mounted to the rear of the frame. Sitting on the forks are clip-on handlebars wearing OEM accessories with the exception of Motogadget bar-end turn signals.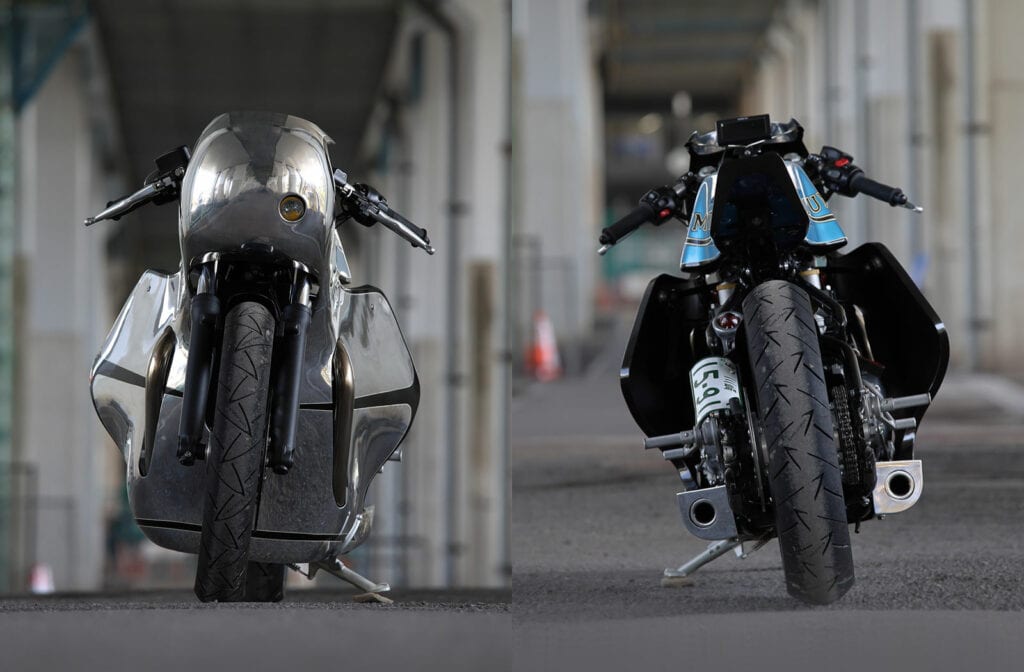 To clean up the bike's rear end Hideya-san has done away with the fender and bulky license plate setup. The plate now sits on the swingarm where it is accompanied by a custom made brake light.
In keeping with the bikes sportier aesthetic and to shed some unsprung weight, the factory 16-inch rims are gone. In their place are alloy 18-inch alternatives from EXCEL which have been wrapped in purposeful Conti Road Attack 2 CR rubber.
To realise his vision for the bike's paintwork, Hideya-san tasked paint shop Keen Edge with laying the electric blue metallic base coat. Pinstriper SKOP then hand laid the retro Triumph livery and eagle graphics.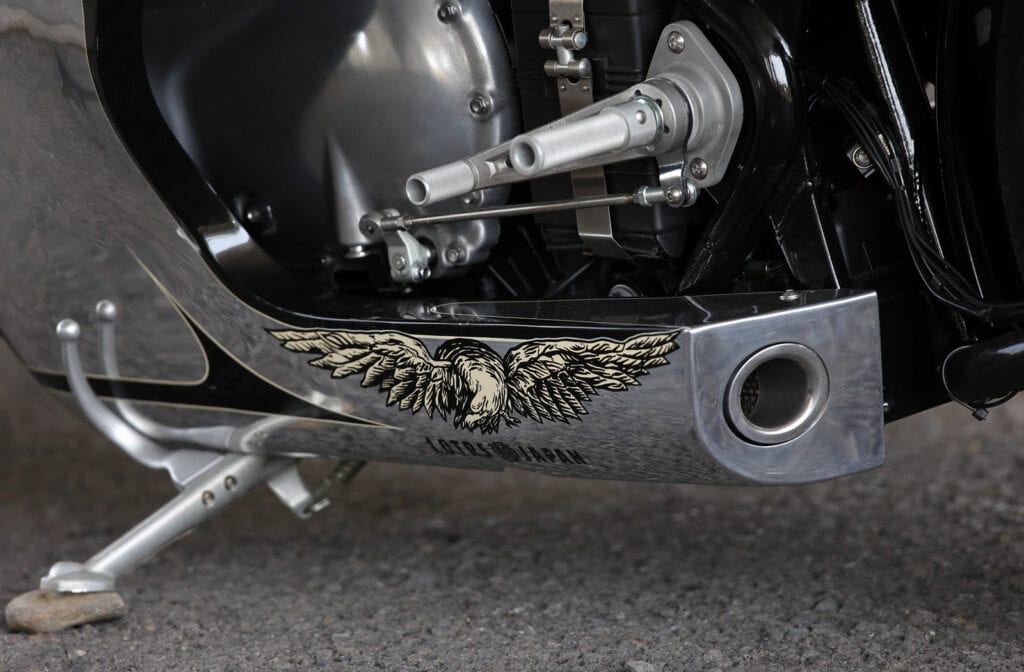 "The result is a well-balanced combination of modern and classic elements that expresses individuality and beauty in a way that a twin-shock Triumph Bonneville cannot," says Hideya-san – and we couldn't agree more.
There's no doubt Hideya-san has nailed the brief with his execution of this project. This is the first time we've seen a Bonneville Bobber transformed into a cafe racer and we wholeheartedly approve. Japan has always been a mover and shaker in the world of custom motorcycles and this build is the perfect example of why that is.
Photography by Hideya Togashi