If you're anything like us, the lack of motorcycle events this year is sure to be getting you down. Thankfully Triumph Motorcycles are offering a bit of relief from all the pandemic cancellations. The Brits have just revealed the line up for the 2020 Bonneville Build-Off. Although it's a purely digital experience, the event is a welcome distraction for those who've been unable to get their two-wheeled fix amidst the lockdowns.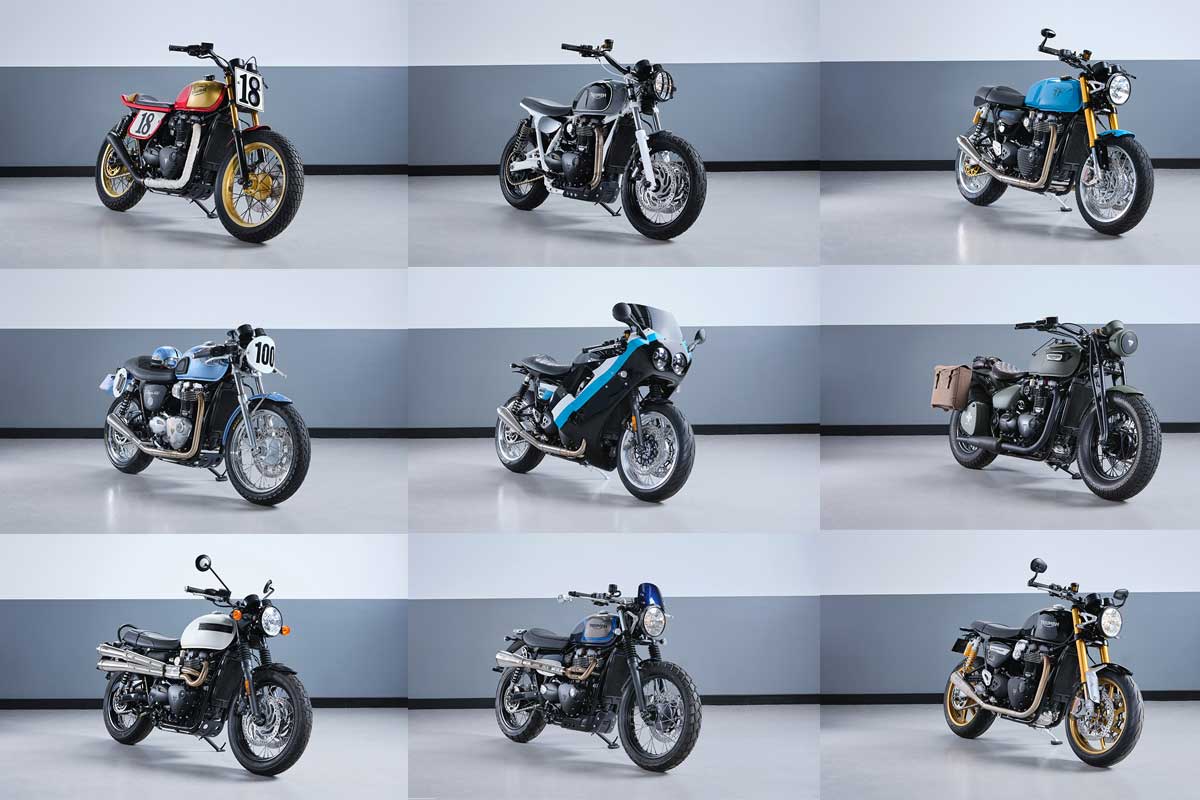 The 2020 Bonneville Build-Off invites dealers from around the UK to build a custom motorcycle based on either a new 900cc or 1200cc Triumph Bonneville. Each Triumph dealer was given an open brief and invited to use a mix of genuine Triumph accessories and custom made components. In total there are 9 custom Bonnevilles in the build-off and Triumph have invited the public to cast their vote to determine a winner. Here's a closer look at a few of the entrants that piqued our interest…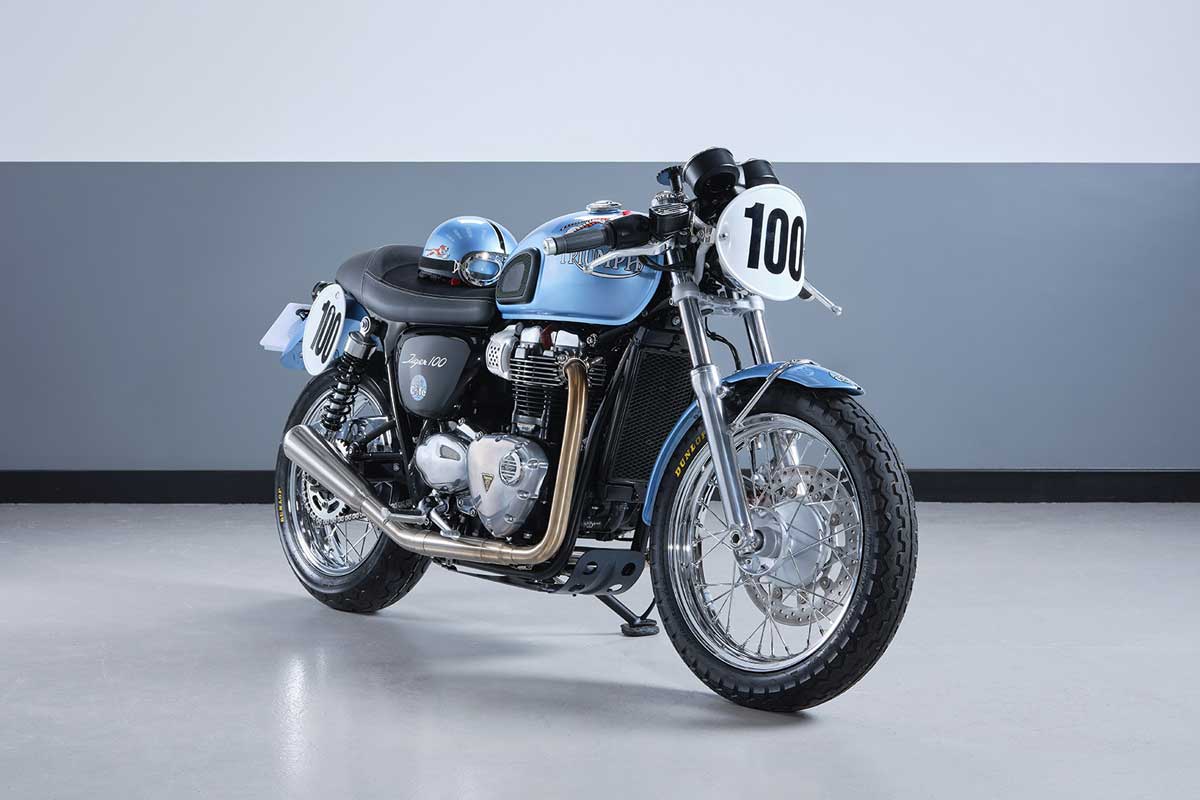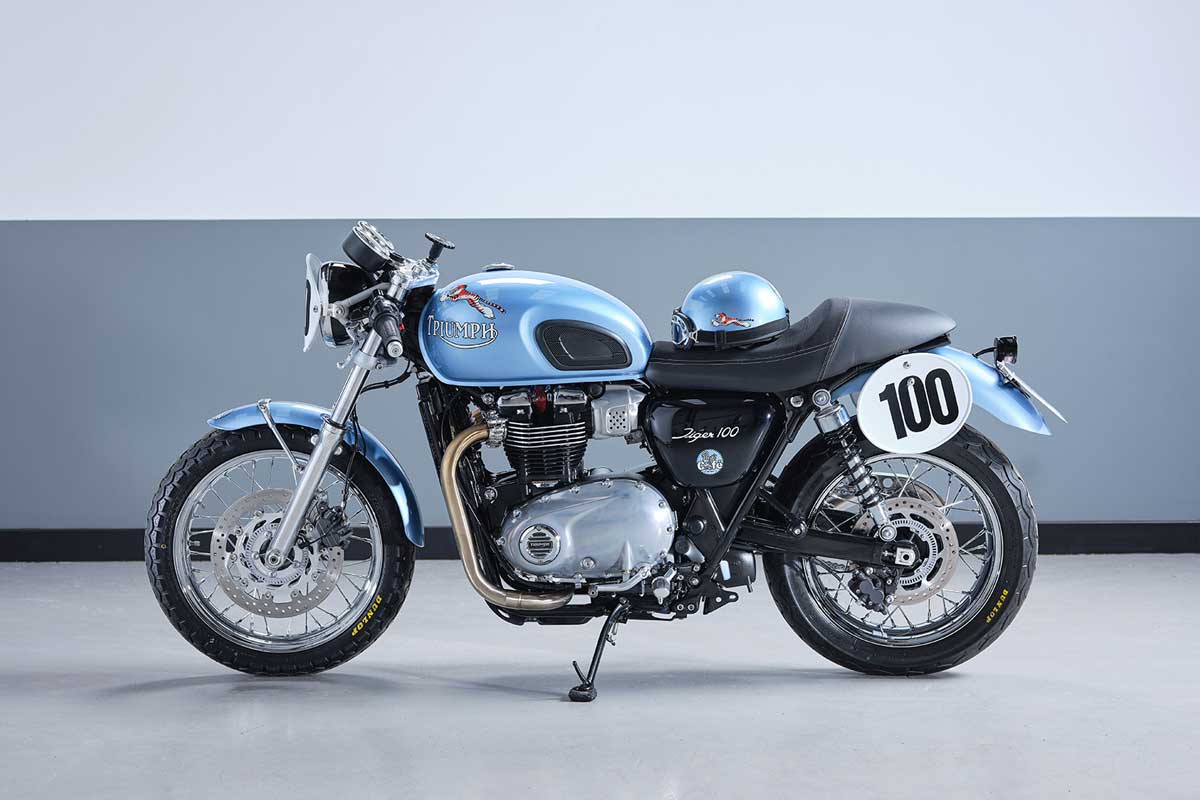 Reggie's Cafe Racer Bonneville T100
For their Bonneville Build-Off entry, Triumph Oxford created a tribute to the late father of company Dealer Principal, Andy Valentine. Andy's father Reg was a dedicated Triumph fan and long time cafe racer enthusiast. The aptly named 'Reggie's Cafe Racer' takes styling cues from post-war Triumph 100 production racers. Modifications to the Bonneville T100 donor include a host of Triumph catalogue parts such as a blacked-out sump plate, finned header flanges, drilled chrome chainguard, Triumph barrel grips and a host of engine dress-up parts. The Oxford team have also put their fabrication skills on display with a set of custom made, low slung, clip-on handlebars, a trick 2-into-1 'race-style' exhaust and a cafe racer wasp tail saddle. But on this custom Bonneville build, it's the visual details that really sing.
Oxford Triumph has finished the Bonneville using a modern take on the classic Tiger 100 blue. Modern Triumph branding has been dispensed with in favour of handpainted fifties Triumph emblems and the iconic Tiger motif. There's even a matching pudding bowl style helmet to go with the bike. Racing plates, a faux steering damper, a retro taillight and a set of Dunlop TT100 classic tread tyres complete the look.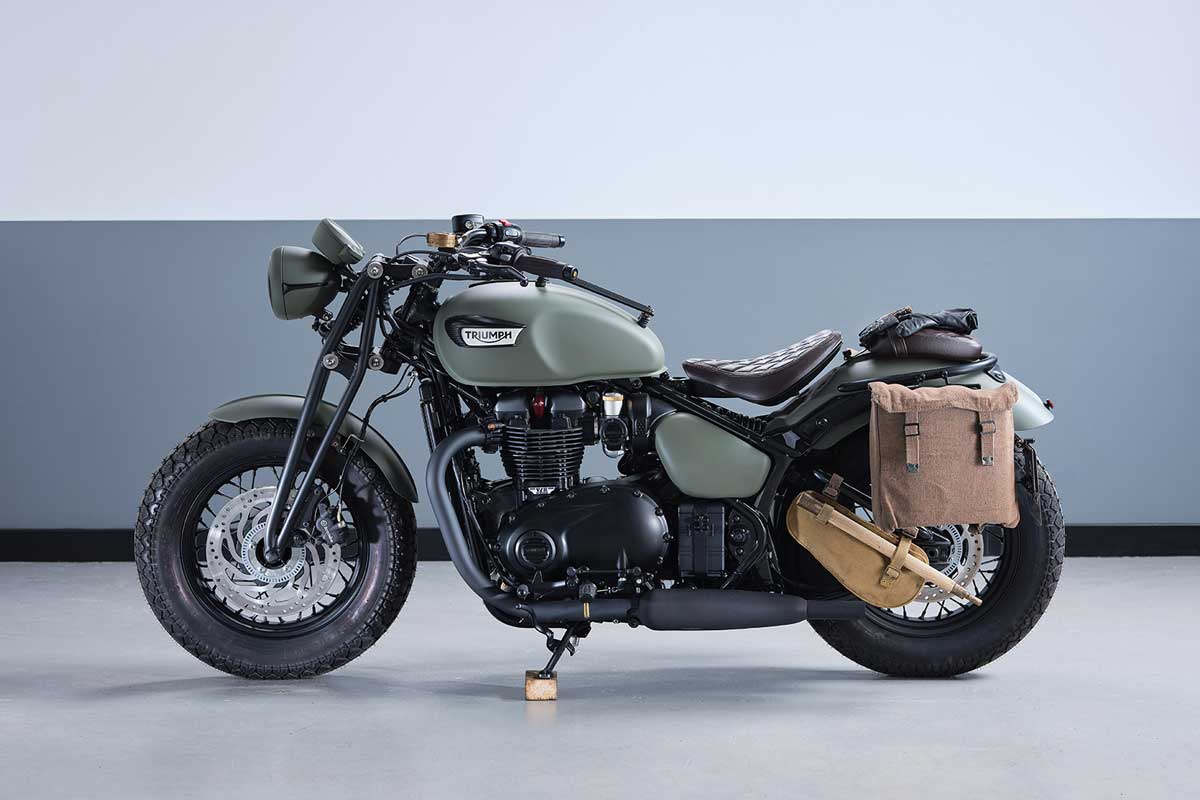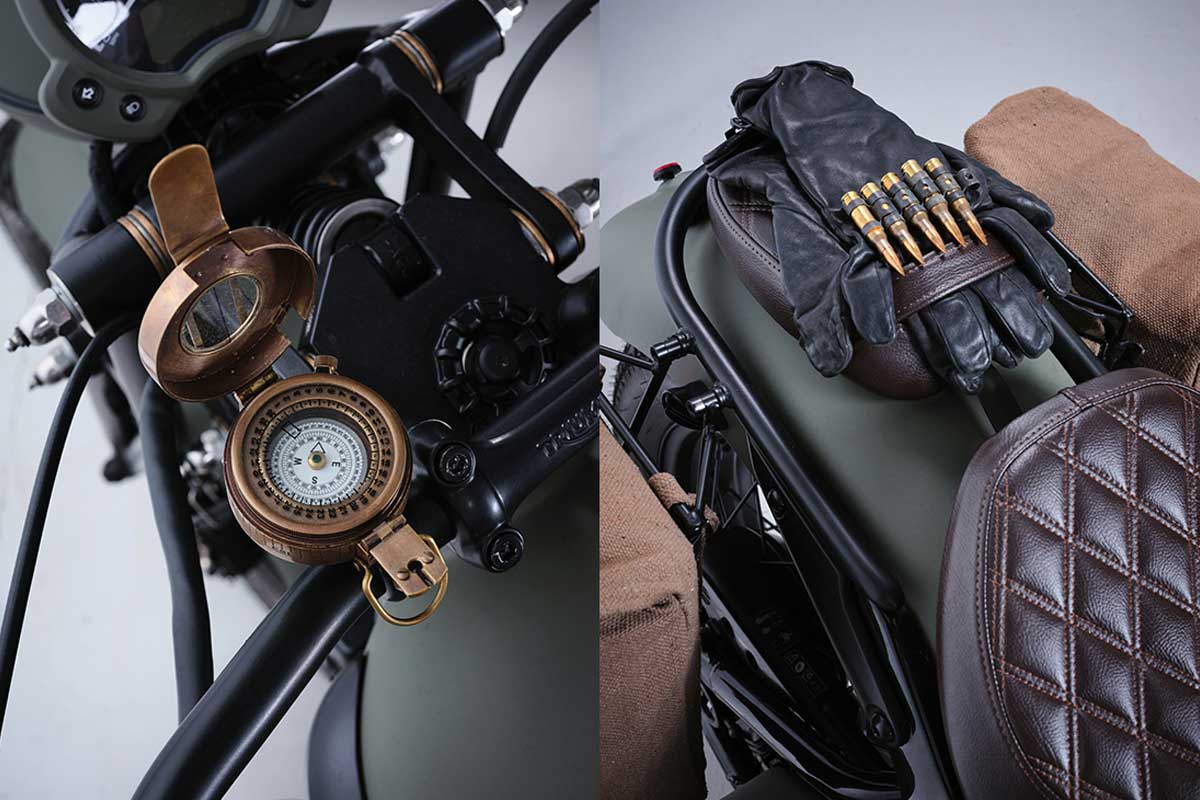 VE Day Commemorative Triumph Bobber
Offering up the only custom Triumph Bobber in the Bonneville build-off is Fowler's Motorcycles with their VE Day Commemorative build.
2020 marks the 75th anniversary of the end of World War 2 which is where the Fowler's team found their inspiration for this build. The military-themed Bobber is based on examples of British military motorcycles of WWII. It wears a full set of Army green bodywork that sits atop a blacked-out chassis, engine and exhaust. For a more period-correct appearance Folwer's opted to swap out the modern forks in favour of a custom made girder front end. The wide tyres used by the military were designed to offer stability in uncertain terrain. Fowler has mimicked this look by wrapping the Bobbers rims in broad Continental Conti-Twin rubber. Custom canvas panniers offer plenty of storage space for munitions and rations and there's a first aid kit and entrenching shovel flanking the bike's swingarm. No need for Google Maps here thanks to the vintage brass compass mounted to the wide handlebars. To finish things off the headlight wears a bespoke blackout cover featuring a Triumph logo cut out.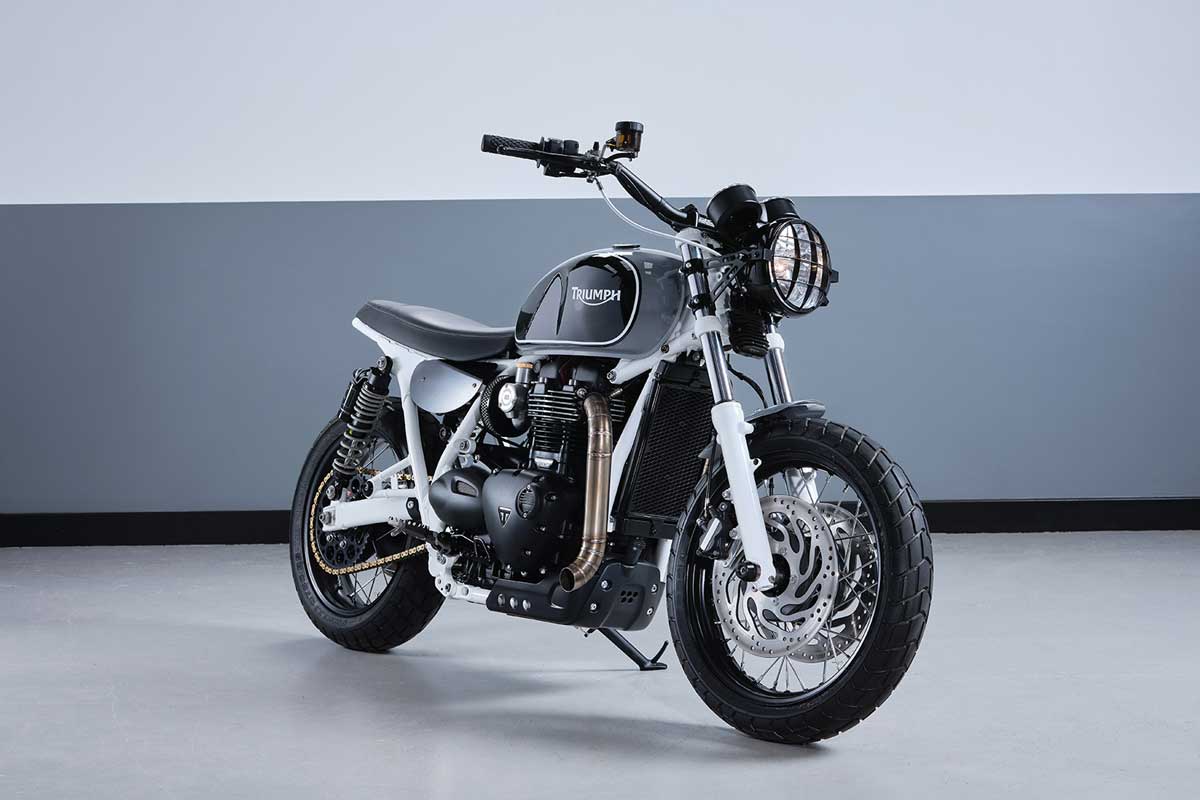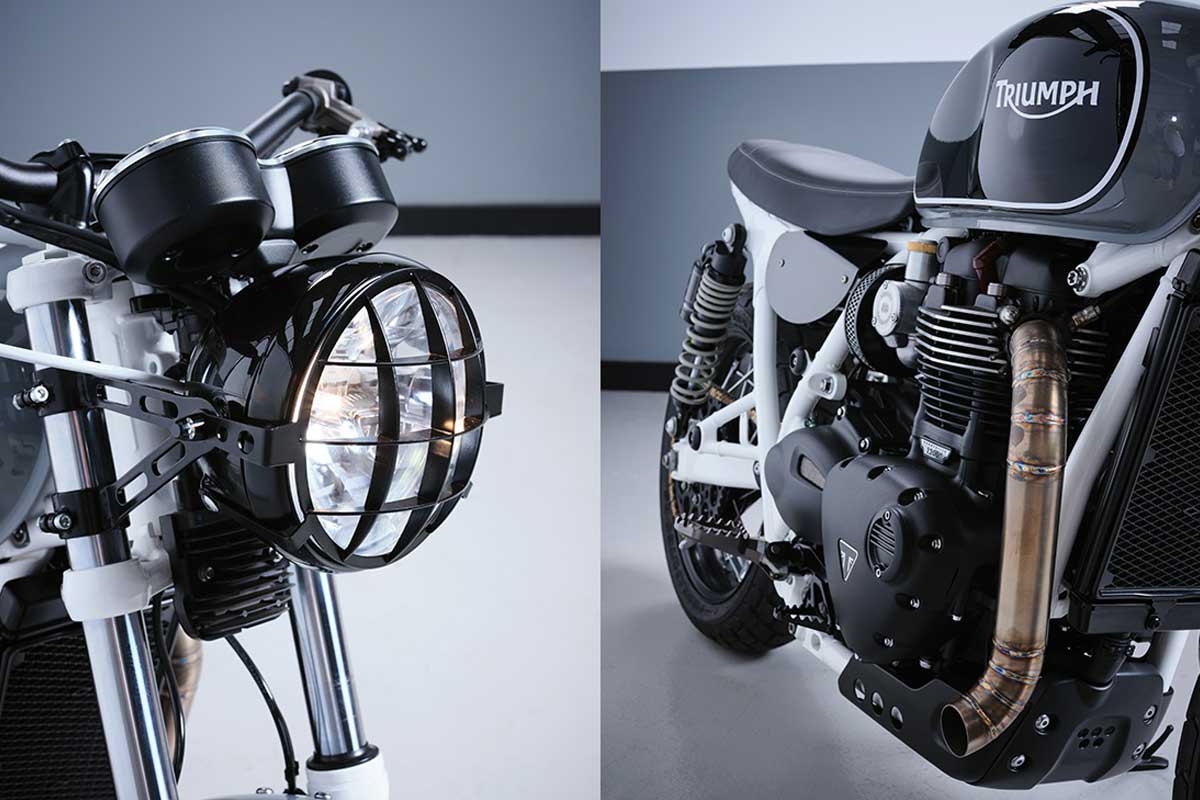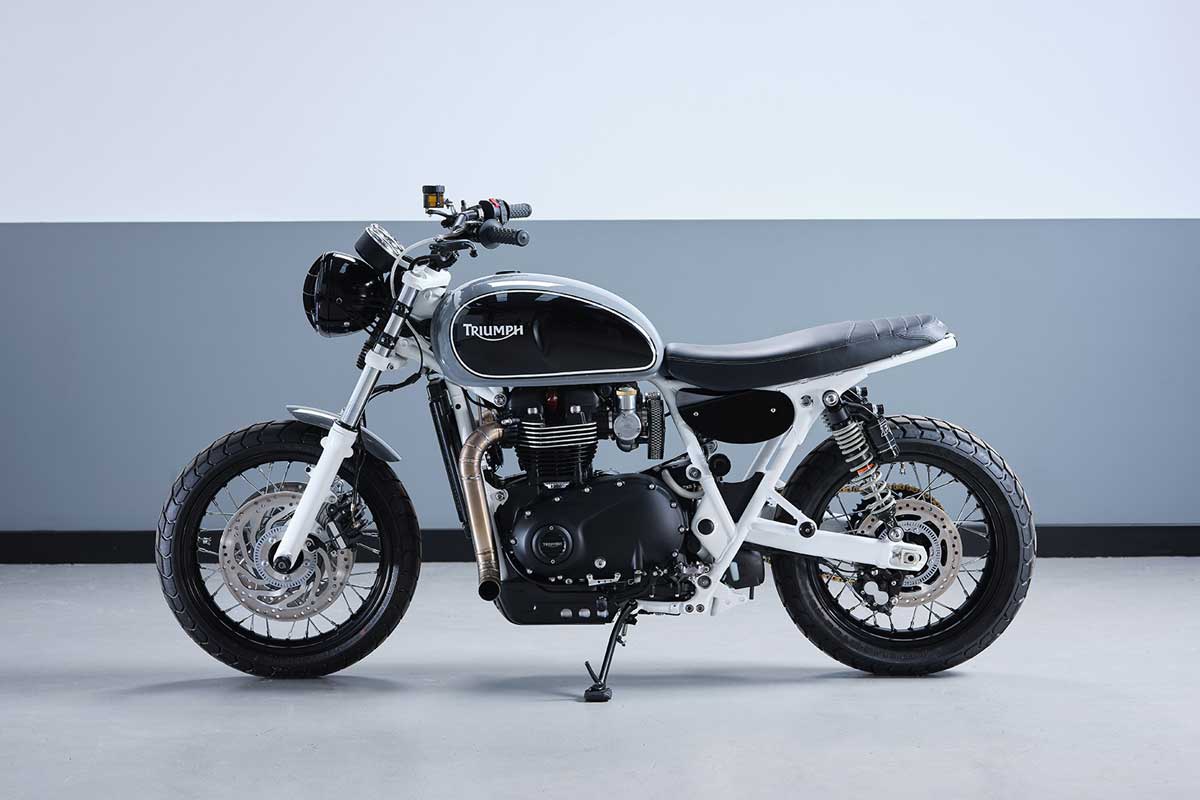 Triumph Bonneville Spitfire Tracker
This Flat Track styled custom Bonneville is the work of York-based A1 Moto. For authentic racebike looks and performance, A1 has stripped their Bonneville back to the bare essentials.
The A1 'Spitfire' features wide handlebars for improved off-road handling. Pirelli's on/off road MT60 RS rubber provides the grip while Fox racing piggy back shocks tighten up the rear end. The bikes frame has been opened up by doing away with the factory airbox and replacing it with a set of pancake style filters. For some basic off-road protection, a belly pan encompasses the sump and the headlight wears a finned guard. A coat of pure white powdercoat to the frame, forks and swingarm add a bold styling statement, but if the paint isn't enough to capture attention the roar from those extra short, custom pipes is sure to do the trick!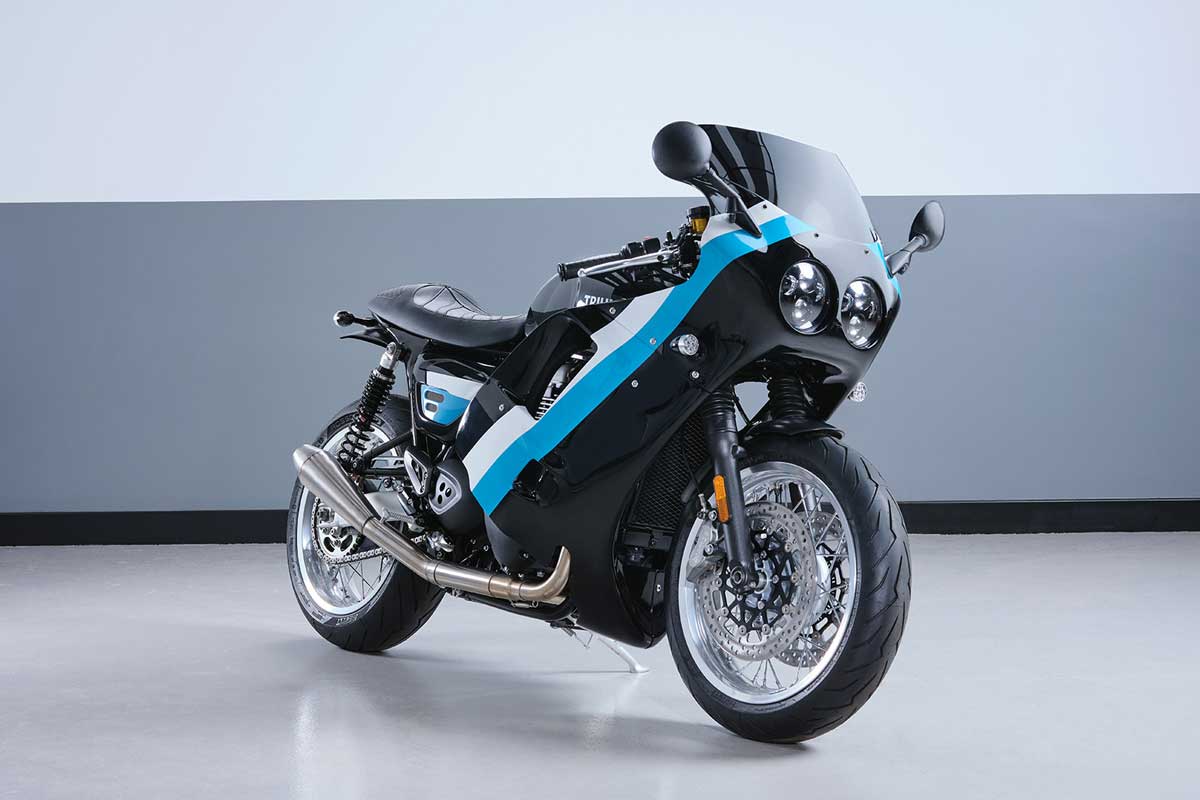 Triumph Speed Twin 'Speed Racer'
The biggest bombshell of the 2020 Bonneville Build-Off is without a doubt this custom Speed Twin 1200 by Edinburgh Triumph. Wearing an early model Triumph Daytona 750 fairing this custom is a total departure from the Modern Classic theme.
The Speed Racer is based on one of the newest additions to the Bonneville family, the 1200cc Speed Twin. To realise their Bonneville Build-Off concept Edinburgh Triumph stipped the Speed Twin down to the bare minimum before custom mounting the Daytona fairing. A set of machined clip-on bars provide the required amount of steering clearance and the original gauges sit snuggly behind the smoked windscreen. Making way for the bikes 2-into-1 performance exhaust are cut-outs in the lower half of the Daytona fairing. Retro look aftermarket shocks hop up rear end performance and the Speed Twin's bench seat has been replaced by an elaborately upholstered custom saddle. The icing on this retro cake though is the classic blue, white and black paint scheme which is a hat tip to Hinkley's Daytona 1200 livery.
---
Now it's time to pick your favourite. Visit the Bonneville Build-Off website now to cast your vote.