It's not often you hear of people fulfilling their childhood "When I grow up I want to be …" career aspirations. But L.A. native William Weiss is an exception.
From a very young age, Will became obsessed with speed. Reading magazines and watching old movies he developed a fascination with the '60s and '70s So-Cal performance vehicle scene. Will's introduction to modifying 2 wheeled vehicles started out with resurrecting old bicycles he'd scavenge from creeks. Over time he graduated to motorcycles and found pleasure in modifying or hopping up bikes for friends or for his own personal use. But it wasn't until after 15 years of working a suit and tie 9 to 5 that he decided enough was enough.
After trading his white collar for a blue one, Will launched his brand Weiss Performance. His specialist workshop focuses on modern two-cylinder motorcycles for which he designs and develops bespoke performance parts and accessories. His performance products are the result of research conducted with the North American Triumph Flat Track Team or on rides in his own backyard, the Southern Californian Mulholland Canyons.
If you're after premium custom accessories or a one of a kind high-end build Will's your man and this bike, the Weiss Performance Triumph 1200 cafe racer, is the proof in the pudding.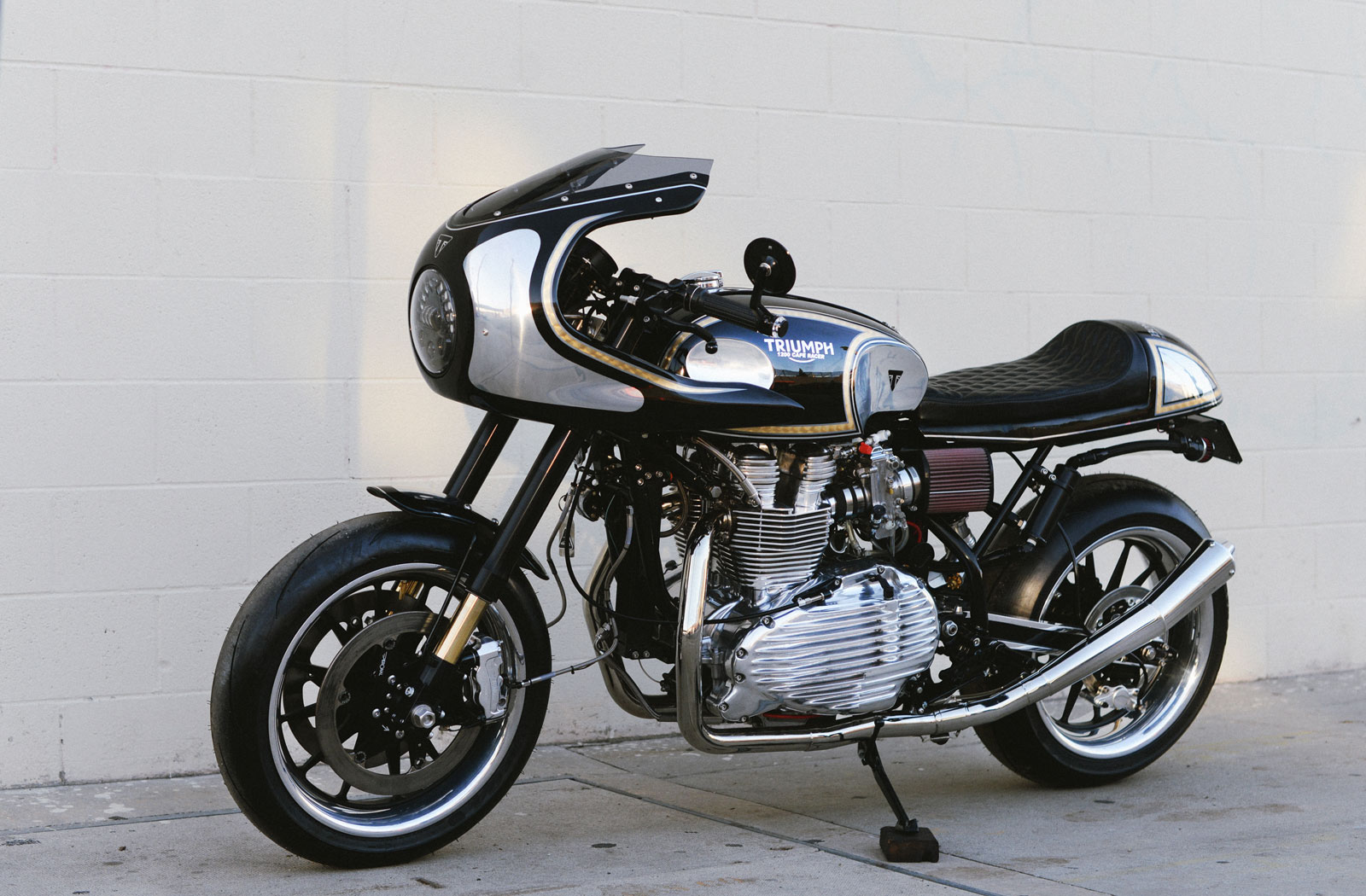 "This bike project started about 10 years ago," says Will. "I have been customizing these bikes for so long that it's the combination of everything I ever wanted to do to a Bonneville. It was built as a collaborative project between Bonneville Performance in Florida and Weiss Performance. Bill Gately of Bonneville Performance also runs the independent Triumph Flat Track team. He is a friend and mentor of mine for these Triumphs."
"I set out to do a 1200 motor build and Bill had the idea to mirror polish everything. I was happy to team up with him and before long we had a show bike being built! I committed to the additional time and costs, and threw everything I had at it."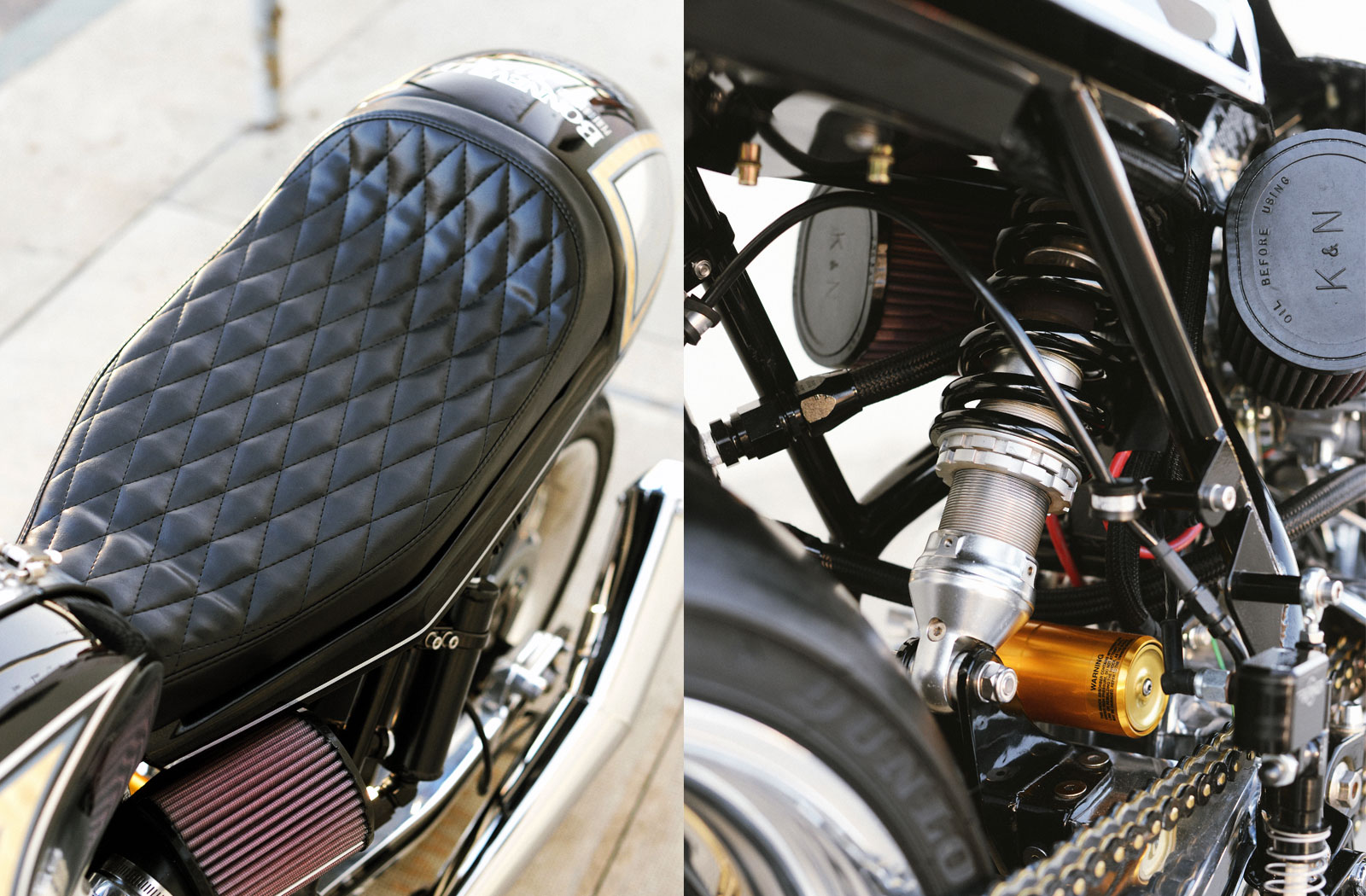 Wills donor for the project was a 2008 air/oil-cooled Bonneville Thruxton frame. On paper, this Thruxton's standard specs pale in comparison to the newer water-cooled variants. But Will had a plan that would change all that, and it started with the chassis.
"We kept the neck and the backbone of the frame and created the rest from scratch. The new design is a cradle style frame that supports the engine in a way that gives the impression it is floating in the air."
The new chassis design also incorporates a mono-shock rear end conversion. The design is one that Bonneville Performance developed during years of AMA Pro Flat Track racing. The new configuration does away with the Thruxton's twin shock setup and replaces it with a vertically mounted Ohlins TTX fully adjustable shock. The introduction of this setup also saw the addition of a lightweight alloy swingarm. To match the improved performance in the rear Will also installed an Ohlins 43mm USD set of forks which are also completely adjustable.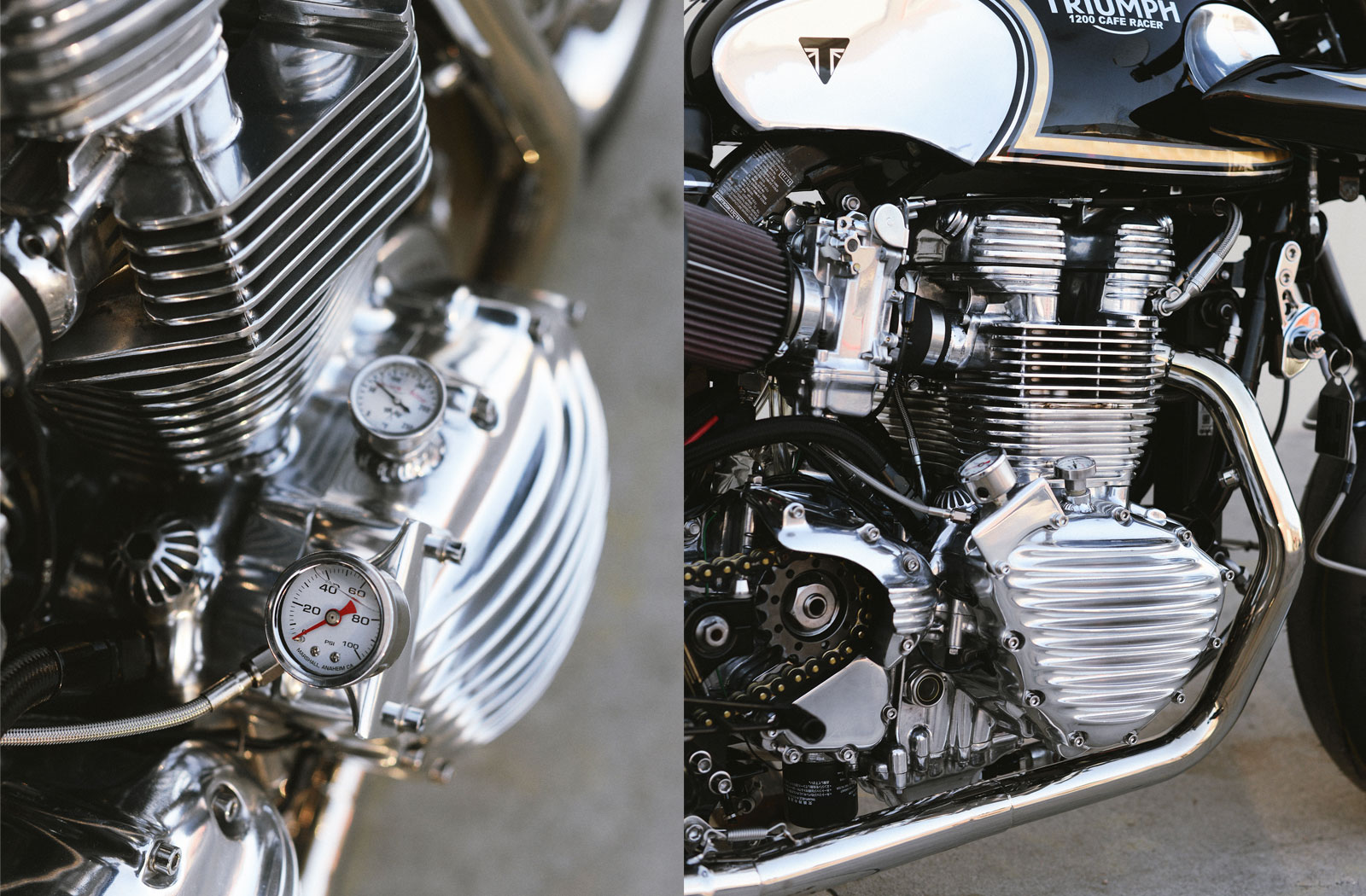 As for the performance of the engine, there's not a lot here that Hinkley could claim responsibility for. This particular parallel-twin previously existed in one of the Triumph Flat Track Teams race bikes, but it was outlawed for being too fast. That result was achieved by cutting and stroking the crankshaft by 6mm. An increase to 1200cc came from the fitment of a bespoke CNC aluminium cylinder and a set of performance pistons that up the compression to 11:1. Air and fuel are added to the mix via K&N air filters mated to 45mm Smoothbore Mikuni HJSR carburettors. Spark is supplied by a performance ignition system and a Barnett wet clutch manages the gearbox. Completing the combustion cycle is a custom 2-into-2 exhaust system mated to D&D reverse cone silencers.
From the factory, a 2008 Bonneville Thruxton 865cc parallel-twin made a modest 69hp at the crank. This elaborate engine demans respect with 110 dyno-proven horses at the rear wheel.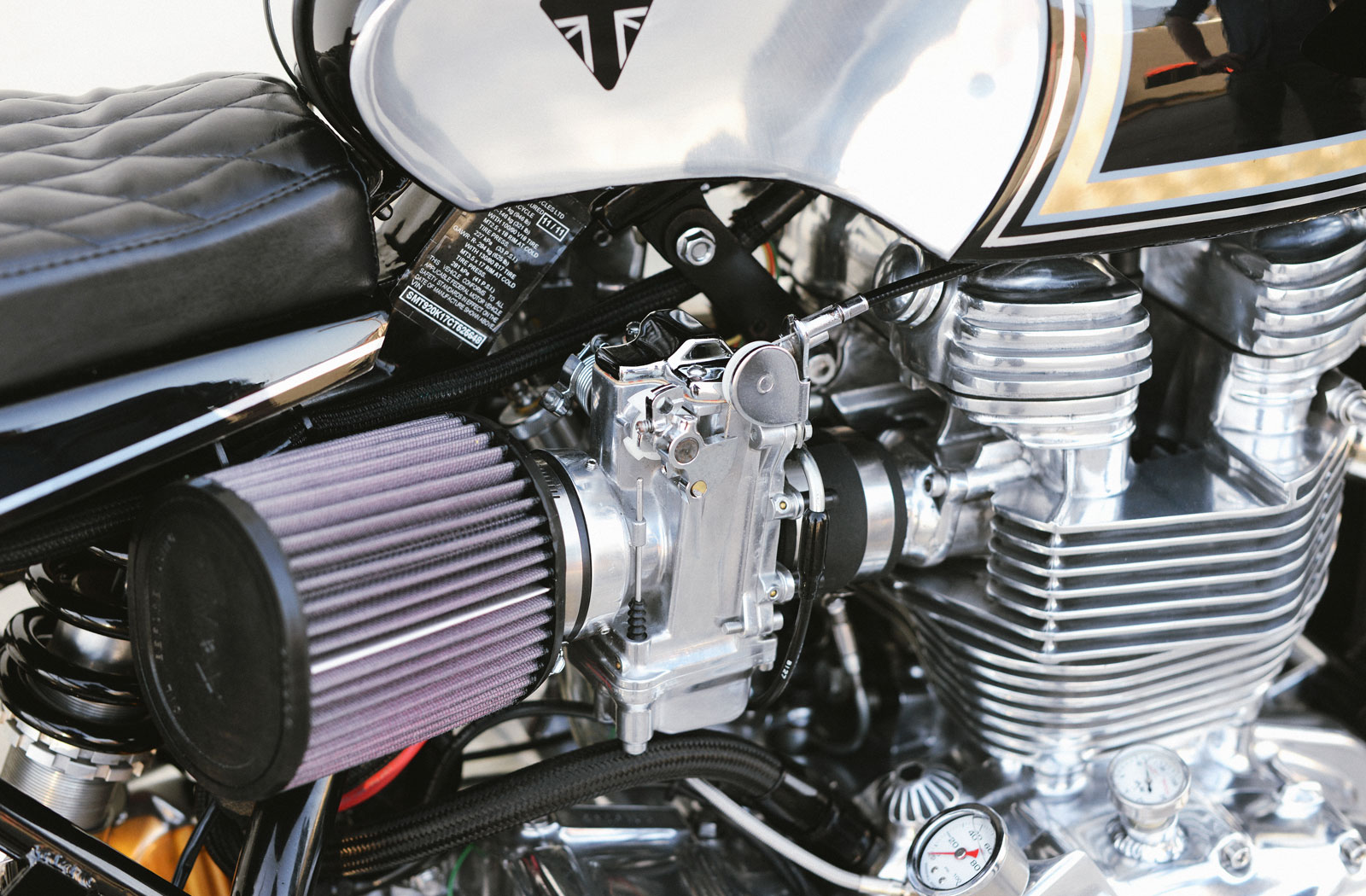 "All the engine mods are a direct result of Bonneville Performance's research and development," says Will. "It was polished to a mirror shine from top to bottom. The idea was for the motor to be a shiny Swiss watch surrounded by its case, which happens to be a motorbike. A clear coat epoxy was used to seal the polished aluminium motor to prevent oxidizing."
"She is a true badass in every sense. We know it can win races. The bike's race heritage is proven. Looking inside will reveal it is all business. It screams at 10,000rpms and forces you to hold the hell on!"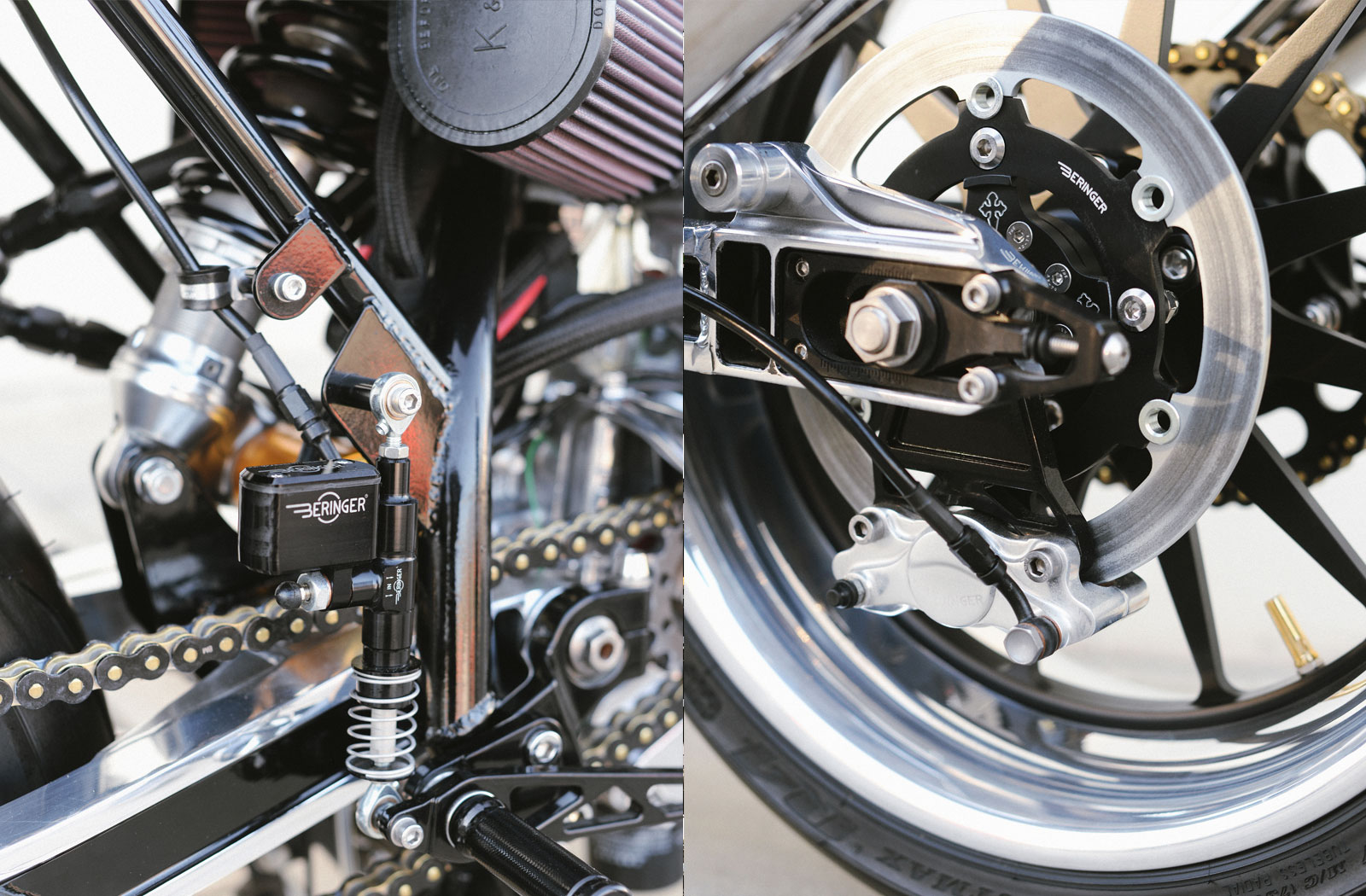 To complete his Bonneville's running gear, Will designed a set of 12 spoke wheels in CAD. These were custom made by Canyon Cycles using CNC'd billet aluminium. The wheels wear a custom brake assembly too. In the front, you'll find twin 310mm Berigner floating discs wearing 4-piston radial Beringer callipers. In the rear is a single 220mm floating disc and 2-piston Beringer calliper  and the levers and reservoirs are all Beringer too.
The view from the driver's seat is, of course, unique on this comprehensive build. Bolted to the forks are LSL clip-on handlebars. The bars wear Motogadget grips, switches, glassless mirrors and bar-end turn signals. A white-faced Motogadget Motoscope Classic Tachometer takes pride of place atop the triple clamp while the ignition barrel sits out of sight, mounted to the righthand side of the frame.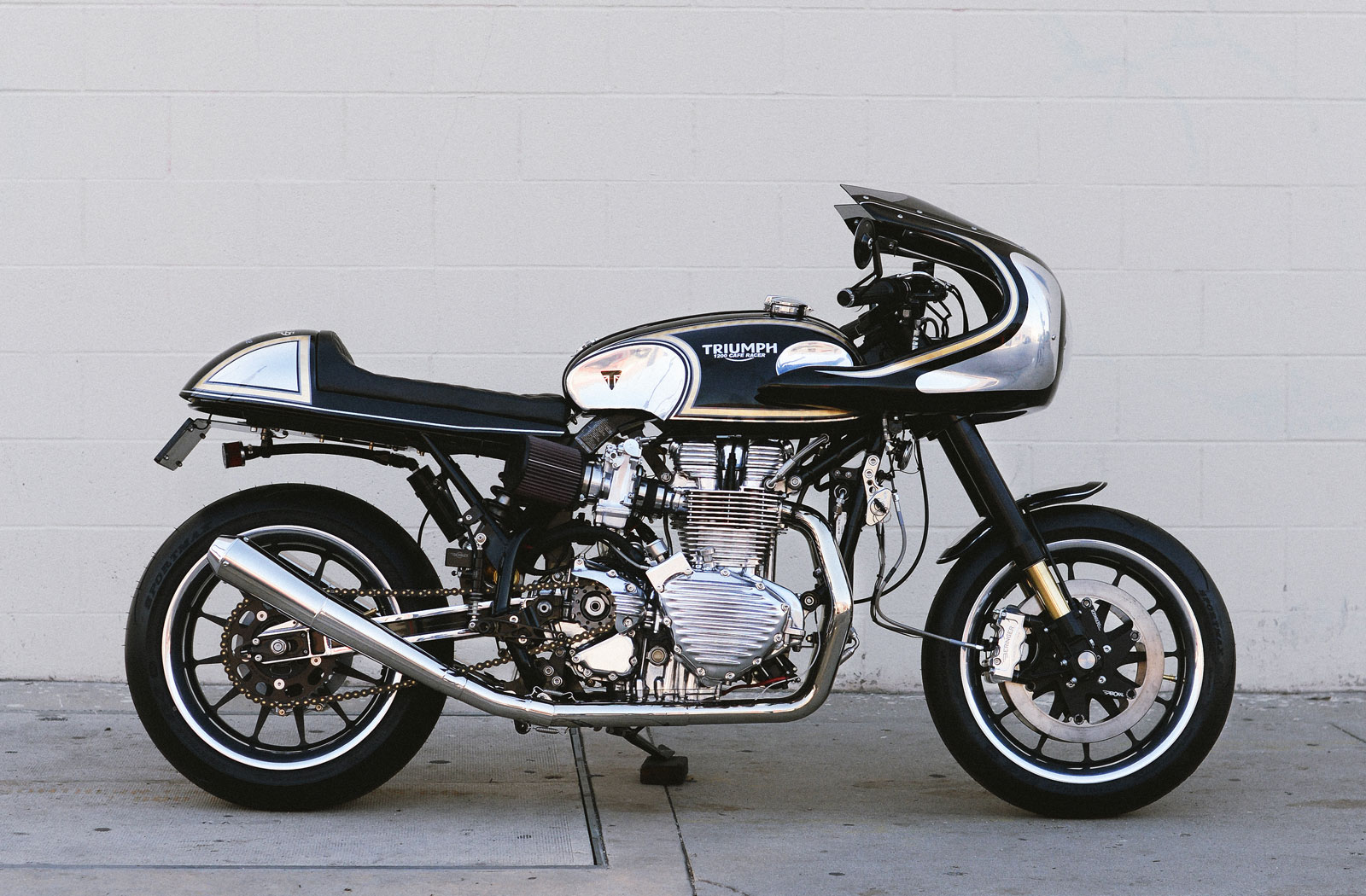 "I did a few hand-drawn mockups and cut and paste body panels from printouts – old school!" jokes Will when describing his design process for the bike. After deciding on an all aluminium approach he sourced the handmade fuel tank, front fairing and rear cowl from Markus and the crew at Omega Racer in Thailand. These were then modified slightly to suit their application before being embellished with a gloss black and gold leaf scheme.
Due to it taking place in 2 separate states and supply issues caused by COVID, the Bonneville 1200 cafe racer took 2 years to complete. Will completed the final assembly at his workshop in L.A. and the bike now lives in a private out-of-state collection.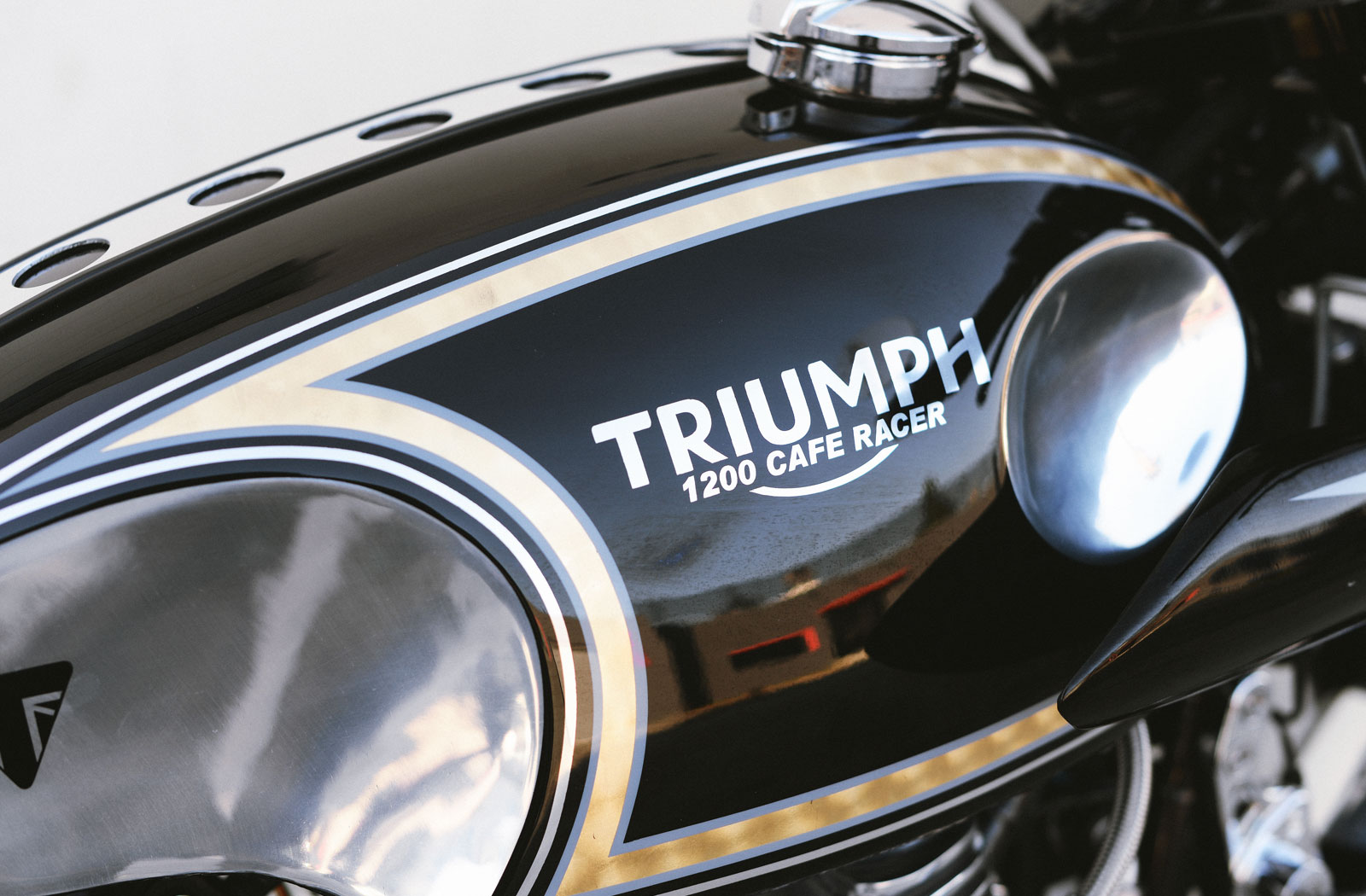 "This bike was built with one concept in mind – to be the only one of its kind, and we did just that!" says Will. "This Bonneville is purpose-built to prove a point. A point that new modern bikes such as the Triumph line of modern classics can still be mesmerizing."
I think we can all agree that Will has well and truly proven his point.
Photography by Jose Gallina