Story contributed by builder – Larry Maas 
This bike started its life around 1970 at Kosman Specialties, where I worked from 1968 to 1971 during college. Sandy Kosman designed and manufactured many different parts, including alloy oil tanks, hubs, disc brakes, oil filter carriers, and many others. He also built drag racing bikes and made frames in conjunction with Alf Hagon. Their bikes held several records both for gas and fuel drag bikes. Kosman Specialties went on to become one of the most innovative businesses in motorcycle racing.
I performed many tasks while working for Kosman. From machining parts to lacing wheels, bike repairs and builds. I laced and trued about 3,000 wheels for the drag bike kits Kosman sold. They were mostly 17" front wheels. I averaged about 16 per day until it became so repetitive I passed the job on to another employee. Kosman's shop was a hangout for racers and their machines, and we worked on almost everything. There were many spare parts on the shop shelves and frames hanging up too.
One of the other employees (Bradley) decided to put together a bike for himself from a Rickman Métisse frame, tank and Avon seat/fairing that Sandy sold him. There was a '67 T-120TT Special bottom end on a shelf without the barrels or head. It was built by a guy named Carl Rhodes and had set some records in a 650cc setup. How it ended up in Kosman's shop is unknown to me. It became a part of Bradley's bike and I helped him with some of the build. He acquired a set of 800cc barrels, bored them .060 over and fit a TR6 head which was modified, cc'd and assembled with the lower end. The engine had PM 1060 racing cams, drilled and lightened parts, was balanced, and then fitted with a Joe Hunt/ARD/Fairbanks Morris magneto.
The parts used to complete the bike were often used pieces lying around the shop and purchased from Kosman. The front end was a set of Ceriani GP35 forks and a Fontana four-leading shoe brake laced to a Borrani WM2 19" rim. The rear wheel was a stock Triumph brake with a drilled and chromed backing plate, laced to an Akront WM3 18" rim. The tires were Dunlop K-70 front and rear.
Along the way, something went wrong. Either Bradly needed money or something happened between him and Kosman. I'll never know the full story but he had to sell the bike. I had my own 750 BSA Spitfire Hornet but I told my good friend Bill Truscott about this bike and he bought it straight away.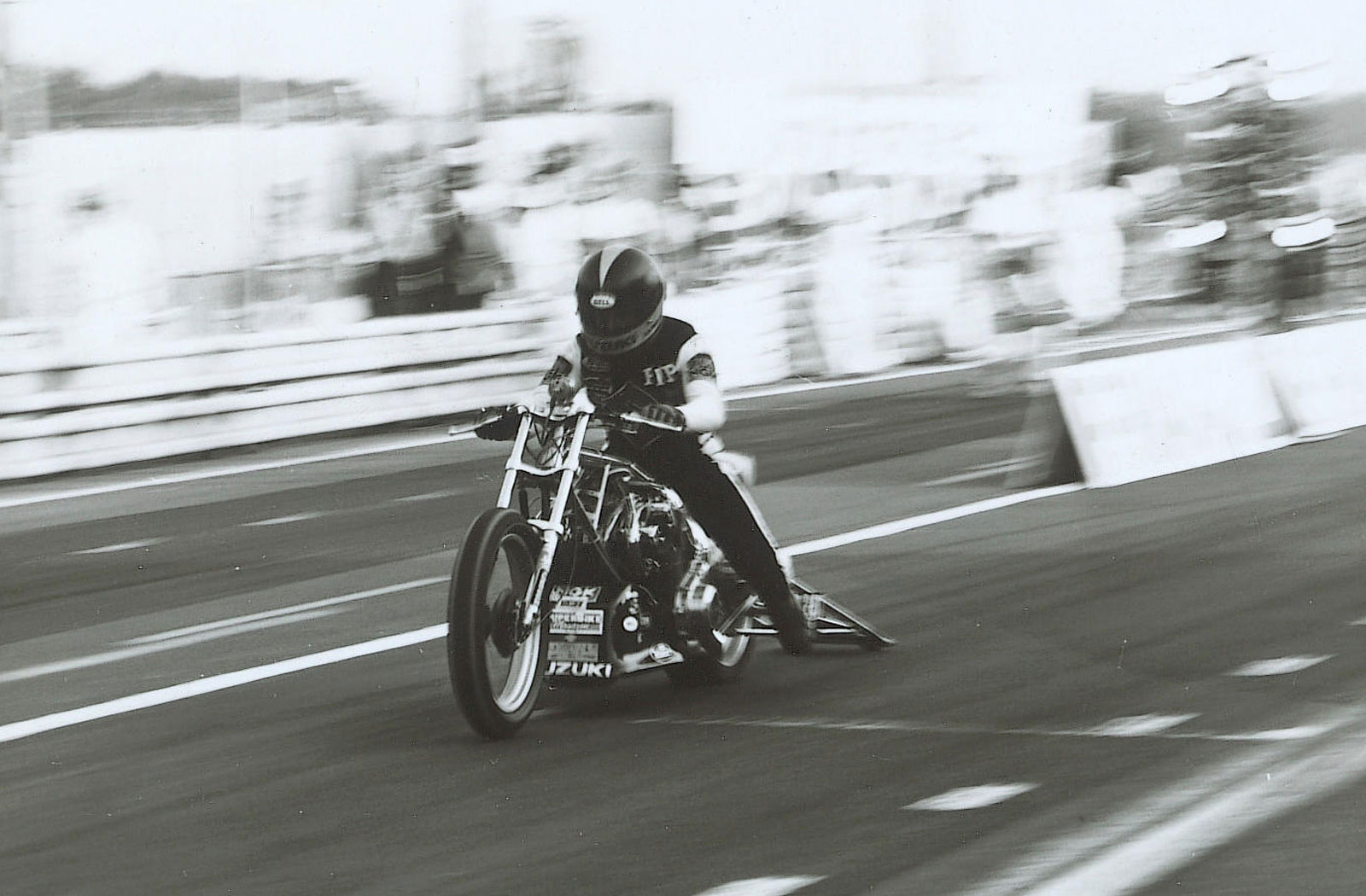 The bike wasn't street legal with straight TT Pipes and no lighting. But when we got it running at the shop we all rode it around the block. Everyone was amazed at how powerful it was. It had the standard one-gallon Rickman motocross tank and weighed in at only 295 lbs with oil and gas! When Bill took possession of the bike, he decided he wanted to ride it on the road. This meant he would need lights, mirrors, a horn and a way to silence the motor. It was much louder than a stock TT Special because of the larger displacement and especially because of the cams which were allowing in a larger amount of gas/air.
I welded up a pair of spun reverse-cone megaphone pipes with homemade wrapped fibreglass inserts, wired the lighting, installed a mirror and horn and we went to the DMV for registration. It was complicated because DMV would not call the bike a Triumph. They said it was a "Special Construction" because of the Rickman frame. After many hoops to jump through, the California Highway Patrol assigned the frame and motor with special construction numbered tags and along with the receipts from Kosman, the bike got titled and registered.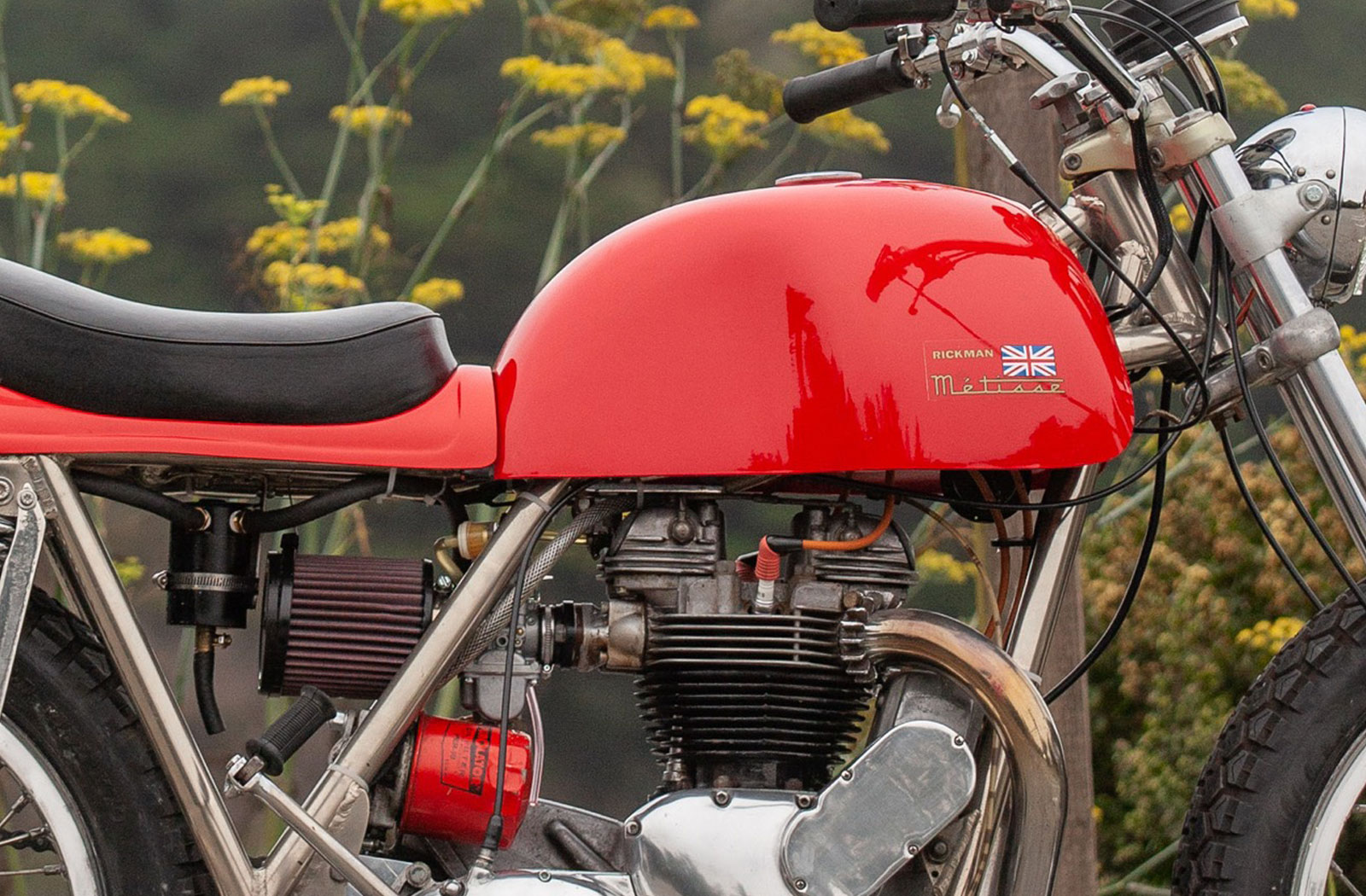 Unfortunately, the bike had several issues. The easiest to deal with was the exhaust. The silencers I made worked for the DMV and CHP, but they cut the engine's performance in half. They were horrible so Bill promptly took them off. We usually rode our bikes together on weekends by trucking them out to deserted back roads outside San Francisco where we were less likely to be pulled over. The one-gallon tank limited our rides to about 30 miles so we often rode in a figure-eight pattern and refuelled at my truck.
The bike was very hard to start especially when cold and we often towed it with a rope if there wasn't a good hill to bump start it. I suspected something wasn't right in the magneto but it seemed to run OK once it fired. We often traded bikes on our rides, Bill riding my BSA and me on his Triumph. My bike was a fairly tricked out 750 A-65 with dual 34mm Mukuni's but compared to the Rickman, it was a dog.
The Triumph also did what British bikes are famous for: it leaked.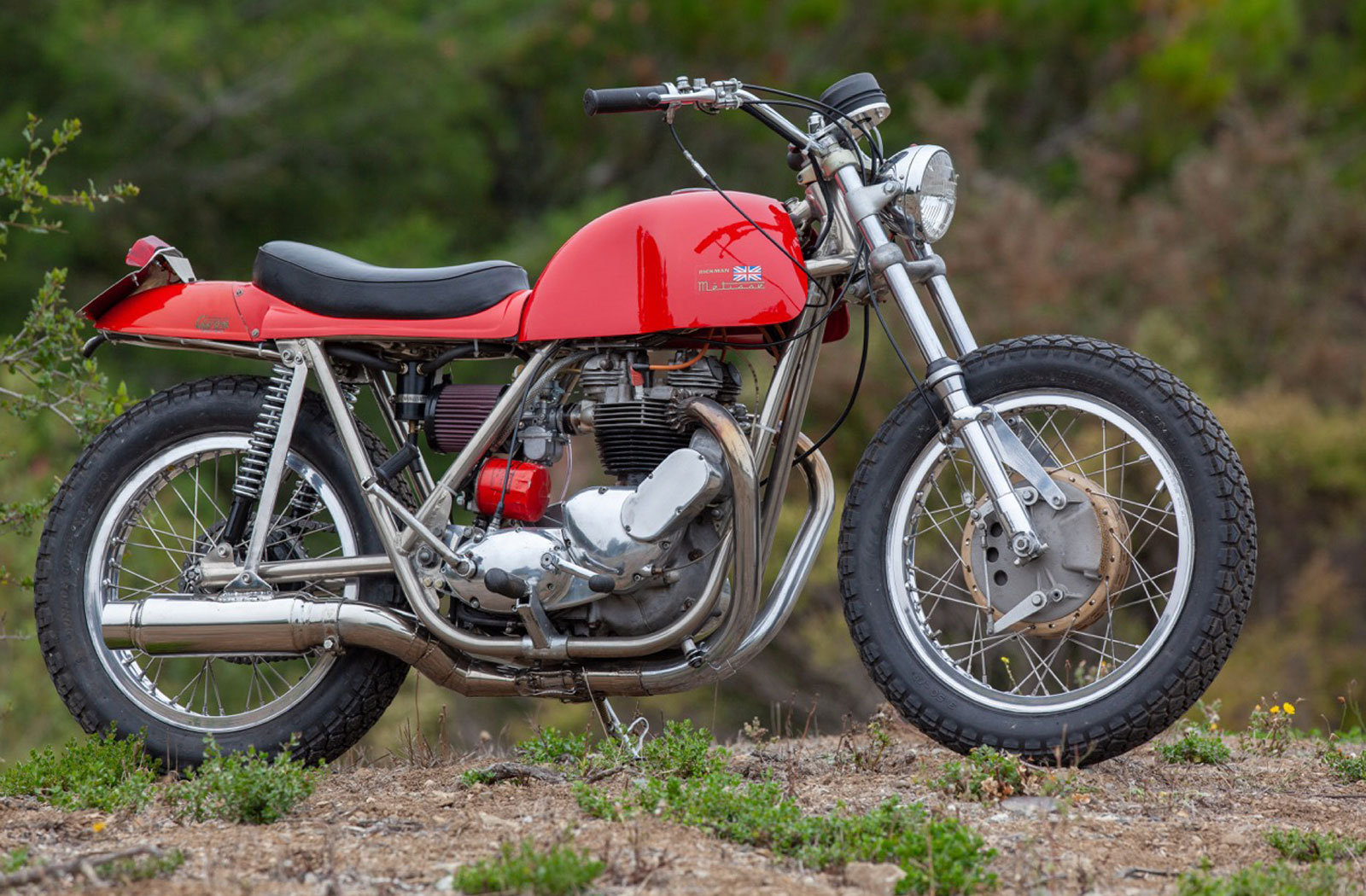 Bill was a procrastinator and always meant to work on his bike but just never seemed to get around to it. When he unexpectedly died of heart issues in 1990, I inherited the bike. It had been sitting in his garage unused since 1982. Bill had started an auto parts distribution company and I was a self-employed building and electrical contractor with a new son and we just didn't have much spare time for our bikes.
I guess life got in the way for me. I started riding bicycles on a daily basis before work and on the weekends and the Triumph and BSA just sat in the back of the garage, slowly looking worse each year. I would kick them over once or twice a year and squirt some oil into the cylinders now and then, but mostly they were neglected for various reasons. I always wanted to restore the Rickman and solve its issues but in the last 20 years I have had 17 surgeries and the recuperation involved with them, so I just never got around to it.
Around two years ago, I decided that I had waited long enough. My goal was to restore this bike as a street-legal ride but keep it as period-correct as possible… and with no oil leaks.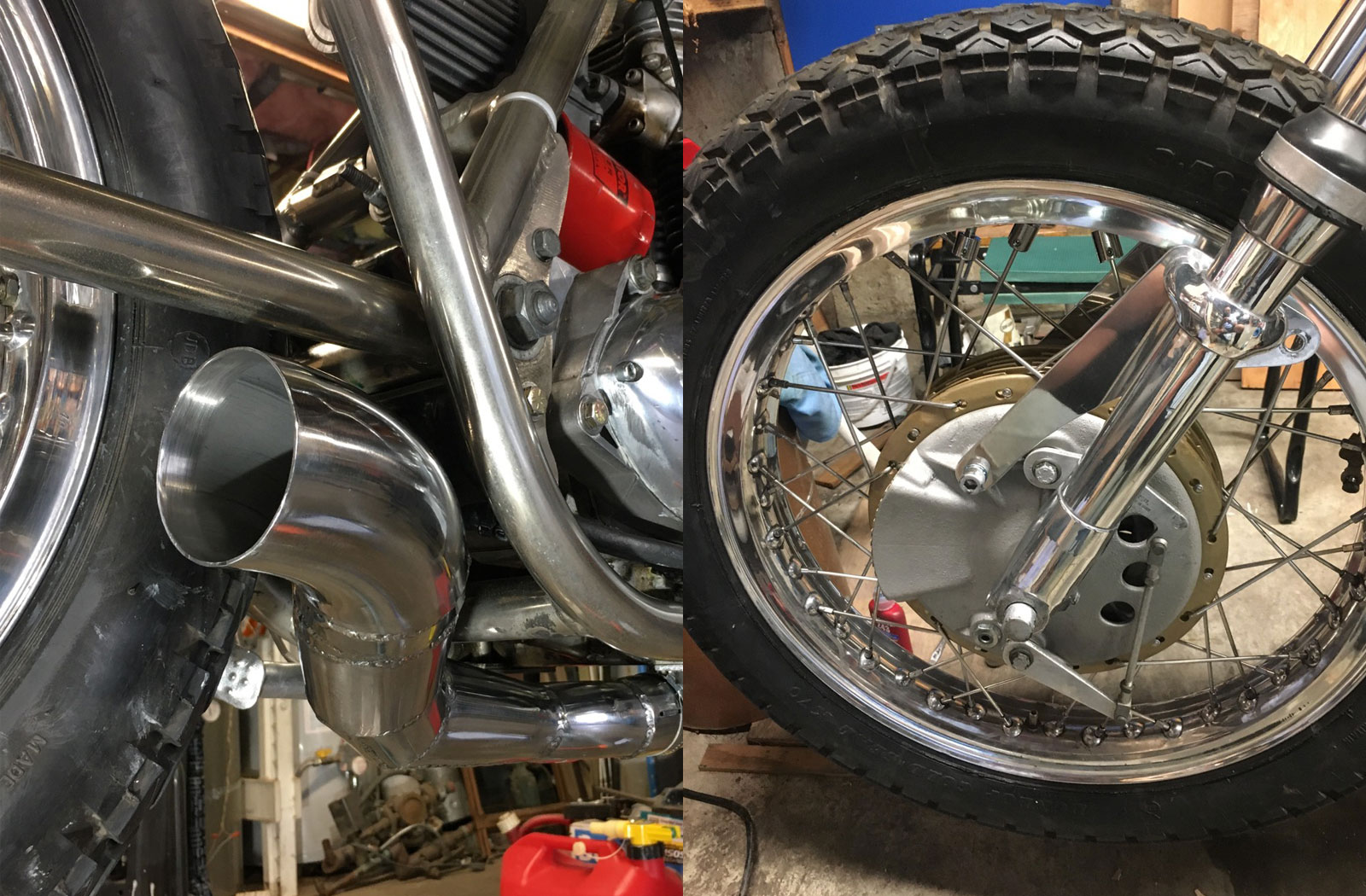 When I started on this project the magneto was dead. Absolutely zero spark. I took it apart, changed the points and condenser and still got no spark, so I sent it off to RebuiltMags.com and Rudy Calin found a couple of issues with it. The coil was installed upside down (this was a used unit) by someone and the armature's magnet was very weak. He rebuilt it and sent it back to me with a hot spark, which it never had on this bike. I correctly assumed the hard starting issues would now be over.
I wanted to re-lace the wheels and replace the rusted spokes with stainless steel ones. I contacted Buchanan Spokes and bought what I needed. While the wheels were apart I replaced the bearings, front and rear, and bead blasted the front brake assembly. I painted the magnesium front hub and clear-coated the backing plates with high heat paint. I then polished the rims along with various other parts, including the forks.
There was a tight spot in the drive train when the rear wheel was spun in neutral and I discovered it was coming from the transmission. Since the bike never had gaskets "back in the day" but they are available now, this was a good opportunity to fix the problem and stop some leaking. When I opened up the cases, it was out of oil completely. I inspected the gears and shafts, replaced the bearings, thrust washers, seals, etc. from the timing side and put it together with gaskets on the inner and outer case. A bearing snap ring that hadn't been seated fully because it was burred was found to be the cause of the tight spot.
Then I moved on to the next phase of labour, the wiring.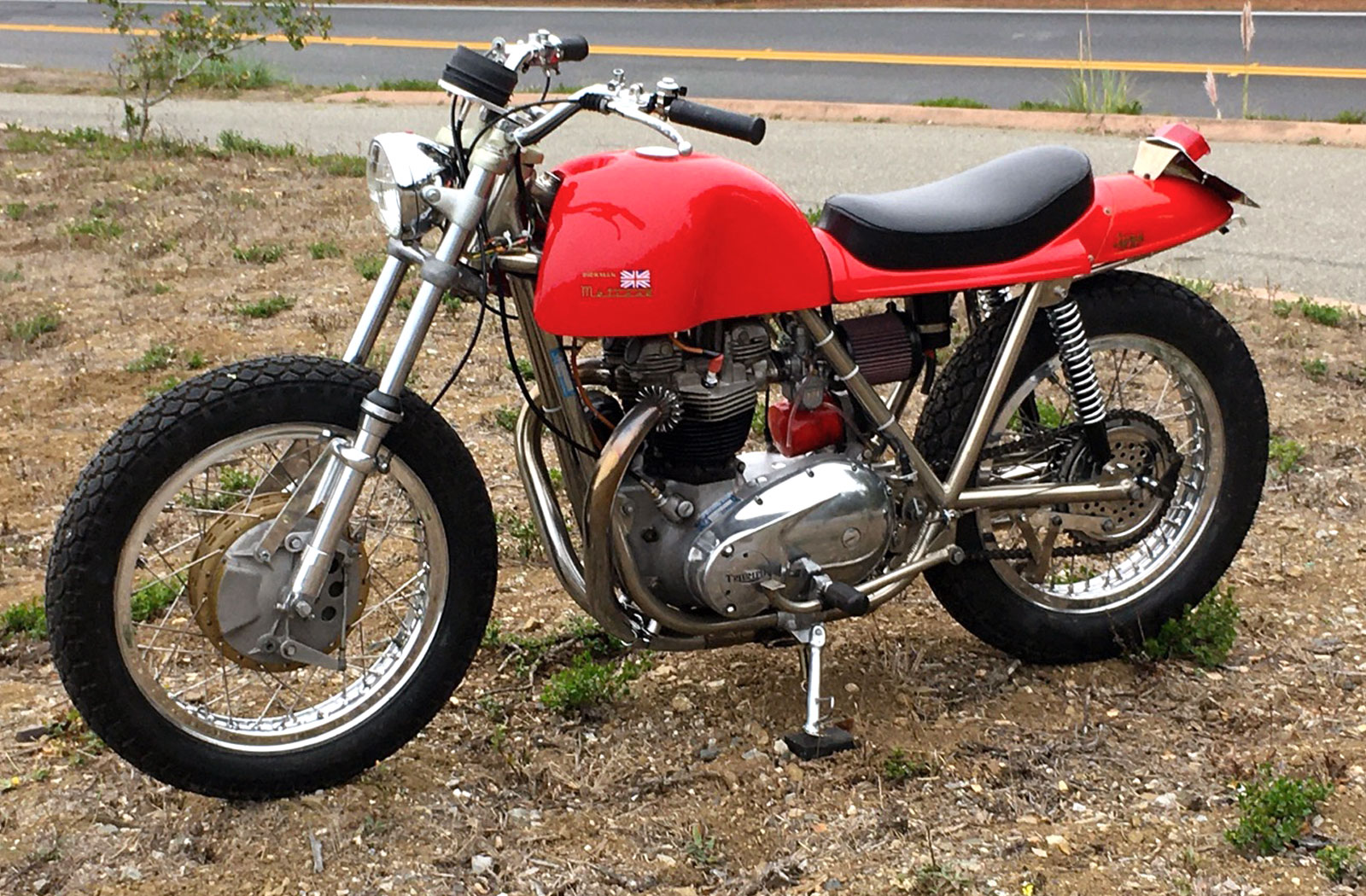 Originally the bike came with an energy transfer 6-volt ignition system that also has lighting coils. The ignition had been replaced with the magneto but I would use the coils for lighting. It had been quickly wired to pass the DMV requirements but I wanted to do a proper job of it. I placed the wires in a loom, got a high/low beam switch and wired everything in including adding more permanent front and rear stop light switches. Bill had also purchased a larger Rickman fuel tank (about three gallons), which he never got around to installing. I decided to seal both tanks with Caswell Gas Tank Sealer, which is needed for plastic or fibreglass tanks using today's gasoline.
Along with becoming street legal, the bike needed a kickstand. There might not always be a wall or tree to lean against! A Rickman frame carries the engine oil and is nickel-plated so welding or brazing to it was out. I decided to weld the kickstand to the bolt-on footpeg holder, and after some fabrication on the arm, everything worked out well.
The bike was now getting close to being finished but I still needed an exhaust system.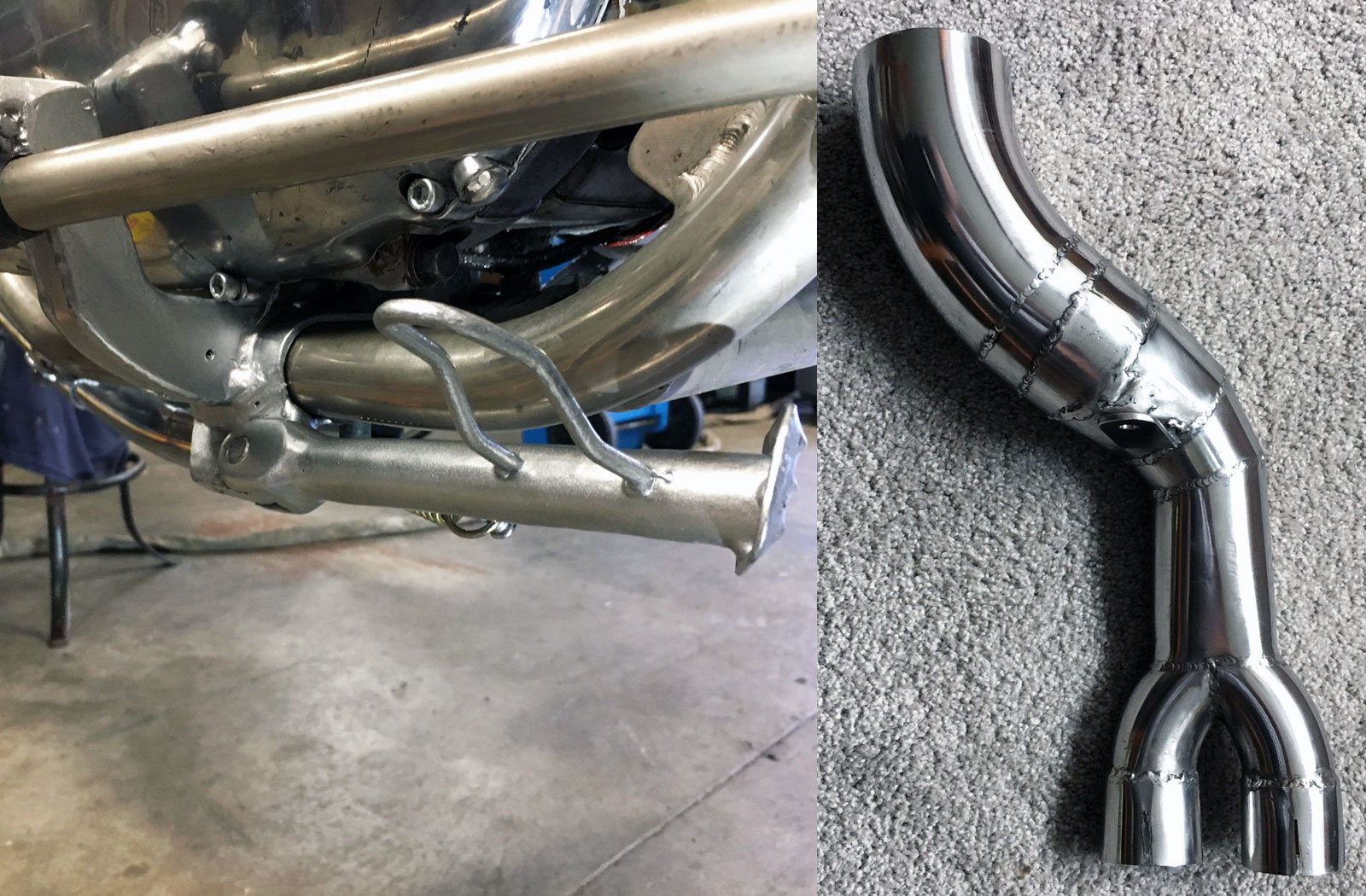 My original exhaust was VERY unsuccessful and I wanted to avoid fitting another one that would choke the motor's power. I asked a friend of mine, Bob Stokstad if he knew someone that welded stainless since I had almost no experience with it and knew it could be tricky. My plan was to tack weld together what I needed and have someone else do the welding for aesthetics. Bob introduced me to Al Lapp who had some great ideas for how the system could work.
Both Bob and Al had worked for City Bike, a local bike magazine. Bob as a photographer and Al as a graphic artist. My original plan was to use two 45-degree bends and run them into a 3" straight-through stainless generic resonator, which I would weld a tab onto. Al instead helped me build a custom merge collector of his own design that could connect to my resonator.
The tapers were rolled from 16-gauge stainless sheet. We welded a tab onto it, which was supported by a stainless bracket I made that bolted to the engine mounts. After the original merge collector and first tapered section were built, I added on sections in my garage with tack welds that Al would later finish off. I also had to build a pair of intermediate short pipes since the TT pipes splayed out to about 4" at the rear of the motor and they needed to be closer and parallel to fit into the merge collector. The exhaust system was by far the most interesting challenge of this build and resulted in a great payoff in performance.
Finally, it was time to replace all the oil and fire the bike up.
I suspected it would be a little hard to fire up on the first try since it had been sitting for 39 years. My electrical partner and friend Mark Malone pushed the bike to the top of the hill I live on for a bump start. It took a couple of tries but finally, it came to life.
There was lots of smoke at first but after a couple of minutes and adjustments to the new 34mm Mukuni carburetor, the bike wasn't smoking any longer and sounded great. It idles beautifully, a little rough from the hot cams, but it's music to my ears!
Mark took it out for its first ride and was blown away by its power. He was also able to start it with one kick every time. After a few runs, I found a new issue as it sat idling. A puddle of oil was coming from the primary side of the engine. When we shut it off and parked it on its track stand, the oil leaks stopped. I figured this would be from 50-year-old oil seals on the primary side so I removed the clutch and basket to replace the transmission main shaft seal. The old seal was brittle and torn and was leaking for sure. With the new seal, I used a HondaBond sealer on the spline of the main shaft and replaced the 19-tooth sprocket with a 20-tooth one. Then I swapped the remaining seals and gaskets in the primary case along with a new primary duplex chain and shoe to replace the broken one. I also ran a hose from the breather pipe next to the transmission to an oil catch can I installed. I felt this was better than letting the breather continue to dump oil on the street.
Now that the leaks were solved, I was ready to take it out for a real ride. My son Eric came over with his 1970 750 Triumph Bonneville and we loaded the Rickman into the back of his truck. We were meeting Al and Bob on their bikes, away from the city for a 40-mile ride to Woodside, CA which is South of San Francisco. Our destination was Alice's Restaurant, a crossroads where other bikers often hang out. The Rickman started on the second kick but it wasn't me that fired it up. With 10.5 to 1 compression, 800 cc's, and a locked 40-degree timing advance, it is like kick-starting a Buick for me.
I am disabled. I have a rare slowly progressing muscle wasting disease called Charcot-Marie-Tooth (CMT), which kills the nerves in my lower legs, causing muscles to die. I wear leg braces to lift my feet while walking. So starting this bike had to be accomplished by someone else or a downhill bump start. I just don't have enough power in my legs to do this anymore.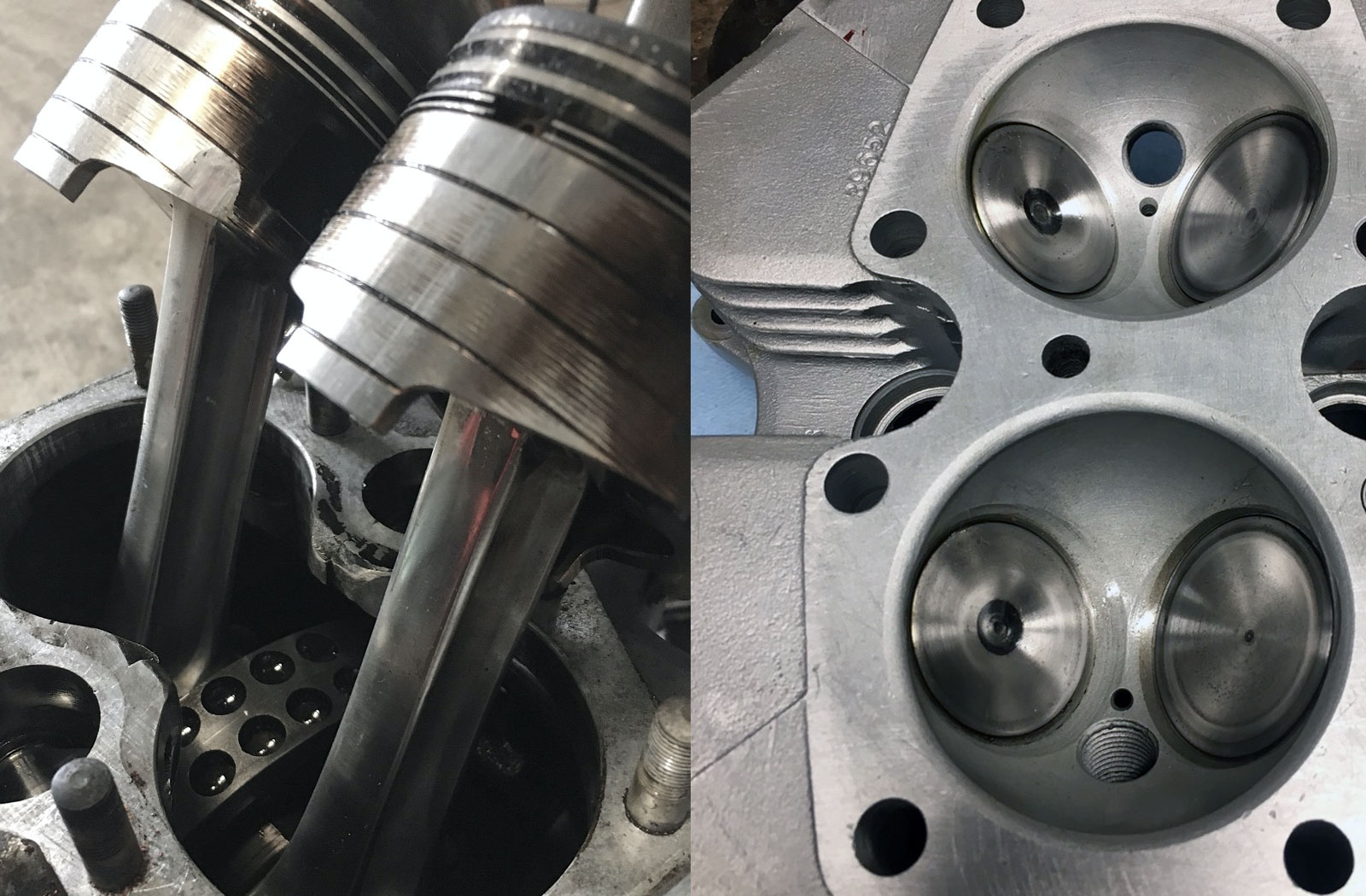 We took off from where we were parked and discovered another issue. I was not able to lift my foot upwards enough to get into second gear. I pulled over, pulled up the shifter by hand and tried a 2nd gear start, hoping the shift to 3rd would take less effort. No luck. We stopped a couple of times to change the position of the shift lever on its spline without any difference for me. Finally, after a long climb in 2nd gear to the top of the hill, I was able to pull over and on a downhill started in 3rd, which got me to Alice's.
Over lunch, we discussed my issues and what was next. I can easily kick start my son's 750 Triumph, but not this bike. Not yet. The shifting issue was resolved temporarily by a suggestion from Bob. We tied Al's red bandana from around the front of the shift lever to an oil line. The shifts were a little slow, but I used all four gears on the way back by pulling up on the bandana. Downshifts were not an issue. A more permanent fix might be a longer, better-placed cable, possibly a heel/toe shifter if that would work, or better yet, an electric solenoid setup of some sort with push buttons or a rocker switch next to the throttle. Kosman used an air-activated device to shift gears on his drag bikes, using the frame filled with compressed air. Unfortunately, an air system would only work for a limited number of shifts before needing to be recharged.
Finding a solenoid with enough power and throw probably would mean converting to a 12-volt rotor and stator with a regulator, and probably a small gel battery. On the plus side, I would get decent, brighter lights, wouldn't have to replace 6-volt stop light bulbs that burn out often, and I could remove ALL Lucas electrics from the bike using a SPARKS alternator which has more wattage and is likely more dependable.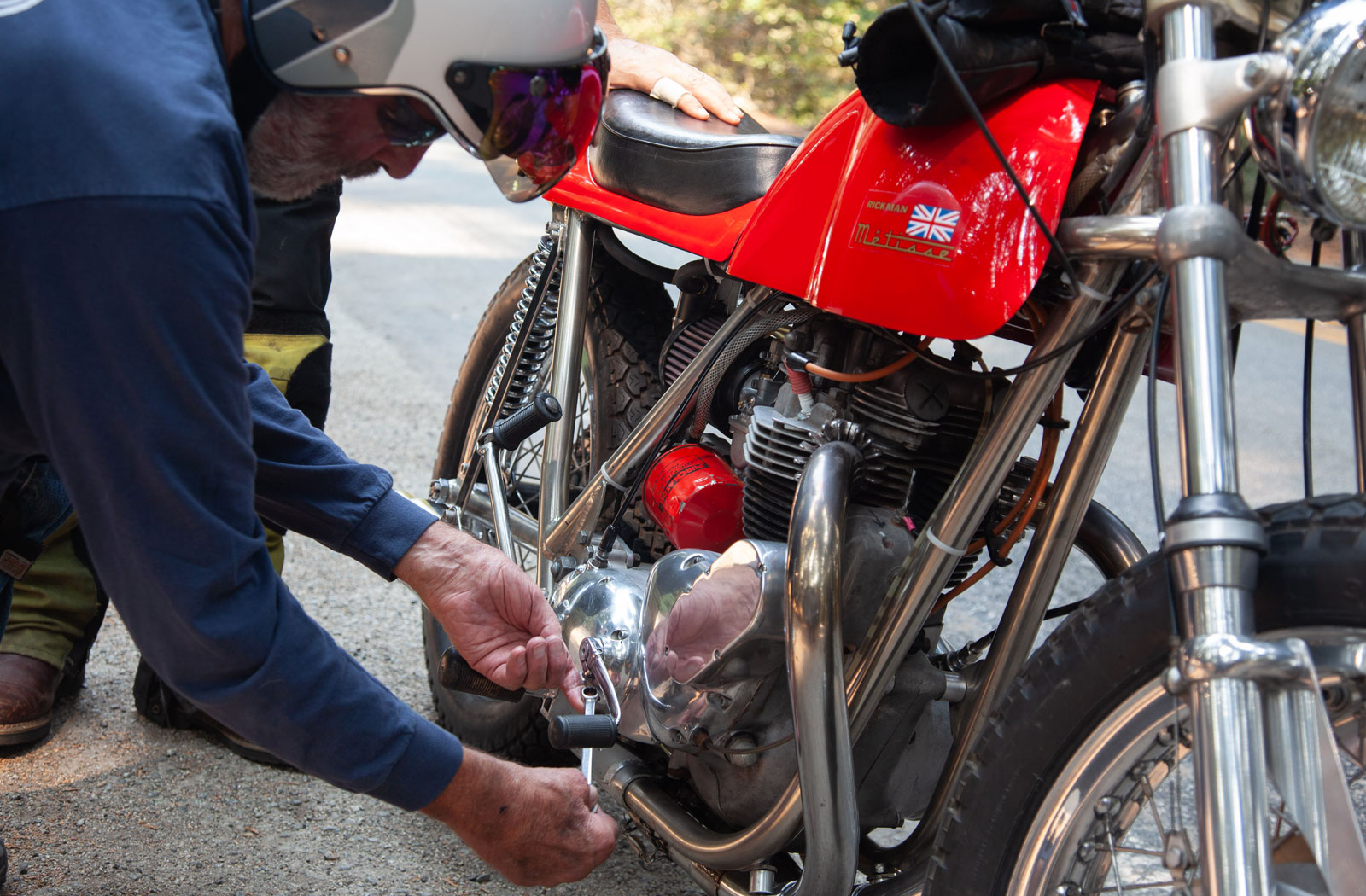 My Triumph handles just as good as any bike I have ridden or better. The Rickman frames were known for their handling and Malcolm Smith won many international trials races on a Rickman. Steve McQueen rode a Rickman Triumph too.
The bike drew loads of attention outside of Alice's. Bob, Al, and my son Eric each took it for a ride and were all impressed by its power. The ride back was great and it amazed me even more than I remember all those years ago. Most likely this was because of the merge collector which uses each exhaust pulse to help pull the next pulse along.
At only 300 lbs, my Triumph Rickman is a rocket.