Well, that wraps up yet another year of amazing cafe racer builds from custom workshops and backyard builders around the globe. Despite everything that took place in 2020 we were overwhelmed by the quality and quantity of cafe racer projects being submitted this year.
It seems that despite a global pandemic and all the horrendous happenings that came with it, bike builders used the lockdowns as an excuse to complete their motorcycle projects. As always we have our favourites.
So to give those builders the extra kudos they deserve here are the Return of the Cafe Racers 'Top 10 Cafe Racer Builds of 2020'.
10. Moto Essence Ducati 1098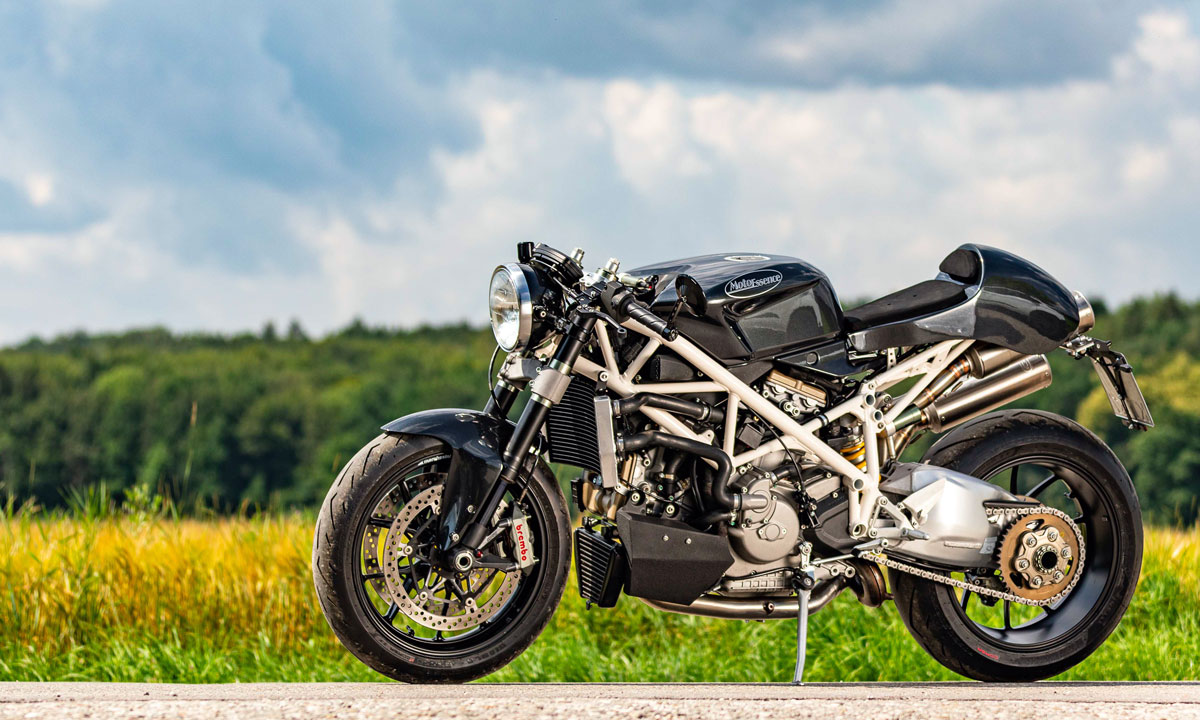 We get a kick out of seeing custom bikes that have little to no resemblance to the motorcycles they are based on. This was certainly the case when Dominik and Havana of Germany's Moto Essence shared their latest build.
At first glance, it'd be easy to assume this pared-back naked Ducati started life as a Monster. In actual fact, it's based upon a fully-faired Ducati 1098.
When Dominik and Havana first acquired the 1098, it was in pretty bad shape having been in a crash and suffering from extensive corrosion. This meant a complete nut and bolt tear down had to take place before they could begin. Once they'd cleaned up all the rust the pair set about turning the 1098 into a lean, mean cafe racer.
The biggest challenge here was hiding the extensive wiring that was once concealed by bodywork. To make matters worse they had to do it without modifying the harness since Ducati's modern wiring is notoriously temperamental.
As you can see the boys succeeded in their task. Along with creating a clean aesthetic from every angle, they added a good dose of classic cafe racer styling.
The icing on the cake here though is the striking asymmetrical GPR exhaust inspired by the Aprilias ridden by 250cc world champions Loris Capirossi and Tatsuya Harada.
9. RSD MV Agusta Dragster RR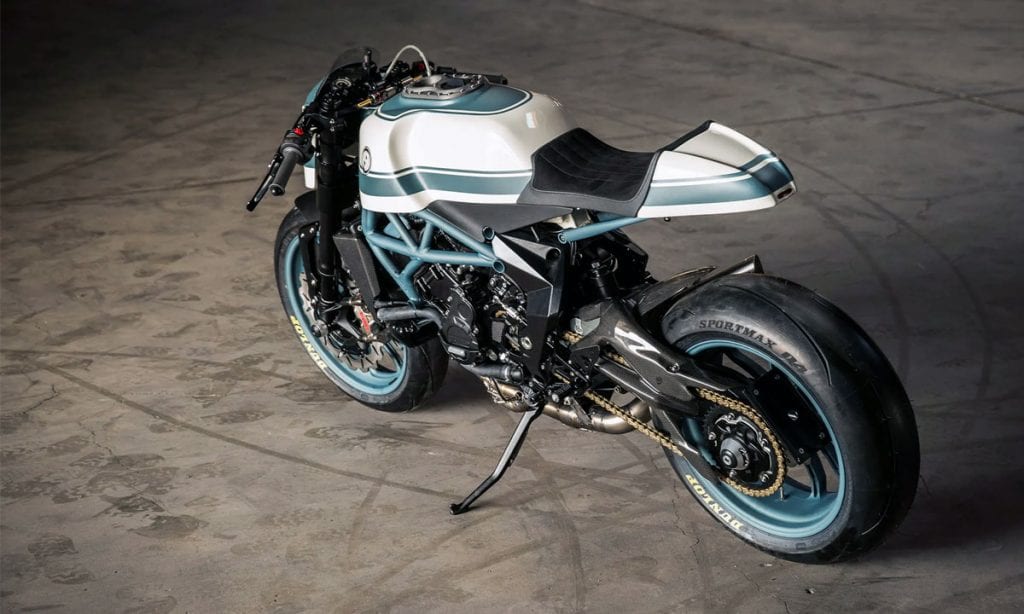 "This is one of the coolest cafe racers we've ever built. This special MV Agusta Dragster was made to eat asphalt and look good doing it!" says Roland Sands. And boy o boy does it look ready to do exactly that.
This MV Agusta Dragster project came to RSD as a commissioned build from a repeat customer. The brief contained nothing more than the request to make it into a cafe racer giving the RSD team complete creative freedom. As a result, the Streetfighter styled Dragster has been transformed into their interpretation of a modernized version of a classic MV race bike.
The RSD Dragster RR features a long list of chassis and bodywork modifications all performed using aluminium to keep the weight down. Most impressive are the bespoke wheels machined from solid alloy blocks and the bike's new bone line that tilts slightly forward for a more aggressive stance.
Roland Sands earned his stripes out on the race track so it goes without saying the bikes rolling out of his workshop are built to perform. Along with the extensive visual tweaks RSD hopped up the Dragster RR's performance by completely rebuilding the suspension, upgrading the brakes and fitting a custom Zard exhaust system.
8. Yamaha TX750A by Ron George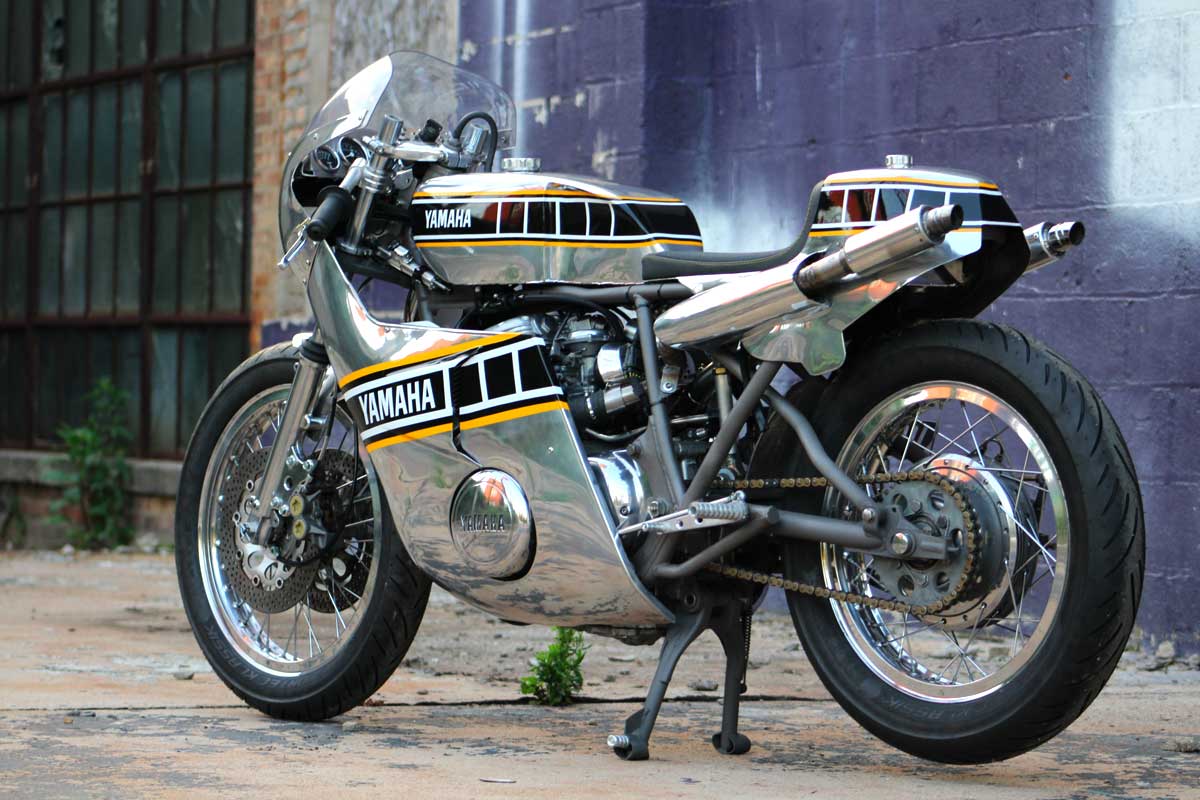 The story of the TX750 is one that Yamaha would rather we all forgot. The bike, which was set to be the successor of the XS650, had some very big shoes to fill. Unfortunately, things didn't exactly go to plan.
Soon after the release of the TX750 complaints of engine issues and even complete failures came pouring in. This prompted the first-ever recall by a motorcycle manufacturer in history. As you'd expect, TX750 production didn't last long after that.
However, just before the TX750 was removed from the production line, Yamaha released an updated model, the TX750A, which didn't suffer from any of the original bike's shortcomings.
When Chicago-based steel mill worker Ron George was offered an incomplete TX750 project he approached it with caution. However, after discovering the all-important 'A' stamped on the engine case he gladly accepted.
Ron's Yamaha TX750A is a homage to the late great Kenny Robert's Yamaha TZ750 race bike. Performance upgrades were a must and come in the form of a custom R6 monoshock setup, R6 front brakes, a bespoke hydraulic drum brake at the rear, a custom oil cooling system and a custom twin exhaust designed to recreate the look of the TZ two stroke configuration. What really stands out here though, both figuratively and literally is the bike's polished alloy bodywork.
Believe it or not, this was Ron's first time shaping aluminium. Clearly, he's got a talent for it.
7. Thrive Motorcycles Honda CB650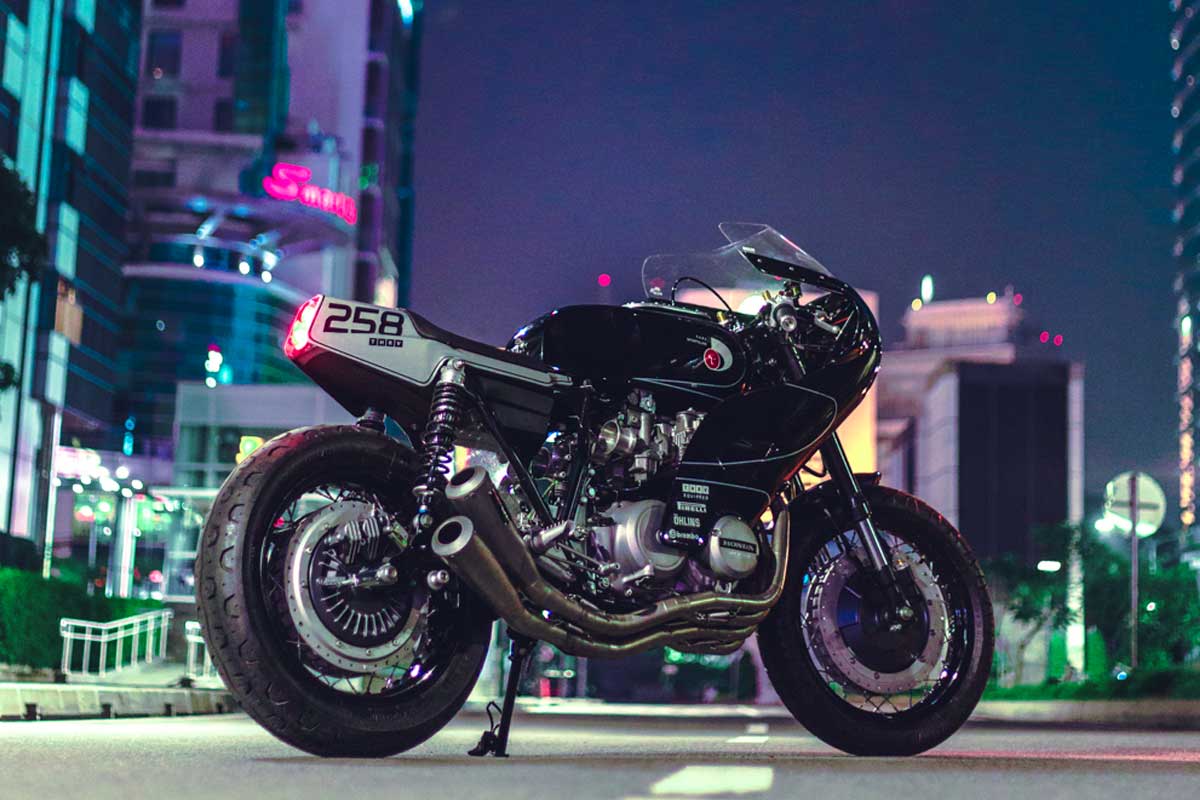 We can already hear the purists screaming "THAT'S NOT A CAFE RACER!". Yes, we know what a cafe racer is. Yes, this isn't your typical cafe build; but that's exactly why we love it so much.
Indonesia's Thrive Motorcycles build custom motorcycles to the beat of their own drum – so this Honda CB650 was never going to adhere to any bike building rule book. Nicknamed 'Portia' the 1980s CB650 mixes styling cues from vintage Japanese superbikes, the motorcycles ridden by Japanese Bosozoku gangs and cafe racers.
A 1960s style twin headlamp fairing set the overall tone for the build. It was custom made in house and is held in place using custom bracketry. The tank and tail section are hand made too, but this time Thrive shaped them from aluminium. The narrow tank pushes the rider further back on the bike and features an Endurance style filler complete with a fuel level sight window. The angular tail is modelled on 80's race bikes and the leather saddle only has room for one.
Most of the other changes you'll find on the bike were made in-house at Thrive too, with the exception of the suspension and brake set up. For those Thrive opted for a mix of Ohlins shocks and a retrofitted USD Yamaha front end. Replacing Honda's Comstar wheels are spoked items and those wild looking brakes are inboard units from a CBX550F.
6. Valtoron Max Boxer BMW R100RS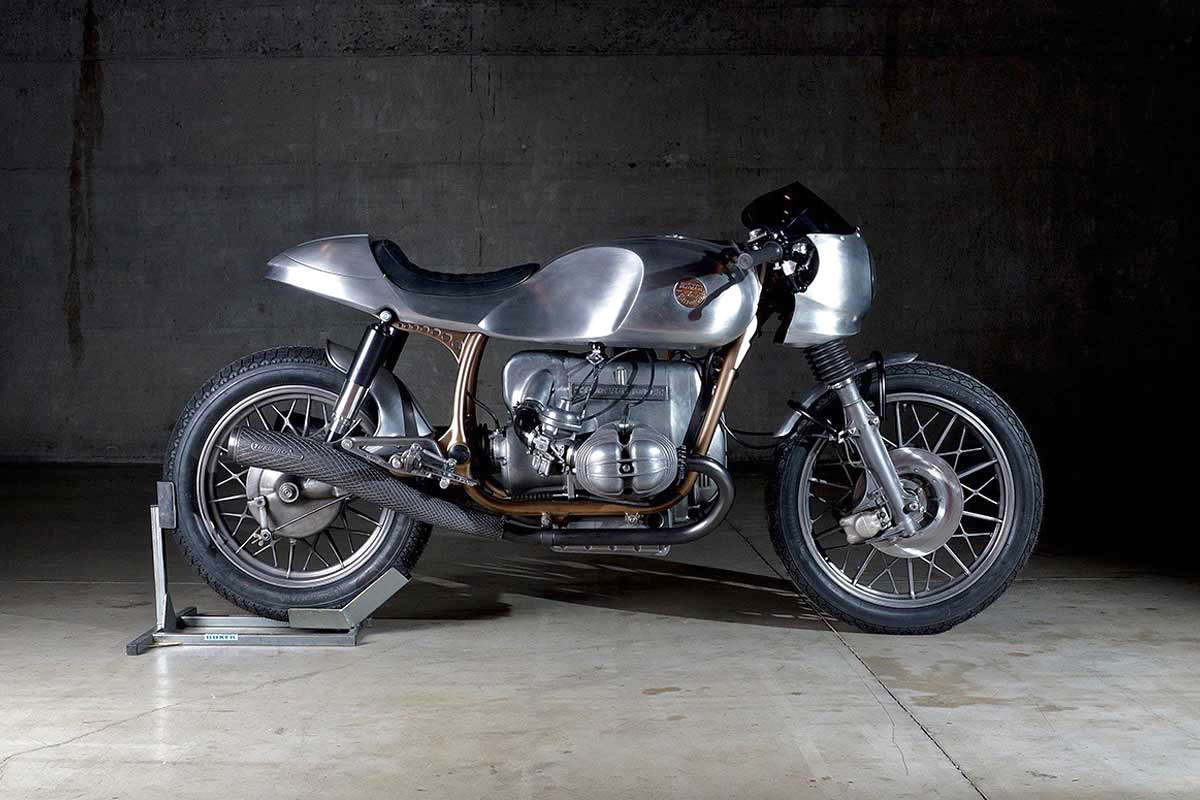 We see countless BMW airhead cafe racer builds every year. That's not to say we aren't fond of them, but if you're looking to impress it'll have to be something pretty special. When we caught wind of the Delgado Brothers BMW R100RS build we knew straight away we were in for a treat – and what do you know, they didn't disappoint.
Adopting their usual, unique method of bike building. Pablo and Carlos of Valtoron cast the bodywork of their BMW R100RS cafe racer in their own foundry. After shaping each part from clay the brothers pour molten aluminium into a sand mould to produce each part.
In the case of this BMW, the parts included the monocoque style bodywork, half fairing, rear fender and crosshatch patterned mufflers. After casting has taken place each part is painstakingly hand finished. Due to the casting process, the parts have a texture and finish that makes each one truly unique.
Along with the stunning bodywork, Valtoron modified the BMW's frame to support the new body. They also teamed up with Airhead experts Max Boxer to overhaul the boxer twin. The engine now runs larger barrels, performance internals and a specially designed airbox that Valtoron shaped and cast from scratch.
5. Mr. Martini Triumph Legend TT
Mr. Martini isn't the shy type. His larger than life personality precedes him in the European custom motorcycle scene. But this top hat-wearing artist/restaurateur/retailer isn't merely a show pony. Mr. Martini can build awesome bikes. He's been doing it for quite some time and in the world of bike building, surviving the test of time is proof of one's ability.
When the opportunity came to take part in the various custom drag series events taking place around Europe Mr. Martini wanted in. He'd seen what fun other builders were having at Triumph Wild Days and the Sultans of Sprint series and he wanted a piece of the action – and he wasn't about to do it by halves.
The Mr. Martini Triumph Legend TT is heavily modified in both style and performance. Working with Fabio Marchiotto of Hard Drag Garage the Hinckley triple received extensive upgrades. Lightweight performance internals, improved cooling, ECU upgrades and a custom exhaust established a good starting point.
To really give the bike the edge it needed though they went all out adding a Nitrous injection kit. To manage the increase in power the bike now runs a GSXR front end and there's a carbon wheel out back to reduce unsprung weight to the bare minimum.
Another key aspect of entering the drags is that your bike has to look good and Mr. Martini has nailed that brief. His Legend TT now runs a retro-style fairing at the pointy end. In the back is an '80s GP style tail sitting on a custom subframe.
To finish things off he's painted the tins in a rather unassuming metallic baby blue. We think this may be his way of catching overly confident competitors off guard.
4. BMW K100RS by Ron Dey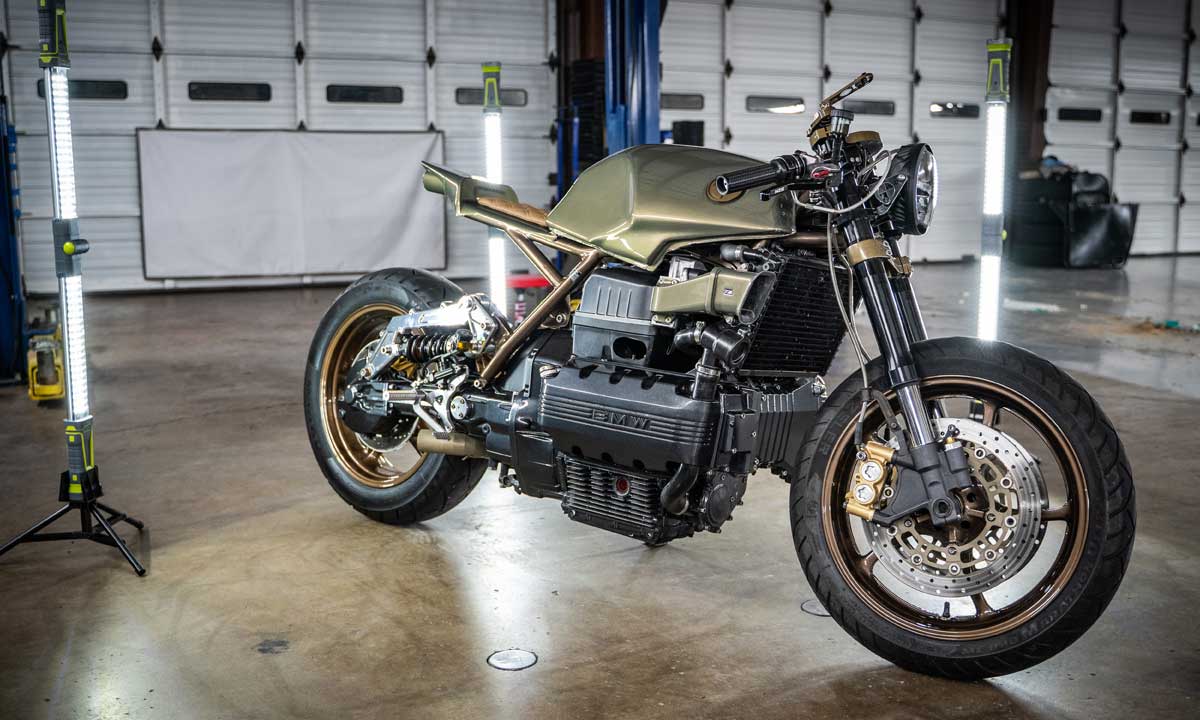 Like Honda's Plastic Maggot or Yamaha's Sportster wannabe Virago, the BMW Flying Bricks always struck us as an odd choice for a cafe racer project. But when examples like this BMW K100RS by Ron Dey turn up in my inbox we get it.
Ron isn't your average backyard builder. He's been churning out customs for years. While many of them have been personal projects he's had his work displayed in the hallowed halls of the Vegas Sema show and has always had a soft spot for Beemers. Moving from four wheels to two he discovered the BMW K series of motorcycles and that's where he's focused his efforts ever since.
Ron's goal with his K100RS cafe racer was to intrigue and confuse people. He's done this by stripping away as much of the bike as possible and only fitting parts that were essential or created the look he was after.
The finished bike is now as lean as possible and wears a host of well planned performance upgrades. The new front end is a rebuilt Yamaha R1 item while the rear utilizes a RetroRides suspension linkage. The subframe was designed to follow the angle of the tank for visual flow and the svelte tail is a one off design of his own.
What's really impressive here is that despite the behemoth engine of the K100RS Ron's bike has a visual lightness to it. Add to that a striking colour palette and a long list of premium aftermarket add ons and you'll understand why it made this 2020 Top 10 cut.
3. Scales Studio Ducati 1200SS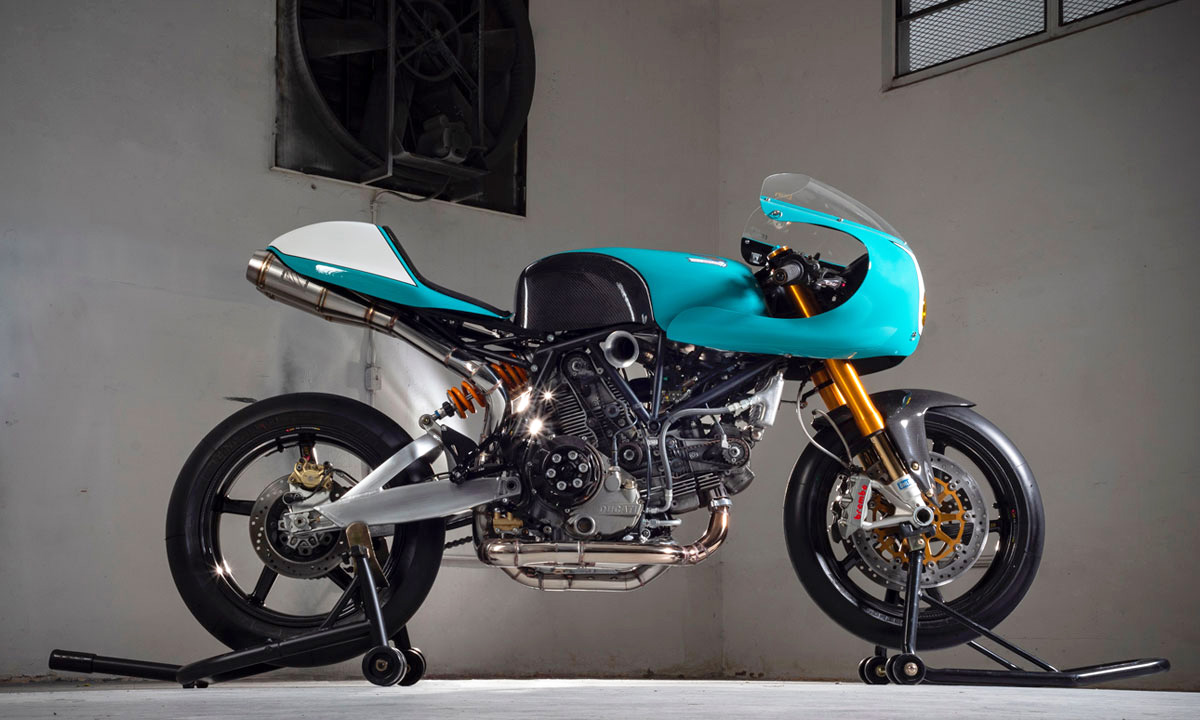 If you're the kind of person who takes pride in owning the best of the best then you'll want to pay Trever Scales a visit at his workshop in Miami. Here he builds premium quality custom motorcycles and cars for many high-end clients, including Mercedes Benz. His latest two-wheeled project involves building a limited run of these Scales Studio Ducati 1200SS bikes for a lucky few customers.
Inspired by 1970s Italian race bikes, Trever set out to create a motorcycle that merged the look of those machines with modern performance. The bike's styling takes cues from classic Ducati and MV Agusta race bikes.
The fuel tank is a custom made carbon-kevlar design with over 400 hours of development invested in it. The front fairing is a modified and rebuilt replica Ducati unit and the tail is a Sport Classic race unit that's been narrowed to suit 1000SS proportions.
The donor for this project was a 2005 1000SS yet this bike is running a heavily modified 1100cc HyperMotard engine in order to achieve the power figure Trever was after. After increasing capacity to 1200cc and adding a host of race spec upgrades, Trever fit the bike with a bespoke performance exhaust.
By utilizing special software that calculated the best design based on the engine configuration Trever created a "truly tuned exhaust system for optimal power". This is no average build and no average bike. As you'd expect the price tag reflects this, but workmanship of this magnitude doesn't come cheap.
2. Stile Italiano Laverda 750 SF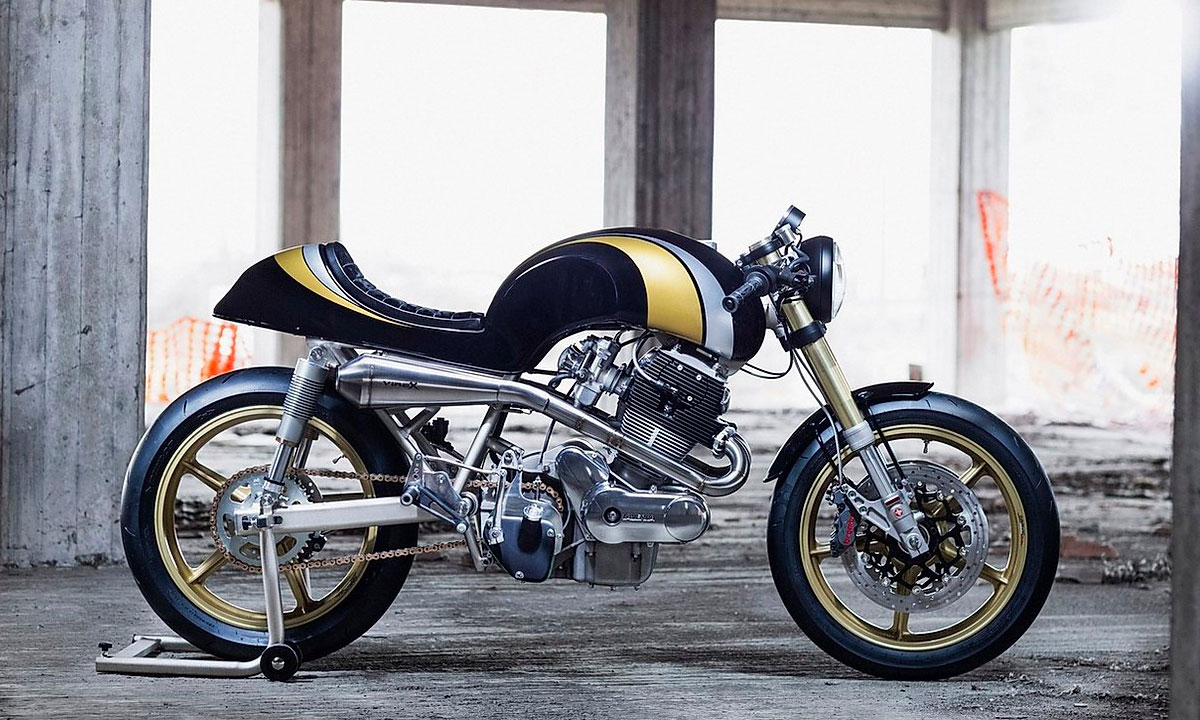 Stile Italiano is no stranger to our Top 10 lists. Their impressive custom work positions them with the best in the game and their signature colour palette has a timeless appeal we can't resist.
This year it was their Laverda 750 SF cafe racer that won us over. Despite the bike's unique body shape, there's something about it that really appeals. With a side profile that resembles an aggressive hornet poised to strike it was inspired by Egli Vincent Banana tanks. As is always the case with their builds the body is a single piece alloy monocoque built entirely in-house.
What's also unique about this bike is that it's built around an original Fritz W. Egli chassis that's been painstakingly restored. In keeping with the bike's historical significance, it's running suspension from Paioli who have been in the game for over 100 years.
Other premium component upgrades come from the likes of LSL, Domino, Brembo and Motogadget to name just a few. Milled details scattered over the bike create visual cohesion and the application of the black, gold and silver color scheme is, as always, inspired.
1. Nova Motorcycles Triumph Thruxton 900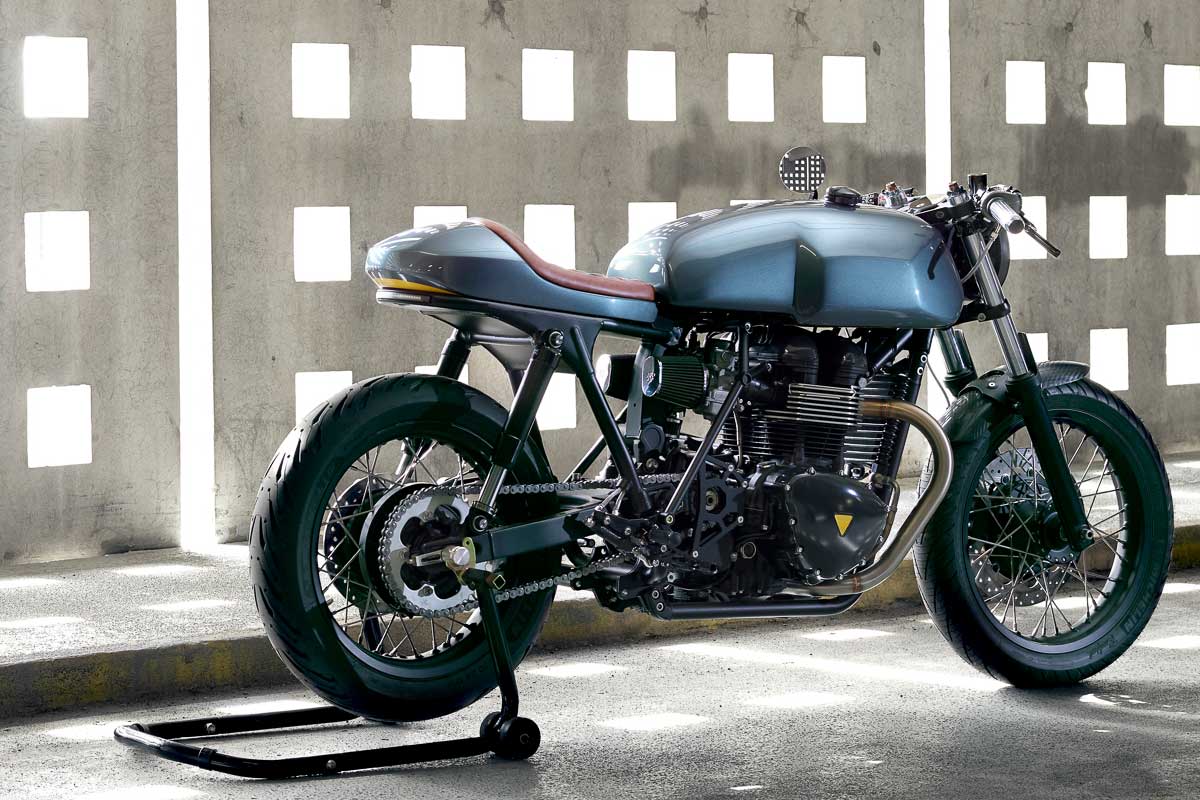 Despite their popularity, the air-cooled Hinckley Triumphs lacked the pizzazz of their water-cooled successors. The most disappointing model in our opinion was the Thruxton since it lacked a performance edge over the standard Bonnevilles. As you can imagine, awarding an air-cooled Thruxton 900 first place in our 2020 top 10 was no lighthearted decision.
The Nova Motorcycles Triumph Thruxton is a thing of beauty that only gets better as you venture closer. From afar the bike has a beautifully balanced simplicity to it. Venture closer and its many impressive details become apparent. Nova motorcycles business partners Peter Chilton and Sayre Anthony pride themselves in creating unique machines and we consider this to be the best yet.
When creating this bike the pair found their inspiration in '60s and '70s British race bikes. After identifying the elements from those machines that appealed the most they then looked at ways of merging them with modern components to improve the overall look and performance of the Thruxton.
The tank, tail and treatment of the engine and frame are where the classic influences are most apparent. These areas give the bike its quintessential cafe racer aesthetic. However, for the bikes various accessories Nova took a decidedly modern approach.
Many of the smaller details on this bike are one-offs. Take for instance the headlight assembly. The bracket that supports it was rapid prototyped and machined by a local supplier.
It gives the impression that the Motodemic adaptive LED light is floating between the forks leaving the stanchions completely free of clutter. It's just one of a long list of well thought out details that are so subtle they're easy to miss.
It's this kind of attention to detail and dedication that can turn a relatively lacklustre motorcycle into a thing to behold.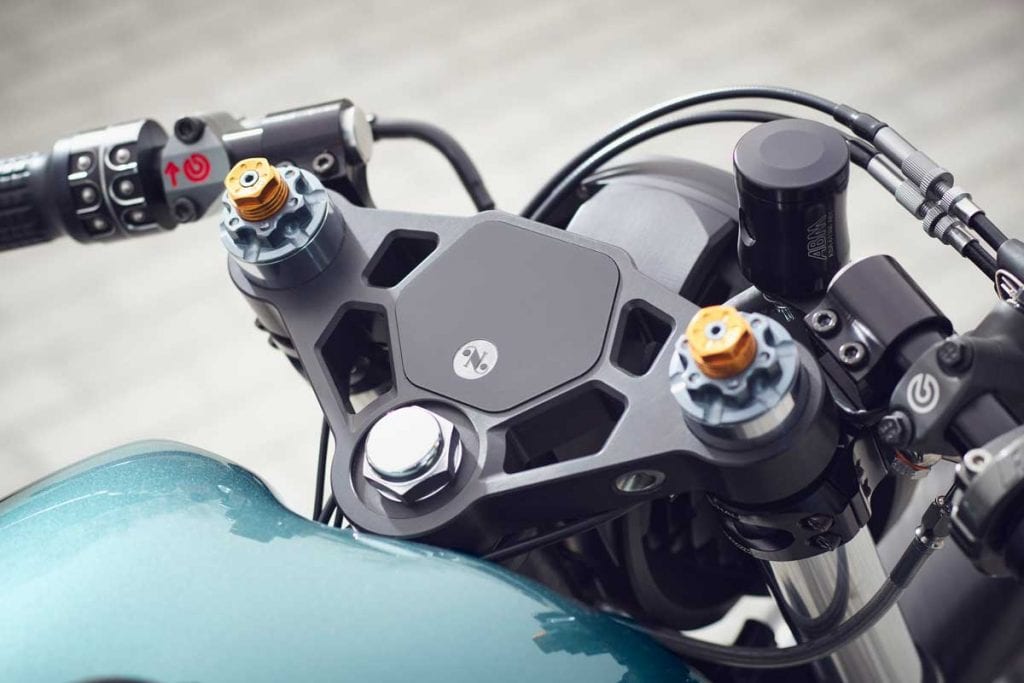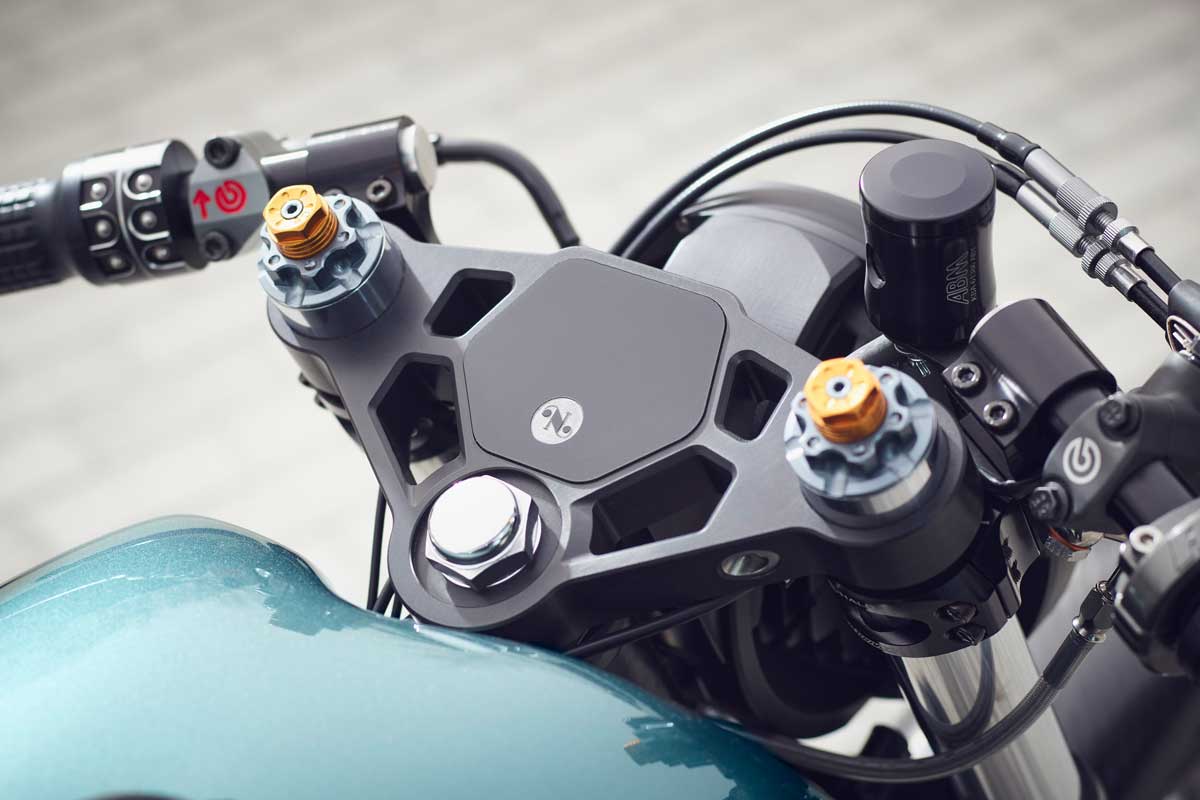 Honourable Motorcycle Mentions
Every year we stumble across custom motorcycles that fall outside of our cafe racer theme. Occasionally they're so good we can't resist sharing them. This year was no different and amongst those special features were two absolute standouts that deserve another mention.
VSB Moto Suzuki Katana Pro Street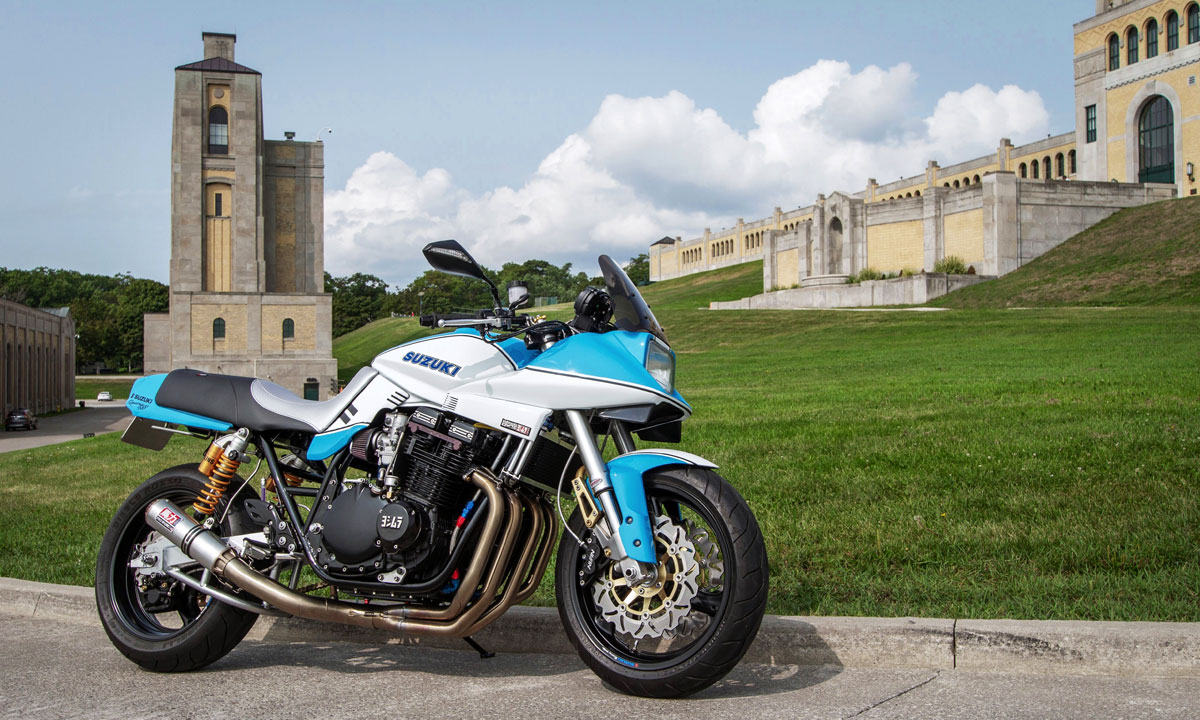 The 2019 Suzuki Katana may very well be a decent bike, but it's nowhere near as alluring as the bike that inspired its creation. Tony Bucci has been a fan of the Katana since its release in '81. As the owner of VSB (Vintage Super Bikes) he works on his fair share of classics, but when it came to building his dream Katana he wasn't about to rush into it.
The VSB Pro Street 1135R Katana was 7 years in the making. Most of that time was dedicated to planning and sourcing the right components but earlier this year he finally realized his vision. The build kicked off with nothing more than an '82 GS750S Suzuki Katana frame.
According to Tony, he likes to retain as much of the bike's original styling when doing a resto-mod and there's no question that is what has been done here. However, when you look beyond styling this build is all about power and performance.
The result of all Tony's hard work is a streetable, 145 bhp (at the wheel) beast of a bike and it will soon be joined by 3 more. During the build, Tony acquired 3 other Katana frames which are now destined for the same treatment. For an in-depth review of the entire build click the link below to read our exclusive interview with VSB.
Untitled Motorcycles Zero XP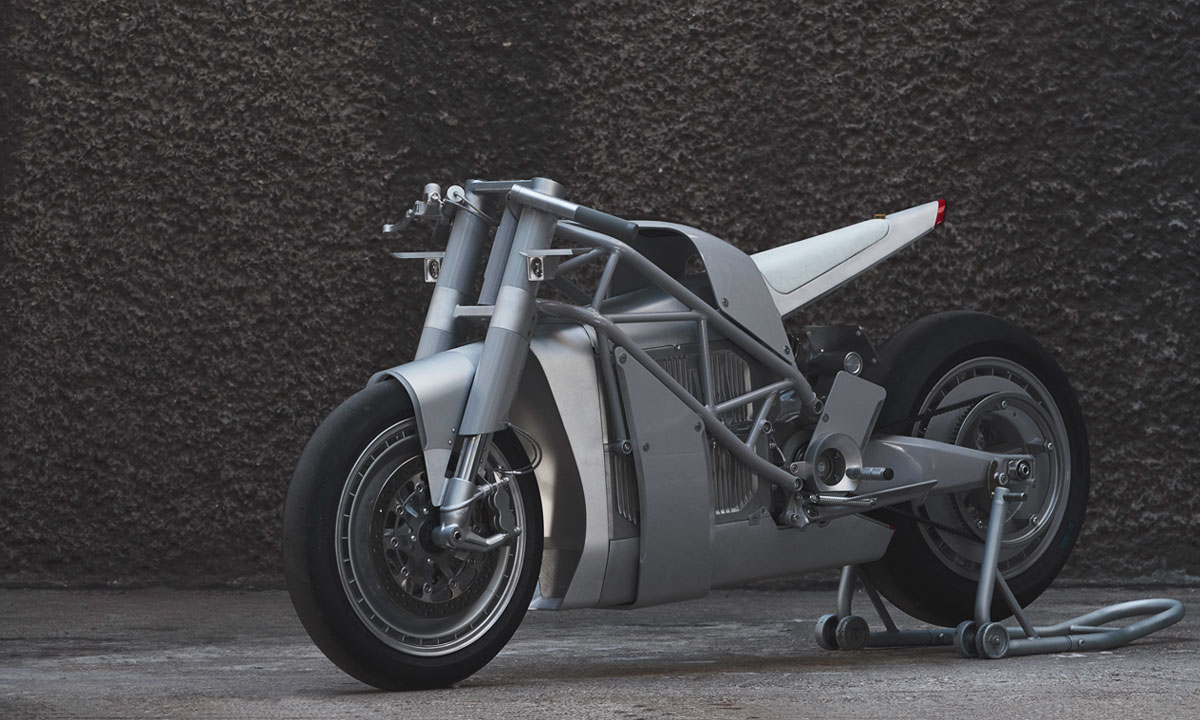 This incredible bike by Hugo Eccles of the San Francisco chapter of Untitled Motorcycles took the motorcycling world by storm in 2020. Even if you're not interested in electric motorcycles in the slightest, our story on the build of the Zero XP is well worth a read.
This bike was built through an exclusive collaboration between Untitled Motorcycles and electric bike manufacturer Zero Motorcycles. The bike started out as a 2020 Zero Motorcycles SR/F but Hugo began work on this project in secret back in 2018.
It wasn't actually until 2019 that he was delivered a donor which left him a mere 5 weeks to complete this bike. This meant that almost everything had to be designed in 3D prior to the arrival of the bike then quickly fine-tuned once they could directly reference the donor. That's no mean feat considering how radically the bike has been modified.
How much has changed exactly? Mechanically it's identical to the SR/F using the same stability and traction systems, engine and battery configuration. The swingarm, suspension, wheels and brakes are original SR/F items too.
As far as the bodywork goes, it's all been replaced by parts Hugo created in CAD and fabricated using CNC'd aluminum, ABS, and polycarbonate. In our interview with Hugo, he explains the benefits of this approach and what it was like working on his first electric motorcycle project.