Few motorcycles have stirred emotions and polarised opinions like the Suzuki Katana. A true product of its era the Katana was released in 1981 with the kind of futuristic styling synonymous with 80s sci-fi movies. It was the product of German design firm Target Design which was formed by 3 former BMW Motorrad designers. Suzuki commissioned the firm to update the brand's outdated look with the design of two new models. The 2 concepts were revealed to the public in 1980 and the response was so good that Suzuki wasted no time putting them into production. The rest, as they say, is history.
Toronto builder Tony Bucci has been a fan of the Suzuki Katana since its release. His workshop, the aptly named VSB Moto (Vintage Super Bikes), specialises in resto-mod style builds and for the past 7 years, he's been planning, preparing and building his vision of a modernised eighties Katana. With the help of a small team of skilled vintage motorcycle racing enthusiasts, he has built this incredible pro-street 1135R Katana which is the first of a series of 4 bikes. We spoke to Tony to find out more about this incredible bike and his VSB Moto workshop.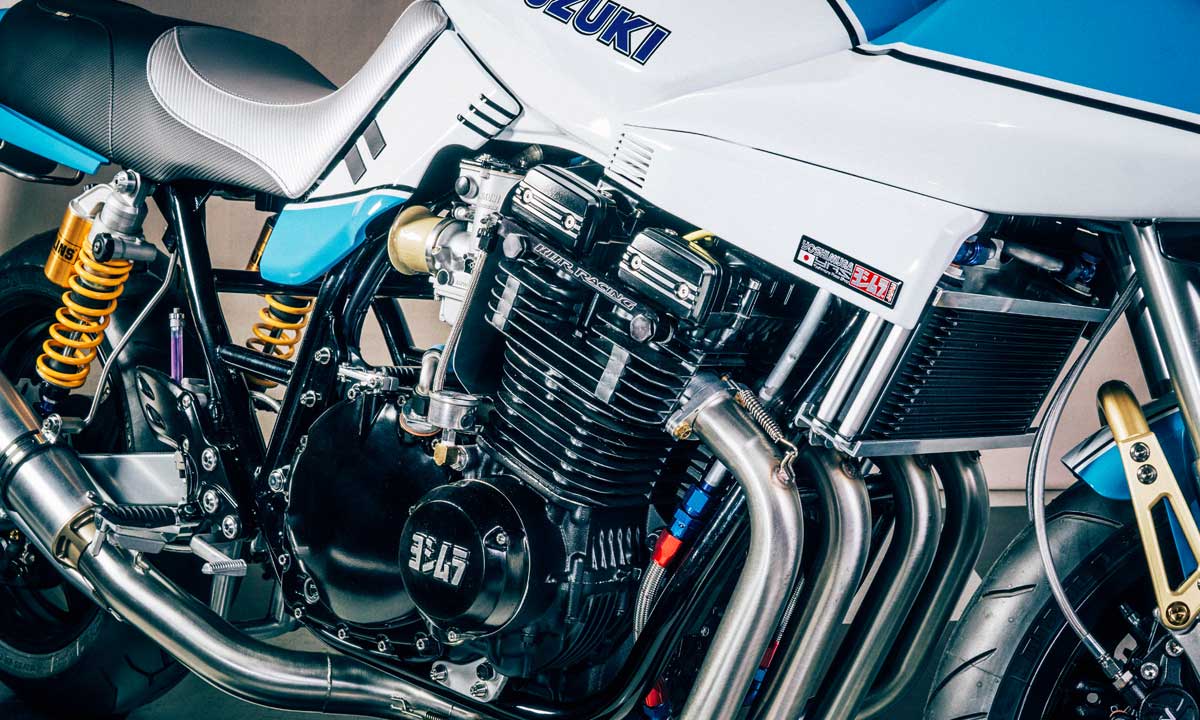 What's the story behind VSB Moto?
The long and short of it is, after taking a 20-year sabbatical away from motorcycles, while raising my family, I finally got back into vintage superbikes in a big way. Not only riding them but now also building them and it has been just a blast. I launched VSBMoto.com to showcase some of the motorcycles within our close network of friends.
I hold two college trade certificates and I enjoy every aspect of building vintage superbike resto-mods. From the initial concept and design to machining and tig-welding to building engines and custom wiring harnesses. I have a very close network of friends that also build vintage bikes and we help each other when needed. We work out 4 small shops. One of our shops is a full-blown machine shop with a heavier lathe and milling machine, together we can pretty well handle anything.
I just turned 60 a few months ago, but I feel like I'm still 28 years old and as excited as ever when it comes to building motorcycles. I really enjoy my involvement with Vintage Super Bikes including the social aspect of vintage racing and building and showing off our builds. Everyone I have met involved with motorcycles, especially the older bikes, has been the salt of the earth.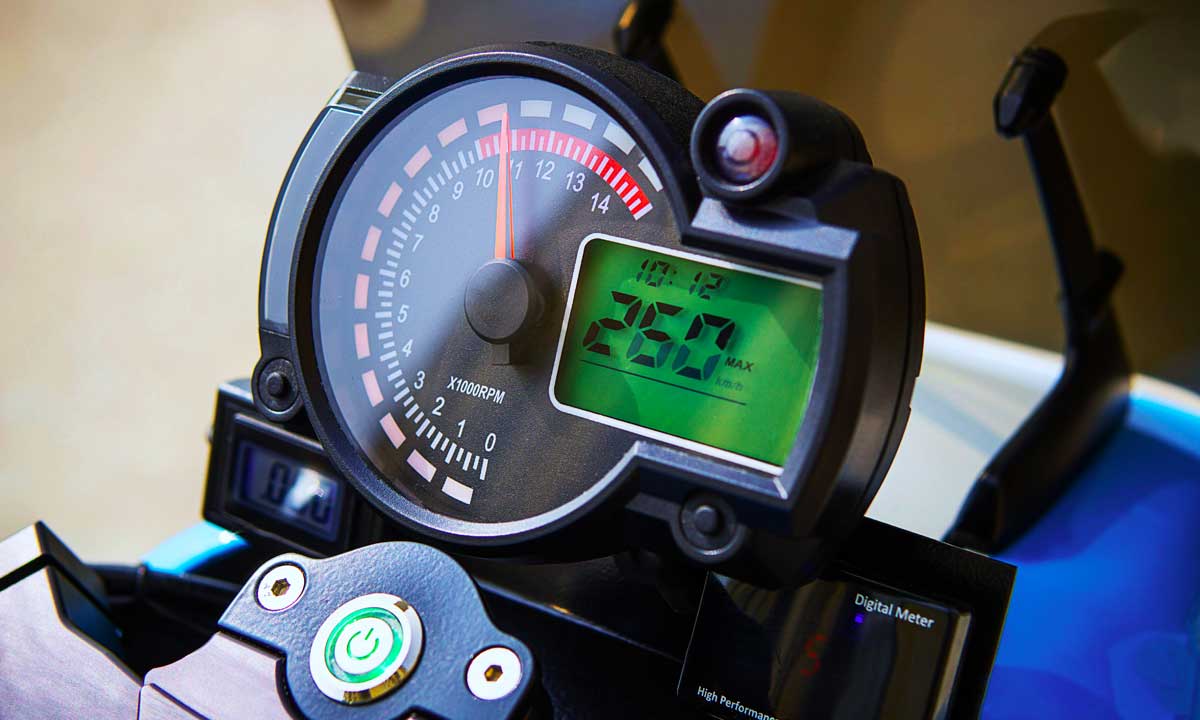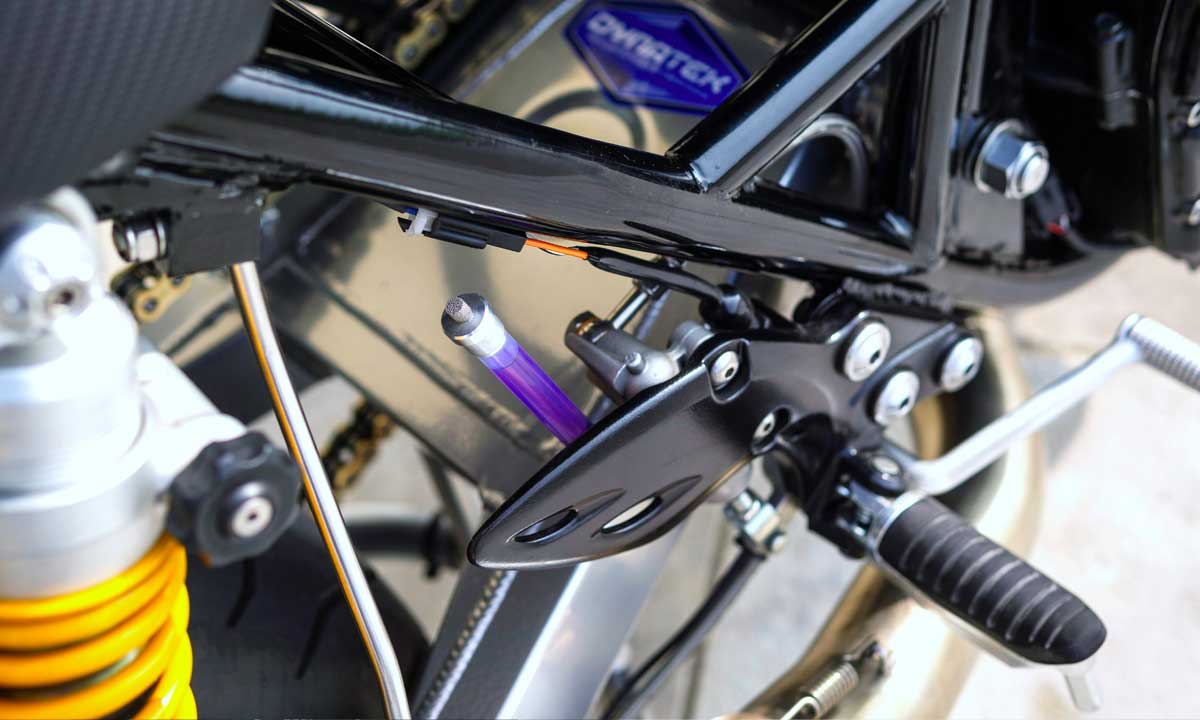 Where did you source the Suzuki Katana for this project?
No special story here. We came across a great deal on a bare '82 GS750S Katana frame and the build started from there. We then sourced the rest of the parts needed. Shortly after we purchased this frame, I came across a 2nd GS750S Katana frame. So the plan from building 1 bike turned into 2. While collecting parts for our 2 builds over the last 7 or 8 years, I ended up finding another 2 GS1000S Katana frames. This is when our plans changed again from building 2 Suzuki Katanas to now building 4 resto-mod bikes. I figured, if I had to machine parts for 1 build, I might as well machine and fabricate enough parts to build 4 bikes. For now, I have drawn the line at 4 with the frame for Katana build #2 ready to go and all of the bodywork painted. I will eventually build all 4 resto-mod Katanas and I'm hoping to keep at least one for myself when all is said and done.
What is your process when building and designing a bike like this?
In the late '70s to early '80s, after seeing the burgeoning new AMA Superbike Racing, I was hooked. That is what has influenced me and my builds. I like the Japanese big-bore air-cooled vintage superbikes of that era. A lot of thought and planning goes into each VSB Moto build. This includes a lot of research on what parts are available, what combination of parts will work well together and also what will look great!
The other big challenge is the process of sourcing parts for our builds, which depending on the bike can take up to a year or two. In my search for parts, I attend swap meets and I'm always searching on eBay. It can take a lot of time. For my next build, I started sourcing parts last November and it will take me until fall before I have everything I need. Then when we start our build it can take up to a year or more to complete.
I try to keep the look of the bike as close as possible to the original look with the following upgrades. I like big brakes, big horsepower that is streetable, modern suspension with modern wheels and tires and a great sounding pipe. It's also essential that the finished result is comfortable to ride on the street.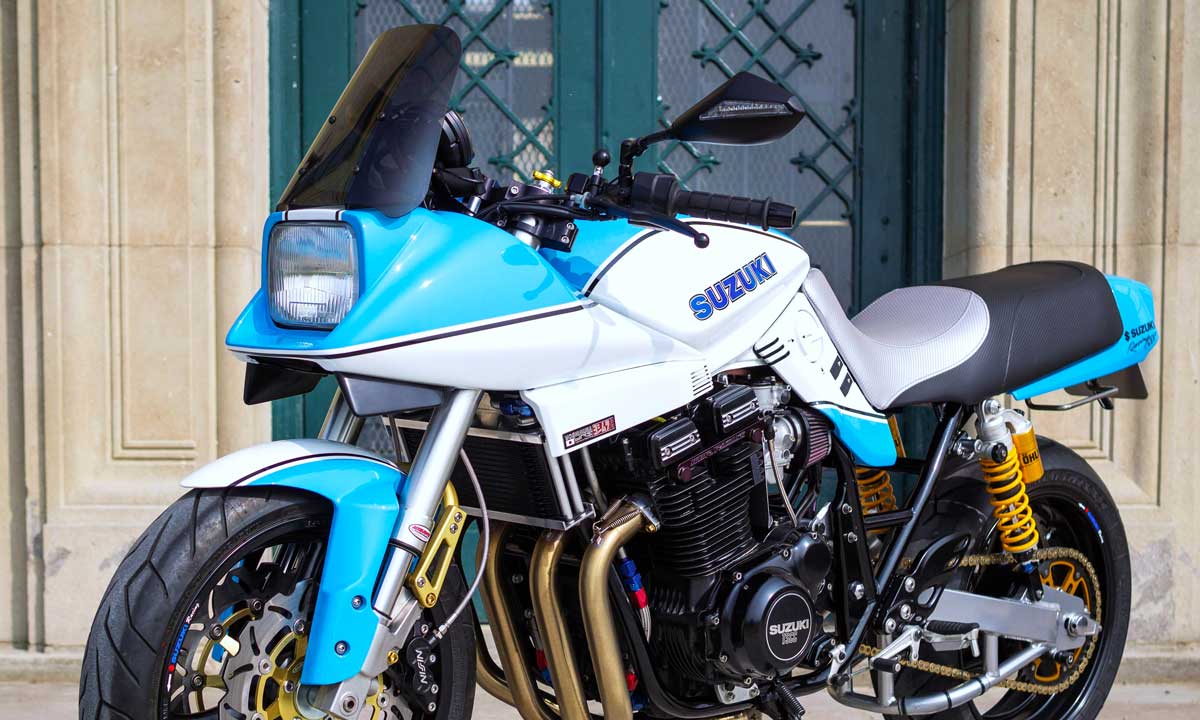 What were the things you wanted to improve on the original Katana?
I really didn't like the rear stance of the original Suzuki Katana. The tail was too low. Another area I was not a fan of was the spindly forks, and I hated the half-moon front fender. These bikes also weighed too much. The original Katana is a very heavy bike so anything you can do to lighten the load will help in all areas of performance. In my opinion, the early 80's Suzuki Katana is one of the best bikes to resto-mod. A lot of the older bikes do not respond as well, especially when you change the wheel diameter size. They just don't look right.
What was the most challenging aspect of the build?
I think it was getting the stance correct with the modern 17" wheels. A lot of the older late 70's and early 80's vintage superbikes came with a mix of different wheel sizes, typically around 18". A lot of these older bikes just don't look right when you put modern 17" wheels on them. I spent a lot of time sketching and measuring.
The challenge with the front end was not losing ride height. A lot of guys purchase modern forks off eBay without any thought. They install them and wonder why the pipes are almost dragging on the ground. Our combination and careful selection of forks, triple clamp, custom drop-top clamp, clip-ons and the exhaust system is what gives us 140mm of ground clearance.
The other huge challenge was finding a front fender that would look and fit great. I didn't want to settle for the original fender that was designed for the forks we chose. We looked at many front fenders and spent hours on proto-type brackets to fit it right. It had 4 mounting holes to the forks, but they only had 2 mounting holes. It took a lot of work to get the fit just right. As you can see it fits perfect with a very tight gap between the front fender point and tire which was the look I was shooting for.
The custom-fabricated side stand was another area that we focused on as I did not want to use the stock one. Lastly, the exhaust hanger bracket we designed was our own custom concept. I did not want to hang the exhaust support bracket off the upper rear shock mounting stud which is a common approach. We spent quite a bit of time coming up with our own design that is secured to the frame and provides a very clean look.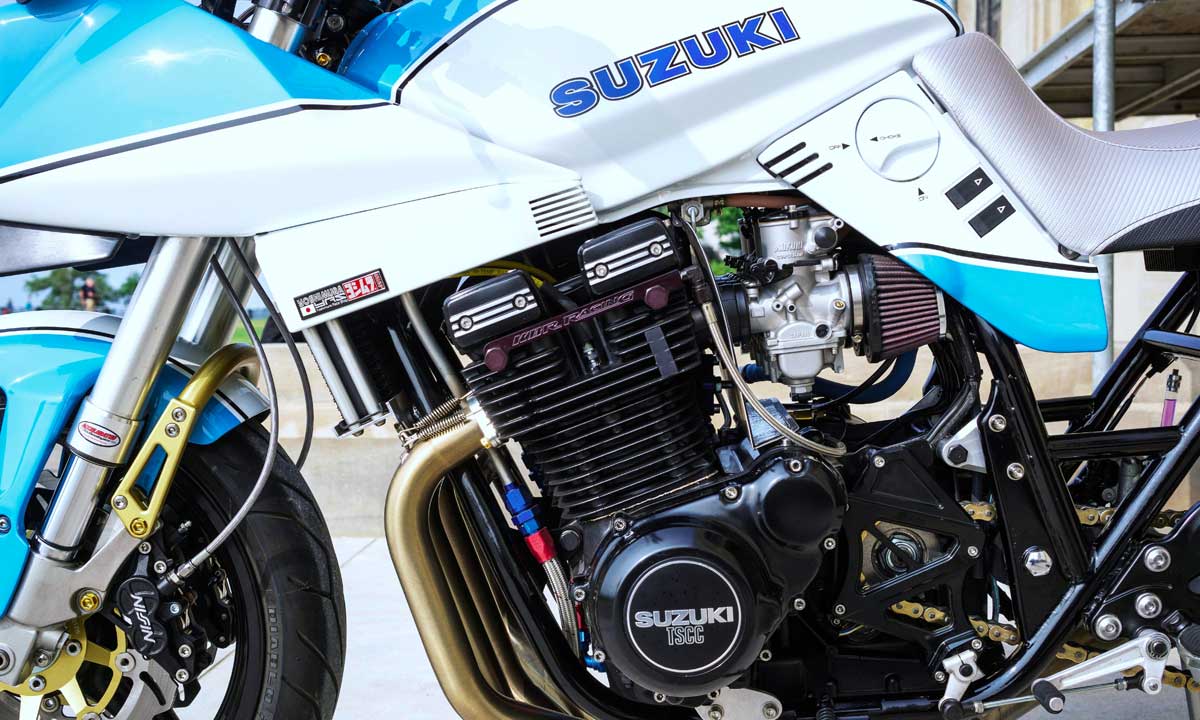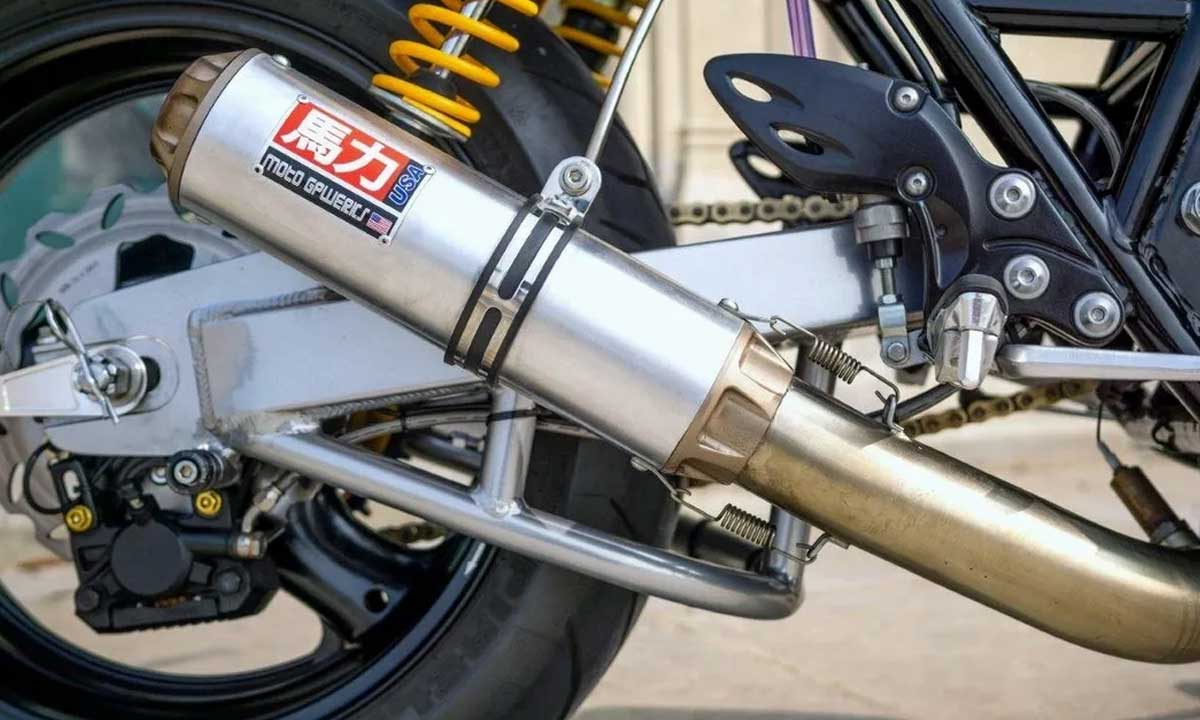 VSB Moto pro-street Suzuki Katana specifications
With 7 years of build time behind this bike, there's no question every modification has been carefully calculated. Here's an overview of most of the work that was done.
Starting with the chassis the '82 GS750S Katana frame has been fully braced using 3/16" thick steel gussets and tig welded  1″ chromoly tubing. To manage the front end there are adjustable steering stops with urethane bumpers and a steering head mounted Ohlins damper. Tony's exhaust custom hanger and custom stand have been integrated into the design along with mounting points for rear-set footpegs and a redesigned subframe. For convenience, they've also added 3/8″ stainless steel hand grips that double as tie-down points for track days. Surprisingly, with all the changes, the entire frame weighs in at 44 lbs which is identical to stock.
For the swingarm, Tony opted against using the standard Suzuki item. Instead, he sourced a period CALFAB GS1100 swing arm that extends the wheelbase by 1.5 inches without affecting handling characteristics. Why the extra length? Because it helps to keep the front wheel planted when the 1135R engine unleashes its fury.
The completely reworked engine is based on a 1981 GS1100E 4-Valve unit fully built & bored to 1134cc. Inside you'll find Wiseco Pistons a race ported head and oversized stainless steel valves with shortened guides. New seals & APE valve springs keep everything sealed tight and the cams are a V&H Racing Grind setup. There's a Gardner Racing Crank, Falicon straight cut race gears, and a whole gamut of APE performance components. Tony's also installed an oil pump, KBR Racing Top End Oiler Kit and an oversized Earls oil cooler to keep everything well within safe operating temperatures. Oil travels between the engine and cooler via hard bent alloy tube lines that discreetly hug the rails of the frame. To keep things clean there's a breather tank stashed under the seat and a K&N filter on the crankcase.
Feeding the engine is a set of rebuilt Mikuni VM33 Smooth Bore Carbs wearing K&N filters. At the opposite end of the combustion cycle sits a custom Moto GP Werks stainless race exhaust complete with Bosch O2 sensor and it's mounted via machined alloy exhaust flanges. Finally, to manage the spark there's a Dyna 2000 ignition system and Dyna hi-output coils. The combined result of all this, after extensive jetting, dyno tuning and a break-in, was 180 hp at the crank which translates to 145 hp and 108 Nm of torque where the rubber meets the road.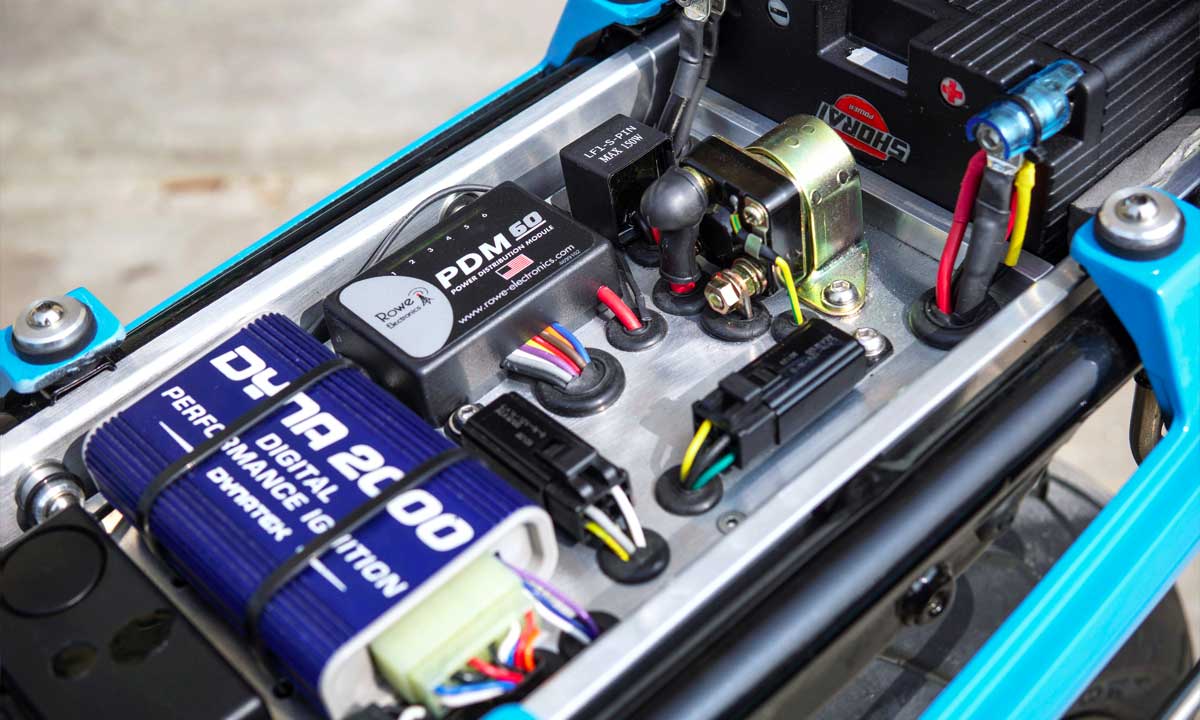 The extensive list of upgrades continues with a completely revised handling package. The front end utilises rebuilt '92 GSXR-750 inverted forks. They're mounted using a Honda CBR954 triple clamp and a custom CNC 1" drop-top clamp. Fully adjustable Apex clip-ons and 3" risers hang of the 41mm forks. In the back are Ohlins SU145 shocks.
Front end stopping power is provided by forks GSXR-750 brakes while the rear is running a mix of Hayabusa and GSXR-1100 components along with Arashi wave-type rotors. The wheels are also of GSXR-1100 heritage, rebuilt with a fresh powder coat and wrapped in Dunlop Q3+ rubber.
There's clearly been a lot of time invested in the Katana's electrics with the under-seat tray looking as neatly arranged as a MacBook circuit board. The completely custom harness uses an RFID ignition that is brought to life using a key fob. Bikes like this attract a lot of attention so there's a Scorpio 2 way F.M. pager alarm system keeping track of its whereabouts. A programmable 6 circuit Rowe-Electronics digital fuse block protects everything against shorts and the entire system is powered by a lightweight Shorai lithium-ion battery. The bikes electrical accessories are all custom too. All of the lighting has been converted to LED and the cockpit features a cluster of LCD displays (speed, gear position, oil temp, O2 display), a gear shift light and a 14,500 RPM tachometer. There's even a USB accessory charger under the saddle for those who require such things.
When it came to reworking the Katana's most valuable asset, Tony made sure the bodywork was treated with the utmost respect. After sourcing original body panels they sanded out any seams and filled unused holes. The original taillight assembly was swapped out for a period looking aftermarket LED unit from Japan that sits on a raised, custom subframe. The front fairing is a fully restored original unit that now features a fan-cooled LED dual-beam headlight assembly. Fuel is carried in an original tank too and it's been professionally relined, heat-insulated along the base and fitted with a new OEM filler cap.
Tony found his solution to the 'ugly' front fender issue in the form of a 2008 GSXR-1000 unit which is mounted using his specially designed brackets. As for the colour scheme the seat has been reupholstered using a carbon fibre look black/silver material and the Richard Petty blue and Artic white paint is a Wes Cooley inspired scheme. The finishing touch is a set of Suzuki OEM GS1000S Katana Shark Fins under the front fairing that were installed purely for their visual appeal.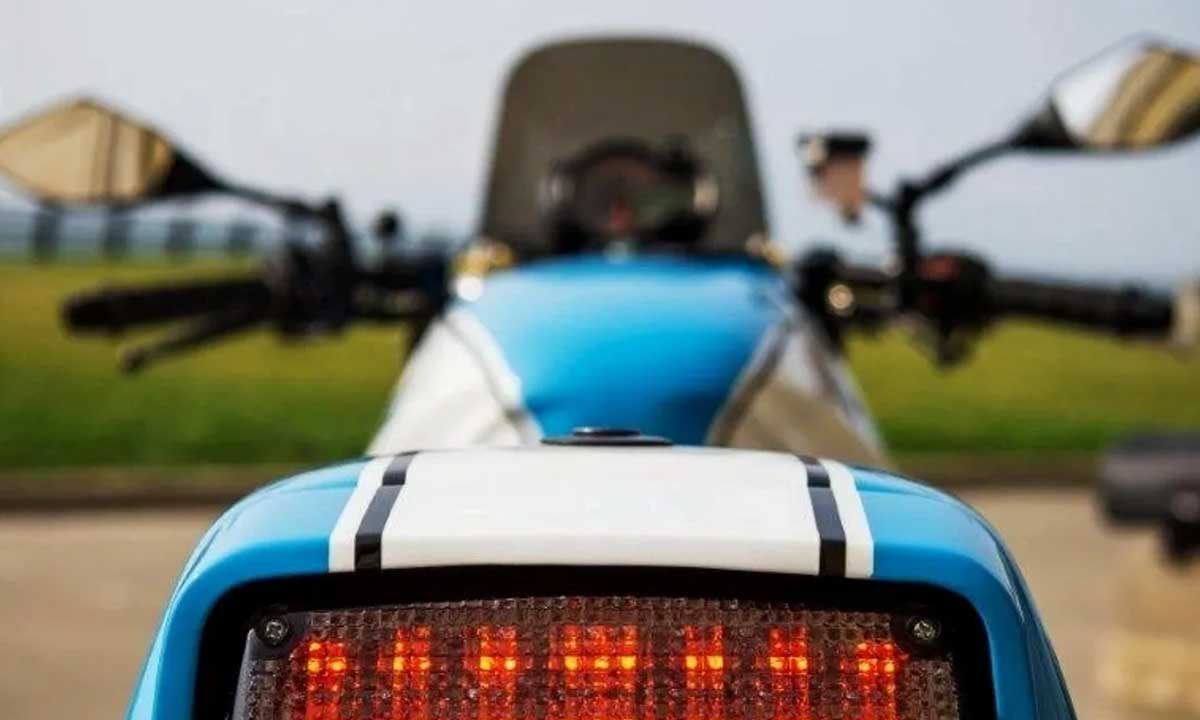 As for the all-important question of 'how does it ride?' Tony had this to say, "With 145 H.P. at the rear wheel and with the extended wheelbase, it's a rocket ship with incredible acceleration. The 180 rear really hooks up and allows for very smooth and controlled power wheelies under hard acceleration. It's comfortable to ride and handles great, stops on a dime and is such a blast to ride. "
Tony's Katana 1135r leaves quite an impression on those who have been lucky enough to see it up close. The bike has won multiple awards since being completed including 3rd place honours at the venerable Barber Vintage Festival 'Ace Cafe Corner'. As much as he's loved building and owning his pro-street Katana 1135R he tells us it is now up for grabs if you're interested in purchasing it. We imagine it'll be hard letting it go, but there are 3 more VSB Suzuki Katana builds awaiting their turn along with a few other VSB special projects. If this exceptional build is anything to go by they're all going to be well worth a closer look.
Photography by Mondo Lulu Photography