Over a century ago Michio Suzuki formed the company that is today known as Suzuki Motor Corp. Originally Michio found success producing weaving looms for Japan's booming silk industry. However, after World War II Suzuki turned its attention to the production of motorcycles and never looked back. Today Suzuki is one of the world's top motorcycle brands. Game-changing motorcycles like the Katana, GSX-R 750 and Hayabusa were instrumental in achieving that goal, and the manufacturer can be credited with creating 2 new genres of motorcycle, namely the Supersport and Power Cruiser.
Suzuki has a reputation for building fast motorcycles. Many of their street bikes were bred on the race track or inspired by race-winning machines. During the '80s and '90s, Suzuki was at its prime. This now means there are some very affordable and capable donors for custom projects on the market. Sportbikes from that era aren't typically considered ideal for cafe racer conversions. But with a bit of effort and a good eye for design, they can be transformed into great-looking, potent retro rockets that'll confound any classic bike aficionado and leave many a vintage motorcycle in their dust.
Today we're taking a look back at 10 of the best Suzuki cafe racers to grace these pages (in no particular order).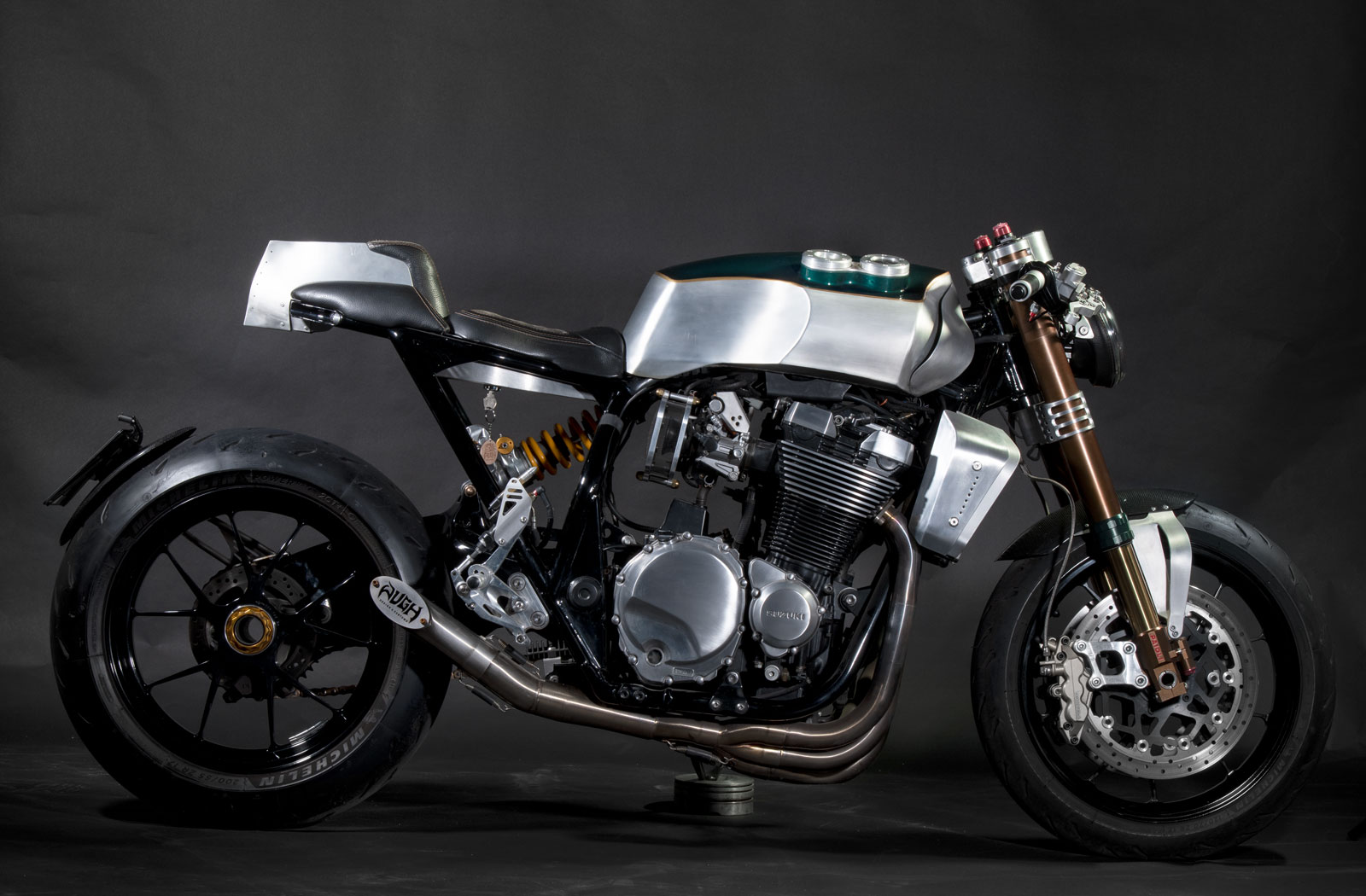 1. Augh Design Suzuki GSX 1400
In 2001 Suzuki released their vintage-styled muscle bike, the GSX 1400. The torquey beast could cruise comfortably all day long at 100mph and was known for its bombproof reliability. Powered by a huge 1402cc inline-four and tipping the scales at 228kg (dry) it's not what many would consider a viable cafe racer contender. That didn't stop the Italian transportation designer Mario Fedele from giving it a go though.
Under the workshop name of Augh Design Mario built what is undoubtedly the most unique GSX1400 on the planet. He found his inspiration in fighter plane design and set himself the mammoth challenge of turning the behemoth GSX into a sleek cafe racer. Built using a mix of old-school and modern fabrication techniques his creation is dripping with bespoke parts. The stand out for us though is the bike's hand-formed aluminium bodywork. The fuel tank with its deep knee dents is quintessential cafe racer style while the rear end looks like something straight out of Top Gun.

2. Complete Cafe Racer Suzuki GS550
After purchasing the donor for this project "after a few wines" things quickly spiralled out of control on Tony Garnham-Parks Suzuki GS550 cafe racer project. After dispensing with the idea of sticking to a budget Tony went all out installing upgraded running gear and increasing the capacity of the engine up to 650cc.
Along with the big improvements in performance Tony treated the GS to a complete facelift using FRP bodywork. Sitting up front is a Rickman-styled nose cone that houses a Ducati 749-esque twin stacked headlight array. As for the tank and tail, they're items from Tony's fibreglass bodywork shop and together they make a very convincing cafe racer out of this 1970s Suzuki.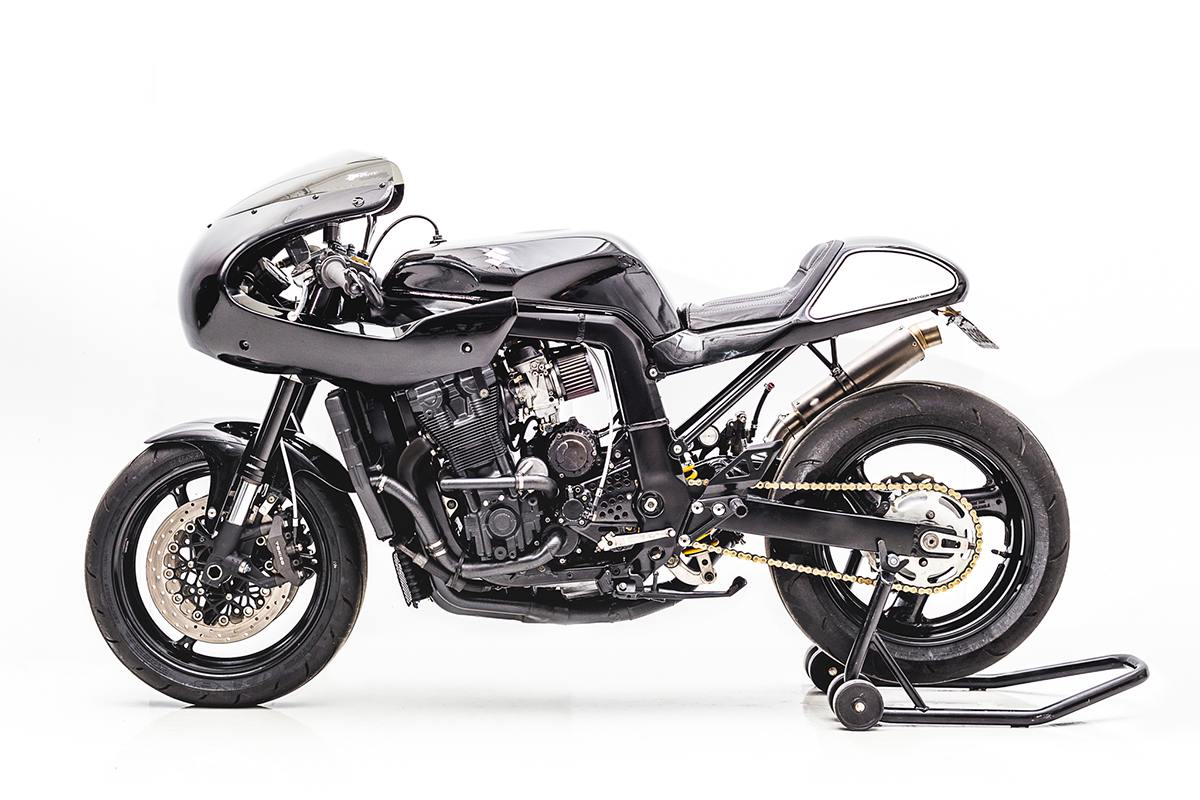 3. The wife's new wheels: Origin80r GSX 1100R
When was the last time you gave your wife something really special? When Rob Chappell of Origin8or Cycle Co. set out to spoil his better half, chocolates and flowers simply weren't going to cut it. Instead, he built her a one-of-a-kind custom Suzuki GSX 1100R!
Wearing modified Paul Smart replica bodywork this GSX-R oozes retro style. To make it all work the early nineties donor has a custom subframe and Rob's relocated anything unsightly that was exposed after the plastics came off. During the build, the Suzuki went through 2 stages with the final version boasting a late-model front end, upgraded brakes and a sleek black paint scheme. Some women may have preferred a diamond ring, but Rob's wife couldn't be happier.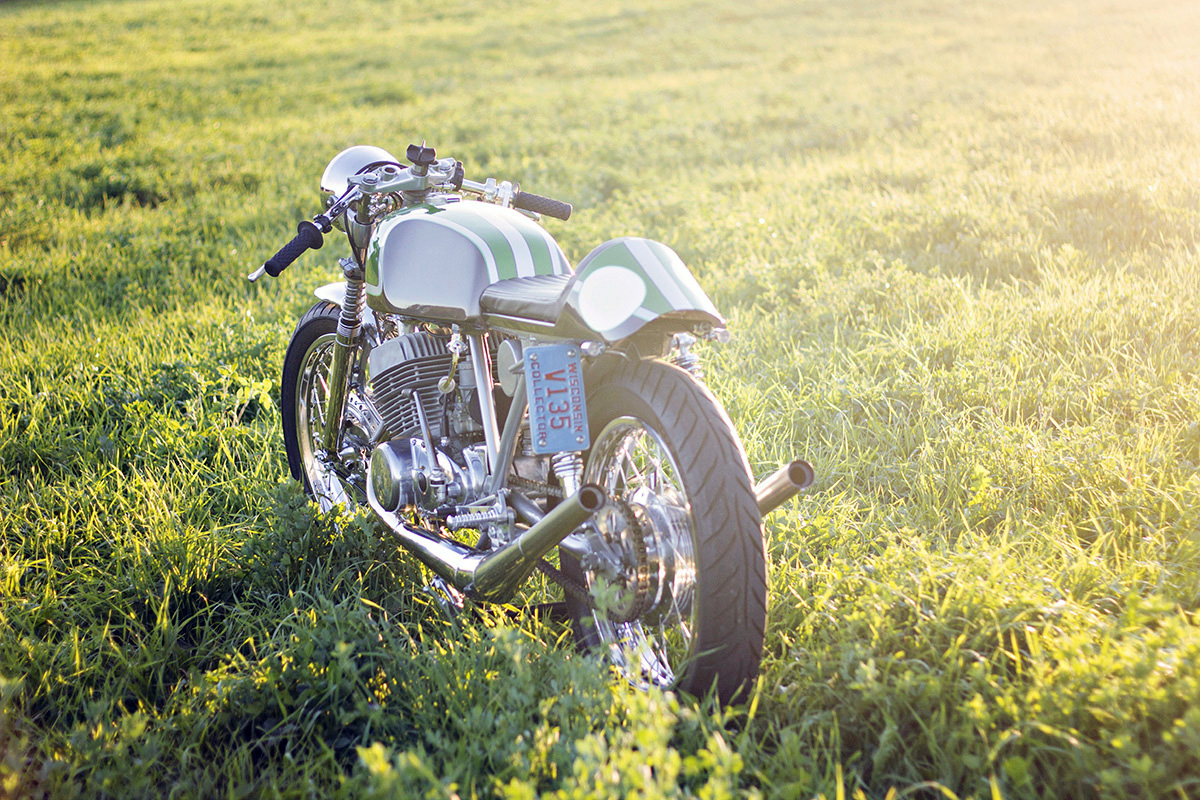 4. Two Stroke Titan: Suzuki T500 Cafe Racer
In the late sixties, Suzuki unveiled their game-changing T500. It featured the biggest capacity engine they'd ever produced, a 492cc air-cooled two-stroke, that produced 47hp and a ton-breaking 105mp/h top speed. At the time it was thought that a 500cc two-stroke was economically unviable and impractical to ride, but the T500 proved otherwise. Suzuki built over 100,000 T500s during the model's production run. So when Steve Baugrud got his hands on a T500 basketcase he decided a custom build made much more sense than a restoration.
The result of Steve's hard work is this stunning Suzuki T500 cafe racer that he completed in an impressive 8-month timeframe. Along with the huge improvement in physical appearance Steve's T500 also benefits from improvements to the frame, suspension and brakes. Of course, no cafe racer project is complete without an increase in performance and Steve hasn't overlooked that fact. After a complete teardown, the two-stroke twin was bored out and fitted with Wiseco performance positions. To get it singing right he then added a 2-into-2 system from Higgspeed that according to Steve sounds every bit as good as it looks.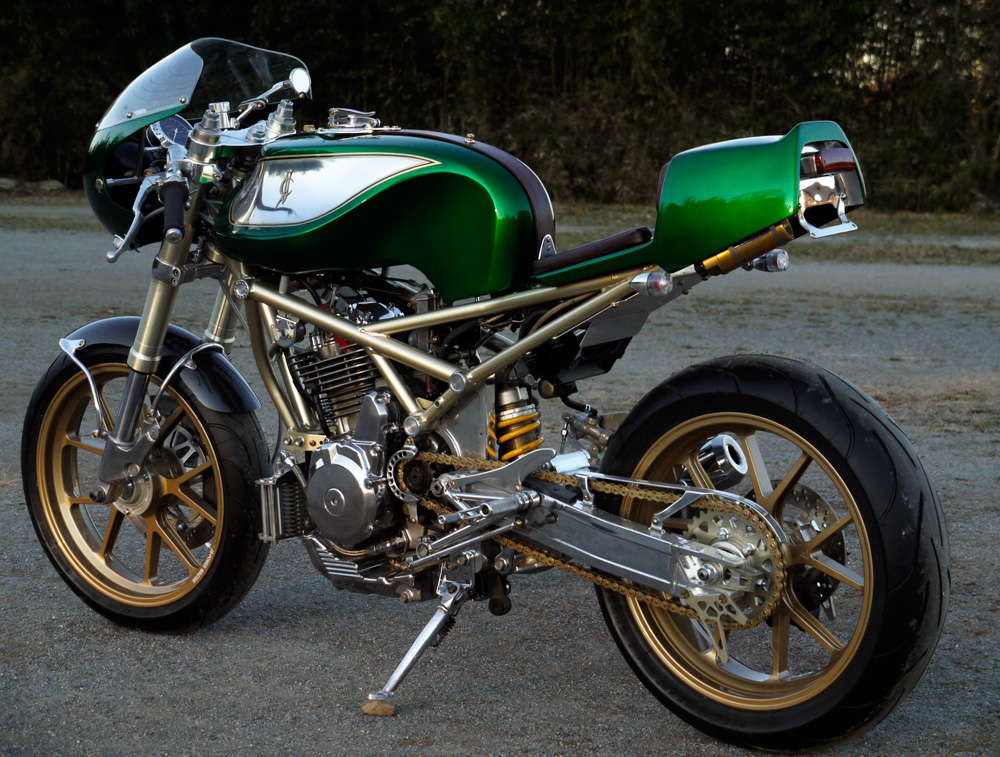 5. Gull Craft Suzuki Goose 250
The Suzuki Goose 250 was a small-capacity Japan-only release that despite its modest engine size was a lot of fun to ride. As you'd probably assume by its name, the Goose was not the best-looking motorcycle Suzuki has ever made. The naked street bike was a byproduct of the trainwreck otherwise known as early nineties style. This Goose however is a thing of beauty thanks to the Japanese workshop Gull Craft.
Featuring all-new cafe racer-styled Gull Craft bodywork finished in striking green and gold livery this Suzuki Goose has taken on a whole new look and we very much approve. Along with the aesthetic improvements the bike benefits from an assortment of performance upgrades courtesy of Yoshimura, Ohlins, Lockheed and Brembo. Engine capacity is up, making it 376cc and the single cylinder is fed by larger Keihin FCR carbs.
If the Goose was fun to ride before this one is sure to be an absolute blast!

6. Synapse Cycles Lightweight GSX-R 750
The Synapse Cycles Suzuki GSX-R 750 was built by retired engineer Bill Layer. It's his interpretation of a modern cafe racer that's just as capable on the street as it is on the track. After 40 years of designing machinery and riding motorcycles, Bill knows his stuff and this build is evidence of the fact.
Based on a current model Suzuki GSX-R 750, Bill's 'Helium' cafe racer has been stripped back to optimise its power to weight. In the rear is a new lightweight subframe and just about everything that could be replaced using lighter parts has been. To top it all off Bill installed hugely expensive Rotobox carbon fibre rims to reduce unsprung weight to a minimum.
Careful consideration has been placed on the Suzuki's secondary function as a track bike too. So to make it easier to swap the wheels he's fitted a specially designed rear axle and brake system. Leaving no stone unturned the suspension is a complete Ohlins set-up, the exhaust is a titanium system by Yoshimura and the ECU has been flashed to optimise the performance of the engine. Bill estimates this beast has 130hp at the rear wheel and we can't see any reason to dispute that claim.

7. DIY Delight: Moto8ight Suzuki Cafe Racer Kit
In the early days of the "new wave" custom scene, Jack Chin of Moto8ight wanted to make building a cafe racer an accessible undertaking for any moto enthusiast. To do this he set out to create a cafe racer kit that could be used with the engine from a 88-93 GSX-R, Bandit of Katana to create a lightweight, performance-oriented custom.
The Moto8ight kits were to include all the bodywork (FRP or Carbon), an aluminium fuel cell, a professionally built alloy frame, an adjustable subframe, rear sets, lighting and all the required mounting hardware for your chosen engine and suspension. Unfortunately, things went quiet back in 2017 so the project looks to have been abandoned. All we're left with are some very tempting images of Jack's prototype bike which are well worth a closer look.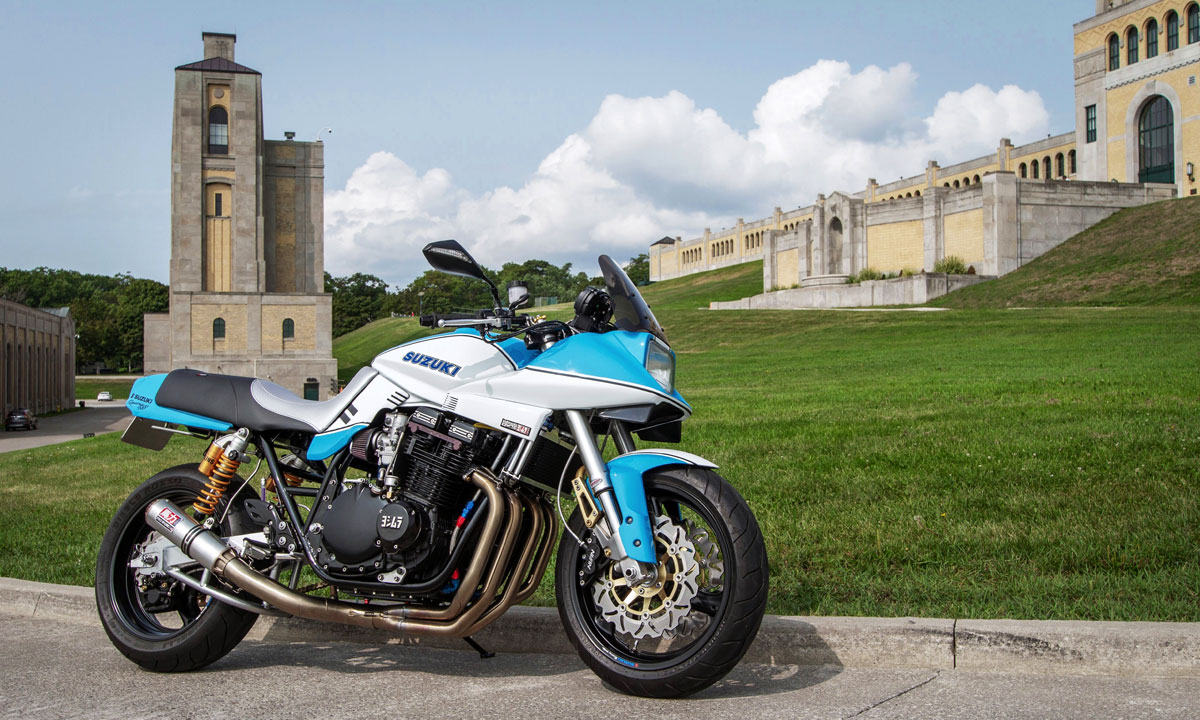 8. Pro Street 1135R: VSB Moto Suzuki Katana
Technically this Suzuki Katana by Vintage Super Bikes in Toronto isn't what we'd usually classify as a cafe racer, but it is the essence of what cafe racers are all about. VSB frontman Tony Bucci labels builds like this as Pro-Street motorcycles which translates to big horsepower machines that are still streetable.
Tony believes 1980s Katanas are one of the best big-bore air-cooled Japanese built platforms for a resto-mod. In our interview, he explains they respond well to modification but in order to achieve a really good result there are a few key tasks that need to be completed. The first is shedding a bunch of weight, the second is tweaking the appearance of the bike and the last is to be very careful with your part choices.
On this bike, Tony dispensed with weight by replacing everything he could with better-performing lighter weight alternatives. For the styling, he aimed to retain the Katana's iconic look while making improvements to the geometry and its lines. As for the parts list, he spent a good year or two researching and sourcing all the best bits he could prior to lifting any tools. For the complete breakdown of what it took to build this incredible Suzuki hit the link below.

9. Kikishop Customs Suzuki GSXE 750
When we featured this custom Suzuki GSXE 750 back in 2014 it was a real challenge finding anything out about it. But after a lot of digging, emailing and persistence we tracked it back to the French workshop of Kiki Shop Customs.
First unveiled at the Verona Motorcycle show this bike started out as a GSX-E 750, which was powered by an updated, lighter-weight version of the legendary GSX-R of the same capacity. But the engine and fuel tank are all that remain of that bike. Replacing the missing GSXE components are a GSX-R 1000 swing arm, shocks, forks and wheels. There is of course a long list of custom-made items too which include the all-new bodywork. Inspired by 1970s GP race bikes Kiki Shop's Suzuki looks lean and mean and wears a striking paint scheme that's a hat tip to the workshop's French roots.
10. Boy's Rare Racer: Suzuki Egli GT750
This stunning Suzuki GT750 is as rare as hen's teeth. Not because Suzuki built them in limited numbers, but because this is one of only 3 GT750s built by famed performance frame builder Fritz Egli.
For a long time, it was thought that only 1 Fritz Egli Suzuki GT750 frame remained in existence. It wasn't until two-stroke enthusiast Boy Meinkehn stumbled across this bike that opinion changed. After acquiring the Suzuki Boy soon realised there was something special about its frame. It was unmarked but bore all the trademarks of an Egli. Without being able to uncover any information about it he eventually got in contact with Fritz himself who confirmed it was indeed 1 of the 3 frames he'd built as a test for a potential production series, but the project never went ahead. Boy was of course elated by the news.
Knowing he had something very special in his hands, Boy decided to task the team at Extremebikes in Germany with the rebuild. His brief was to retain the bike's racing heritage, make it a capable historic racer for an occasional track meet and finish it to exhibition-grade quality. As you can see by these photos that's exactly what Extremebikes did. To learn about the entire build of this very special bike you can read more here.