I didn't grow up in the seventies but even I know about the legendary Barry Sheene. The 1979 British Grand Prix at Silverstone saw Sheene and fellow racer Kenny Roberts battle it out for the entire race. When the chequered flag dropped after 29 laps, Sheene trailed behind Roberts by just 0.030 seconds. It was one of the closest races in Grand Prix history. Despite losing that particular event Sheene's achievements at the track are the stuff of legends. As a result, his influence on the motorcycling world lives on well beyond his racing career and the man himself. Case in point this excellent homage to Sheene's 500cc Heron Suzuki XR27 GP bike which is based on a heavily modified GSX-R 1100.
I stopped by MotoMAX, my friend Ric Steele's dealership in Perth, and this astounding bike stopped me in my tracks. The paint scheme, the fairing, everything. I turned to Ric, eyes wide and asked, "what is this and where did it come from?" The answer to my questions turned out to be quite a story.
This bike started life as a 1988 Suzuki GSX-R 1100. It is road registered as an '88 model, even though not much of Suzuki's original configuration remains. In fact, only the frame, tank, oil cooler and airbox are original. Everything else has been replaced, upgraded and redressed to achieve a very clear goal – celebrating Barry Sheene.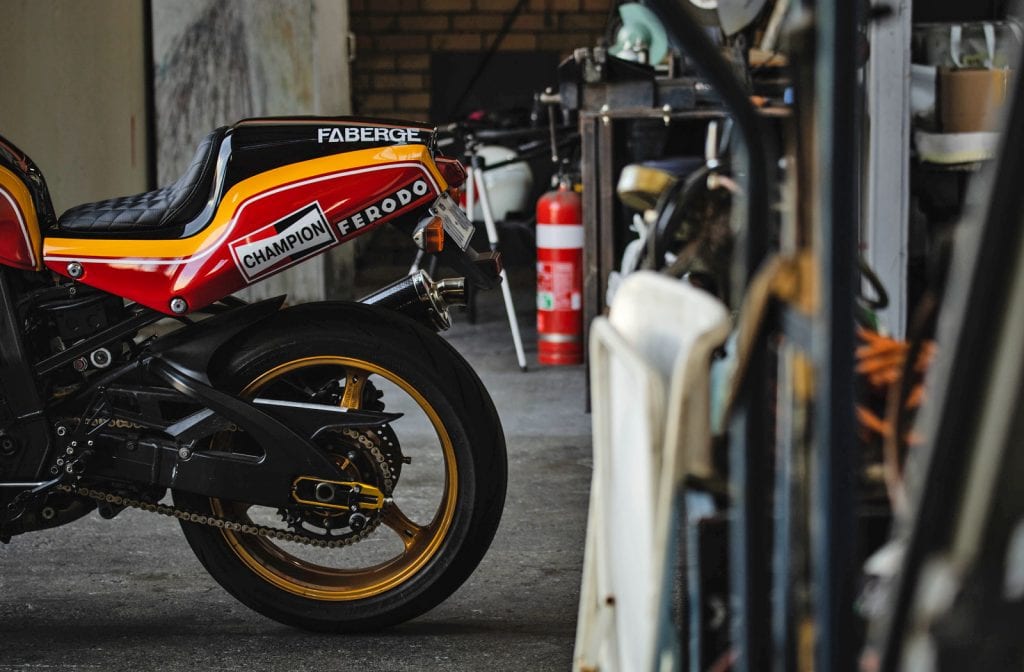 Starting at the pointy end, you're looking at a USD set of forks from a 2007 GSX-R 750. The front wheel and subsequent braking package came with the forks. This means stopping power is now taken care of by twin 310mm discs, clamped down by Tokico 4-piston callipers. Strangely enough, these are the same specs as the original brakes. Despite that, I think it's safe to assume the bike would stop a whole lot better than when it left the factory, especially considering the stainless steel braided brake lines. The front guard came with the assembly too and even though it's thoroughly modern it looks right at home thanks to Barry Sheene inspired livery.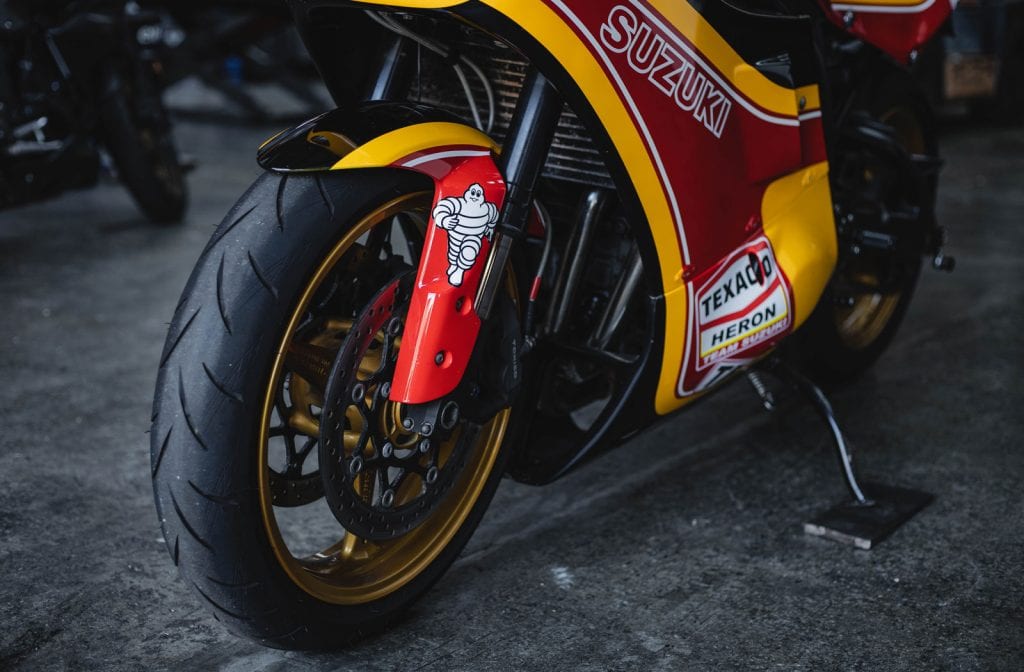 The fairing and seat unit hail from Airtech Streamlining in California and it's definitely a highlight of the build for me. Don't get me wrong, I'm a big fan of the eighties GSX-R 1100 items, but these Airtech units suit this build to a T. The XR27-inspired paint scheme was laid down by the owner himself and it ticks all the right boxes. The vibrant red/yellow theme demands attention and the sponsor decals let you know this bike means business. A single Acewell gauge dominates the cockpit and is a nice throwback to the tacho setup seen on race bikes of old.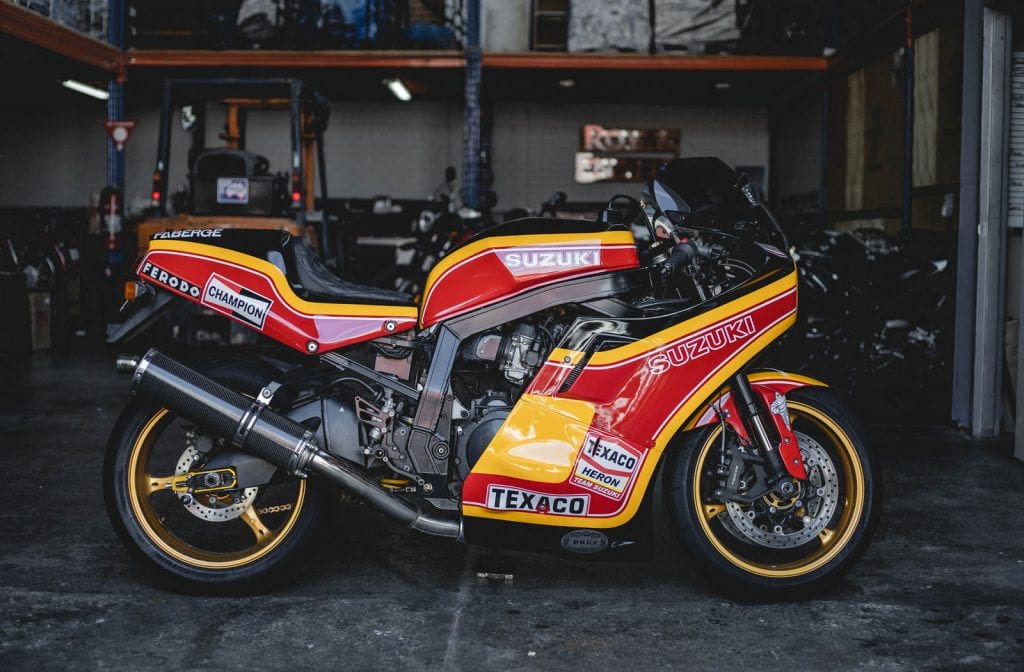 Interestingly, those shiny new fairings are hiding something intriguing. And it's one of the major aspects of the build – the engine. The 130hp GSX-R 1100 engine was a beast, but curiously it has been replaced with a lower power 1996 Bandit 1200 engine. However, thanks to the original, larger airbox and a well-informed carb rejet the Bandit motor is estimated to be producing about 115hp, and according to the owner, what's been lost in outright horsepower has been made up for with gobfuls of useable torque.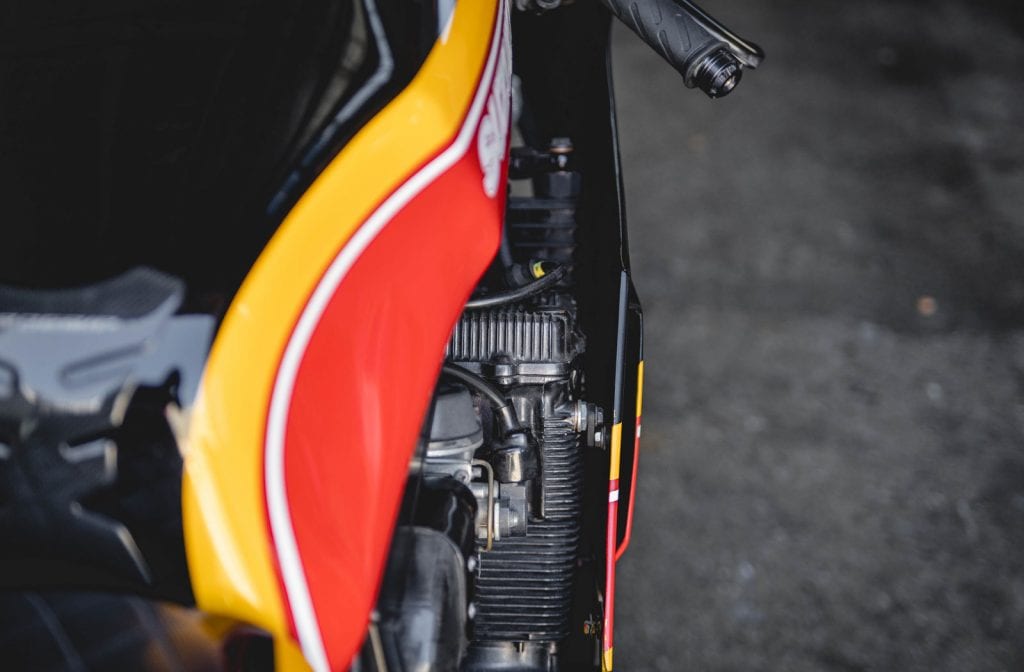 With all the attention paid to the aesthetics of this GSX-R build, it looks like a bonafide track bike. The ergonomics, however, are rather pleasant. Swinging a leg over the bike, settling down behind the tank and into the diamond-stitched saddle, you feel at one with the machine. Yes, that's a very tired cliche but it rings true nonetheless. The handlebar, seat, footrest triangle is more reminiscent of a sports touring bike than a true supersport. Maybe it's because I'm not the tallest guy or maybe I'm trying to justify why it should live in my garage.
Under the rear Airtech fairing are more parts from the aforementioned '07 GSX-R 750. The swingarm, wheel, rear shock and brakes were all retrofit to the 1980s GSX-R 1100 donor. This really rounds out the performance aspect of the build for me. I like a good USD front end swap as much as the next custom motorcycle tragic, but custom builders often neglect rear suspension setups. The '07 GSX-R 750 also sports a 180 section rear tyre which is 30mm wider than the stock GSX-R 1100. While a wider tyre may not necessarily offer a performance boost it is undoubtedly an upgrade in the looks department. Lastly, the new wheels were painted gold and wrapped in thoroughly modern Bridgestone Battlax Hypersport rubber.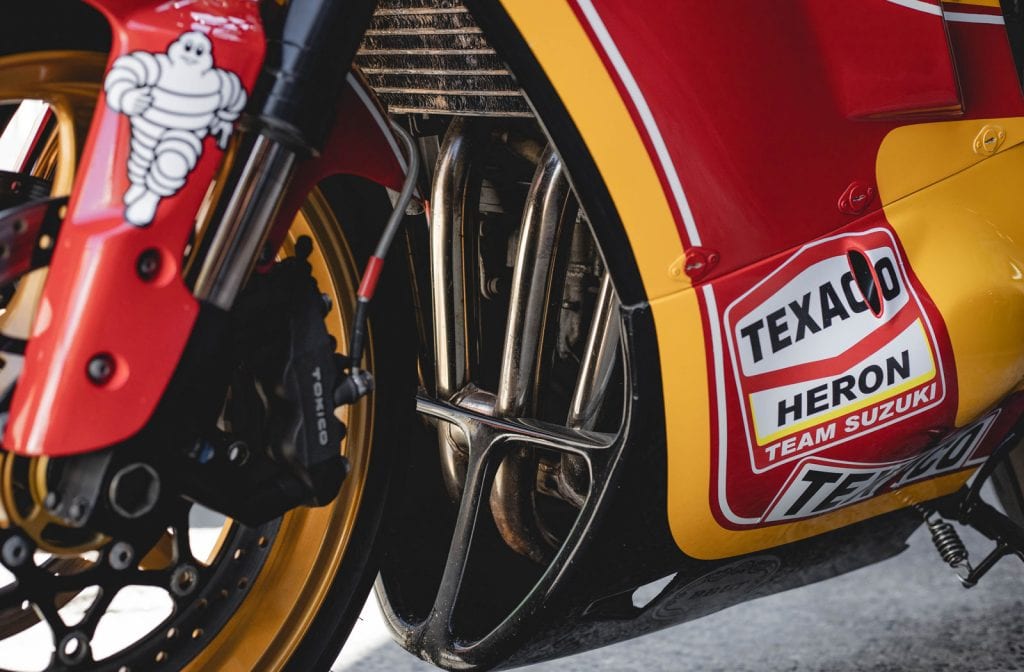 This is undoubtedly one of the best resto-mods I have ever seen. That's no small statement, especially since a resto-mod is one of the hardest build types to get right. They either fly completely under the radar or they make you take a step back in disbelief. I'll let you decide which category this Sheene tribute falls under. I've already made up my mind.
Special thanks to MotoMAX / Words and photos by Regular Moto