My name is Bill Layer and I'm a recently retired mechanical engineer. I've had almost 40 years experience designing machinery with the last 33 spent in the semiconductor industry. As a lifelong motorcyclist, I've enjoyed owning many different bikes over my 69 years, but have most enjoyed building and riding high-performance bikes for the street and the track. I've also used my skills to design different parts under the name of Synapse Cycles for friends. These have been used for everything from street to track and even Bonneville Salt Flats builds. I can't resist the temptation of modifying my bikes, but I have never done a ground-up build, until this custom GSXR 750 which I have named 'Helium'.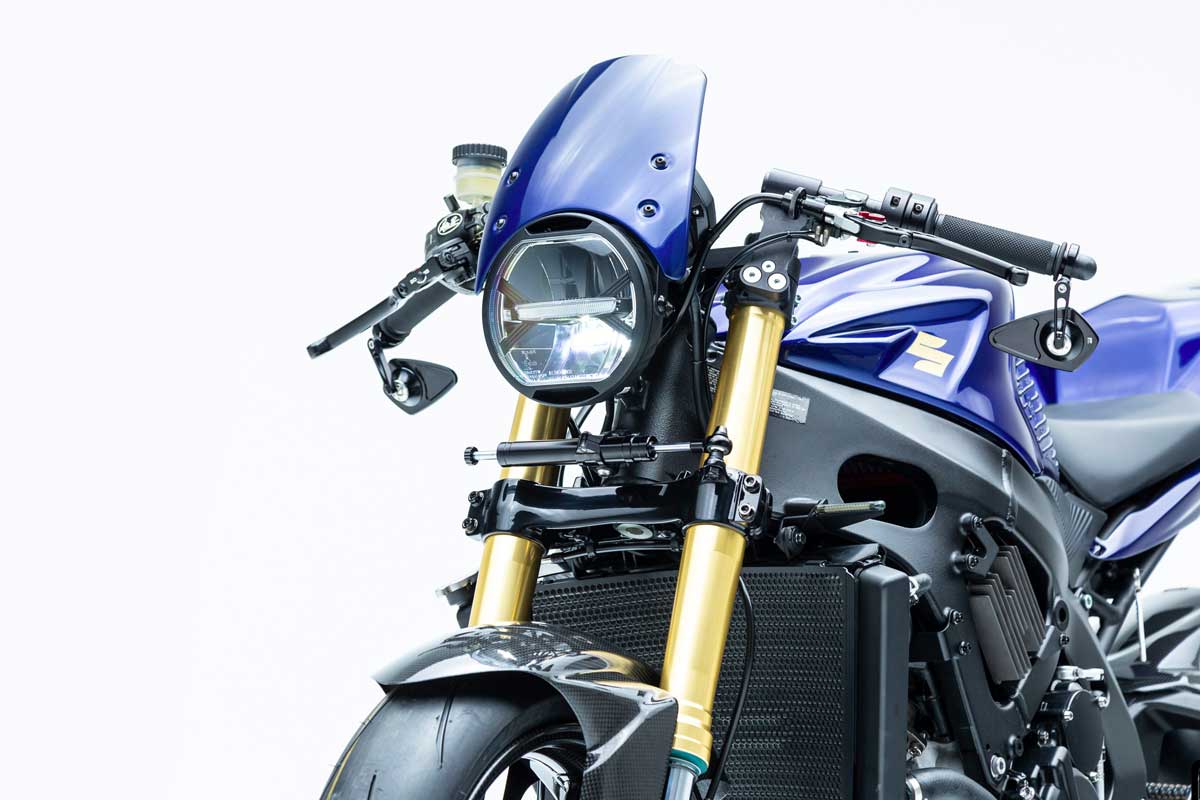 The goal for this project was to build the motorcycle I've always wanted but never got around to. My vision was to create a motorcycle that would be easy to ride on the track, but also be fully street legal and have a distinctive look. I've always liked classic Cafe Racers where performance and function are the main goals. I decided that would set the tone for my custom GSXR 750 but I would use a modern sportbike as the base for maximum performance.
I chose the latest generation Suzuki GSXR 750 because of my previous ownership of earlier generations. These Suzuki's handle like 600s but with much better power and without the need of electronics for control. Since handling was the main goal eliminating weight was the first consideration in every decision along with improving all parts relating to the suspension and handling. As for its look, I wanted my custom GSXR 750 to be minimalist with nothing that wasn't needed and styling steered towards a modern interpretation of a cafe racer.
After removing the fairings a plan was made for what parts needed to replaced or built. The mounting of the headlight, instruments and fairing required extensive test fitting, CAD modelling and 3D print prototyping before fabrication. The upper triple clamp, headlight supports, headlight mount and fairing supports were then fabricated and mounted using these one-off parts. After that Woodcraft riser clip-ons were fitted, a custom clutch cable was purchased and the remaining controls were mounted in place. Plenty of elbow grease went into cleaning up the lower triple clamp and replacing the steering damper with a Toby racing unit to clean up the look.
The stock GSXR tail was removed next and a lightweight racing subframe installed. I then added a Hotbodies 2017+ GSXR 1000 superstock race tail which was modified to fit on the subframe. Sitting over the headlight to reduce a bit of wind buffeting is a Rizoma headlight fairing and the fenders are both carbon fibre race items. The blue paint was laid by James Coorengel and is an Acura colour called Still Night Pearl. I chose it to compliment the blues and purples of the titanium exhaust.
A bespoke license plate mount integrates a Custom Dynamics Truflex LED turn/tail/brake light into the design. Fit into the subframe is an enclosure that houses the electronics which includes a Motogadget M.unit Blue, Speedcell Superbike battery and relocated ignition switch. The radiator was removed then powder coated leaving the fins uncoated. I made custom radiator mounts along with brackets for holding the front blinkers. To better position the stock regulator and shed some weight it was remounted using more custom made brackets. All the wiring has been made from scratch for the bike and the lighting is all LED powered including the bikes Koso Thunderbolt headlight.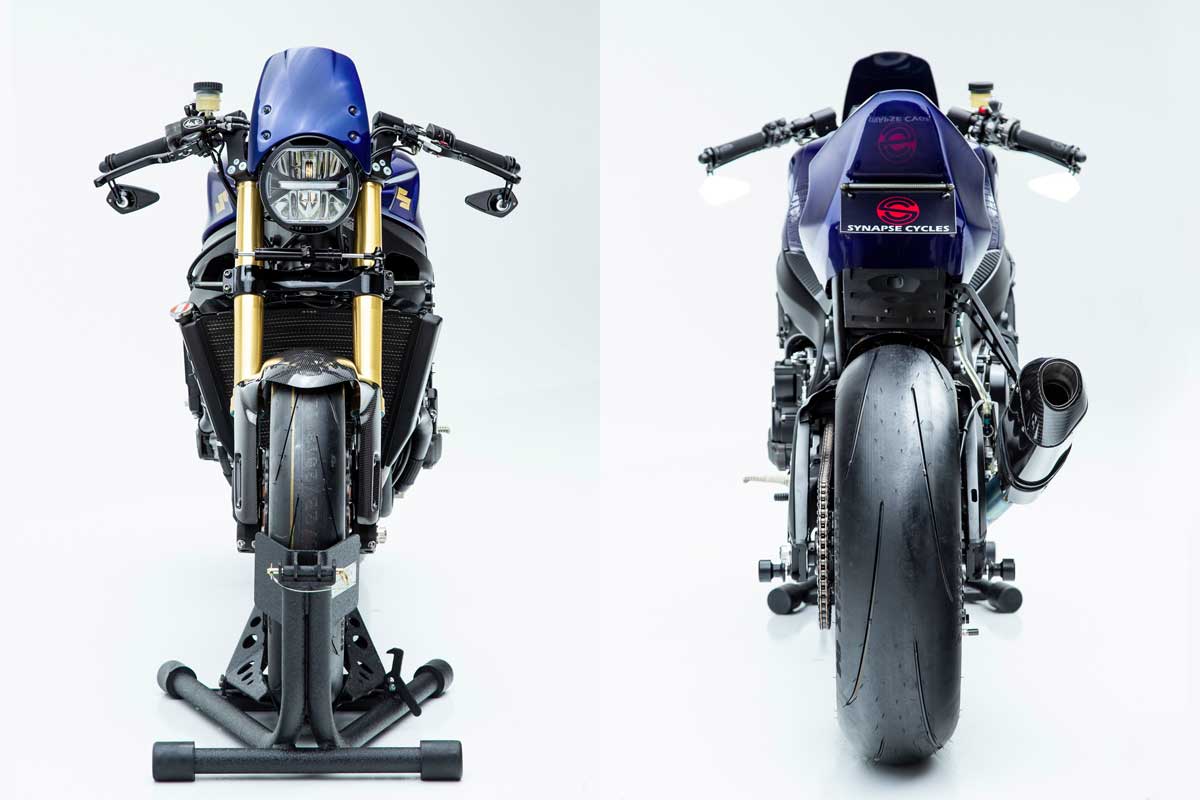 The factory GSXR 750 rear brake has been removed and a custom underhung mount was fabricated for a lightweight calliper. The brake mount is captive to the swingarm for easy wheel changes by utilizing custom axle adjuster blocks. The new brake set up includes Galfer rotors, Berringer 2DI calliper and pads, Spiegler brake lines and Stahlbus bleeder vales.
As for the suspension, my custom GSXR750 is running a complete Ohlins suspension package which consists of 30mm fork cartridges and a TTX GP rear shock. I spared no expense on reducing unsprung weight by installing Rotobox Boost carbon wheels. The bike is rolling on Dunlop Sportmax Q4 performance tyres for smooth transitions from the street to the track and back again.
My performance modifications were focused on improving airflow. To do this I installed a full Yoshimura R77 titanium exhaust and a BMC Race air filter. The ECM uses a Woolich flash which eliminates any ECM error codes from the modifications I have done and it has a quick shifter for additional performance. Although it hasn't been on the dyno yet, I'm expecting 130 rear wheel HP based on everything that's been done.
There's also a long list of other aftermarket performance and styling additions to make my custom GSXR 750 truly unique. The rearsets are by Attack Performance, there are Yoshimura case protectors and Motogaget mirrors, a Motion Pro quick turn throttle and a Vortex racing filler cap. An EP guard protects the radiator from debris and the 3D 520 chain rolls on Superlite sprockets. To keep the paint looking fresh it's protected by Stompgrip tank pads and the engine is buttoned up with lightweight ProBolt fasteners.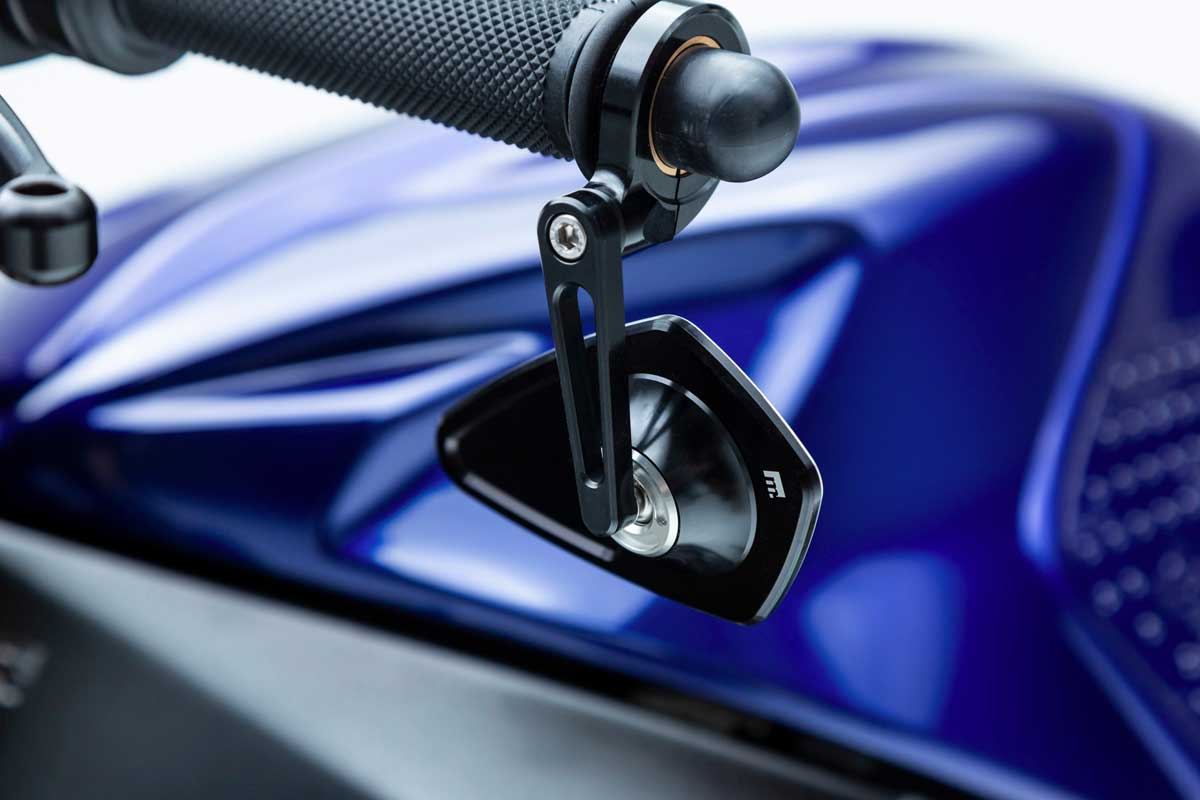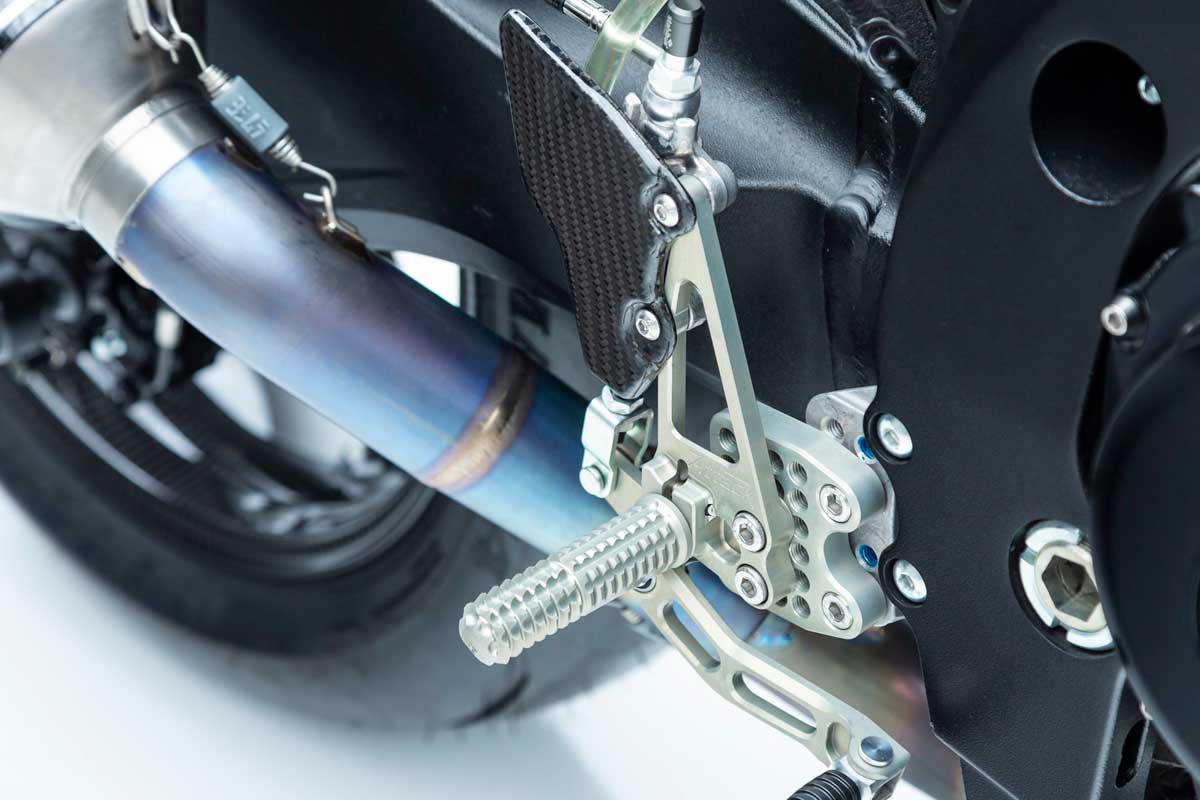 I decided to name my custom GSXR 750 "Helium" due to the fact it's extremely lightweight. I'm expecting the bike to be BIG fun to ride since it weighs under 360 pounds (160kg). It's ready to ride and will be street legal but unfortunately, my timing with finishing the build sucked since on the day I went to register the bike our DMV closed due to COVID-19. As you can imagine I'm seriously bummed about that, but looking forward to the day when I get to really open it up.
Shop This Look
| | | |
| --- | --- | --- |
| Image | Product | Buy Now |
| | Rizoma accessories | |
| | Ohlins Suspension | |
| | Yoshimura exhausts | |
| | LED lighting | |
| | Motogadget accessories | |
| | Performance Tyres | |
| | LED headlamps | |