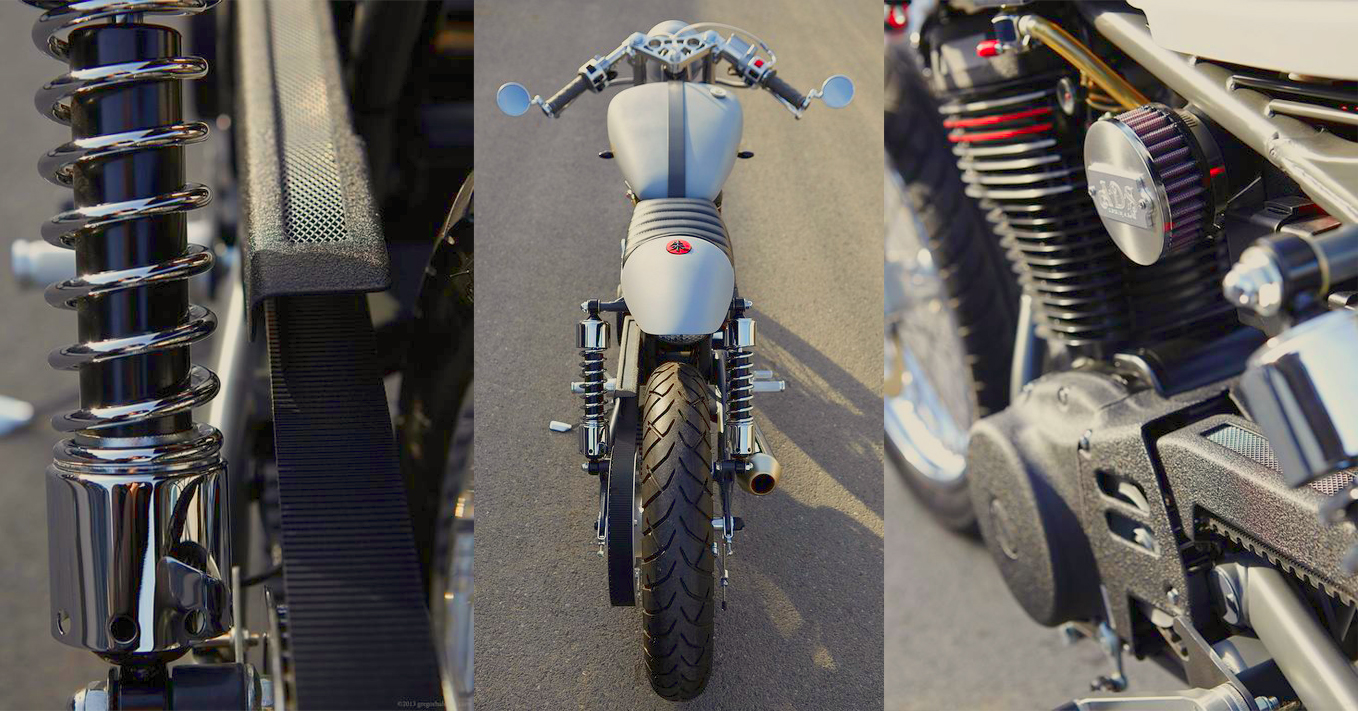 "I know what I went through when I built my first bike, it's intimidating as hell. But these Ryca kits are so well thought out that anyone can do it. Most of the time I'm just here to show our customers a few tricks and offer some custom parts to make things easier."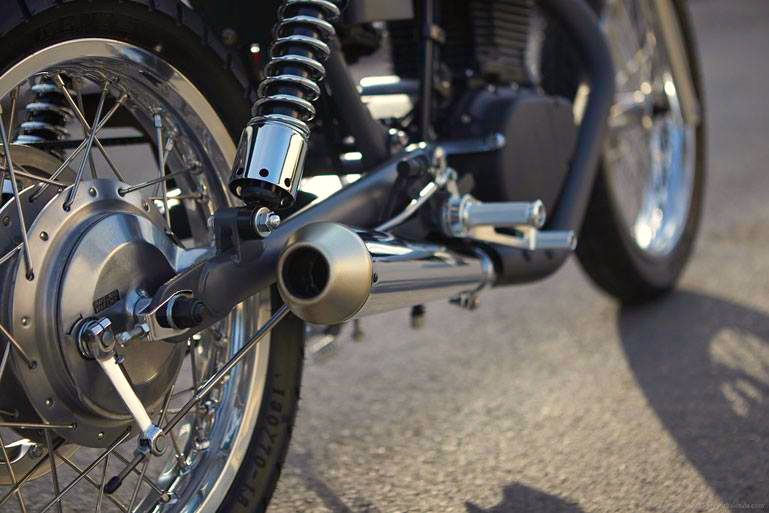 "The advantage of these kits is that they give you a solid foundation so you can really make the bike your own. There are a lot of dead ends when you start a build on an unknown bike. There've been times I'd try mounting a tank two or three ways before finding the best fit. With a Ryca you start with something that works and already looks cool. You then throw out what you don't like and add the things you do. It makes creating a really unique motorcycle a lot easier and keeps the WTF moments to a minimum." And that's critical to what Dave is trying to do, and the point he's trying to make.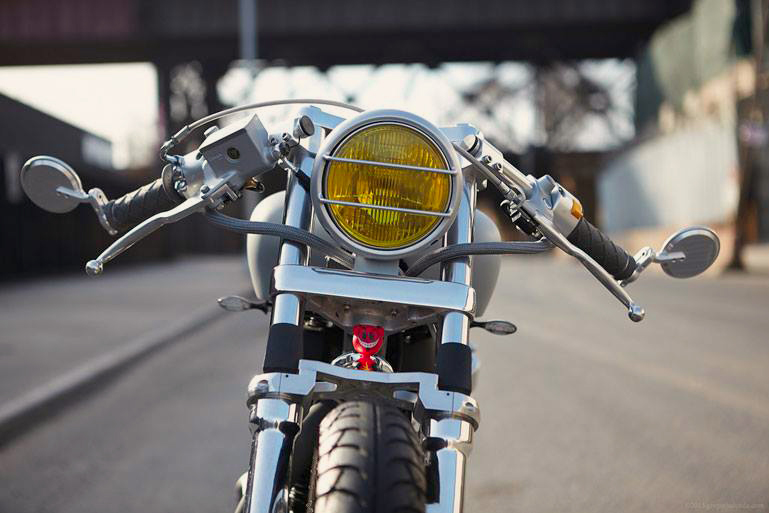 The Pocket Monster air filter lends it's design to Ryca's Scrambler kit using a 90- degree elbow intake mated to the café racer's flat filter. The belt guardis a cut down version of the stock Suzuki Savage unit, with an screen panel on top. The cylinder head covers have also been cut open and mesh screens inserted to add some detail to an otherwise boring engine. Two crossbars were welded onto the rim of the headlight and the glass was tinted yellow using paint borrowed from a stained-glass window maker. To keep down clutter on the forks Dave mounted the indicator stalks so they came out of the underside of the tank making them hardly noticeable, but still doing the job when lit.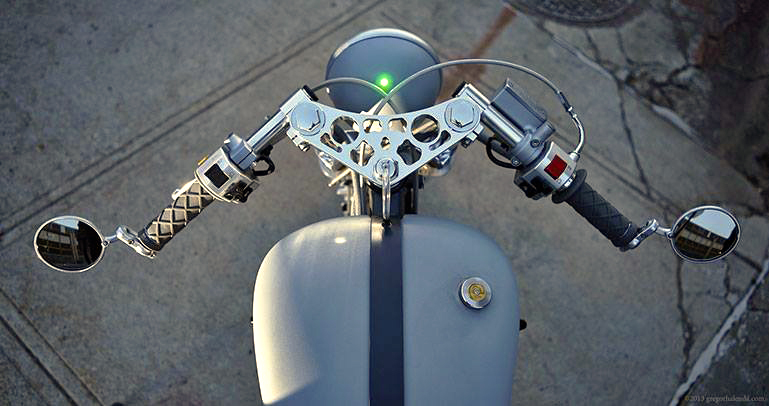 Opting to keep the stock compression release solenoid meant that Ryca's tank mounting system couldn't be used. Instead Dave welded flat horizontal bracket arms to the frame; bolts go through the brackets and up into bungs in the bottom of the tank tosecure it in place. The top fork clamp has been machined out using a web pattern to retain strength and the ignition has been relocated out of sight. David also opted against using Ryca's supplied tacho and speedo, instead mounting a digital unit down by the starter on the right side, "Not convenient to see while riding, but I only care about the odometer so I don't run out of fuel."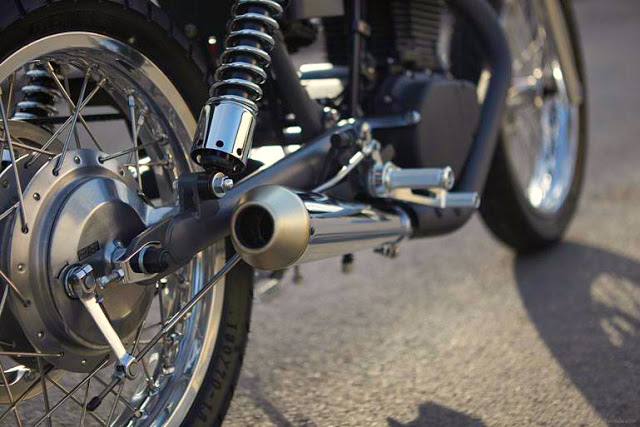 Dave also offers custom parts to compliment the Ryca kits. At the ADS Motorcycles store customers can also find handlebar mounted compression-release levers, custom top clamps, rear-brake switch mounts, velocity stacks, inspection sticker holders, and plenty of greatadvice.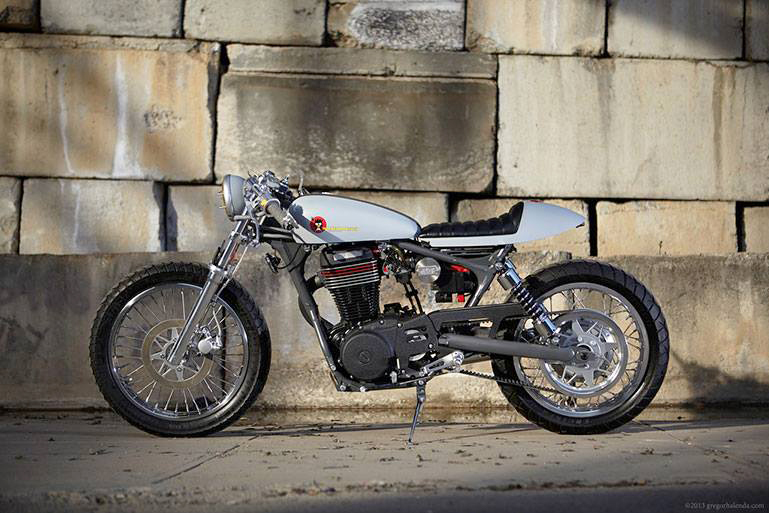 Back in 2011 we took a look at an impeccable Kawasaki W650 Cafe Racer built by David Seidman. Since then Dave has been busy setting up a new workshop just outside of New York city named ADS Motorcycles. ADS have recently become a reseller for Ryca (the company who produce bolt in Cafe kits for the Suzuki Savage) so to inspire customers and showcase their skills Dave decided to get a little creative. The result is a truly unique RYCA kit build Dave refers to as the "Pocket Monster".