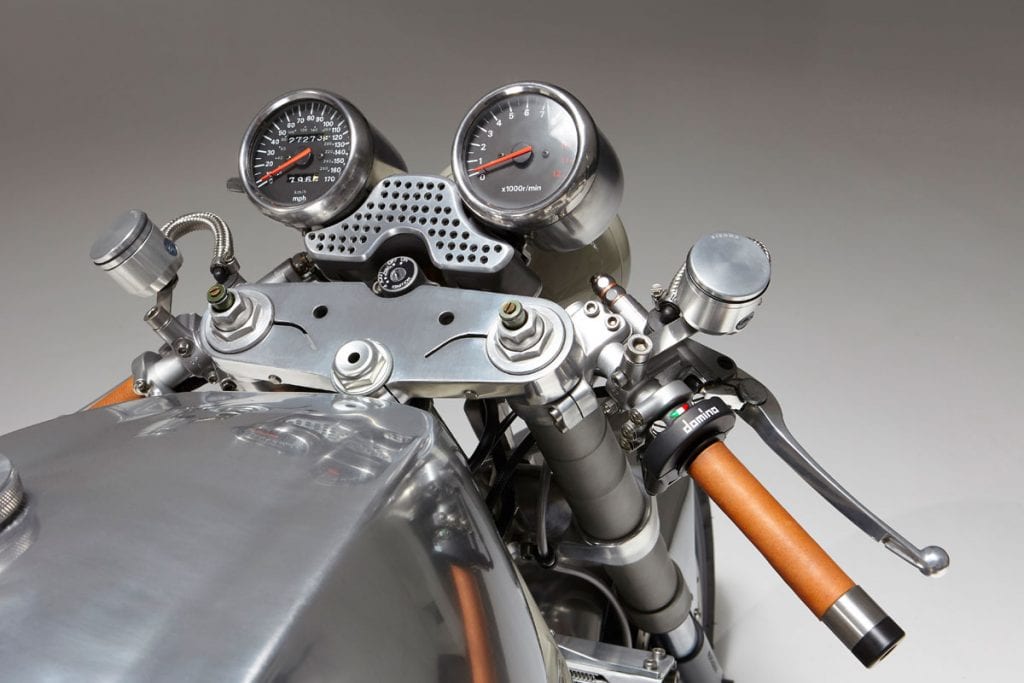 It's often the bikes we least expect to see customised that return the best results. One such motorcycle is this late nineties Suzuki Bandit that's been painstakingly converted into a cafe racer. Transforming a liquid-cooled '90s standard Japanese motorcycle into an ageless machine such as this is no easy feat. It requires the touch of a dedicated and often talented builder – who in this instance goes by the name of Alexander Yiannopoullos. The London based builder who works under the name of Motomilo is here today to share with us the story of how he turned Suzuki's bland-looking Bandit 1200 into a brutish cafe racer.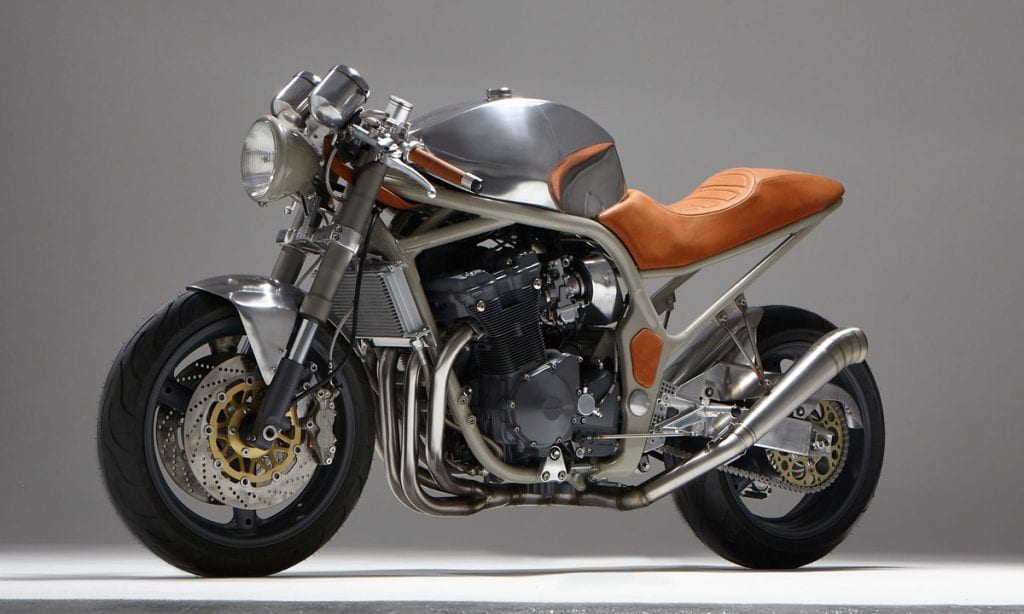 "I studied Transport Design at Coventry University and then embarked on a career as a freelance product designer. During this time I have always been passionate about motorcycles, in fact, my final thesis/project at University was a concept motorcycle," says Alexander.
"I bought my first bike 20 years ago. A Honda VRF400, and have been riding it ever since. Approximately 7 years ago I became weary of my career path and wanted to embark on something more personally fulfilling. Inspired by the likes of the Wrench Monkees, I decided to combine my love of motorcycles, design and making things, by building custom motorcycles. I did not know how to weld or fabricate so I enrolled at a technical college for a year and gained various codes in TIG welding and some proficiency in metallurgy and fabrication."
"I started with commissions that entailed customers requesting various levels of customisation from individual bespoke parts to major redesigns. Over the last couple of years, I have moved away from this model and I am now concentrating on creating complete motorcycles of my design, which I then sell.
This bike is a 1998 Suzuki Bandit GSF 1200 and it took 4-5 months to complete.  The reason for the build was, as mentioned earlier, with the aim of selling it. I chose this model as the platform for the build as I believe it encapsulates many of the structural aesthetics and performance requirements of a cafe racer."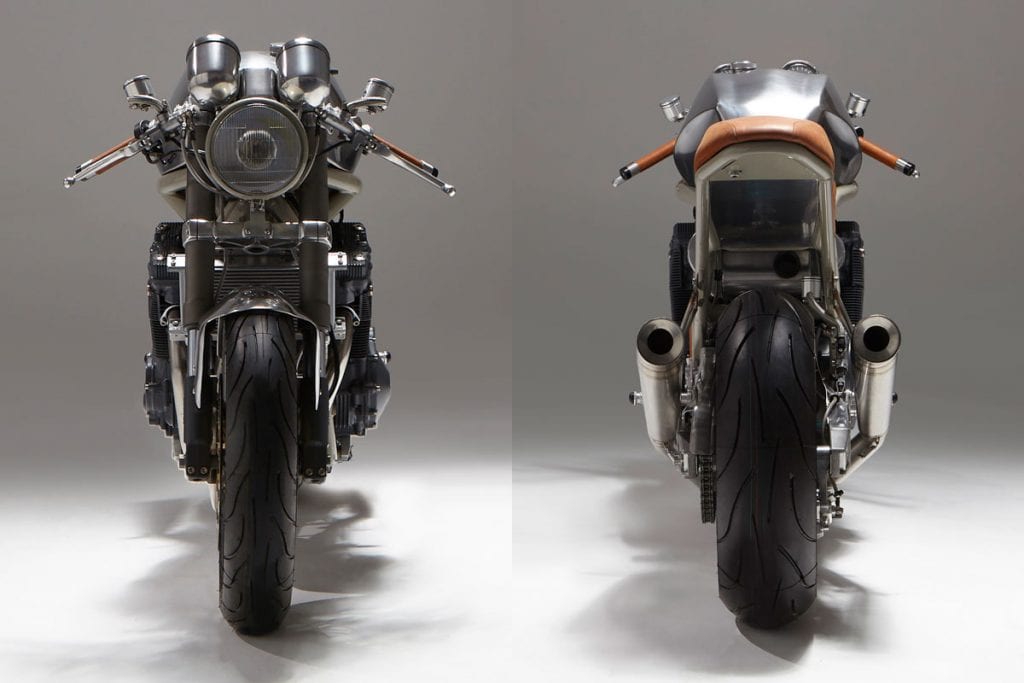 "The Suzuki Bandit donor bike was found through a 'friend of a friend'. They had started to convert the Suzuki into a street fighter with Renthal straight bars, a stubby exhaust, street fighter-style twin headlights, rattle can paint, a maroon coloured frame… you get the picture. The bike was a little aesthetically challenged, but all the important parts were there and in good condition.
Coming from a design background I always do a number of sketches before each build. These consist of overall style renderings through to drawings for individual parts as well as packaging plans detailing the layout of components. I normally do some kind of 3D modelling for a build usually from shaping and sanding blue foam. However, with this build, I was confident enough to work straight from my sketches. I also planned to leave the metalwork unpainted. I wanted to see where the forming and fabrication of the aluminium parts would take me. Sometimes the metal informs and guides you to the most suitable and agreeable form."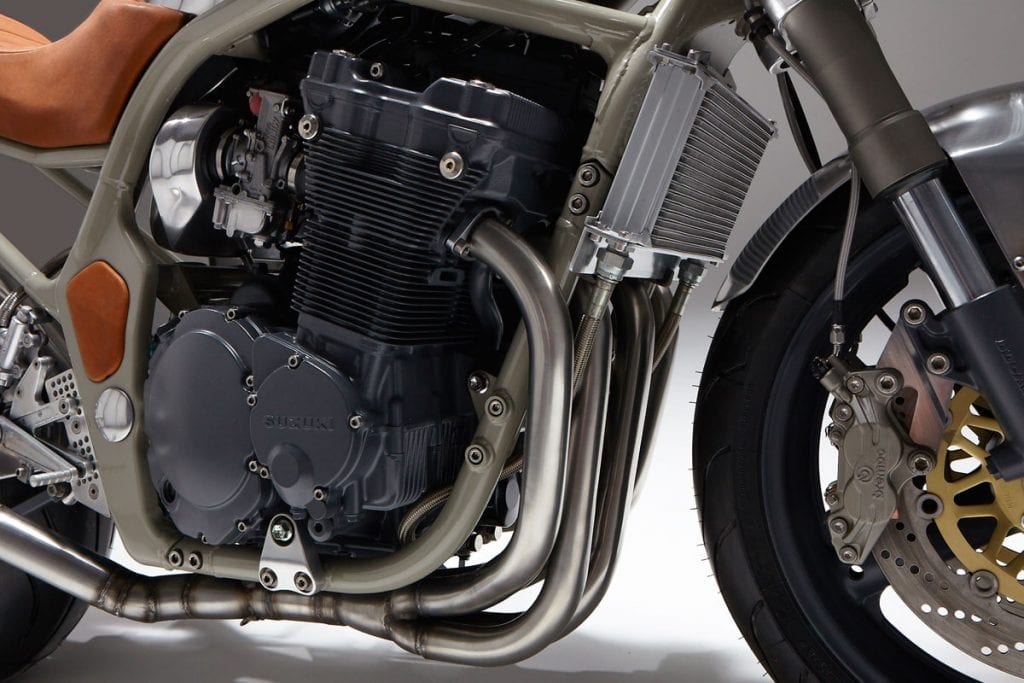 "When I'm deciding on what performance upgrades with this period motorcycle the brakes and suspension are the first things that are dealt with. As you are probably aware the engine of the Suzuki Bandit 1200 is legendary and almost bulletproof, so not a lot needed to be done. I limited my mods to the addition of a set of Mikuni RS36 Carburettors, along with a hand-fabricated aluminium airbox.
For the front suspension, I fitted a set of 1999 Ducati 900ss USD forks, along with custom top and bottom yokes. Although they are a similar age they give better feel and damping compared to Suzuki's standard forks. This is also ideal because aesthetically they match the period for this motorcycle. For the rear, I chose a Nitron NTR R1 Shock. The brakes use Brembo callipers, however, special mounts had to be fabricated in order to mate them to the discs."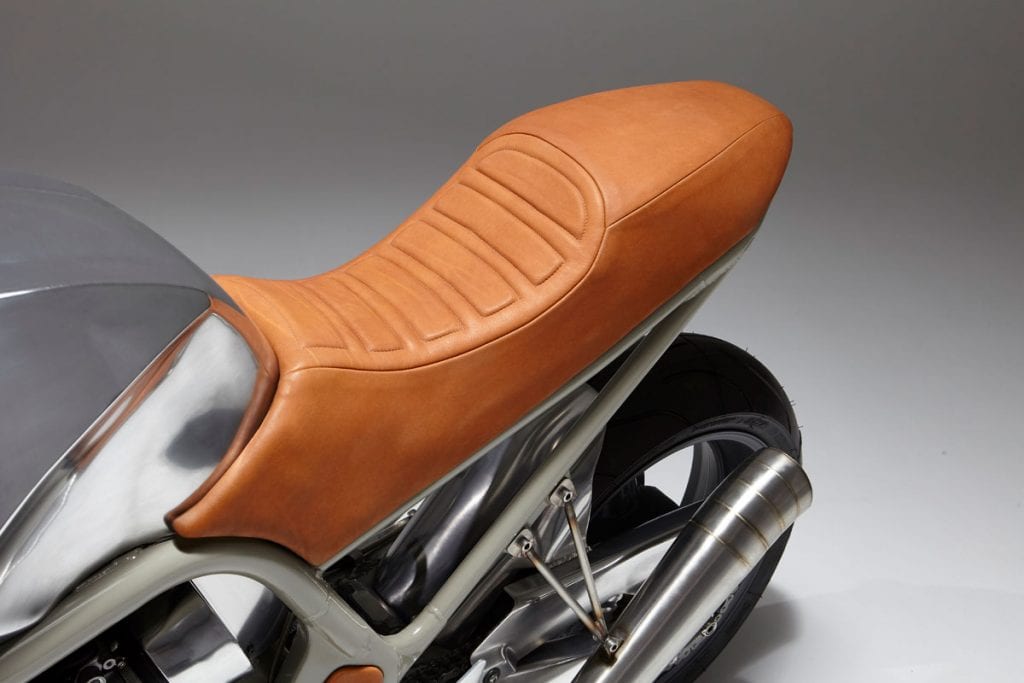 "This Suzuki Bandit cafe racer consists of a number of hand-fabricated aluminium parts, which include the fuel tank, air box, front and rear mudguards, clock surrounds, instrument housing and footrest mounts. In addition, it has a bespoke wiring loom and battery housing, which also incorporates the seat mount system. Another challenge faced, in terms of packaging, was locating the wiring loom, ECU and battery in such a way that did not interfere with the aesthetics while being accessible. This was achieved by creating a channel in the middle of the underside of the fuel tank allowing for a fabricated aluminium housing for the loom, ECU and Battery.
One of the most challenging aspects of this build was the aesthetics and preconceptions of this motorcycle. Due to the rather uninspiring styling of the Suzuki Bandit and perhaps the perceptions of this model by some in the motorcycle community, it is a motorcycle that is often overlooked as a platform for a custom build. With this project, I hope I have been able to reveal some of this motorcycle's more purposeful and enduring qualities.
This Suzuki Bandit cafe racer is now considerably lighter so handling is significantly improved. The Mikuni Carbs make the already torquey engine more linear and more responsive. The new rear suspension offers lots of feel and improved rear grip. And the improved braking and front suspension marry very well with the character of the engine."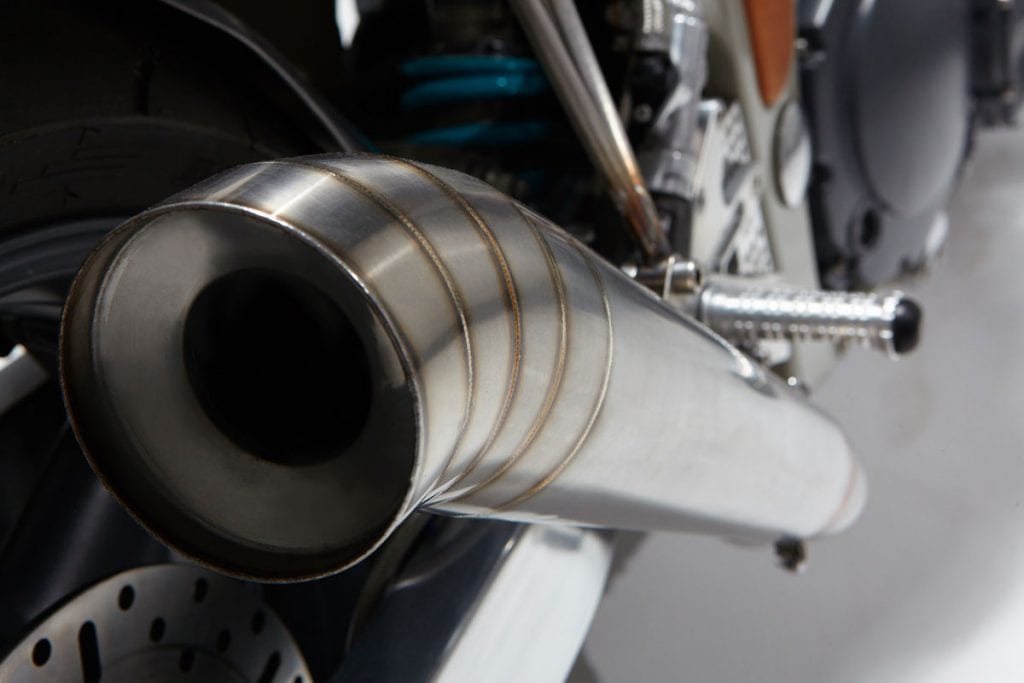 CUSTOM SPECIFICATIONS:
Hand shaped alloy fuel tank, airbox (two parts), front and rear mudguard (including chain -guard), Battery and wiring loom compartment, front radiator mounts, speedo and rev counter housing, instrument cover and housing, rear Swingarm pivot covers, rearsets mounting plates, undertray and front headlight mount.
The rear subframe is hand fabricated and welded.
Front calliper mounts were fabricated using CNC.
Fork leg uppers and front Brembo callipers were Cerokoted.
Engine and wheels powder coated.
Frame painted
Hand fabricated stainless steel exhaust system, starting from downpipes, and exhaust hangers
Italian tan leather for the seat unit, handlebar grips, frame inserts and instrument cables sleeve.
New components include: 
Nitron NTR R1 rear shock
Mikuni RS36 Carburettors
Goodridge Hoses for front and rear brakes, and Clutch.
Domino XM2 quick action throttle
Messnermoto Aluminium Control switches
SES Rearsets
Nissin brake master cylinder
Nissin clutch master cylinder
Rizoma front and rear brake reservoirs
Rizoma clutch reservoir
R&G bar ends