Italian Dream Motorcycles are a patriotic lot who have a plan for many of the bikes they'll be building in the future. For the next six years, they're going to dedicate one bespoke motorcycle to each of the six Italians who have won GP championships. The first is this – a Suzuki Bandit modelled after Marco Lucchinelli's 1981 Grand Prix winner. A tribute so incredible the man himself has claimed it as his own.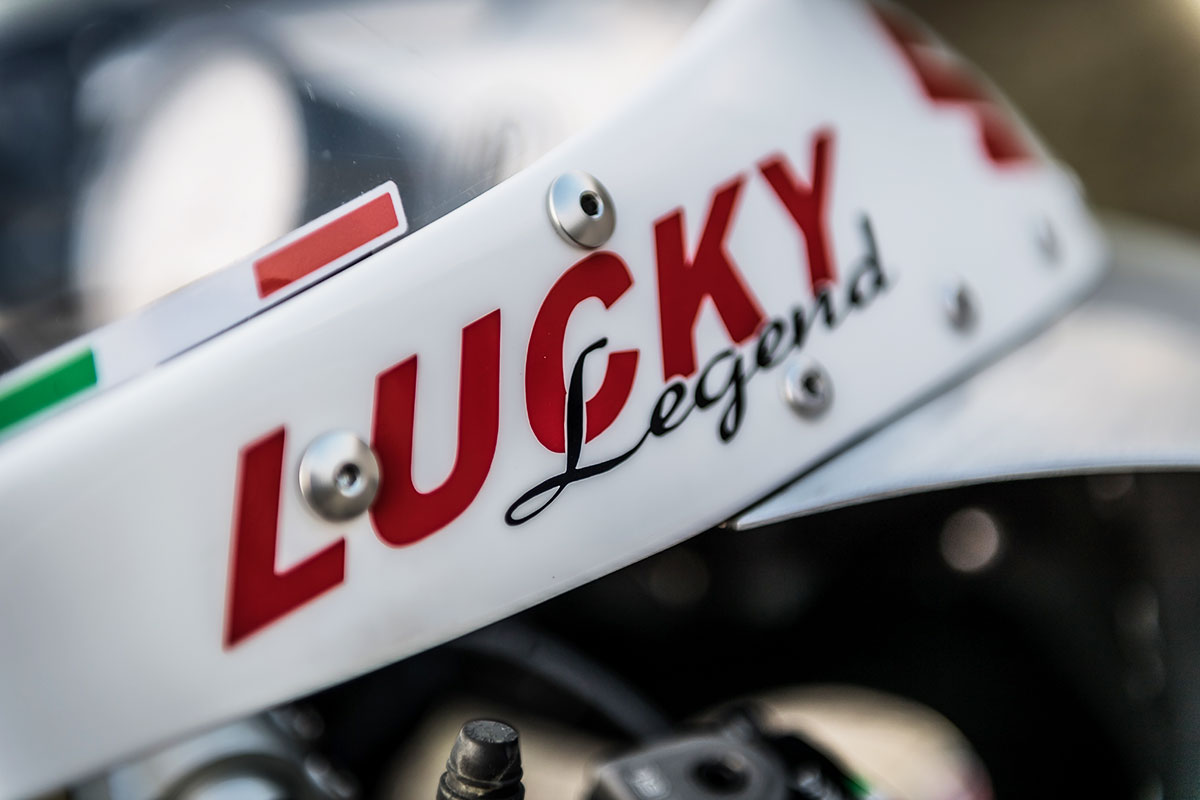 And that's high praise from a figure like Marco, who didn't have an easy tilt at the title. The year he won the crown was a doozy, with Lucchinelli running against a field dominated by household names. Riders such as Kenny Roberts and Barry Sheene failed to stop Marco in his wild ride for the 500cc cup.
Fast and loose both on and off the track, Marco gained a reputation as a larger-than-life character in a world dominated by larger-than-life characters. So for Sergio Giordano and the Italian Dream Motorcycles team, there was no question as to which Italian champion they would honour first. It'd be Marco Lucchinelli's and his insane two strokes Suzuki RG500 Gamma.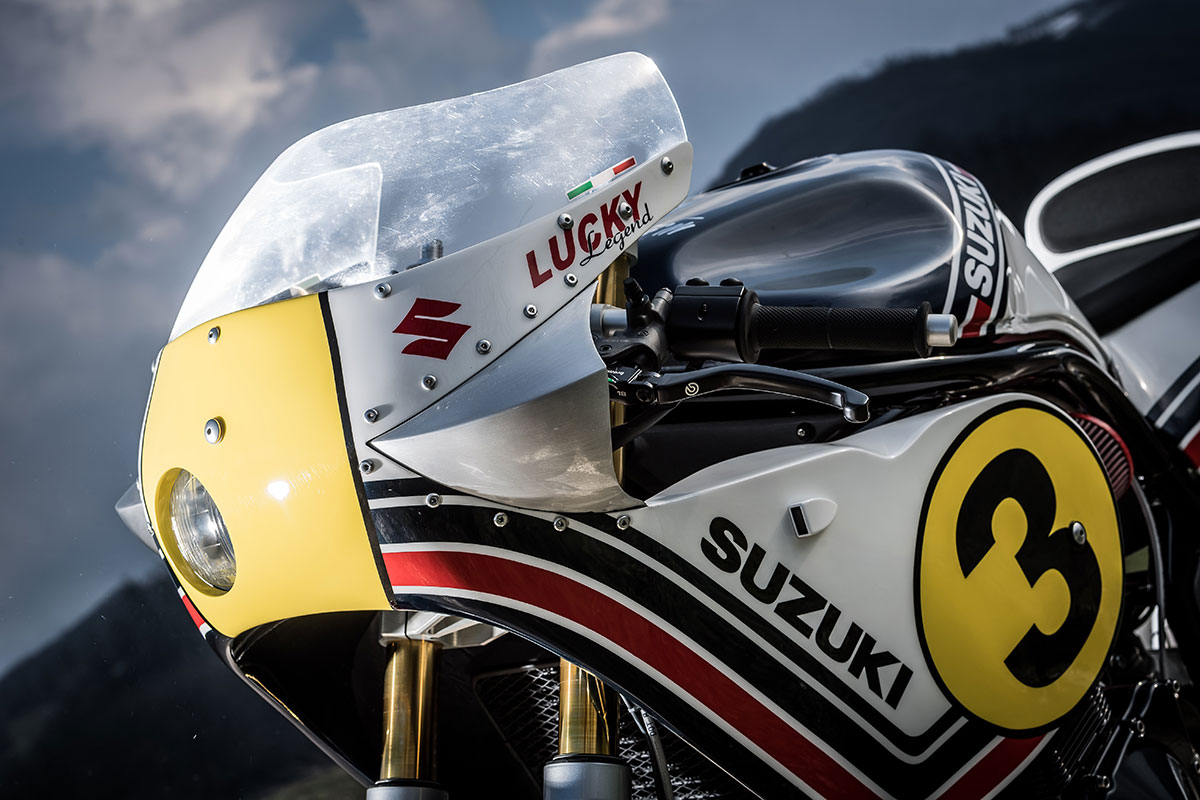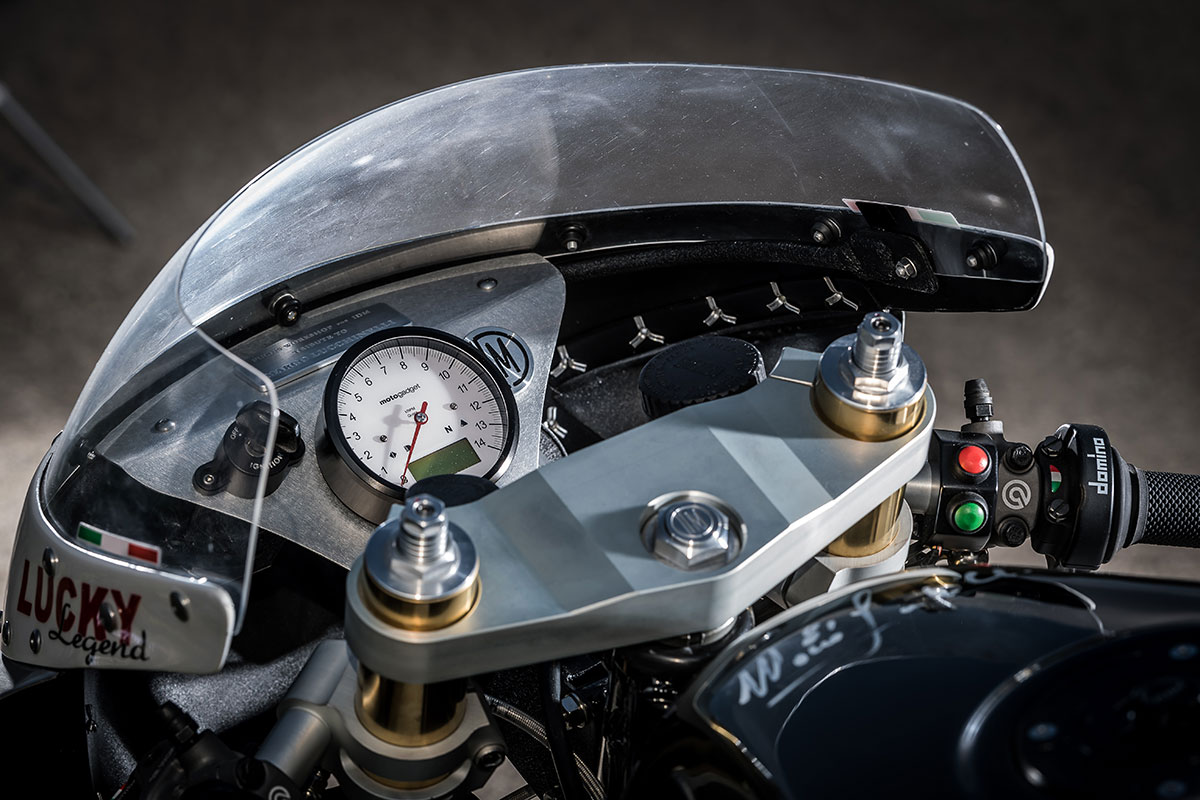 You're probably raising an eyebrow at that. Because the donor bike, a big ol' Suzuki Bandit, is a long way from a snarling 500cc two-stroke. But there's a good reason why IDM went with the family-friendly tourer. "We chose to customize a Bandit because for me it's very important that our bikes are also usable," Sergio says, "Those 500cc two strokes are not easy to ride".
They're also a huge visual leap from the Gamma. Despite this, the team at Italian Dream Motorcycles managed to make the Lucky Legend so damn close to the lines of the original it is impressive, to say the least. But there's been a hell of a lot of work involved. Take the bodywork, for example, which is stunningly close to the 1981 championship winning bike. There's a reason for that.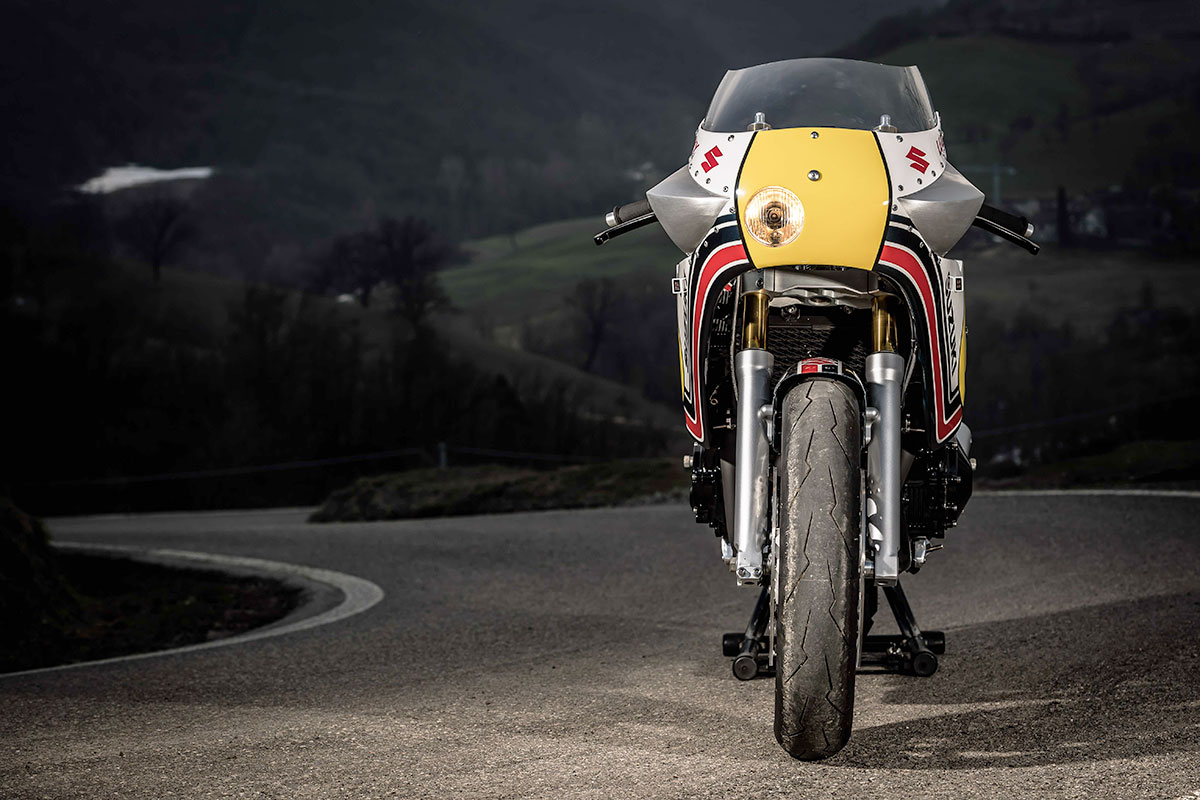 "We found a collector in Finland with some moulds based off the original fairings," Sergio says. "He made a copy for us so that we could have an exact replica of the original Suzuki.". Before the plastics were fitted the IDM team also had the engine refurbished by a local engine rebuilder – who turned out to be one of Lucchinelli's spannermen in the 80's. How about that?
The engine was fitted with Mikuni carbs and K&N filters before Italian Dream went about convincing local exhaust maestro Massimo Rinchiuso to build the gorgeous 4-2 exhaust system. Down below, the bike runs Marvic Penta wheels finished in white magnesium.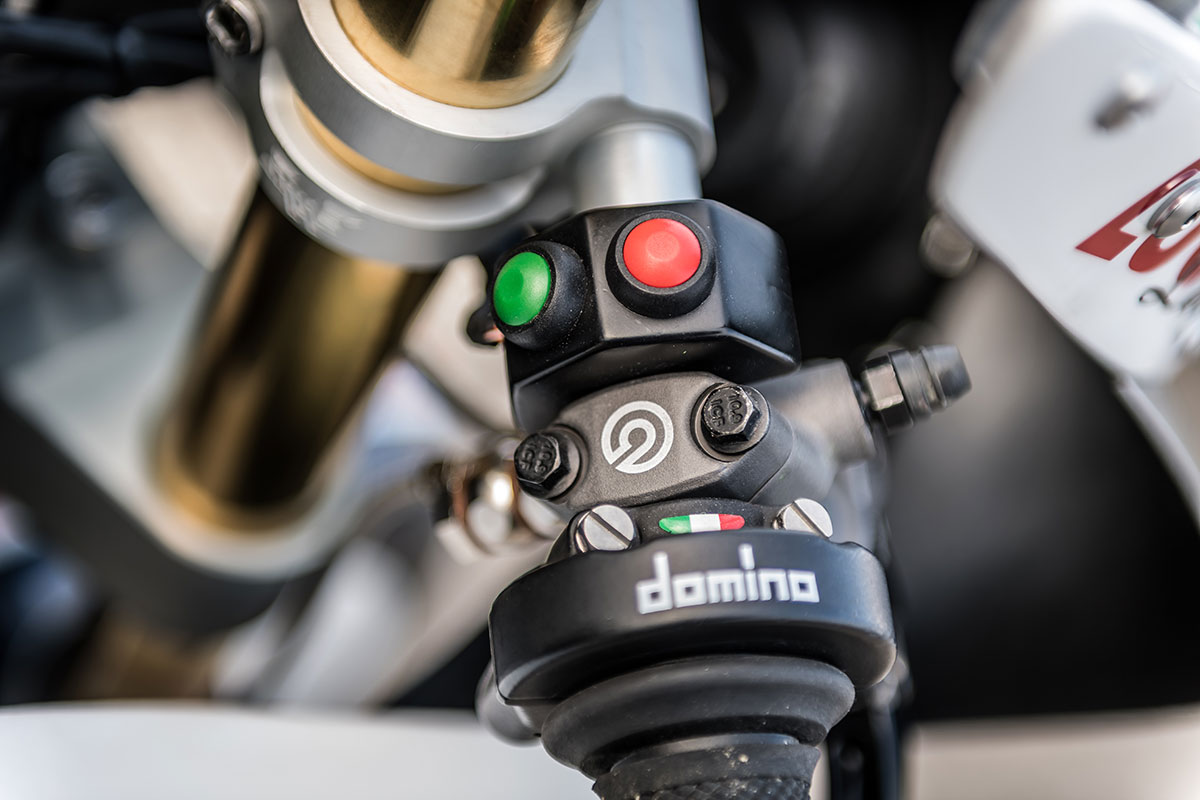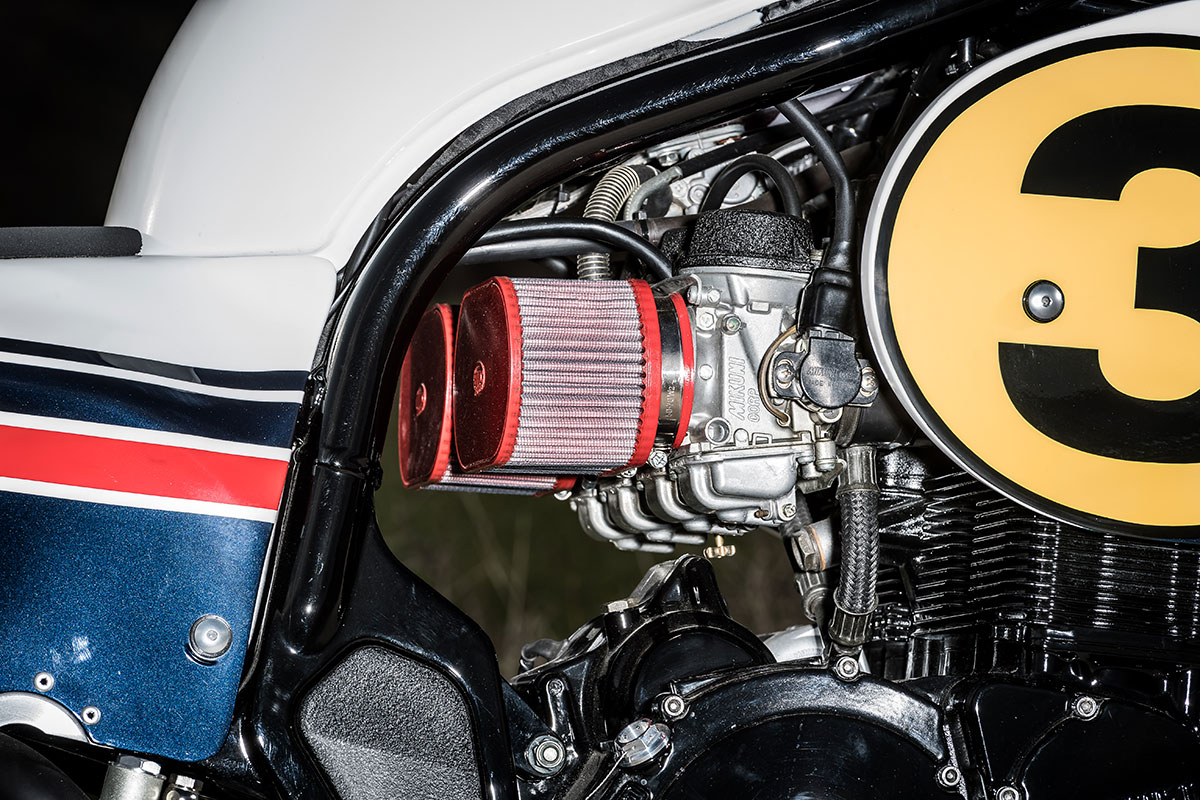 There's a myriad of smaller details – Motogadget components and a host of bespoke items – and the end result is nothing short of a work of art. We're not the only people who think so. Marco Lucchinelli himself found time to autograph the Lucky Legend and announced; "It's a very beautiful bike. You can feel it's made with love and great passion and attention to detail". Can't get much higher praise than that, can you?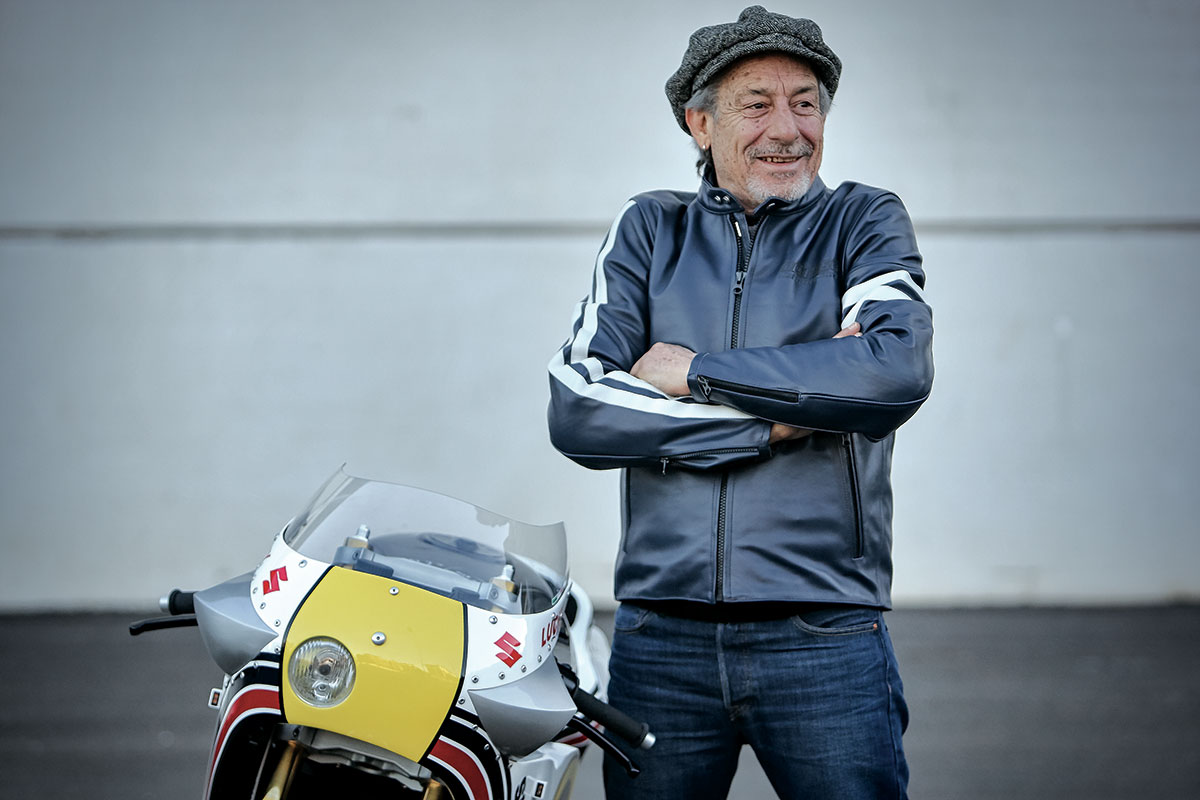 Well, it turns out you can. Since his first sighting of the Lucky Legend Marco has claimed the motorcycle as his own, introducing it to various passersby as 'his' bike and promoting it through his own social media channels. Though that sense of ownership comes with some risks.
"The last time I saw Marco Lucchinelli was a month ago at a private event," Sergio says. "Marco checked the tyres and he said to me with an air of reproach; 'You went on the track with this bike?' I timidly replied 'yes, but only for the photos'".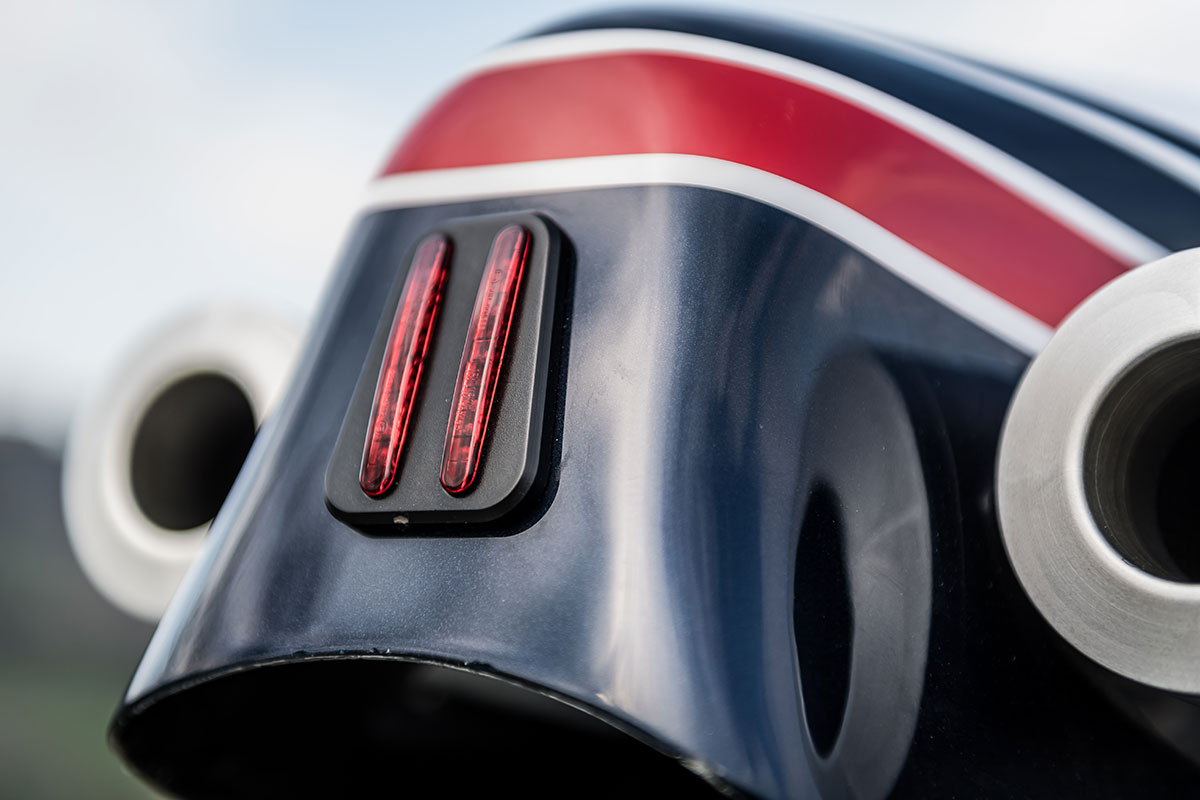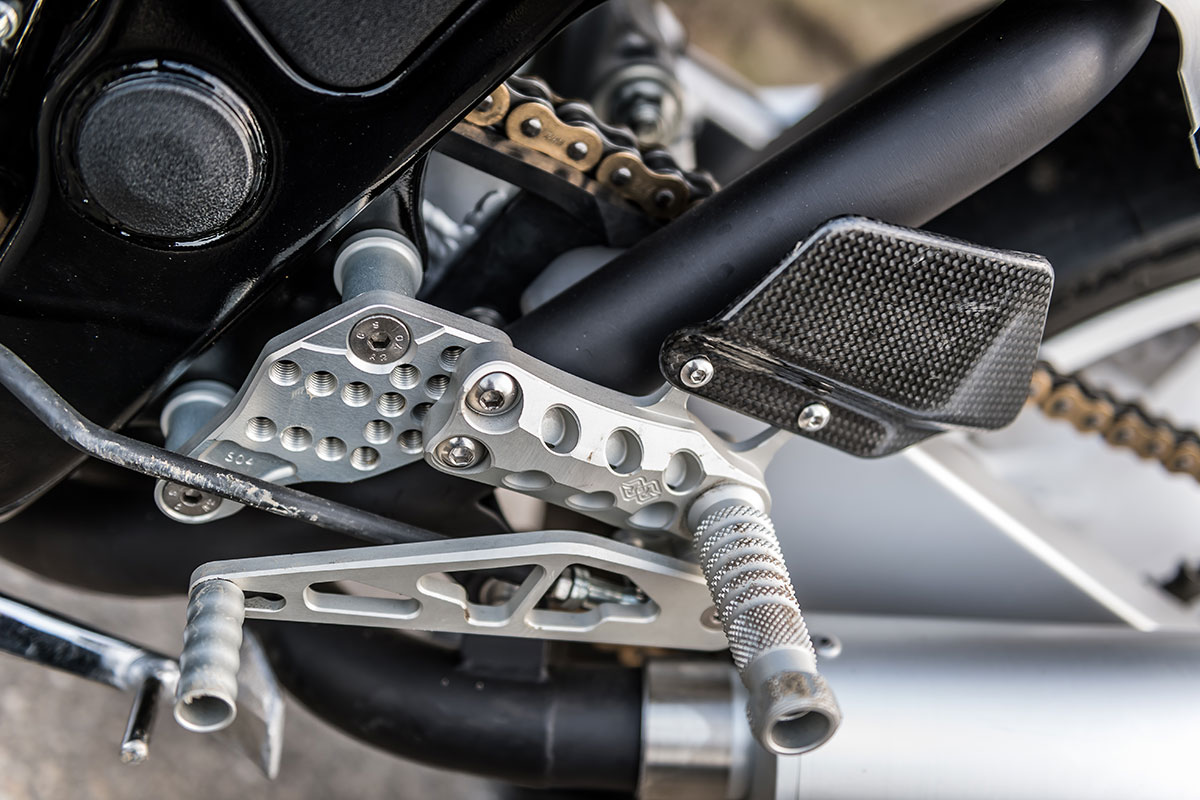 Despite Marco's protective streak he's determined to take the Bandit out on the track at his riding school in Adria. It's a scene that'll make Sergio burst with pride and an honour that the Lucky Legend rightly deserves. World champion astride the bike or not, IDM's latest creation is one of the best-looking bikes we've seen in a long time. And we can't wait to see which Italian champion they'll pay homage to next.
Story by Marlon Slack
Photography by Max Serra