What's in a name? Traditionally names given to motorcycles by their manufacturers reflect a bike's character, but Suzuki's aggressively named Bandit missed the mark. Sure it sold well, but its performance was tuned for everyday rideability rather than unlawful behavior. The inappropriateness of the Bandit's name was also evident in its staid styling. During the nineties, all sorts of design abominations rolled out of motorcycle factories and the Bandit wasn't spared. Its grossly oversized rear end was made even more evident by a move to naked styling in '95 and its color-coded frame brought attention to the less appealing aspect of the chassis. Clearly, we're not painting a very good picture of the Suzuki Bandit, but this doesn't mean we should overlook it as a candidate for customization.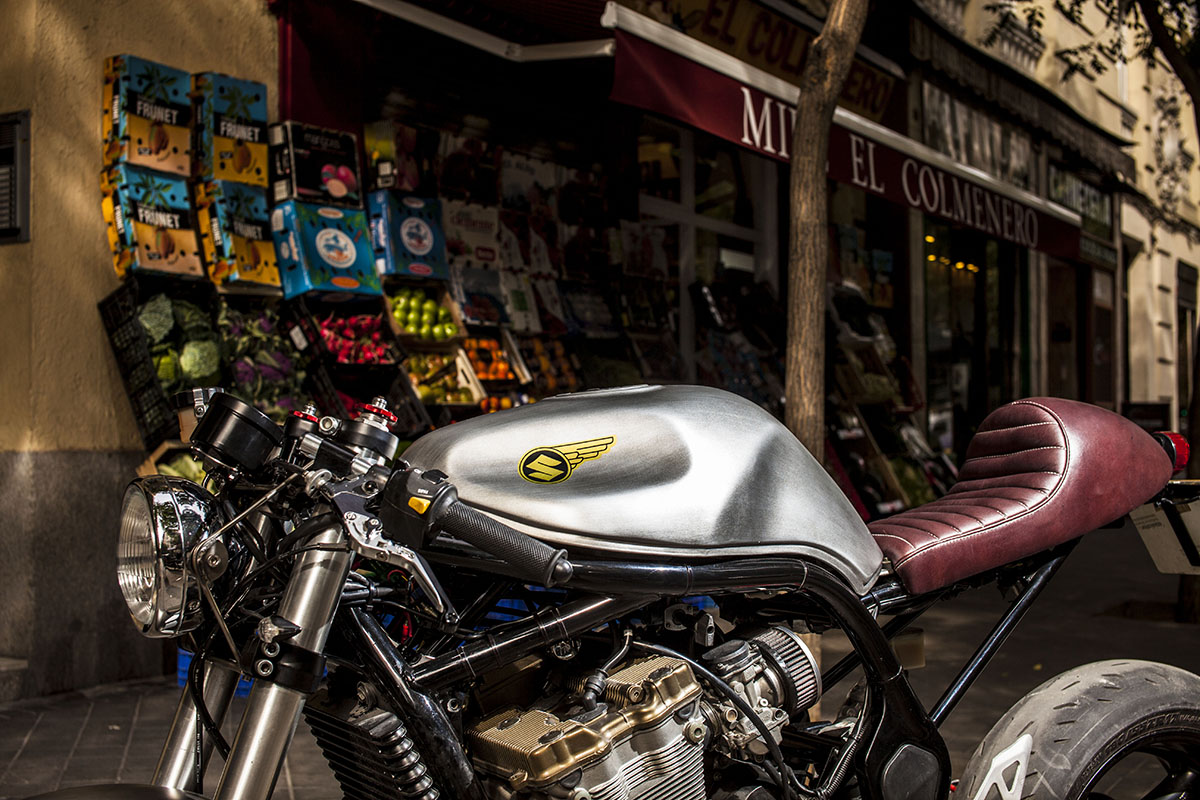 During the mid-nineties, the Bandit held a place among Britain's top-selling motorcycles, loved for both it's manageable urban-oriented performance and very affordable price tag. Borrowing parts from its higher performing brethren the Bandit possessed all the characteristics of a hooligan bike, it simply needed someone with the right know how to inject some adrenaline into it. What better man for the job than Pepo Rosell of XTR Pepo.
Unlike his usual race bike influenced approach to building, Pepo wanted this bike to be an interpretation of the café racer ethos. He began the transformation with a 1998 example of Suzuki's 600cc powered Bandit. Knowing its factory setup wasn't going to deliver the kind of handling he demands from his builds, Pepo acquired a second donor that would, a 1992 Suzuki GSXR 750. From the wrecked GSXR Pepo transplanted the fork and yokes, swingarm, front and rear wheels and brake callipers. He then replaced the single rear shock with a better performing item from one of Hondas CBR600s. Improved stopping power was then added by pairing the GSXR callipers with NG rotors in the front and rear and Frentubo brake lines.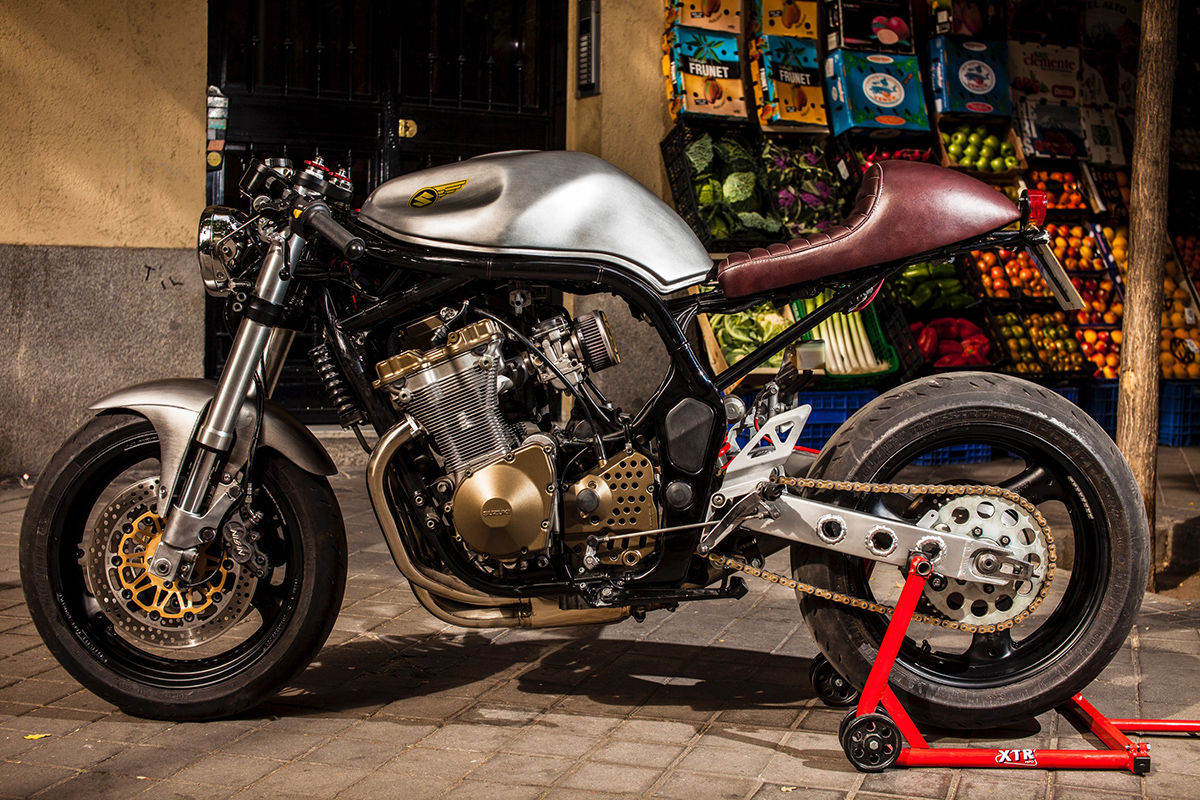 To create a more "compact and elegant" stance for the Bandit, Pepo shortened and redesigned its rear subframe. In keeping with his café racer theme, he then fabricated a solo seat which he upholstered in Italian leather. For a more appropriate riding position, there are XTR Ergal clip-on handlebars on the forks and the GSXR's rear set foot controls. To light up the rear end, Pepo fashioned a custom bracket to hold the classic Montesa brake light and he's fit a Mash headlight up front. The tiny LED indicators are made by Vicma.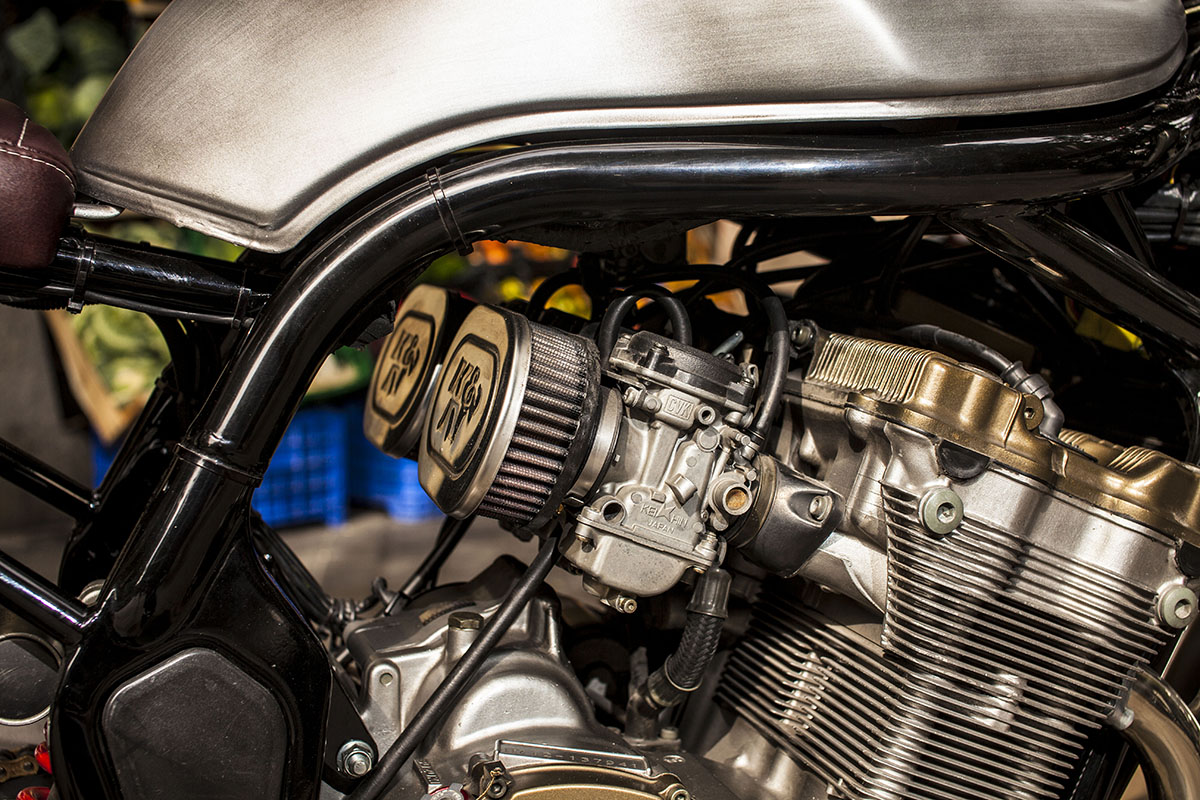 While the Bandit's 600cc inline-four produced a respectable 77bhp in its standard trim, Pepo has unlocked a few additional horses by tuning it to suit free-flowing K&N filters and a SPARK megaphone muffler. After an exterior clean some of the engine's cases were finished in hi-temp gold which Pepo has complemented with a gold Tsubaki chain. The modified frame was shot in black to hero the more desirable aspects of the bike like the raw steel fuel tank and GSXR front fender.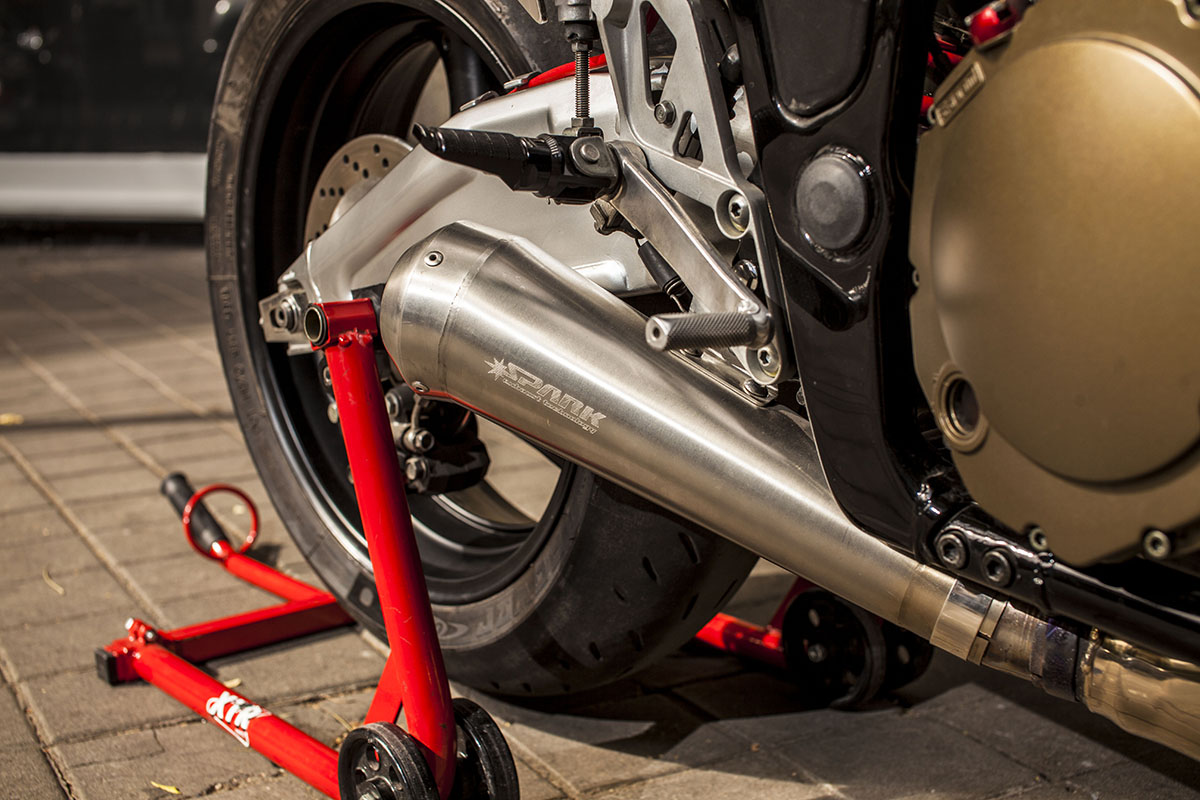 Named the 'Grey Flash' Pepo's Bandit café racer looks like it's up to no good even when it's standing still. A result that has us thinking twice about Suzuki's classic sport-standard motorcycle.
Photography by Cesar Godoy