The 1/8th mile sprint races at Glemseck 101 are a melting pot of all manner of custom motorcycles. Year after the year the event consistently yields truly unique builds from Europe's top custom shops. Unfortunately, after the cancellation of the 2021 show, it won't be until September of 2022 that the event will take place once again. That hasn't stopped one of our favourite builders from piecing together his entry well ahead of schedule though.
Pepo Rosell, aka XTR Pepo, is well known for his track inspired custom motorcycles. He has a particular soft spot for European Endurance Racing and its influence can be seen throughout his extensive custom portfolio. His work on motorcycles however is never simply skin deep. Without exception, Pepo invests time into his creations performance – hopping up engines, fine-tuning suspension and fitting the very best in performance parts. So when it came to building a bike that could hold its own at the highly competitive Glemseck 101 sprints he pulled out all the stops.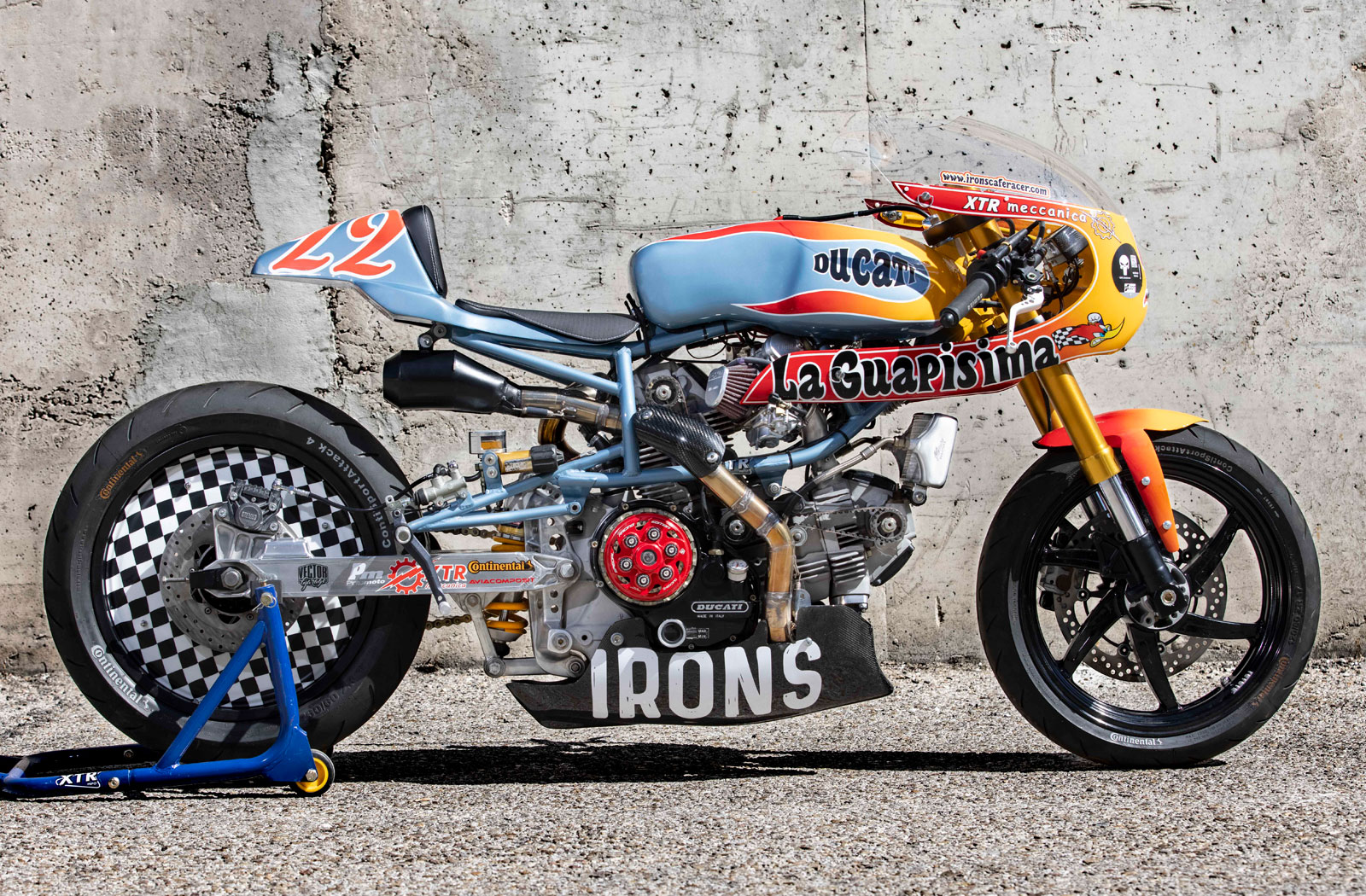 Pepo had been contemplating the notion of building a sprint bike for a while. But it wasn't until he shared his idea with a friend that the wheels were set in motion.
"I have known Miguel the owner of the Irons Café Racer motorcycle clothing and accessory store since he open his business 4 or 5 years ago," says Pepo. "One day over lunch with Miguel we were discussing all kinds of two-wheeled topics when I told him that I wanted to fabricate a bike to compete in the Glemseck 101 races. He instantly told me that he was interested in collaborating!"
So with the support of Irons Cafe Racer, Pepo got busy doing what he does best.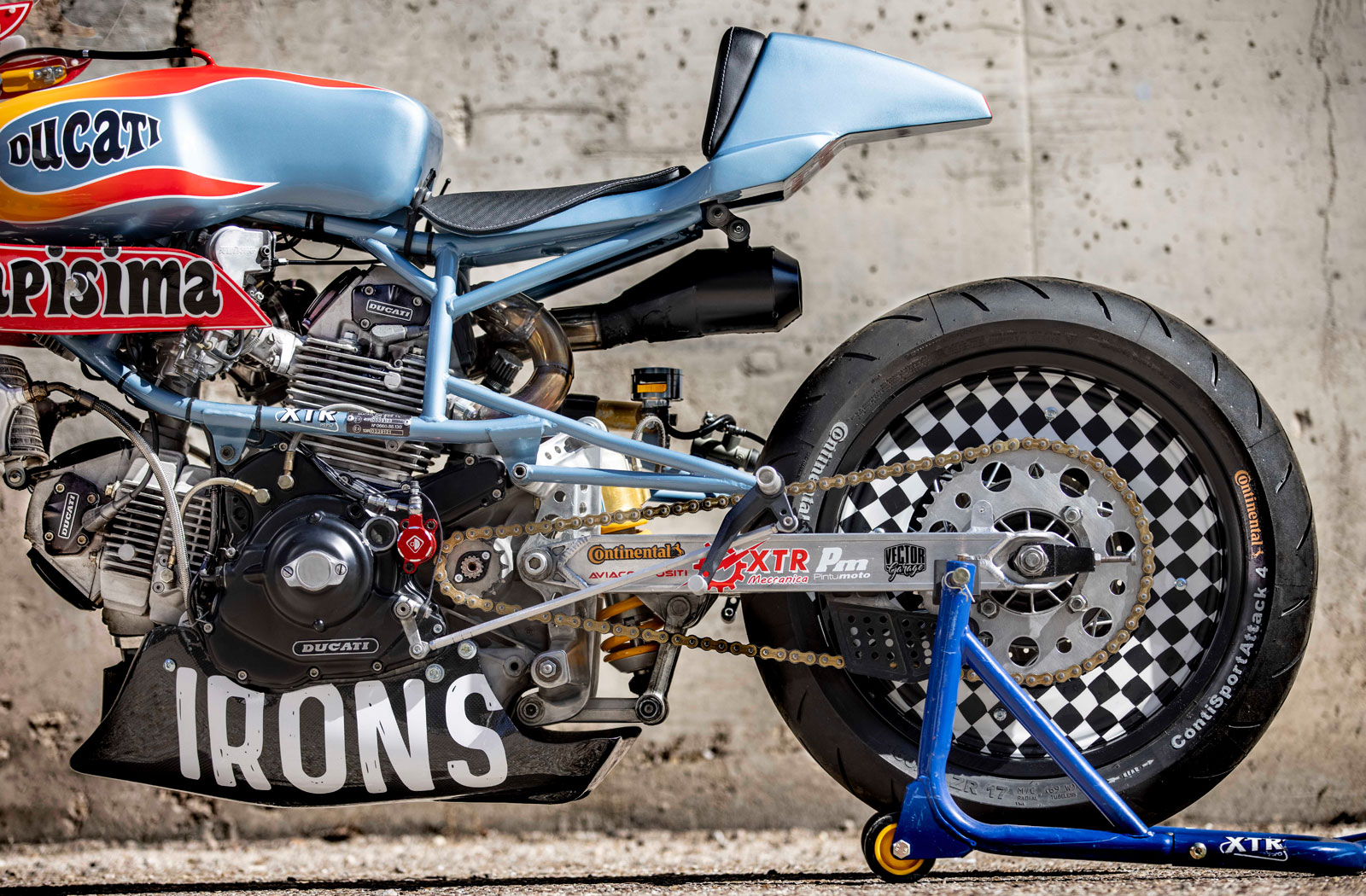 Pepo's 'La Guapisima' (The Beautiful) sprint racer project kicked off with the acquisition of an eighties Ducati Pantah 600 TL. Renowned for its redesigned trellis frame and an engine that defined future generations of Ducati v-twins, the Pantah played a big part in the evolution of the Italian marque.
Pepo's late-model Pantah came from the factory with a 600cc 90-degree v-twin that was good for 58 hp and 45 Nm of torque. These figures may have been impressive at the time of the bikes release, but they weren't going to cut it at the dragstrip.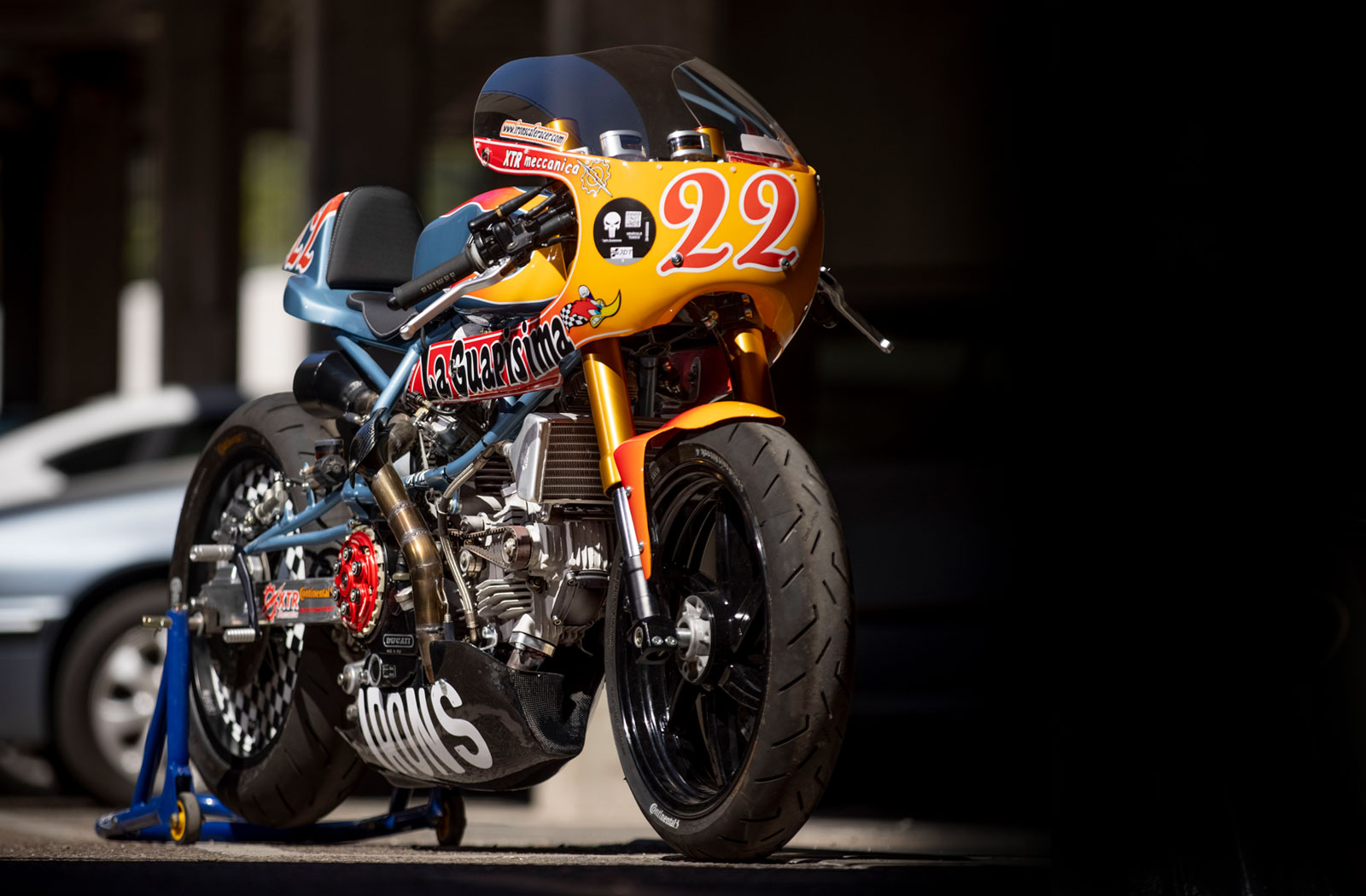 The solution Pepo came up with for the Pantah's lack of power was to shoehorn a larger, more powerful and heavily worked engine into the trellis frame. In typical Pepo style, his engine choice was a rather unexpected one.
In 1990 Italian manufacturer Cagiva used a Ducati engine to create a motorcycle that won the revered Paris Dakar not once, but twice. That bike was the Cagiva Elefant. The 1993 version of the on/off-road superbike was powered by a 904 cc version of Ducati's twin-valve desmodromic l-twin. In standard trim, that engine had almost double the power of the Pantah's 600. Pepo's Elefant engine however is anything but standard.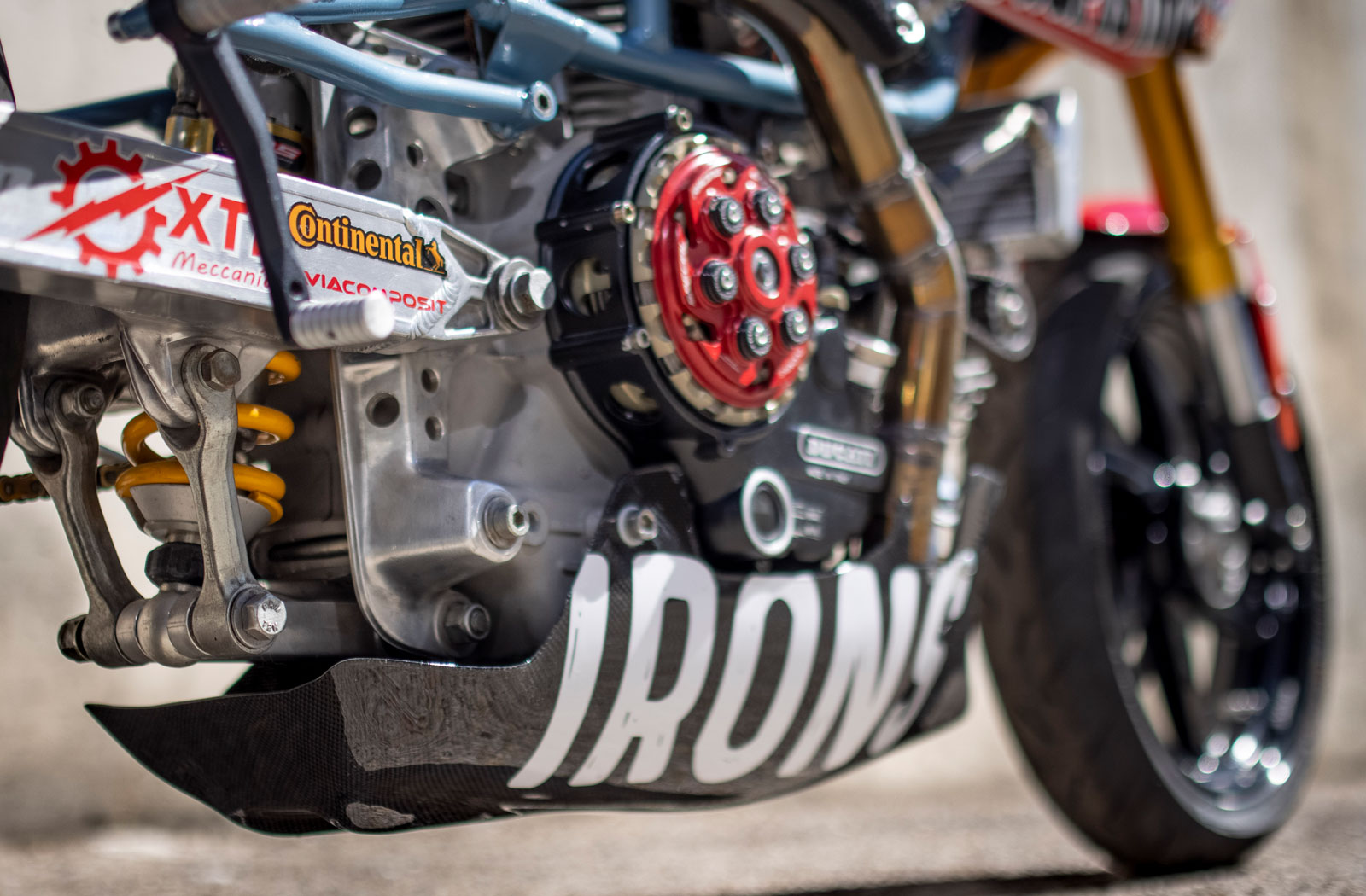 Hidden within the cases of his Elefant engine are high compression pistons, ported heads and a lightened flywheel. Protruding from the side of the gearbox you'll spot a Ducabike slipper clutch kit which has been combined with a quick shift kit for lightning-fast, clutch pull free gear changes. Electronic fueling has been dispensed with in favour of a Keihin FCR 39 carburettor which is managed by a fully programmable Silent Hetkit ignition kit. A DNA air filter keeps the intake clean and there's a custom 2-into-1 Wolfman system performing exhaust duties. In an attempt to keep operating temperatures in check while the engine is pushed to its limit Pepo has also added an RC Racing oil cooler.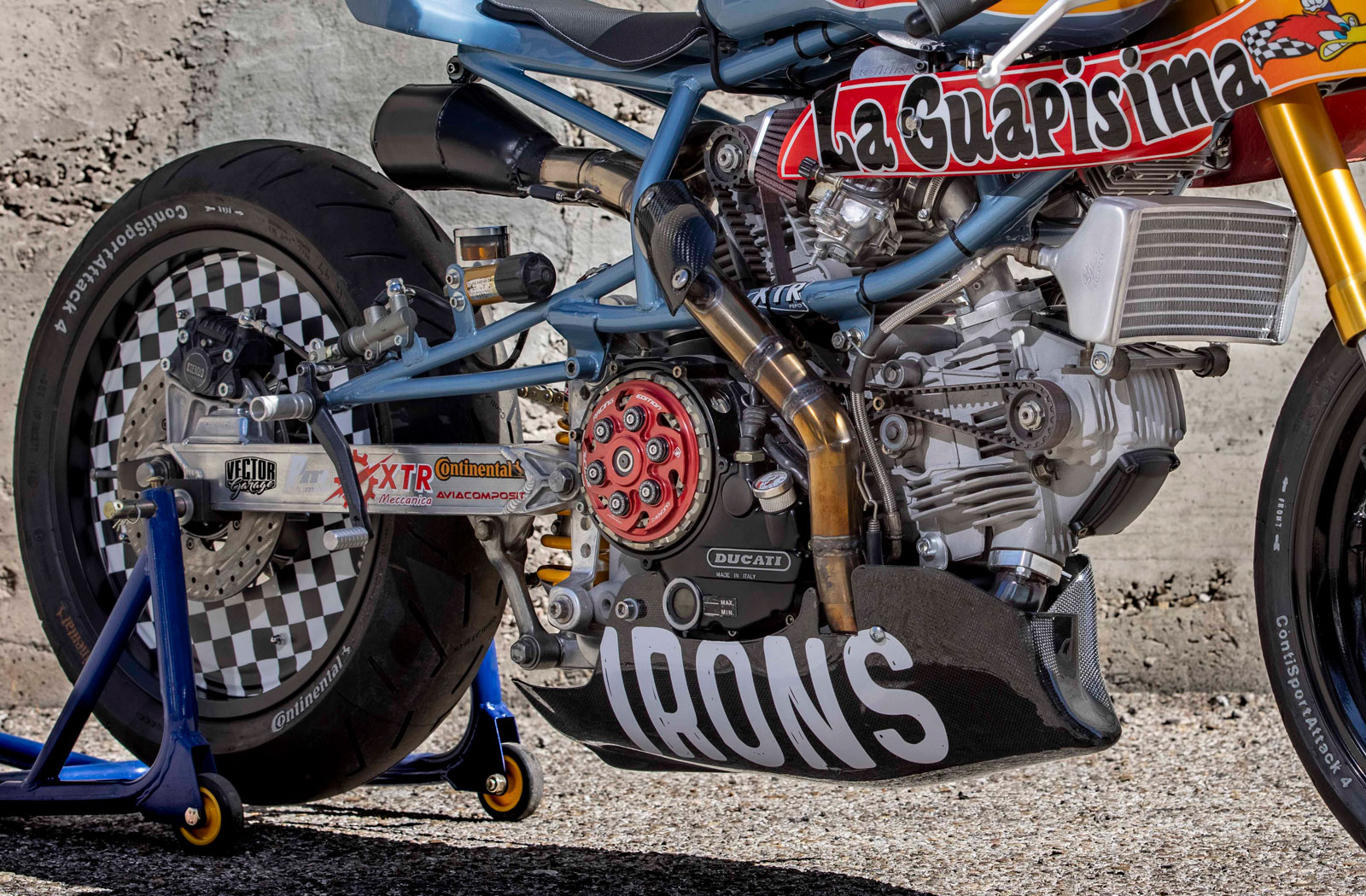 Seeing as the engine destined to sit within his sprint bike was larger (and producing more than double the power) than the Pantah donk, Pepo has heavily reworked the Trellis chassis. During the overhaul, he removed most of the rear of the frame. In its place is an all-new subframe designed to support a custom made XTR rear cowl and additional supports for the drag racing positioned footpegs.
Pepo's custom frame also benefits from a revised suspension setup. In the front, he's installed a set of Hyosung GT 650 forks which are held in place by lightened yokes. The rear utilises a Cagiva Elefant 350 swingarm that's supported by a high spec Ohlins shock. His choice of wheels is a custom combo too with a Hyosung hoop sitting in the front forks and a custom aluminium wheel in the rear. Both are wrapped in Continental's Conti Sport Attack 4 tyres. A comprehensive collection of Brembo components carry out braking duties and all of the fluid lines are by Frentubo.
From the pilot's seat, the view is beautifully simple. Sitting behind a pair of symmetrically mounted Rizoma reservoirs lives an Aviacompositi gauge that relays engine revs to the rider. The controls are also pared back using a set of XTR clip-ons wearing XTR levers, Domino grips, a Domino switch block and Domino quick throttle.
Anyone that follows the European sprint race circuit knows that style plays a role almost as important as performance. This certainly hasn't gone unnoticed by Pepo and as such his Pantah is anything but understated.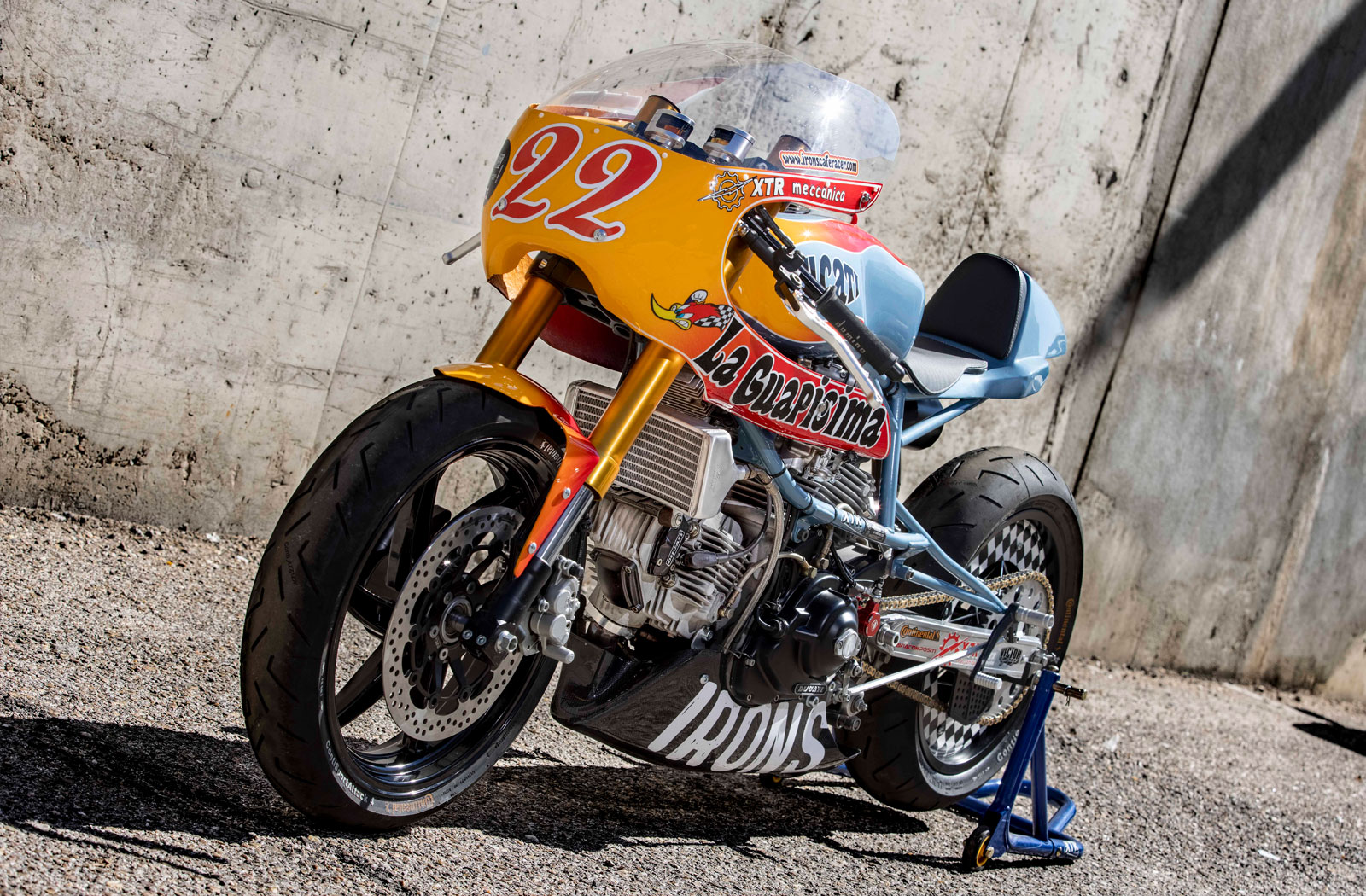 La Guapisima's bodywork is completely bespoke and was designed and built by none other than the man himself, Pepo Rosell. As is a requirement at most racetracks La Guapisima is sporting a carbon fibre belly pan, just in case the engine decides to dump its contents mid-sprint. With no need for street legal registration, the front fairing is devoid of a headlight which contributes to its lightweight construction. Pepo also built an equally lithe front fender, tail unit and fuel tank to keep weight to a bare minimum. Even the bikes seat is ultra-slim since comfort isn't too much of a concern on your average 1/8th mile outing.
Taking inspiration from the heyday of drag racing, the 1970s, Pepo worked with the paint shop Pintumoto to create a suitably outrageous scheme. Everything from the flame job to the typefaces screams 70s style and the livery is a mix of XTR and Irons Cafe Racer imagery.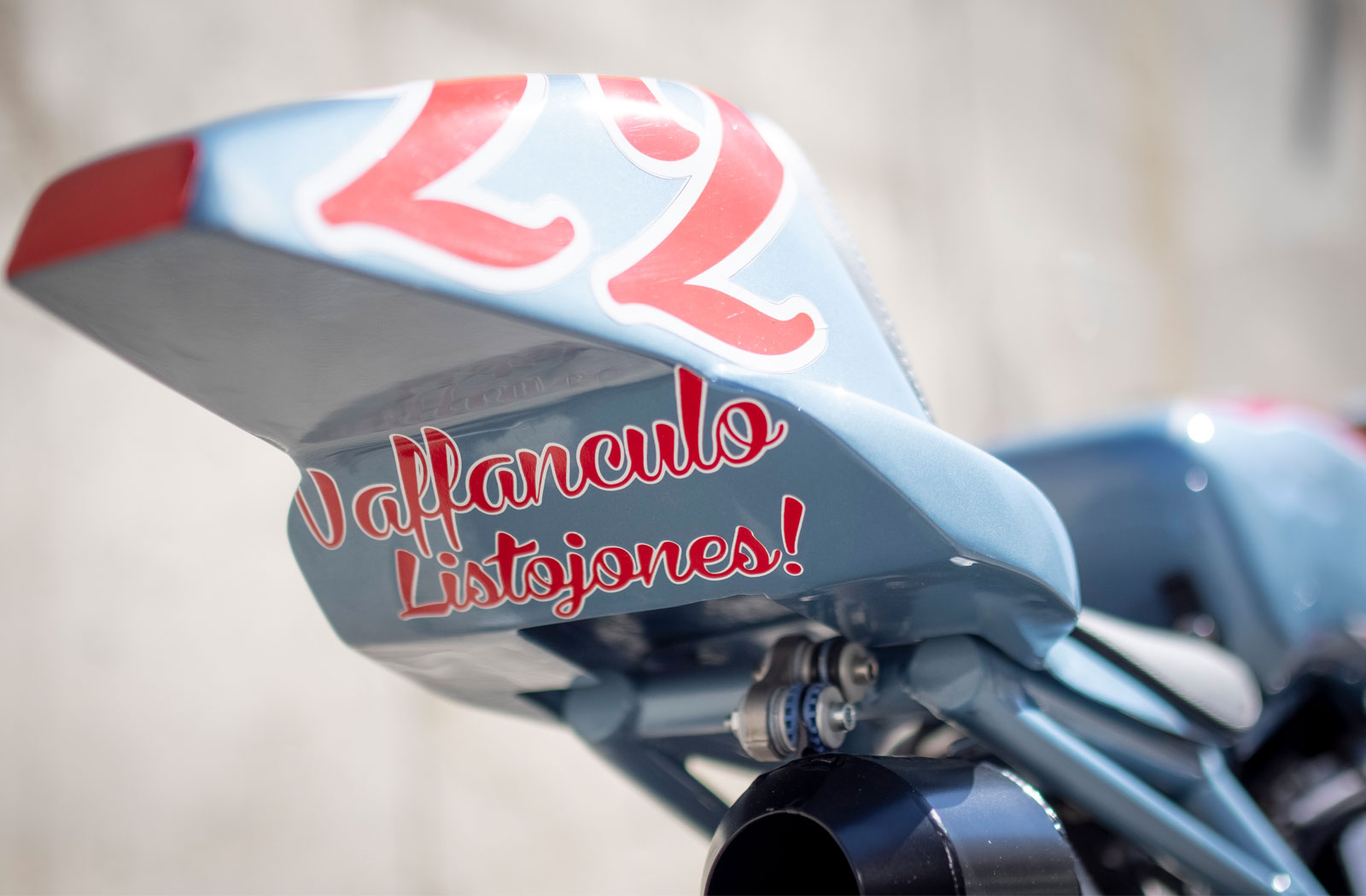 When we asked Pepo about La Guapisima's power and its chances of winning at the sprints he had this to say, "As Rolls Royce says the bike has enough power. It has a low weight of around 157 kg and my pilot is an Italian lady who weighs only 50 kg. So everything is looking good!"
That's a modest response from a very capable builder – but seeing as the underside of the bike's tail features the impudent phrase "Vaffanculo Listojones!" (which you can translate for yourselves) we'd say he's feeling pretty confident.
Photography by Ruben del Valle Producciones