If there's one builder whose work can be summed up by the adage "looks fast standing still" it's that of Madrid's XTR Pepo.
XTR founder Pepo Rosell has a soft spot for motorcycle racing and it has had a profound effect on the style of bikes he builds. Almost every motorcycle in his extensive portfolio wears race-inspired custom bodywork and livery. Along the way, he has also developed a range of his own XTR Pepo parts and accessories which help accentuate each bikes race-ready demeanour.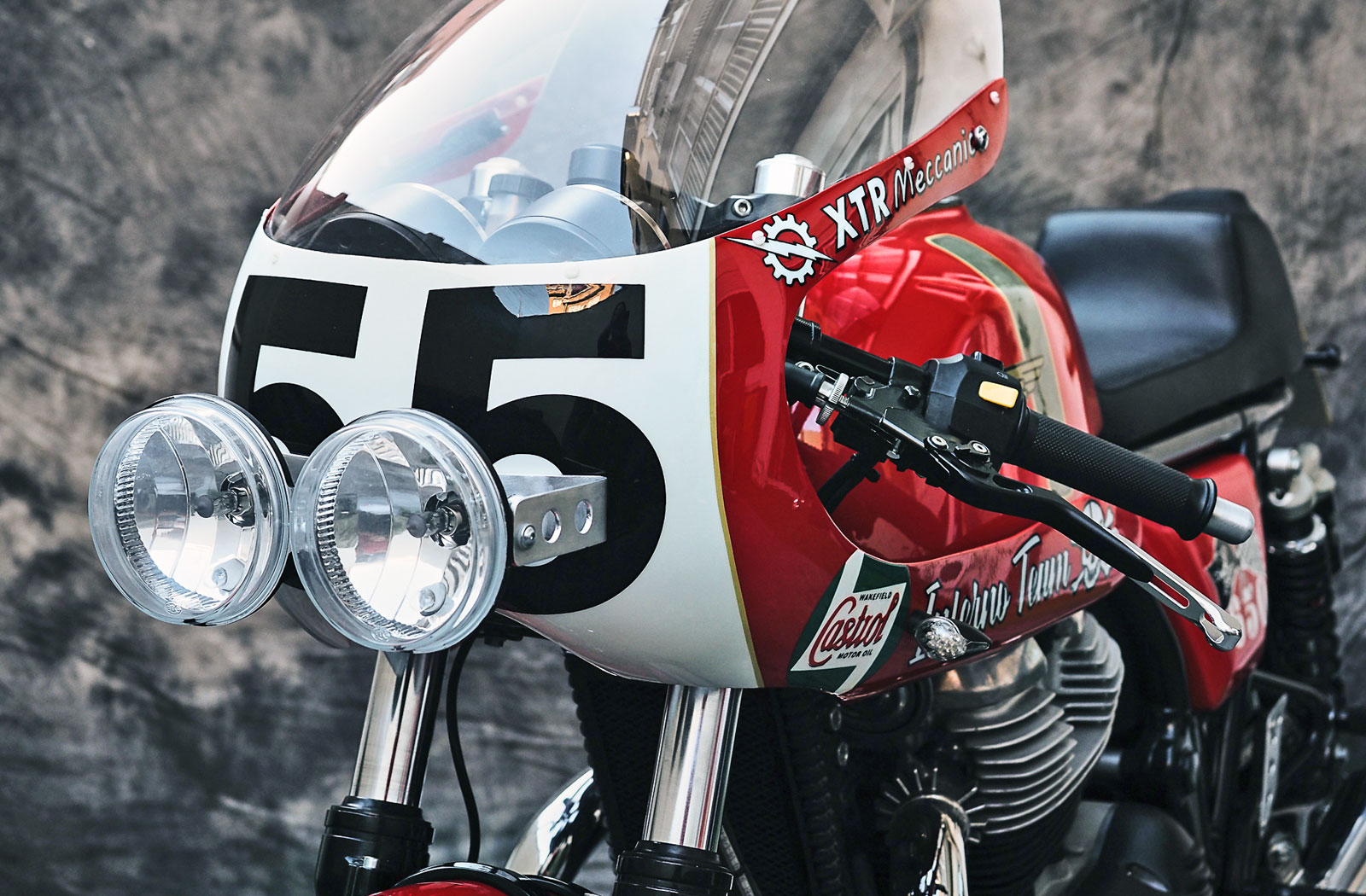 One thing that isn't common to all of Pepo's builds however is the make or model of his subjects. He openly welcomes the opportunity to work on all manner of motorcycle. As a result, you'll find everything from v-twin Harley's to minuscule monkey bikes in his extensive portfolio. So it comes as no surprise that when a customer approached Pepo with a motorcycle he had no previous experience with he gladly accepted the challenge.
The motorcycle Pepo was presented with was a 2019 Royal Enfield Continental GT650. The bike's owner, a local tattoo artist, had damaged the GT650 in an accident and rather than having it repaired to factory spec he wisely took it to Pepo for the full custom treatment.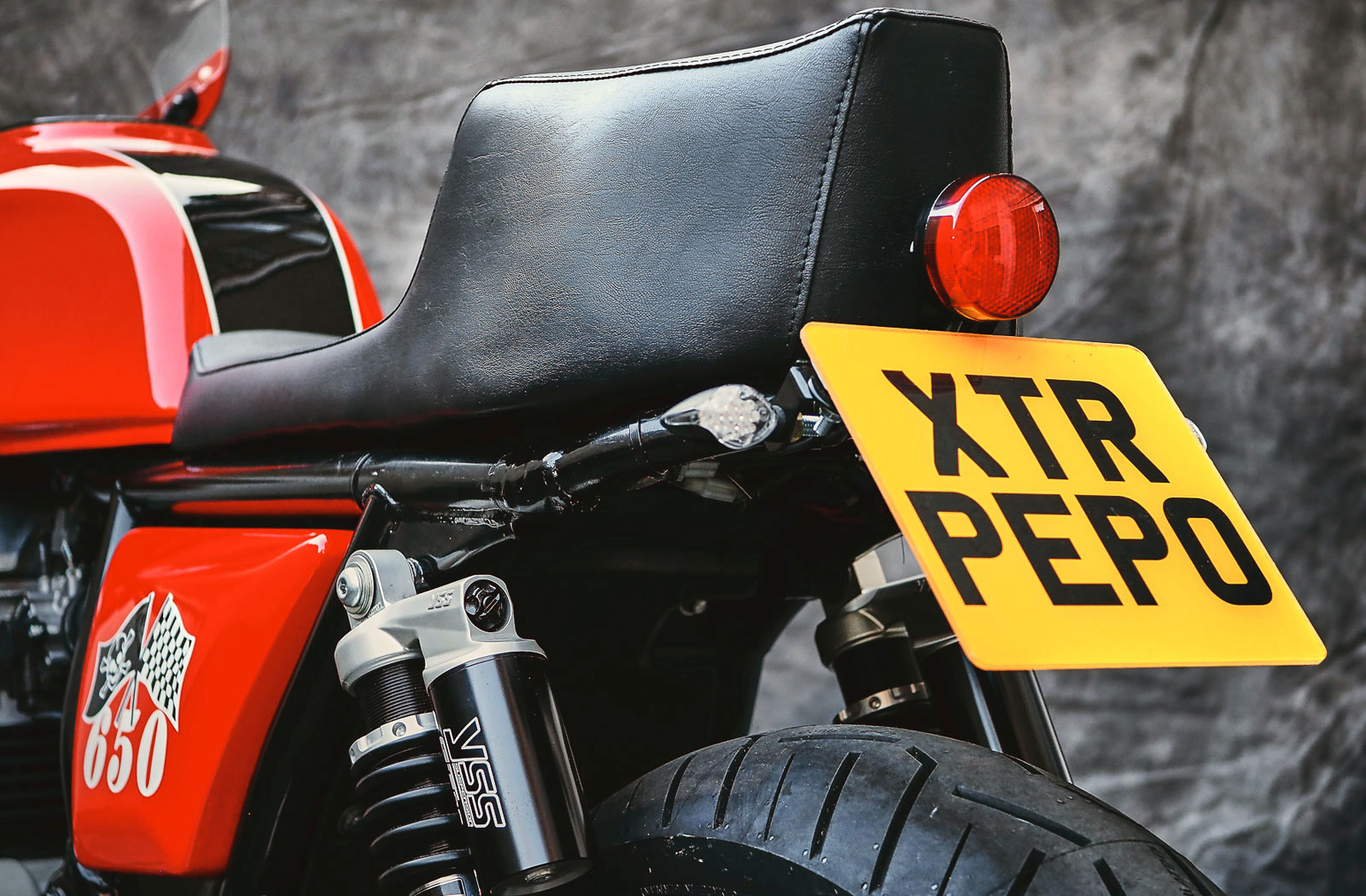 "The customer wanted a racier bike with an endurance touch and clip ons." says Pepo. But to add a challenging twist to the task the owner also wanted to retain the ability to carry a pillion.
"To make a race bike with two seats is really hard without ruining the image of a sporty bike," Pepo explains. "But I remembered the Italian bikes of my youth and discovered a solution for this challenge. It was the Moto Morini Sport 350 and Guzzi Le Mans I that inspired me the most."
Pepo's solution was to build the entire rear cowl section as a padded seat. This would allow him to satisfy his customers request without sacrificing the overall look.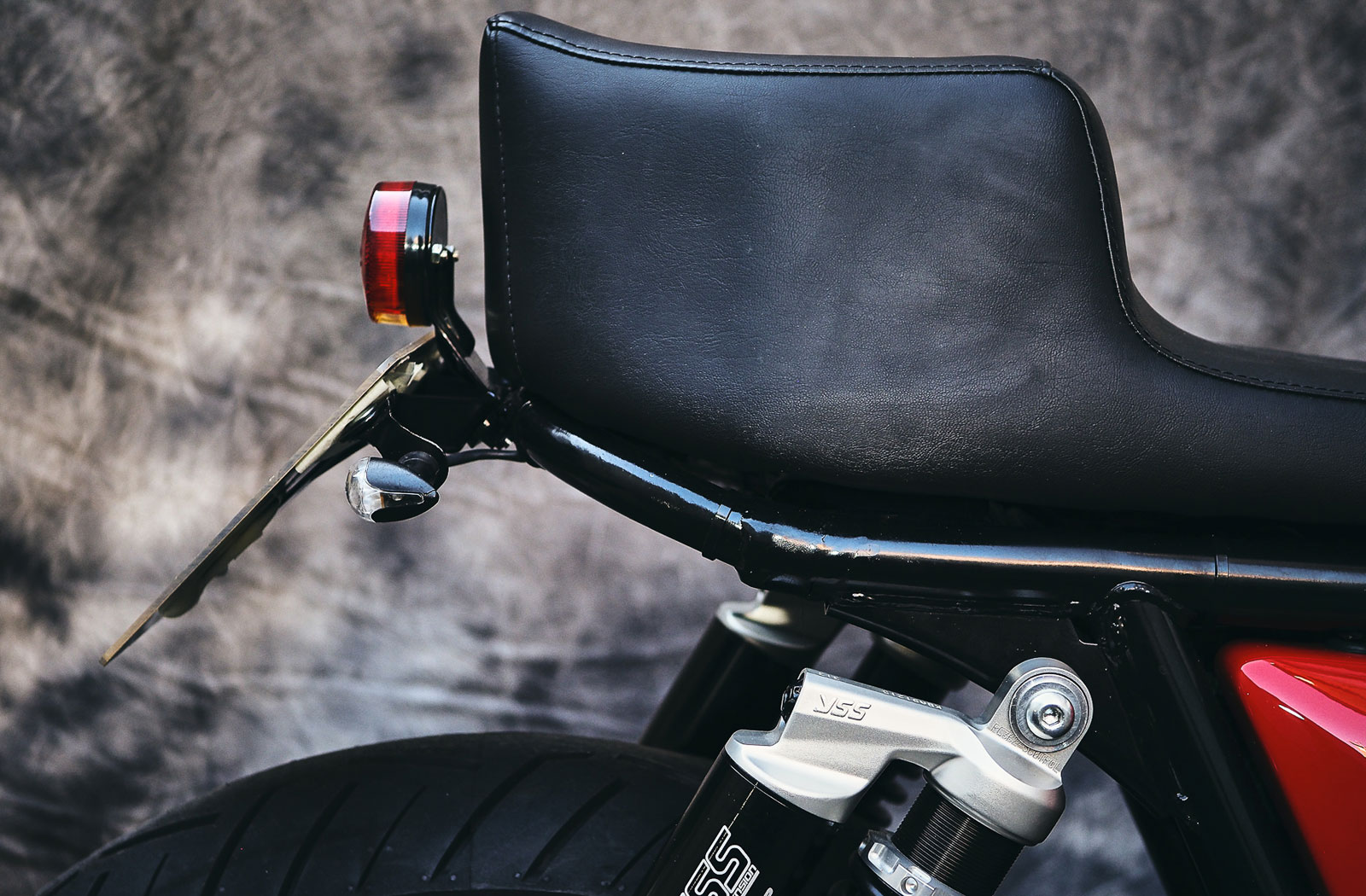 With that problem solved, Pepo began planning the bike's new look. In typical Pepo fashion, the original fuel tank was replaced. In this instance, it's a custom made fibreglass alternative. As for the look he was after Pepo says "My inspiration was the old Norton British twin racers of Gus Khun."
Gus Khun was a British TT racer during the 1920s and 1930s. Along with racing motorcycles, he was an accomplished mechanic and designed his own bodywork. In later years he launched his motorcycle sales and servicing business. Gus Khun Motors eventually went on to offer motorcycle customisation under the leadership of Gus' son-in-law Vincent Davey. Their work focused on the Norton Commando platform and many of the road going motorcycles they produced were based on designs they had developed for their own race team.
Although the new tank bears a resemblance to Enfield's design, it was infact based on a Gus Kuhn tank from the '60s. Contributing further to the bike's racing feel the new tank features transparent stripes on either side that function as a rudimentary fuel gauge. Pepo also recessed an ACC dry break quick fill cap onto it which has a more streetable screw-in filler as opposed to a quick fill mechanism.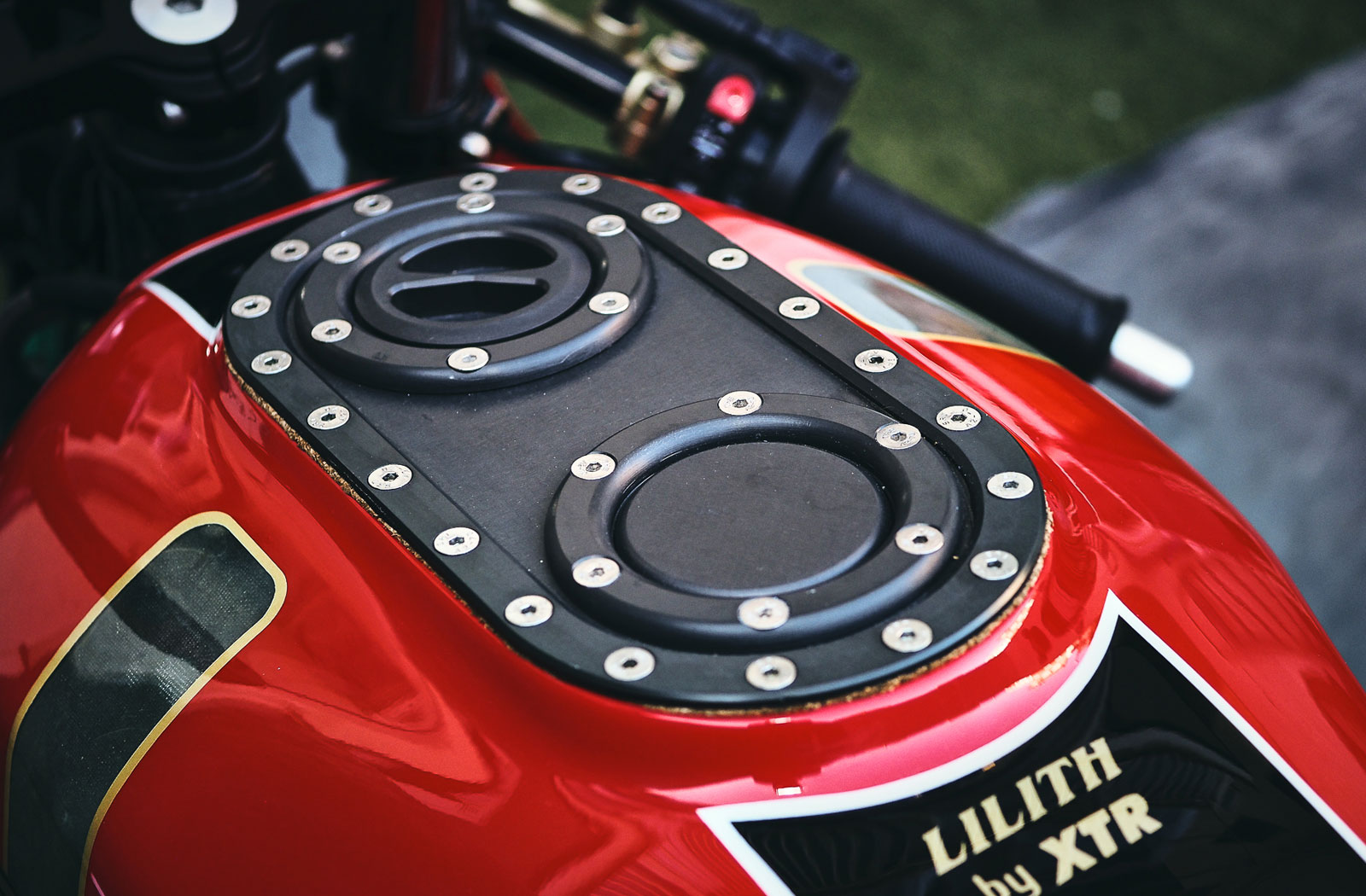 After the tank had taken shape Pepo fabricated his new seat pan. He then shaped foam to create the look he was after before covering the whole structure in timeless black leather. Securing the new saddle in place required the fabrication of a shorter, squared-off subframe which Pepo also built and installed himself. A simple license plate bracket was also added to keep things street legal. The road going rear end lighting is all still there in the form of LED turn signals and an XTR built retro brake light.
Then came perhaps the bikes most distinct new feature, the front fairing.
Held in place by custom made brackets the half fairing wears a set of twin XTR headlamps that are synonymous with classic endurance racing style. Sitting behind the fairing you'll spot the original GT650 gauge cluster but the stock handlebars have been replaced with the clip-ons as per the customer's request.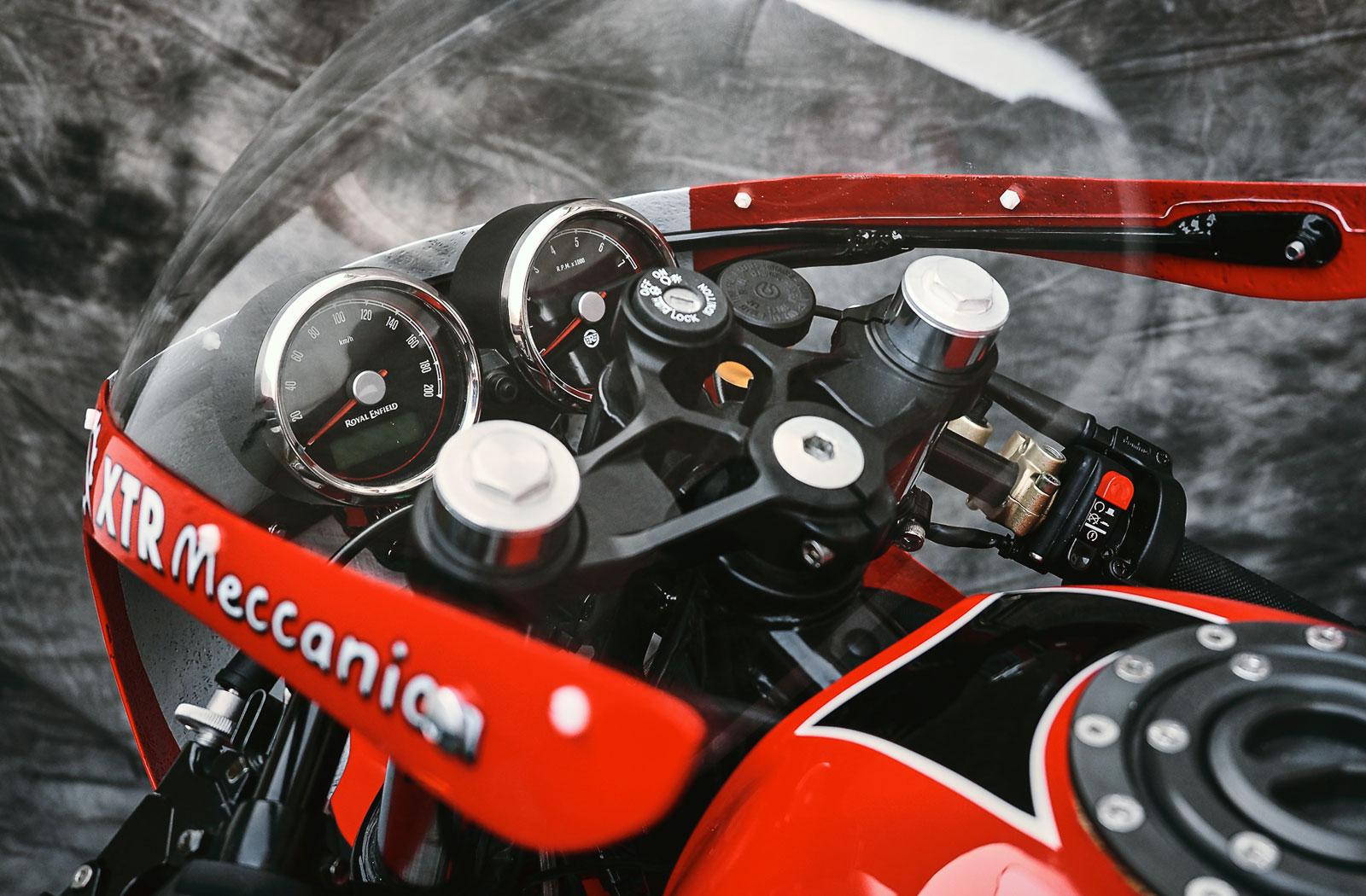 Beyond the bikes Endurance-esque uniform – it also features a plethora of race-inspired details. Amongst them is a quick action throttle from aftermarket race experts Domino. The bars wear XTR CNC machined end weights and adjustable XTR machined alloy levers. Perched over the front wheel is a tightly proportioned fender on a custom bracket that doubles as a wheel brace. To once again emphasise the Enfield's race aesthetic, Pepo has also added a CNC Riga upper yoke.
Moving rearward the bike wears a CNC machined Riga chain tensioner, trick gold Regina chain and K-Speed alloy footpegs.
As always Pepo hasn't overlooked ways in which to improve his subjects' performance. Here he's stepped up the handling by installing higher-spec YSS rear shocks, a Brembo gold front brake and an all-new wheel combo. By moving from 18-inch wheels to lightweight 17s not only has unsprung weight been greatly reduced but the bike now handles like it's on rails. Pepo also went with Continental Road Attack 3 sport touring tyres for a nice balance off year-round practicality and high performance grip.
To unlock more power from Royal Enfields 648cc parallel-twin there's a shortened twin exhaust sporting Turbokit mufflers and a free-flowing DNA air filter.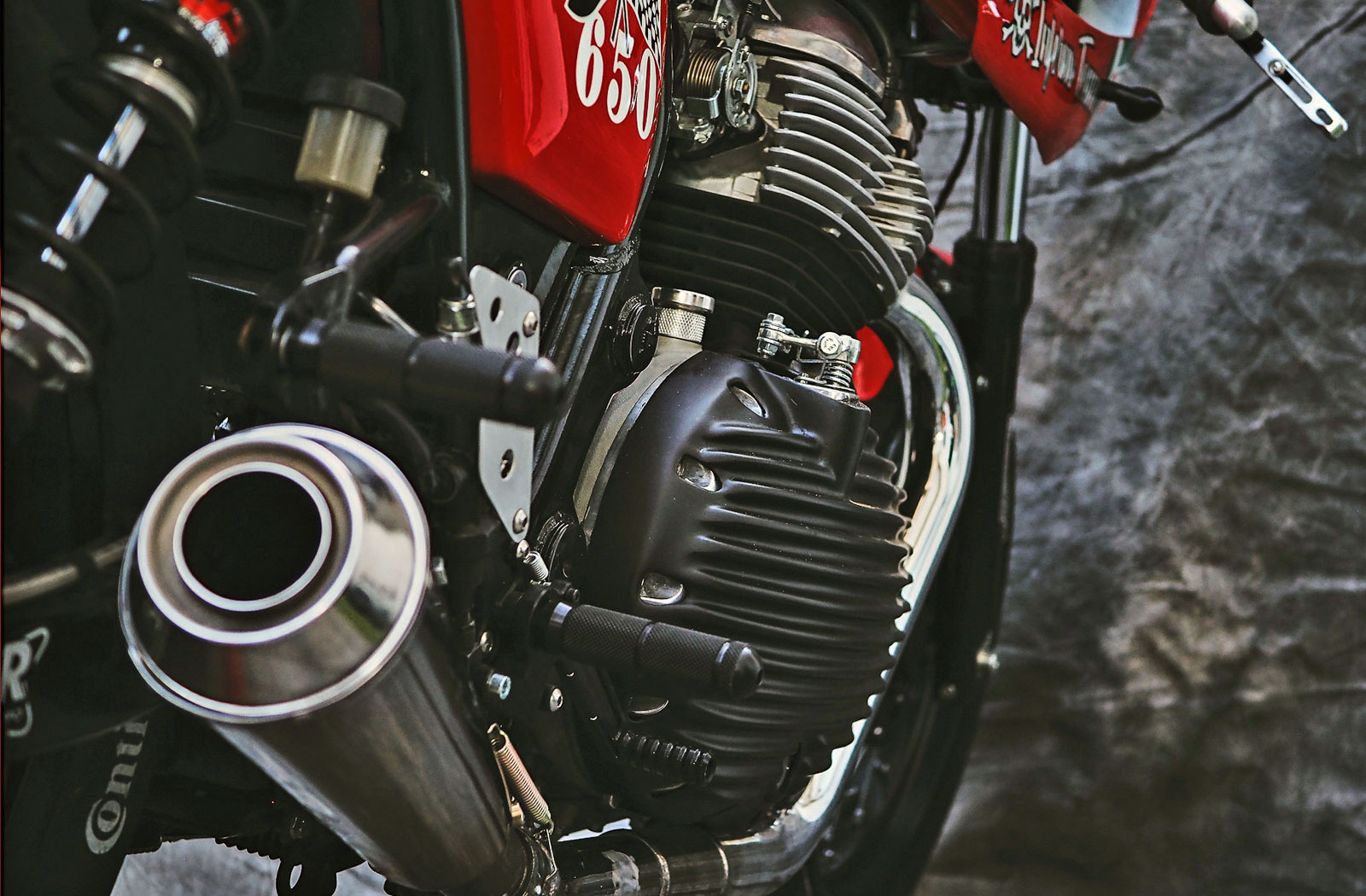 All up this Continental GT650 tips the scales at an impressive 25kg less than a factory example. This was made possible by Pepo's considered choice of parts and materials so there's no question this bike could easily outperform its siblings. Don't just take my word for it though. Pepo proudly states that "The bike is now more responsive. It now steers much better and goes into the curves easy and solid."
To complete the transformation Pepo dressed the engine in finned covers from Thailand's K-Speed workshop. I can only assume this was because of damage to the original polished items, but either way, they work wonders for this Enfield's aggressive aesthetic.
Lastly, Pepo's go-to painter Artenruta painted the bodywork in a classic Royal Enfield Continental red and gold scheme and laid down some racing livery consisting of XTR branding and his customers own Jolly Roger styled logos.
Aptly named Lilith, after a primordial she-demon this racy XTR Continental GT650 should definitely be approached with caution.
Photography by Trazando Fino