Royal Enfield lays claim to being the "oldest global motorcycle brand in continuous production"  and they know a thing or two about cafe racers. Back in 1965, they released the first-ever production cafe racer, the Continental GT 250. Forty-nine years later they did it again with the Continental GT 535, which at the time had the largest displacement of any motorcycle in their range. They then completed the trifecta 3 short years later with the release of the hugely successful 2017 650cc parallel twin Continental GT 650.
As you'd expect these models have all been popular amongst cafe racer fans but with the release of the 650 twin we've seen a huge increase in the number of Enfields being customised by enthusiasts and professional builders alike. Here's a look at 10 of the best Royal Enfield Cafe Racers, to grace these pages (in no particular order).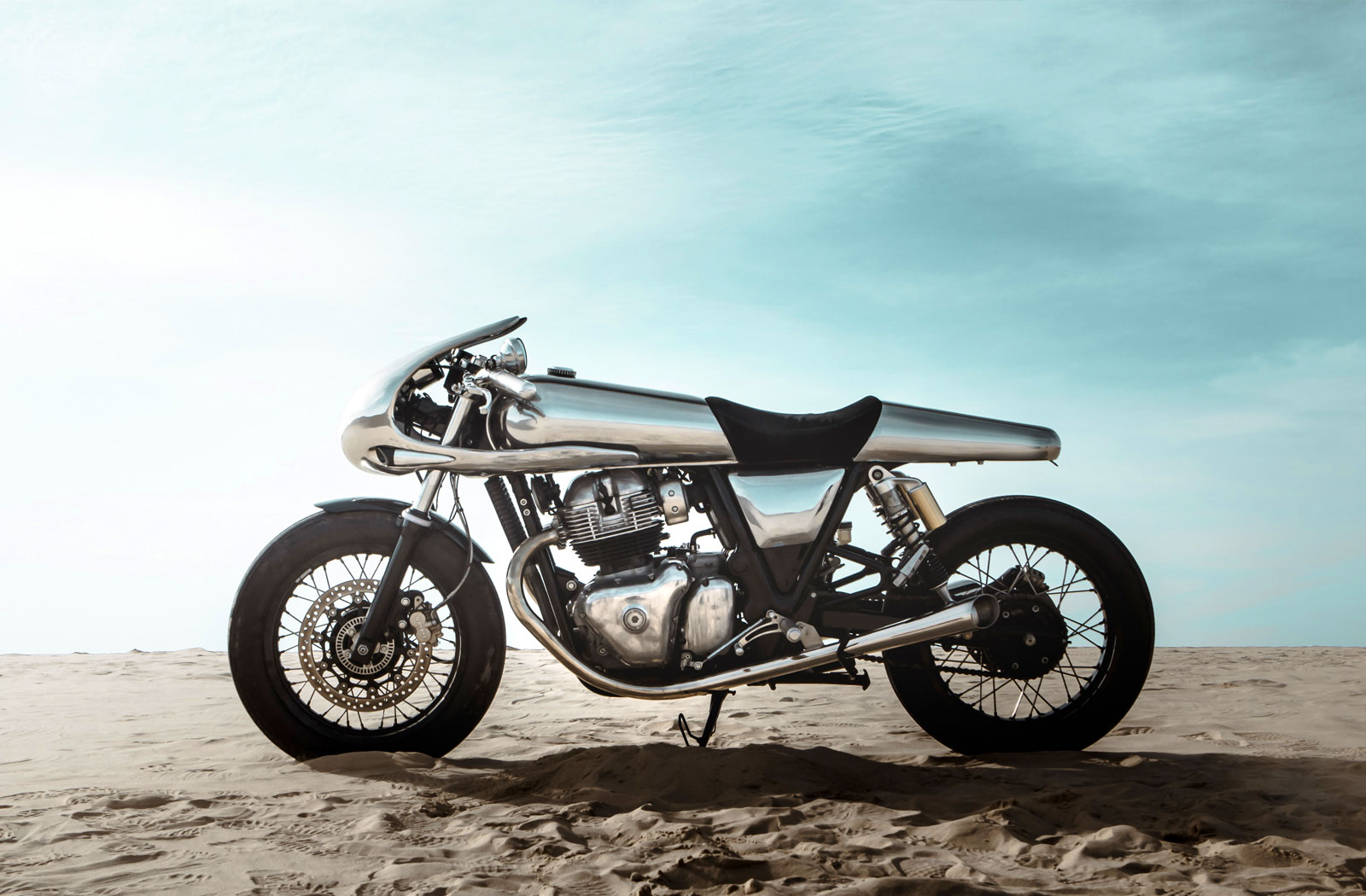 1. Bandit9 'Jaeger' GT 650 Cafe Racer Kit
The Jaeger Continental GT 650 cafe racer was built through a collaboration with Royal Enfield and Vietnam's Bandit9 workshop. For the project, Enfield tasked company owner and lead designer Daryl Villanueva with creating a bolt-on kit for the GT 650 to showcase its potential for customisation.
In typical Bandit9 style, the Jaeger has a distinctly futuristic look thanks to the hand shaped surgical-grade steel bodywork. Each component bolts directly to an unmodified GT 650 chassis allowing owners to revert the bike back to stock if they so desired. Accompanying the bodywork on this bike is a complete LED lighting system, clip-on handlebars and rear set footpegs, matching surgical steel grips, switch blocks and mirrors and a custom stainless steel 2-into-2 internally baffled exhaust system.
The only dislike we have regarding this cafe racer kit is that only 9 were produced; and as you'd expect, they've all already been sold.

2. Rogue Motorcycles Project RE Continental GT 650
When Royal Enfield Australia announced the Busted Knuckles Build-Off Perth's MotoMAX workshop enlisted the help of Billy and the team at Rogue Motorcycles to realise their vision.
Nicknamed 'Project RE' this GT's most distinct feature is its custom-made front cowl. Rogue based the design of it loosely on Honda's iconic 250cc sportbike, the MC22 CBR250R and realised it in FRP. Billy also created a set of custom side panels and topped things off with a suede-covered saddle that features frame colour-matched turquoise stitching. There's much more going on here than just a few visual tweaks though.
The GT now rolls on Benelli TNT 1130 running gear. The new configuration is made up of 58mm Marzocchi front forks, the TNT wheels, a Brembo brake assembly and the TNT swingarm. There's also a custom exhaust system and plenty of small details that wowed the judges and resulted in the bike taking out the Busted Knuckles 'experts choice' award. Most impressively however is that this entire project was completed in a mere 6 weeks.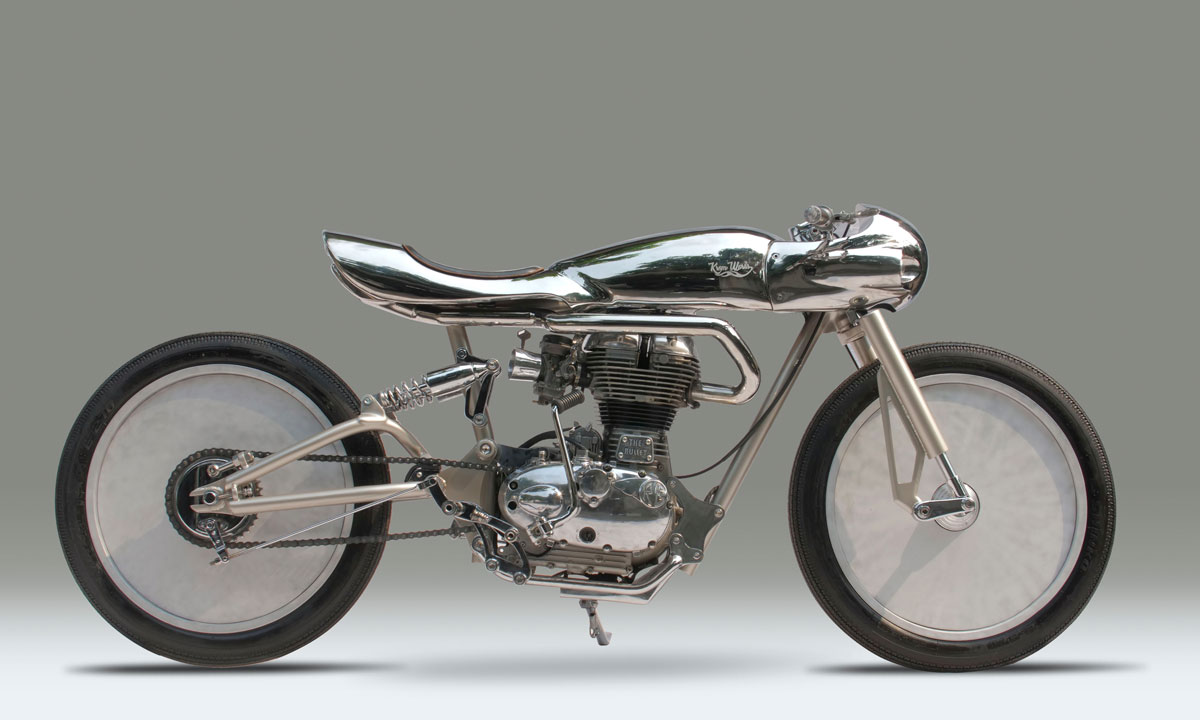 3. Kromworks Out of this World RE Bullet 500
If you're old enough to remember the Hanna-Barbera cartoon you may be thinking this motorcycle would look right at home in a live-action adaptation of The Jetsons. Well unfortunately that's not why it exists. Rest assured that's exactly what the bike's builder would like you to think though.
Through another Royal Enfield collaboration, Andika Pratama of Indonesia's Kromworks built this otherwordly Bullet 500 based cafe racer. Andika's concept for the Bullet was heavily inspired by 1950s American automotive design. The result is a motorcycle that has very little in common with the Bullet's traditional vintage styling. As far as how much of the original motorcycle remains, it's pretty much just the engine since everything around it was built entirely from scratch. All of the bodywork was hand-formed and then chrome plated.  The frame and its unorthodox suspension setup is a one-off design and the wheels are matching 21-inch rims wrapped in vintage rubber.
The Kromworks Bullet is a super clean minimalistic motorcycle but despite its spartan appearance, there was nothing simple about creating this rolling work of art.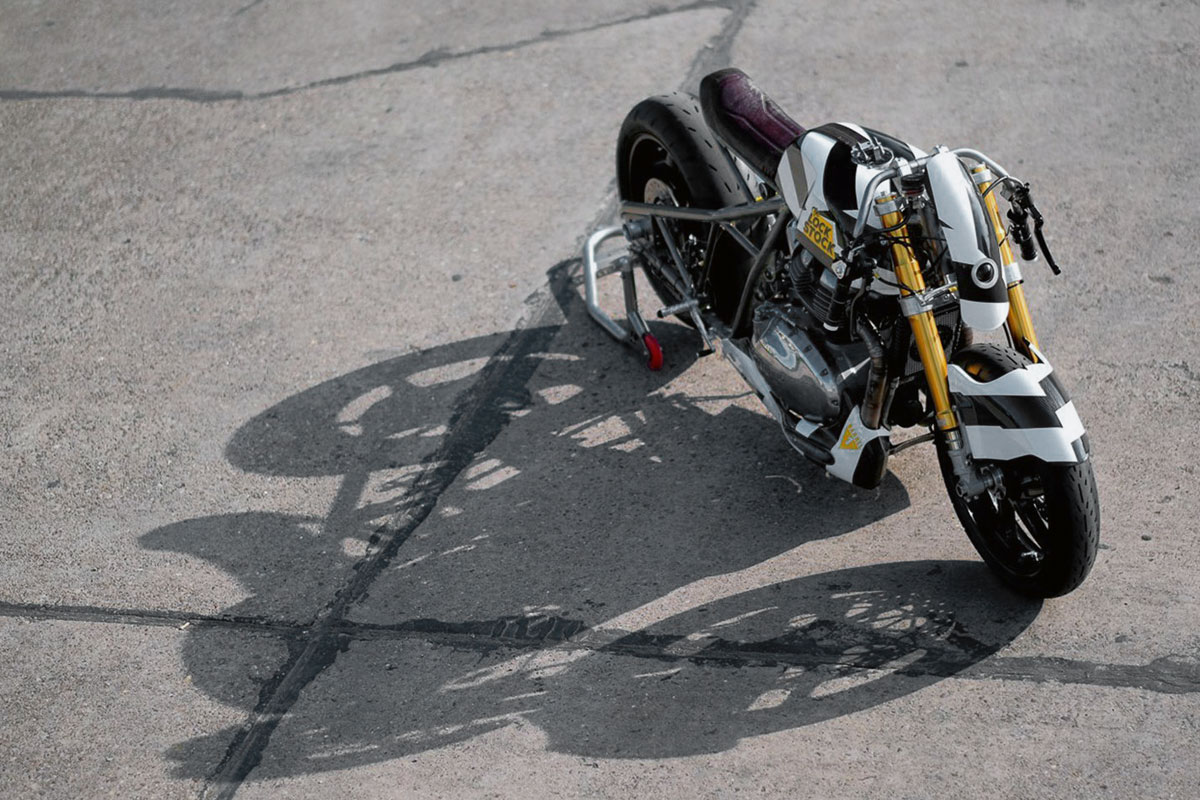 4. Royal Enfield Lock Stock GT 650 Drag Bike
The Royal Enfield 'Lock Stock' is a GT 650 based drag bike built by the manufacturer to take part in the European Sultans of Sprint drag race series. It's not what I'd generally label as a cafe racer, but I have a soft spot for stripped-down, bare essential, high-performance motorcycles, especially ones that look this wild.
Lock Stock is based on a GT 650 platform but everything has been thoroughly reworked to achieve blistering straight line acceleration. Starting with the engine the 650 parallel twin was completely reworked by performance experts S&S. When all was said and done the power and torque figures were double those of the stock bike. Since the rules allowed it, the engine was also hooked up to a nitrous system to push things to the absolute limit.
By working with their subsidiary company, Harris Performance, Enfield also developed an all new chassis for Lock Stock and upgraded the suspension using Öhlins components. Lightweight PVM forged wheels help to reduce unsprung weight and Goldline brakes provide all the stopping power.
What's great about the Sultans of Sprint is that the event also demands a focus on style which results in the creation of some pretty wild machines, such as this.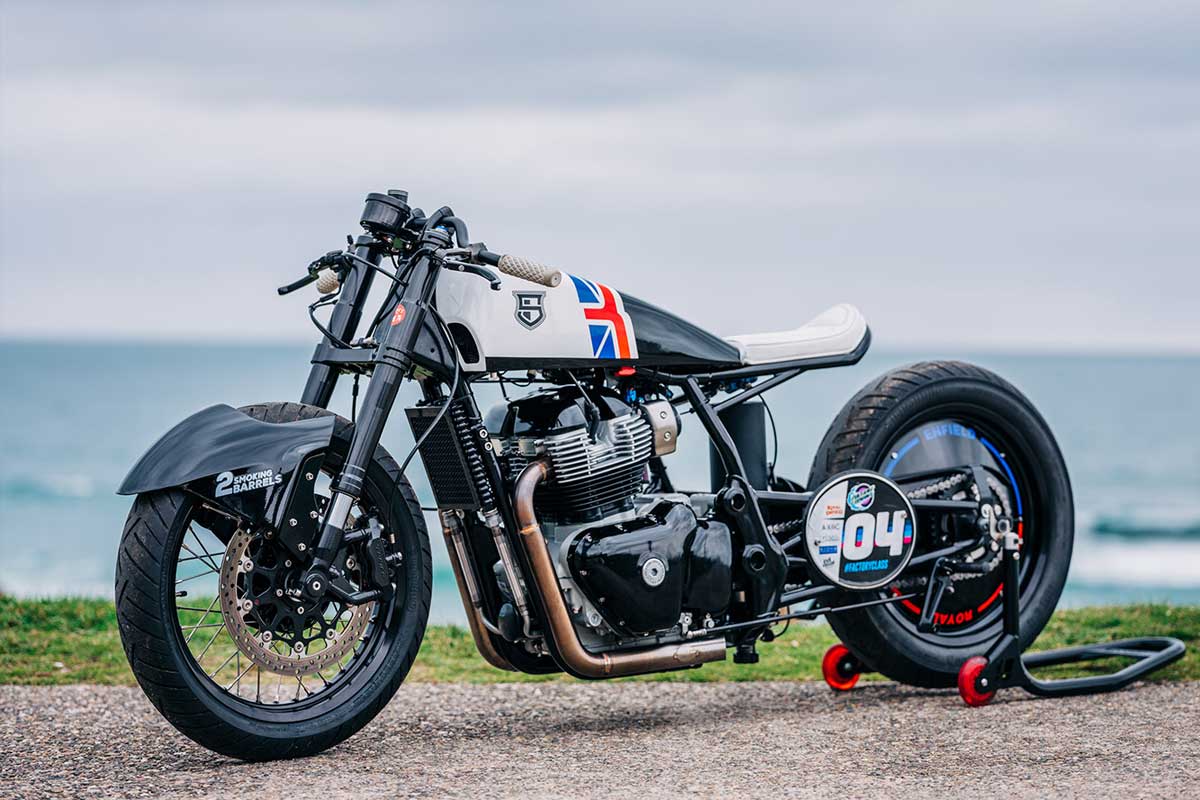 5. Sinroja Motorcycles GT 650 Drag Bike
While we're on the subject of drag bikes, here's another awesome Sultans of Sprint GT 650 by the UK's Sinroja brothers. After a successful collab during the lead-up to the unveiling of the 650 twin platform in 2017, Royal Enfield agreed to help Sinroja out with a GT 650 for their own sprint race aspirations. Similar to Enfield's own 'Lock Stock' race bike the Sinroja 'Two Smoking Guns' GT 650 has undergone some serious performance upgrades.
Once again S&S came to the party to heat things up a little. The capacity of this engine now sits at 750cc and the brothers have supplemented the extra capacity by adding bigger fuel injectors, cams, a reprogrammed ECU and a very short free-flowing exhaust. To top things off they teamed up with race expert Trevor Lanford to fit the bike with a nitrous oxide system.
The Sinroja brothers then put the Enfield on a serious weight loss program. In order to reach their target weight of 150kg (down from 202kg) they fit the bike with an Antigravity battery, custom machined alloy yokes, one front disc instead of two and a lightweight modern sportbike front end. They also trimmed and restyled the chassis and added a hard-tailed rear that dispensed with the rear suspension. There's a tiny 2-litre tank that holds enough juice for a couple of runs down the blacktop, a minimised wiring loom and even lightweight fasteners to save as much weight as possible.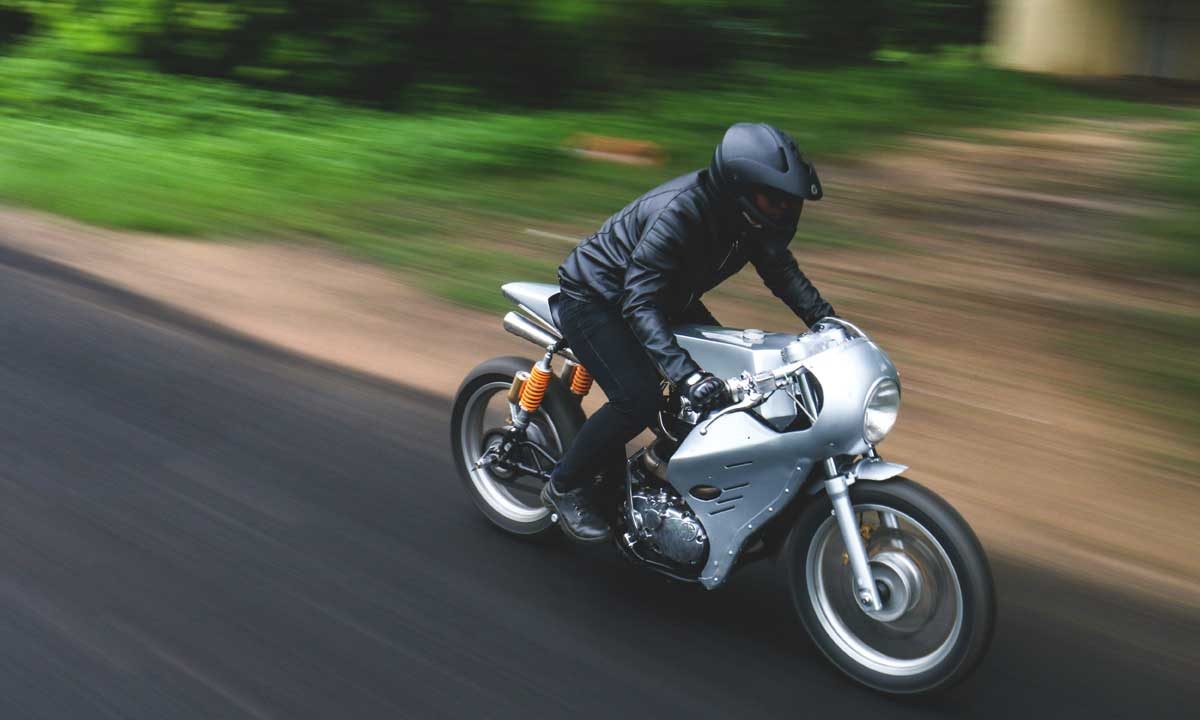 6. J&D 'Full Metal' Continental GT 535
Jay Patel of J&D Custom Co. has a soft spot for Royal Enfields. He created his own bolt-on FRP body kit for the GT 535 in the past, but when the time came to build his own bike he decided to do things a little differently.
Jay's appropriately named 'Full Metal' Continental GT 535 wears custom bodywork hammered out of 1.5mm aluminium sheet. By blending smooth curves with sharp angular lines he's created a classic racer styled ride that weighs considerably less than its donor. At the rear of this bike, you'll find a one-off subframe and a custom exhaust that passes between a pair of piggyback shocks. The swingarm is custom too and extends the GT's footprint to tailor its handling to Jay's taste.
This GT 535 also wears a collection of alloy components which Jay turned on his lathe such as the handlebars and footpegs. To finish things off the 535cc single now breathes freely thanks to the revised exhaust and a K&N air filter.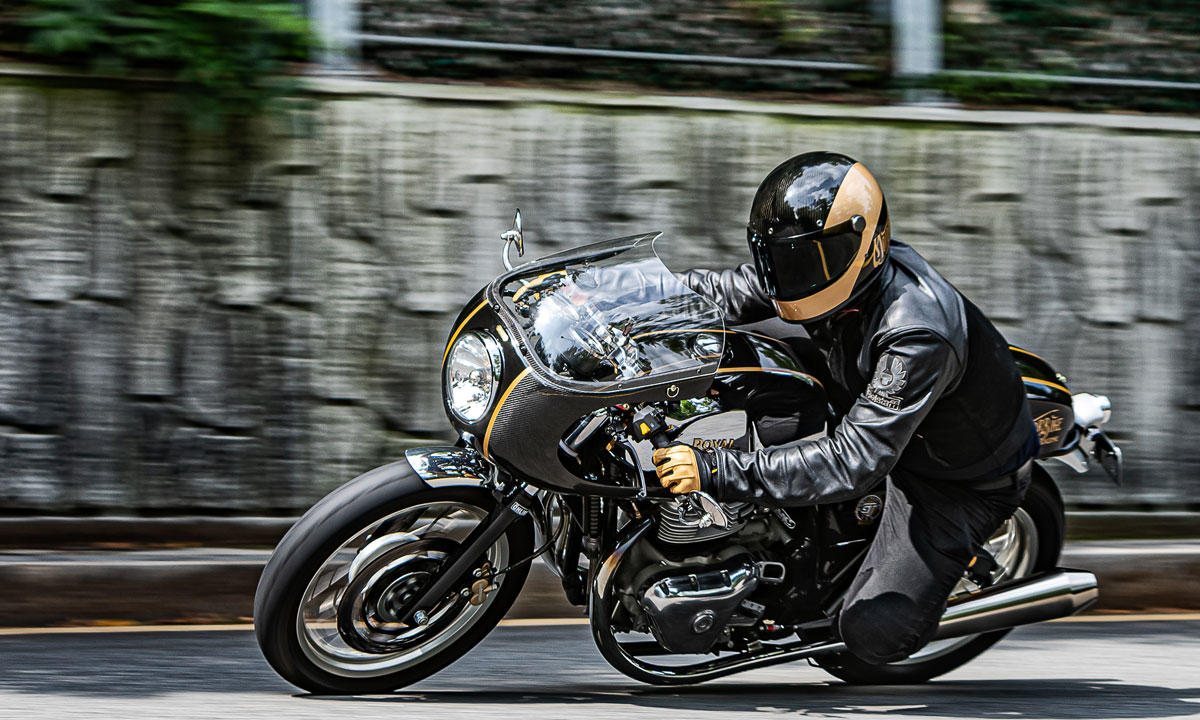 7. Motorbike Magazine Continental GT 650
Inspired by Triumph's factory customs, Jake Yang, editor of Korea's Motorbike Magazine, created his Royal Enfield version of the Brits limited edition series. Jake's project started out as a stock 2019 Continental GT 650 Cafe Racer and the project became the focus of a series of articles in the magazine.
Jake kicked things off by creating a digital concept in Photoshop which was then translated into working components with the help of the local workshop Crazy Garage. Sporting a similar black gold scheme to the TFCs Jakes Continental GT now wears an FRP carbon front fairing which is held in place using repurposed parts from a Harley Davidson. The rear end also wears an FRP one-off tail unit and a trimmed-down single saddle.
To make sure his GT was a cut above the rest, Jake fitted the bike with a long list of premium components. These include Öhlins suspension upgrades, Brembo brakes and Metzeler Racetec RR tyres. Other aesthetic upgrades include Zeta clip-ons, a billet top yoke and sprocket cover by Riga, Crazy Garage rear sets and an LED tail light.
What makes this bike particularly special though is the level of fit and finish Jake has achieved. From the show quality paint to the mirror polished engine cases this Royal Enfield cafe racer is all class.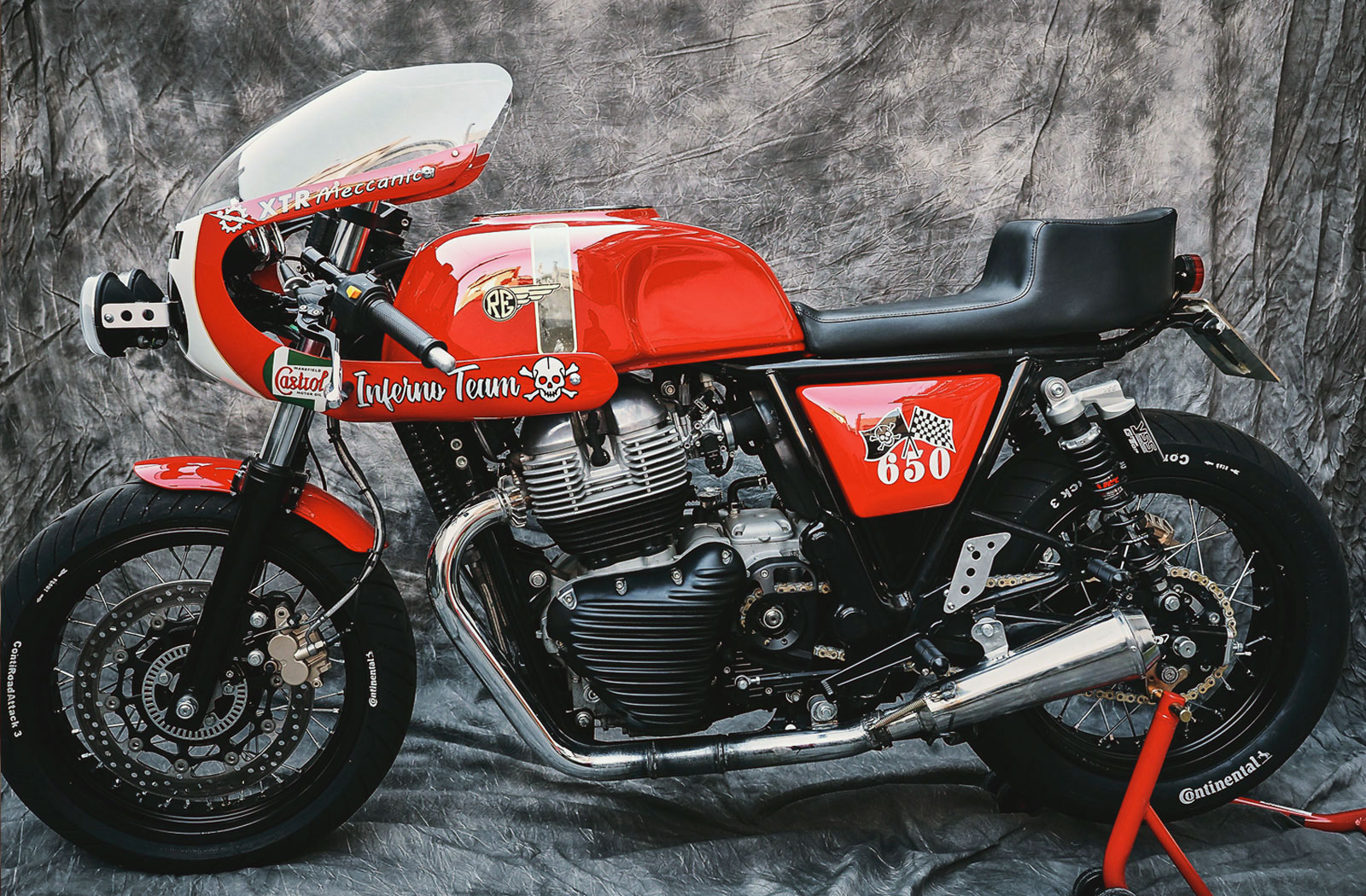 8. XTR Pepo 'Lilith' Continental GT 650
This Continental GT 650 is the first Royal Enfield to roll out of Pepo Rosell's XTR Pepo workshop in Spain. In typical Pepo style, he's applied an endurance racing aesthetic to the Enfield.
The biggest challenge Pepo faced with this project was the customer's request to retain the bike's ability to carry a pillion. He resolved this by referencing what Moto Morini did with their Sport 350 and built a full-length padded seat that mimicked the look of a racing cowl at the back. To complete the edurance styling he then added a fibreglass tank with a racing style fuel level window and a half cowl wearing twin headlamps.
Not satisfied with simply making a bike look fast Pepo has also upgraded the performance of this Continental GT 650. Starting with the handling there are premium YSS shocks, Brembo brakes and the wheels have been replaced by lighter 17-inch items. As for the engine, the parallel-twin now inhales via a DNA filter and exhales via Turbo Kit mufflers.
To complete the racing look there's a spattering of race-style livery over the bright red bodywork and the engine has been given a facelift using finned case covers by K-Speed workshop in Thailand.
9. Nought Tea Royal Enfield GT 650 Factory Racer
It's great to see a manufacturer who isn't afraid to modify their own motorcycles. Already on this list, we've seen a GT 650 drag bike built by the Royal Enfield team, but here's an even more enticing classic racer styled ride. The 'Nought Tea' is Enfield's interpretation of a modern classic racer. It's based on a GT 650 platform and was completed by the team at Harris Performance.
Harris Performance are experts in chassis development and worked closely with Royal Enfield during the development of the production bike. After the release of the 650 twins, the 2 companies got together once again to build a bike that showcased just how much performance potential their latest motorcycle had.
The Nought Tea may still be dressed for street use (aside from some mirrors and a muffled exhaust), but it features everything it would need to be highly competitive out on a track. The suspension is an Ohlins formula which has been tuned specifically for this bike. Premium Brembo stopping gear makes slowing down no issue and Harris added their own yokes to drop some weight. As for engine performance, the parallel twin now has a capacity of 750cc thanks to the addition of an S&S big bore kit.
The most noticeable change here is the bike's full fairing and I'm sure many Continental GT owners would like to get their hands on one. The one-off full fairing was built specifically for the GT 650's geometry and is held in place by purpose-built bracketry. Harris also tweaked the bike's subframe to tighten up its proportions, integrated an LED brake light into the rear cowl and swapped out the stock gauges for a single Daytona dial.
We're sure if Royal Enfield released something like this as a limited release model they wouldn't have any problem moving them.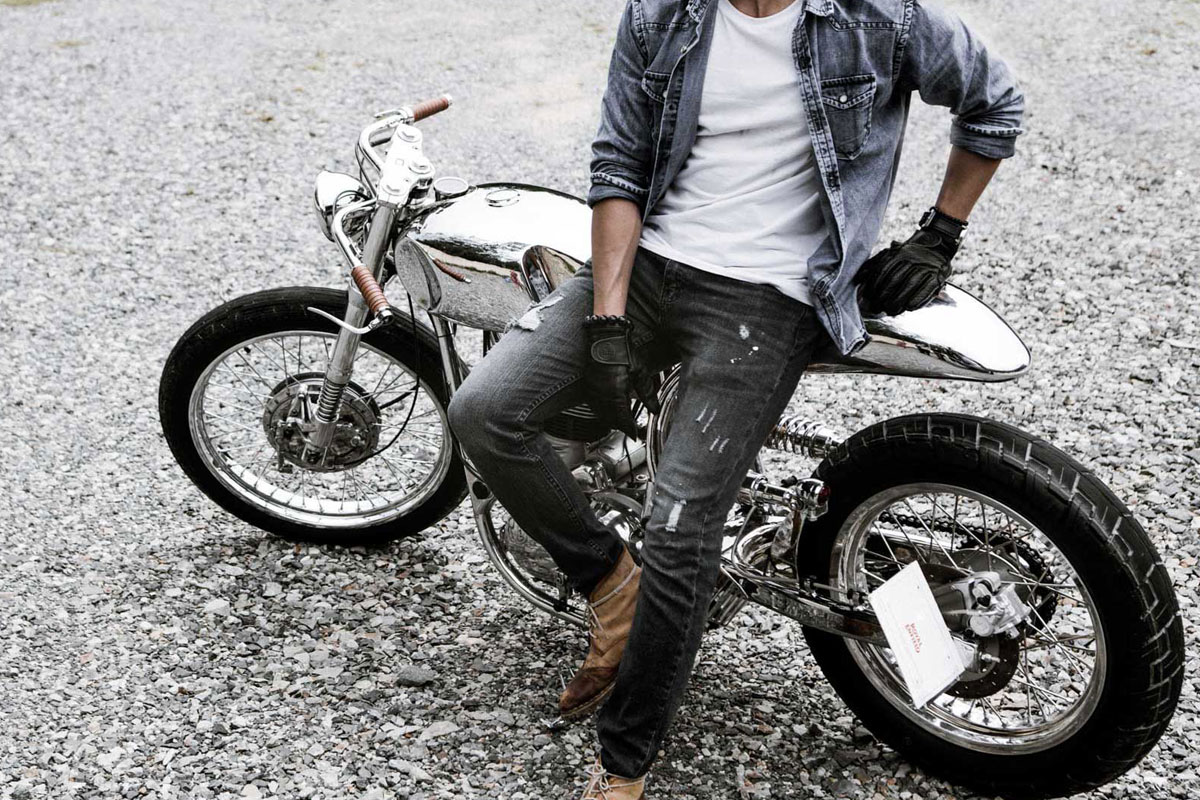 10. Bandit9 Continental GT 535 Cafe Racer
The curiously named 'Arthur' is another off-the-wall Royal Enfield Continental GT cafe racer project by Vietnam's Bandit9. This bike however was based on the earlier 535 version of the Continental GT. Although it was commissioned by Royal Enfield, Badit9 were given carte blanche with this project. As a result, Daryl and his team pulled out all the stops to create something truly unique.
It's instantly obvious that this Continental GT isn't running a stock frame. Built entirely in-house by the Bandit9 team the frame was designed using a parametric mathematical equation. Adding to the frame's striking appearance is its chrome plated finish and there's no shortage of other chrome details to complement it. Arthur's bodywork is all chrome-plated hand-formed steel. The USD externally sprung forks are all chrome too as is the horizontally mounted mono-shock at the rear. In fact, there's very little of this bike that isn't chrome plated or polished to a mirror shine.
After building the first Arthur Continental GT 535 Bandit9 built a limited 9-bike run of the model. They sold for a very reasonable $19,800 USD – and yep they're all gone.