During the press launch of the Royal Enfield 650 Twins, they announced plans to work closely with custom builders in 2019. Well, they've certainly kept their promise! To date, they collaborated on an impressive 12 custom projects with both workshops and aftermarket brands. Amongst them is an S&S performance recording breaking land speed racer and a Continental GT 650 drag bike that's taking part in the Sultans of Sprint race series. This latest project was created as part of another special collaboration with one of Enfield's closest partners, Harris Performance. Using their extensive, race proven knowledge Harris have created their own interpretation of a Royal Enfield 650 cafe racer.
After seeing this build unveiled at the 2019 Bike Shed Show in London I contacted Adrian Sellers, one of the main players in the Royal Enfield custom series team. The following is our discussion of how the Harris 650 cafe racer nicknamed 'Nought Tea GT650' came to be.
"At the end of the day, we're really just exploring all the different ways that someone can have fun with our motorcycles."
Please introduce yourself and tell us a bit about what you do at Royal Enfield.
I am a Group Manager with Royal Enfield's Industrial Design department. We work with custom builders around the world to showcase the creative potential of Royal Enfield motorcycles. We also do "in house" factory builds that push the capabilities of our motors. At the end of the day, we're really just exploring all the different ways that someone can have fun with our motorcycles.
How did the Nought Tea GT 650 project come about?
Royal Enfield purchased the Harris Performance company some years ago, and to date, they have been using their expertise in chassis development to help bring our production models to life. They have also been instrumental in our drag bike and Bonneville projects, among others, so we wanted to highlight what Harris Performance could really do. With this in mind, we decided to collaborate on a retro style race bike, using all Harris Performance parts. Harris, while part of Royal Enfield, still makes and sells their own brand of performance accessories, and so it was a logical fit.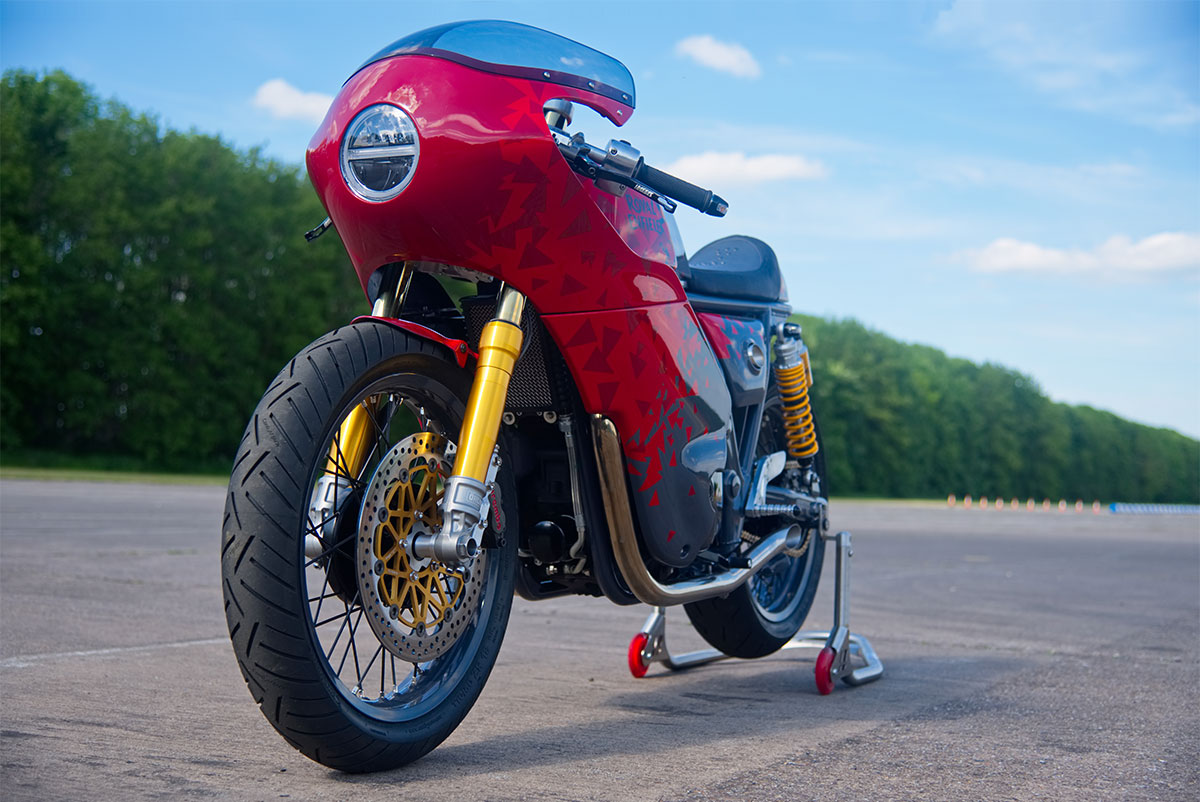 What was the initial concept for the build?
The initial concept was to take a Continental GT 650 Twin and make it the best cafe racer it could be… and then to take it vintage racing.
How did the relationship between Royal Enfield and Harris work during the build?
Collaborative. We work with Harris every day, so it's very easy to bounce ideas back and forth. They are real experts at chassis development, with over 40 years of experience to their credit. They can quickly feedback on whether what we are thinking is ok or not, and suggest better alternatives as well.
Can you walk us through the work that was done to Nought Tea Continental GT 650?
So the GT that we presented at Bike Shed is the more "custom" version of the Nought Tea. It's been made more extreme to have a bit of fun. It was built to play with some ideas, not necessarily all practical, that we had kicking around. There is a version 2.0 that we are working on right now that will be designed for the track.
The major modification on the Nought Tea GT is, of course, the fairing. We designed this specifically for the Continental GT 650, so it's not just a modified off the shelf item. Same goes for all the mounts that secure it in place. For the sake of a bit of custom fun, we also removed the air box, replacing it with two intake pipes that match stylistically to the custom exhaust we also fabricated for it.  The subframe loop was chopped and moved in, to more closely align with the seat cowl, and a tail lamp was integrated into it. A hand-stitched seat and custom three tone paint job complete the look. Just to make the bikes sporting potential clear.
The Ohlins suspension, tailored to fit the bike by Harris, have been added front and rear, with Brembo brakes to make sure it stops as well as it goes. Custom Harris yokes have also been integrated to remove weight, and the tank has been modified to accept a recessed Harris filler cap. Finally, the engine has been bored out and a 750cc S&S big bore kit installed.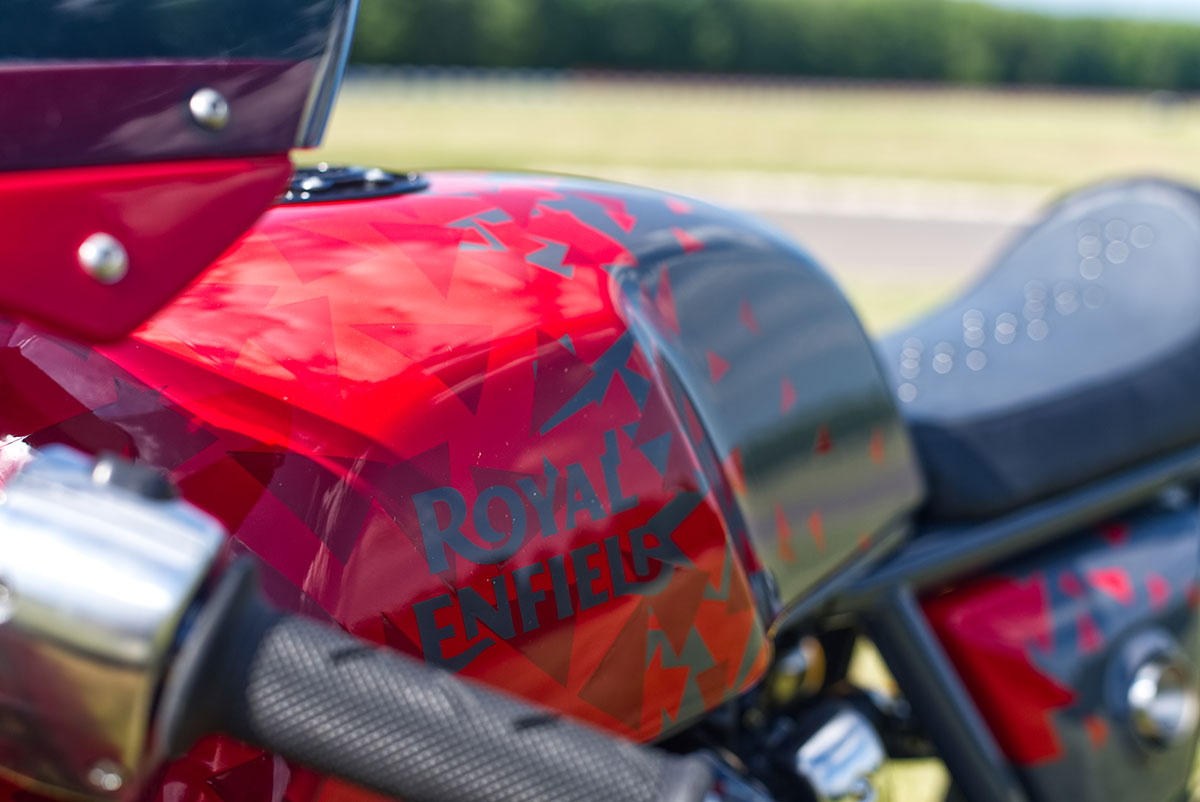 Speaking of the paintwork, where did the design idea come from?
The concept came from one of our young designers, who had proposed the idea last year for our Lock Stock drag bike. We ended up going a different direction for that, but when it came time to come up with the graphic for Nought Tea, we remembered it and thought it would look perfect.
Figuring out how to get all the triangles in place with three different colours was a project in and of itself! Fortunately, we have an excellent painter in house and one of our designers had the patience to spend hours masking everything off.
Is there any chance the fairing you made for the Nought Tea will become available for Royal Enfield GT 650 owners?
It's something that we are looking into. Obviously adding a fairing changes the dynamics of the bike quite a bit.
So how have the modifications affected the bike's performance?
Our test rider has said that the bike is a dream to ride. The extra power from the big bore kit helps on the straights and the Harris chassis adjustments make it handle precisely around the track.
When and where can we expect to see this bike out on a race track?
We are working on a track-ready version 2.0 and will be racing it at one or more vintage races this summer – actual race dates are not fixed yet, but we will definitely be doing it.
Will we be seeing more collaborations between Enfield and Harris in the future?
Yes. Quite soon, in fact… Watch this space.
---
Those with a keen eye are sure to notice there are a few other custom tweaks to the Nought Tea 650. The lighting, for instance, is all new with the factory indicators being replaced by Rizoma LED items. Up front, are bar end units while in the back are the same indicators modified to sit atop the rear shocks. Recessed into the modified rear cowl is an LED brake light and the new headlight unit also features an LED halo. Harris has repositioned the rider into a more befitting racing pose using clip-on, fork-mounted handlebars and more rearward positioned aftermarket foot controls. The instrument cluster has also been reduced to a single Daytona tacho for a race-focused cockpit. And finally, the entire engine has been treated to a black finish. Perhaps like Triumph's modern classics, we will be seeing 'black' versions of the 650 twins in the future? I certainly hope so.
ROYAL ENFIELD  /  HARRIS PERFORMANCE
Special thanks to Adrian and Vimal.