I'm in Sydney for the Australian release of the new Royal Enfield 650 twins. During the next couple of days, I will be spending time in the saddle of both the GT 650 Continental and Interceptor 650 and will publish a full GT 650 ride review soon afterwards. In the meantime, let's take a look at a special project Royal Enfield completed last year in collaboration with performance experts S&S Cycles. Nicknamed 'Lock Stock' this heavily modified Royal Enfield 650 twin is a purpose-built, drag strip devouring beast.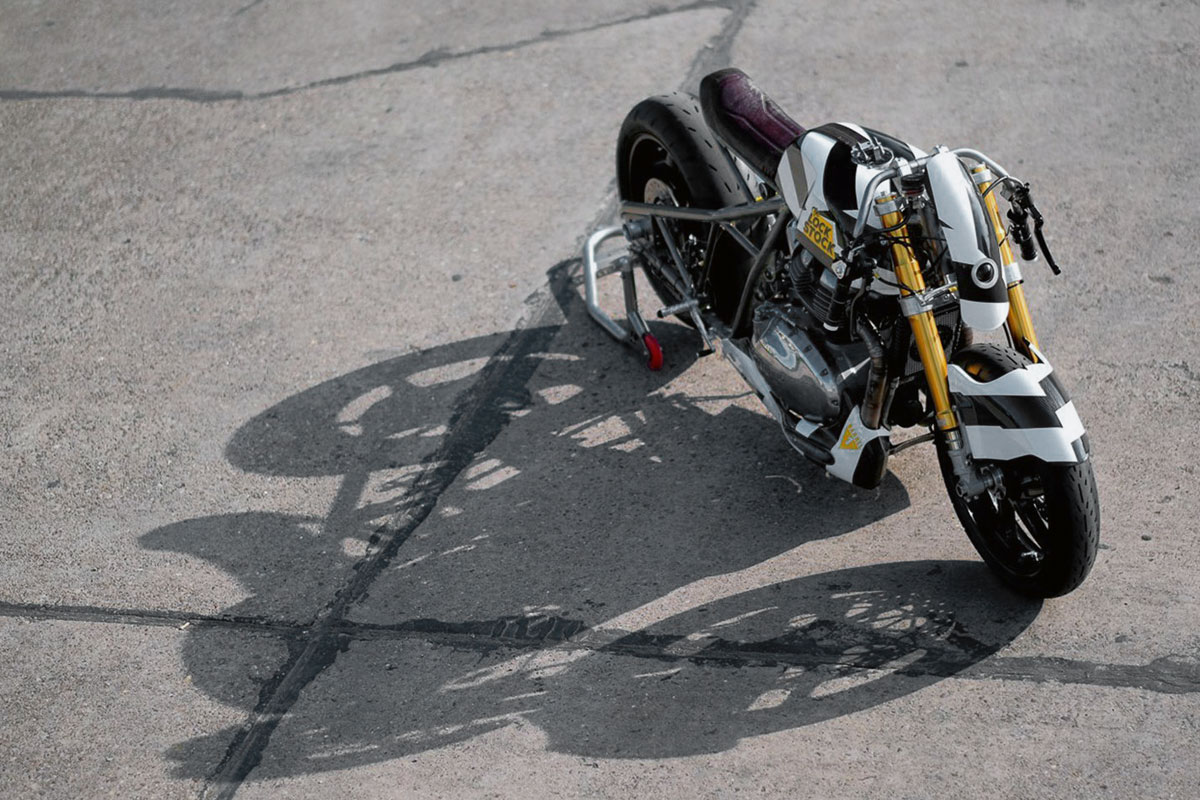 Lock Stock was created to take part in the 2018 Glemseck 101 Sultans of Sprint race series. As you would expect, this bike has little in common with the commuter bikes I've just been riding, but it began with an almost identical powerplant. Prior to the release of the new Royal Enfield GT 650 twin S&S secured themselves a pre-production sample of the new engine. Together with the help of a few other accomplished workshops and parts suppliers they pieced together this entire bike from scratch.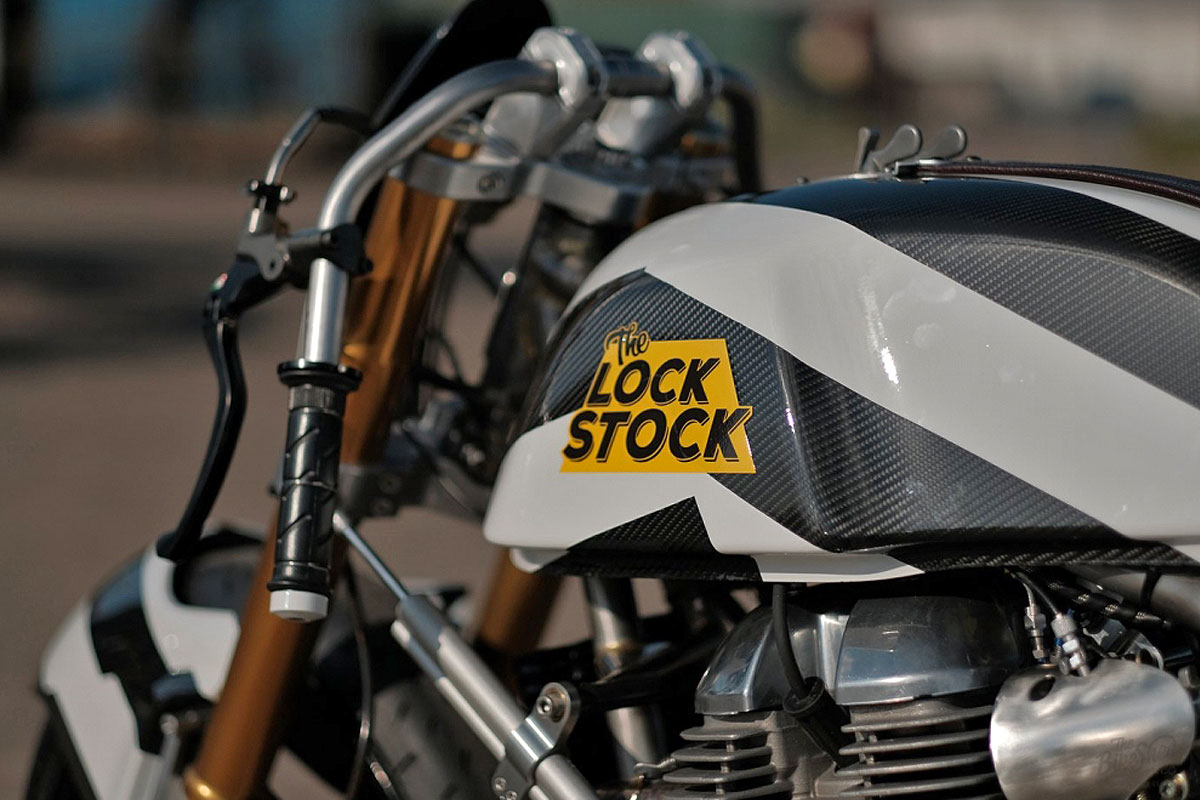 First things first S&S cracked open the parallel twin to devise a way to extract as much power from it as possible. Before I delve into the details I can tell you they managed to almost double both the engine's power and torque. That means that Lock Stock is good for around 100 horses and 84 Nm of pulling power. This was done by boring out the cylinders and fitting high compression pistons for an increased capacity to 865cc. They then swapped the stock cam for a performance version, ported the heads and increased the size of the throttle bodies and injectors. Adding power increases the risk of component failure so the con rods are now forged items.
The engine work continued to the bottom end where you'll find modified gears, a Translogic Intellishift quick shifter and race spec clutch. As if all that wasn't enough S&S had one more power trick up their sleeve, a whopping big bottle of Nitrous Oxide. When the NOS tapped is turned on peak power is achieved around 7500rpm and there's plenty of smoking rubber left sitting on the road.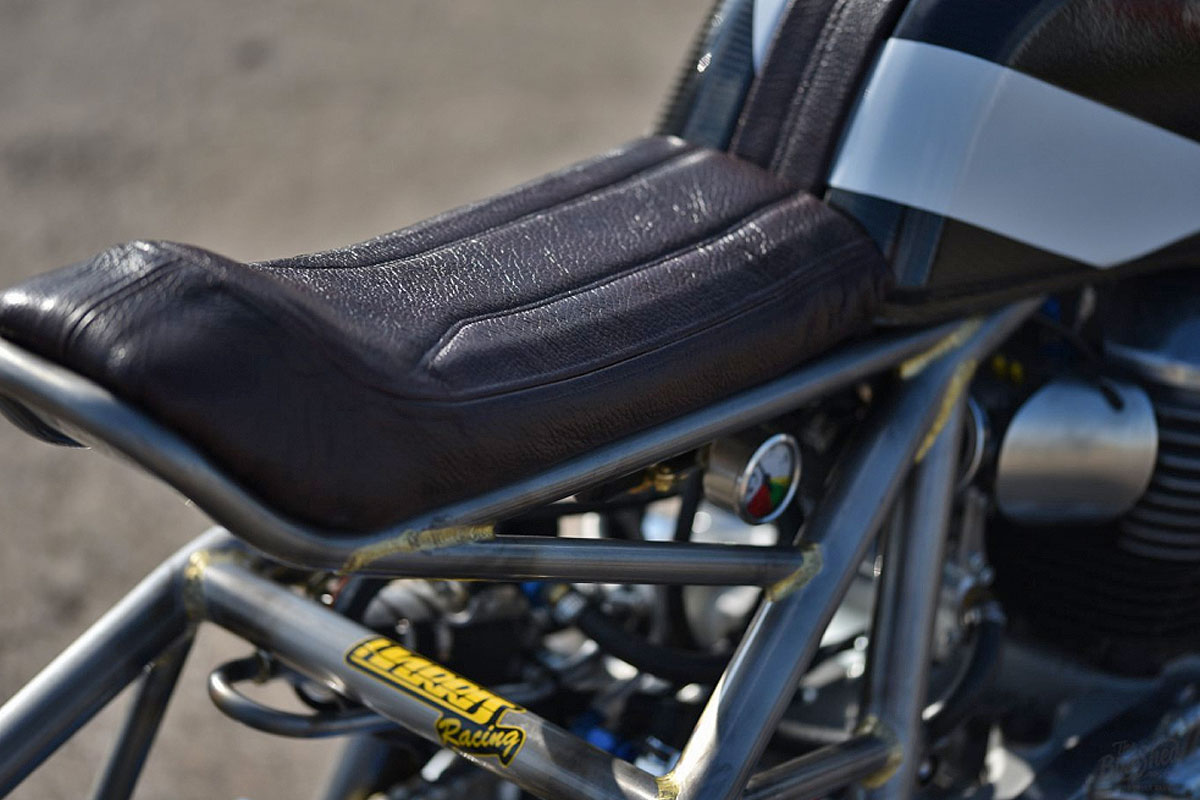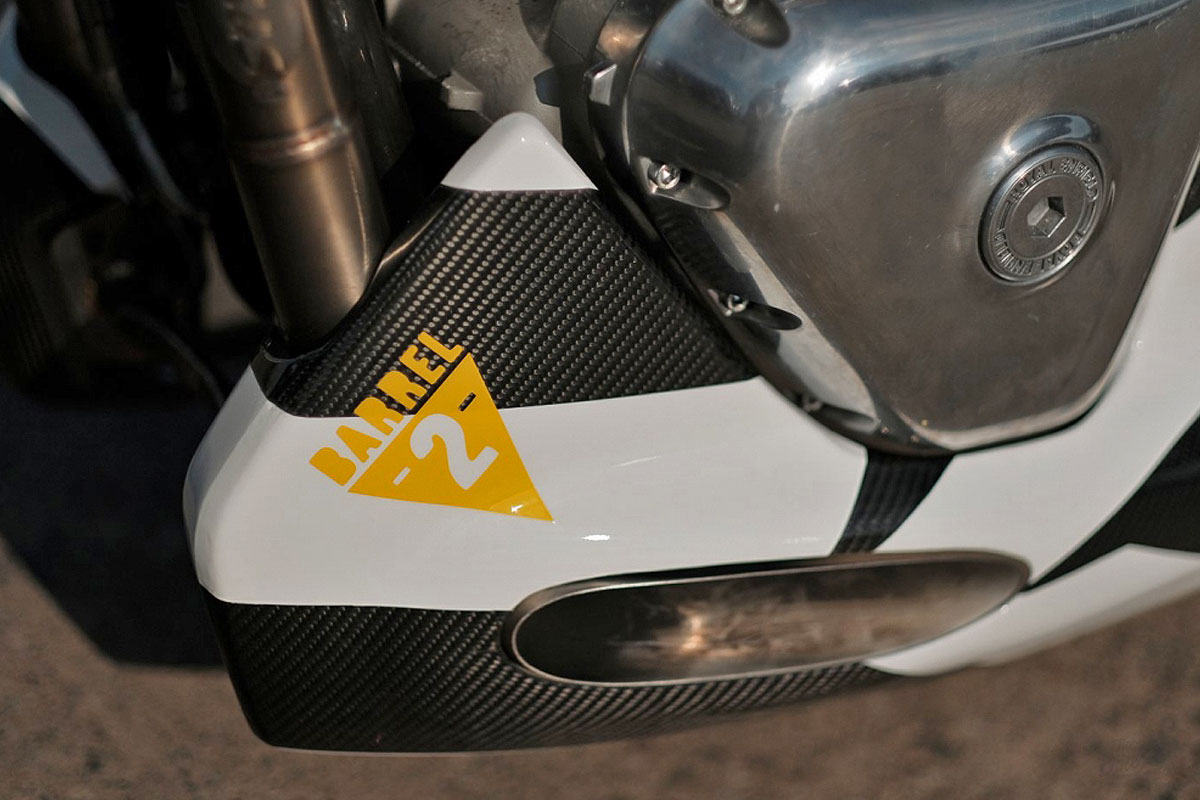 Once the engine was dialed in Royal Enfield enlisted the help of frame experts Harris performance. To suit the bikes drag racing destiny Harris developed a hard tailed mild steel frame constructed using traditional race-style bronze brazing. Mated to the neck of the frame is a modified set of Öhlins forks and the whole setup rolls on PVM forged wheels. Brembo HPK and Goldline brakes take care of the less important decrease in speed while Shinko Hook Up tyres keep the bike firmly planted.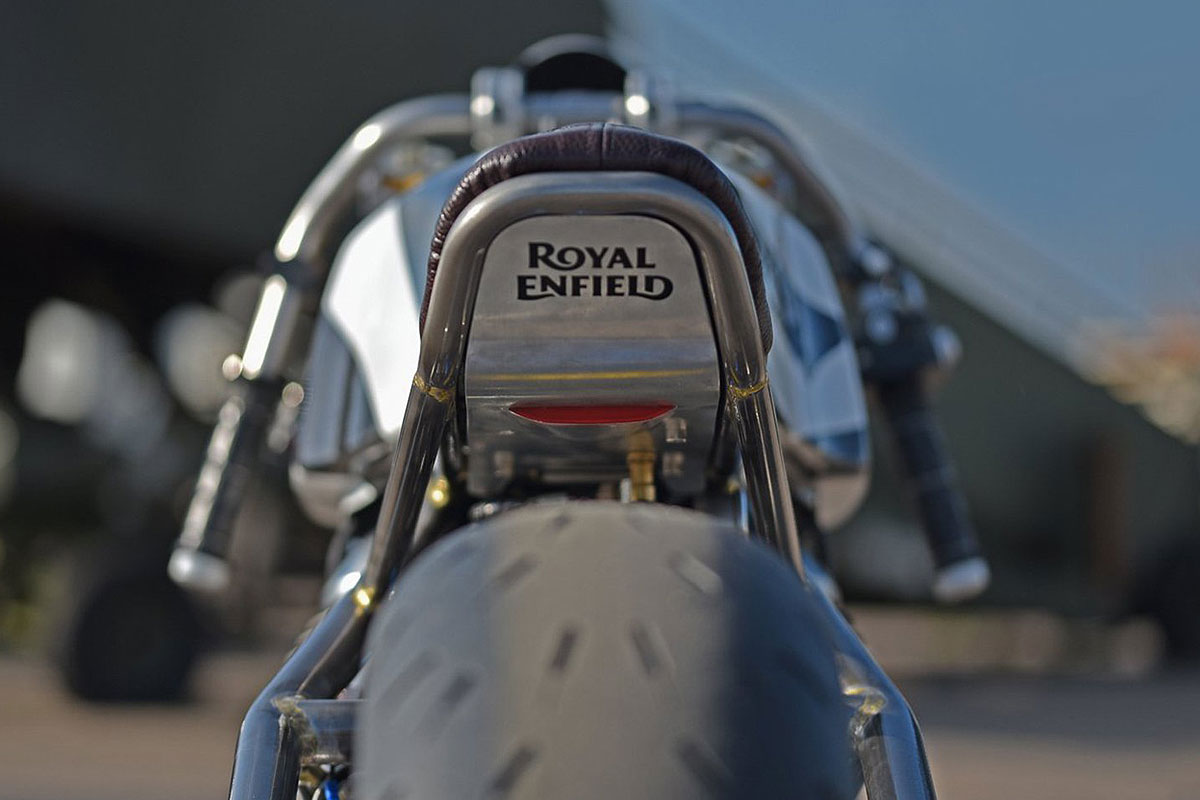 Keeping weight to a minimum is essential on any race focused machine which is why all of Lock Stocks bodywork is made from carbon composites. Beneath the tank cover is a sturdy fuel cell that holds barely enough to complete a couple of runs and the dash is devoid of dials. As for the unorthodox zebra styled paint, it's a nod to the camouflage used to disguise manufacturers test vehicles. The riding position is equally unique, designed to allow the rider to tuck in low and focus on nothing more than maintaining a straight trajectory.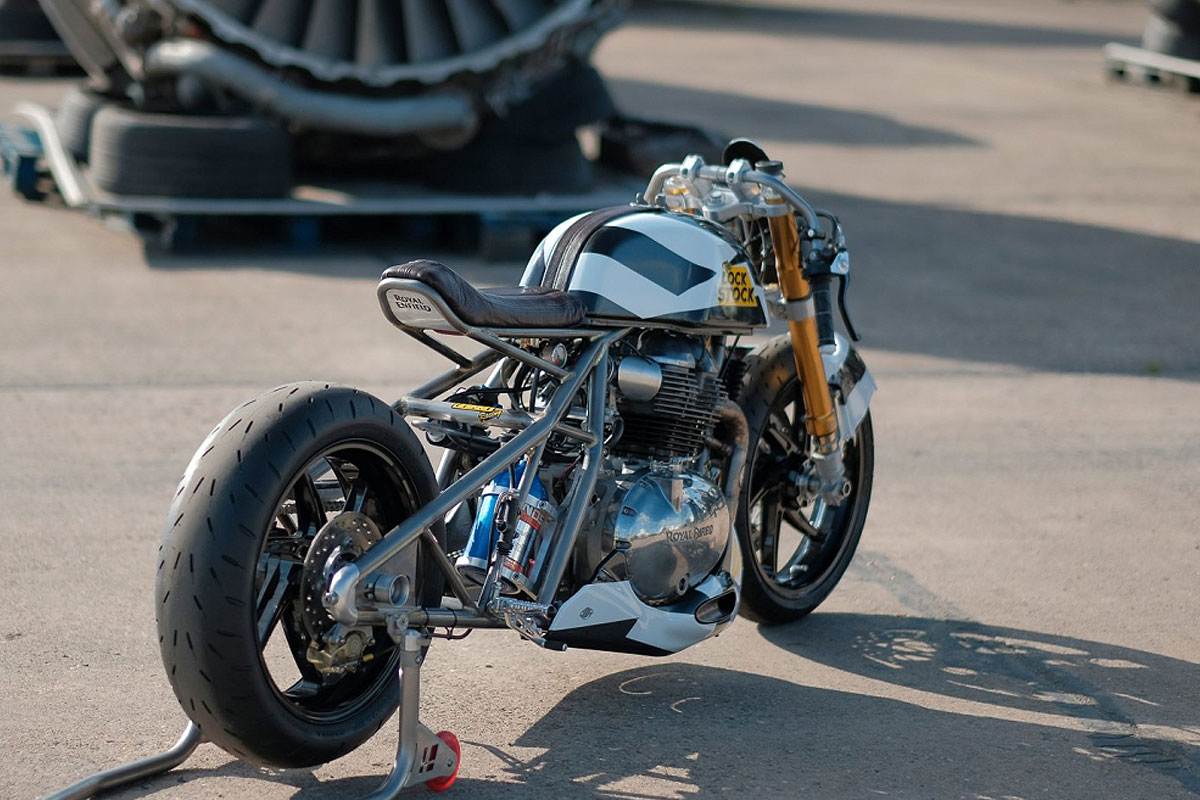 The Royal Enfield GT 650 Lock Stock made its debut appearance in the Sultans of Sprint 'Sprint Freak Class' during Glemseck 101. Piloted by former Australian Grand Prix rider Paul Young the bike went head to head with long-running champions FCR Original. After wowing the crowds with a staggering test run Lock Stock, unfortunately, experienced shifter problems during the race, robbing it of a win. No battle was ever won easily though so we can expect to see Lock Stock back again this year where Royal Enfield stands a good chance of coming out on top.