There's no denying Royal Enfield hit a sweet spot with their 650 twins in the European market. The Indian manufacturer has just revealed that the Interceptor 650 is the best-selling motorcycle in the UK for June 2020 (over 125cc) stealing sales away from major competitor Triumph Motorcycles. This is due to the 650's near-perfect balance of style and performance, and an incredibly attractive price point. Where Royal Enfield doesn't compete with Triumph though is the range of Modern Classic styles they have on offer.
Jake Yang, the editor of Korea's 'Motorbike Magazine', decided to follow in Triumph's footsteps with an inspired twist on the Indian twin. After securing a 2019 Continental GT 650 he set out to build a Triumph Factory Custom styled Enfield and documented the process in his publication. Taking around 6 months to complete his creation is a faithful recreation of the Special Edition Brit in every way.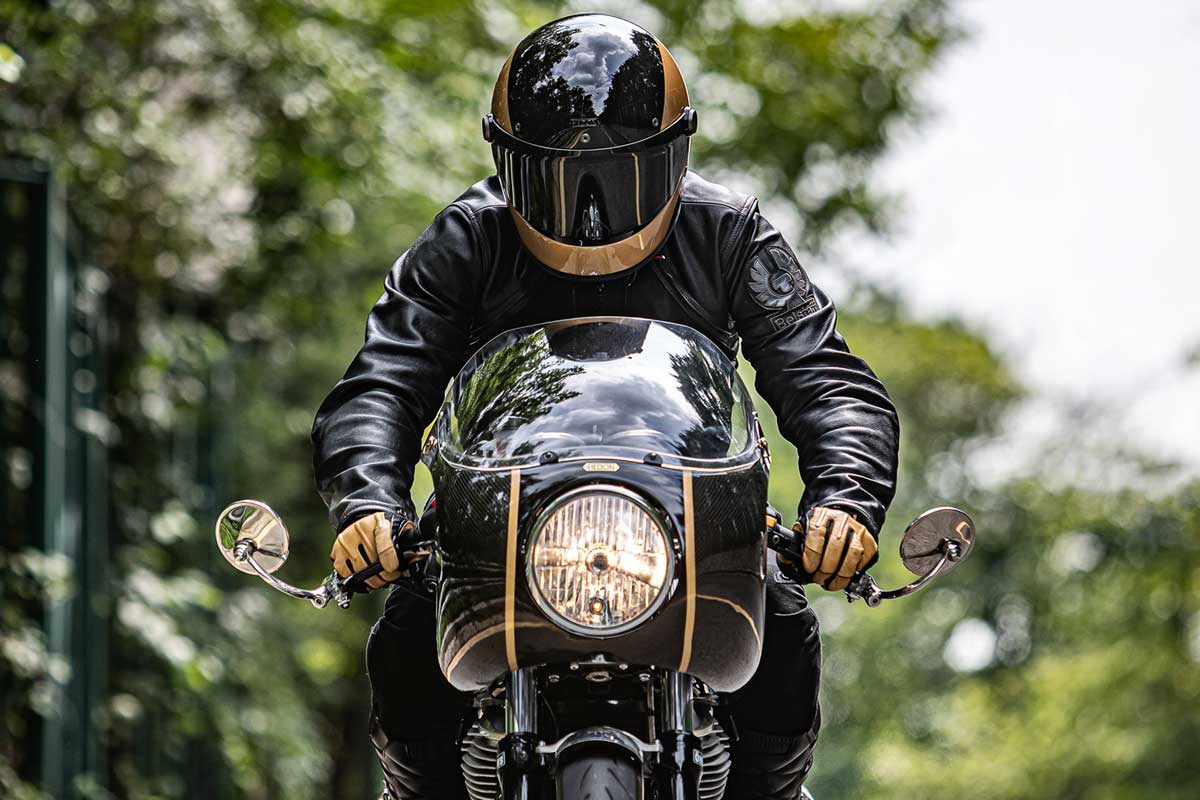 "My former job was as a computer game graphic designer," says Jake. "Before work began I composited a design using Photoshop." The similarities between Jake's GT 650 and the TFC Thruxton are clear but the execution is what's most impressive.
Working with local workshop Crazy Garage, Jake fit the GT 650 with their Royal Enfield cafe racer kit. The Crazy Garage cowl is constructed from fibre reinforced plastic. To achieve the look he was after Jake wrapped the unit in a single layer of carbon fibre before adding a TFC-inspired black/gold paint scheme. The fairing was then mounted using bolt-on hardware and fit with a repurposed Harley Davidson headlight. In the rear, there's a one-off cowl wearing a matching paint scheme and Motorbike Magazine branding that balances the rear end much better than Enfield's factory finish.
The revised cockpit features a set of Zeta clip-on bars wearing Halcyon bar-end mirrors. The original analogue gauges remain but they now sit above a billet top yoke by Riga. The already good looking parallel twin also received a few visual tweaks. A Riga billet sprocket cover adds a racy edge to the styling and all of the aluminium was been painstaking repolished to a near-perfect mirror finish. Sitting over the front wheel you'll find an aftermarket Yamaha SR400 fender. The rear taillight is a retro-look aftermarket unit running LEDs and a set of Crazy Garage rear sets complete the revised riding position.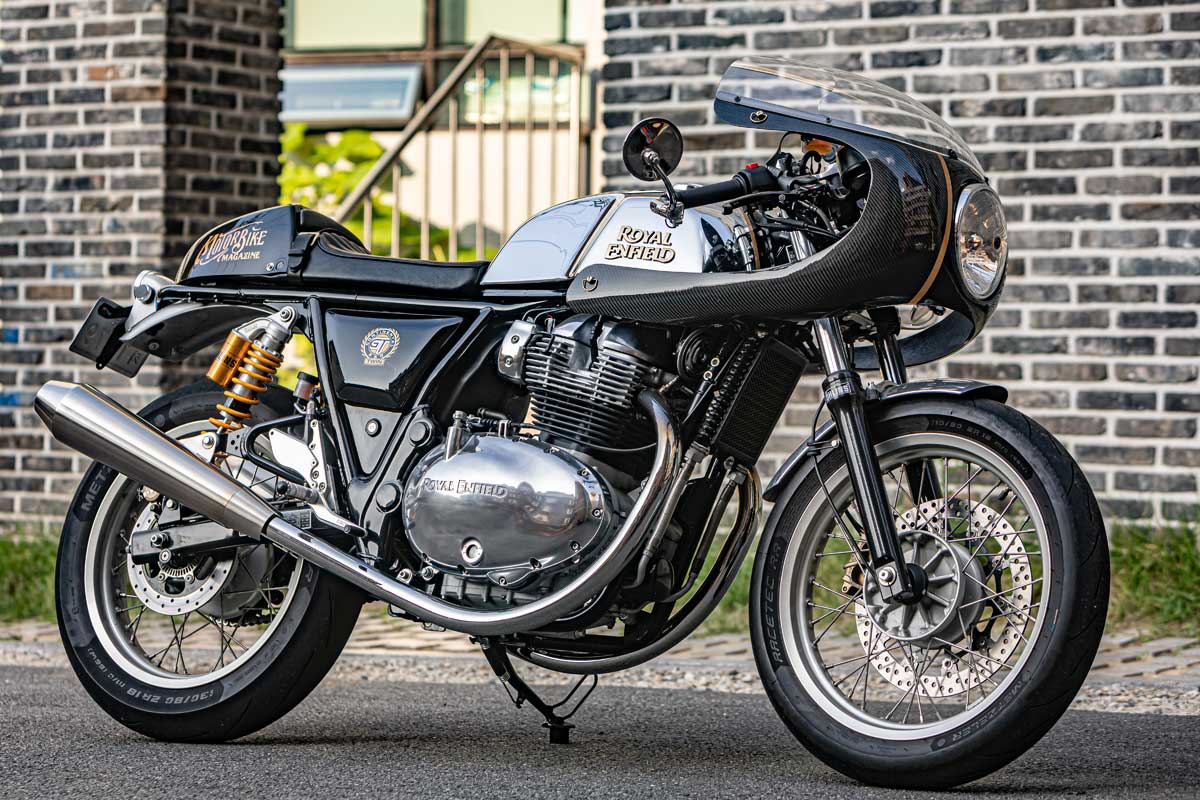 Getting the Continental GT 650 looking like a TFC was only half of the job. Jake wanted to follow in Triumph's footsteps by making sure his Enfield offered improved performance too. To do this he picked out a range of premium parts. For the suspension, he's done a complete Ohlins overhaul. Inside the front forks, you'll find all-new, fully adjustable Ohlins internals. In the rear are twin Ohlins shocks installed on 25mm spacers. Fitting these to the bike has also raised the rear end which both balances the bike's bone line and sharpens its handling. A Brembo 14RCS Brake Radial master cylinder adds improved braking response and there's plenty of grip thanks to Metzeler's Racetec RR rubber.
The middle-weight 650cc parallel-twin puts out a respectable 47bhp. This is, of course, no match for the TFC Truxton's 107bhp. But similar to the TFC approach, Jake wanted to give his bike an edge over a standard GT 650. To do this he's installed a one-off set of exhaust headers by Crazy Garage and AEW slip-on silencers. Then to get the most out of the new set up there's a Dynojet Power Commander that remaps fueling to deliver optimal performance and throttle response.
Jake reports that all this work has resulted in a Royal Enfield GT 650 that out corners and outperforms its former self and all for a fraction of a TFC pricetag.
Special thanks to Jake Yang
Shop This Look
| | | |
| --- | --- | --- |
| Image | Product | Buy Now |
| | Aftermarket mufflers | |
| | Dynojet power commanders | |
| | Ohlins suspension | |
| | Bar end mirrors | |
| | Performance tyres | |
| | LED lighting | |