After a decade and a bit spent in communication with custom motorcycle builders from all over the world—and especially in the Sydney custom scene, I like to think that I'm across things when it comes to the topic. Hell, it'll probably be something they mention in my funeral speech, along with my obsession with '80s synthesizers and photography. So imagine my surprise when I discovered that not only is there a world-class Australian custom motorbike builder in Sydney I'd never heard about, but that he's also based 15 minutes from where I live. Not as clued-up as I thought I was, clearly.
That builder is Edi Buffon of Machine 1867. With a raft of cool custom builds under his belt and the fresh turbo Suzuki GS650 you see above, I thought it'd be a crime not to reach out and have a chat to the guy who's rocketed to the top of my "Australia's Best Custom Bike Builders" list with a flick of his engine-oil-coated wrist. Here's what he had to say.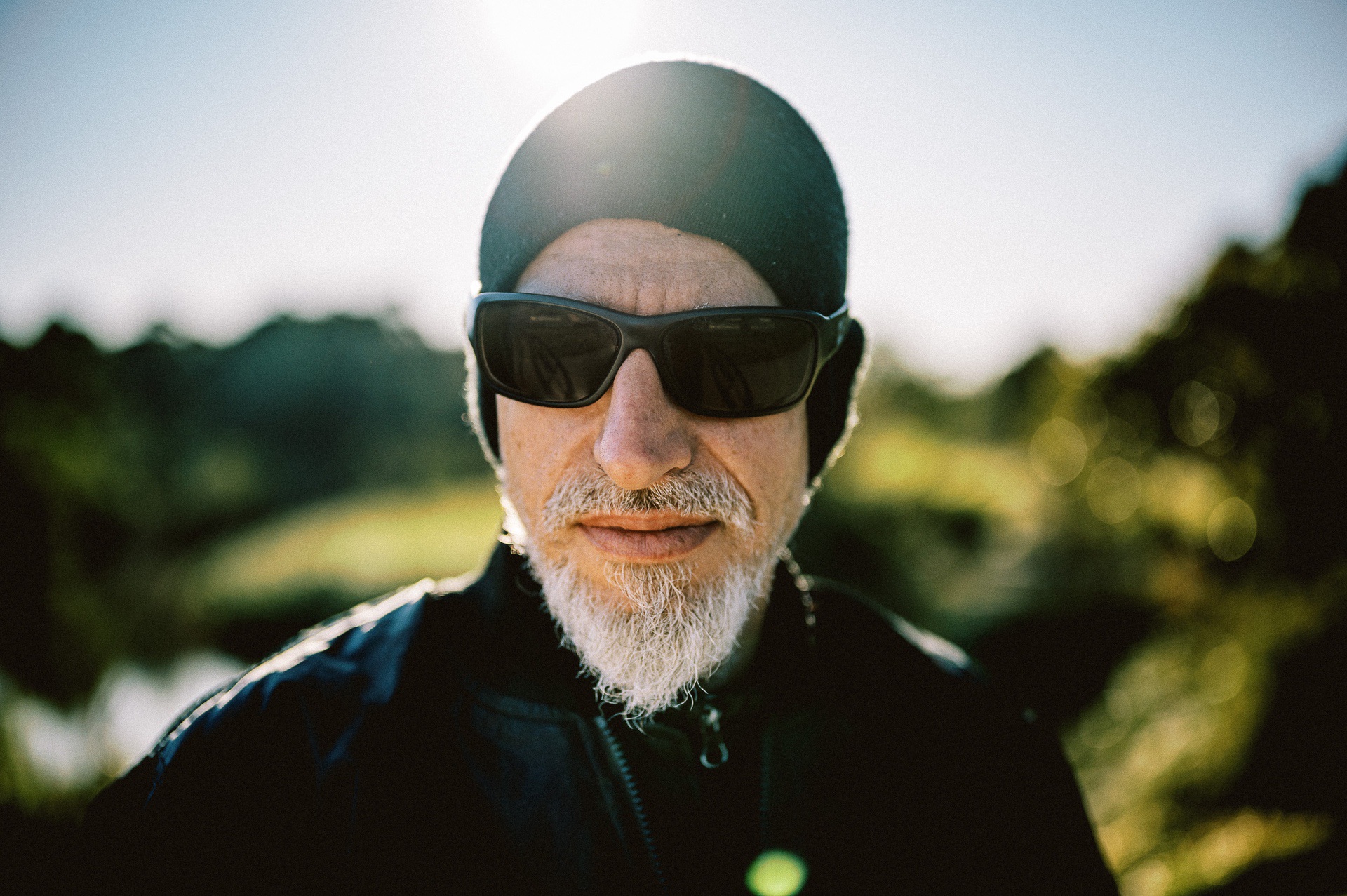 Can You Introduce Yourself to Our Readers?
My name is Edi and I'm the owner and sole operator of Machine 1867 custom motorcycles in Sydney, Australia. Basically, I quit my middle management job a few years back. I built a career as a Chief Engineer in Facilities, but I've never looked back and I hope to continue working with bikes and fabricating indefinitely.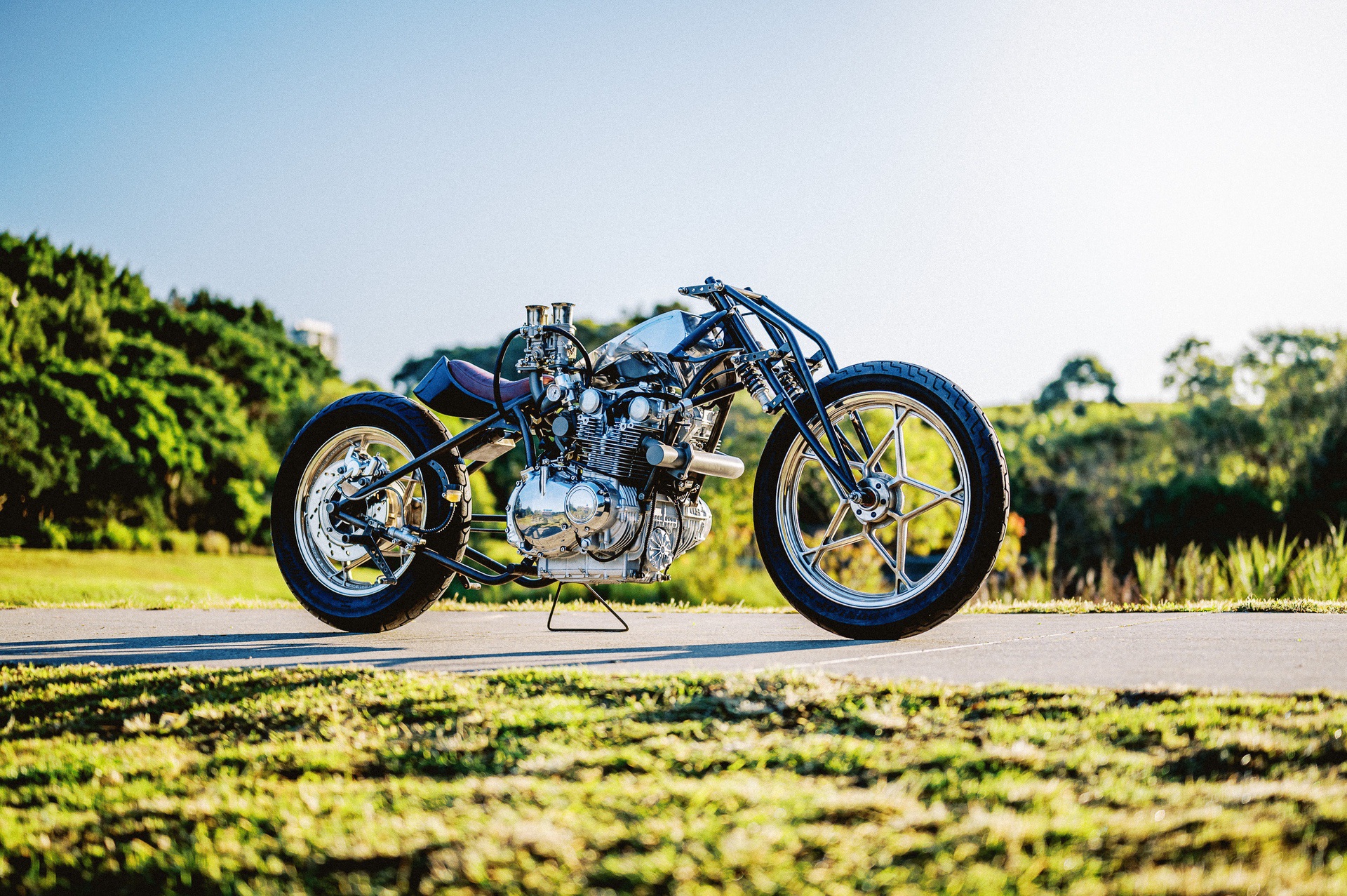 Where Are You Right Now?
I'm in my workshop, which is located in the inner Sydney suburb of St Peters, near Sydney Park. It's approximately 36 square metres, so it's very small. However I don't let that stop me from building bikes. I made all the workbenches to my requirements and everything is modular, but unfortunately I still occasionally bump my head or stab my kidneys when I'm navigating from bench to bench.
Tell Us about Yourself Growing Up
I grew up in Sydney's inner western suburbs. My earliest memories are of aeroplanes, and I drew them constantly as a child. I guess you could call it an obsession. I wanted to build them when I grew up, and I was fortunate that my father also had a shed full of tools, as he was a Master Stonemason. I learnt to use the tools by watching him and from what he taught me.
Where Does Your Creativity Come From?
I used to be a musician in my 20s, so I've always had a creative side. This helps in looking for lines and shapes when I'm building bikes. I like the aesthetic of handmade and vintage stuff, so my design process leans in that direction.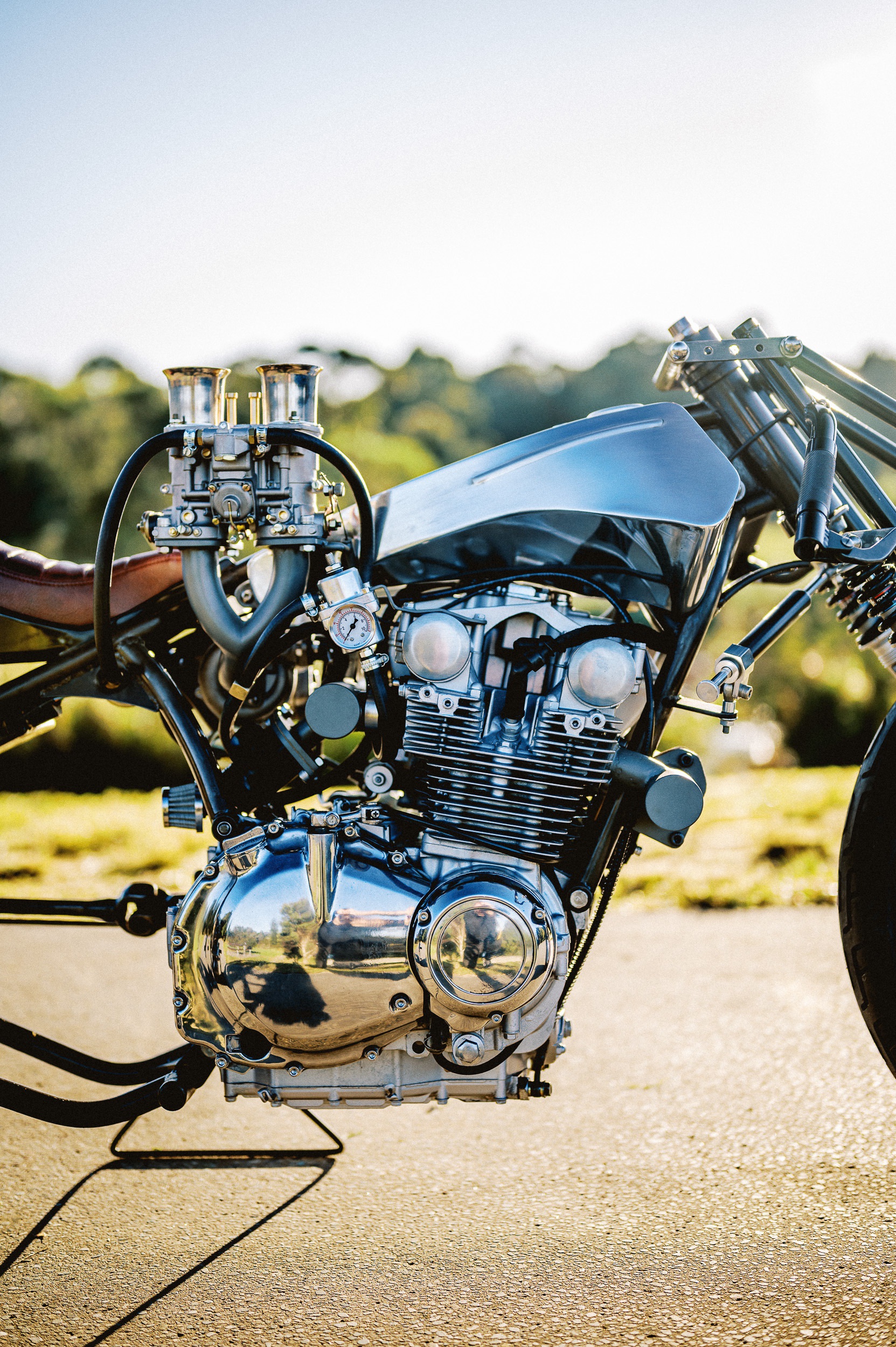 What Was Your First Bike?
The first bike I purchased was a Kawasaki KR1, a rocket two-stroke motorcycle back in the eighties. I dropped that bike many times and learnt how to fix the damage I created so I would never miss a day of riding.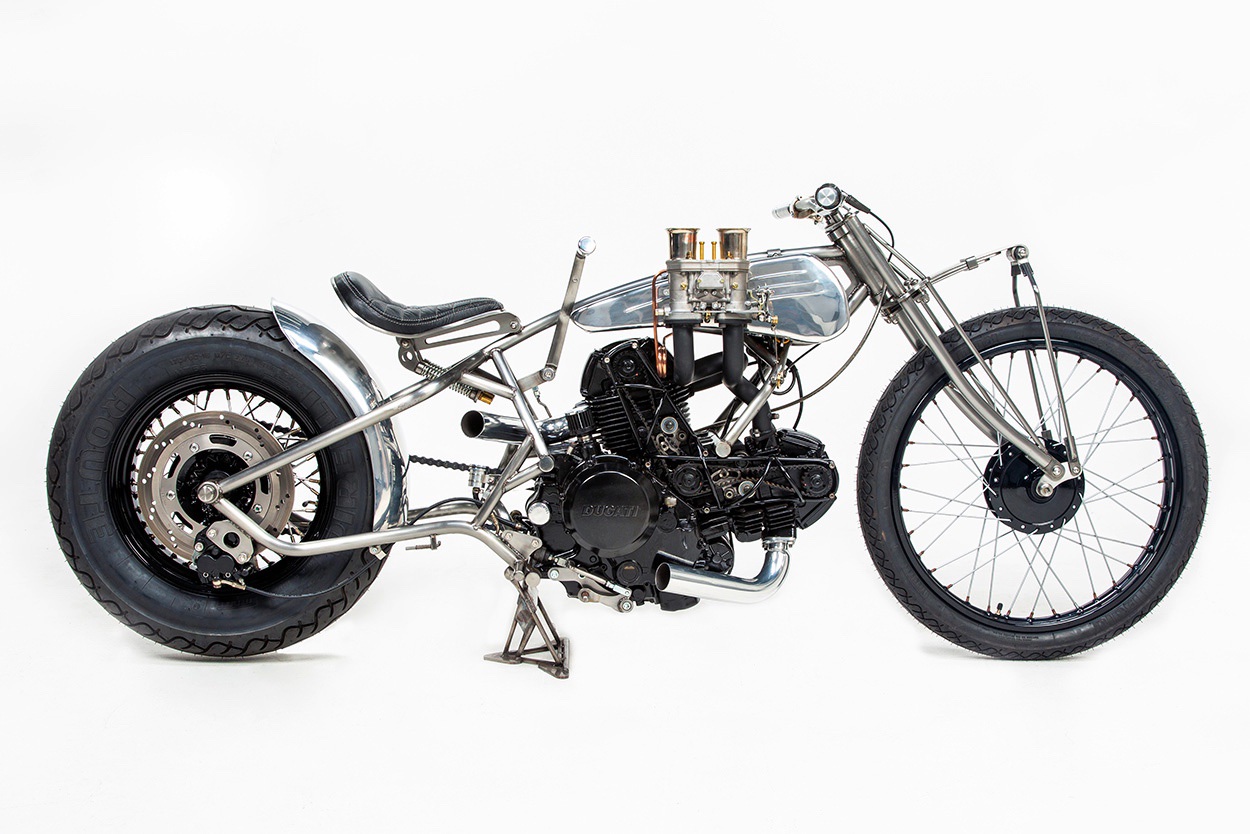 Why Did You Decide to Start a Custom Shop?
I've always modified my vehicles, be it cars or bikes. I would often become frustrated at not being able to buy a part that would fit or have the design I had in mind, so I ended up compromising. Then one day I said to myself, "I really should be making custom parts, because I have the skills and knowledge", so I did. And it just grew from there.
Talk Us Through Your Process
I start with an engine. I weld it to my fabrication table and mark out a wheel base that I think will work. Next, I machine and attach the headstock, which will also gets secured to the table. This is where I set the desired rake angle; for me it's generally between 32 and 38 degrees.
From there, I just stand back and wait 'till the engine speaks to me. I don't start with a plan or draw pictures of what I envisage. I think that stunts the creative process for me. I just start bending some tubes and I see what happens.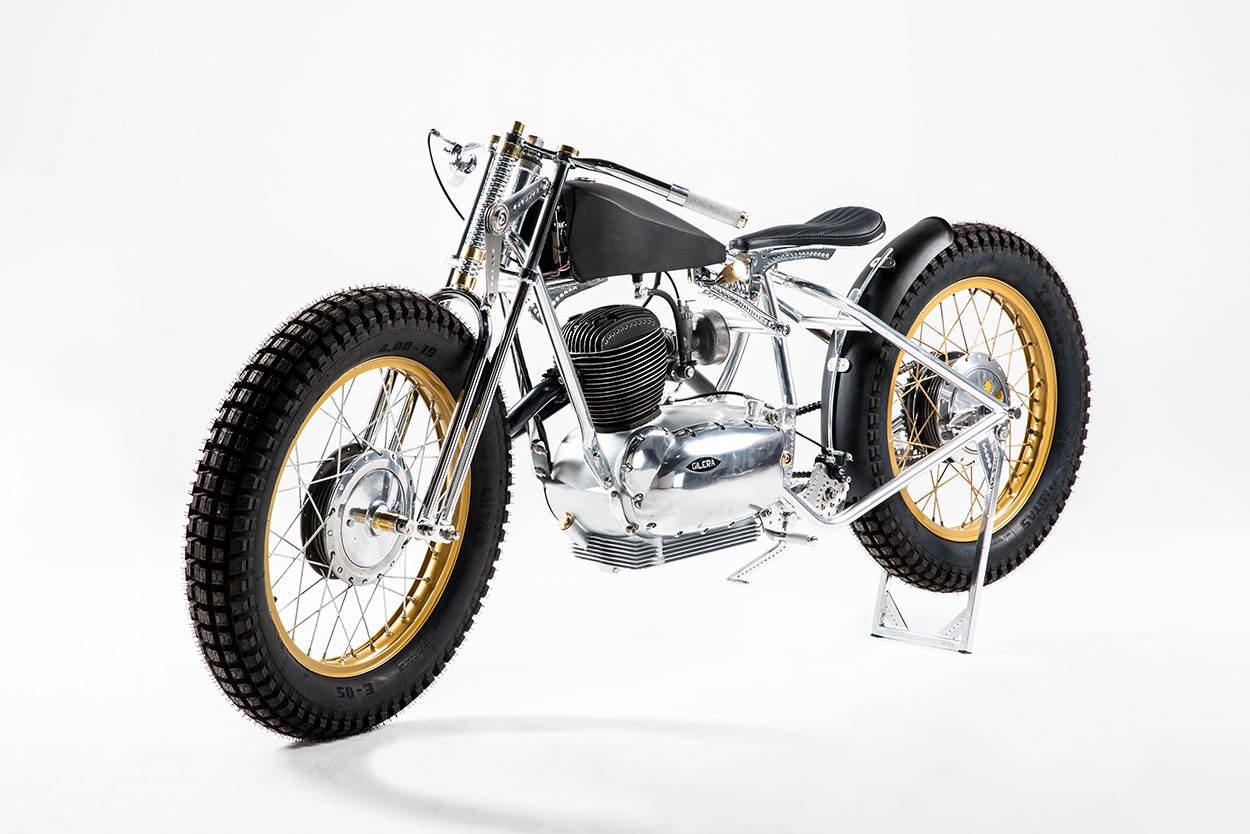 What Bikes Are You Working on Now?
My time is consumed with client builds now, however I have a single-sided swingarm on my bench just waiting to become another one of my radical and impractical builds. The focus for this one will be on the engineering—specifically, the suspension set-up. I plan on making it the feature of the build. The challenge, of course, is to build it without any drawings or a proof of concept, but that's all part of the fun.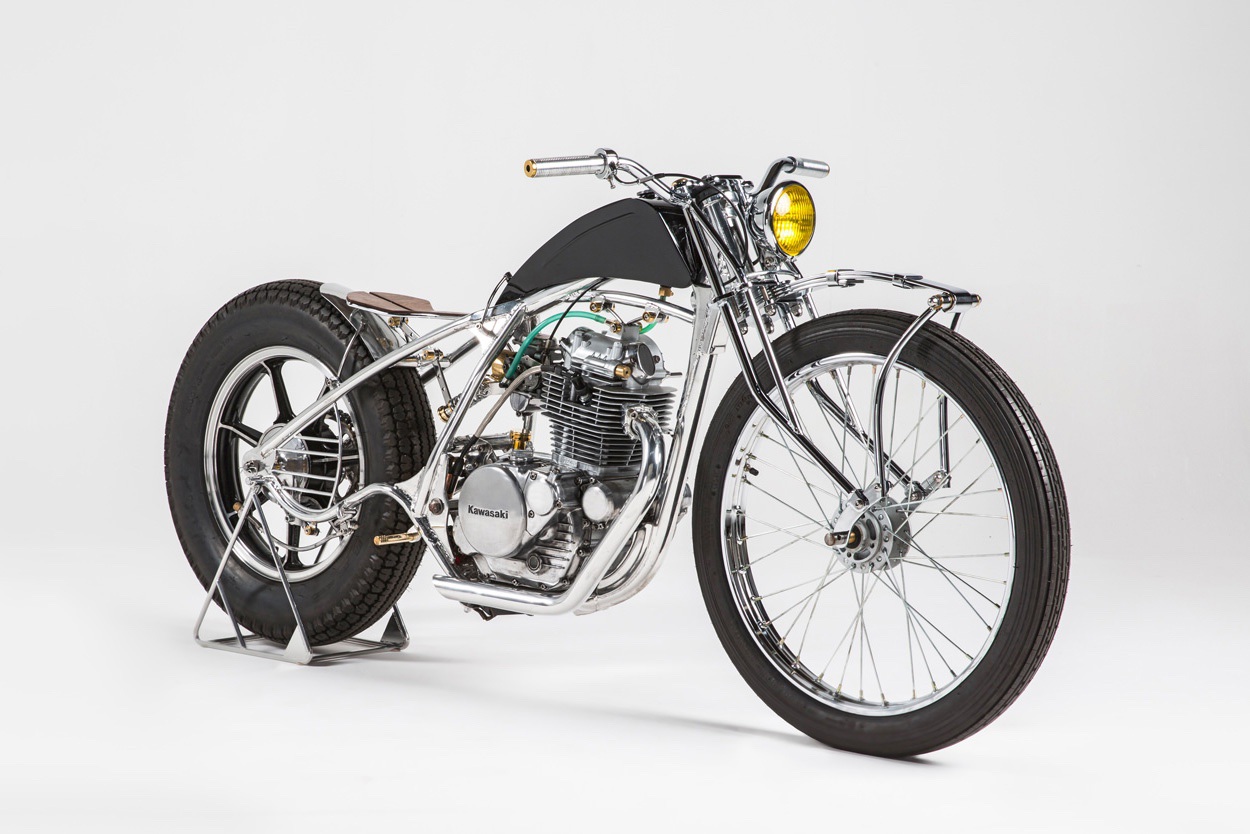 What's Your Daily Ride?
I have a MY '06 Triumph Bonneville; the last of the Hinckley carbureted models. It's my daily commuter, and having owned Japanese and Italian bikes previously, I can honestly say that the Bonneville is the best bike to just jump on and ride anywhere with ease.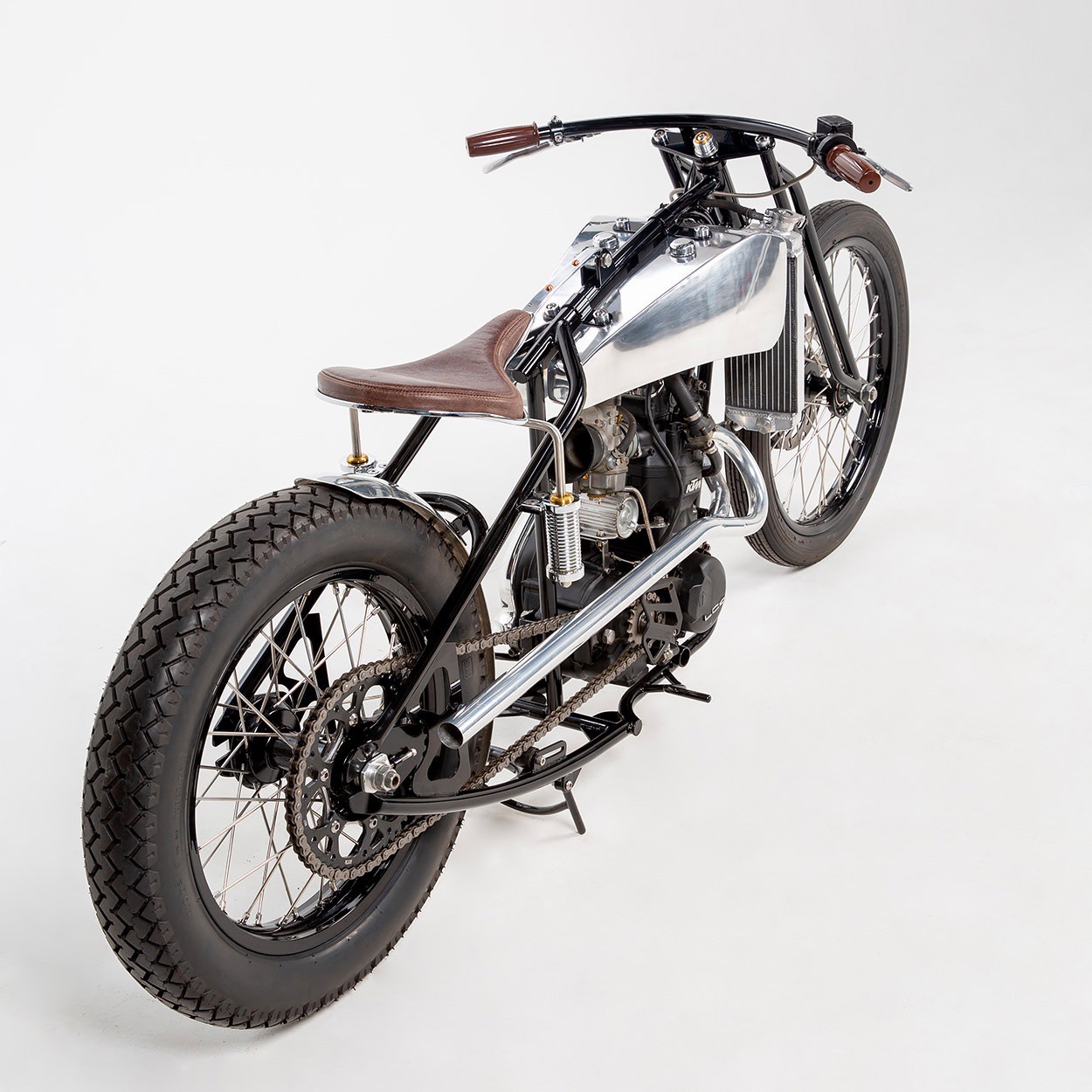 What's Your Ultimate Classic Bike?
The ultimate classic bike for me is the Brough Superior SS100, a handmade masterpiece. I have not been fortunate enough to see one apart from in pictures—maybe one day. A close second would be an old Indian Scout, which is another masterpiece of form and function. I particularly love the front leaf spring suspension; it's my favourite suspension design, aesthetically.
What Are Your Plans for the Future?
I plan to keep building on my business and looking forward to the next challenging fabrication job or engineering problem that needs to be overcome. Also, I look forward to meeting more of the interesting people involved in the automotive industry as well as the like-minded enthusiasts out there.