34-year-old Mario Fedele's entire career spawned from a childhood fixation with motorcycles. It all began with obsessing over his father's bikes but at the age of 8, he was given his first bike, a Lambretta J50. By 14 he was burning around town on an Aprilia RS 50 and by 18 had upgraded to a Ducati SS 620. To put it simply, he's been on or around motorcycles for as long as he can remember. So upon completing high school Mario left his home in Southern Italy to find work in the countries automotive hub, Turin. After earning his stripes as a transportation designer and prototype developer he returned home to pursue another of his dreams, to build a business around custom motorcycles.
Under the title of 'Augh Design', Mario builds unique custom motorcycles such as this wild Suzuki GSX1400. "I start my work from planning and design, mixing ancient and modern technologies in order to create each motorcycle," says Mario. Utilising his skills in automotive design he develops his ideas from scratch on paper or as a computer rendering. From there he designs bespoke components in 3D before fabricating them using a mix of 3D printing and CNC technologies. He then puts his hand skills to practice, shaping metal, casting composites and performing mechanical modifications to turn his ideas into functional works of art.
Mario's latest unorthodox Augh Design creation is this heavily modified Suzuki GSX1400. Similar to Yamaha's XJR1300 the Suzuki GSX1400 was an attempt to breath new life into an existing platform, which in this case was the Bandit 1200. Built using updated technology and a low-down torque focused engine the GSX1400 performed its purpose as a muscle bike well. But, like all the muscle bikes of its era, it was a behemoth of a bike.
Mario acquired the donor for the project from a friend who wasn't getting any use out of it. "I literally saved the motorbike from the condemnation to stay in a box forever," says Mario. "My idea for it was a personal challenge: to make a sleek jet-shaped machine out of a fat motorbike."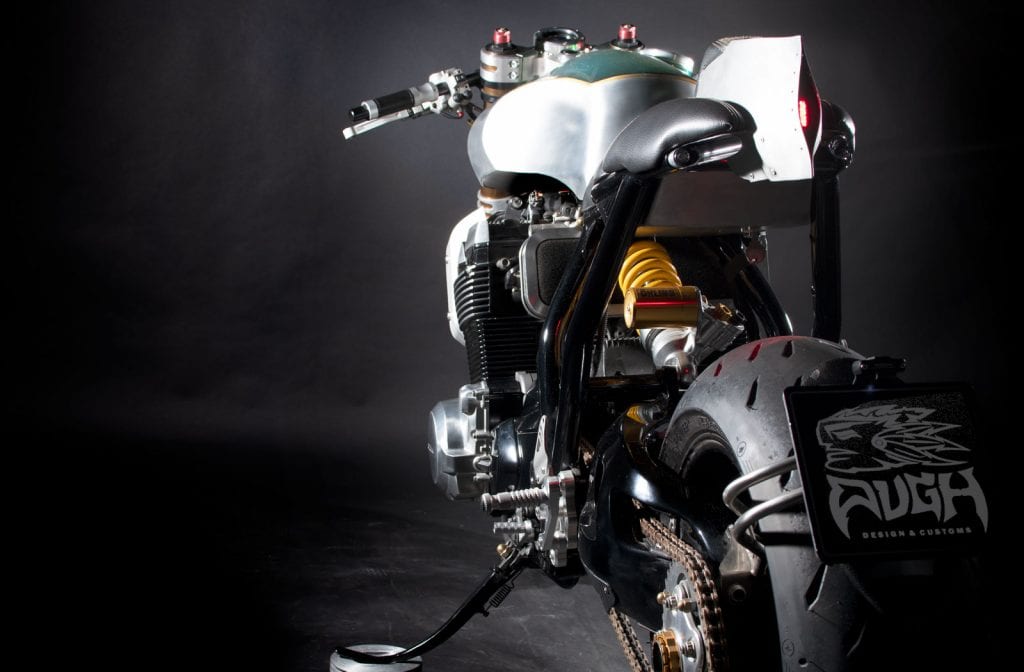 Mario kicked things off by fabricating an entirely new alloy subframe for the GSX1400. He then shaped a one of a kind "jet" tail from more aluminium and installed it along with a single leather-clad saddle and integrated LED lighting. Next, he formed the fuel tank which shrouds the wide inline-four and follows the line the cylinder heads. Large knee dents in the rear of the tank help reduce its visual mass along with paying homage to classic cafe racer style. A CNC milled filler cap sits atop the huge tank and, in keeping with his jet styling theme, Mario's added air dams at the front.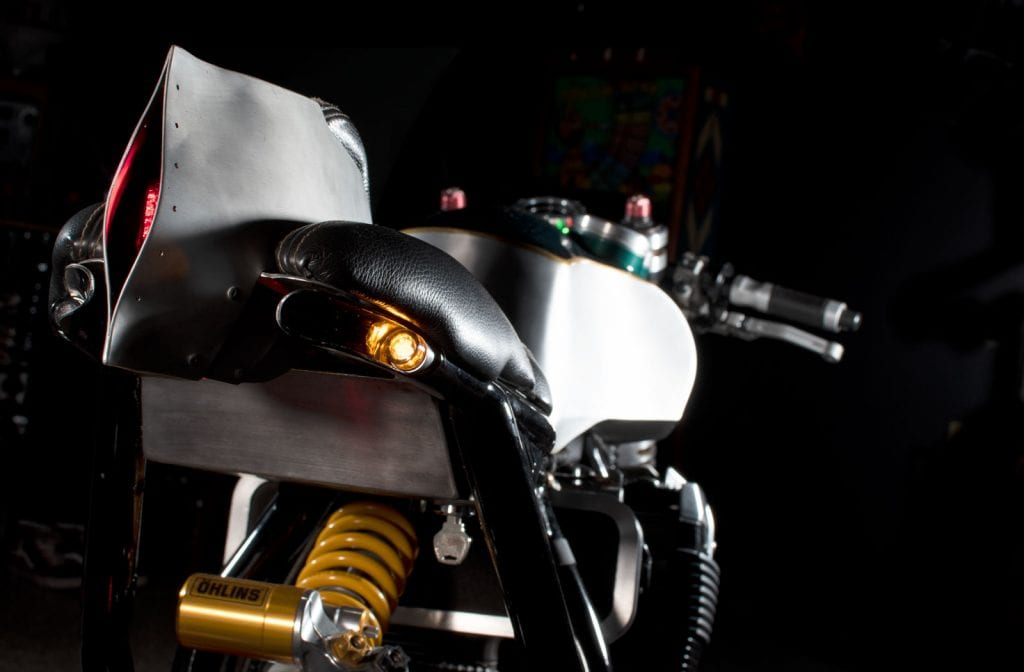 The bespoke alloy work continues with an under-seat electronics tray and CNC milled airbox. CNC milled triple clamps hold the forks in place and there are more air dams surrounding the radiator to beautify what was the ugliest aspect of the GSX1400. The list doesn't end there. Mario's added a plethora of custom aluminium touches both CNC milled and handbuilt which help to reduce the overall weight of the bike. Leaving the bulk of the aluminium components raw and treating the engine cases with the same brushed effects adds to the bikes jet-inspired semblance.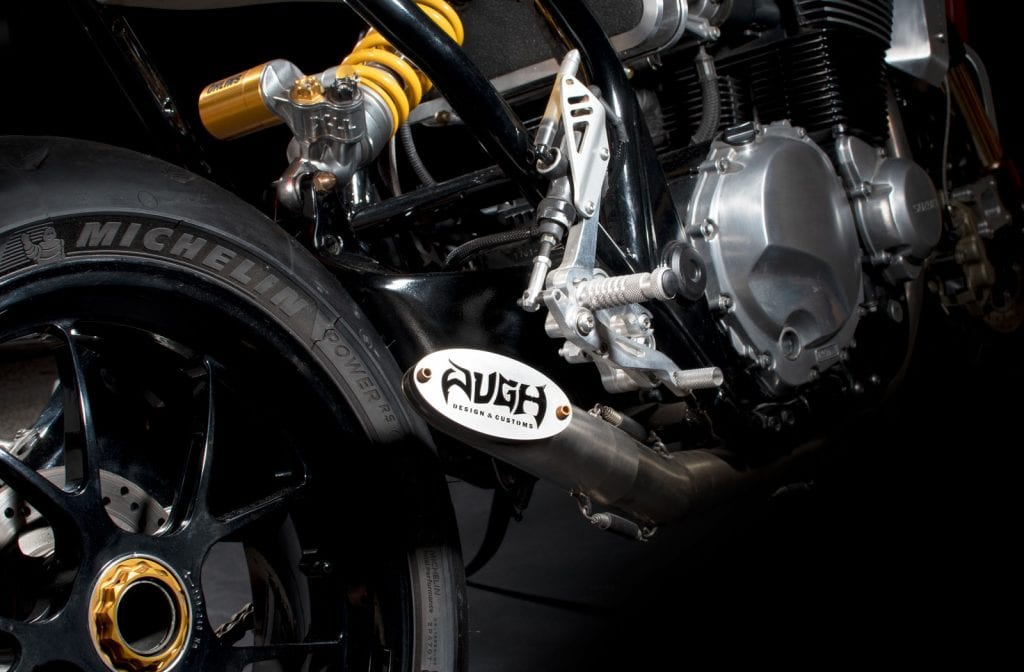 Mario's holistic approach to bike building meant the Suzuki's performance also had to be improved. Starting with the handing he fitted Paioli racing forks and the wheels are lightweight forged aluminium items. To shed even more weight and improve rear-end stability there's an Ohlins TTX monoshock. Fitting it to the bike required the design of bespoke shock mounts in 3D before machining them on a CNC. One end of the shock mounts to the custom subframe while the other sits in a bracket welded directly to the factory swingarm. A complete rewire, additional LED lighting and a lick of green paint on the fuel tank featuring his Augh Design emblem wrapped things up.
With its new curves and juiced-up geometry, this Suzuki GSX1400 is a literal interpretation of the muscle bike moniker. But does it have the performance to back up its brawny new looks? Mario had this to say,  "To make a motorbike, originally so heavy, nice to drive was a challenge, but it is now much more powerful (+20hp) than before, with significantly improved handling." We'll consider that a confident yes.