There are few motorcycle engines as iconic as BMW Motorrad's flat twin 'Boxer'. Renowned for their bulletproof reliability the Boxer has been in production for most of the companies 90+ years of operation. Somewhere along the way they also caught the attention of the custom motorcycle world. BMW cafe racer conversions are now commonplace and are frequently featured here on Return of the Cafe Racers. In more recent years BMW themselves have embraced the custom scene with their R Nine T, a motorcycle designed with customization in mind. To pay homage to all the talented custom builders working with the BMW platform here are the Top 10 BMW Cafe Racer Motorcycles..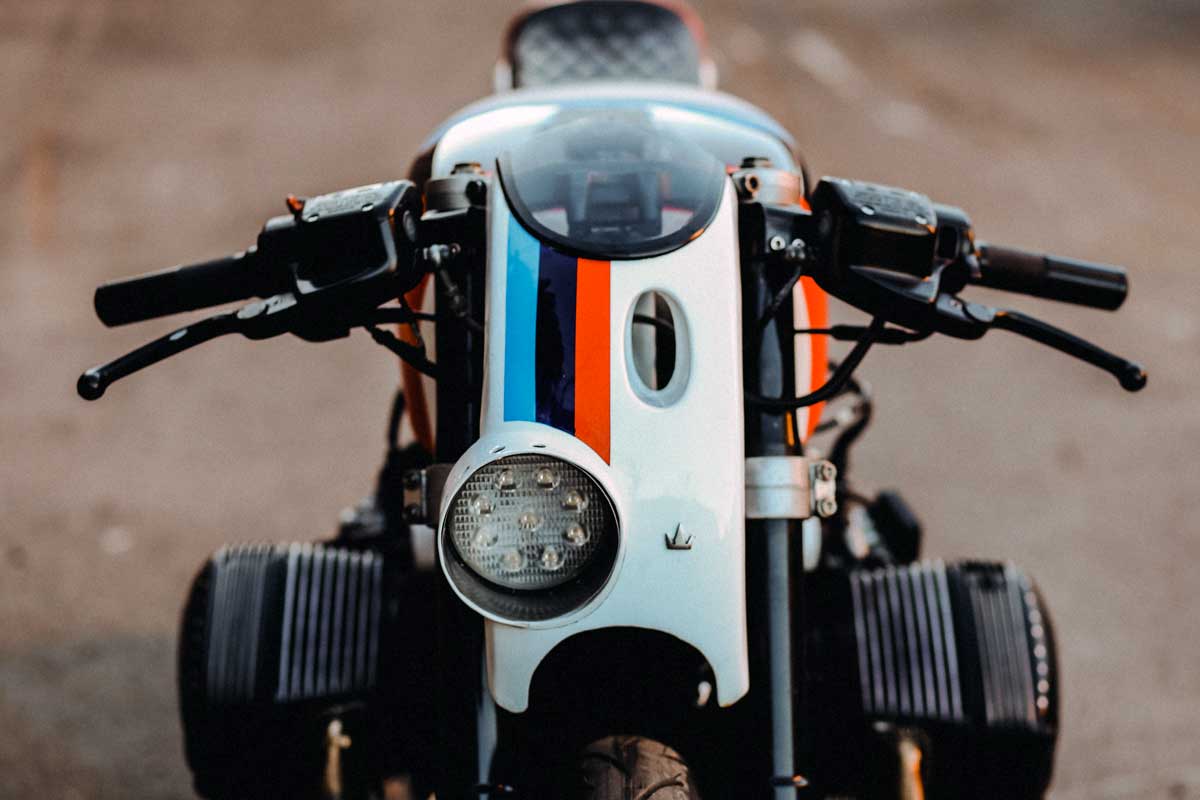 10. Lucky Custom BMW R1100 S
When Lucky Customs contacted us saying they'd turned a touring motorcycle into a cafe racer we had our doubts. Even though the BMW R1100 S falls into the Sports Tourer category, it's a far cry from the low down, lean proportions of your typical cafe racer. It seems however that Lucky Customs frontman Lucas Layum isn't bothered by such trivial details.
His BMW cafe racer is far from traditional, but Lucas has managed to capture the ethos of what cafe racers are all about with this unique build. The R1100 S represents his 7th custom project and it's clear he's honed his skills well. Sometimes we like to be told we're wrong and in this case, Lucas has certainly set us straight.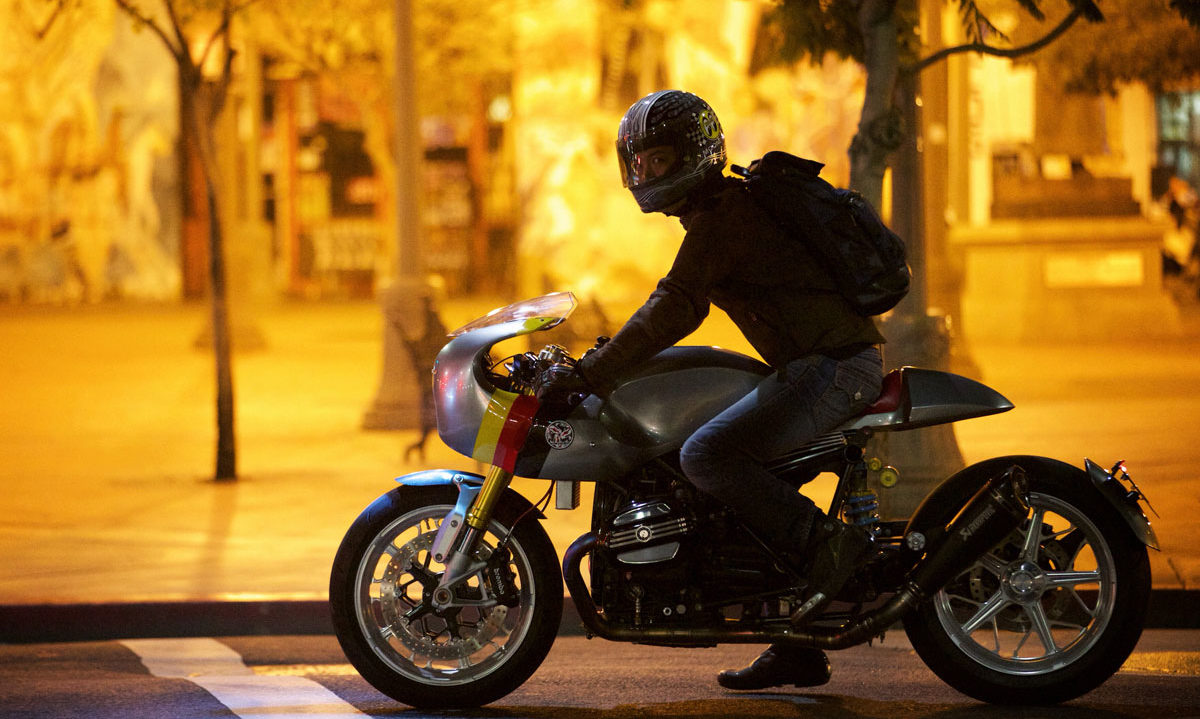 9. JSK BMW R Nine T
Californian custom builder Samuel Kao, aka JSK Moto Co., has worked wonders with the BMW R Nine T platform. This neo-retro creation nicknamed the 'Autobahn Streak' is covered with both bolt-on and bespoke modifications. While we have nothing against bolt-on builds it's the custom stuff that really excites us and the fresh approach with this bike's bodywork really appeals. Rather than sticking with the R Nine T's alloy tank Samuel went all out and created a monocoque tank and fairing unit that makes this BMW a definite stand out.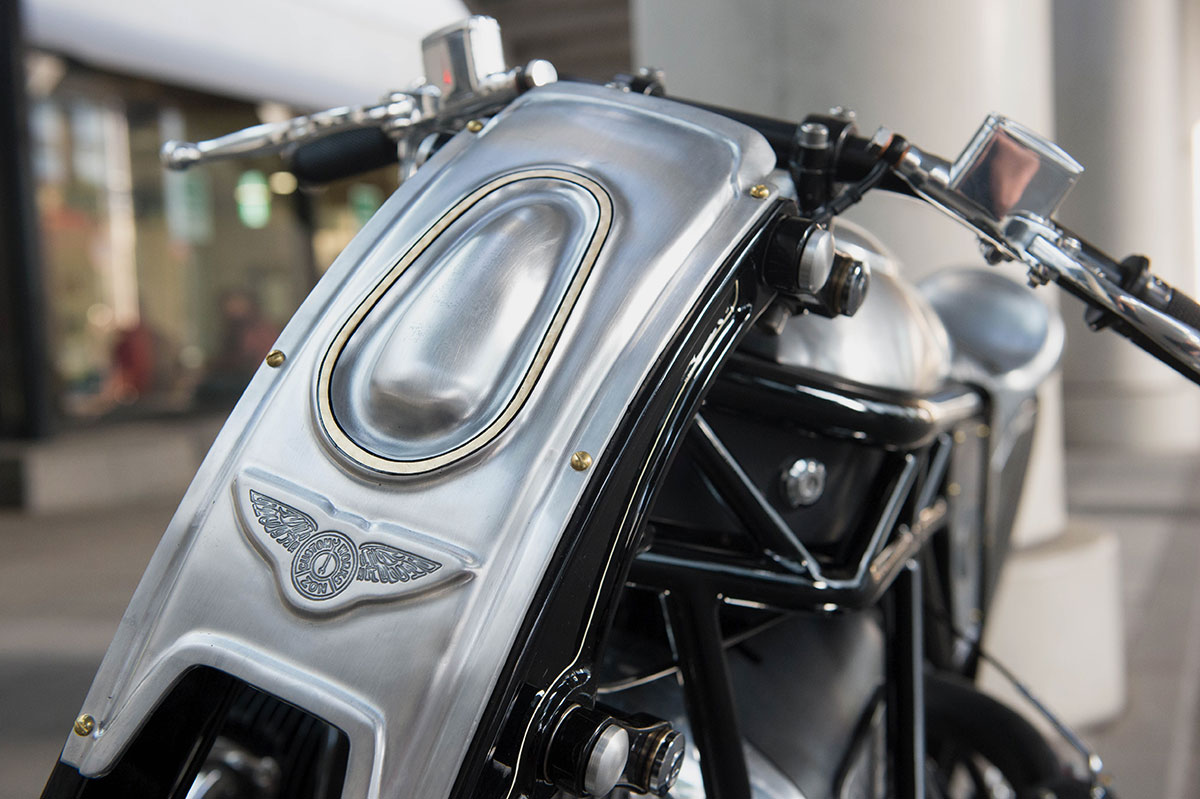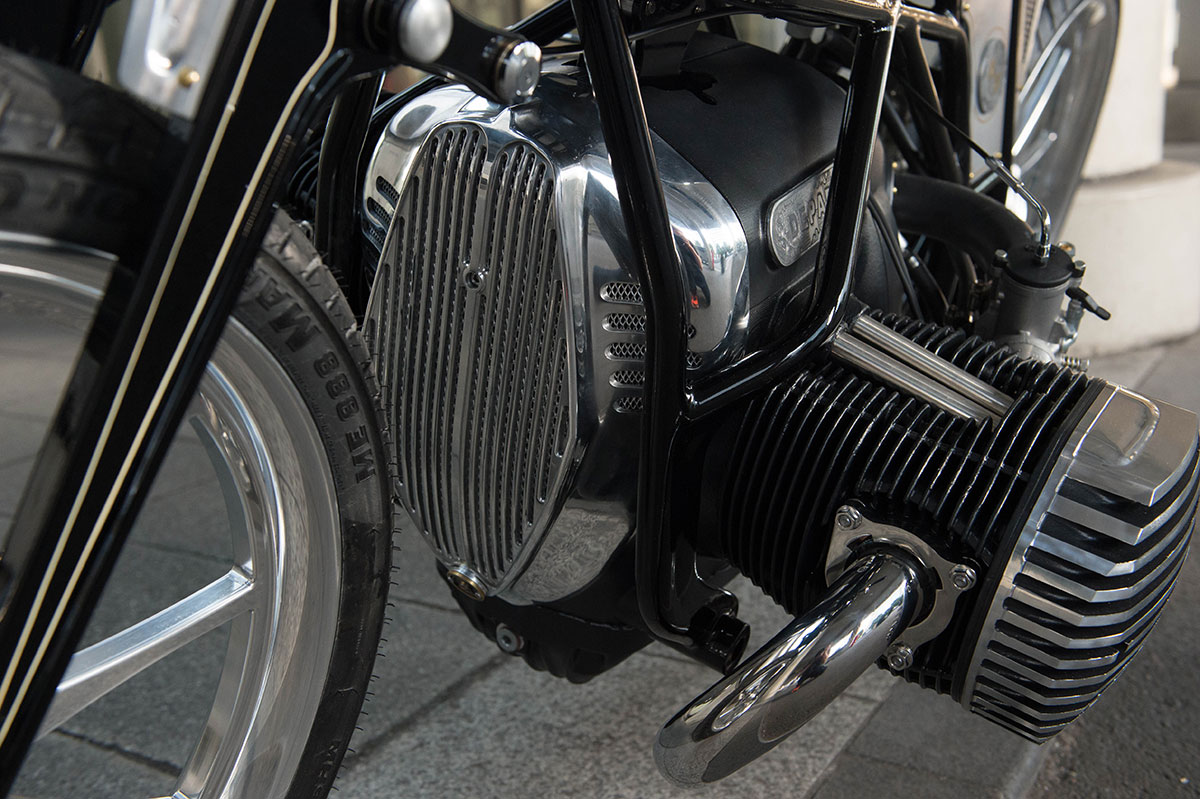 8. Custom Works Zon BMW R18 Departed
I was very lucky to have been in Japan when BMW Motorrad and Zon Custom Works unveiled this bike for the first time. It was the first time BMW had displayed their new R18 engine to the public.
We admire any company that chooses to release a new model by letting a custom workshop have their way with it and it's no surprise that BMW took this approach. They've embraced the custom scene for years and already worked with several builders in Japan. This collaboration was the first time Custom Works Zon and BMW have teamed up. The project started out with nothing more than the behemoth 1800cc boxer. Everything you see around the engine has been built from scratch by Zon workshop duo Yuichi Yoshizawa and Yoshikazu Ueda. The 'Departed' blends board tracker and cafe racer styles using hand-beaten alloy bodywork and a huge set of milled 22-inch wheels. It's certainly not your typical BMW cafe racer, but I still wholeheartedly approve.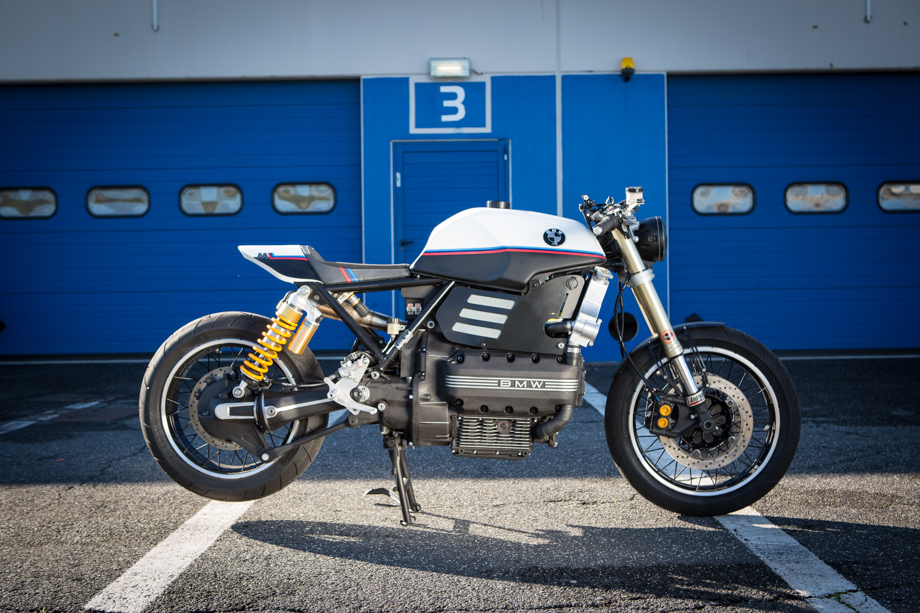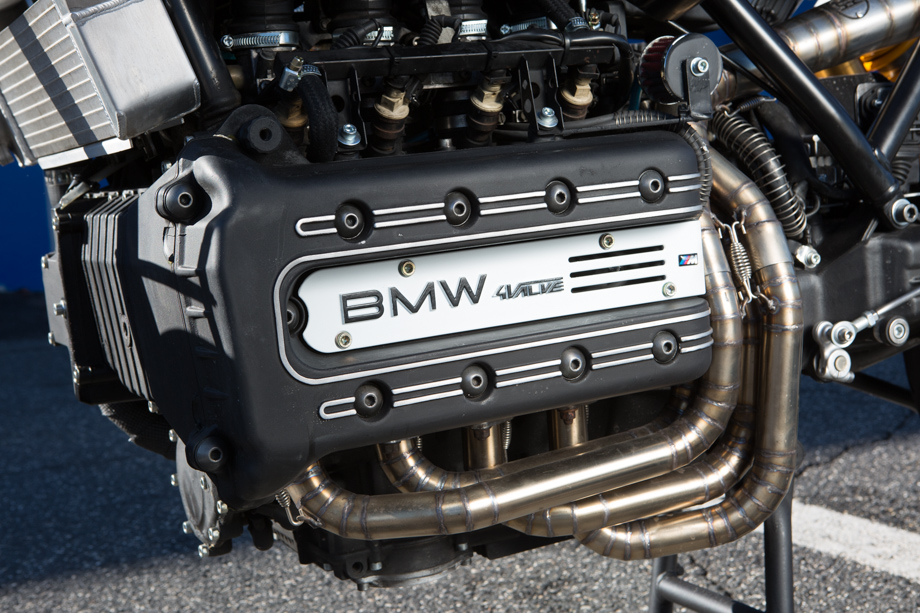 7. De Angelis Elaborazioni Ladini BMW K1100
I've never considered a 'flying brick' to be track-ready but my opinion was once again thrown out when Giorgio De Angelis shared this build with us. With a stock weight of 275kg his goal with this K1100LT cafe racer was to shed as much weight as possible. He's done it by stripping away every unnecessary component leaving only the bare essentials. Handling was also a key ingredient with this build so the bike now wears top of the range suspension and brakes transplanted from other machines. Power also received a big upgrade with the addition of a custom 4-into-1 exhaust, wide-open velocity stacks, and a complete ECU upgrade. Finally, to show everyone this flying brick means business it wears a livery inspired by BMW M series vehicles.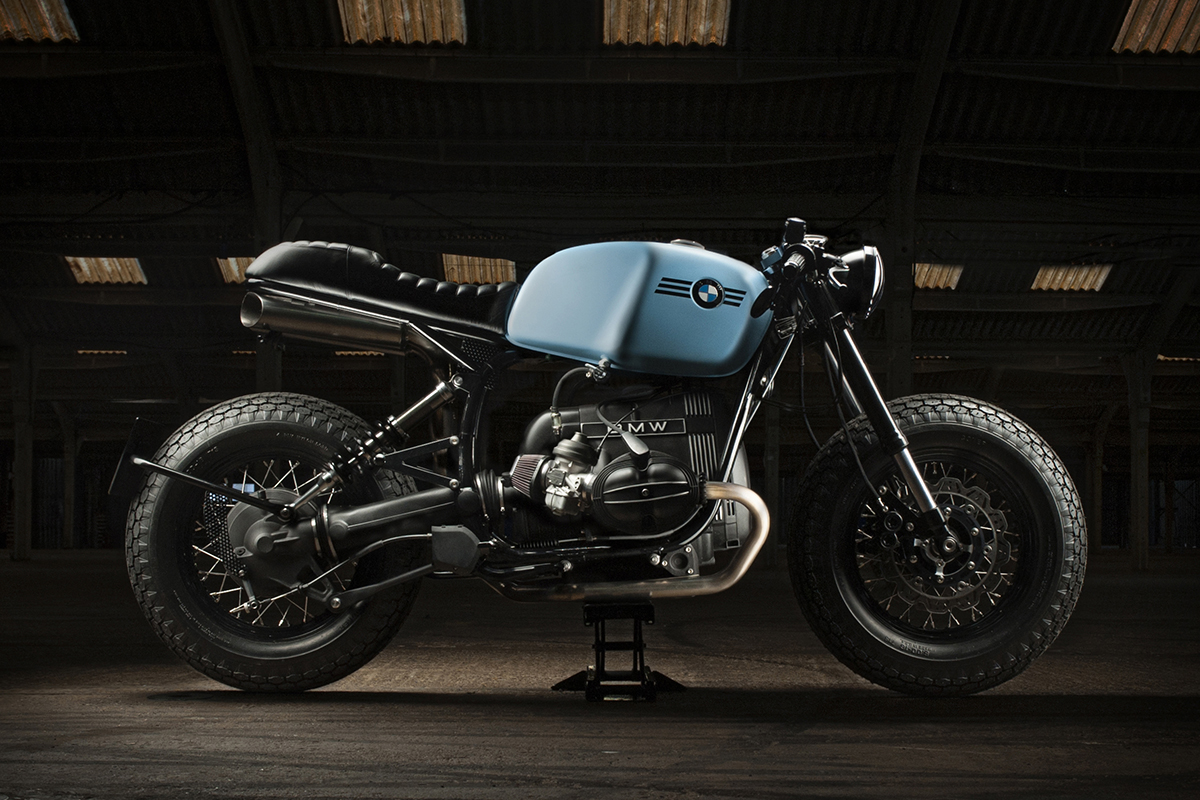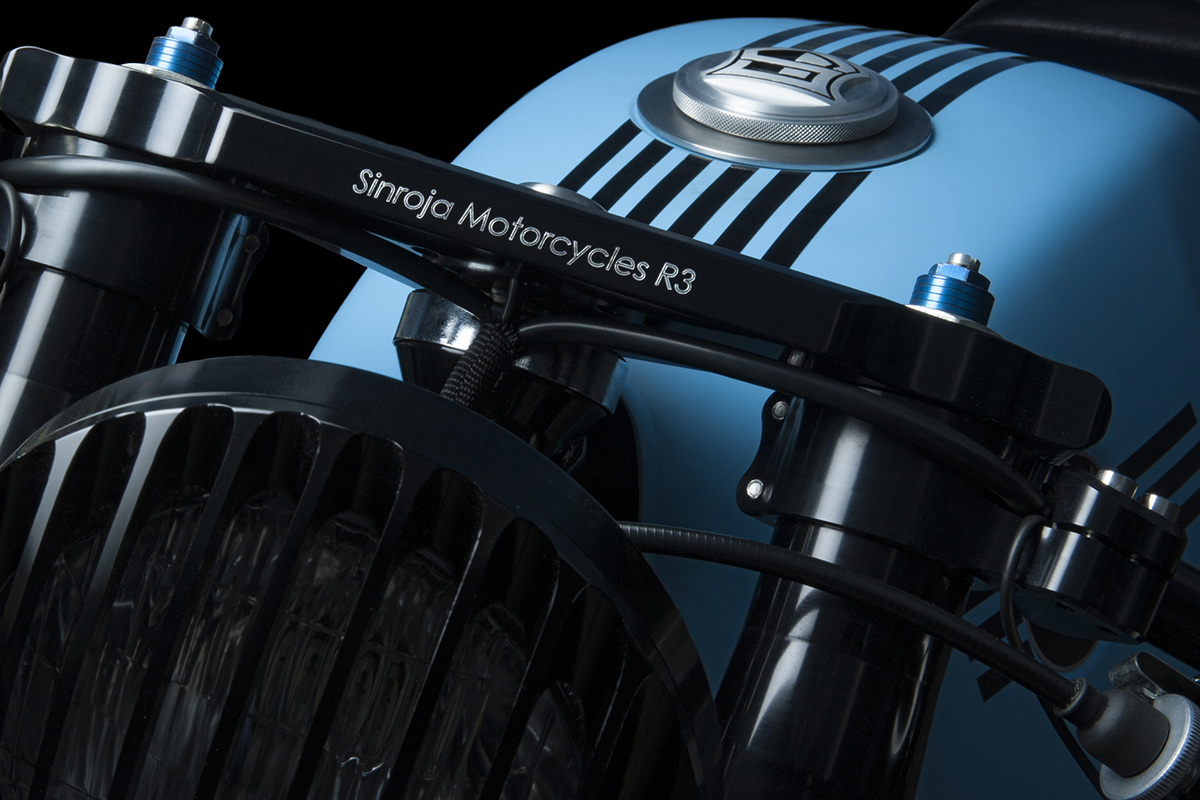 6. Sinroja BMW R110 R3 Racer
Sinroja Motorcycles is run by brothers Rahul and Birju. This bike was only the third build to roll out of their workshop and it helped to establish them as one of the UK's top custom shops. Based on a BMW R100 R monolever the 'R3' is a nut and bolt rebuild and extensive upgrade. Along with the thorough work done to the engine, the bike features plenty of modern upgrades that take it to the next level. What I love most about this bike though is the finish. Rather than adding bling, they opted for satin paint that separates this bike from the rest. Since building the R3 Sinroja has continued to impress not just me but the likes of Royal Enfield who partnered with them last year on a special build for the Wheels & Waves show.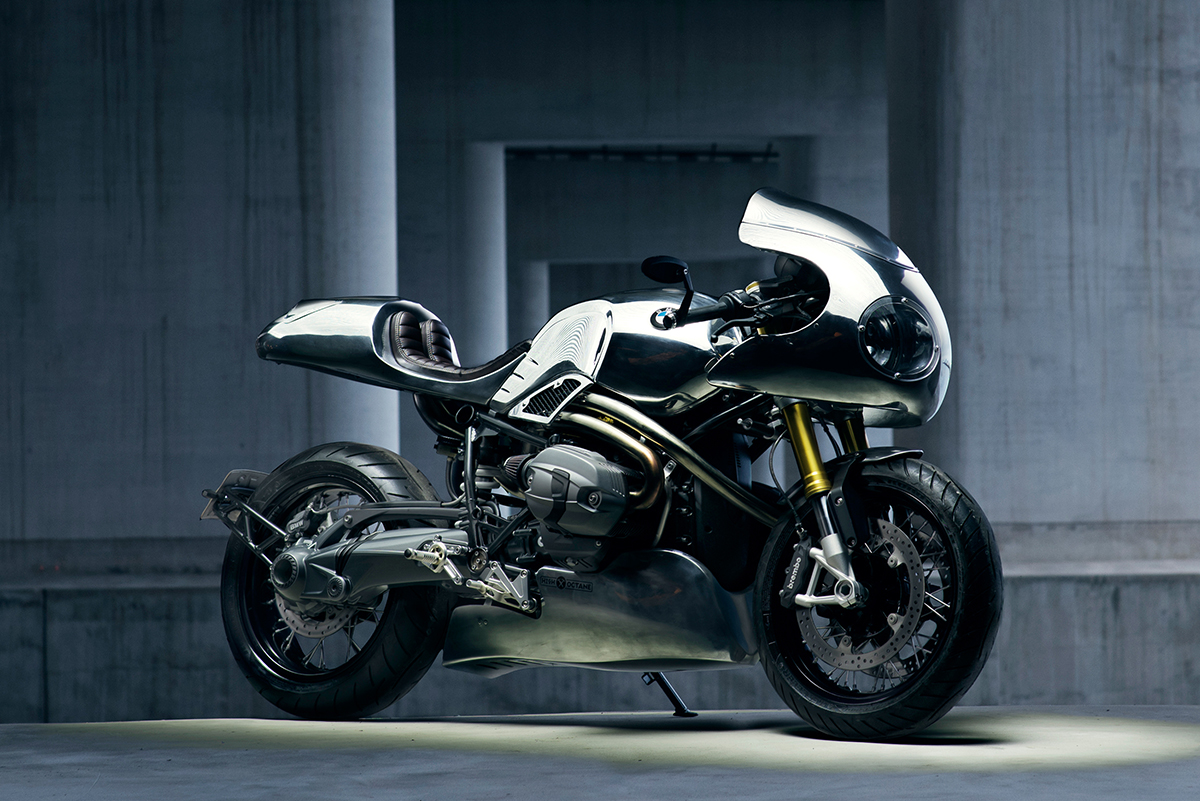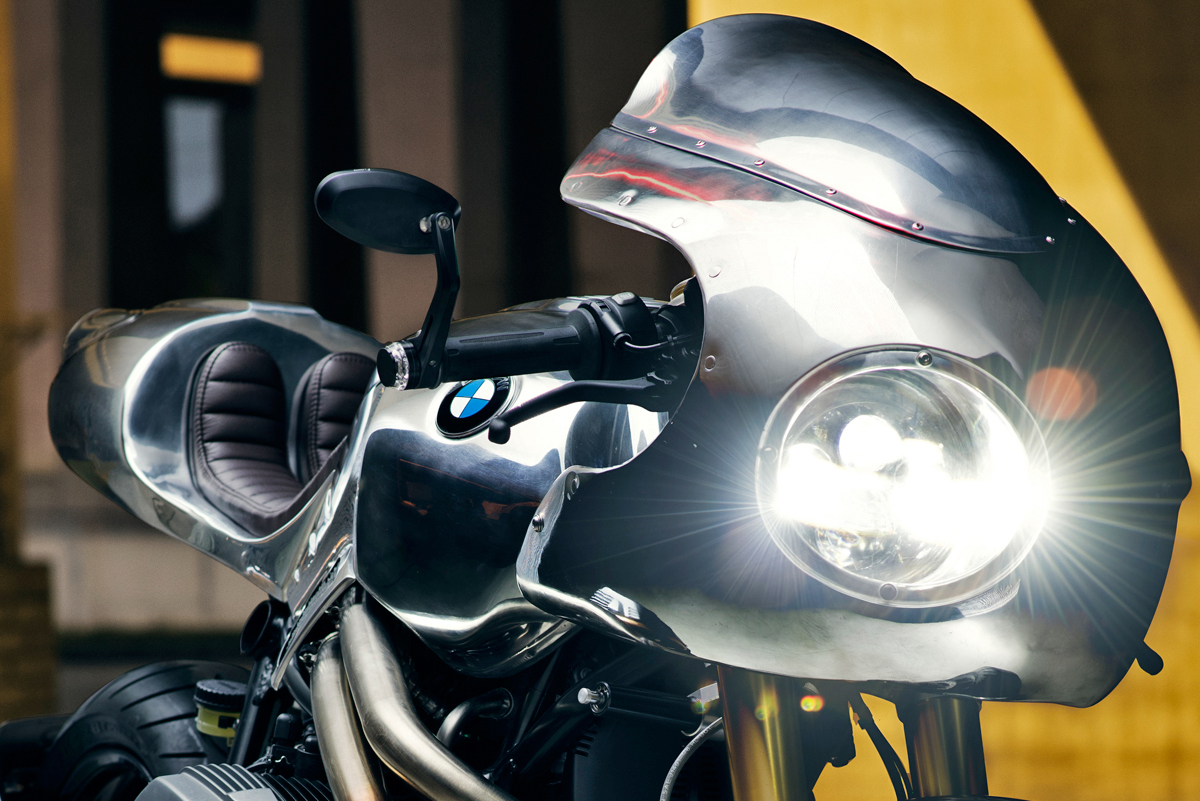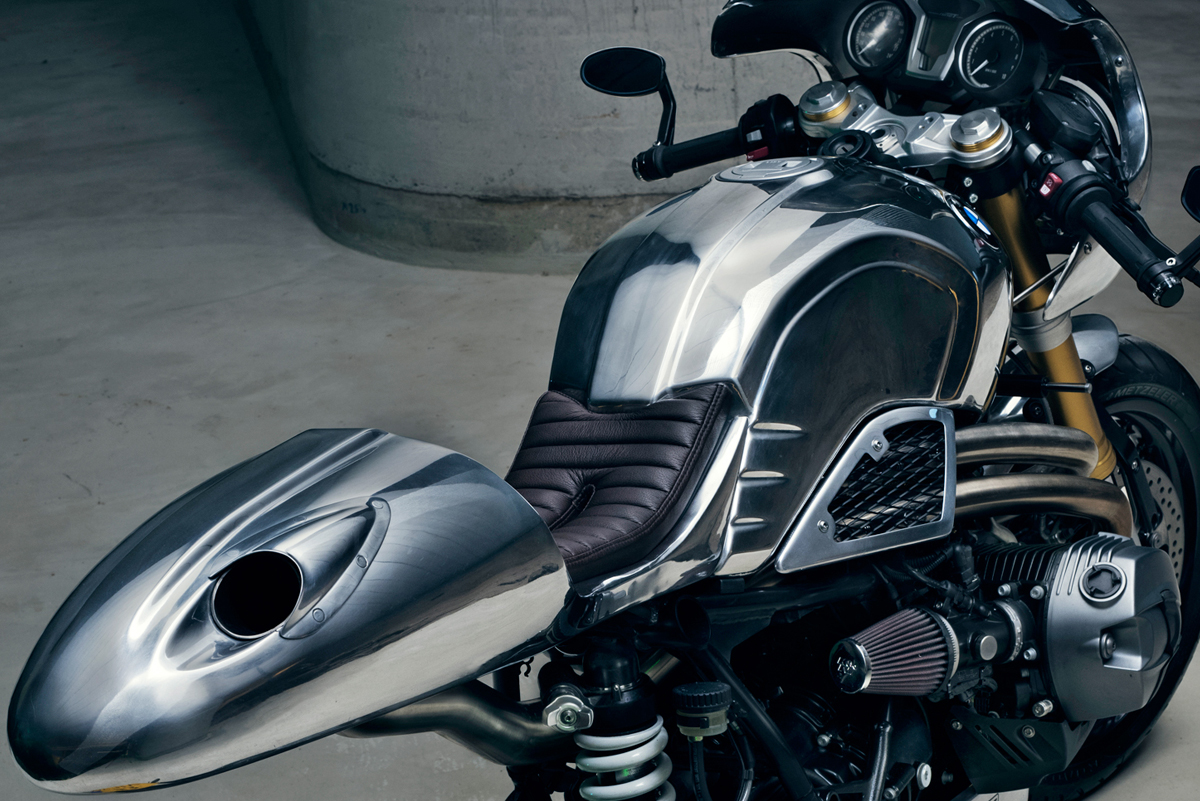 5. High Octane BMW HP9T
This highly polished BMW R9T almost broke the internet when Jeffry Sol of High Octane Speedshop unveiled it back in 2015. The bikes bespoke alloy bodywork was all fabricated by hand using traditional metal shaping tools, some of which he made himself. In our exclusive interview with Jeffry, he explained that his builds all center around speed. He started out building cars for drag racing and introduced motorcycles into the equation later in life. Although his BMW 'HP9T' is essentially stock aside from the exhaust and air filters, the bike looks fast standing still due to its sleek lines and race-inspired proportions.
Jeffry said "To test my skills to the max I wanted to aim for the stars. I wanted high gloss, polished, blemish-free aluminium." and that's exactly what he achieved.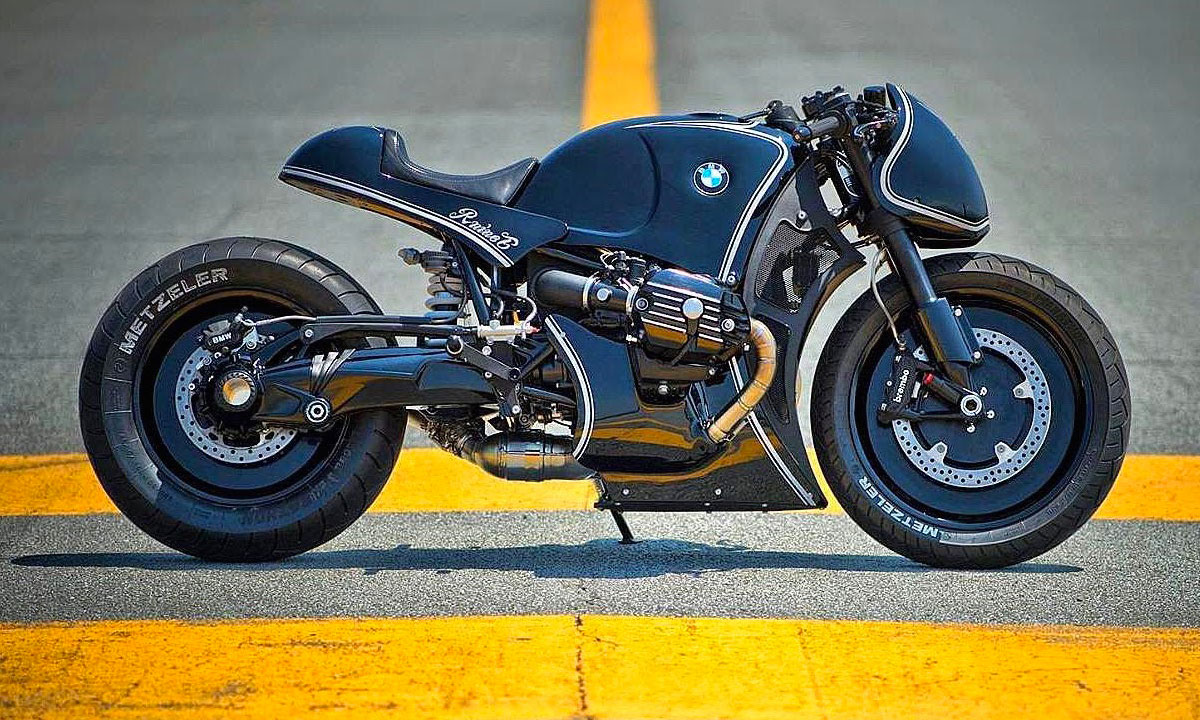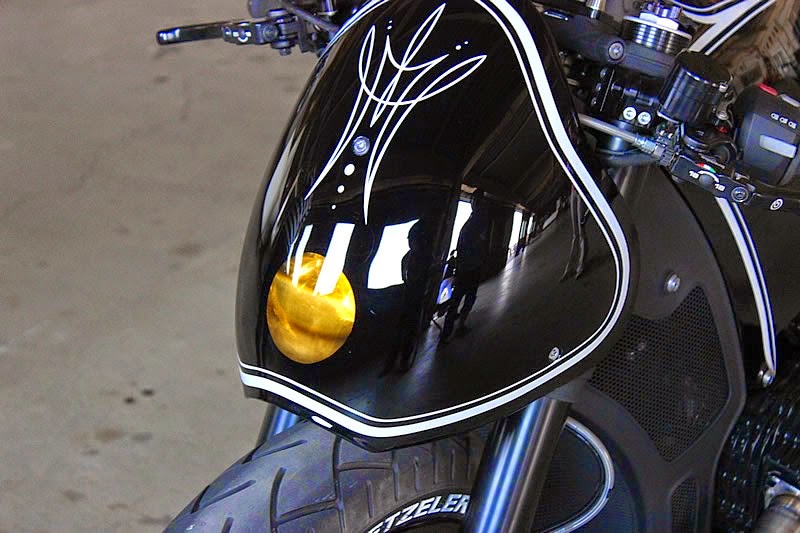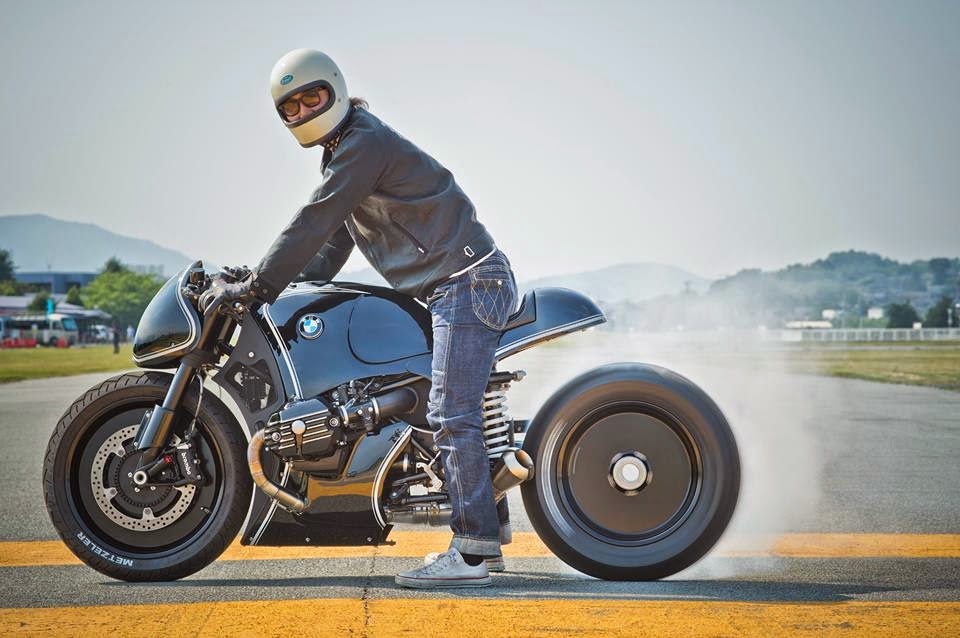 4. Cherry's Company R9T Highway Fighter
I've had the pleasure of hanging out with Cherry's Company owner Kaichiroh Kurosu on more than one occasion. Despite winning best in show awards 3 years running at the Mooneyes Yokohama show he is without a doubt one of the most unassuming people you could meet. His custom motorcycles, however, are some of the wildest you're likely to see. This bike, dubbed the 'Highway Fighter', was built as part of a collaboration with BMW Motorrad. Along with 3 other Japanese workshops, he customised a then recently released BMW R9T by adding one-off hand-beaten alloy bodywork. Kurosu-san also took the R9T a step further by fitting higher-spec suspension and brakes. Subtle touches like lighting that is only visible once illuminated and the hot rod style pinstriping make this R9T a stand out for me.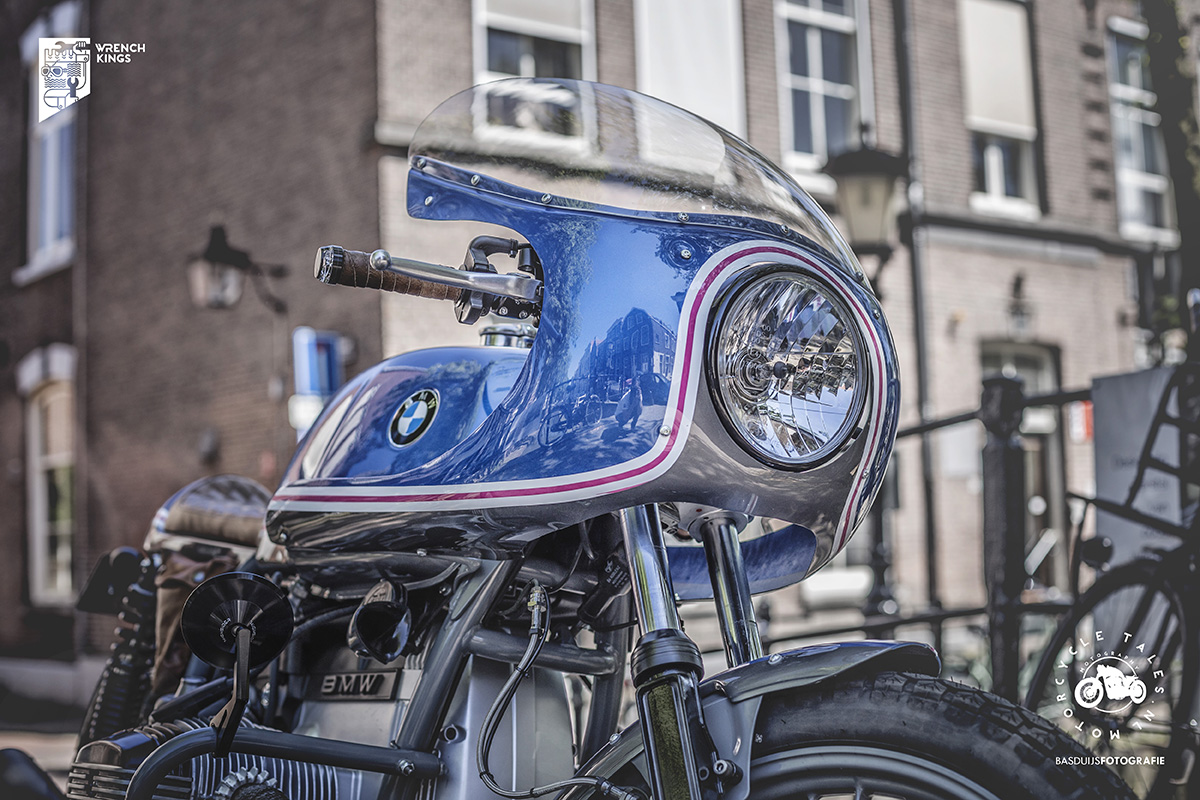 3. Wrenchkings 'For Her' BMW R100
This stunning BMW cafe racer build by Dutch workshop the 'Wrenchkings' had me drooling over my keyboard when it landed in my inbox. Built for a female customer the BMW R100 took a mere 3 months to complete and was designed specifically to the owner's dimensions. Thankfully that didn't result in any compromises. Performance modifications are focused on reliability and the Kings ensured it was suitable for the owners everyday riding needs. Along with how damn good the finished bike looks I can't help but applaud the guys for creating such a functional custom motorcycle.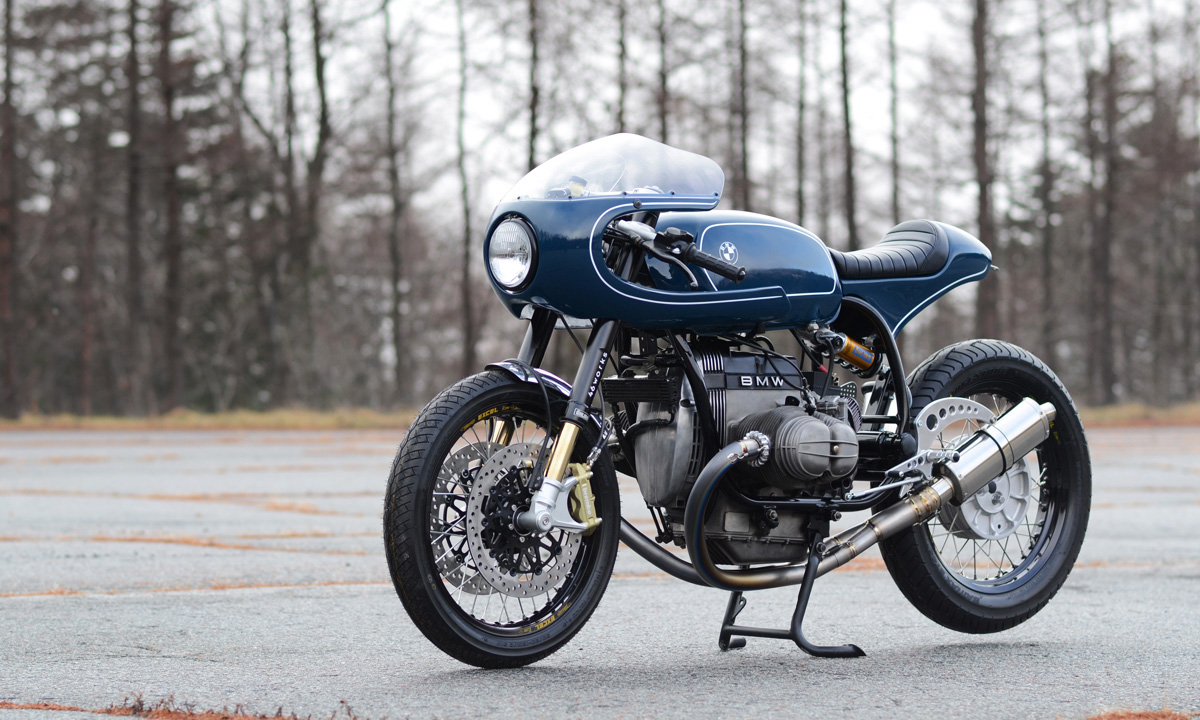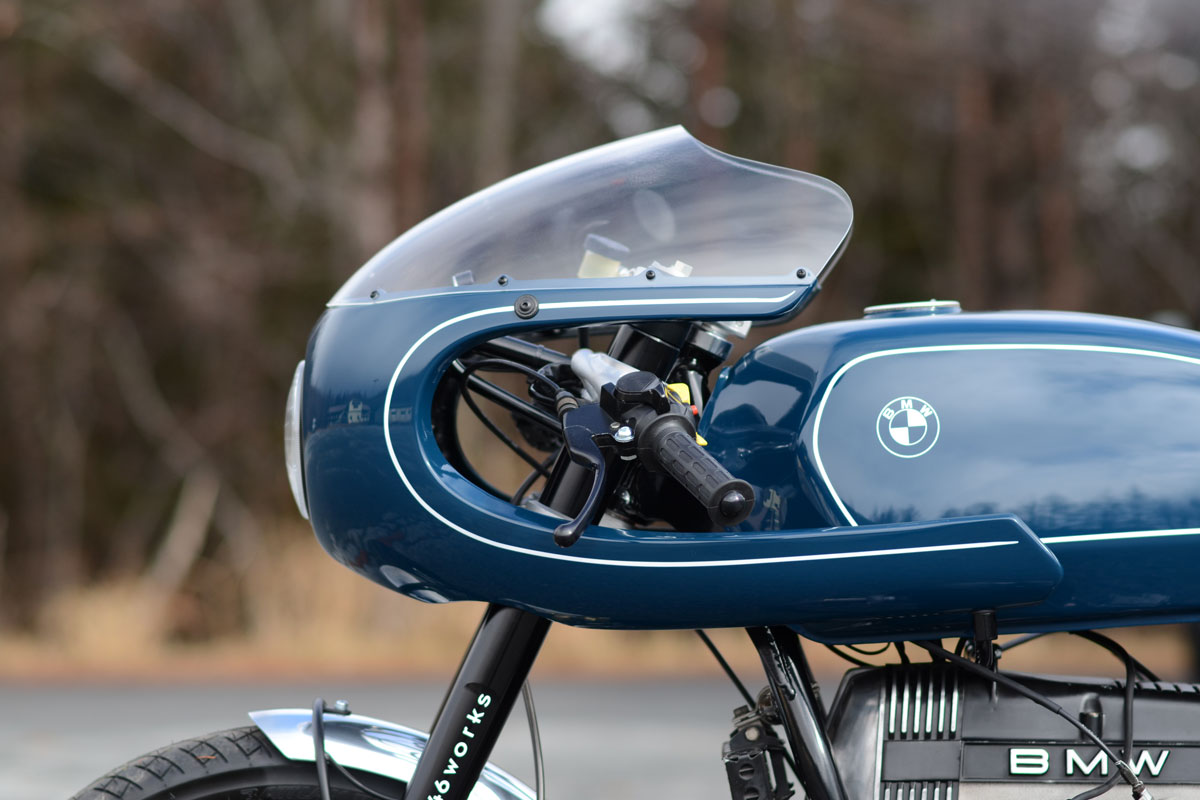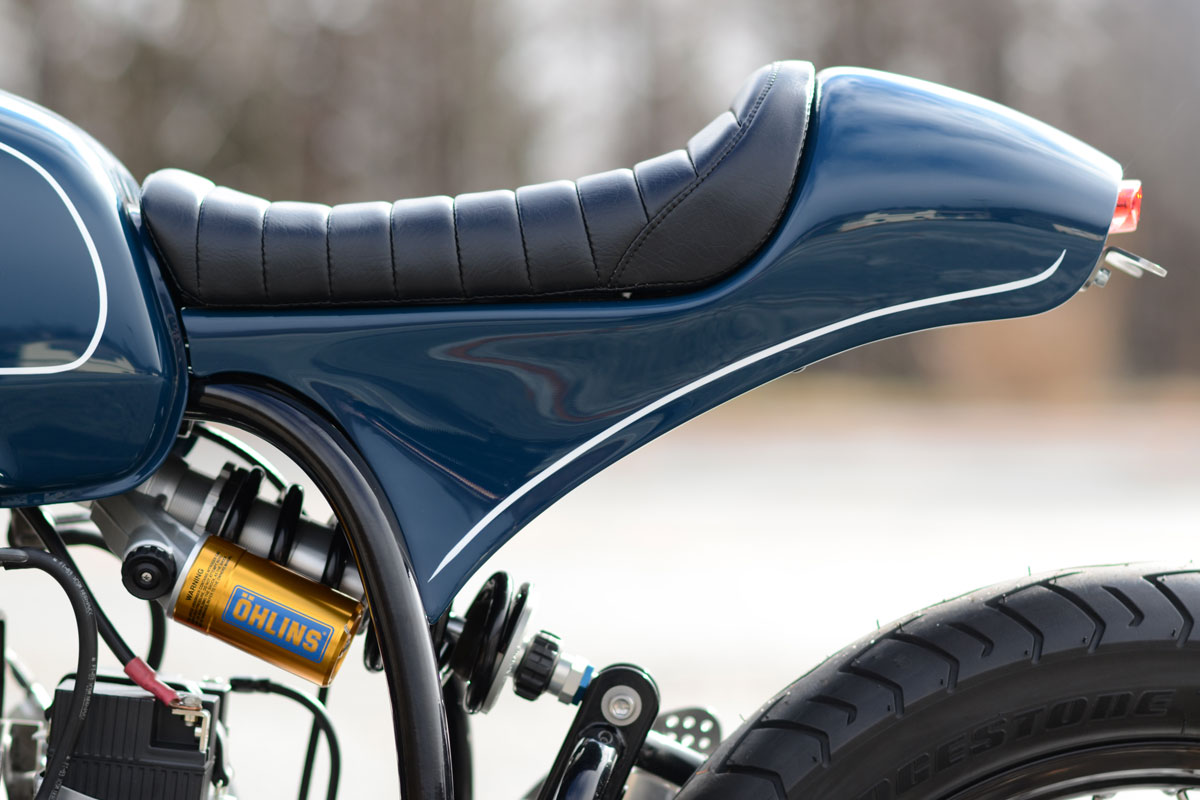 2. 46 Works R100RS Cafe Racer
When I was invited to attend the Mooneyes Yokohama Hotrod show as a special guest I was daunted by the task of having to award our pick of the show. Thankfully 46 Works made the job easy with this tasteful R100RS cafe racer. After the show 46 Works owner Shiro Nakajima shared the story of the build with us for a feature on the site. The bike features a custom alloy subframe, cantilever style mono-shock conversion, Ohlins suspension, and Brembo stoppers. Topping it all off is a custom front fairing and tail section and a 46 Works titanium exhaust.
I'm sure everyone will agree this is a stunning example of a BMW cafe racer deserving of the award. In typical 46 Works style, there's no showy or ostentatious bling on this build. Everything has its purpose and all modifications were made to improve upon the R100RS platform.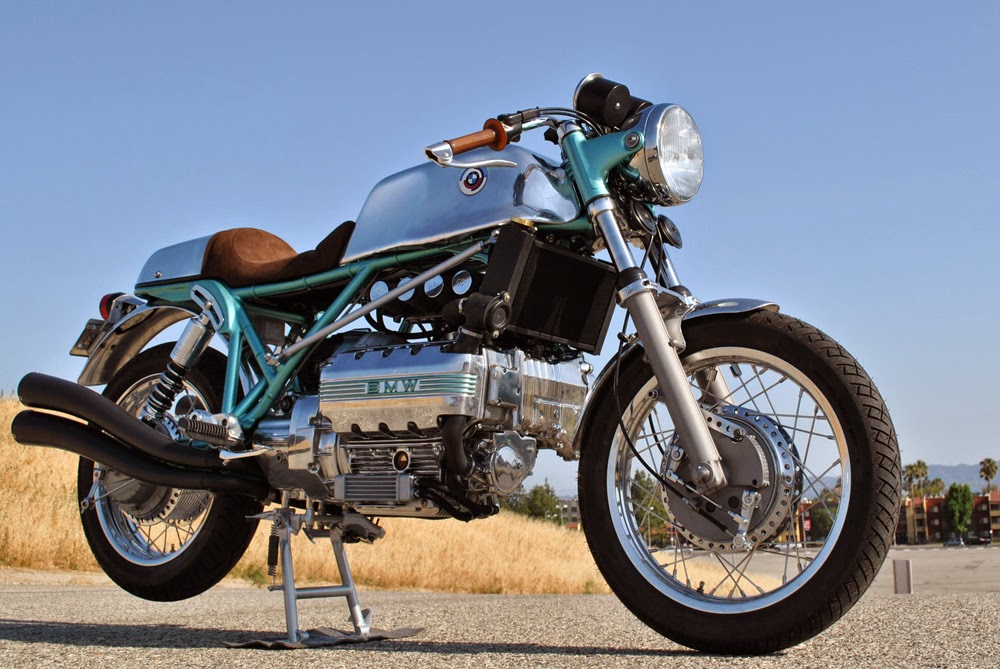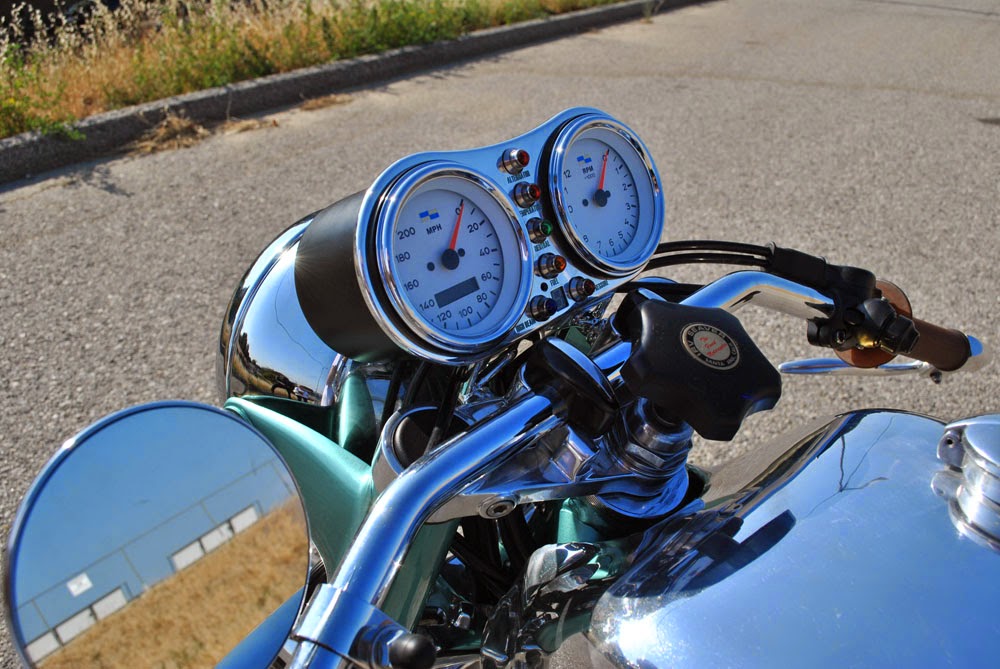 1. Larry Romestant's BMW K1200RS 'KAgusta'
The BMW boxers seem to be everyone's go-to for a cafe racer conversion. They would be my choice too if I was to head down that path, so you can imagine my surprise when I placed this bike at number 1 in my Top 10 BMW Cafe Racer list.
Who'd have thought BMW's brick could look so good?! This K series cafe racer built by BMW expert Larry Romestant is sure to sway opinions of the chunky German inline-four. Larry took a sport-touring K1200RS and completely transformed it into a bonafide BMW cafe racer. The ground-up build includes touches of Italian styling thanks to an MV Agusta-esque tank and Imola styled seat. There's a long list of classic performance parts and the fit and finish is nothing short of breathtaking.
Honorable mention – Nnoto Nostalgia BMW R Nine T
Florida's Nmoto Studio blew us away with their stunning R7 inspired kit for the BMW R Nine T. BMW Motorrad's 19 R7, in my opinion, is one of the most beautiful motorcycles ever made and Nmoto have done it justice with this unique concept.
The 'Nostalgia' kit transforms a stock BMW R Nine T into an Art Deco work of art using around 95 custom made components. Customers get to choose from a wide range of classically inspired paint schemes, wheel configurations, leather finishes, and handlebar options. The kit also includes bespoke aluminum body panels, LED lighting upgrades, keyless ignition, and soft tail style suspension. If you're flushed for cash and looking for an airhead like no other we'd recommend investing in one of these!