It's not every day you find yourself handing out an award at one of the world's most prestigious custom automotive events. Somehow I recently found myself in this situation at the Mooneyes Yokohama Hot Rod and Custom Show. After rubbing shoulders with Mooneyes top dog Shige Suganuma at Kustomfest in Indonesia he offered me the opportunity and I humbly accepted. So not only was I on my way to visit my favourite custom event in the world I also had the daunting task of nominating a Return of the Cafe Racers pick of the show. It was an honour I wasn't about to take lightly.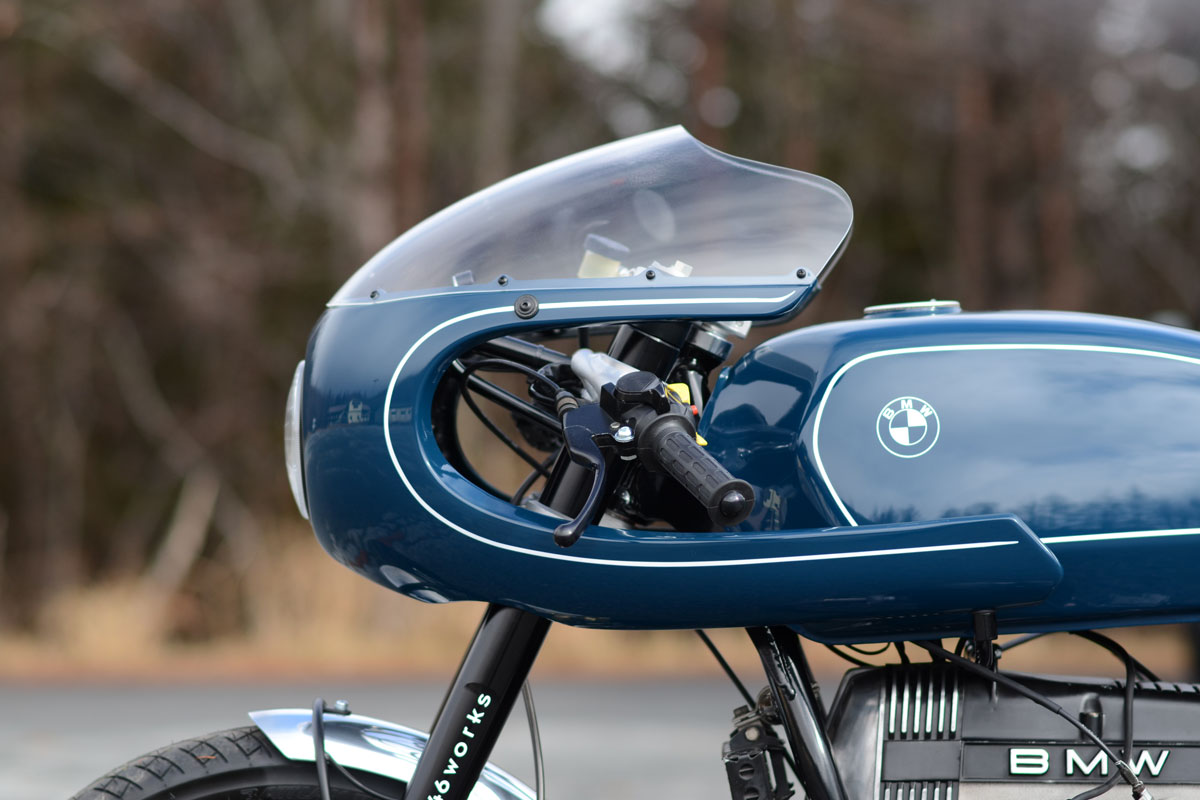 Having early access to the Mooneyes show meant being able to see all the bikes up close rather than peering at them through crowds of show-goers. This gave me the opportunity to take a really good look at each of the 150+ bikes in attendance. Choppers and bobbers dominate the Mooneyes show, but there were still plenty of bikes on display that tickled my fancy. The always impressive Hide Motorcycles were there with 2 of their latest BMW builds. Sureshot were showing off a flat track inspired Harley featuring their signature tank mounted carb set up. And AN-BU Motorcycles had gone for an off-road theme with an asymmetrically beautiful BMW R1100GS.
There was also a good selection of cafe racers in the mix, including a rather lovey Honda CBX1000 that very nearly took out my pick of the show. But, when I stumbled across the 46 Works stand I knew my search was over. 46 Works had two incredible bikes entered into the show. A tastefully modified Moto Guzzi LeMans cruiser and a stunning 1991 BMW R100RS cafe racer. It was, of course, the blue road racer BMW that won me over.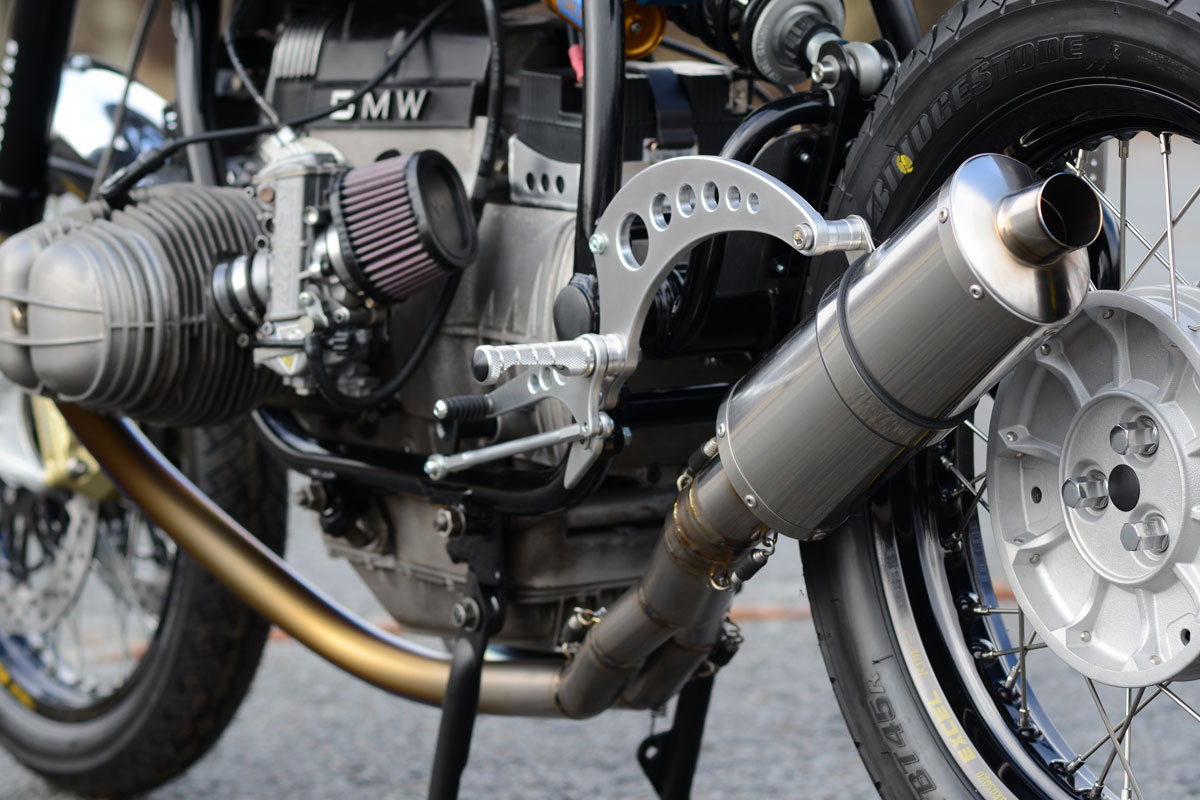 While the 46 Works BMW wasn't quite as "showy" as many of the other bikes at Mooneyes it was definitely a show stopper. Created by 46 Works chief Shiro Nakajima I also had no doubt it was built to perform. While flashy paint and fancy fabrication are always appealing, functionality always comes first in my books and this BMW R100RS cafe racer is all about the ride. After the show ended Shiro informed me that the BMW belongs to a 46 Works customer who gave him complete freedom to rework the Boxer twin. Shiro's goal was to create a "Stylish, high potential cafe racer" which he did by using a few tried and tested 46 Works modifications.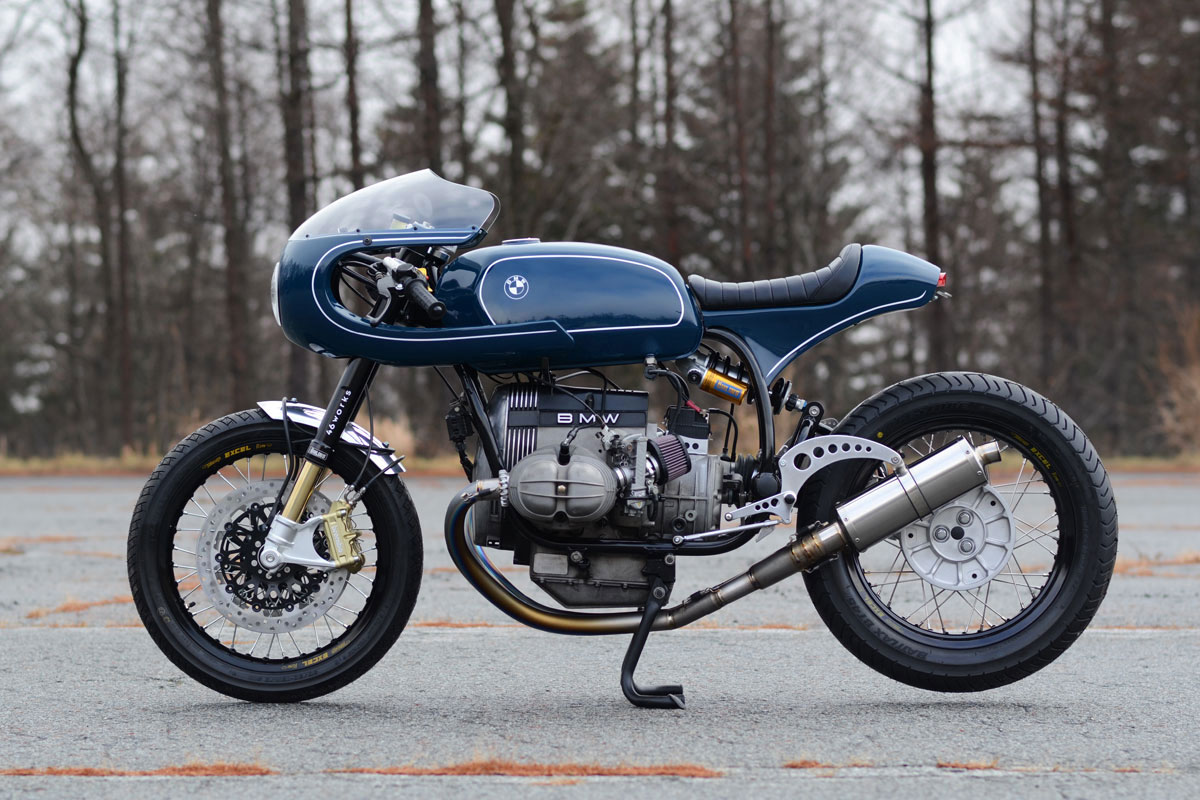 The first stage was deciding how the bike should look. Shiro is a fan of half fairing racers so he fit the BMW with a specially modified 46 Works cowl. To create a balanced bone line he added a BMW R75/6 fuel tank and constructed a custom alloy subframe. The '91 R100RS donor was a rare mono-lever model which presented him with a relatively clutter-free rear end to work with. Shiro has emphasised the look with a 46 Works tail that covers a custom-made alloy subframe and is notched to make way for the mono-shock suspension. The result is a fit and finish as good as BMW Motorrad could have ever achieved themselves.
The bikes 980cc Boxer engine remains relatively untouched as the bike was destined to be an everyday rider. So, aside from a customary service and tune, the only tweaks are to its fuelling and exhaust. Shiro has replaced the stock carbs with a pair of KEIHIN FCR wearing K&N filters. The exhaust is a striking titanium 2-into-1 system that Shiro painstakingly bent to shape by hand. The muffler is also a custom item made from scratch using more titanium. While the engine was out of the way Shiro also invested some time into reinforcing the frame to stiffen up the bikes handling.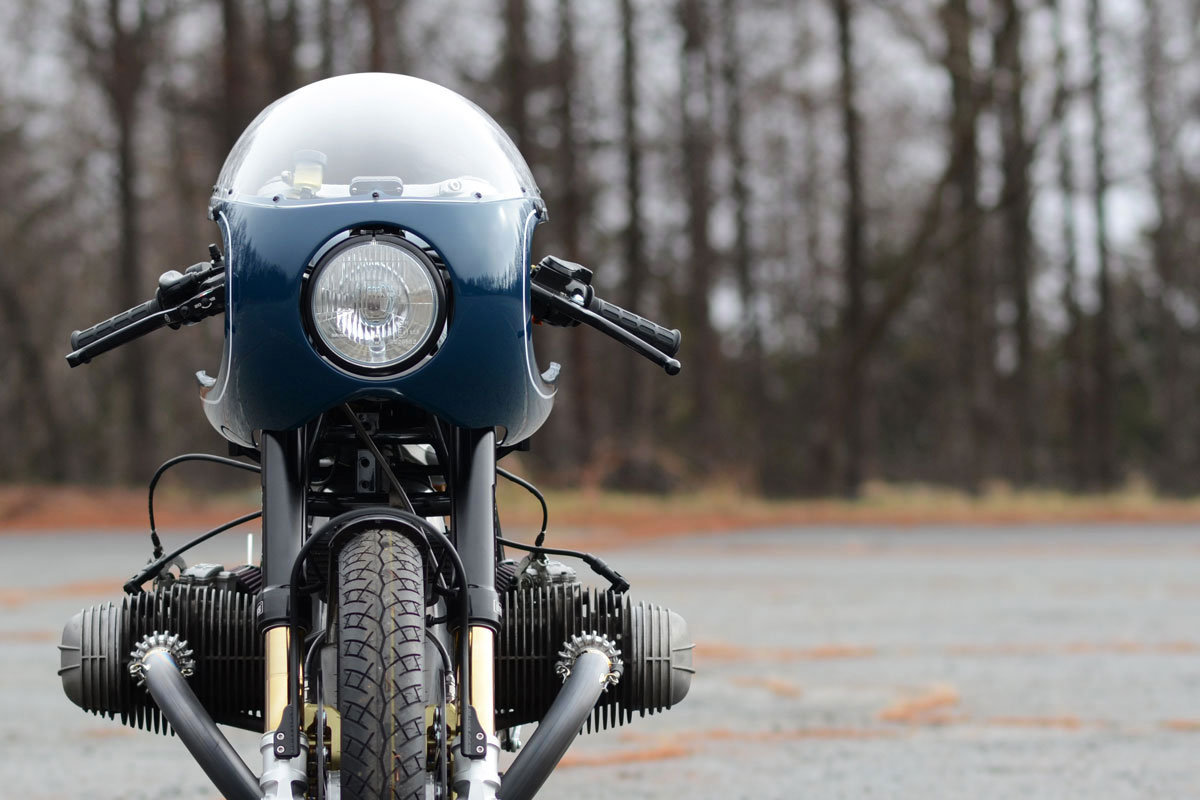 Handling is a key aspect of all of Shiro's builds and this R100RS has had an extensive overhaul. For starters, Shiro has converted the monolever rear suspension to a cantilever configuration. The new system runs a custom made swingarm and drive shaft, and it's attached to the frame via a top of the range Ohlins shock. Upfront is an equally exhaustive revision. The Ohlins USD forks were sourced from a Yamaha and were retrofit using reworked Ducati triple clamps. Shiro also opted to keep the Brembo brakes from the Yamaha and installed new Sunstar disks for plenty of stopping power.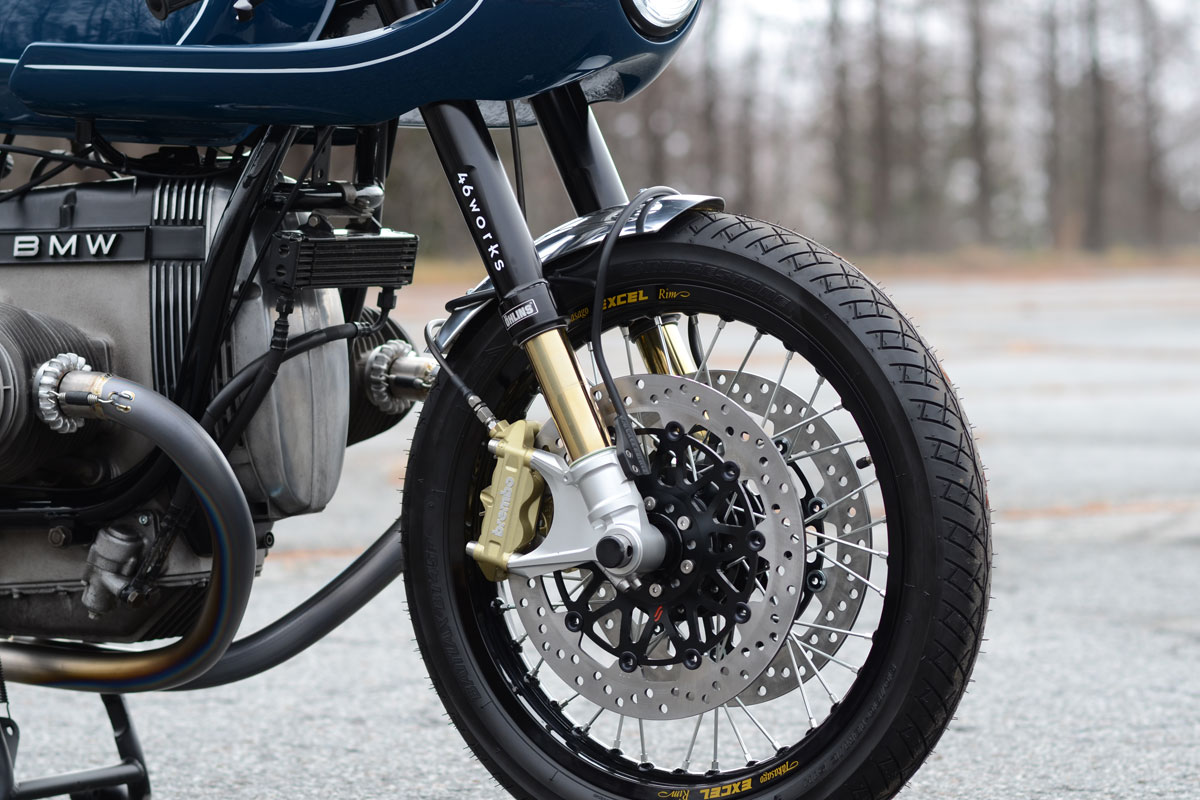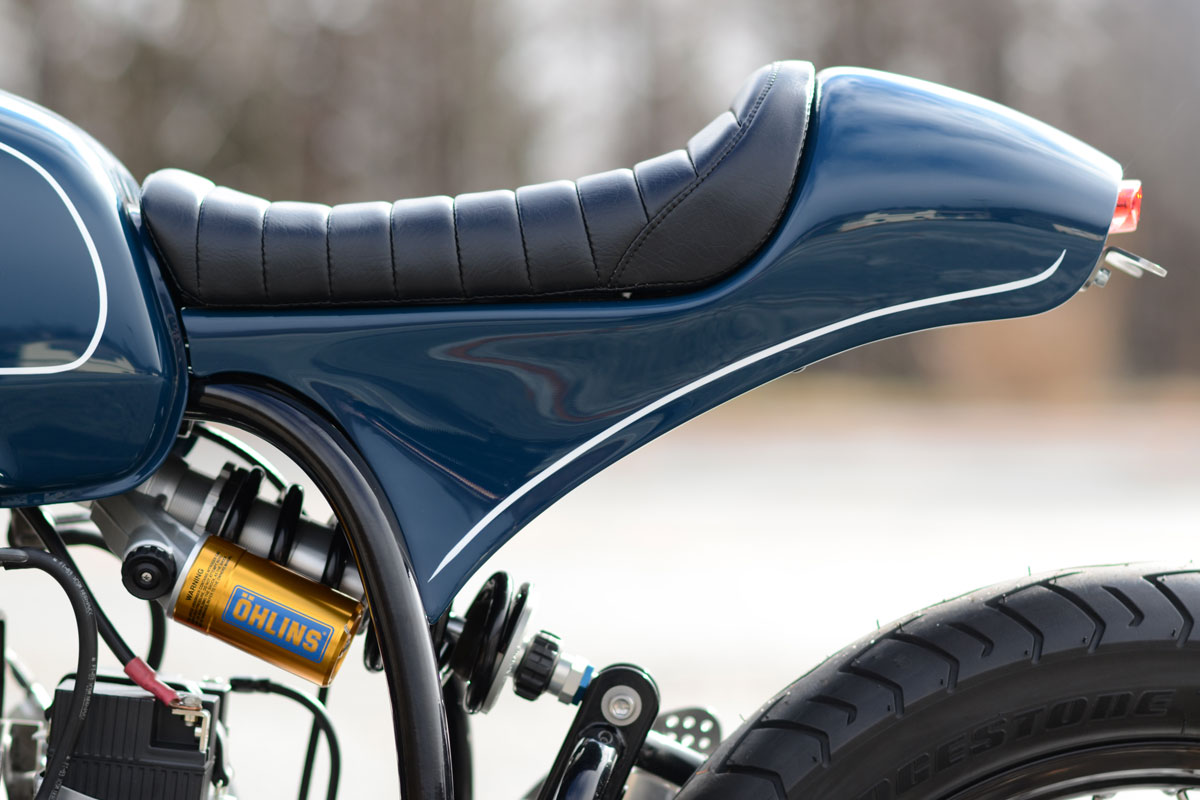 Both of the BMW's wheels use original hubs with a Yamaha unit at the pointy end and the BMW shaft drive set up out back. To pair them up Shiro has laced them to blacked out Excel rims and wrapped each in Bridgestone Battlax BT45 rubber. Other custom additions on the 46 Works R100RS cafe racer include the installation of a Motogadget Motoscope mini, one-off aluminium rear-set footpegs, a Daytona tail light, Bates headlight and a very nice bit of leather work on the seat by Shiro's favourite upholsterer, Razzle Dazzle. As with any build, the paint is a very important aspect of how the finished product presents. To get the look he was after Shiro tasked Stupid Crown with laying the blue paintwork and iconic BMW white pinstriping.
I handed Shiro his trophy on stage at the show with no doubt in my mind that I'd made the right choice. My only regret would have to be that I'll never get a chance to ride that beautiful blue boxer.