Jeffry Sol's BMW R nineT has been somewhat of a social media sensation since it was unveiled at the Big Twin bike show in the Netherlands. Bike EXIF recently gave it a nod in their 'Custom Bikes of the Week' series and it had me yearning to find out more. Jeffry is a one-man band operating his High Octane Speedshop business out of his home garage and his creations are nothing short of spectacular. By pure coincidence, I received an email from a colleague expressing Jeff's interest in being interviewed about his bike and so I'm very happy to share with you the following story about Jeff and his radical BMW 'HPNineT'.
Hey Jeff, can you tell us the story behind High Octane Speed Shop and how it all got started?
High Octane is my one-man workshop that started in 2000 as a drag racing team name for the Audi's I raced. Ever since then I've kept the name alive by applying it to all of my builds. Since I'm a one-man band I just work from my home garage. It's a small one, but I know how to move things around to make it work. I'm located in a residential area in Naarden, the Netherlands so I sadly don't have a front door for customers to walk into if they want to see my work. Usually, as goes with my workshop name, my builds contain elements of speed.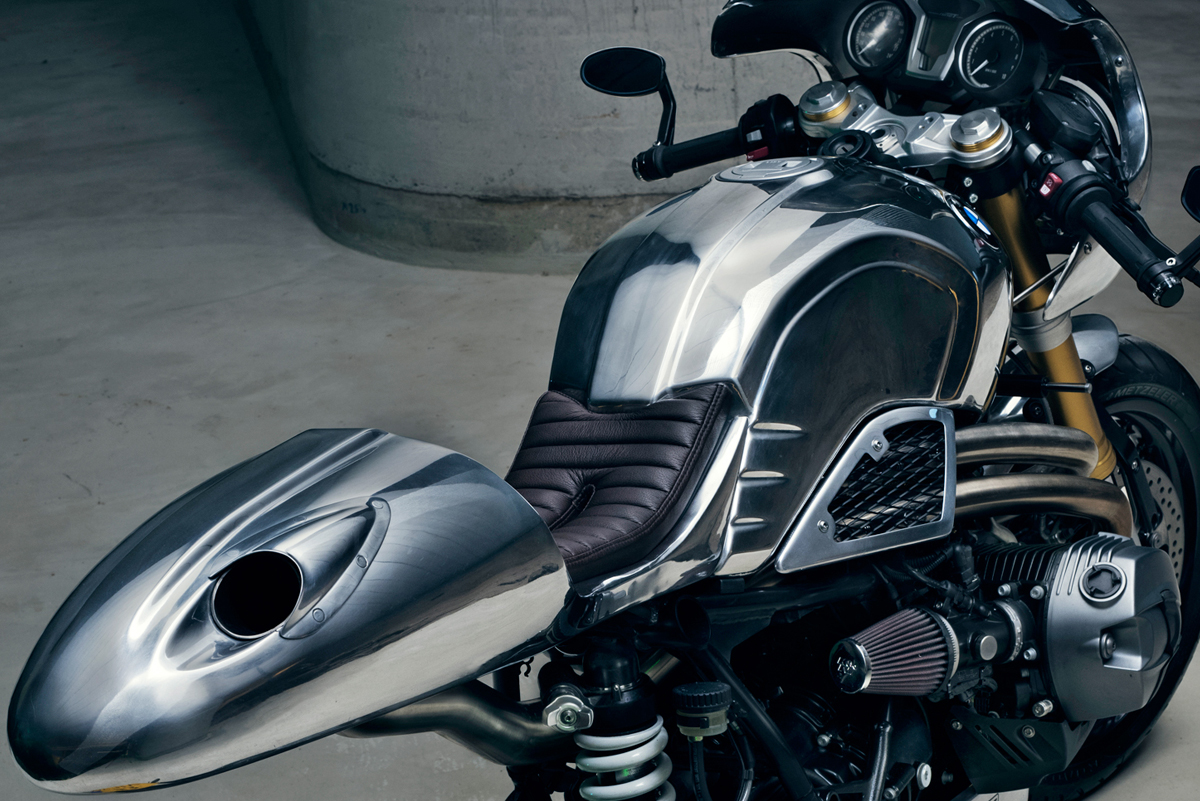 What's your history with motorcycles and custom building?
I got my license now 8 years ago when I was 26. Why 26? Mainly to protect myself because I'm a speed junky. I've driven fast cars since I was 18. My first passion is classic and race cars, but because I'm a one-man band when I work on cars they usually take several years to complete, so proper planning and consideration is needed to start a new car project. Motorcycles would then be my second passion, and are small projects compared to building cars. I've built a couple of bikes the last few years for friends and one for my wife.
My skills have been honed since the age of 12. I started to work on cars because my Dad was working on them. Over the years I've been constantly pushing my abilities by working on different vehicles and the best and hardest learning came from drag racing. I've had basic sheet metal skills since I was 16 doing patch work and simple welding. I bought books by master sheet metal workers and I read about the English wheel and such. I wanted to learn more, but in the pre-internet age that was pretty difficult. It wasn't until 5 years ago that I finally found a master coachbuilder in the UK and did a course with him. After that I built my own English wheel and started to fabricate. During the last 5 years I searched for sheet metal projects to hone my skills. That's why I turned more towards bikes. Bikes are small projects that you can design and build relatively quickly.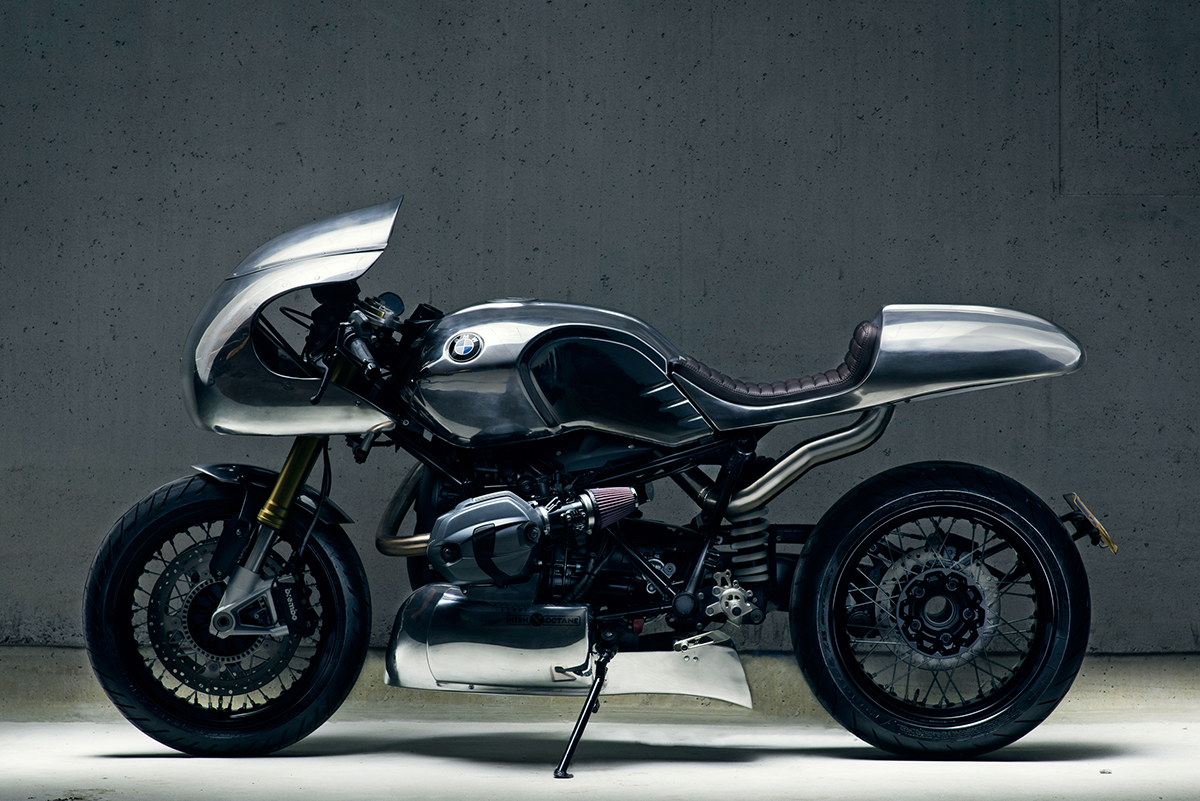 How did the build of your HPnineT come about?
I entered the BMW Soul Fuel challenge contest here in the Netherlands. I ended up coming second place and didn't want to see my design end up in the drawer so I traded in my BMW Rockster for a new R nineT. My concept was sleek and aerodynamic and required classic fabrication skills to build it. To test my skills to the max I wanted to aim for the stars. I wanted high gloss, polished, blemish free aluminium.
Somewhere along the way BMW heard about my project through the dealer I bought the bike from. That's how they contacted me and asked me if I would like to unveil it at the Big Twin show on the BMW Motorrad center stand. Although they invited me to display, BMW had nothing to do with the design or build process. Because it's my own bike I could do whatever I wanted. Although when they saw the sketch they were pretty confident I would make something worthy of their stand.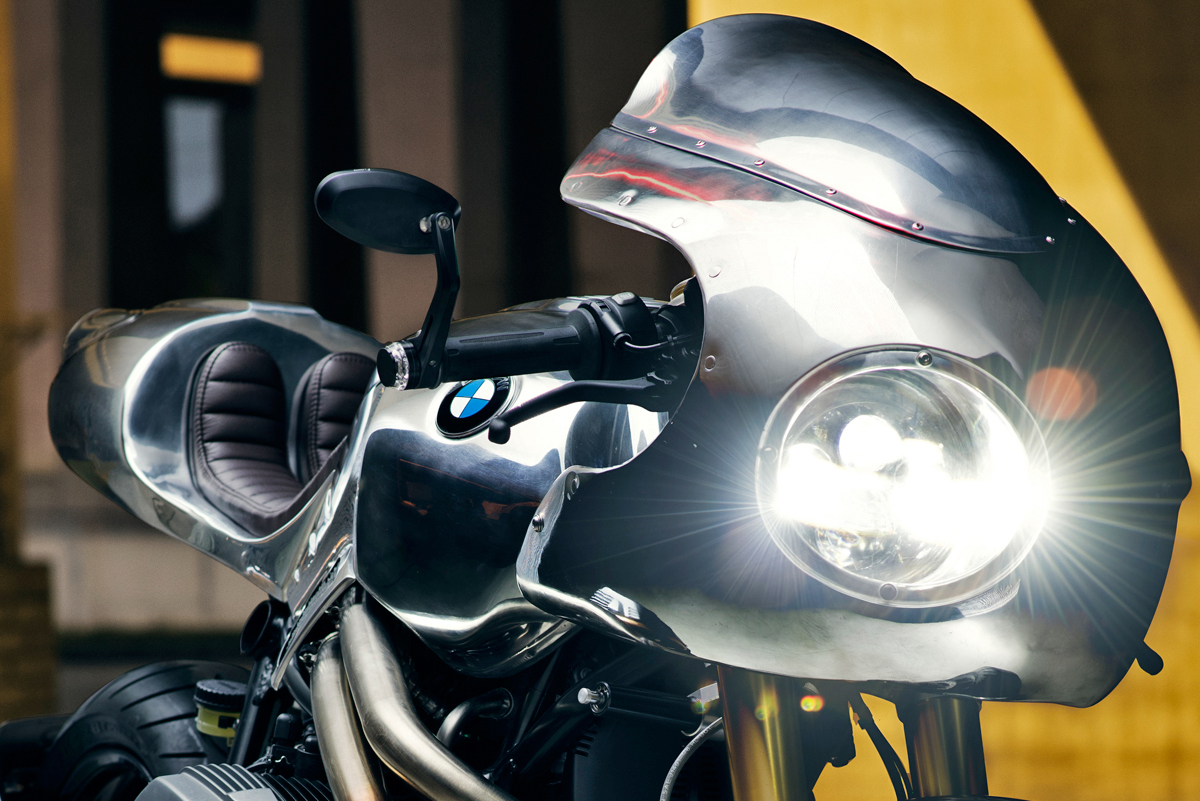 Can you walk us through some of the techniques used and the stages of the build?
The bike was built over a period of 6 months. I first created wooden bucks as reference for the aluminium bodywork. As a rule of thumb I always perform 3 stages for each part. Design, fabrication and function. All three boxes have to be ticked before I go ahead to build it. It needs to look good, I have to be able to make it within my own means and it has to perform its task flawlessly. When I'm happy I then start to form the alloy on my English wheel and reference the buck during the shaping progress.
The larger parts are usually made out of different sections which I welded together. I create the small details in separate sections too because that makes them easier to work on. After that, I welded it all together with my TIG. I then file down the welds by hand and smooth them out with a hammer and dolly. Then I file again to show the high and low points and the process repeats itself until perfect. Weld, file, hammer, file and so on. Effectively I don't remove any thickness from the sheet, I only work the highs and the lows. This is called the pick and file method. After the file sessions, it's on to sanding from 180 grit to 1200 then polishing.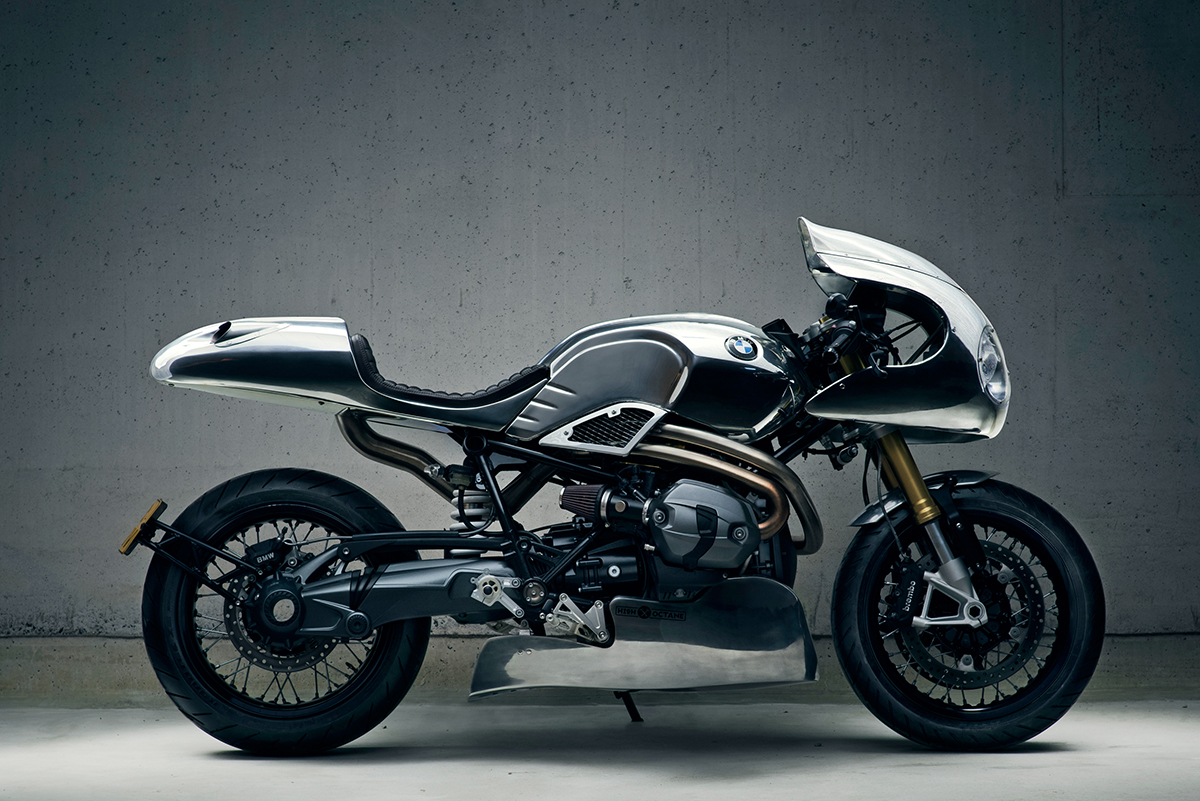 I always look at the entire bike with all the panels mounted and start shaping the panels individually, more and more, until the desired shape is achieved. I don't focus on one panel at a time. I look at all of them together at once and move over the entire bike to make sure everything looks in place and lines flow as I want them to. The flow is really important for me. All lines and details must compliment the design of the bike. For example with the exhaust, I built a 3 wheel bender just to radius the stainless tube slightly. I didn't want any straight sections in there at all. The exhaust is incorporated into the rear seat fairing and the oil cooler is relocated to the lower side fairing with a substantial air duct cools it down during riding. Aside from the bodywork the bike itself was left untouched, so all mechanicals are stock. The air filters and exhaust are the only performance mods.
What was the most challenging part of building the HPnineT?
The most challenging part was the front fairing. It's not a standard fairing design, and I wanted to have aircraft style rivets in there. The lines on the fairing give it flow and shape and were particularly hard to nail.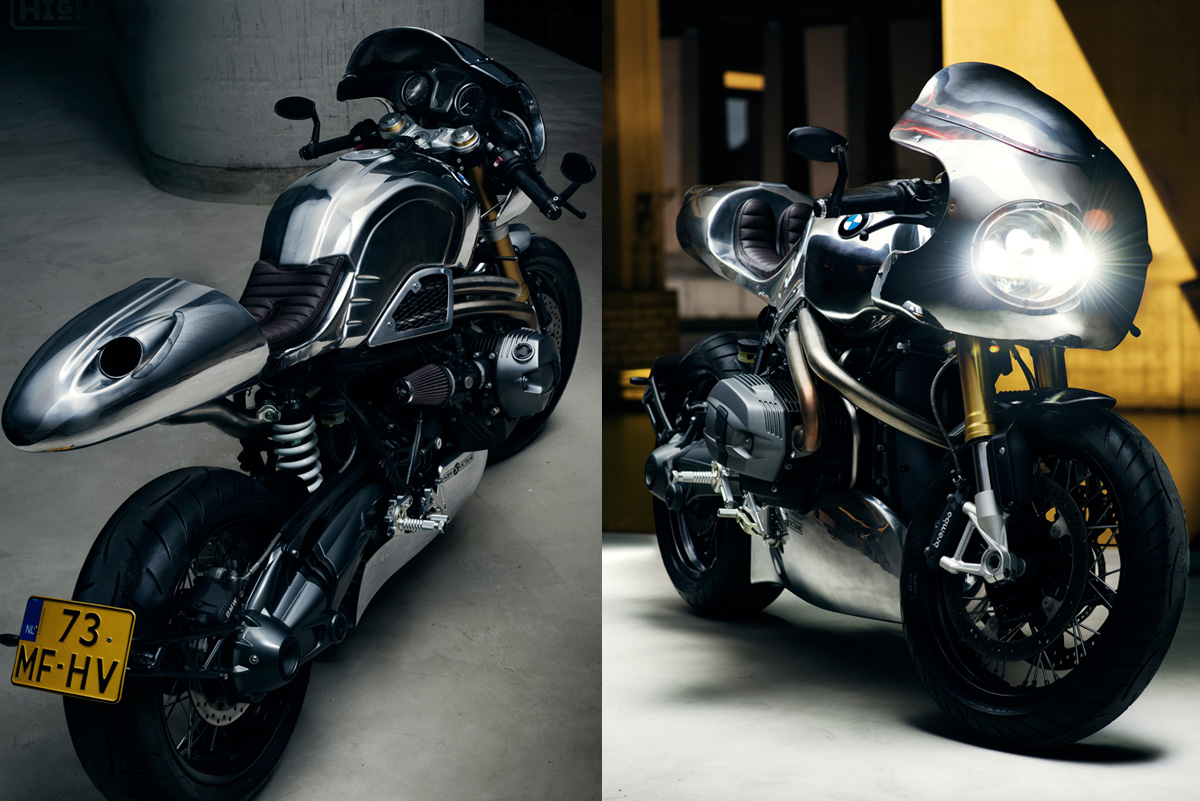 Finally, is there a particular feature of the bike that you're most proud of?
My favorite thing about the finished bike is the headlight. I wanted an old racing style headlight cover like the Astons and E-Types have. That took some special preparation, like making bead roller dies to create a recess especially for it. I also had to plan the inner works of the fairing where the lamp bolts. I shaped the lens using my wife's oven and a vacuum mould which I built by watching an Instructables video. Doing things like that to achieve my ideas is one of my favourite things about custom building.