Giorgio De Angelis of 'De Angelis Elaborazioni' prides himself in turning old BMWs into performance focused customs. Throughout his childhood, he raced everything from scooters to enduro before graduating to Japanese Superbikes later in life. His love for old BMWs spawned from an admiration of their reliability and from how some carefully considered modifications could transform one into a dazzling piece of motorcycle mastery.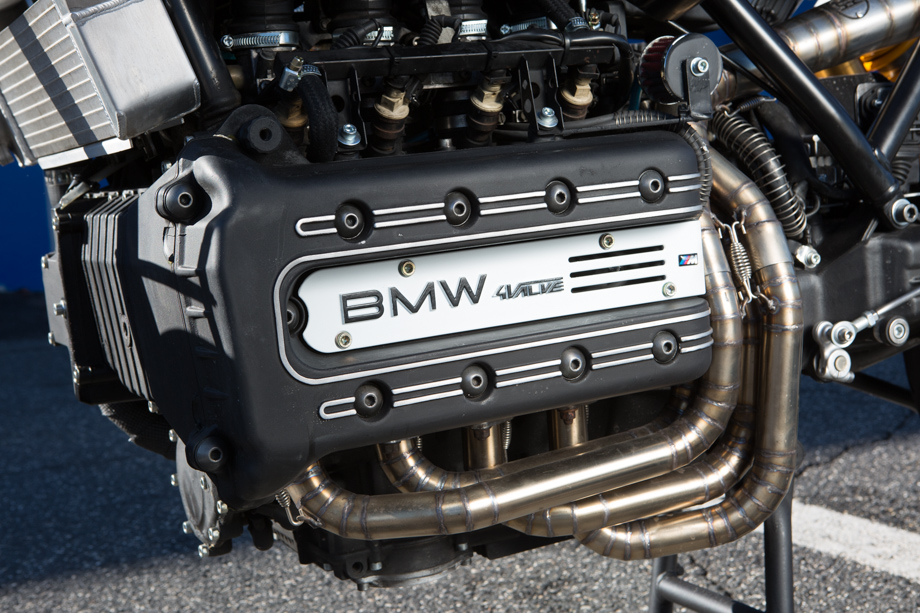 "I wanted to customise a BMW K different from the others, they all look alike," says Giorgio "so after several ideas, I decided to launch this very complicated and expensive project"
Giorgio sourced the donor for his project, a '92 K1100 LT, in Tuscany for a decent price. Along with his friends Fabio Senesi of SeSfactory and Giovanni Gabrielli Honda Motors they began the arduous task of trimming away all of the bike's fat to create his K series Cafe Racer. After months of hard work and overcoming a long list of challenges the result speaks for itself.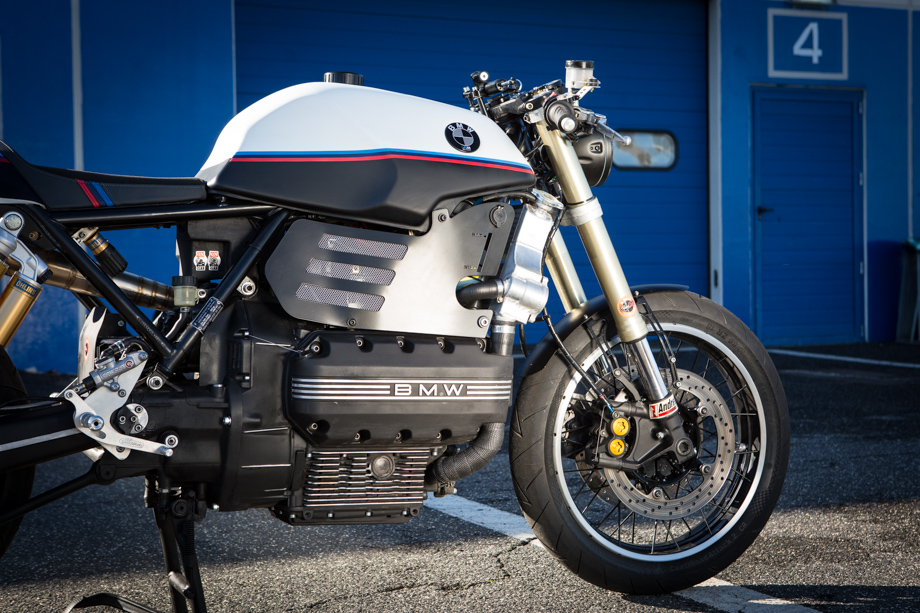 Back in 92 BMW fit the bike with top of the range components, but Giorgio opted to replace many of them to improve overall performance and to help shed some weight. For handling upgrades, Giorgio retrofit a set of adjustable 50mm USD forks to the front end and an Ohlins mono-shock to the rear. A steering damper removes any speed wobble concerns and upgraded brakes add plenty of additional stopping power. For a more aggressive riding stance, the tourer bars have been swapped for fork mounted, race spec Robby Moto clip-ons and lightweight alloy rear sets have been custom mounted to the frame.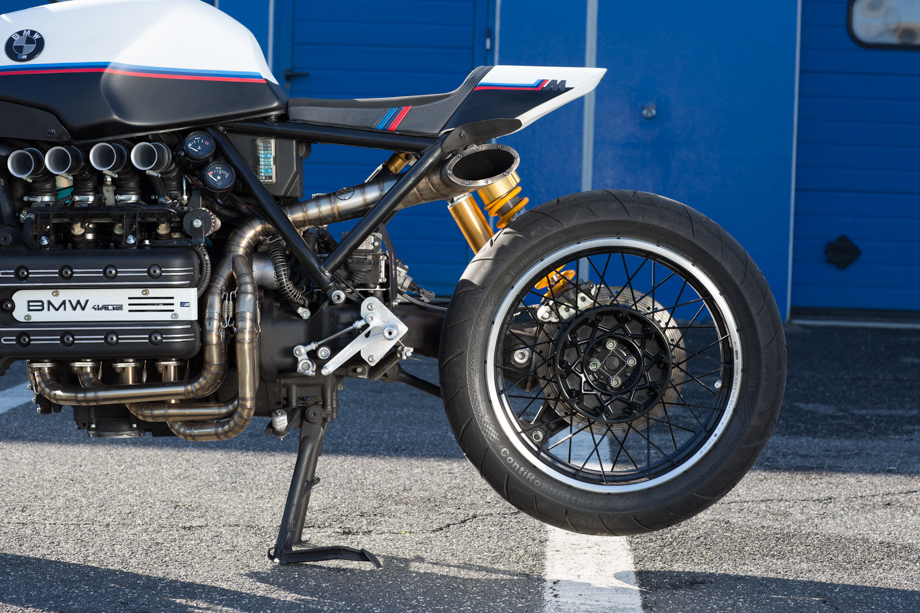 Due to a completely revised rear end, the bike can longer accommodate a pillion. The K1100 subframe has been aggressively shortened and an angular aluminium tail added. BMW produced the K1100 with an alloy tank that already sported a great line so it was retained, however, the front end was completely stripped of its bodywork. The only remaining panelwork is a custom made engine cover on the right to disguise the engines less visually appealing parts.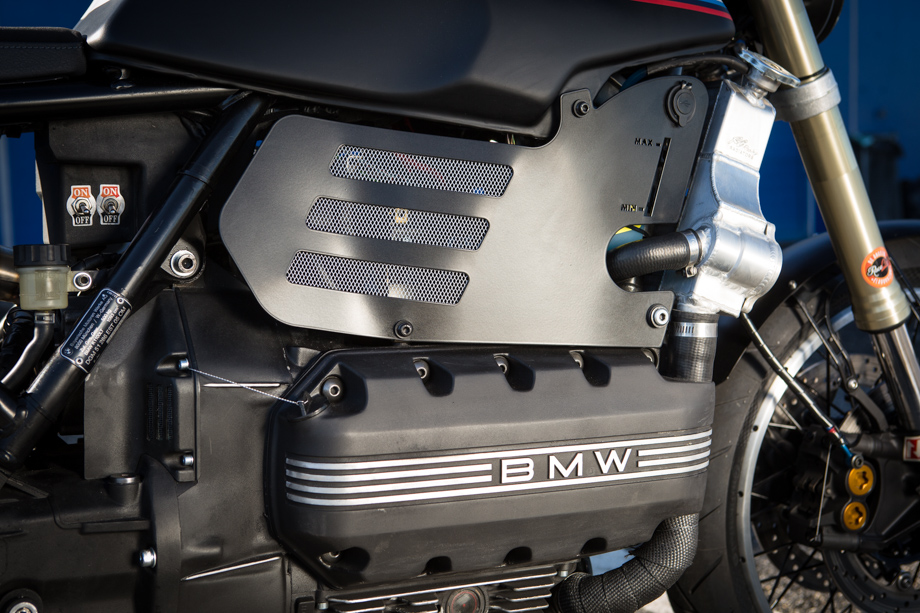 While losing weight is a sure way to improve performance Giorgio wasn't satisfied with the BMWs factory 100 horses. To free up the inline fours breathing he swapped the airbox for a quartet of velocity stacks. At the outward end of the combustion cycle, a beautifully constructed 4-into-1 SeS factory exhaust spews waste gases from beneath the tail. Keeping temperatures in check is an RC Racing alloy radiator and a programmable Eprom ECU makes the most out of his performance modifications.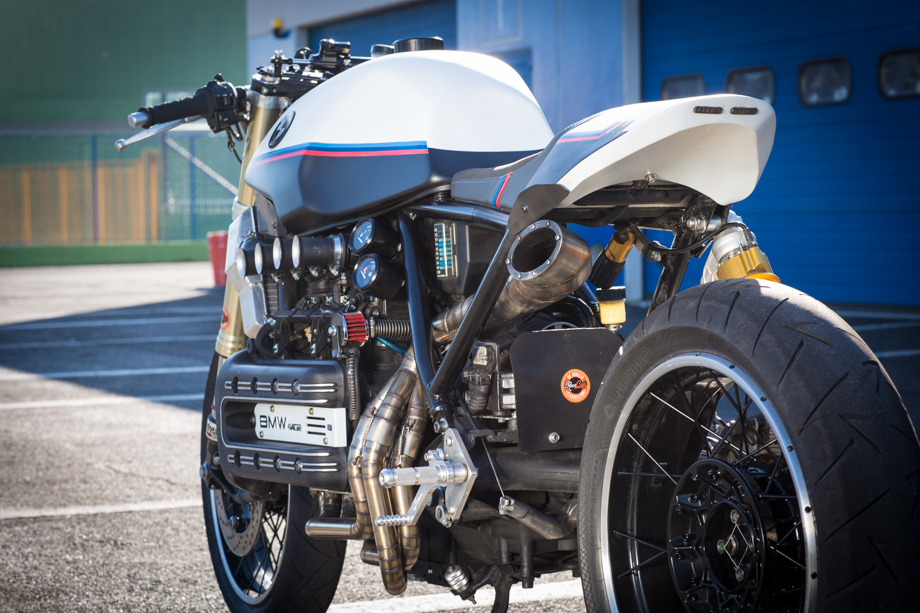 When it came choosing a colour scheme for the K1100 Giorgio decided to pay homage to BMWs Motorsport division with M series inspired livery. Along with the bikes matte finish M series paintwork the theme was carried across to the seat upholstery by CLRacing and there's even a cheeky M badge on the engine case.
While slicks may seem a more suitable selection for a track destined build Giorgio has every intention of riding this beast on the streets. His K1100 cafe racer may not provide the comfort of a tourer or the convenience (?) of an electronically adjustable windscreen, but who needs all that stuff when your focus is going fast!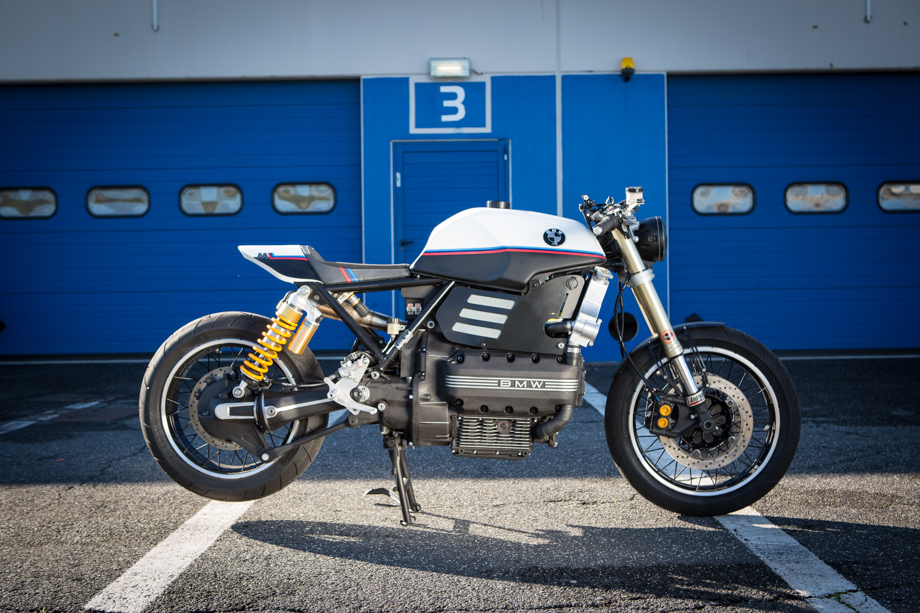 At the time of its release, the BMW K1100LT was the bee's knees. Powered by the biggest engine in their entire range and equipped with elaborate features such as an electronically adjustable windscreen it was also their most expensive. The tourer featured the latest in ABS braking technology, fuel injection, a 16 valve head and BMW's Paralever system to combat the side effects of a shaft drive, but this all equated to a weight of around 275kg. With 100bhp on tap, it was more than capable of achieving its intended purpose, but few would have considered it a track worthy motorcycle…well not in its stock setup anyway.